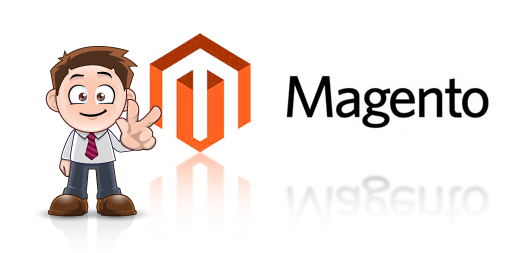 Editor's Note: Searching for a reliable developer or company to hire magento development services should not be difficult.  If you don't know where to begin looking, then read the following article on how to hire Magento developer. If you're short on time, simply use EbizON magento development services for your business requirements.
Let's face it. You can't run your Magento store without a great developer to support you. There's always something that needs to be fixed or changed.
Many ecommerce owners struggle finding good Magento developers and this doesn't affect their business in a good way.
That's why we decided to write this post to explain you how to hire Magento developer who helps your business to grow.
Know What Kind Of Developer You Need?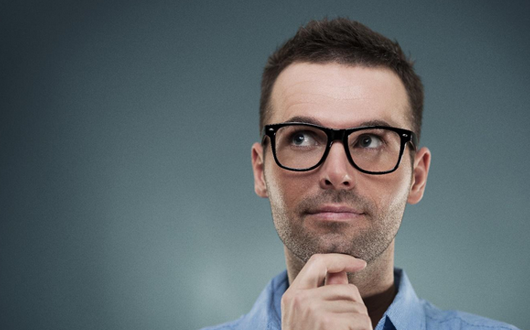 Before we tell you how to hire Magento developer who delivers for you, it's important to know what exactly are your needs.
By doing this, you'll be able to find top Magento developers who will help you to achieve business success.
Before responding to a "Magento developer for hire" ad, consider the following:
One Time vs. Ongoing Project
Do you need someone for fixing one thing on your site or do you need someone to make ongoing changes?
This is a really important consideration because some developers might have the time to fix something small but might not be available to work with you for the long term.
When you consider hiring someone on ongoing basis, always be sure that they have enough available time to work with you as a client. If they don't, it doesn't matter how good of a Magento developer they are. They won't be able to deliver.
Also, some developers might be looking only for a long term commitment and might not want to work on small projects.
In all cases, it's better to test a developer with a small project first, before hiring them to work with you for the long term. Tell them that this is test project and if you're happy with their work, you'll sign a contract.
Interesting Read : What Makes Magento The Best Ecommerce Platform
Agency vs. Freelancer
Always be aware that a freelancer can only do so much. One person might not have all the capabilities that you need. That's why you might need to go bigger and hire an agency. In fact, the best Magento agency around.
You might choose to hire multiple freelancers, but in the end, you'll also need to spend more time managing them all. At the same time, a good Magento agency will have a dedicated project manager who will ensure your project is delivered on time with great quality.
In general, agencies do a better job, but they also come with a higher price.
If you need help from 1 or 2 people it's okay to hire freelancers. For everything above that, it's better to go with an agency.
Price vs. Quality
Google floods with advertisements like "Magento developers for hire" but most of them are everyday display ads with little substance. They provide Magento developers at throwaway prices so you can imagine the kind of quality you would get.
You need to understand that at the end of the day, you get what you pay for. You can't expect an excellent job from the cheapest developer.
There are countless situations when companies hired the cheapest talent only to realize these Magento developers can't deliver.
They then pay the price to hire other, more experience people to fix their crappy code which turns out, in the end, to be much more expensive.
At the same time you don't always need to hire the most expensive Magento developer to be sure they will deliver on their promises. To know what kind of person you need always evaluate your project.
Does this task require an experienced, veteran Magento developer? If it's not so difficult, is it acceptable to give it to someone less experienced?
Keep in mind that the location of the developer also matters where price is concerned. Those that live in USA might charge $75-$90/hour, but you might get the same quality from Eastern Europe where they charge $15-$25/hour.
Also Read : Magento Community Vs Magento Enterprise
Make A List Of Competences He/She Needs To Have
It's really important to be aware of exactly what kind of experience and knowledge your Magento developer must possess.
What kind of languages does he need to know? What kind of frameworks does he work with? Does he work with your framework?
Keep in mind that each new version of Magento requires a new framework.
What Are The Best Places To Hire Magento Developers?
So once you know what kind of developer you need for your store, it's time to actually find him.
Don't go by random "Magento developers for hire" ads on Google. Instead, these are usually the best places to find good Magento developers:
Personal Network
The best place to start is to ask your friends and colleagues if they know a good Magento developer. They will be glad to recommend someone they've been using and are happy with.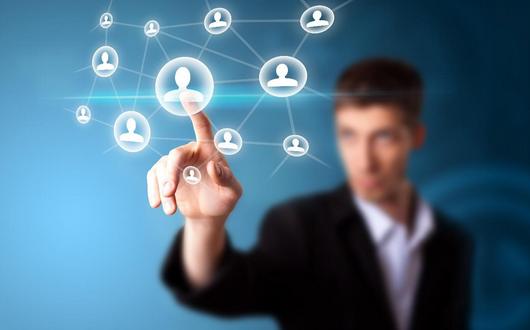 Consider developers only if your friends have been working with them. You don't want someone just because your friends have heard he's good.
By hiring someone that has been tested already, you minimize your risk. The con of this approach is that you might not be able to find a good Magento developer just from your network.
Or if you don't have references, try to hire certified Magento developer. We'll talk about it in the next section.
Worth Reading : Why Magento 2 Is Going To Boost Mobile Marketing
Magento Solution Partners
Magento has a great Solution partner community that can help you with all kinds of implementations.
These partners have access to trainings, support and services from Mangeto that ensures they'll do a great job with the project. Of course, these companies come with a higher price than normal, so you need to be aware of that.
You can filter Solution partners by location such as region (Europe), or country (Canada,  and specialization (CRM) to find the one that best suits your needs.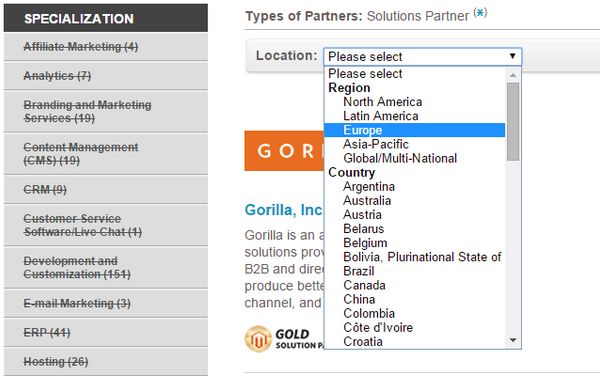 You Might Find It Useful : Bluehost Vs Siteground For Magento Hosting
Magento Certification Directory
This is important. You must always hire certified Magento developer.
In the Magento Certification directory you can search and find developers that have been certified by Magento. In other words, you know these people have skills.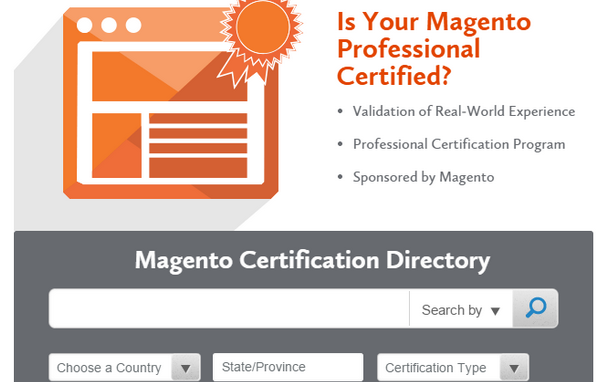 The difference with Solution partners is that here, you actually find people, not companies. This means you have a better chance to find an independent Magento developer.
You can also use the directory to find if your prospective developer is Magento certified.
Also Read : Best Magento UX To UI Tips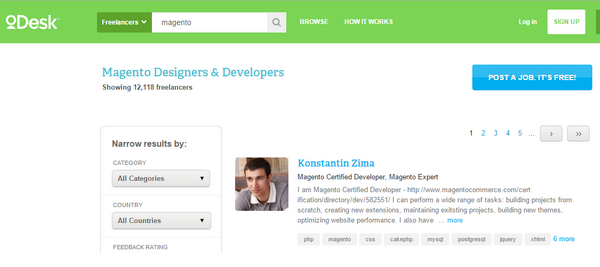 Freelance Websites
Websites such as oDesk, eLance and Freelancer have a database of thousands of Mangeto developers of which hundreds are certified.
Just from posting a job there you can get 20-100 people interested in your project.
The bad news is that there are tons of bad Magento developers there as well, so you'll need to spend extra time to search for the good ones.
You can also do a search yourself and invite the developers that you like to apply for your job.
To do that simply type "Magento developer" and browse through the profiles.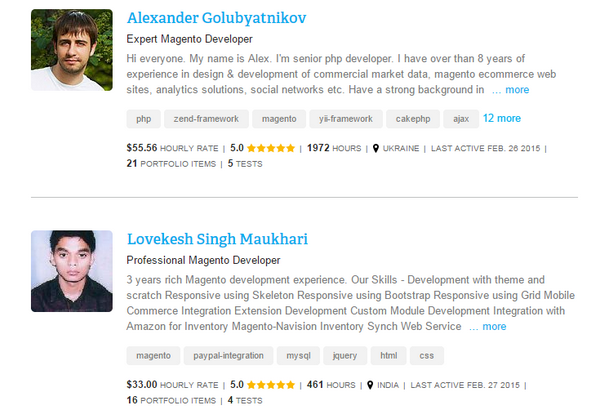 Check out reviews and feedback to be sure you're hiring the right person.
The good news is that people listed on these sites charge much less than those on Magento Solution partners and Certification directory pages.
Useful Post : Best Magento Extensions You Should Be Using
Networking Industry (Magento) Events
Serious Magento developers go to industry Magento events where they network and learn about how the platform is developing.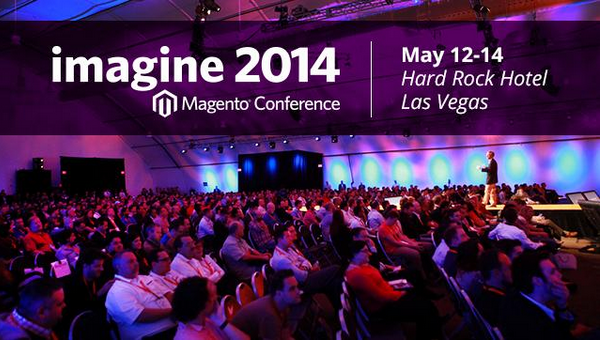 They want to be up to date on the newest trends and to exchange ideas with their fellow colleagues.
That's why I believe these are some of the best places to meet best Magento developers. As a bonus you might learn interesting things about the platform yourself.
Magento has an events page where they list the events they organize. You can also check within your local community for events that are being run.

Twitter (use #Magento and #MagentoJobs)
Often you can find best Magento developers on Twitter. They frequently tweet about Magento and related news.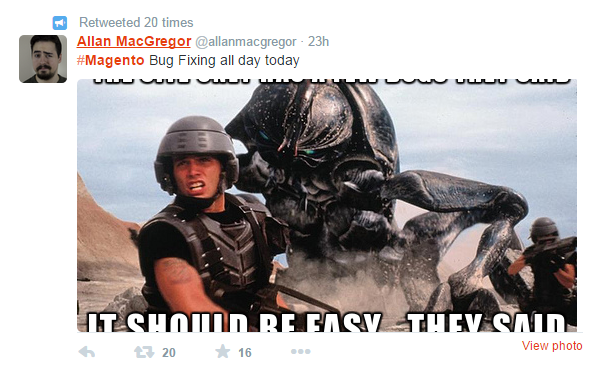 You can also tweet that you're searching for a developer by using hashtags such as #Magento and #MagentoJobs. You will be surprised how many will reply and ask for more details about the job.

Interesting Post : How Healthy Is Your Magento Store
LinkedIn
This is another place which answers how to hire a Magento developer who is an expert of the platform.
It's LinkedIn. Here you can directly search for people that have listed "Magento" as a skill and look through their profile.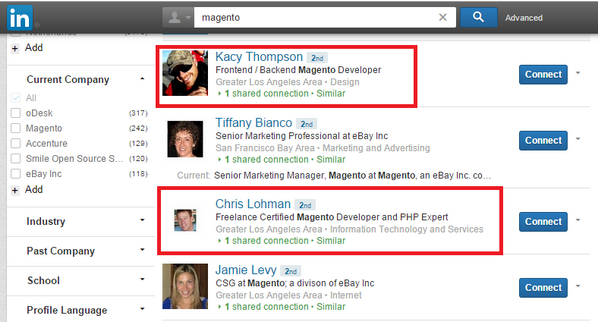 You can also join groups such as "Magento Developers" which has 15,722 members and post about your job there.
Facebook Groups
Just like on LinkedIn, there are Facebook groups that are dedicated to the topic of Magento.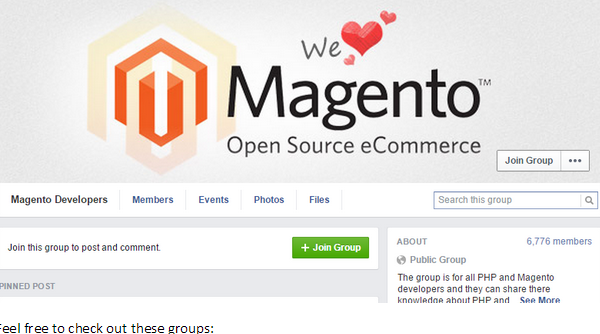 Feel free to check out these groups:
Interesting Comparison : Magento Vs Shopify
Industry Websites/Blogs
Many good Magento developers are also blogging about Magento. Find out what the good blogs and industry websites are and check out who's writing the articles.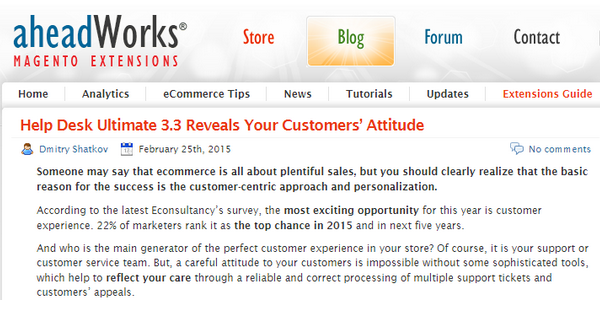 Find several good authors and contact them directly by asking if they are available to take on a new project.
Not everyone knows how to hire a Magento developer who is great at Magento skills but if you follow the right steps, you can succeed.
The best thing to do is to ask for advice from someone who has been doing it before to help you screen candidates. If you're short on time, simply hire Magento certified developer from EbizON. You're still in with a chance.
Do you use one of the methods above to hire Magento developers? If your answer is "No", then you must consider these. I bet you won't regret.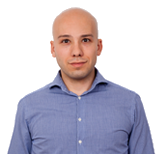 Author: Martin Zhel
Martin Zhel is an inbound marketing expert and Founder of Orior Creative. He specializes in SEO, content marketing & conversion rate optimization.