Starting a clothing line is now easier than ever, and you don't have to invest huge amounts of money upfront in order to start an online clothing business.
There is a plethora of print on demand companies, like Printful and others, that will print your own logo on t-shirts and other items and ship them to your customers for you.
Kin Custom is another such company that does it. In this article, we will be picking the same. We'll be reviewing Kin Custom. You'll find out whether it is worth starting a print on demand clothing business with Kin Custom and how it compares to other print on demand companies.
What Is Kin Custom?
Kin Custom is a print on demand and white label clothes manufacturer. Although they focus primarily on clothing and shoes, they also let you sell items such as handbags, backpacks, laptop cases, bedding, pillow cases, and other accessories.
Kin Custom prides itself on being an "ethical" company. Not only do they treat their employees well, but they get their materials from ethical sources.
Their suppliers have various certifications and often use 100 percent recycled materials. Kin Custom creates its clothing in China, but that doesn't change its three-pronged approach to doing business: Experience, Efficiency, and Ethics.
There are no order minimums with Kin Custom. You don't have to stock inventory or buy any stock upfront; it is a true print on demand service.
Kin Custom Review
Let's start with our Kin Custom review. We'll discuss everything from setup, features, pricing, reviews to other things.
Getting Started
It is free to get started with Kin Custom. Click the yellow Sign Up button at the top of the website or go to this page to create an account, which you can do with your email address or by connecting your Facebook account.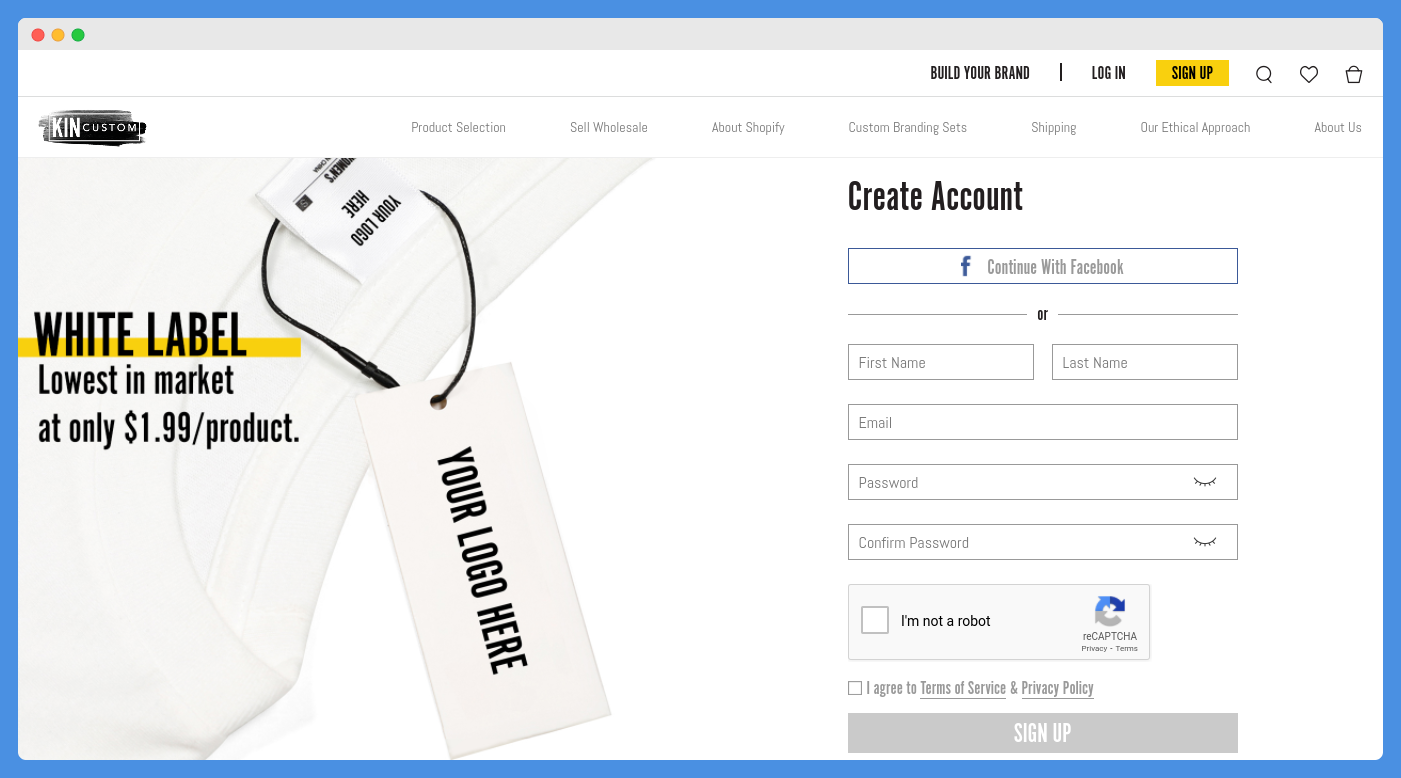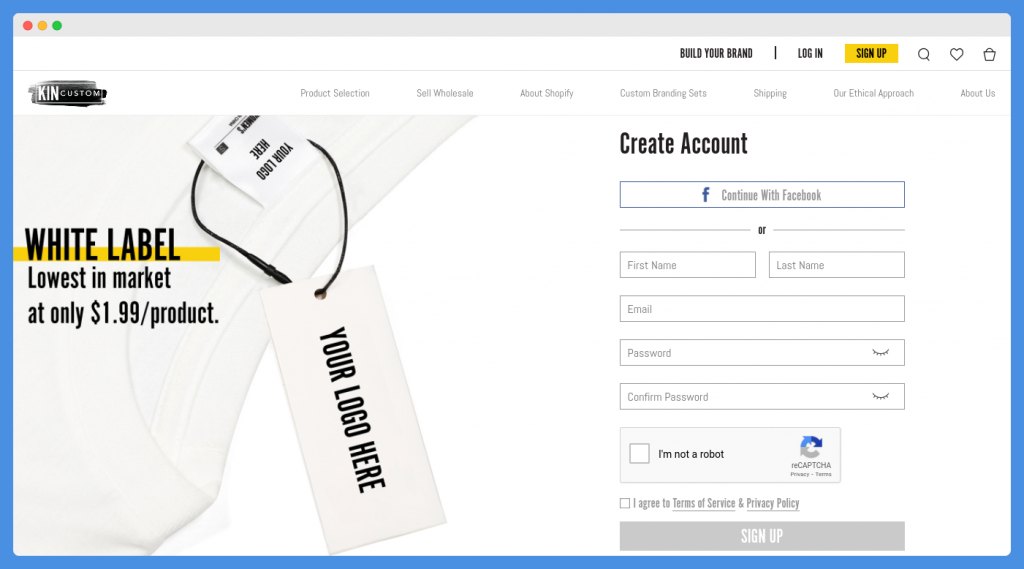 Once you create an account, you will be able to start designing clothes. You'll be taken straight to the designer tool, which I will review in the next section.
The Designer Tool
In the designer tool, you will be given four default designs that you can use to play around with the tool and figure out how it works. Since all Kin Custom users will be getting these default designs, it is not recommended using them for your actual products.
Instead, upload a design of your own. If you don't have a logo or slogan and you don't have any design skills, you can always go to Fiverr.com and find a freelancer who will create a design for you.
Once you have uploaded your design, choose a product you want to sell. There are all kinds of products available.
Although you will be shown clothes, you can sell other items by searching for them in the search bar or by clicking on the drop down Category menu.
Once you have selected what you want to sell, it is time to customize the final product.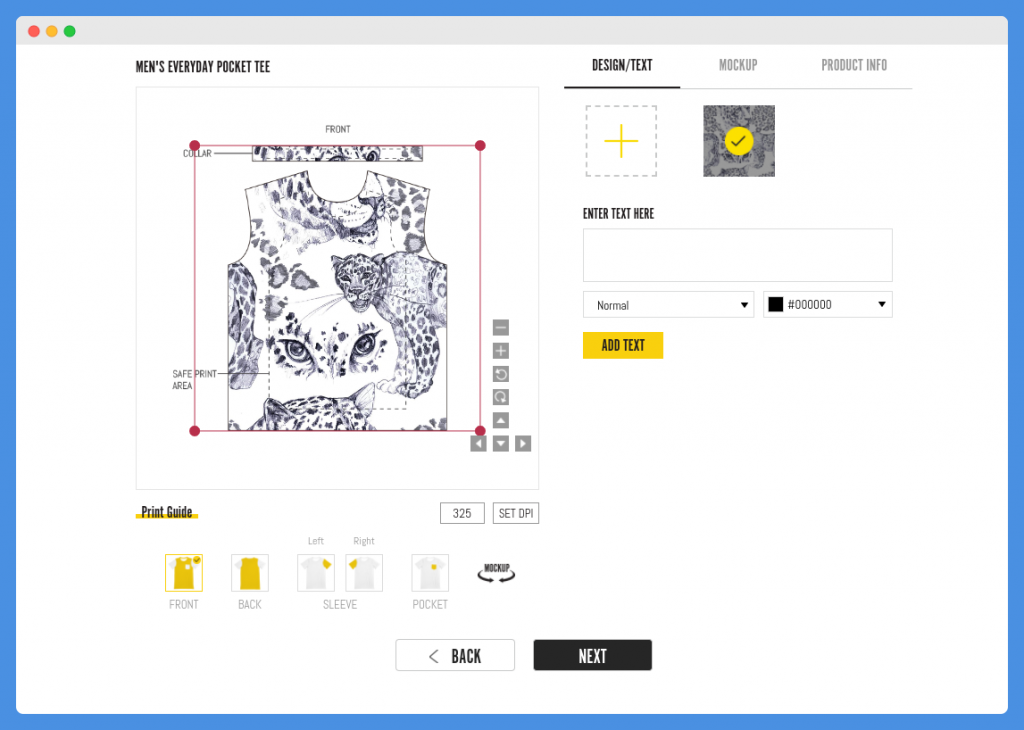 You'll be able to use the control buttons or your mouse to reposition your design or logo on the product.
In addition to designing the front of the shirt, you can upload other designs to or write text on other parts of the shirt, including the back, sleeves, and pocket (keep in mind that each specific product will be different).
You can also choose various fonts for your text and change the color.
If you want to see a preview picture of how your product will look, just click on the "Mockup" button at the top-right of the screen.
You can also click on the "Product Info" button to learn more about the product, including what it is made out of, details, size and fit, and price.
After you are satisfied with the design, you will move on to the next step, which is writing a title and description for your product and choosing category tags. Finally, you will choose a price and publish your listing.
All in all, I found the designer tool to be very easy to use. I liked that I could get a preview picture of what the completed product would look like and that there were so many print location options (for example, most other print on demand companies don't let you print a separate design on the sleeves or pocket of a t-shirt).
Product Catalog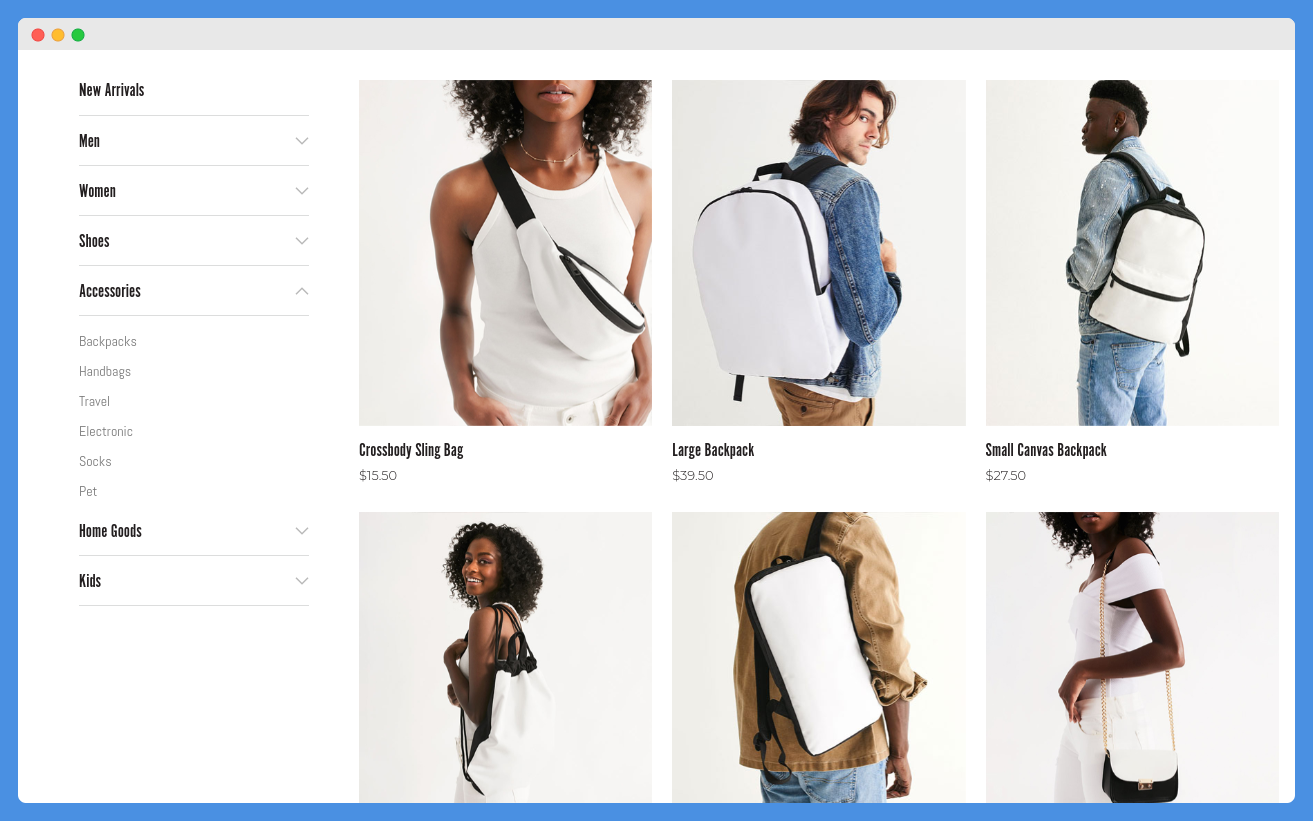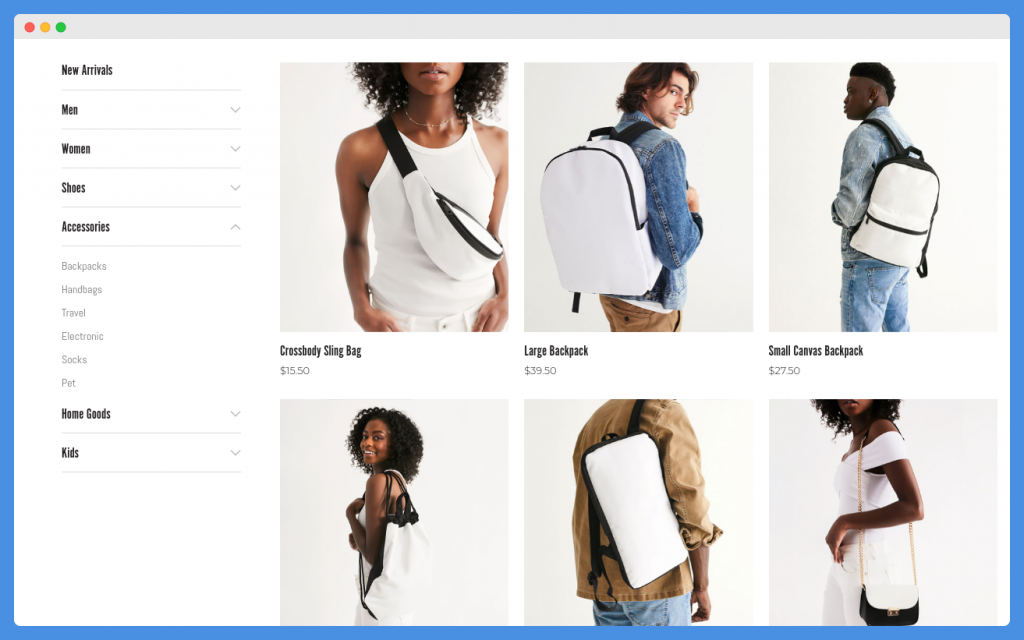 Fortunately, there is a wide range of products you can sell through Kin Custom. You're not limited to t-shirts and a few other clothing items.
First, let's discuss the clothes. There are clothes available for men, women, and children.
For example, for men's clothing, there are various kinds of t-shirts, polos, wife beaters, long-sleeve shirts, hoodies, jackets, shorts, and pants available.
You can also sell shoes with Kin Custom. In fact, there is a wide variety of options available, including sneakers, canvas shoes, athletic shoes, and slip-on shoes; this is something that isn't available with many of the more famous print on demand companies.
When it comes to items other than clothing, however, Kin Custom is a bit more limited than many other popular print on demand companies. The Accessories category mostly includes various kinds of bags, backpacks, and cases.
The Home Goods section mostly includes duvet kits, pillow cases, and tapestries.
All in all, Kin Custom is decent for clothing. But if you want to sell other stuff, you will find yourself limited.
Where Can You Sell Your Products?
So, here's the big question: Where can you actually sell your products?
Kind Custom gives you three options:
Sell on your custom Kin Custom storefront
Sell on your own website
Selling On Your Own Kin Custom Storefront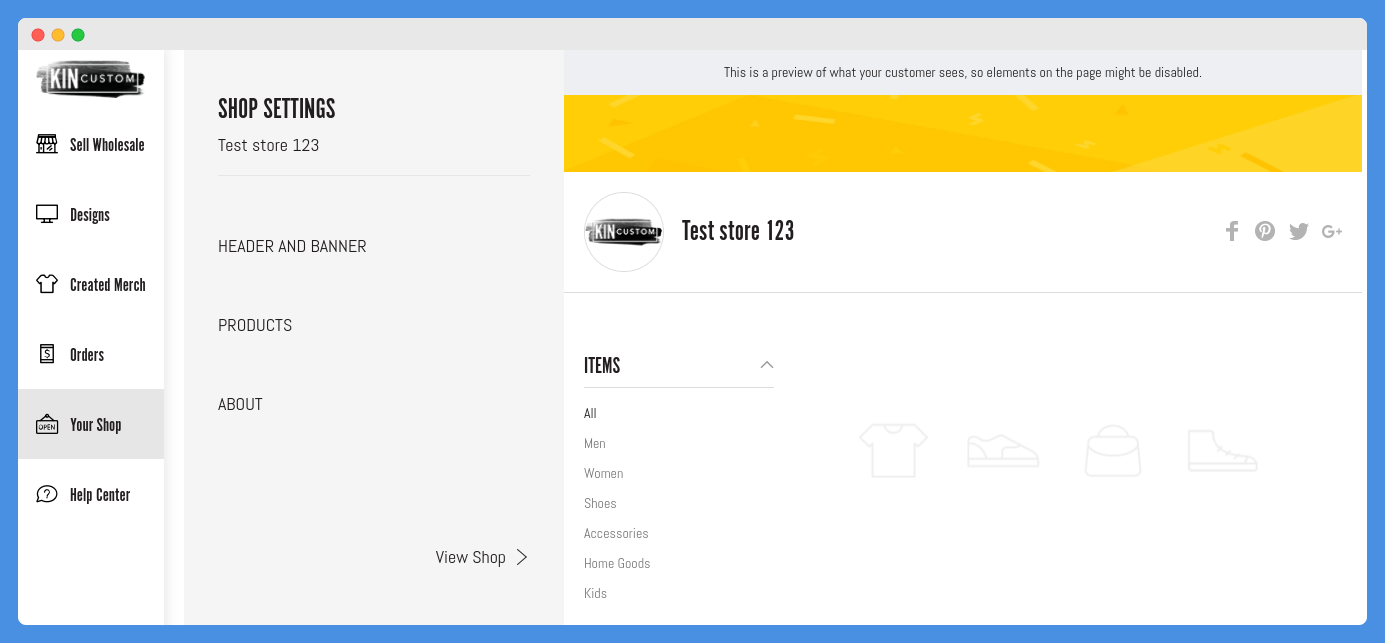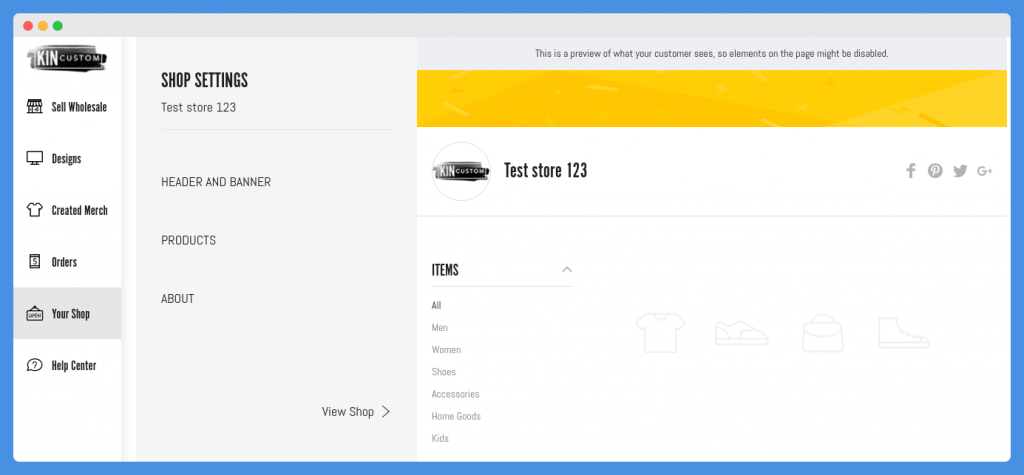 If you don't want to create your own website or sell on Etsy, you can sell on your custom Kin Custom storefront. First, you will have to set up your shop by choosing a store name and choosing a custom sub-domain URL.
You will also be able to customize the header of your storefront and upload your own, special logo. Your store will look something like this (your logo will go where it says "test' on a red background):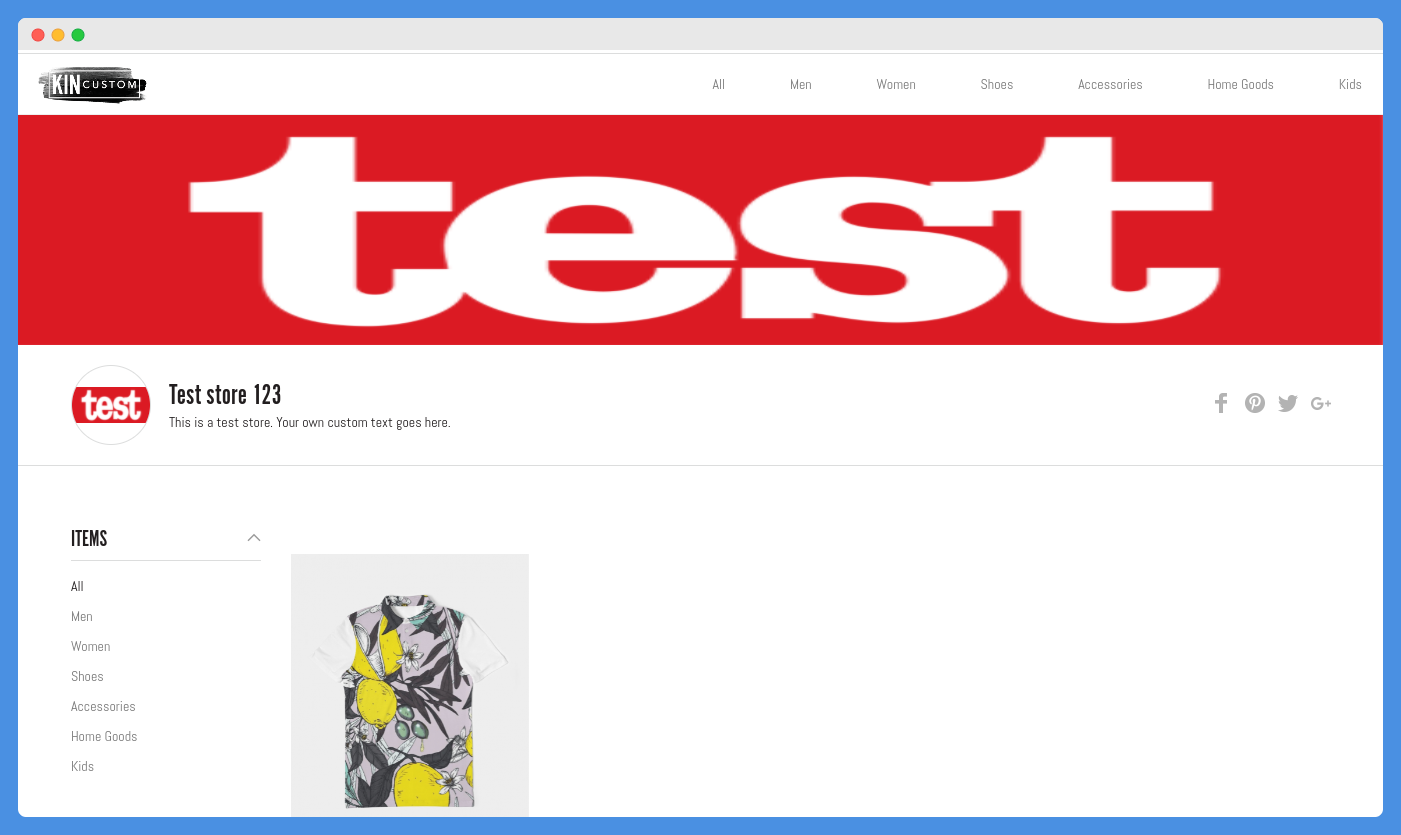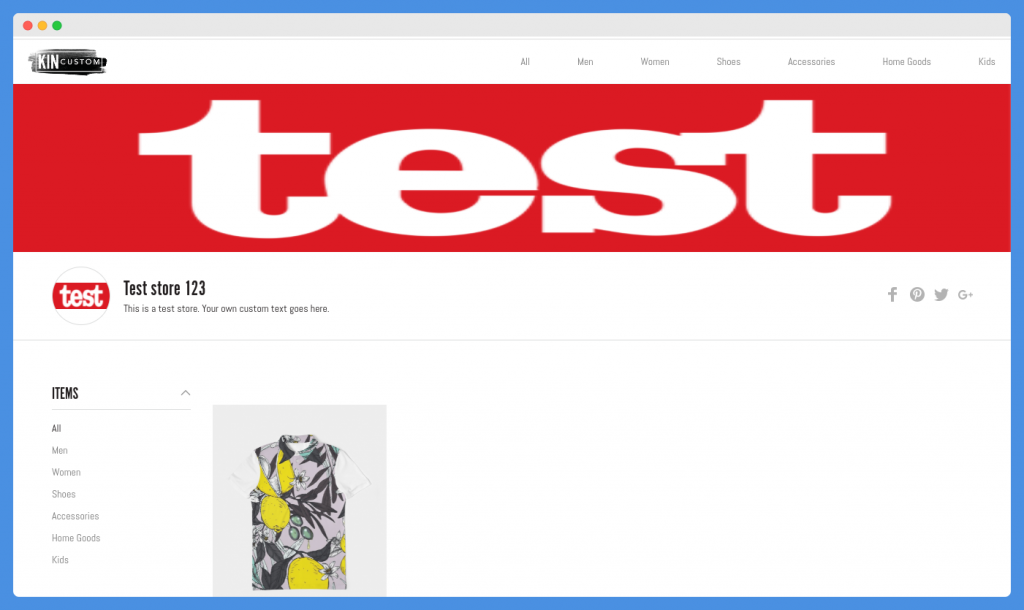 Selling On Etsy Or Your Own Site
You can sell on Etsy. Connect your Etsy account in order to publish items you create on Kin Custom directly to your Etsy account.
Alternatively, you can connect your own store if you have created it with one of the following software:
Big Commerce
WooCommerce
SquareSpace
Weebly
Volusion
Big Cartel
Oberlo
If you are not using one of the above software, you can always export your products via CSV and then upload them to your website.
Sellers on Shopify can use print on demand apps. Kin Custom has an app as well. They can use Kin Custom Shopify app to make their lives easier. However, as you can see in the screenshot, the app currently has some negative reviews indicating that it can be glitchy at times.


How Do You Make Money?
Making money on Kin Custom is as simple as adding a margin to the base price of the product. Each product has a base price, which you have to pay Kin Custom for.
You then charge your customer a higher price and keep the profit.
Fortunately, Kin Custom has a built-in calculator that will help you figure out how much to sell your item for. Simply select the margin percentage you want to add on and you will see how much profit you can make per sale.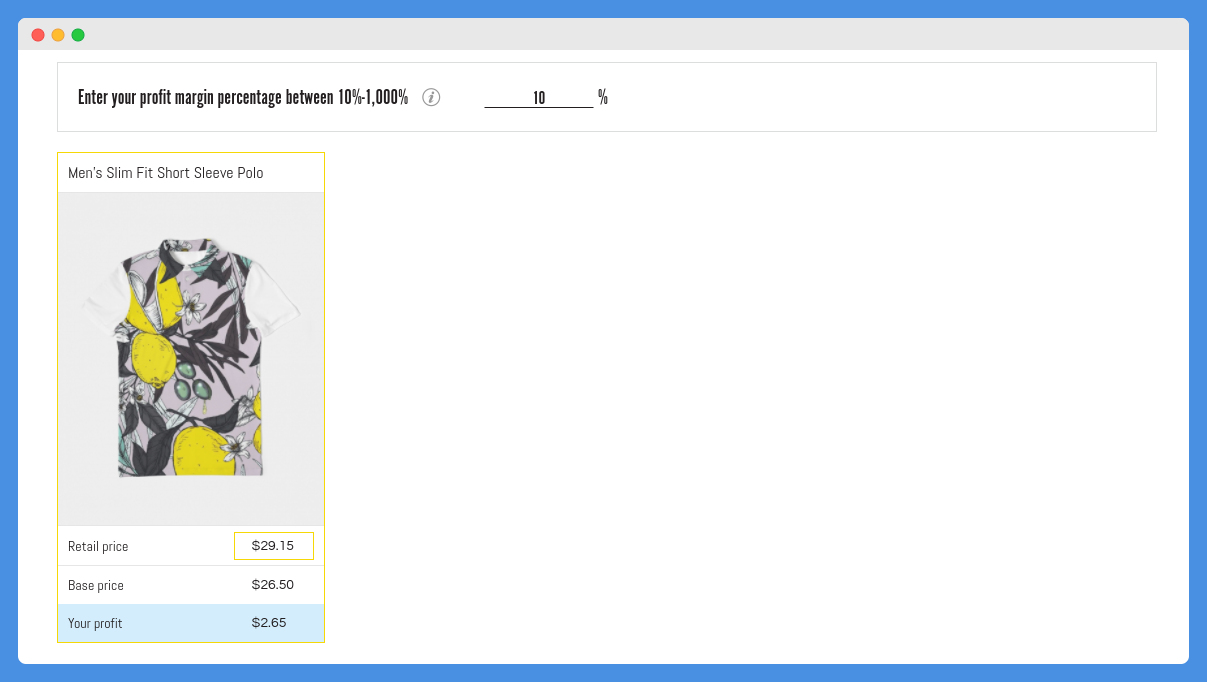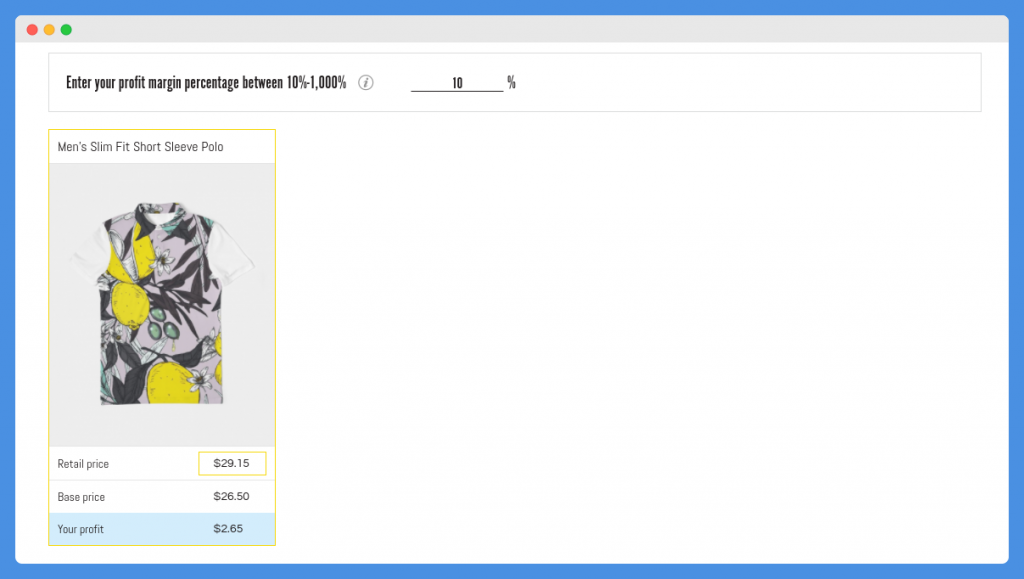 However, the earnings process will be different based on whether you are selling on a Kin Custom storefront or on Etsy or your own website.
If you are selling on a Kin Custom storefront, the customer pays the entire price (including the margin you add on) directly to Kin Custom. Then, Kin Custom will hand over the margin to you and keep the base price; it is simple and easy.
For example, if the product's base price is $10 and you are selling it for $15, the customer will pay Kin Custom $15 and Kin Custom will then give you $5 in profits.
On the other hand, if you are selling on Etsy or your own site, you will have to collect the full price of the item from the customer yourself. This can be done via Etsy or any payment processor you set up on your site.
Then, Kin Custom will charge you for the base price of the item.
For example, if a product's base price is $10 and you are selling it for $15, you will collect $15 from the customer and then pay $10 to Kin Custom. You will be left with $5 in profit.
How Do I Get Paid?
You will get paid on the 15th of every month for all sales accumulated in the previous month. However, you must have at least $50 in earnings in order to get paid; if you don't have that much, you will have to wait until the next month or until whenever you accumulate $50 in profits.
You have two options for getting paid.
You can either enter your bank account information so you can get a direct deposit or you can enter your Paypal information. Kin Custom does not store your bank account information and instead uses Stripe to make payments.
If you are selling on Etsy, you can get paid either via Paypal or by signing up for Etsy Payments, which allows customers to use payment methods other than Paypal to use your products.
If you are selling on your own store, you will have to set up your own payment processing system. For example, if you are using Shopify, there will be a lot of apps you can use to do that.
If you sell on Etsy or your own store, you will be able to keep the profit right away. Keep in mind that if you are a new seller, Paypal may hold your sale for up to 21 days.
White Label
White label is a business model where you sell products under your own brand name even though you did not actually create or manufacture them.
It goes beyond regular print on demand, in which packages may arrive containing information about the print on demand company you are using or clothes may have your design but still have the manufacturer's label.
With white label, all references to the print on demand company are removed and replaced with your own branding.
White label allows you to set up a clothing line without owning any factories or even any stock (in the case of white label print on demand). It allows you to scale your business, attract brand followers and fans, and create an entire empire.
Fortunately, Kin Custom does offer a white label service. In fact, custom branding sets at Kin Custom start at just $1.99 per set.


What is exactly included in the "custom branding set?" That will depend on the item you are selling.
For example, if you are selling clothing, the custom branding set includes a poly bag, a packing slip with your brand information on it, a hang tag, and a sewn in label. Labels can only go on certain designated places.
If you are selling shoes, the kit includes a shoe box, shoe insole, shoe tongue, and packing slip.
For accessories and home goods, you will also get customized things such as hang tags, sewn in labels, and packing slips.
All of these things will have your own custom branding on them, allowing you to create a clothing line from scratch without any of your customers knowing you are actually using Kin Custom.
In fact, you can set up multiple clothing lines if you so prefer. Each product you send out can have any logo you want.
Shipping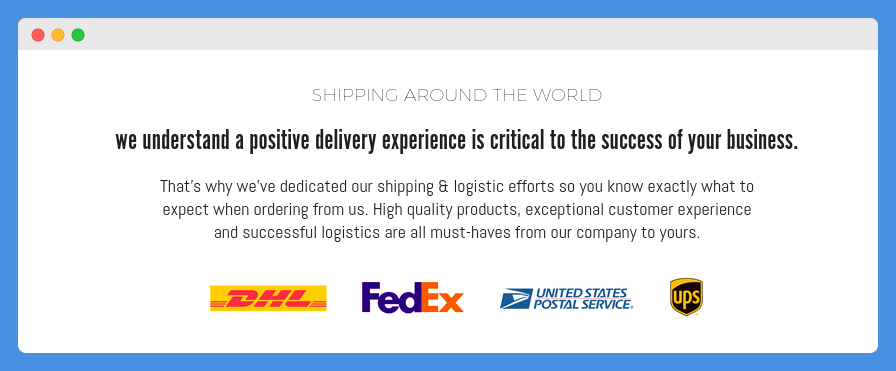 A great thing about Kin Custom is that it allows you to ship to many countries all over the world. Kin Custom uses DHL, FedEx, and UPS for shipping.
There are three main shipping options available at Kin Custom.
The slowest and cheapest option is Economy Shipping. Once a product is printed and produced (which usually takes three business days regardless of what kind of shipping you choose), it will take between 7-10 business days for the item to be shipped.
However, you will only have to pay a flat rate of $4.99 per item. This rate will not change, regardless of the destination, but Economy Shipping can only be used in the United States and not for international shipping.
Also, keep in mind that business days do NOT include Saturday and Sunday.
For quicker shipping, you can get Premium Shipping, which will take 4-7 business days (after the product is printed). It costs a bit more, with a flat rate of $6.99 per item.
However, Premium Shipping can be used for international destinations. In addition, it gives you more advanced real time tracking information, and you can change an address at any time.
Express Shipping is the quickest shipping option. On average, it will take three business days for a product to be printed and produced and another 3-5 business days for delivery.
Express Shipping is a great option for international shipping. You will get real time tracking information once the package is sent out as well.
However, if you use Express Shipping, there is no flat rate. The cost will depend on what you are shipping out (all Express Shipping rates are shown on this page).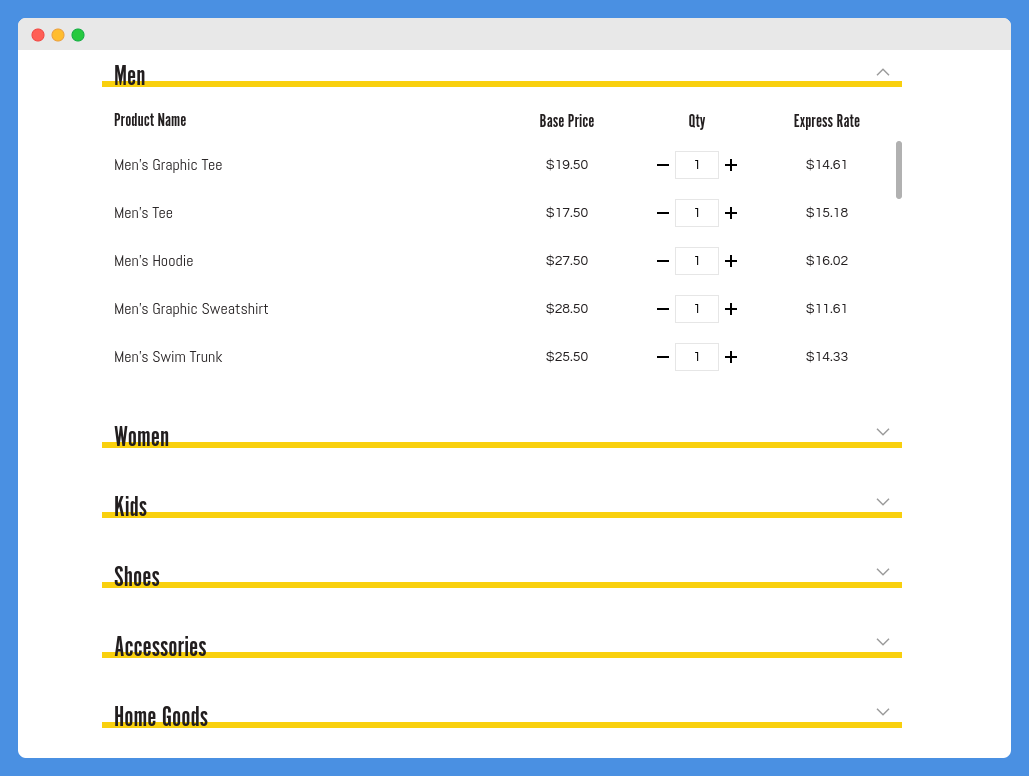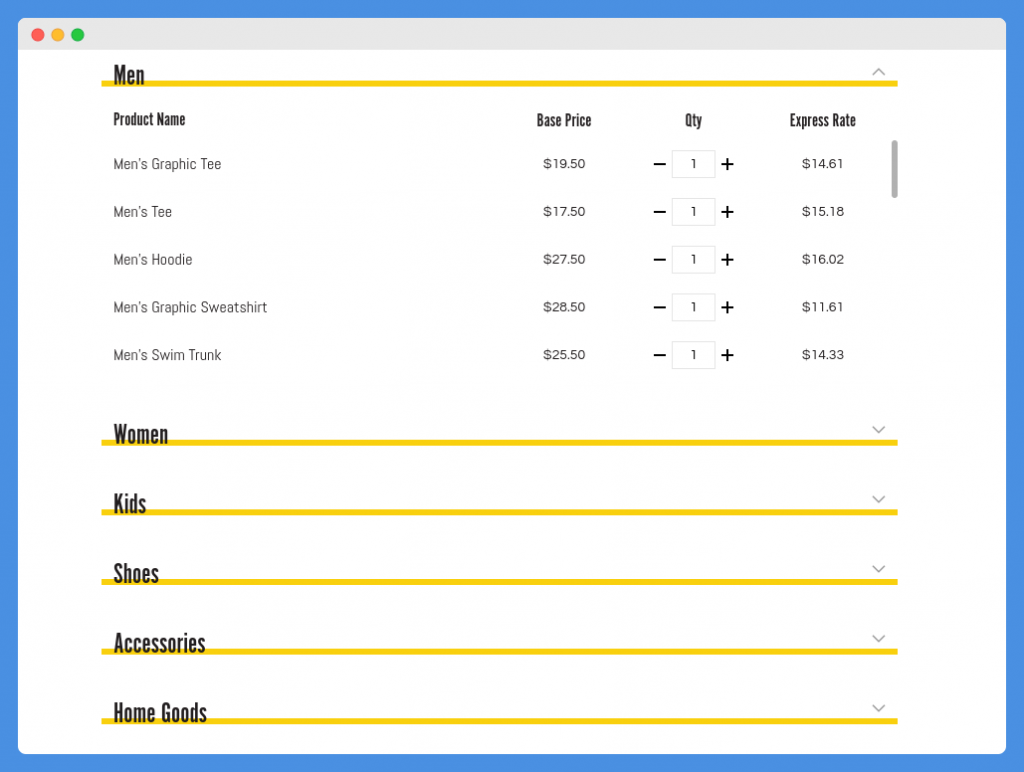 Keep in mind that not all international destinations are supported by Kin Custom. Here is where they do ship to: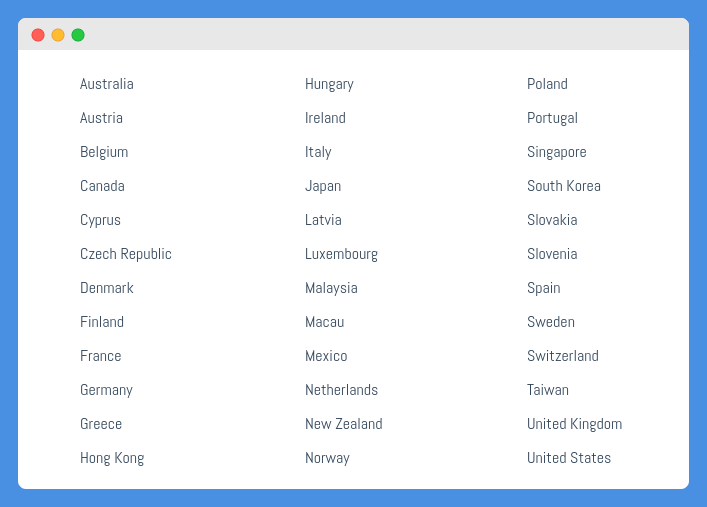 As you can see, Kin Custom does not ship to South America or Africa. Their shipping destinations include only countries in North America, Europe, and Asia.
In addition, they ship to US territories such as American Samoa, Guam, Puerto Rico, the Virgin Islands, and the Northern Mariana Islands, as well as some military destinations.
The Creator Studio
The Creator Studio is your dashboard where you can add new designs, see the merch and designs you already created and are selling, and view your sales. For example, you can click on Orders to see previous orders – from there, you can also get tracking information for orders that have already been fulfilled.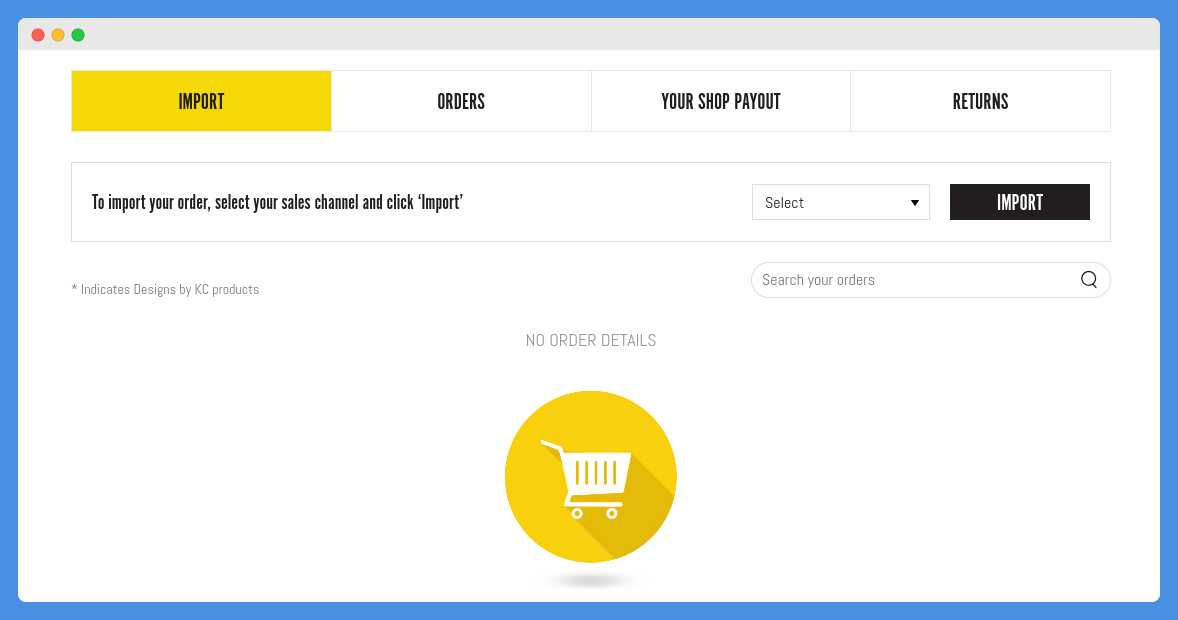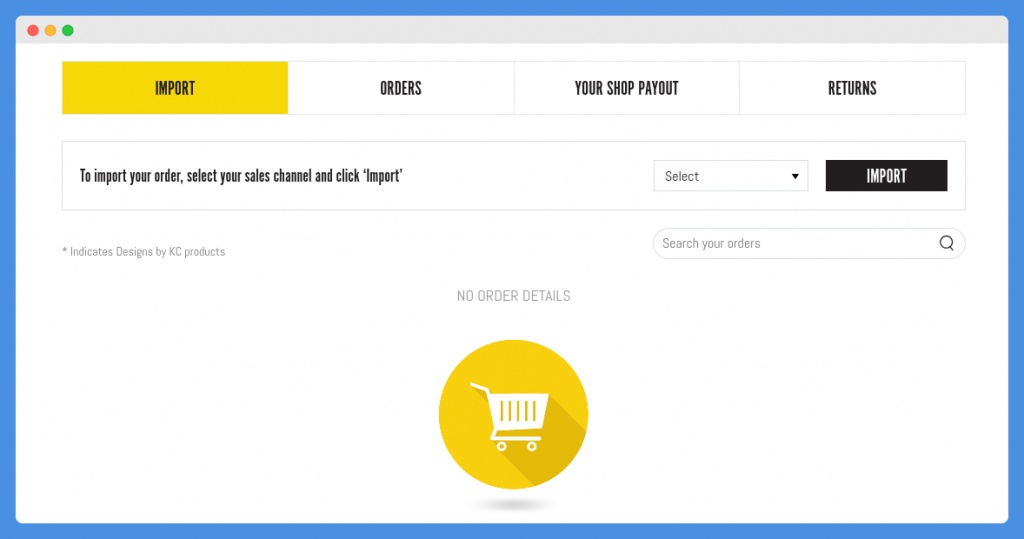 You will also be able to see all of your earnings (if you are selling on a Kin Custom storefront). In addition, you will be able to keep track of your returns.
When a customer makes a return and sends the item back to Kin Custom instead of your address, you will have 30 days to file a request with Kin Custom to get the item back. Otherwise, they will keep it.
Kin Custom Pricing And Promo Code
It is entirely free to join Kin Custom. You will only have to pay when an order comes in, and that is only if you are selling on Etsy or your own website; otherwise, you will have no upfront costs.
As for the base prices of the products themselves, I think they are actually quite expensive, compared to what other print on demand companies such as Printful or Printify charge.
You can go to the Product Selection page to see updated pricing information, as prices are always subject to change. However, here are some examples (keep in mind, these are base prices; you will have to add a margin onto these prices in order to earn a profit):
A Men's (standard) Tee costs $17.50
A Men's Everyday Pocket Tee costs $25.50
A Women's Seamless Sports Bra costs $22.50
A Large Backpack costs $39.50
A King Pillow Case costs $18.50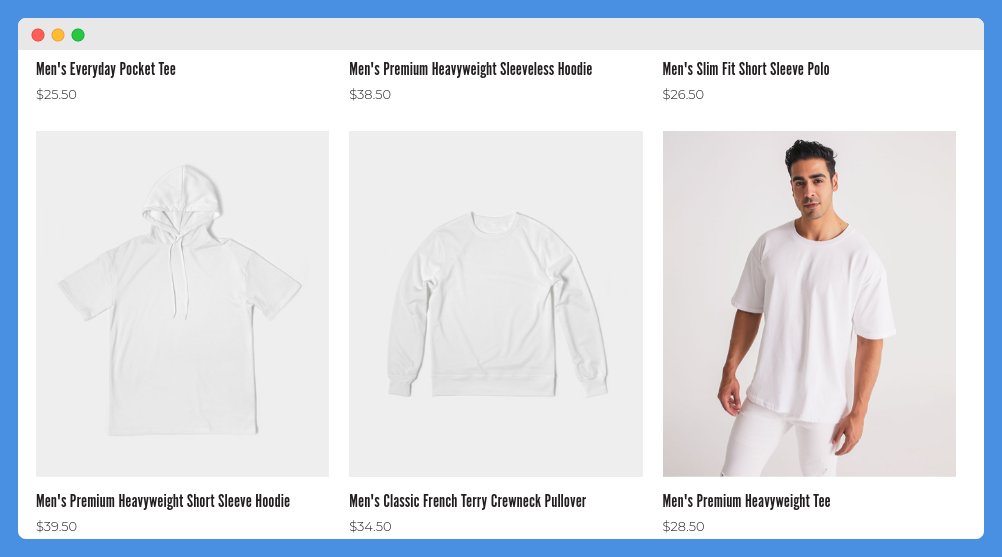 The list goes on. These prices are pretty expensive in my opinion, and it will be harder to offer competitive rates because of this.
Nevertheless, if your fans are loyal and love your brand or online content, they will be more than glad to purchase your merchandise. In addition, if your designs are particularly appealing, you will have no problem making sales.
In addition, if you are looking for promo codes, take comfort in the knowledge that Kin Custom DOES offer discounts of up to 45 percent if you order on a daily basis or are ordering samples. Keep in mind that discounts are applied automatically at checkout; there is no need to enter any code to qualify.


Customer Support
Kin Custom has a useful FAQs section where you can find answers to common questions. In addition, you can contact customer support by filling out the contact form on this page.
However, customer support is only available during business hours, so you won't be able to get a reply after hours or on weekends.
Kin Custom Reviews
There are not that many Kin Custom reviews online. The Shopify app has quite a few, and many are negative – but that can be a reflection of the Shopify app rather than the actual Kin Custom service.
On Facebook, Kin Custom is currently rated 3.4 stars from over 50 reviews. There are only a few reviews on Trustpilot, but they aren't good either (as of the time of this writing).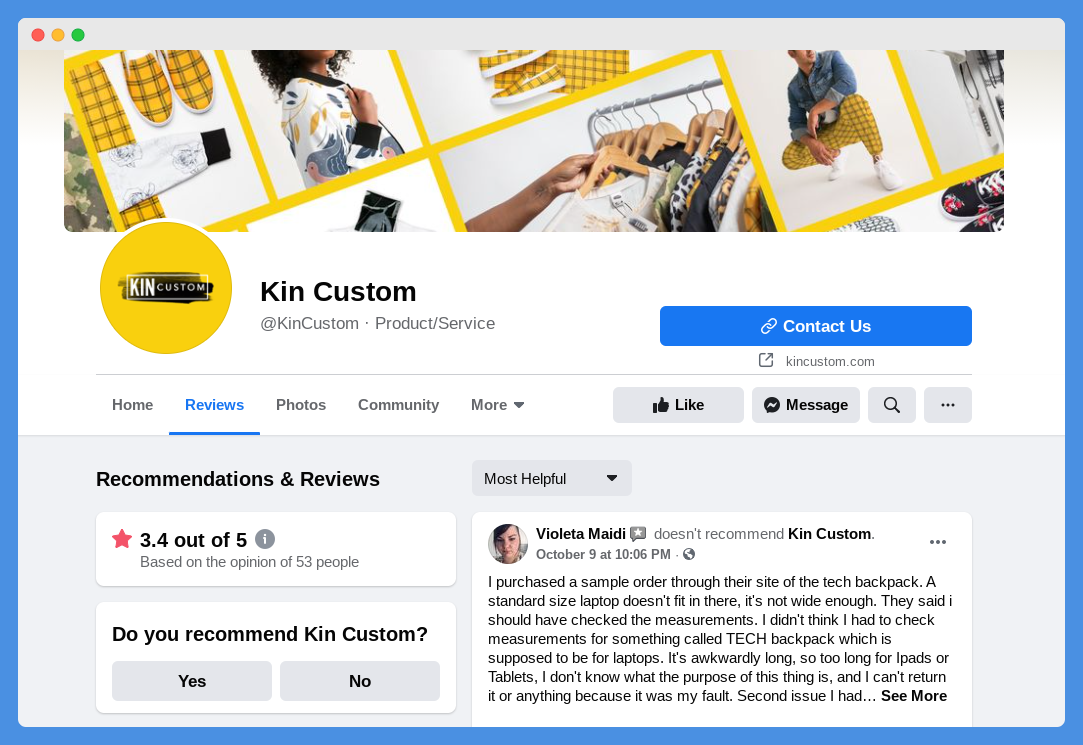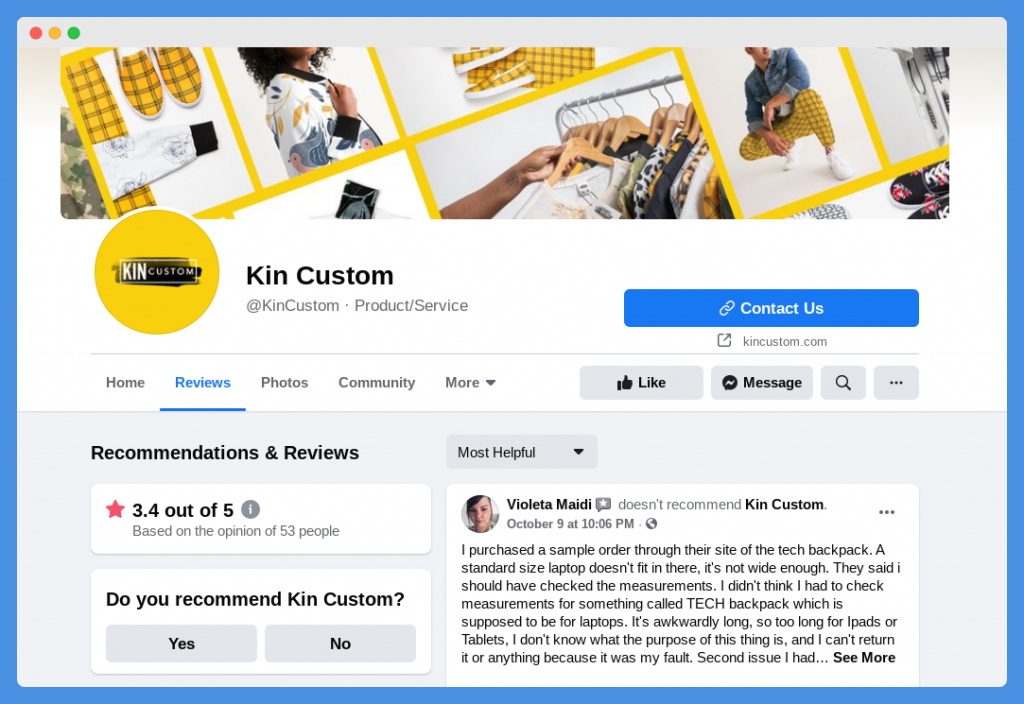 Reviewers seem to have similar problems: Bad customer service, an inability to get a reply from customer service reps, and slow production times that are sometimes taking a lot more than three days (even up to two weeks).
Is Kin Custom Legit?
Yes, Kin Custom is legit. It is a real company that you can use to create a print on demand and/or white label clothing business online.
However, it is not the best print on demand company out there.
Although it has some great things going for it, such as a great designer tool and awesome private label options, it seems to have some serious drawbacks, such as poor customer service, limited product selection (outside of clothes), and expensive prices.
Wrapping It Up: Is Kin Custom Worth It?
Kin Custom is legit, but that doesn't mean you should use Kin Custom over some of the more well known print on demand companies, such as Printful and Printify. In fact, Printful has a lot more to offer than Kin Custom.
Not only does Printful have almost everything Kin Custom has to offer, but it also has additional services, such as graphic design services (for an additional price) and warehousing and fulfillment services (this allows you to send non-Printful products to their warehouses for storage and fulfillment).
Nevertheless, Kin Custom has a lot of potential, and if their customer service and production times improve in the future, KC can definitely compete with many of the other more well known print on demand companies.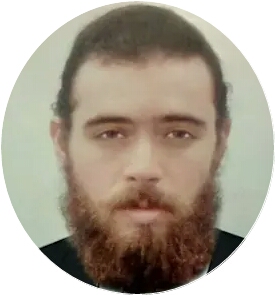 Author: Benjamin Levin
Benjamin Levin is a digital marketing professional with 4+ years of experience with inbound and outbound marketing. He helps small businesses reach their content creation, social media marketing, email marketing, and paid advertising goals. His hobbies include reading and traveling.