The growing eCommerce industry has presented merchants with emerging business models. More so, merchants now have a plethora of tools to increase sales and drive business growth.
The Print on Demand fulfillment model allows businesses to sell custom products online.
Although this model has been around for more than a decade, it continues to deliver significant ROI. Without keeping an inventory, merchants can sell customized designs on clothing, accessories, etc. They can automate the order fulfillment process from their online stores.
Printify, as you know, is a leading Print-On-Demand platform for businesses. This platform supports over 50,000 merchants. Printify has witnessed massive growth, More so, Inc. ranks Printify as one of the most successful US companies.
We tried searching for Printify reviews online but couldn't quite find any good Printify reviews so we decided to take it up in today's blog post.
In this Printify review, not only will we discuss Printify features, pricing, pros and cons but also rate the platform on certain parameters.
Let's get started.
Printify Review – Overview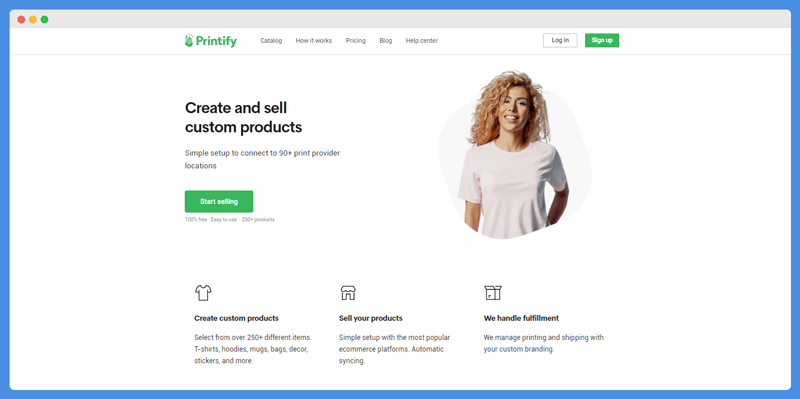 Printify is an on-demand printing and dropshipping platform for merchants and dropshippers. The company was founded in 2005. Its headquarters are in San Francisco, USA. Printify's goal is to help entrepreneurs create excellent products, drive sales, and increase profits.
They provide custom printing solutions on a wide range of items including
Clothing
Gift items
Accessories
Home living products and more
Printify allows merchants to print their products with ease. With their platform, dropshippers can connect with multiple print vendors all over the world. Furthermore, you can customize products with your concepts, designs, and content. And you can fulfill orders and ship products to your customers.
Printify has a strategic partnership with multiple print providers globally and some of their print providers are located in the UK, USA, Canada, China, Germany, and the Czech Republic.
Furthermore, Printify supports integration with various e-commerce platforms, including Shopify, Esty, eBay, Woocommerce, Wix, and more. Some of the eCommerce features you will enjoy on Printify include
Rich product catalog
Mockup generator
Product white-labeling (manufacturing),
Order fulfillment (packaging and shipping), etc.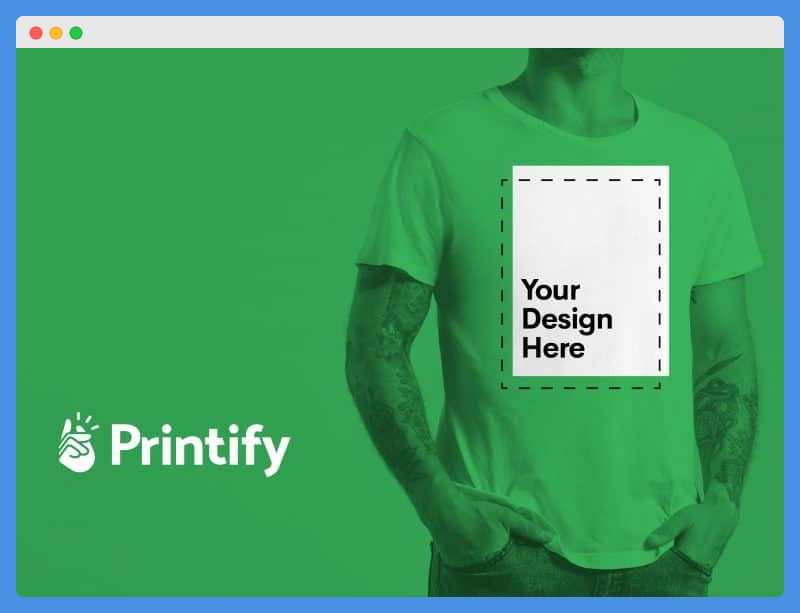 Printify has an excellent and incredible performance scoreboard. They have supported over 300,000 merchants and partnered with more than 90 print providers globally.
On the Printify platform, more than 10,000 products are created daily. Plus, there are over 3,000,000 Mockup generations per month.
Also Read: Best Print On Demand Sites

We earn a commission when you click this link and make a purchase.
Who Printify Is For?
Printify is an online platform and network. Therefore it provides valuable solutions and merchandising opportunity for
Online entrepreneurs
eCommerce merchants
Independent designers
Businesses
Non-profit organizations
Dropshippers
Print providers
Manufacturers
How Printify works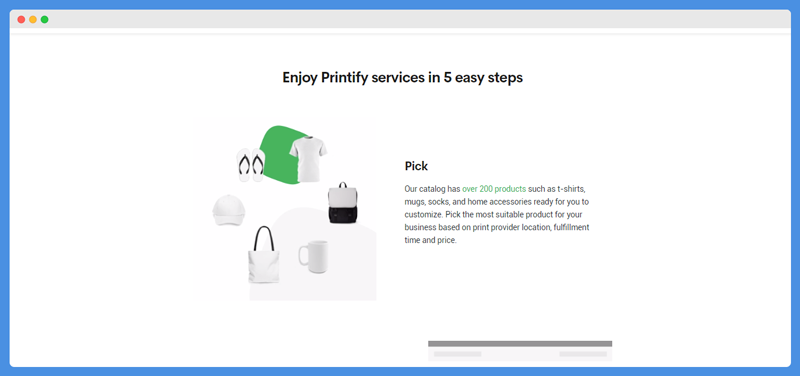 With Printify, merchants can source, create, and customize the best on-demand products. They can even choose products with the best prices and make profits from sales. Printify automates the entire process and makes it easy for sellers to get started in a few simple steps.
Get Started
To get started, you need to create an account or sign in to an existing account.
First, search for the Printify product catalog to choose the most suitable product for your business. The product catalog has more than 250 products, including T-shirts, sweatshirts, bags, etc. You can pick your products based on the location of your print providers, price, and fulfillment time.
Then, you can go ahead to customize your products. With the Printify free Mockup Generator, you can create mockup designs and apply them to your preferred products. More so, you can upload your designs and choose different color options.
Merchants can preview their products on high-quality images. Also, they can easily add products to their online store from the mockup generator.
Order Samples
After designing your product, you can order samples from your preferred print provider. With the samples, merchants can confirm product feel, texture, and quality. They can also test different products and find a suitable print vendor for their business.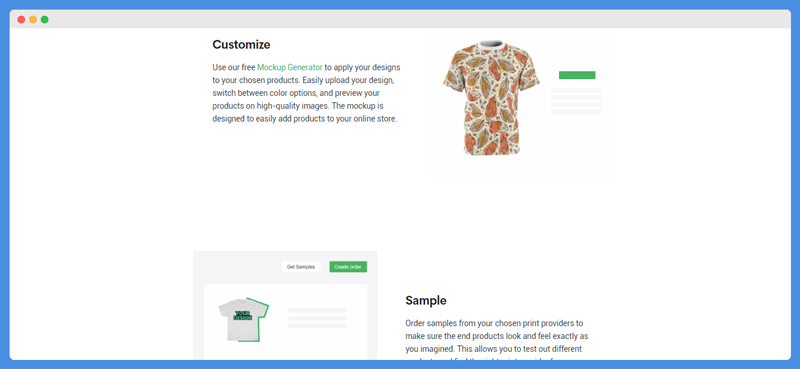 Once you're satisfied with your custom product, publish it to your online store automatically.
Start Selling
You can quickly sell to millions of online customers. Whether you are using Shopify or eBay, Printify can connect with your store. Printify integrates with a plethora of eCommerce platforms.
When a customer places an order, your product will pass through quality control. Afterward, Printify will send your item for production and customization.
After that, Printify will package and ship the product directly to your customer. You can track the entire order fulfillment process from your Printify account.
Yes, it is that simple. Printify handles the difficult part while you focus on growing your brand.
Printify Review – Features
Brand Customization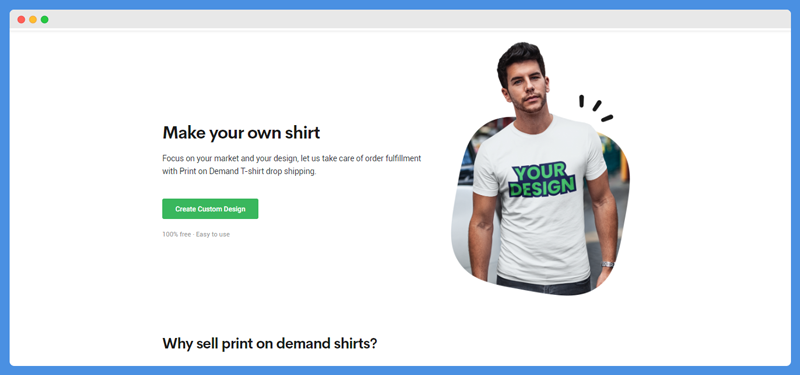 Printify white label and customized branding services is a great feature. The Printify brand will not appear on the package or the shipping label.
Some of Printify's print providers offer neck label printing and branding options for t-shirts. Fifth Sun and DTG2GO are the most notable print vendors that provide this option.

We earn a commission when you click this link and make a purchase.
Also, you can update your shipping label to showcase your brand. Also, you can improve your customer experience using brand customization options.
The shipping label specifies your brand or store name and the return address. You can change the shipping label information from your Store Setup page.
Printify Warehousing & Order Fulfillment
Storage and inventory management are key cost components for businesses. Warehousing comes with its risks and costs and remains a critical concern. But dropshipping to customers can help to eliminate the need for maintaining inventory.
With Printify, Dropshippers can customize, ship, and sell products without maintaining stock.
When you sell a product, Printify sends your product to a print provider for printing. After printing, the Print Provider will ship the item to your customer regardless of the product type.
Just create your custom product, choose your printing provider, and relax. Printify will handle your inventory and order fulfillment.
Worth Exploring: Print On Demand Shopify Store Examples
Printify Products
Product Categories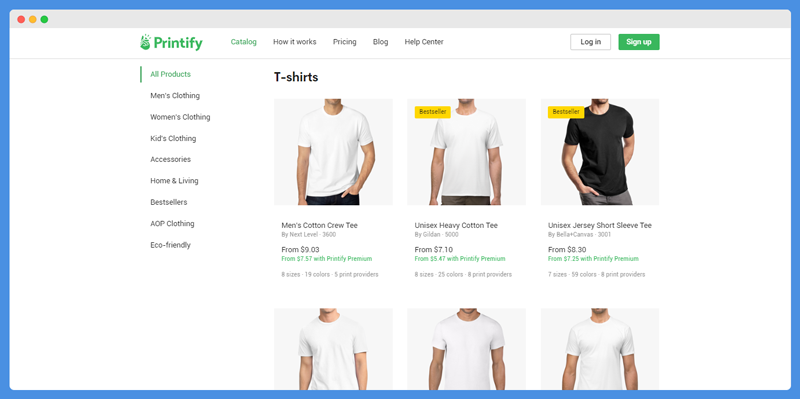 Printify has a robust catalog of over 250,000 products from different brands. Some of the product categories include
Men's clothing
Women's clothing
Kid's clothing
Accessories
Home and living items (art and wall decor, blankets, mugs, pillows, covers, etc.)
Best selling products
AOP clothing
Eco-friendly products
Best Selling Products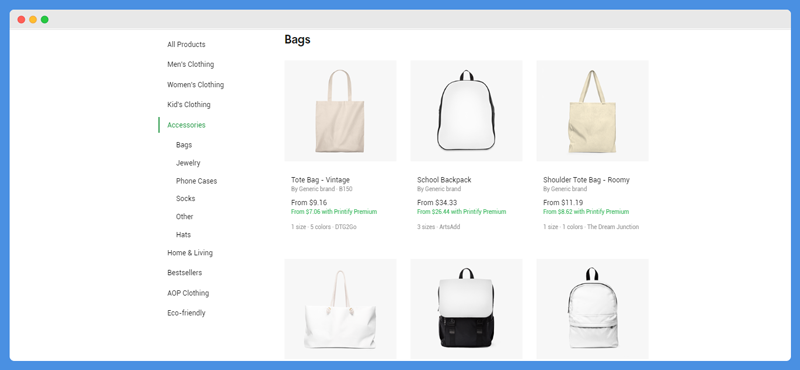 Printify has a list of highly marketable products with high sales potential. These best selling products will bring in more sales, profits, and help you grow your business.
Here are some of the best selling products.
Unisex heavy cotton tee
Unisex jersey short-sleeved tee
Kiss cut stickers
White ceramic mug
Sublimation socks
Unisex heavy blend hooded sweatshirt
Crewneck sweatshirts
Custom wall poster
All over print cut and sew t-shirt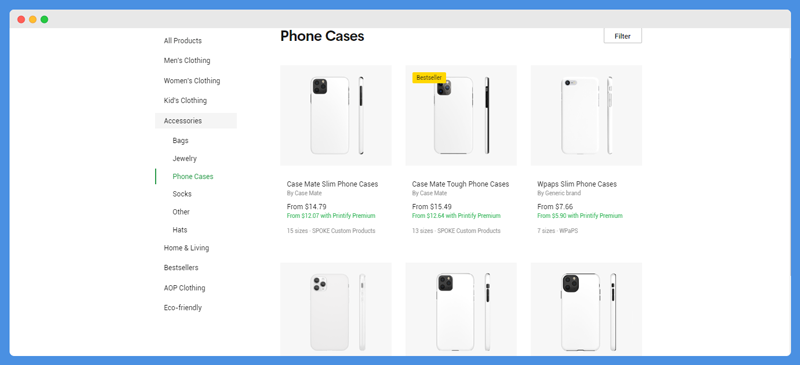 Brands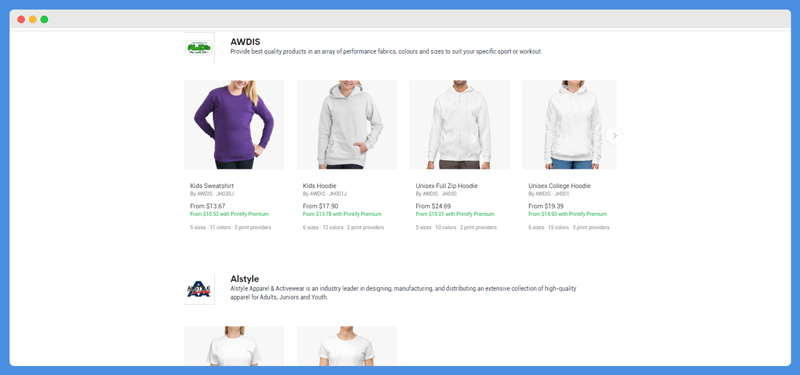 Some of the products on the Printify catalog are from brands such as
AWDIS: Sport and workout fabrics
Alstyle: Quality adult, youth, and junior clothing
Anvil: Men's and women's clothing
Bella+Canvas: Clothing for men and women
Case-Mate: Mobile technology and tablet accessories
Delta: Activewear, apparel, and headwear for men, women, juniors, youth, and children
District: Clothing, footwear, and accessories
Fruit Of The Loom: Apparel
Gildan: Shirts, fleece, sport shirts, underwear, socks, hosiery, and shapewear
Hanes: Basic apparel
Independent Trading Company: Custom and blank apparel
LAT Apparel: Blank products for men, women, and teens
Next Level: Fashionable fabrics
Rabbit Skins: Blank products for men, women, teens, kids, babies, and dogs
Sport-Tek: Activewear for athletes, fans, teams, and groups
Stanley Stella: Fabrics for men and women
Interesting Post: Best Shopify Print-On-Demand Apps
Printify Print Providers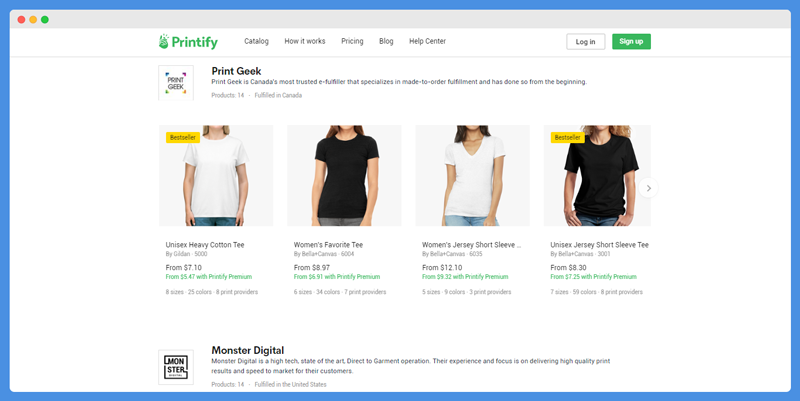 Printify has a vast network of partners for personalized product fulfillment. They partner with some of the best print providers.
The print providers may use different print technologies such as
Direct to Garment printing (DTG)
Sublimation technique

We earn a commission when you click this link and make a purchase.
Also, they offer different print colors, products, garment options, areas, and production time.
Print providers are based at different locations and therefore have different base pricing. Merchants may need to plan for shipping costs depending on the location they plan to sell their products.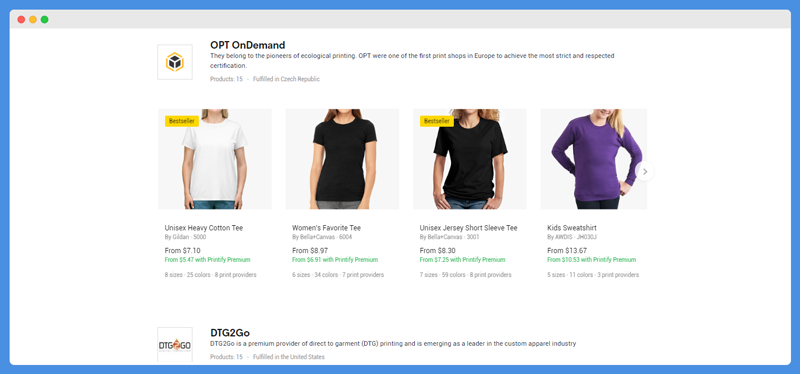 Before selecting a print provider to print your products, you can learn more about them on their website or Print Providers page. You can also compare shipping rates for print providers.
Some of the popular Printify print providers include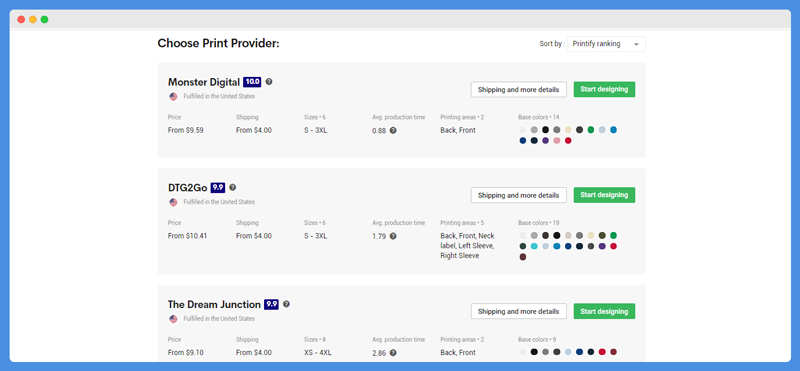 Print Geek-Fulfilled in Canada
Monster Digital- Fulfilled in the United States
Tribe Socks-Fulfilled in the United States
Textildruck Europa- Fulfilled in Germany
OPT OnDemand- Fulfilled in the Czech Republic
DTG2Go- Fulfilled in the United States
Troupe Jewelry-Fulfilled in the United States
WOYC- Worldwide fulfillment
MyLocker-Fulfilled in the United States
MWW On Demand- Fulfilled in the United States
The Dream Junction- Fulfilled in the United States
T-shirt and Sons – Fulfilled in the UK
Fifth Sun – Fulfilled in the US
SPOKE Custom Products – Fulfilled in the US
CG Pro prints- Fulfilled in the US
Prodigi- Fulfilled in the UK
WPaPS- Fulfilled in the UK
You Might Want To Read: Printful Vs Printify
Printify Print Quality
Printify strives to deliver products and items with high-quality prints.
They utilize two main printing techniques. Direct-to-Garment (DTG) printing is their frequently used technique for garments. They also use Dye Sublimation printing for All-Over-Prints (AOP). The AOP technique is used on products such as pillows, mugs, accessories, and more.
Talking about Printify quality check, they have a solid process in place. Their team performs detailed quality checks before production to ensure quality output. They check your product's design placement and quality.
Here's how they ensure quality.
When a customer places an order, Printify checks that mockup file to ensure they are suitable for production. They check designs, alignments, and placements
If they find any issues, Printify will notify you via email and await your response. During this period, Printify will place your order on hold for a week.
When there are no responses, Printify will
Automatically send the product for production
Cancel the order if your product is suspected to be infringing on a third party's copyright
Merchants would not be eligible for item replacements if production occurs due to non-response.
The initial Quality Check stage lasts 12 hours or less. When the quality check team certifies your product, Printify will automatically update your order status to "in production."
Every time you update an item, they go through Quality Check. For example, a change in design placement or image.
Printify Mockup Generator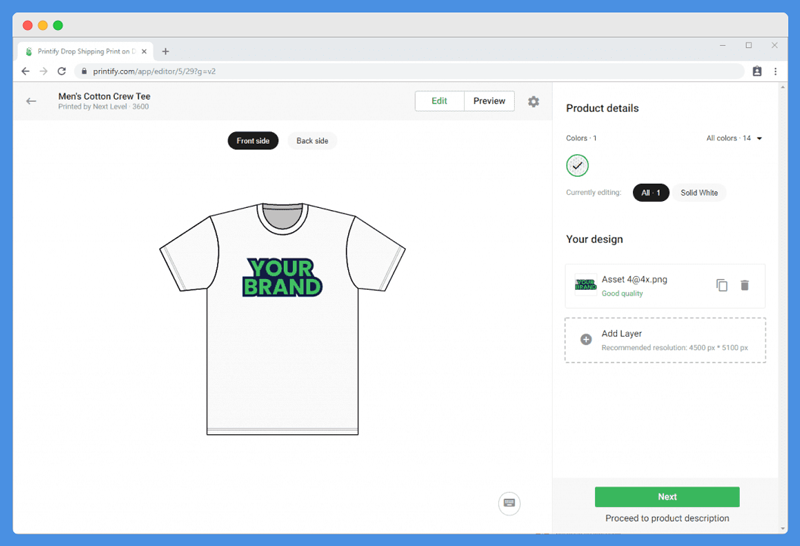 The Printify mockup generator helps you bring your designs to reality.
Merchants can create incredible product mockups using a simple drag and drop tool.
You can upload your designs, select color and size, and preview designs.
Just select your preferred product and print providers. Then, proceed to the mockup generator to design.

We earn a commission when you click this link and make a purchase.
Lets us take a look at the t-shirt mockup generator
Upload your designs and ensure your designs meet the resolution requirements
Using the mockup generator positioner, you can reposition your image to achieve perfect placement. Merchants can, zoom, rotate, and center designs
Place the designs in suitable areas. Most of the t-shirts have design placement options for front, back, and sleeves, while some have placements for outer and inner neck labels
From the design interface, you can select the t-shirt colors and sizes. You cannot have more than 100 variants for each product.
When you are through with your design set up, you can preview your designs.
Furthermore, merchants can view all printing design areas, front, views, etc. For most products, they can view up to four design angles.
From the mockup tool, you can even preview the designs with a high-quality product image and you can use the product images on your online store.
After designing your product, you can add product details then, you can publish directly to your online shop.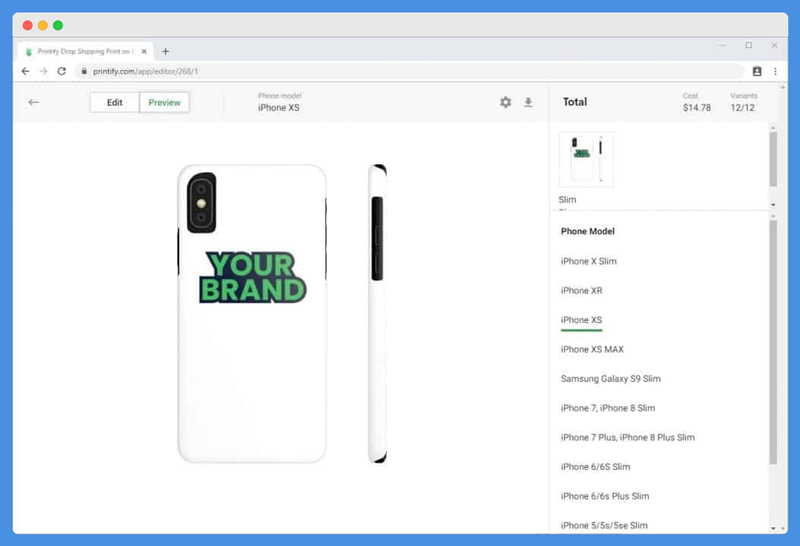 Other mockup generators available on Printify include
Phone case mockup generator
Mug mockup generator
Wall art mockup generator
Tote bags mockup generator
Embroidery mockup generator
Useful Post: Best T-shirt Dropshipping Companies
Profits
Businesses can calculate potential profits on Printify. To analyze profits, we will take a look at the shirt brand, Bella and Canvas 3001. We will consider the Printify monthly app cost, shirt cost, and shipping cost.
Printify's monthly app cost is $29. The Bella and Canvas 3001 t-shirt costs $7.25, and the shipping cost is $4. The total cost of the t-Shirt plus shipping = $11.25
Profits earned selling at $35 will be $23.75.
Monthly profits earned from selling ten shirts at $35 will be $237.50 minus $29.
Therefore the total monthly profits will be $208.50.
Printify Shipping Rates
The product shipping rates vary according to your location and chosen print provider.
Let us review the shipping rates for two printing providers- Fifth Sun and Print Geek
Fifth Sun (US Fulfillment Center)
Shirts: USA – $4, Canada – $12, and International – $16
Hoodies, Sweatshirts, and Long Sleeves: USA – $9, Canada – $19, and International – $28
Print Geek (Canada Fulfilment Center)
Shirts: Canada – $6.50, USA – $7.50, and the rest of the world – $10
Sweatshirts and Hoodies: Canada – $9, USA – $10, and the rest of the world- $15
Printify partners with reliable courier companies to deliver shipping services, including FedEx, DHL, UPS, and more.
Printify Integrations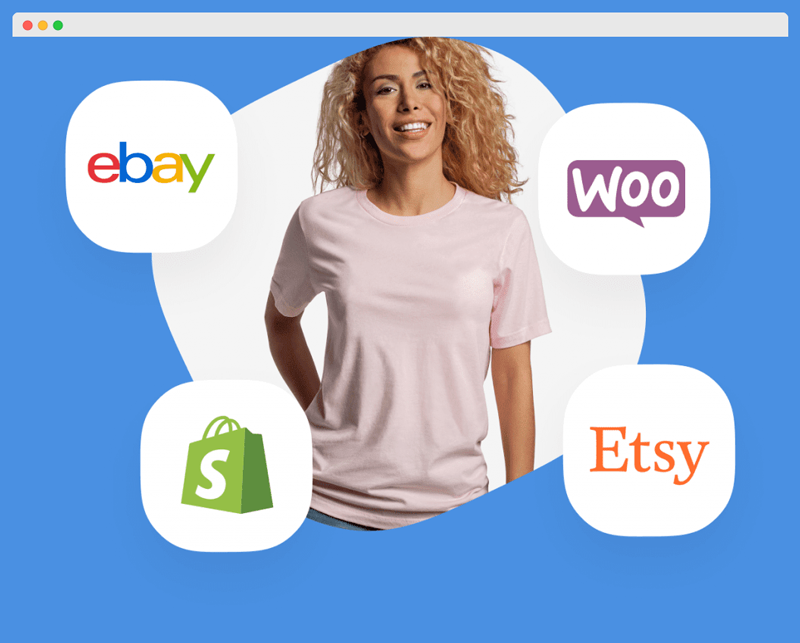 Printify supports integrations with multiple online platforms. Be it Printify ebay or Printify Shopify, it's all possible. Here's the complete list of platforms they support.
Shopify
Etsy
eBay
WIX
Woocommerce
You can select and use one or multiple online platforms. Go ahead and choose the platform that best suits your personal and business needs.
Printify offers an API to enable developers to build custom solutions. With the API, developers can explore development opportunities. They can also automate their printing requests and order from their online store.
If you own an eCommerce platform, the API lets merchants sell on your platform. Individual merchants can connect Printify to their store application.
Interesting Comparison: Printify Vs Teespring
Printify Merchant Protection
Printify has employed effective strategies to protect merchants using the Printify platform. The merchant protection policy covers image quality control, reprints, and refunds.
Image Control
The Printify team performs Image Quality Control. They ensure the quality of your design print is top-notch. Every design and artwork passes through an image quality check before print production.
If the artwork is not printed in good quality, Printify doesn't make any alterations to your files. Instead, they notify you about the quality issues.
Reprint
The merchant protection policy also ensures that products are reprinted when there are issues. It covers product errors from poor quality, incorrect printing, or damages. If there are errors, just contact Printify's Merchant Support and attach pictures of the mistakes.
Their Printify Merchant Support team will inspect and evaluate your concerns. They will send out replacements to your customers as soon as they can.
Refund
The merchant protection policy ensures you get full refunds where issues persist.
Were there issues after the reprints, Printify will evaluate your product information after notifying Merchant Support and they will place a refund order to your account within one business day.
You can view Printify's Terms of Service to look for the errors for which Printify will accept full responsibility.
Printify Pricing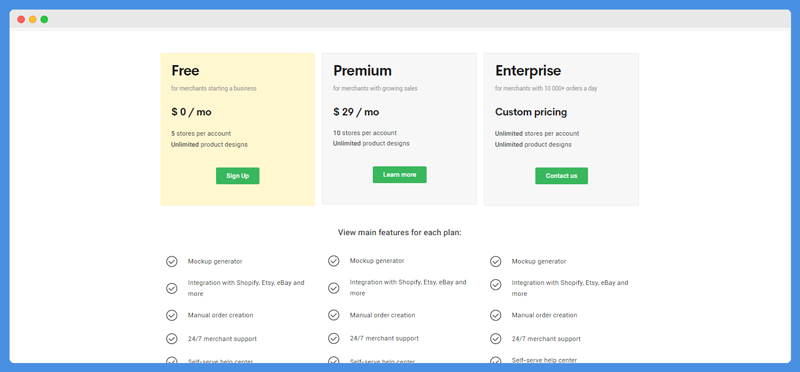 Printify pricing includes three categories.
1. Free Plan
$0 per month. This plan is for sellers who are just starting their business. It supports five stores for each account and unlimited product designs.
Free plan users will enjoy the following features
Access to mockup generator
Integration with Etsy, eBay, WIX, Woocommerce, and Shopify
Creation of manual orders
24-hour merchant support
Self-service from the help center
2. Premium Plan
It starts at $29 per month. Suitable for merchants that are growing their sales. This plan supports unlimited product designs and ten online stores per account.
Some of the features of the include:
Free mockup generator
Manual order creation
Integration with WIX, Shopify, WooCommerce, Etsy, and eBay
24-hour support for merchants
Self-service via the help center
Custom order import
Up to 20 percent discount on all products
3. Enterprise Plan
This plan is for merchants who record more than 10,000 orders per day. You may need to contact Printify to get custom pricing for this plan.
Users will enjoy unlimited product designs and can connect unlimited stores per account.
The features in this plan include
Mockup generator
Integration with Shopify, WooCommerce Etsy, eBay, and WIX
Creation of manual orders
24-hour support for merchants
Self-service from Printify help center
Branded customer support
Custom order import
20 percent discount on all products
First-time access to new features
Integration with custom API
Dedicated account manager
Explore: Printful Vs Redbubble

We earn a commission when you click this link and make a purchase.
Printify Customer Service & Support
Printify provides 24-hour support for merchants. You can fill a form to get in touch with their support team. Also, you can get in touch with them via the merchant support email.
If you have more questions about Printify, you can visit the help center to get answers and advice from the help team. They have a comprehensive knowledge base with articles to help you get started. The Printify blog contains marketing tips, product news, designs, trends, and success stories.
Furthermore, Printify has guides to equip you with knowledge for your business. You can learn about custom merchandising, embroidery design, eBay selling, and more.
Ratings
Ease-of-Use
The Printify platform is foolproof. The mockup generator has a simple drag and drop tool to help you create fantastic product designs.
Therefore I will give the ease of use a 5-star rating out of 5.
Features
Printify has impressive features to help merchants start and grow their businesses. So the features earn a 5-star rating out of 5.
Customer Service and Support
In most cases, Printify's customer service is unresponsive or slow to respond. There are various negative reviews about their service and support. So I'll give a 2-star rating out of 5.
Value for Money
Printify has generated so many testimonials from satisfied customers. They have enjoyed value for their money. So I'll give it a 4-star rating out of 5.
Printify Pros
Printify has gathered many positive reviews. Here is why merchants love this tool.
Printify has a free pricing plan
Product quality from print providers is excellent
They have a comprehensive knowledge base and user guide
Printify has up to 90 order fulfillment facilities
Extensive database of over 250 products
Printify has a vast and global network of print providers
The merchant support policy protects merchants
They offer image quality checks, reprints, and refunds.
Printify Cons
Some of the issues you will experience while using this tool include:
Limited platform and online marketplace integrations
Customer service is slow and unresponsive
Customizations and branding options are limited
Conclusion
We have reviewed their features, ratings, and pricing. Our article has also highlighted what users will enjoy and the potential issues they may face.
Printify is one of the best on-demand printing and dropshipping solutions. And there are reasons why Printify stands out amongst its competitors.
They have a comprehensive product database of over 250 products. Printify's extensive network of print providers globally means merchants now have more options. They can find print providers according to their location and shipping costs.
With their merchant protection policy, merchants will not lose money or sales opportunities. They can get quality product prints, reprints, and refunds when there are issues.
All in all, Printify is a great print on demand platform to consider.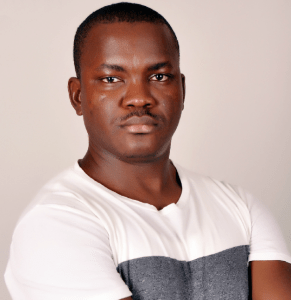 Author: Nicholas Godwin
Nicholas Godwin helps businesses tell profitable brand stories that their audiences love. He's worked on projects for Fortune 500 companies, global tech corporations and top consulting firms, from Bloomberg Beta, Accenture, PwC, and Deloitte to HP, Shell, and AT&T. Works with Mofluid these days.