It's no news that businesses are moving online at a pace that's way faster than the best pundits ever predicted.
Although experts posited retail eCommerce will exceed $6.5 trillion by 2023, recent global events would have shifted that figure and it'd be significantly higher now.
Behind all that growth are eCommerce platforms. With a growing array of online tools, what's the best platform to use to deliver your digital downloads?
Gumroad has been a big player in helping creatives sell their art, music, eBooks, videos, and more. Specifically, you can rely on the software to do these:
Automate your sales processes
Build an audience for your products
Sell your products globally
So why opt for alternatives?
Despite Gumroad's capabilities, it has shortcomings. For example, it offers customers limited analytics and customization functionalities.
Here, we'll talk about the best Gumroad alternatives to sell digital art, eBooks, and more. So if Gumroad doesn't work for you, you'll find a viable option.
Best Gumroad Alternatives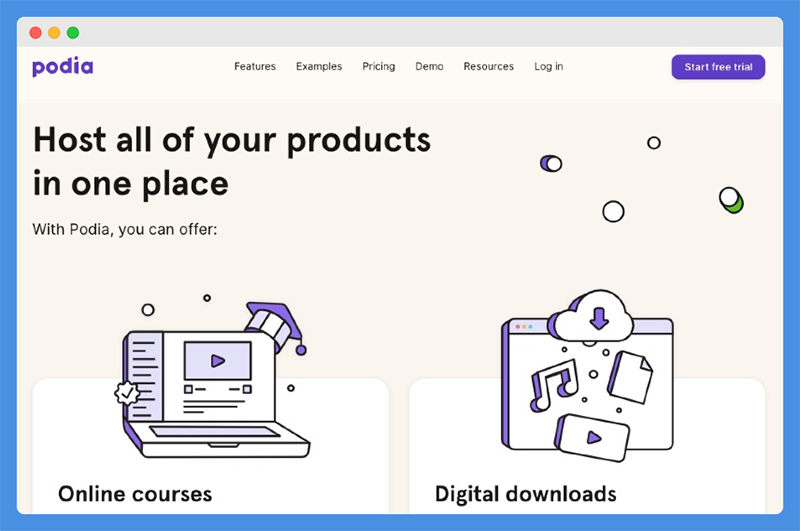 Podia helps you skip the technicalities of selling your art and digital goods online. The platform allows you to start selling as soon as possible.
You can offer different products like online courses, digital downloads, memberships, and webinars.
Unlike Gumroad, you can use this platform to run your entire business. So instead of focusing on payments and deliverables only, Podia lets you customize your product offering, upsell your buyers, manage affiliates, and more.
You can also build your website and publish posts on your blog.
Moreover, you can use Podia to create email marketing campaigns and build your customer relationships.
Features of Podia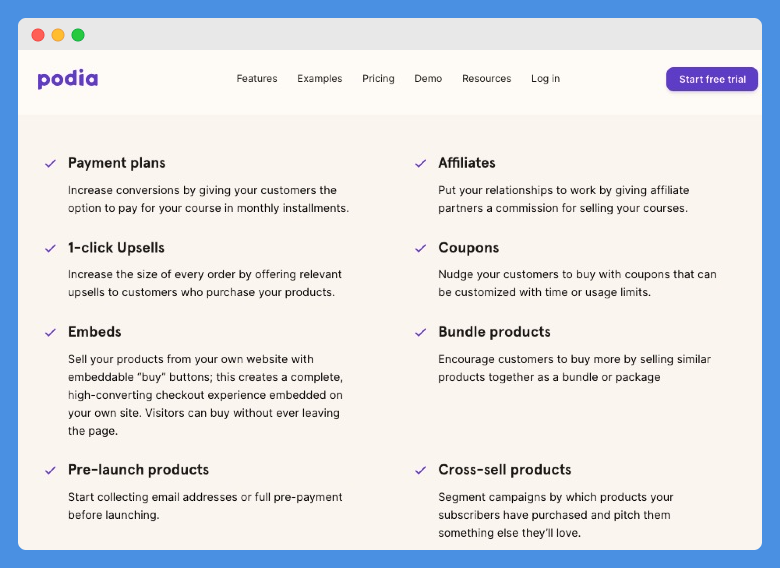 You can use this eCommerce solution to set up your website. Podia offers free migration, unlimited hosting, multiple languages, currency support, custom URLs, and integrations.
Customization
You can use Podia to customize your sales pages and homepage to match your brand. Here you can include your brand logo and colors. You have full control of your pages and you can change the layouts.
Podia allows you to add videos, text, images, and testimonials. If you have existing content, you can seamlessly migrate it to this platform, optimized for all devices.
Memberships
You can use Podia to build an engaged online community while earning recurring revenue. You can use this model to create different membership plans and publish exclusive content for your members.
You can use this feature to engage customers and bundle products for sale boosting. This software allows you to connect with your members on exclusive third-party groups.
Marketing
You can market your products and boost sales using channels like these:
Email marketing tools
Messaging tools
Sales pages
Analytics and reporting tools
Conversion optimized checkouts
Payment plans
Affiliates
1-click upsells
Coupons and discounts
Product bundles
Podia Pricing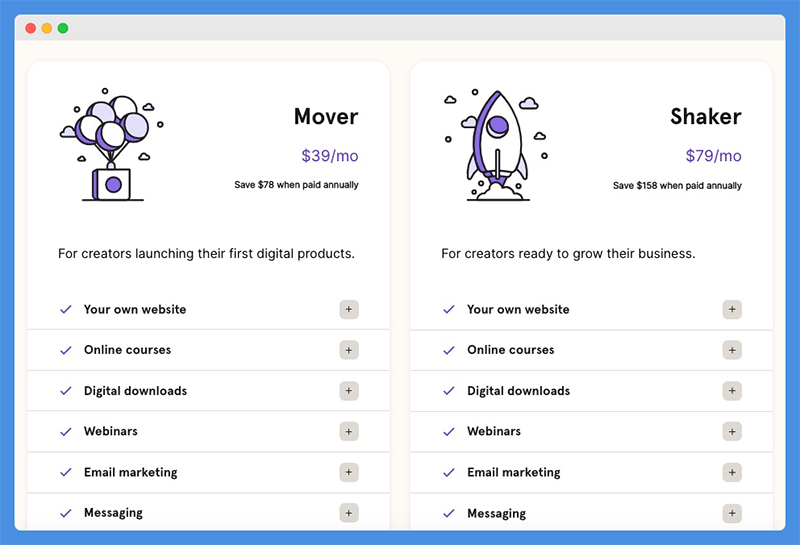 Podia offers two pricing categories.
Mover – $39 per month
Shaker – $79 per month
Please note that the pricing is subject to change over time. Kindly check the Podia website for more information.
Advantages of Podia
It offers free hosting and migration
Live customer support
It offers an unlimited bandwidth
No transaction fees
Disadvantages of Podia
It does not support the sale of physical products
The platform is hard to navigate for beginners
Limited analytics and automation options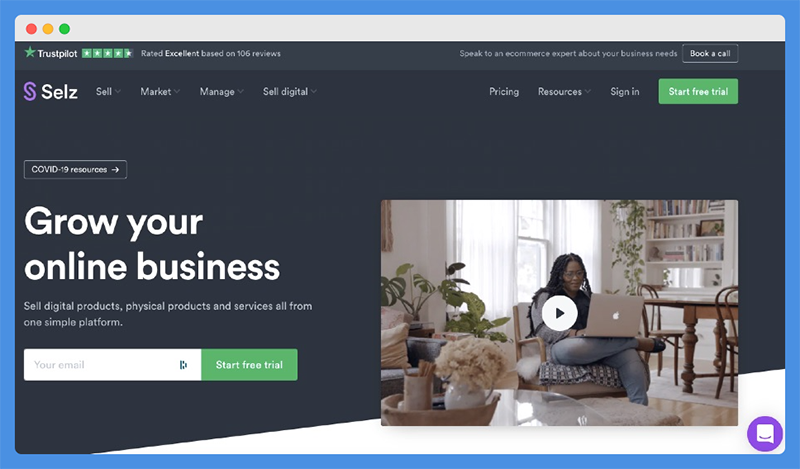 Selz is a simple platform for you to sell digital products, physical products, and professional services. This solution enables you to start, manage, and scale your business with ease.
You can use this platform for
Smart marketing
Multi-channel selling
Digital product selling
Inventory management
Business and consumer insight
Invoicing and taxing, etc.
Features of Selz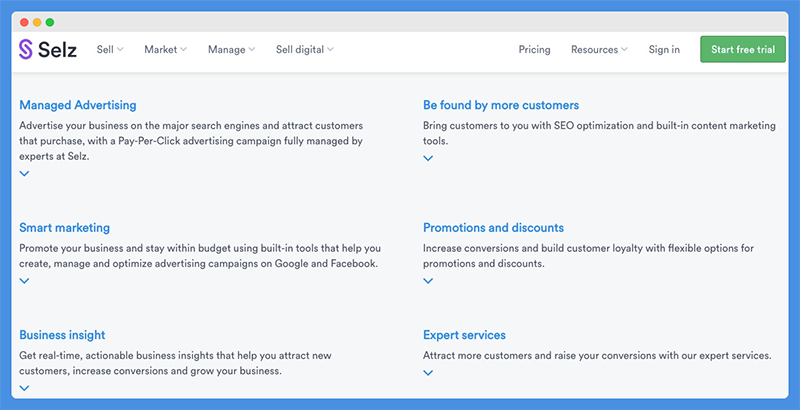 Gumroad offers you a landing page but Selz does more. You'll get both the landing pages and other features to support your sales.
It offers a complete set of business features that allows you to create a customizable eCommerce site with ease.
You can use Selz to sell any service and different digital products, like eBooks, software, videos, and digital downloads.
You can use this platform to scale your business and sell it through different channels. Selz lets you develop eCommerce websites, works with existing blogs or websites, social media, and across marketplaces.
Customizations
This eCommerce solution provides a simple online store builder for you to create a functional online store. Unlike Gumroad, Selz gives you maximum control over your eCommerce store. You can use boost your visibility by
Adding your custom domain name
Adding a shopping cart, on-page checkout, and products to existing websites
Showcasing your products in marketplaces like Google Shopping
Marketing
Selz allows you to drive conversions and sales using in-built marketing tools. You can coordinate your content marketing, optimize for SEO, run promotions, and take care of discounts.
Business Insights
You can use this eCommerce solution to get real-time insights into your customers and their buying behavior. Selz integrates with analytics engines like Bing Analytics and Google Analytics.
You can use Selz to scale and manage your business processes. The platform lets you manage your inventory, product shipping, and taxes. You can even manage your staff right on Selz.
Selz Pricing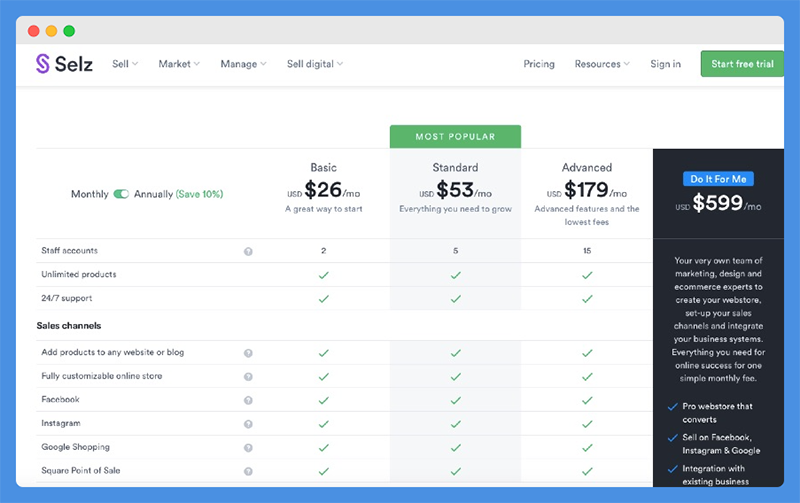 This solution has four pricing categories.
Basic: $29 per month (2 Staff accounts)
Standard: $59 per month (5 Staff accounts)
Advanced: $199 per month (15 Staff accounts)
Do IT For Me: $599 per month
Pricing for Selz may change. Please visit their website for more information.
Advantages of Selz
It offers unlimited bandwidth and hosting
24/7 live support
Unlimited customization capabilities
No setup fees
Disadvantages of Selz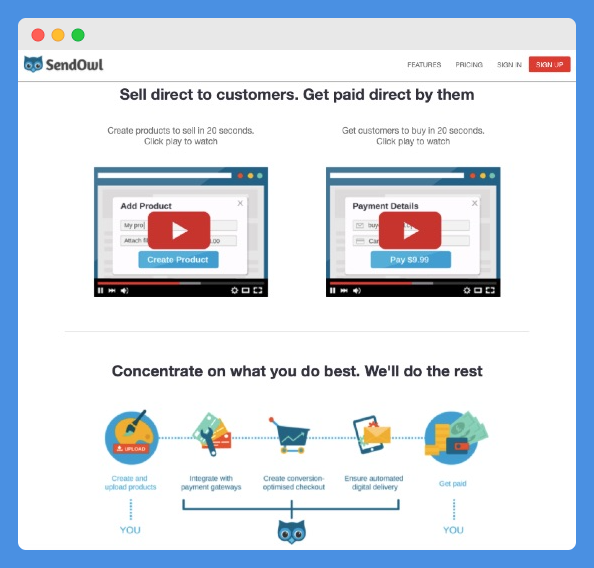 SendOwl helps business owners to increase their digital product sale conversion rates. Here's what you get from SendOwl:
Payment gateways integrations
Conversion optimized checkouts
Automated digital delivery
Features of SendOwl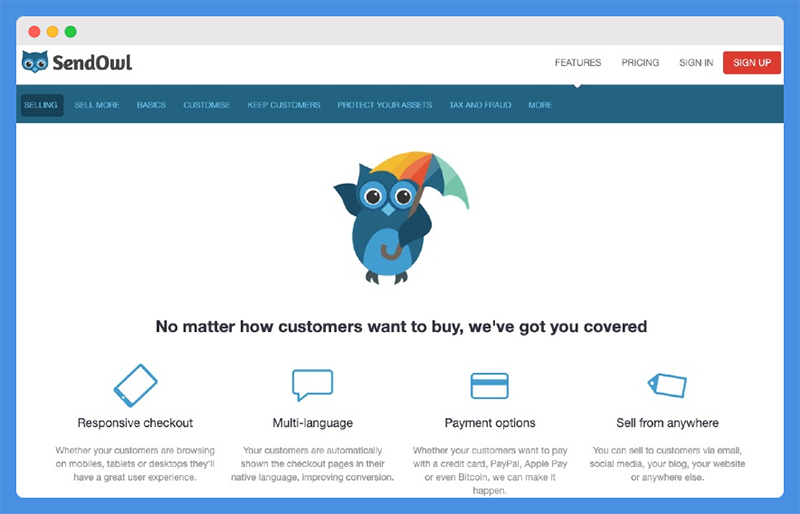 SendOwl allows you to scale your business and sell your digital products with ease using:
Responsive checkouts
Multi-language support
Multiple payment options
Multi-channel selling
SendOwl helps businesses to handle their sales administration, tracking, and reporting.
You can use this eCommerce solution to sell anything you want like digital products, services, physical products, memberships, subscriptions, and drip functionality.
Beyond product sale, SendOwl helps you secure your digital files and scales with your business. You can increase your conversions with these features:
Custom checkout fields
Brand reinforcement
Email marketing
Advanced analytics and reporting
Free updates
SendOwl enables you to protect your digital products like PDFs and videos. You can let this solution handle the generation, issuance, and storage of your software license keys.
SendOwl Pricing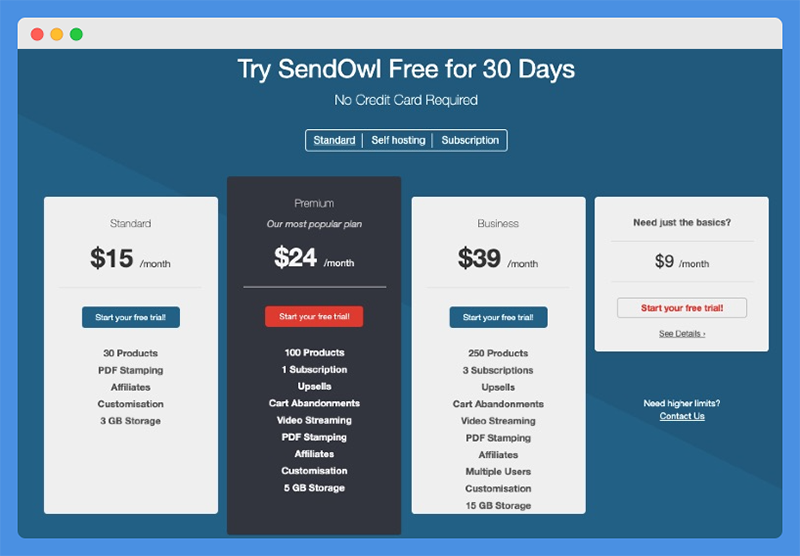 This solution has three price categories.
Standard: $15 per month (no upsells)
Premium: $24 per month (1 upsells)
Business: $39 per month (3 upsells)
Compared to Gumroad, SendOwl has no transaction fees. Please note that the pricing may change over time. Visit Send Owl's website for updated information.
Advantages of SendOwl
No transaction fees
It offers tax management capabilities
Multiple language support
Disadvantages of SendOwl
No live support
No community support
It lacks A/B split testing
Read this interesting comparison post: SendOwl Vs ThriveCart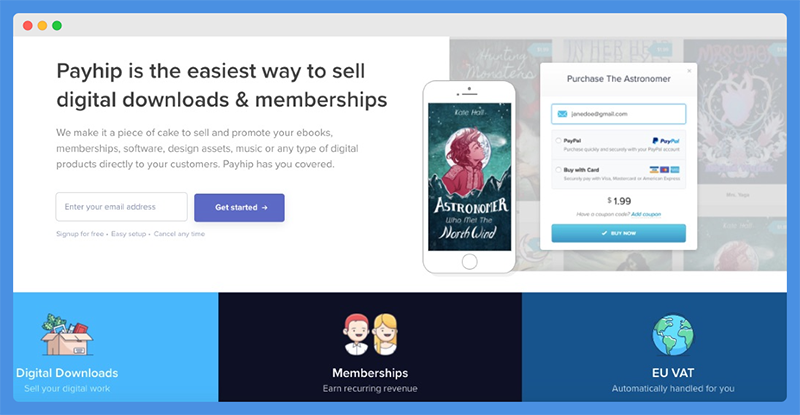 Like Gumroad, you can sell your digital products directly to customers on Payhip. You can also sell and promote memberships on this platform.
Features of Payhip
This eCommerce solution provides tools to grow your business and increase your product sales. Unlike Gumroad, Payhip has optimized checkouts, multichannel selling, and instant digital downloads.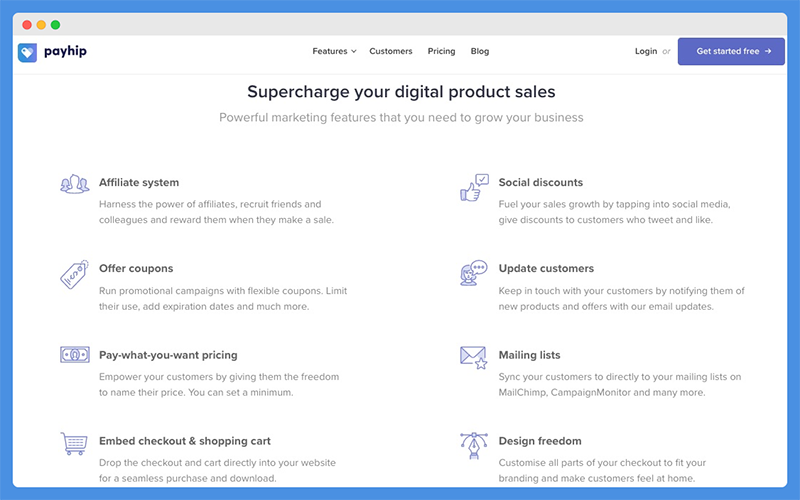 Moreover, Payhip supports multiple payment gateways — features you won't find in Gumroad. You can use this platform to accept payments from different international currencies.
Payhip helps you to boost your product sales using powerful marketing features like:
Affiliate systems
Coupons
Embedded checkouts and shopping carts
Customer updates
Payhip enables you to customize your checkout to fit your brand. I also found out you can protect your digital downloads on this solution with limited downloads, PDF stamping, and software licensing.
Like Gumroad, Payhip offers you membership management solutions. You can set up multiple payment plans and membership levels. Payhip lets you update your membership database and control what members see.
The tool lets you share exclusive content, customize your billing, and you can host your members on your site.
Additionally, you can set up free membership trials so that your customers can try the platform before you charge them any fees.
Payhip Pricing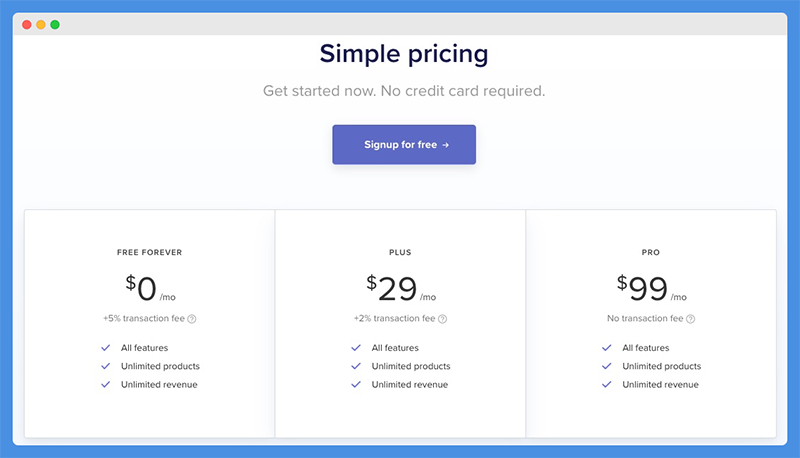 Payhip offers three pricing categories.
Free Forever: $0 per month (5% transaction fee)
Plus: $20 per month (2% transaction fee)
Pro: $99 per month (No transaction fee)
Note that the prices are subject to change over time. Please visit the Payhip website for more information.
Advantages of Payhip
Easy to use
You can sell subscriptions and memberships
It supports multiple payment gateways
Digital downloads security
It offers custom billing intervals
Disadvantages of Payhip
Sale of physical products not supported
It offers limited 3rd party integrations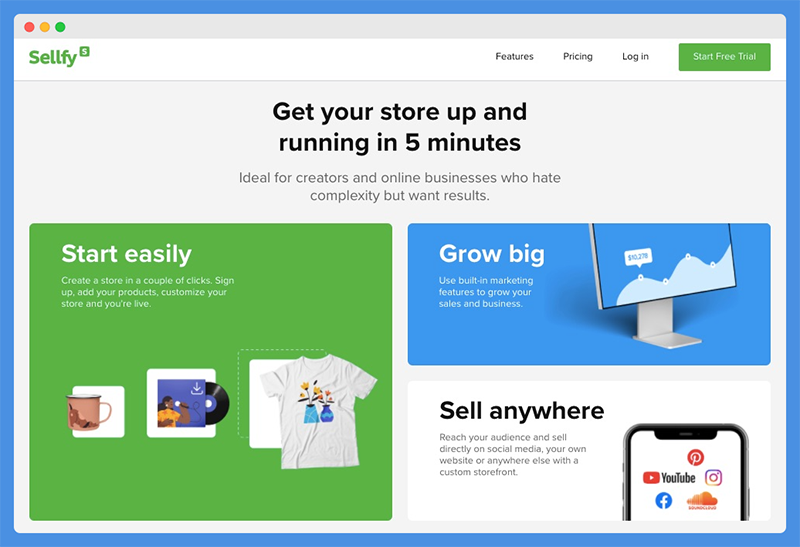 Sellfy is an eCommerce solution that helps creators and online businesses to sell digital products and merchandise with ease. This easy-to-use solution allows users to
Create and customize their stores
Grow their sales
Reach their audience on any platform
Features of Sellfy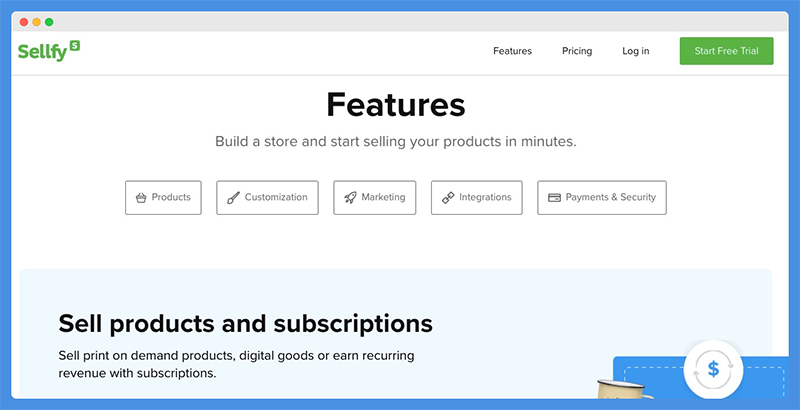 Sellfy makes it easy for creators to build a store and sell their products. You can use this solution to
Sell all types of digital products
Sell physical products
Print products like hoodies, t-shirts, and hats on demand
Build digital subscription products, etc.
Customizations
Unlike Gumroad's lack of customizations, you can customize your Sellfy storefront to suit your brand. You can add your brand logo and colors, connect your existing domain, add shopping carts, and optimize for mobile devices.
Marketing
Sellfy enables you to grow your business and market your audience better by using discounts, email marketing, upselling, and Facebook and Twitter ad pixels.
Performance Analytics
With this platform's inbuilt Google analytics, you can track your customers, best selling products, and traffic-driving channels with ease. Online businesses can sell their products on their websites or social media platforms by
Adding product links on social media platforms
Adding "Buy now" buttons
Embedding product cards
Embedding the whole Sellfy store into the website
Payment Options and Gateways
Beyond online product sales, Sellfy provides you with global payment gateways like Stripe and PayPal. Trusted payment processors handle the payment information of buyers.
Sellfy Pricing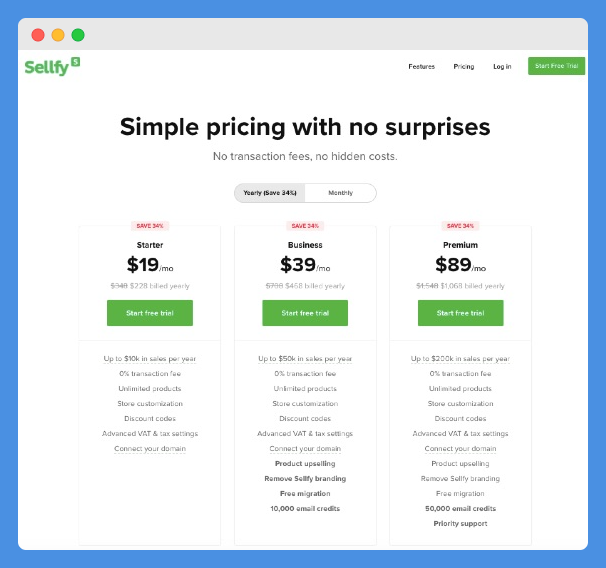 One more advantage that Sellfy has over Gumroad is no transaction fees. You'd simply pay a fixed monthly fee and use Sellfy all month, regardless of transaction volume.
This solution has three pricing categories.
Starter: $29 per month
Business: $59 per month
Premium: $129 per month
Sellfy offers a 14-day free trial to allow you to explore the platform with no strings attached. Pricing for this software may change over time. Please visit Sellfy's website for more information.
Advantages of Sellfy
The platform is easy to use
The support team is available 24/7
There are multiple customization options
Sellfy provides in-depth analytics and reports unlike most of its alternatives
Disadvantages of Sellfy
There are limited gateway integrations
Additional payment processing fees
There are limited email credits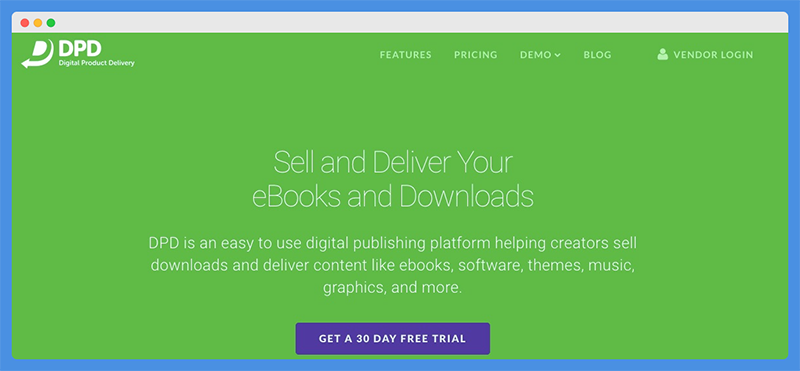 You can use DPD to sell different digital content like eBooks, music, software, graphics, and themes. You do not need to have any programming knowledge to use this platform.
Unlike Gumroad, DPD integrates with different sales and marketing tools like MailChimp, AWeber, iContact, Campaign Monitor, GetResponse, Google Analytics, Zapier, and Post Affiliate Pro.
Features of DPD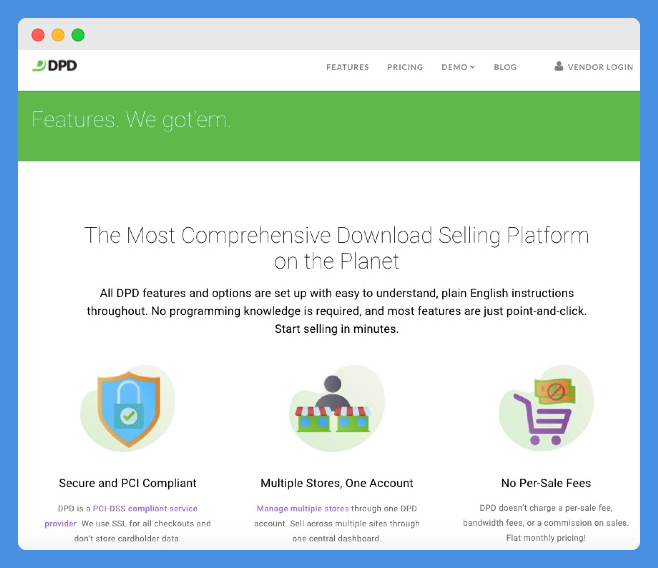 You can use one account on this platform to manage multiple stores. DPD offers different store level options like checkout customizations, payment processors, invoice and email templates, coupons and discounts, and integrations.
You can create an unlimited number of stores on the same account. DPD offers no bandwidth fees, sales commissions, and per-sale fees.
PDF Protection
You can use this solution to stamp your PDFs with the buyer's information automatically. This process discourages the sharing of copyrighted content.
Here you can
Use your custom stamp text
Choose stamp position, size, and color
Set the specific page range for stamping
Encrypt PDF to prevent printing and text copying
Product Sale
DPD supports the sale of different types of products apart from digital products. Some of them include physical goods, services, subscriptions and memberships, product bundles, and key codes.
Product Updates
You can use this solution to send product updates to customers automatically. DPD allows you to integrate your customer data and checkout process with your custom programs.
Payment Gateways Supported
DPD supports multiple payment processors like Stripe, PayPal, Moolah, Sagepay, Pin Payments, ClickBank, and Authorize.Net. This is its advantageous feature over Gumroad.
DPD Pricing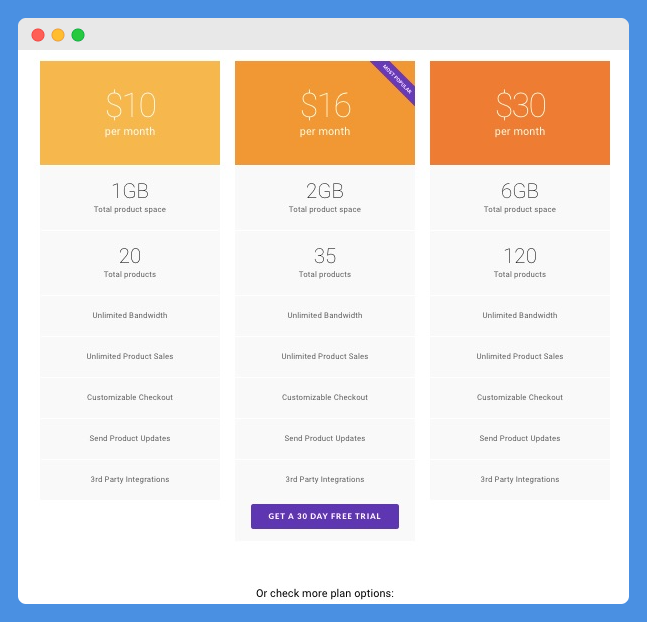 This solution offers a flat rate based on your product number and size.
$10 per month (1GB product space, 20 products)
$16 per month (2GB product space, 35 products)
$30 per month (6GB product space, 120 products)
Note that the pricing is subject to change with time. Please visit the DPD website for more information.
Advantages of DPD
Support for different payment processors
It supports multiple 3rd party integrations
It offers digital products protection
Disadvantages of DPD
Limited customization options
No live support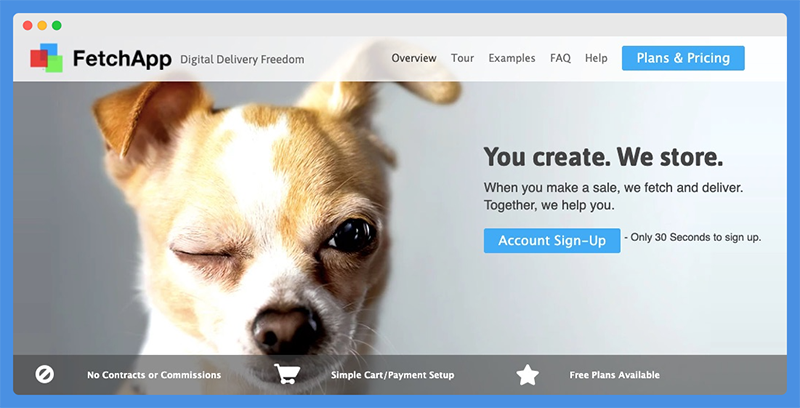 Like Gumroad, FetchApp allows you to sell all types of digital products. Here you can sell music, photos, videos, eBooks, software, and PDFs.
You can use this solution to host your files securely. FetchApp helps in automating delivery for your customers with no additional installation.
Features of FetchApp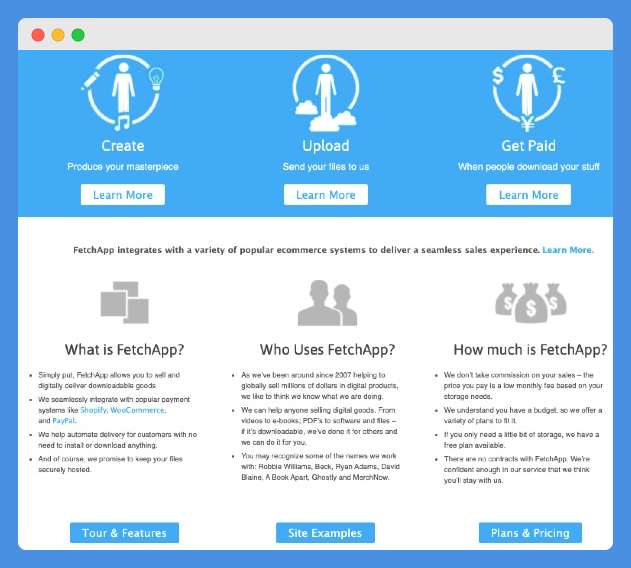 This hosted platform does not require any installation. You can accept payments on FetchApp through Shopify, PayPal, WooCommerce, and Joomla.
With the FetchApp API, you can use your custom systems to receive payment.
You have complete control over when customers can access your files. This solution allows you to expire orders once received by customers.
Product Management
Before you can upload any product on this platform, you need to give them a title, price, and SKU. FetchApp allows you to import your products from BigCommerce or Shopify.
FetchApp lets you build product bundles and divide large files into smaller ones right within its platform.
Order Management
You can use FetchApp to track all your orders. This platform gives you complete control of your orders. You can use this eCommerce solution to
Directly add new orders
Automatically deliver download links
Restrict downloads by quantity or time
Customize customer emails
Edit, reopen, and resend orders
Manually expire orders
Enable previous customers to download updated files
FetchApp Pricing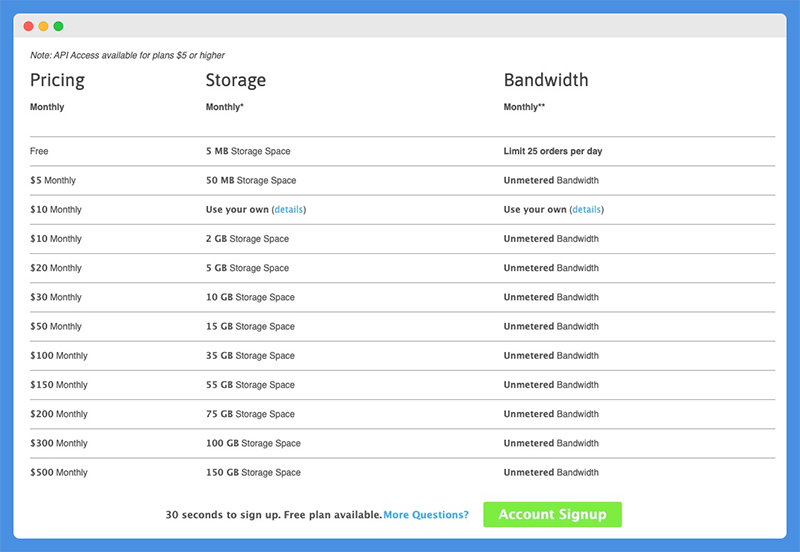 This solution offers pricing plans based on storage space and bandwidth.
Free – $0 per month ( 5MB storage space, 25 orders per day)
$5 per month (50MB storage space, unmetered bandwidth)
$10 per month (2GB storage space, unmetered bandwidth)
$20 per month (5GB storage space, unmetered bandwidth)
Advantages of FetchApp
Automatic product delivery
Reasonably priced
Easy to use
Disadvantages of FetchApp
Limited customization features
Limited analytics and reporting features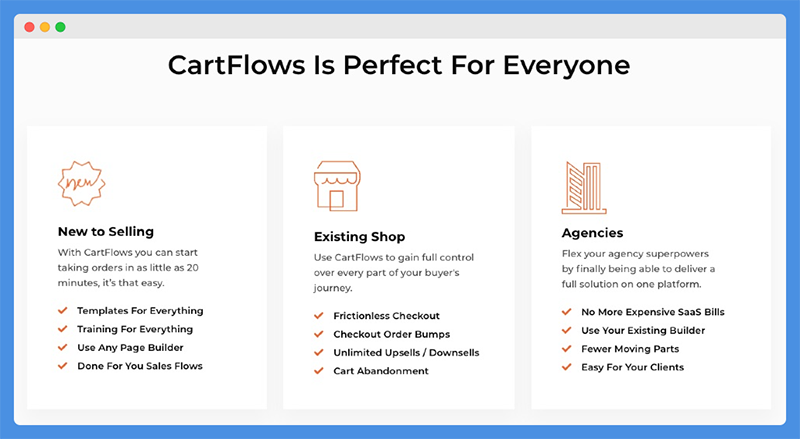 You can use CartFlows to increase your sales conversions and profits. This platform enables you to turn your website into an optimized selling machine.
For those new to selling, CartFlows provides templates and training to get you on your feet. This solution offers complete control over every part of your journey with:
Unlimited upsells and downsells
Cart abandonment
Frictionless checkouts
Order bumps
Features of CartFlows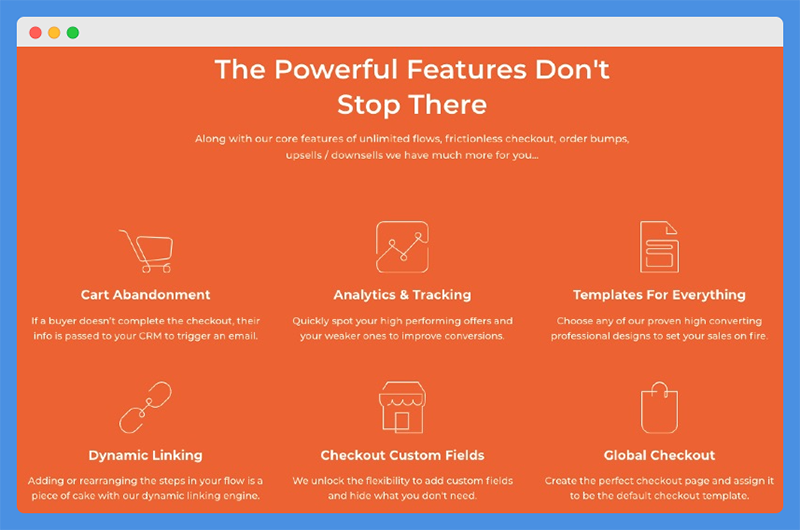 You can create landing and sales pages with the high converting templates provided. CartFlows works with popular page builders like Gutenberg, Elementor, Divi Builder, and Beaver Builder.
Optimized Checkout
You can replace your old checkout process with CartFlows' optimized checkout. With this software, you can increase sales by adding order bumps to your checkout pages for complimentary products, training programs, and extended warranties.
Upsells
You can create additional offers for your customers after checkout. Some of them include one time offers and software with higher pricing plans.
This feature allows you to cross-sell related product offers.
Marketing and Sales Tools
You can boost your sales and business growth using a wide array of tools. Cartflow allows you to track and analyze your store's performance, add dynamic links, and manage your checkout. You can add custom checkout fields and manage cart abandonment events.
CartFlows Pricing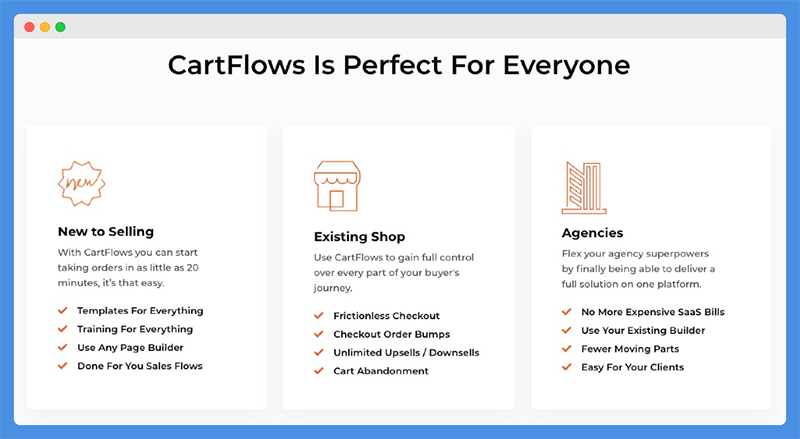 CartFlows offers one pricing plan. CartFlows Pro costs $299 per year.
Note that the pricing is subject to change over time. Please visit the CartFlows website for more information.
Advantages of CartFlows
It is compatible with existing page builders
Multiple integrations
Unlimited upsells and downsells
Disadvantages of CartFlows
Limited customization functionality
No affiliate marketing plugins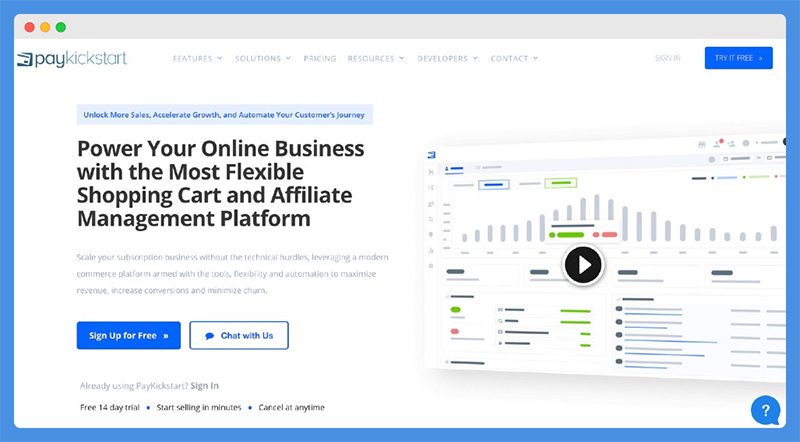 You can use PayKickstart to accelerate your business growth and automate your customer's journey. You can use this platform's affiliate management system to sell products, services, and memberships.
Features of PayKickstart
You can use this solution to manage and track your customer's lifecycle. This solution gives you complete control over your billing with subscriber acquisition tools.
PayKickstart integrates with Facebook retargeting and Google Analytics for visitor conversion. If you want to do this with Gumroad then you'll have to resort to Zapier or other paid tools.
Moreover, PayKickstart lets you use coupon codes, order bumps, and 1-click upsells to maximize your conversions.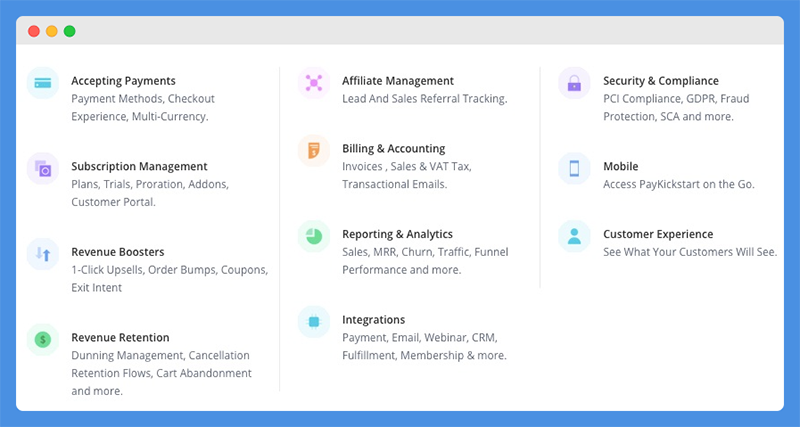 Affiliate Management
PayKickstart's affiliate management system offers both instant and delayed commission payouts. You can use this feature to track leads and sales. This platform offers
In-built marketing materials
Automated bonus delivery
Lifetime commissions
W9/W8 tax form collection
Payment Processing
You can price your products using PayKickstart's flexible subscription model.
This solution offers multiple payment options like credit and debit cards, PayPal, Stripe, ACH, Apple Pay, Authorize.net, and Braintree. PayKickstart offers API for custom integrations.
Analytics and Reporting
You can use this platform to analyze different types of reports. PayKickstart offers powerful marketing automation and integrations.
PayKickstart Pricing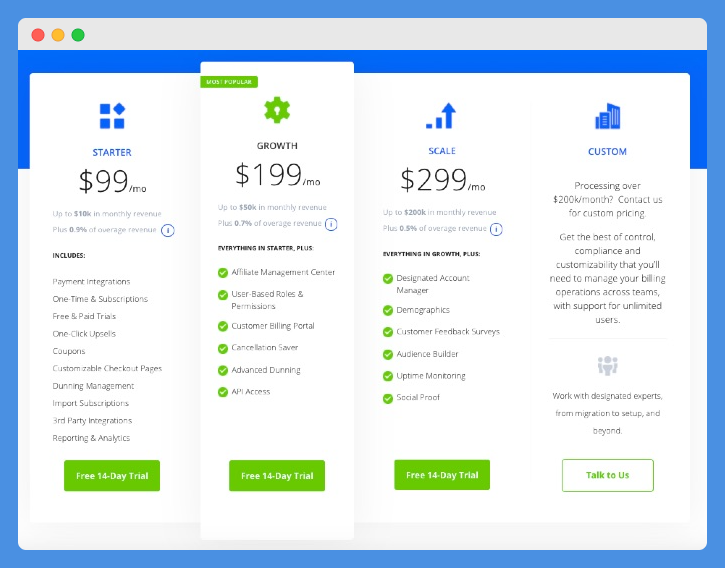 This platform offers three pricing models.
Starter: $99 per month
Growth: $199 per month
Scale: $299 per month
If you process more than $200,000 in monthly revenue, PayKickstart offers a custom option for you.
Note that the prices are subject to change over time. Kindly visit the website for more information.
Advantages of PayKickstart
No transaction fees
Seamless API and webhooks integration
Disadvantages of PayKickstart
Poor user interface
Lack of A/B testing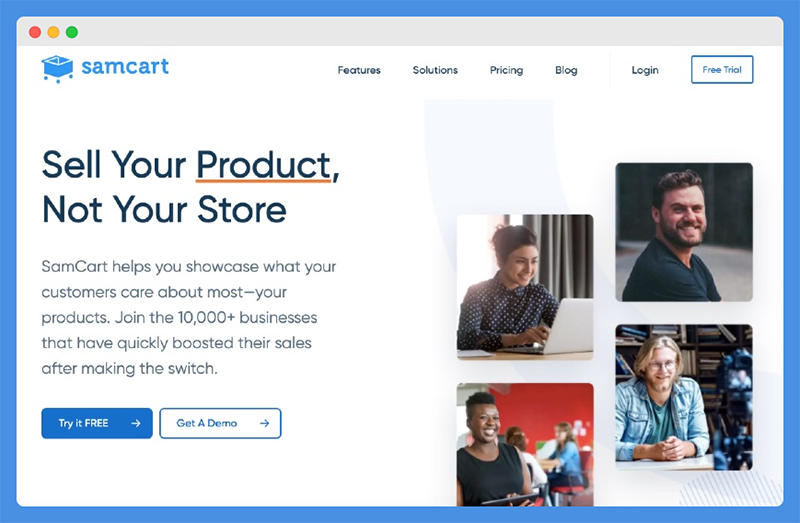 SamCart and Gumroad are tough competitors.
You can use this online platform to sell your products. SamCart enables you, whether you are an influencer, course creator, or author, to share your product on any platform.
This platform enables you to build and promote your pages to boost sales. You can use the template library to customize your page to fit your brand.
Features of SamCart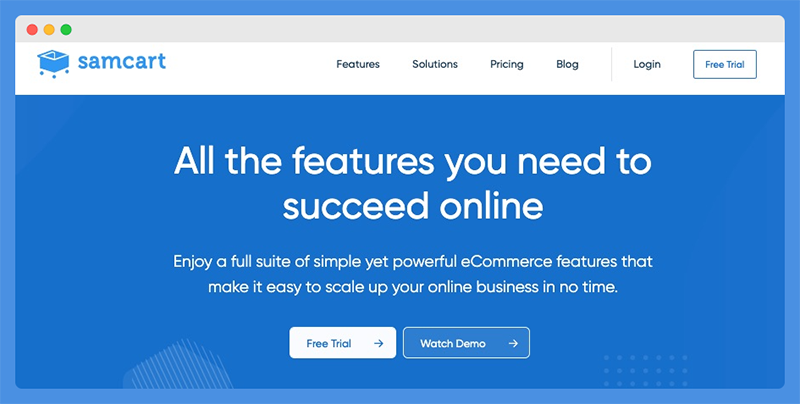 SamCart integrates with over 750 tools to boost your business.
You can optimize your revenue using one-click upsells, A/B testing, advanced reporting, and smart pixel tracking.
Add-ons
This platform offers add-ons to help improve customer experience and increase conversions. Some of the add-ons include:
Affiliate center
Subscription saver
Cart abandonment
Business Management
You can manage your business using advanced subscriptions, partial refunds, custom fields, discounts, payment processors, and CRM integrations.
SamCart ensures you are always in compliance with tax regulations. You can integrate with your favorite systems for complete automation.
Like Gumroad, SamCart only offers Stripe and PayPal payment integrations. You can sell any number of products on this solution.
SamCart Pricing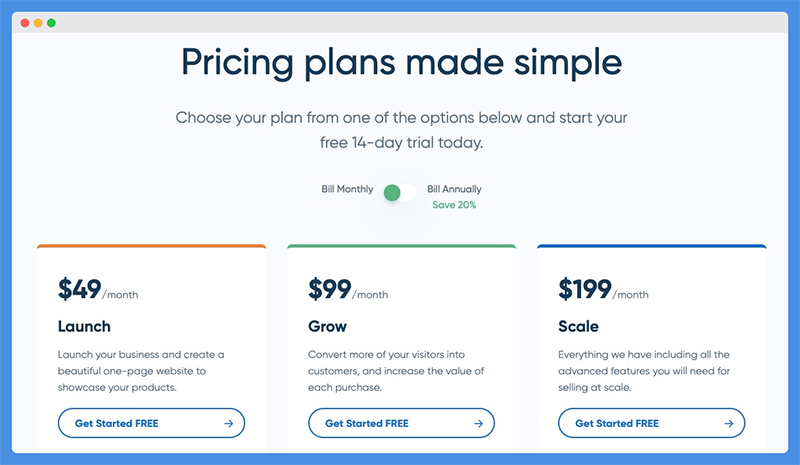 SamCart offers three payment categories.
Launch: $49 per month
Grow: $99 per month
Scale: $199 per month
Note that prices are subject to change with time. Kindly check the website for additional information.
Advantages of SamCart
Advanced A/B split testing
It offers webhooks integration
Disadvantages of SamCart
Limited payment processors
Explore: SamCart Vs Shopify
SamCart - Check Special Pricing
Everything you need to make your business running easier. Showcase your products, promote your pages and increase your sales. Get started with Samcart, today!
Get Special Pricing for Samcart =>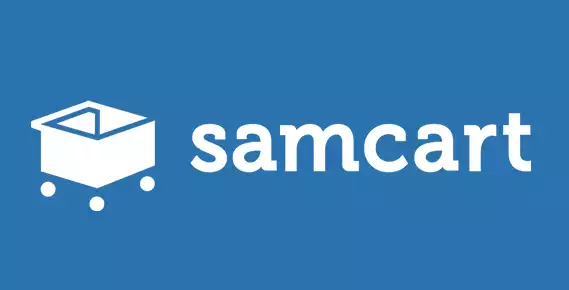 We earn a commission when you click this link and make a purchase.
The Best Gumroad Alternative
After looking at all the options out there, these are the ten best Gumroad alternatives I've found.
Although all platforms have their unique strengths, Podia is my top pick.
Alongside digital products, you can sell memberships and services.
Although it is priced higher, at $39 per month compared to Gumroad's pricing of $10 a month, Podia charges no transaction fees. Gumroad takes 3.5 percent to ten percent in transaction fees.
Unlike Gumroad, Podia offers free migration. Gumroad payouts happen weekly, Podia's payout is immediate.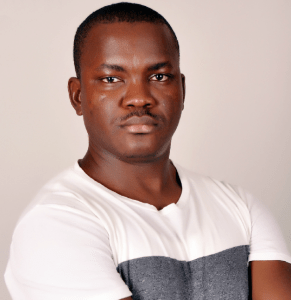 Author: Nicholas Godwin
Nicholas Godwin helps businesses tell profitable brand stories that their audiences love. He's worked on projects for Fortune 500 companies, global tech corporations and top consulting firms, from Bloomberg Beta, Accenture, PwC, and Deloitte to HP, Shell, and AT&T. Works with Mofluid these days.