Interested in making money with dropshipping? There are several ways to find products to dropship.
Two platforms that can help you find profitable products to dropship are Oberlo and DSers. Oberlo and DSers are two very different platforms that help you find the best products from AliExpress to sell on your store.
Today, I will be comparing these two platforms to help you decide which one is right for you.
What Is DSers, And What Is Oberlo?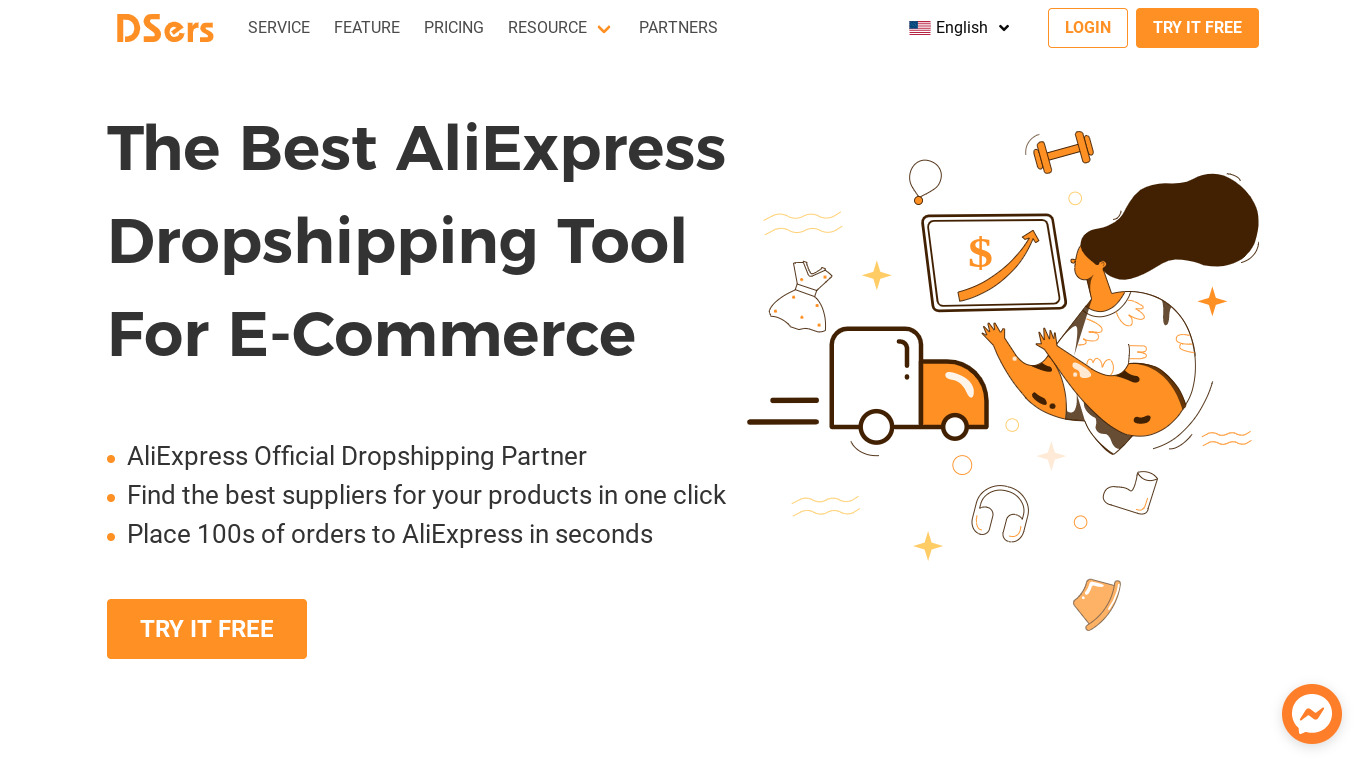 DSers is an AliExpress Official Dropshipping Partner. It helps you find profitable products on AliExpress to dropship, and it also helps you automate your dropshipping business, from placing orders to finding better suppliers.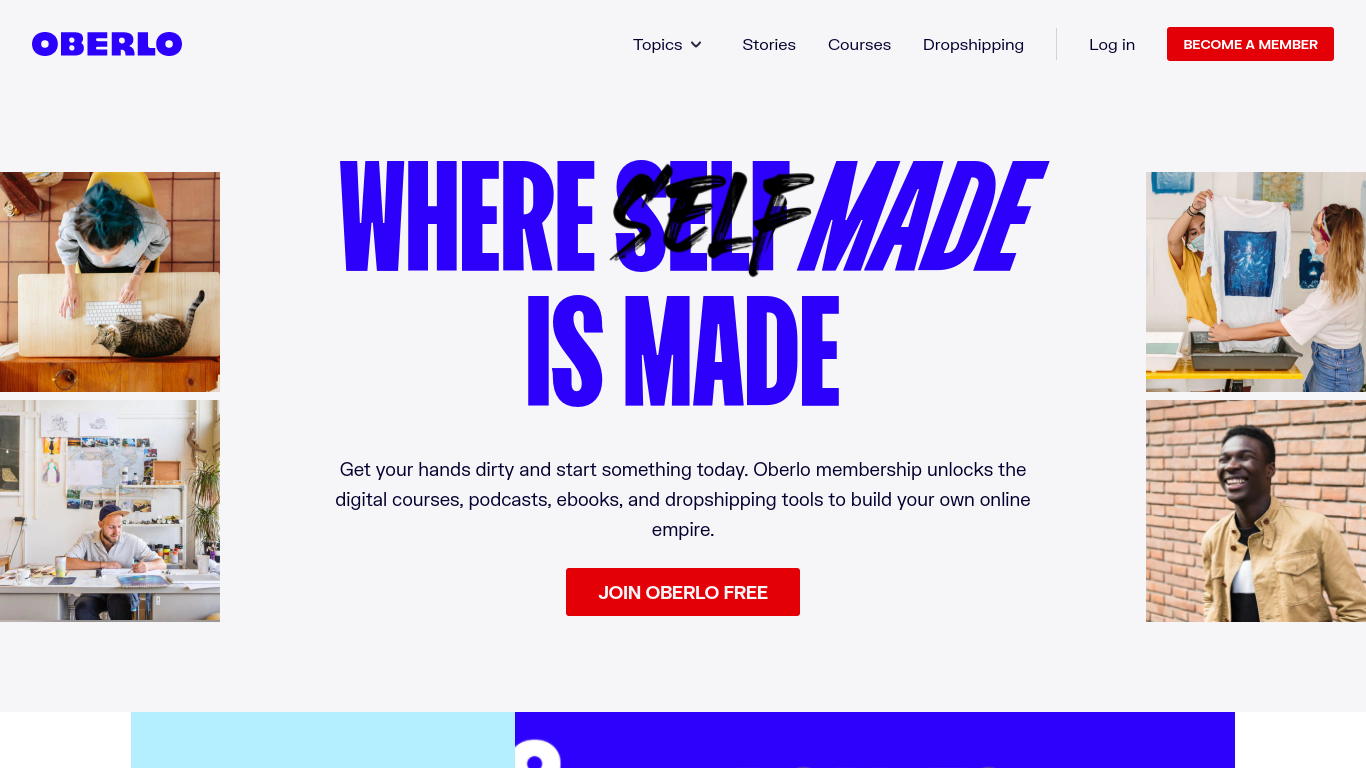 Oberlo is a bit more well-known in the dropshipping niche. It is another dropshipping tool you can use to find profitable products to sell on AliExpress.
Oberlo also has many courses and resources to help you expand and improve your dropshipping business.
Also Read: AliExpress Dropship Center – Complete Guide
DSers vs Oberlo: Getting Started
Getting started with either company is pretty easy.
DSers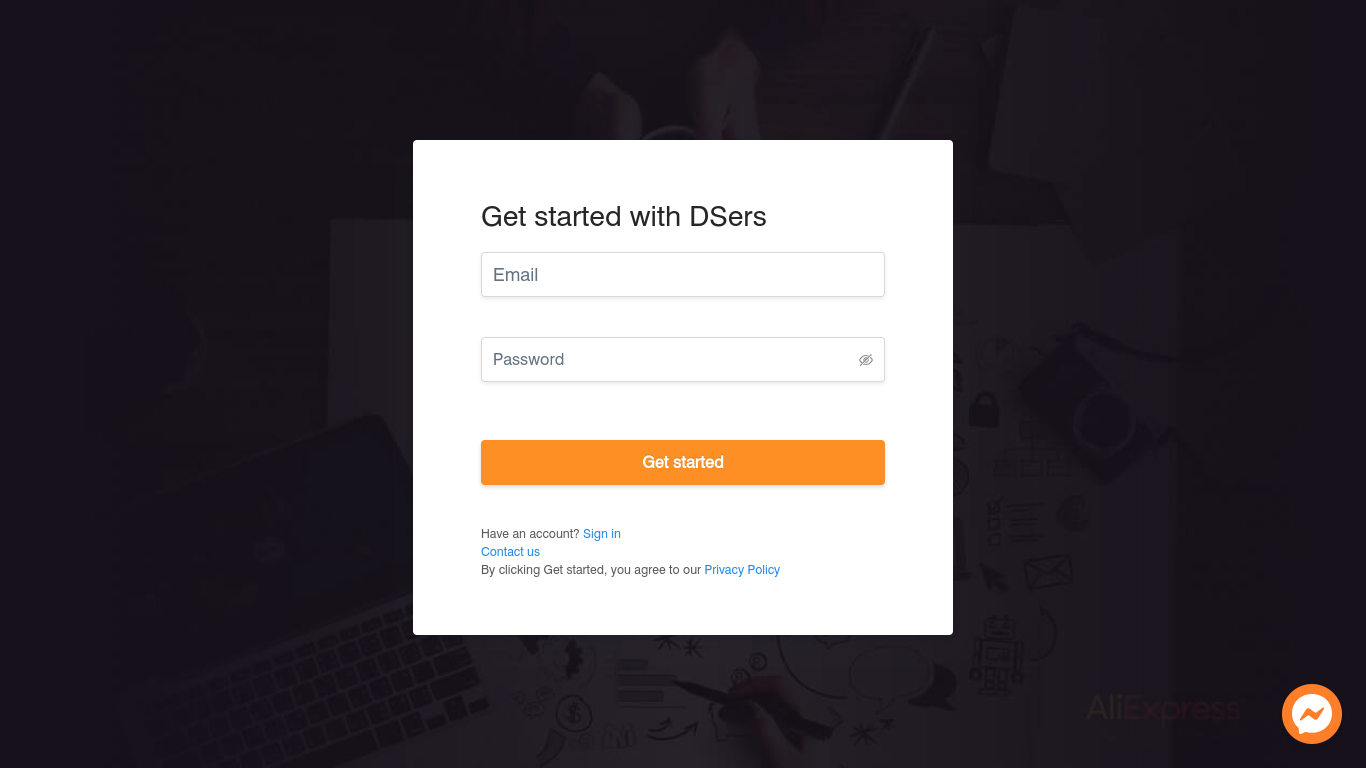 To get started with DSers, go to the register page, so you can try it out for free. Fill out your email address and create a password.
You can also use the Shopify app, which I will talk about in another section.
Oberlo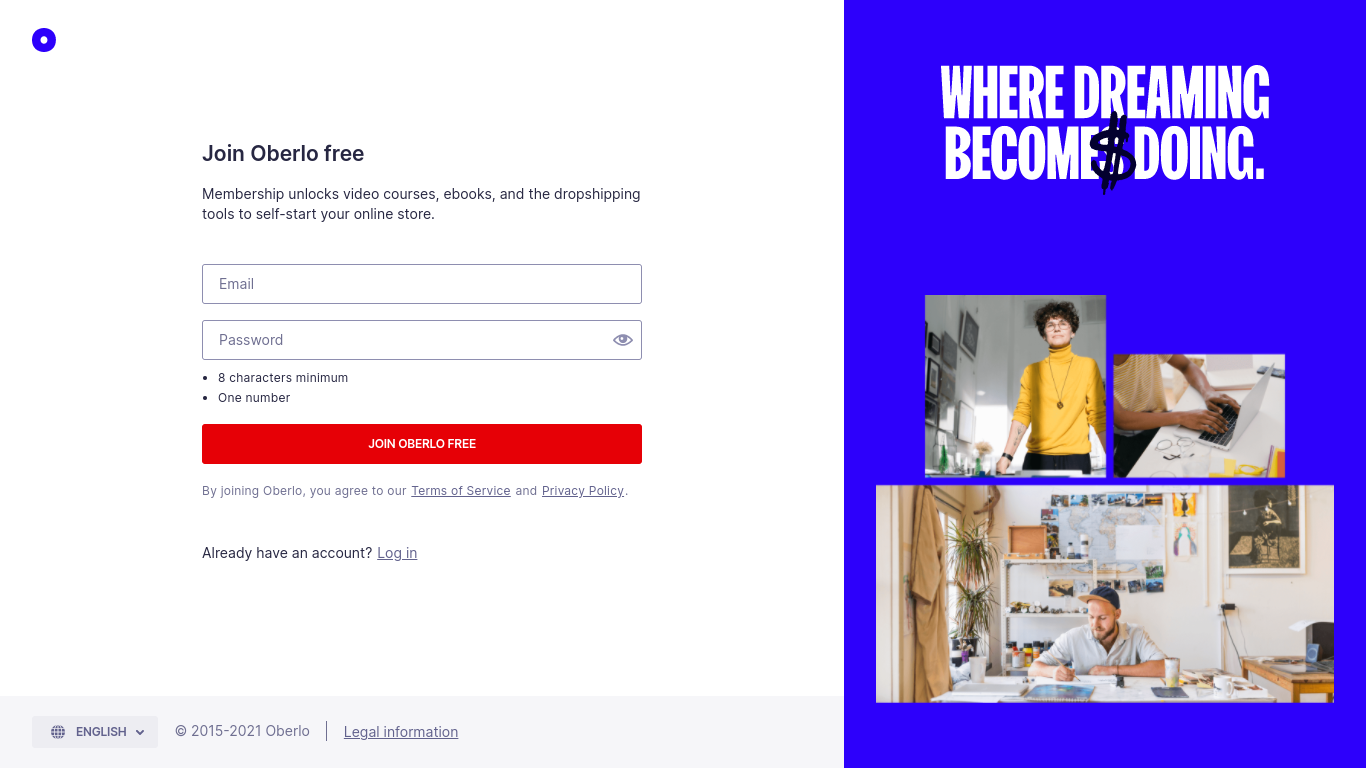 To get started with Oberlo, go to the Oberlo registration page and fill out your details.
Both DSers and Oberlo make it easy to get started, even if you are just starting out with dropshipping.
Explore: ShopMaster vs Oberlo
Oberlo vs DSers: Finding Products And Suppliers
In this section, I will talk about finding products on DSers or Oberlo.
DSers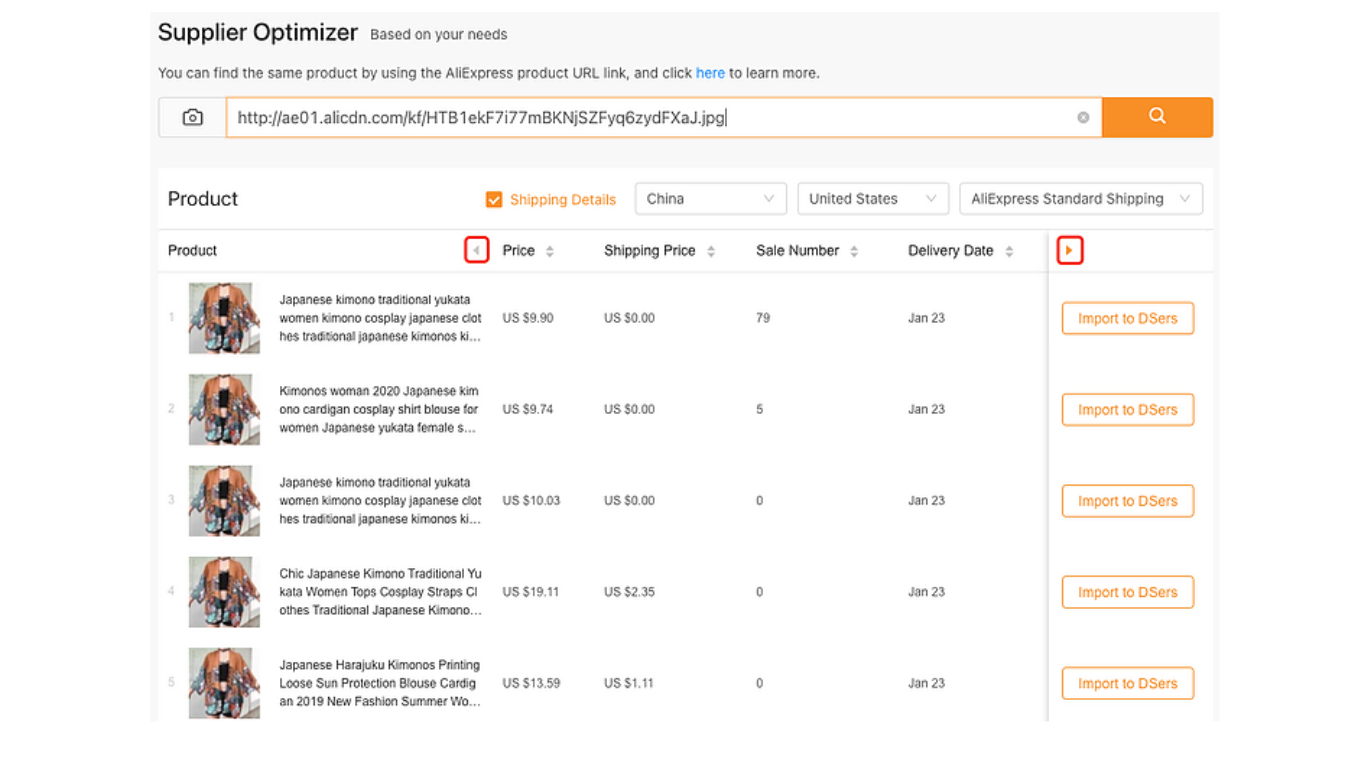 DSers makes it pretty easy to find awesome products on AliExpress for your store. You can filter for the best suppliers as well.
If you find a product you like but want to make sure you get the best supplier, DSers will help you do that. Take the product URL and paste it into the Supplier Optimizer tool.
The tool will show you a list of suppliers who are selling the same product. It will show you which ones have the best ratings, offer the quickest shipping times, charge the least, and so on, helping you pick the one that is best for your needs.
You can sort for the supplier who is best in any of the above categories. For example, you can sort by the cheapest price or by the quickest shipping time.
If you have a product in your store that is not connected to any AliExpress supplier, DSers will help you find the best supplier for it as well.
Oberlo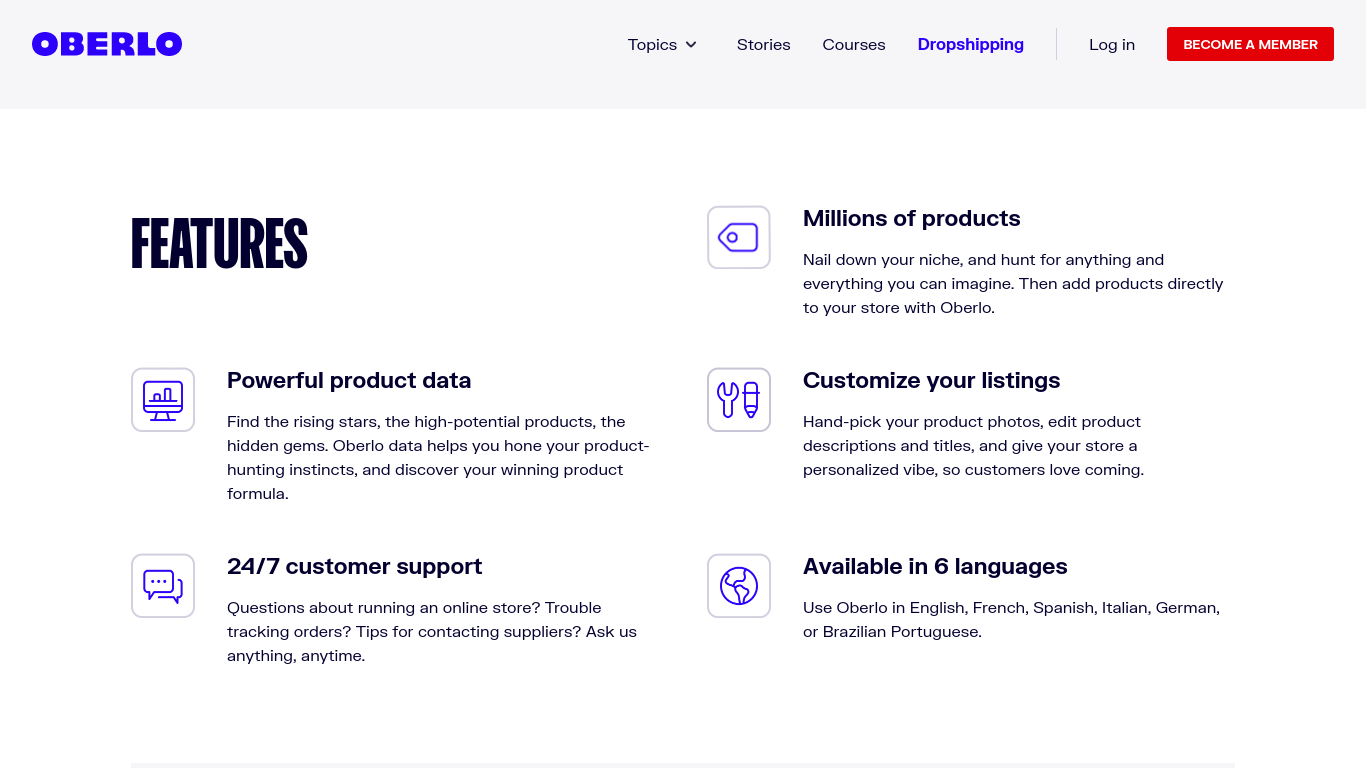 Oberlo gives you access to millions of products. Find products that have a lot of potential and are rising in popularity, so you can make more sales.
You can find products in a wide range of categories, and you can use advanced filters to sort and narrow down your results.
All in all, both Oberlo and DSers are good for finding products. You might not find the same products with each tool, but one thing is certain: You will be able to find products that are profitable and have a lot of potential.
Also Read: Best Sites Like Banggood For Dropshipping
DSers vs Oberlo: Importing And Fulfilling Products
Which platform is better in terms of automation? If you want to save time and effort in addition to finding great products, should you use Oberlo or DSers?
DSers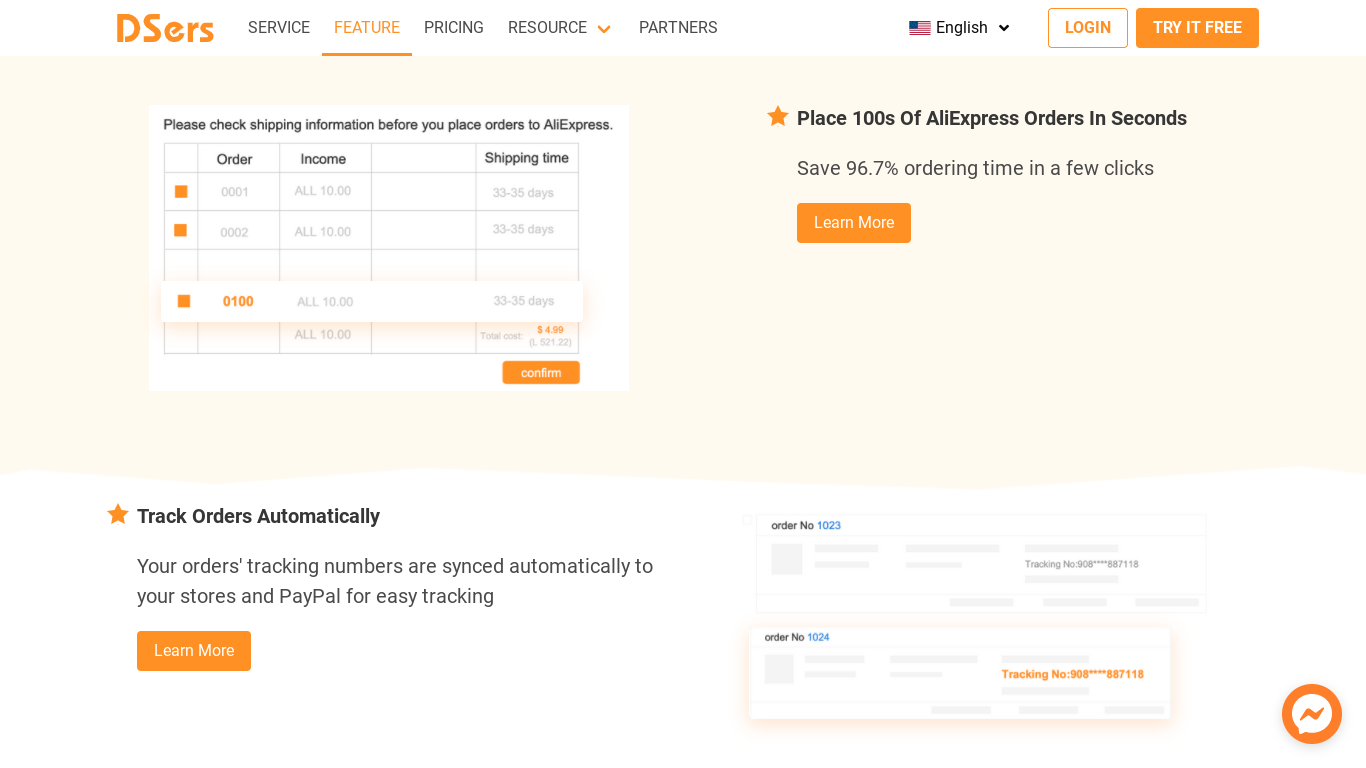 DSers is great not just for finding great products and suppliers but for automating your entire business. In this section, I will go over some things you can do with DSers.
First, you can import products directly to your store. If you find a product you like, just import it.
While you are importing products, you can edit them so that the description, title, and images are not an exact copy of the AliExpress listing.
That can be bad for SEO, as there may be many other dropshippers stores copying the listing. Also, some listings have bad grammar or just don't target the keywords you want to rank for; not every AliExpress listing is optimized for SEO.
With DSers, you can set automatic pricing rules to apply across the board. When you import and publish new products from AliExpress, your pricing rules will automatically be applied, so you don't have to waste time manually changing the price.
For example, you can have a 20 percent markup placed on each product, so you can earn a profit. If you import a product that costs $10 on AliExpress, it will automatically be sold for $12 on your store.
You can also automatically have your favorite shipping methods selected.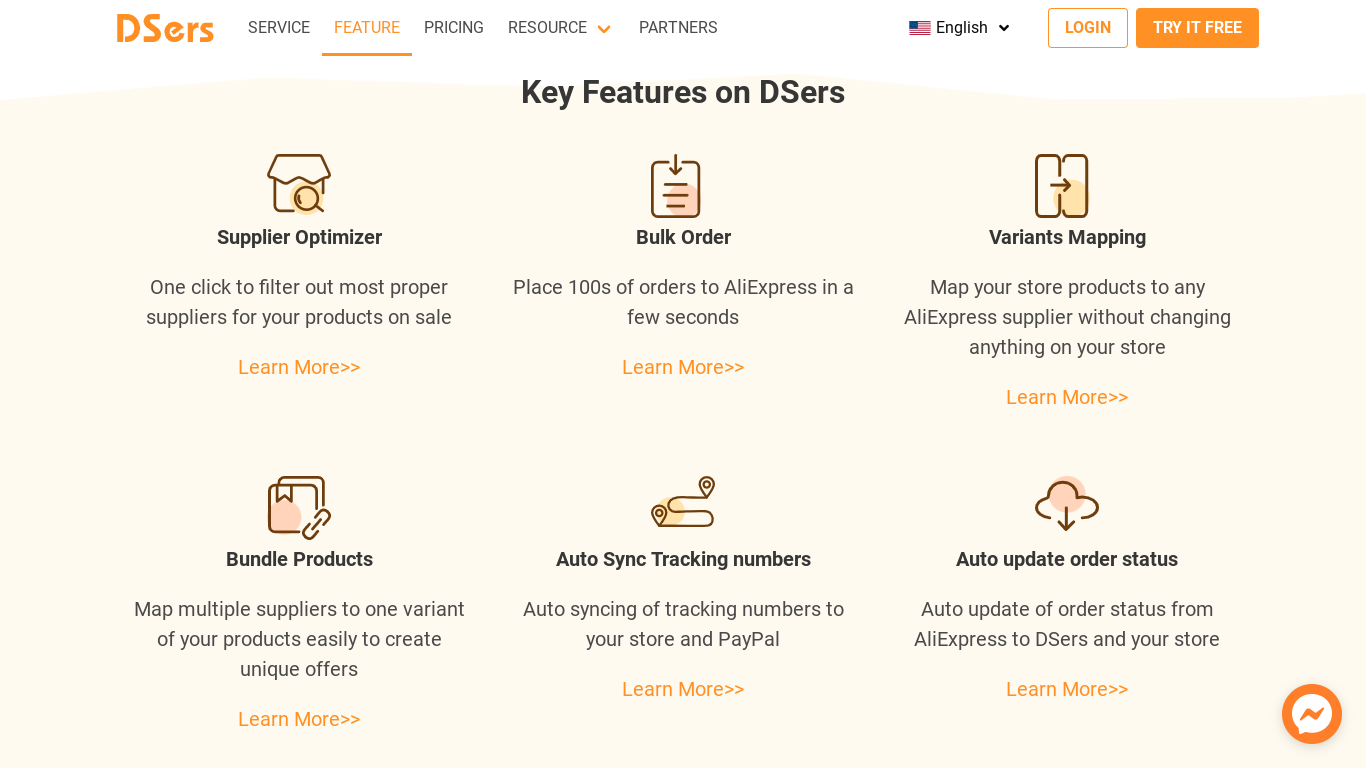 Once an order comes in, you can fulfill it automatically as well. You no longer have to copy and paste the customer details from each order into AliExpress, which can be a rather tedious process.
In fact, you can place multiple orders at once using their handy bulk orders tool. You will only have to go back to AliExpress to pay for the products.
You can also have tracking numbers automatically synced to your store and to PayPal. This way, PayPal will not place any holds on your account and your customers will be able to track their orders.
Without such a tool, you would have to manually update the tracking orders, which can be quite a hassle and take a lot of time.
The order status will automatically be updated and synced to your store, as will stock availability. The latter is very important – you don't want to keep selling something on your store when it has gone out of stock on AliExpress.
If that happens, and a customer places an order, you will have to refund them, leading to a very dissatisfied customer.
Variant mapping is available, which allows you to sell multiple versions of a product from multiple suppliers. You can always find a different supplier for a product variant, without needing to change availability on your store.
Oberlo
Oberlo offers many of the same features as DSers. You can import products and edit them – change the title and description, handpick your images, and customize your listing.
You can also fulfill orders in bulk, allowing you to save time, especially during peak seasons when a lot of orders are coming in at once. Oberlo provides real-time order tracking, and price and stock availability will be updated automatically.
That way, you won't keep selling a product that has gone out of stock, and you also won't keep selling a product at a low cost when the price has gone up, which would cause you to lose money on a sale.
Oberlo vs DSers: Shopify App
Does DSers or Oberlo have a Shopify app? If yes, what can you do with the app, and how will it help you be more efficient with your Shopify dropshipping business?
DSers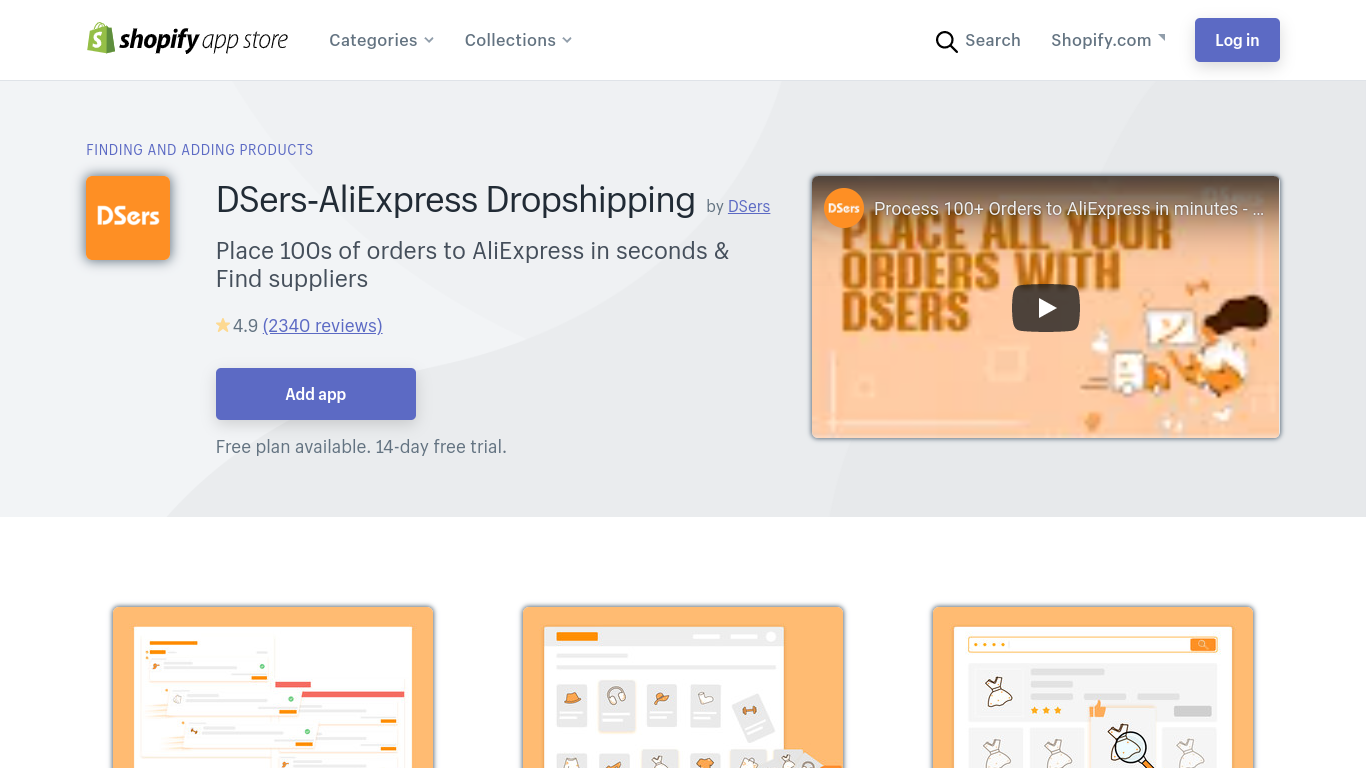 The DSers Shopify app is called DSers-AliExpress Dropshipping. Right now, it has over 2,300 reviews on the Shopify app store, with an average star rating of 4.9 (always check it for updated review information).
The Shopify app is rather easy to use. It lets you do the following things:
Optimize your suppliers – find better suppliers for the product you are selling
Import products from AliExpress to your store
Edit and optimize your listings as you are importing products
Manage a few Shopify stores in one account
Have your tracking numbers and order information synced to your store automatically
Create bundles of several products using the best suppliers
Create Buy One, Get One offers
Preset your shipping methods so your favorite shipping method is automatically applied
Be notified when a product's price changes
Be notified when a product goes out of stock
Place hundreds of orders in bulk
A really cool thing about the app is that it lets you earn cash back when fulfilling orders. This extra cash back can help you improve your bottom line, as it increases your profits by lowering your costs.
Oberlo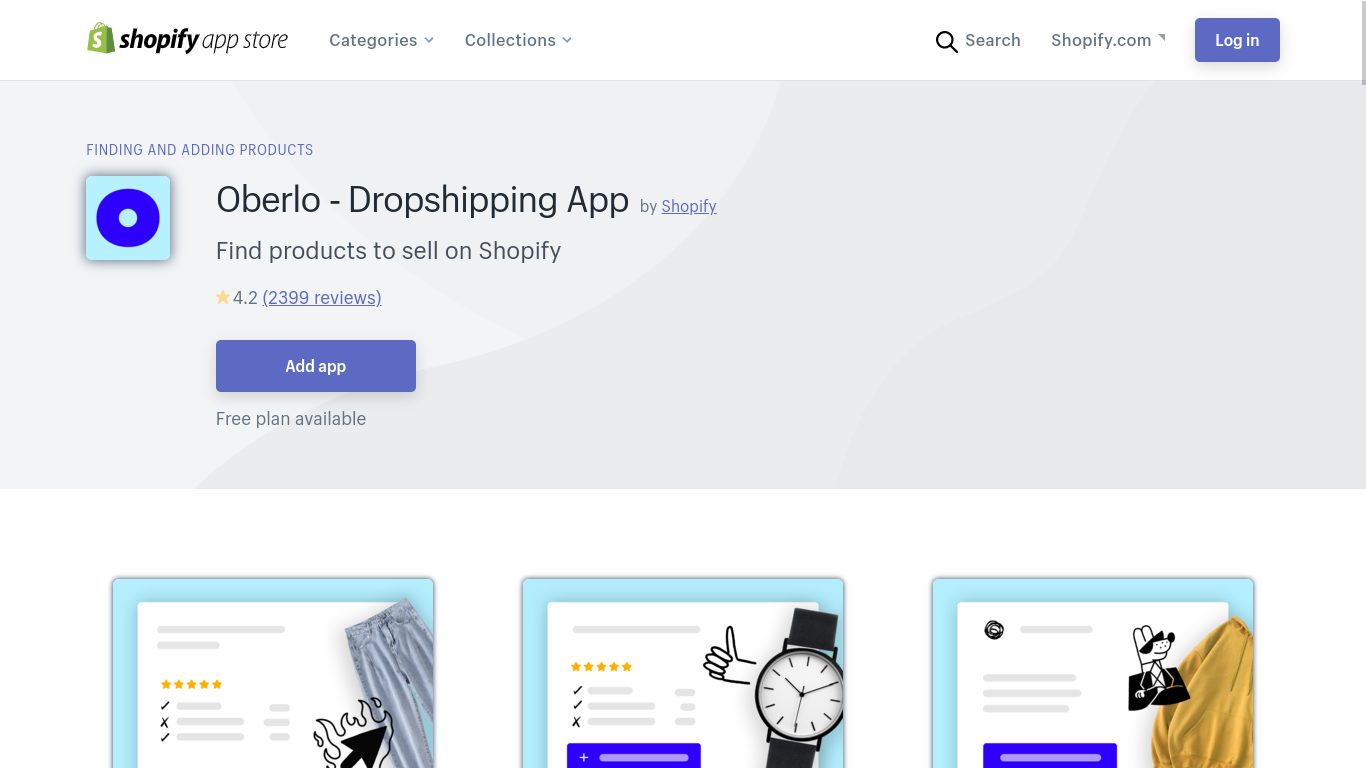 The Oberlo app, Oberlo – Dropshipping App, is also very useful and pretty easy to use. Here's what you can do with the app:
Import products to your store
Have the price updated in real time
Have products' stock availability updated in real time
Get real time order tracking information, updated automatically
Get an automated captcha solver, so you don't have to waste time manually filling out captchas
Add multiple users to your store – this is great if you have a team
Earn an affiliate commission for each product (like cash back) when you fulfill orders, improving your bottom line and increasing your profits
As you can see, both DSers and Oberlo have Shopify apps, and both of them are very useful and let you do similar stuff.
Interesting Post: Best One-product Dropshipping Store Examples
DSers vs Oberlo: Chrome Extension
In this section, I will talk about the Chrome extension each service has.
DSers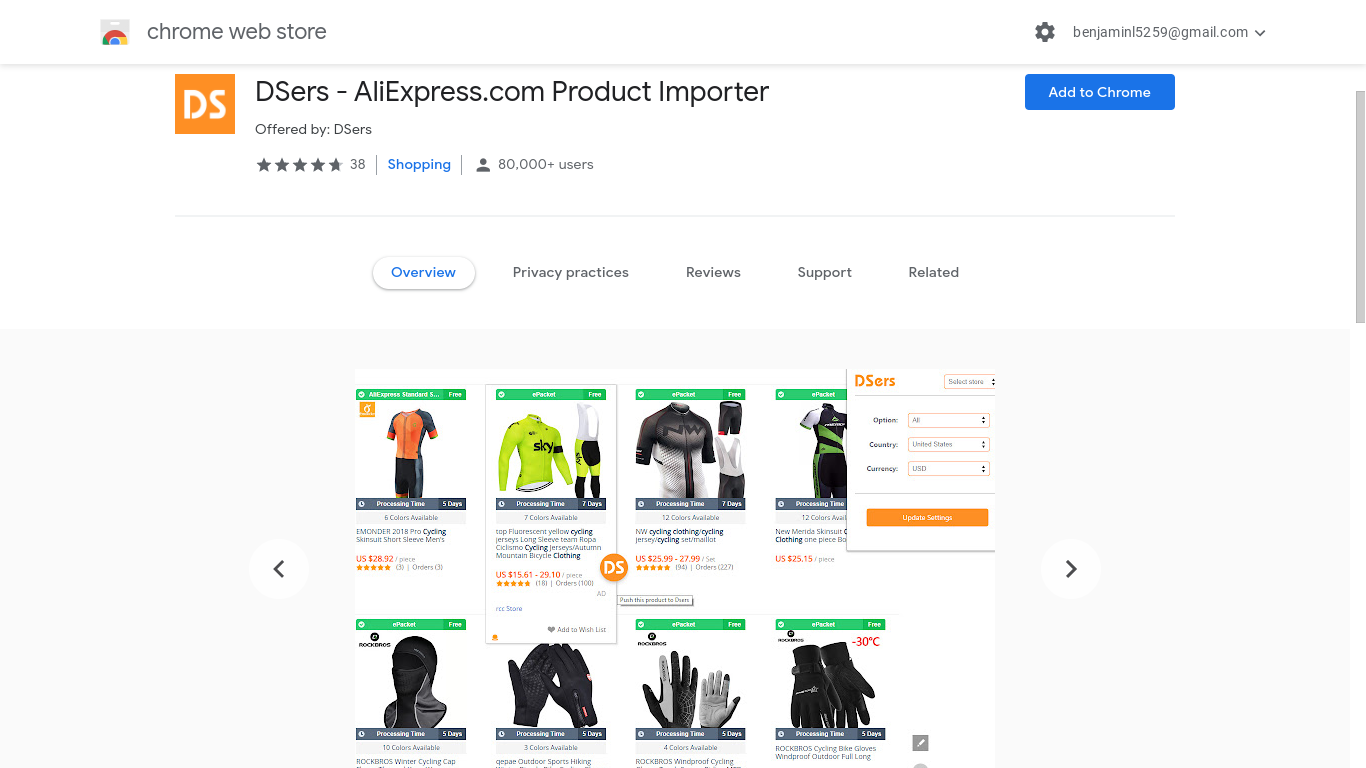 The DSers Chrome extension is best used together with the DSers Shopify app. Using them together will give you ultimate functionality.
Here is what you can do with the DSers Chrome extension:
Import products from AliExpress to your store
Track orders
Sync tracking numbers
Oberlo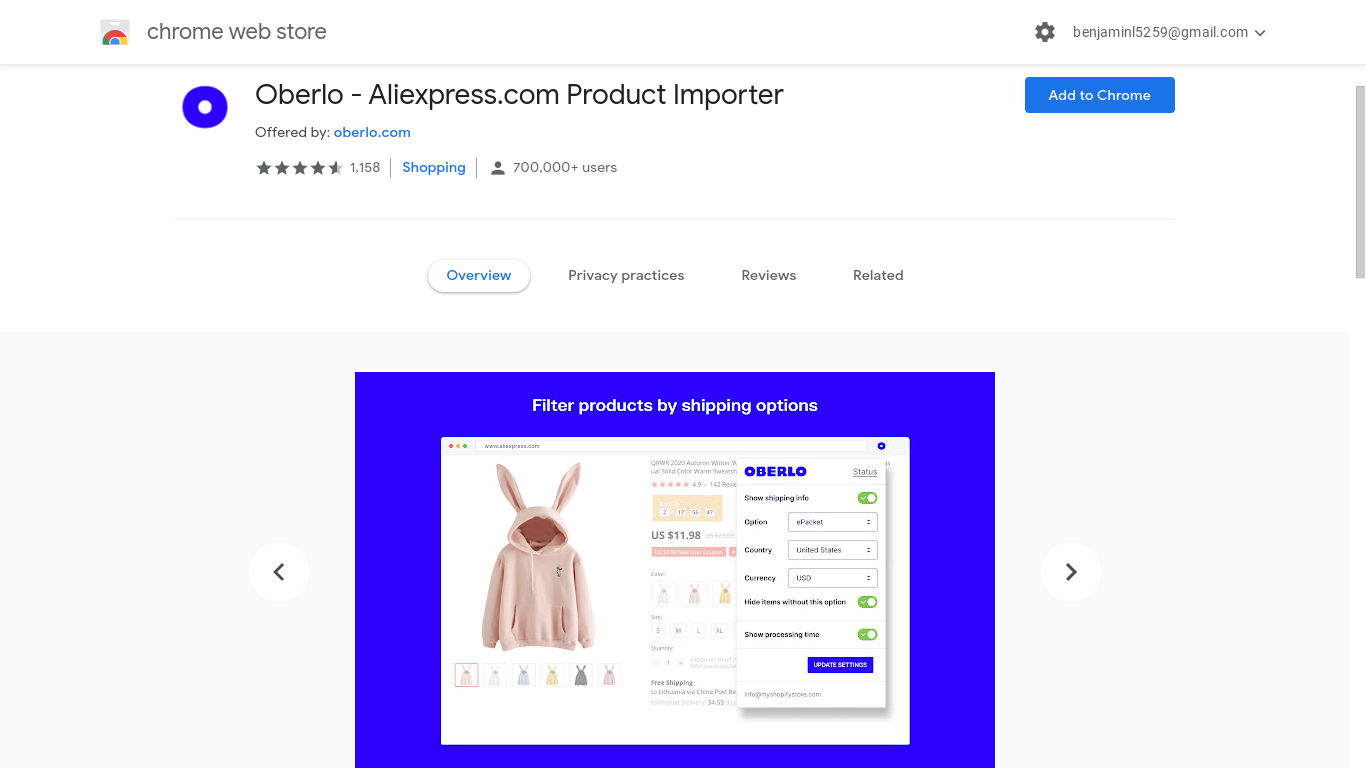 The Oberlo Chrome extension is meant to be used together with the Oberlo Shopify app. Using them both together, you can import products from AliExpress to your Shopify store.
You can also fulfill products automatically, with the auto-fill checkout form.
The Oberlo Chrome extension is very similar to the DSers Chrome extension in terms of what you can do. Both of them help you import products and basically make your life easier.
Oberlo vs DSers: Resources And Courses
In this section, I will review what each one offers in terms of training, courses, and resources to help you build a successful business.
DSers
DSers has a help center, blog, and a YouTube channel. These resources will give you some tips on dropshipping and eCommerce in general as well as information on how to use the DSers platform and apps properly.
Oberlo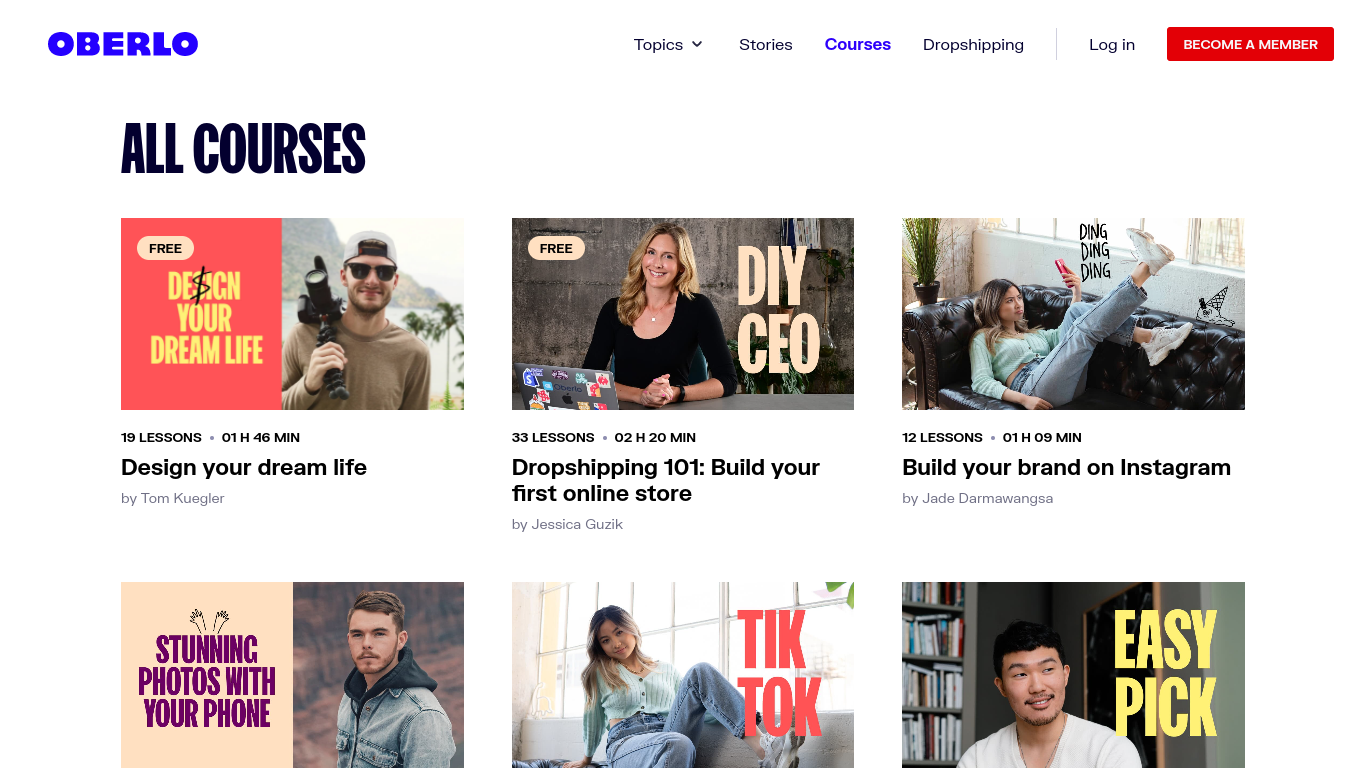 Oberlo definitely wins when it comes to resources. In fact, not many Oberlo alternatives offer a blog and learning center. They call their online learning center Level Up.
In fact, they call Level Up an online business learning school. The learning center has tons of courses, with one of the courses having dozens of lessons and hours of viewing time.
These courses cover not only dropshipping but extend to topics like:
How to use TikTok for sales
How to take better photos of your products for your store
How to build your brand on Instagram
And much more
The best part is that it is entirely free, so you won't have to pay to learn all this knowledge. Even if you are a complete beginner to dropshipping, the learning center can help you learn the information you need to know.
In addition, there are tons of ebooks you can download from their site. I'll give you some examples of the titles of these books to help you get an idea of what topics they cover:
How to Become a Digital Nomad
The Dropshipping Masters: Tactics, Insights, and Wisdom from the Pros
The Entrepreneur's Guide to Email Marketing
You get the idea. Like the online learning center, the ebooks cover tons of topics related not only to dropshipping but to digital marketing and business in general.
There is also a podcast you can listen to if you prefer listening to podcasts to reading books or watching videos. Here are some titles of recent podcasts, to help you get an idea of the topics they cover:
From Side Hustle to a $20M-a-Year Business
How to Launch Your Digital Product Business
Product Manufacturing Secrets
However, some of this information is free. You don't have to use Oberlo to watch some videos or to listen to the podcast.
However, you do have to be a premium member if you want full access to the Level Up online learning school. I will talk more about pricing and what each plan includes in the next section.
DSers vs Oberlo: Pricing
Finally, I will go over pricing. I will discuss which option is cheaper.
DSers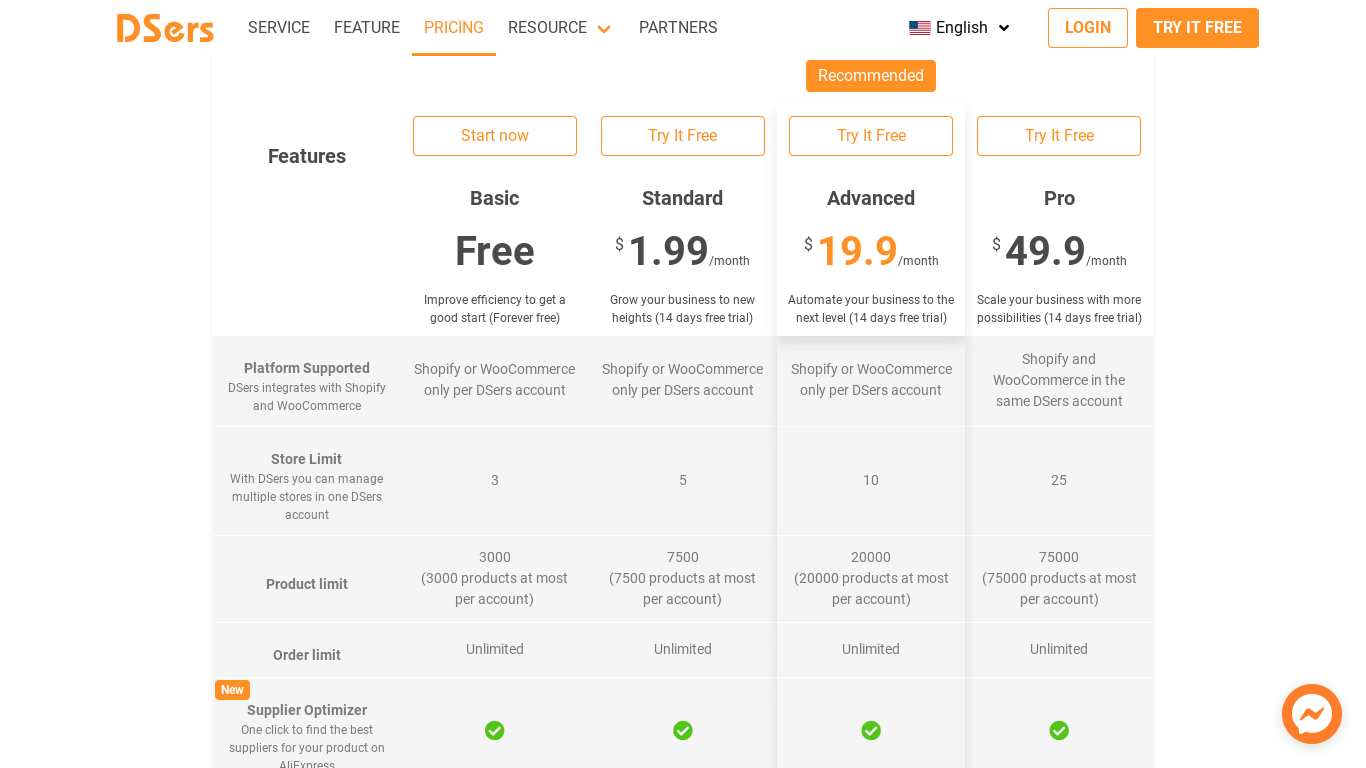 DSers has several plans. Here are the plans currently available (check the pricing page for updated pricing information):
Free: The Free plan lets you have up to three stores and add up to 3,000 products, which is pretty good. You get access to most features, including automatic order and tracking syncing, bulk orders, inventory update notifications, and more. Some features, like automatic inventory updating, are not available.
Standard – $1.99/month: For 7,500 products and five stores. Includes automated inventory updating.
Advanced – $19.90/month: For 10 stores and 20,000 products. Includes cash back on orders, bundle mapping, and advanced mapping.
Pro – $49.90/month: For 25 stores and 75,000 products.
There is a free trial available for all paid plans.
Oberlo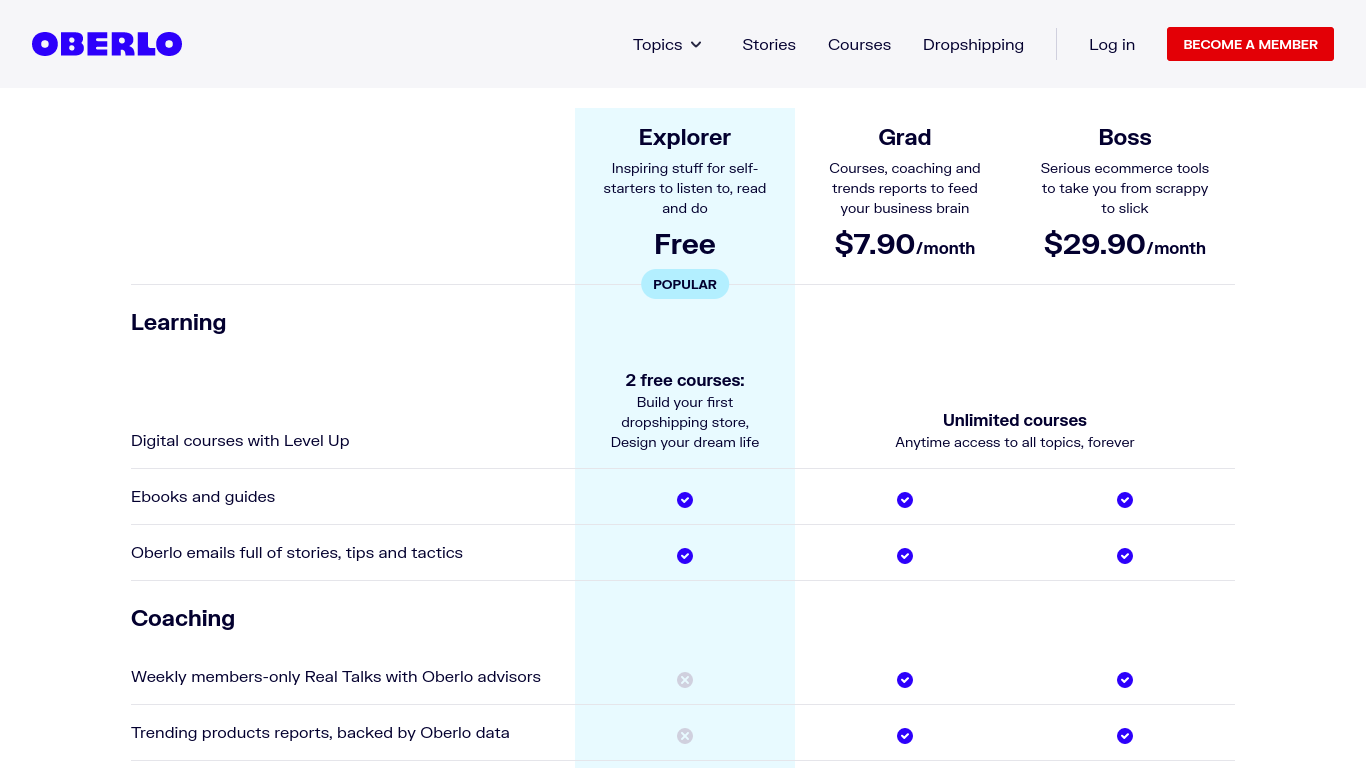 Oberlo has a simpler pricing scheme with a free plan and two paid plans. The free plan only gives you access to two courses in the learning school; these courses will help you design your dream life and start your first dropshipping store.
With the free plan, you can have up to 500 products, but you don't get access to features like bulk ordering and shipment tracking.
As you can see, the free plan is not as good as DSers' free plan, which lets you have more products and also gives you access to features like bulk orders.
Next, let's examine the paid plans:
Grad – $7.90/month: This plan gives you access to all courses in the Level Up school, and you can join weekly coaching sessions with Oberlo advisors. When it comes to dropshipping, however, you are still limited to 500 products and the basic features like in the free plan.
Boss – $29.90/month: This plan lets you have 30,000 products and gives you access to all features.
Always check here for updated pricing information, as prices are subject to change.
When comparing the two platforms, you can see how DSers has better price options. Even the free version is a lot better for dropshipping.
Similarities And Differences
Wrapping It Up: Which Option Is Better, Oberlo Or DSers?
I would say that while Oberlo is better known, DSers give you more bang for your buck. If you are looking for a free option, DSers is much better, and even the paid plans are a lot cheaper.
Oberlo has the advantage of learning resources, but you can still access the ebooks and podcasts for free, even if you don't sign up for the premium plan.
The online learning center has a lot of good information, but much of that information can be learned for free online – so you don't have to pay extra just for that.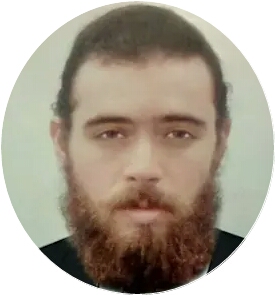 Author: Benjamin Levin
Benjamin Levin is a digital marketing professional with 4+ years of experience with inbound and outbound marketing. He helps small businesses reach their content creation, social media marketing, email marketing, and paid advertising goals. His hobbies include reading and traveling.