Last Updated on
Email marketing is one of the best ways to get more ecommerce sales and increase your ROI.
There are several ways to use email marketing to your advantage if you own an ecommerce store.
An effective technique is to send out regular newsletter emails to stay in touch with your customers and/or people who signed up for a free ebook or discount code. Together with your newsletters, which provide value and informative content, you can also promote various products.
Emails are also great for sending out discounts, promotion codes, special announcements (such as for new products or seasonal discounts), reminding customers about their abandoned carts, upselling to customers, and sending out product recommendations to customers based on their previous purchase histories.
Related : Ecommerce Emails Your Customers Will Love
Here are five of the best email marketing and newsletter apps for Shopify.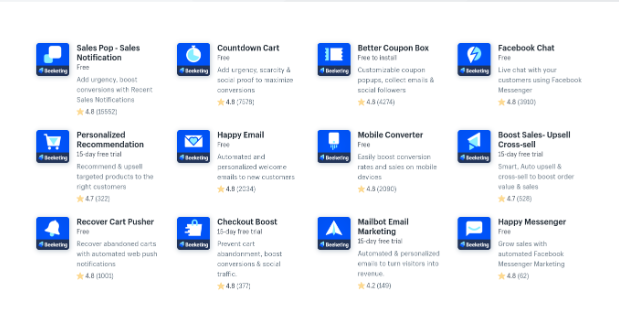 Beeketing has many incredibly useful apps for Shopify, including:
Countdown Carts
Facebook Chat
Better Coupon Box
Sales Pop – Sales Notification
Recover Cart Pusher
Many More
What we're interested in now are their Mailbot Email Marketing app and their Happy Email app.
Mailbot Email Marketing lets you send automated emails to your customers. You can remind them about abandoned carts, reward loyal customers with discount coupons, and much more.
Emails can be personalized based on customers' previous purchases.
Mailbot Email Marketing costs $29/month and offers a 15-day free trial.
Another of Beeketing's apps is Happy Email. This is a separate app which can be used in conjunction with Mailbot Email Marketing or by itself.
It lets you send welcome emails to your customers. You can send them a customized thank-you email 30 minutes after their first purchase, which helps you create loyalty and increase engagement.
The Happy Email app is free.
Mailchimp customers can use the Mailchimp Shopify app to connect their ecommerce store to their Mailchimp accounts. This allows you to add customers to your email lists so that your emails get sent to them automatically.
The Mailchimp app is free, but you'll need a Mailchimp account.
If you use another popular email service provider, it is likely that you will find a Shopify app that you can use to connect your store with your account. For example, there are Shopify apps for:
Aweber
GetResponse
Mailerlite
Many more
For example, with the Aweber app, you can segment customers into different lists based on deep data fields (examples: last order price, last order currency, etc.) so that customers get added to personalized drip feeds. There are also popup forms you can use to add visitors to your email lists.
Related : Aweber Vs ConstantContact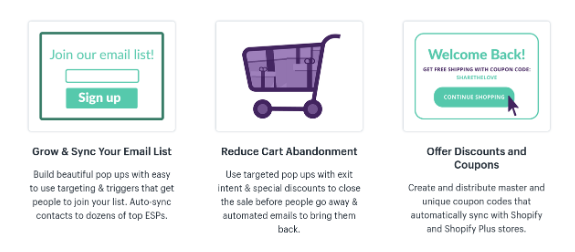 Privy is a great Shopify app that you can use to create popups to collect email addresses and reduce cart abandonment.
You can create popups, scroll bars, banners, embedded signup forms, spin-to-win boxes, announcement bars, and more. A great way to reduce cart abandonment would be to use their exit-intent popups with discounts or other offers.
You can also create automated email campaigns, which can be segmented and personalized based on things such as cart abandonment, cart value, page visited, number of visits, number of orders, device type, location, and more. You can also create A/B split tests to help you increase your conversion rates.
You can create coupons and discount codes to be synced on your popup forms or be sent to your customers via email.
You get real-time analytics and campaign data to help you track your performance. You can also get email notifications for certain events, such as an email signup.
Privy integrates with over 50 email service providers, including Mailchimp.
There is a free plan with Privy, which allows you to create popups and signup forms, create coupon codes, and integrate with the top email service providers. Premium plans cost between $24/month and $299/month.
Smart Email Marketing is an app by Rare Logic that uses your customer data to send personalized emails to help you increase your sales.
They analyze your customers' search and purchase histories and then send them emails with personalized product recommendations.
They also send those emails at the times when your customers are most likely to buy.
Smart EmaIl Marketing integrates with platforms such as Mailchimp and Zapier.
They have a free plan, which is only for those who have no more than 249 contacts in their email lists. They let you send unlimited emails and use their email templates and drag and drop editor.
The free plan only includes chat and email support.
The $24/month plan is for up to 999 contacts. The $39/month plan is for 10,000 contacts and includes phone support and additional automated campaigns. Every additional 10,000 contacts after that will cost an additional $39/month.
There are also higher plans available that include a dedicated account manager.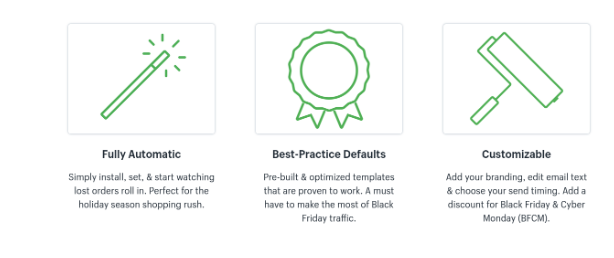 This is a great and simple app for those who are looking to reduce cart abandonment.
Abandoned Cart Recovery lets you create exit popups with reminders, discounts, and promotional offers to encourage customers to make a purchase.
After a customer leaves your site, they will be sent automated email reminders about their abandoned cart. You can create a 3-email workflow for the best results.
There are email templates that you can easily use and customize for this, and the emails will use images of the products the customer left in their cart.
Abandoned Cart Recovery also syncs carts across multiple devices.
The great thing about Abandoned Cart Recovery is that it charges you based on the money you saved by using the app.
The base plan is $9/month for all users and then an additional $9 for every $1000 in revenue in recovered sales, which is less than one percent.
There is a 14-day free trial as well.
Wrapping It Up
Emails are a great way to create long-term relationships with your customers, bring in more sales and revenue, and reduce cart abandonment.
Regardless of your needs or size, the above five Shopify apps will prove to be extremely useful.