In this post, we are going to do a detailed ShopMaster review. Not only will we cover its features, pricing, pros and cons but rate it on important parameters as well. Stick with us.
Let's first understand what it is all about.
What Is ShopMaster
ShopMaster is a one-stop sales management and dropshipping platform dedicated to offering the best dropshipping solutions through partnerships with top suppliers such as AliExpress, Banggood, Chinabrands, CJDropshipping, and GogoMall.
It integrates across multiple platforms so you can use suppliers from across the globe, using its ERP solution for sourcing, listings, service, sales, and other processes that don't need IT experts to set up or manage.
Its a free, smart, and flexible solution that allows you to start your own profitable dropshipping business simply by logging in and starting your business.
You can also import products from Amazon, AliExpress, 1688 and more than a dozen sites to your own store.
Who Is ShopMaster For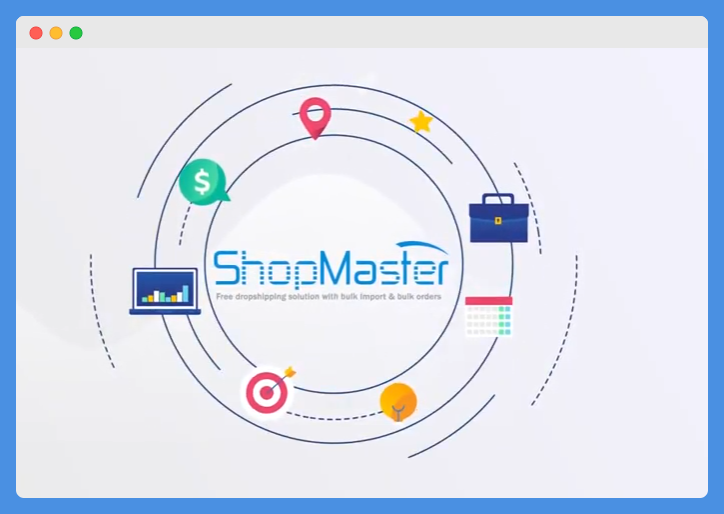 ShopMaster is designed for dropshippers who want to eliminate the busywork and automate their processes in order to engage more prospects.
The software allows dropshippers to sell faster and deliver great experiences for each of their customers with the right insights.
It's a smart and flexible tool that delivers the efficiency and automation you need to get the job done from a centralized, low-cost platform.
If you like to dropship across multiple platforms while using different global suppliers, ShopMaster is a handy and ready solution for you. It's like a tool you subscribe to and use its service based on your monthly payment.
Some of the functions available on ShopMaster now include sourcing, listings, and orders.
Sourcing
This function lets you import products from more than 20 suppliers with just one click into your online store in bulk, thanks to the powerful ShopMaster Chrome extension, which we'll look at later in this review.
This way, you can filter and import AliExpress products directly and easily from the supplier's page.
It also has the Hot Dropshipping Products Recommend feature that helps you import winning products quickly from stores such as Banggood, AliExpress, and CJDropshipping.
Listings
Listings are simply what items you're selling on your online store, and they're displayed on the Listings tab on each sales channel.
You can list, view, or revise listings directly, but you can also manage eBay business policies and description templates from the Templates & Presets, which makes the listings professional and the process a lot easier.
Orders
These are pulled every 30 minutes into ShopMaster from each of your sales channels every time you make a sale.
It can mark orders as shipped and also update the tracking numbers for each order to your store. With just one click, you can also buy and sync the supplier's order numbers too.
Also Read: Best Dropshipping Software For eBay
ShopMaster Features
ShopMaster designs product solutions suitable to its customers' needs. To this end, it offers several features for worldwide dropshipping store owners that help them succeed.
In fact, even the best of ShopMaster reviews online fail to list as many features as we have listed them out here.
Let's take a look.
One-click import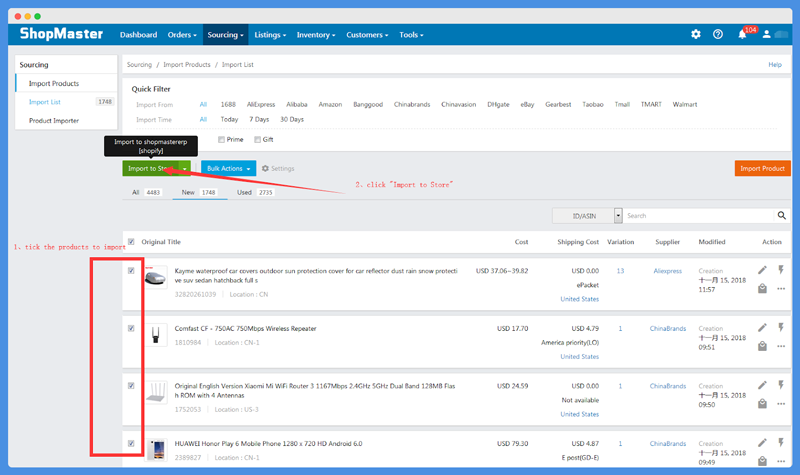 ShopMaster allows you to import products from more than 30 popular dropshipping suppliers in one-click.
Product customization

You can customize the description, pictures, titles, variants, and other aspects of the products on your store easily with ShopMaster.
Pricing Rules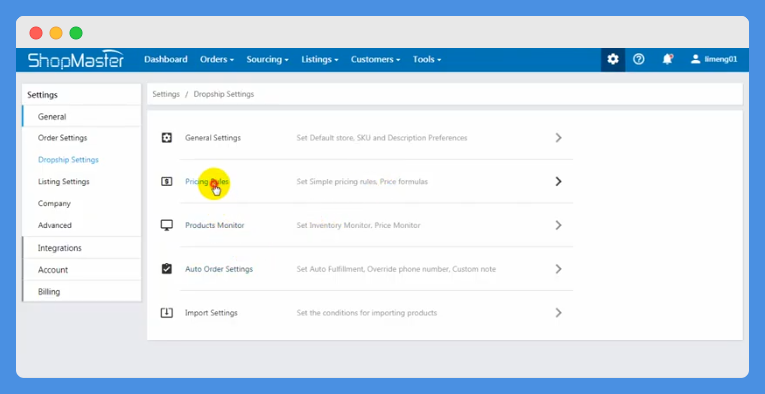 Pricing rules allow you to add a margin automatically to your prices, and set competitive prices for products either in bulk or individually.
Product monitor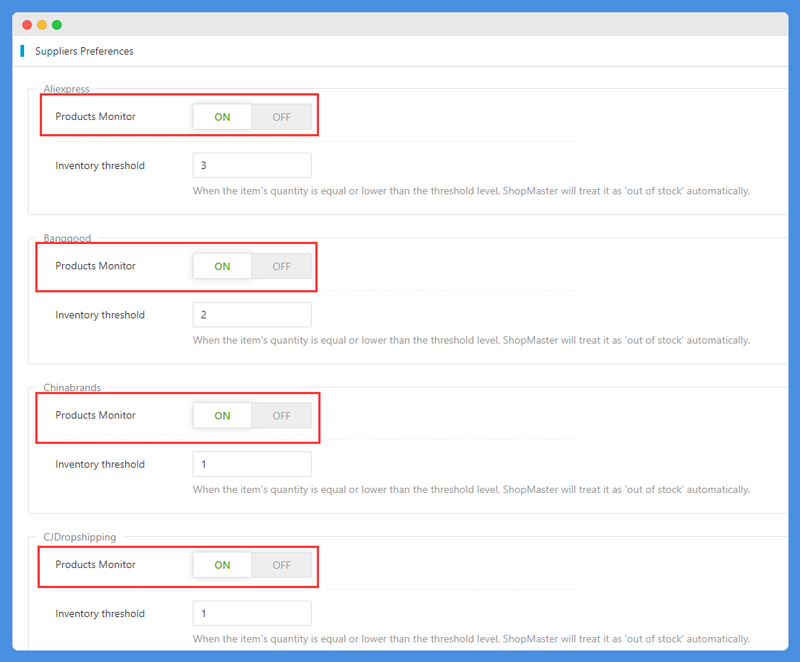 With ShopMaster, you can monitor inventory and price, and scan and update any changes made by the supplier to your own store.
Auto-purchase Order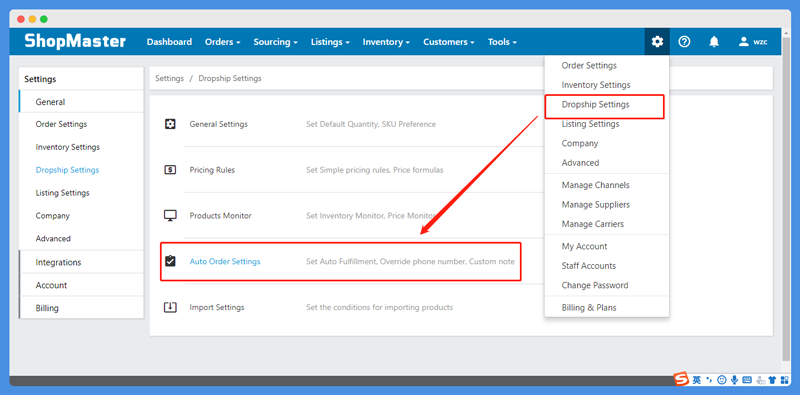 You can place orders and fill out the addresses of your customers with a few clicks on an unlimited number of orders monthly.
Automatic Fulfillment
ShopMaster allows you to auto-sync tracking numbers and marks them automatically as shipped.
It integrates with your supplier's dropshipping API in order to automatically place and fulfill orders. The API allows you to connect to the suppliers to enable even more features.
Hot Selling Products Database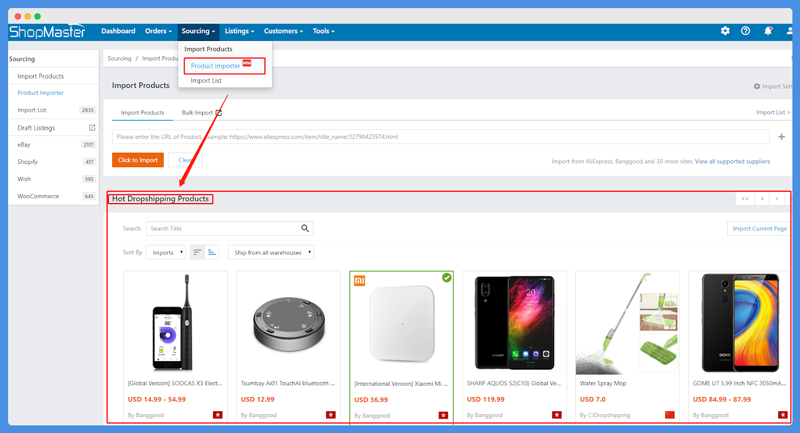 Dropshippers are always in search of winning products for their businesses, but finding the actual ones that will fit the tastes of their consumers isn't easy.
If you want the best and hottest selling items that will open the door to making money for your dropshipping business, ShopMaster provides this convenience through its Hot Selling products database.
They do this through the section of recommending the hot selling dropshipping products to you.
This is a feature in ShopMaster that allows you to find and import hot selling products from Banggood, AliExpress, and CJDropshipping platforms.
Bulk and Advanced Import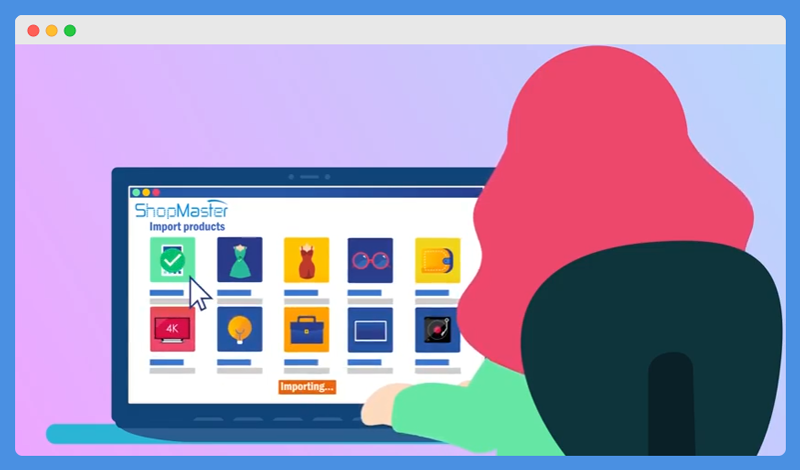 With ShopMaster, you can use a single click and import more than 100 products to your store by copying product IDs, links, and category links.
Similarly, you can use advanced importing features such as the multiple languages import, local warehouse import, out-of-stock, and restocking import, as well as Amazon Prime or Gift import.
Bulk and Advanced Edit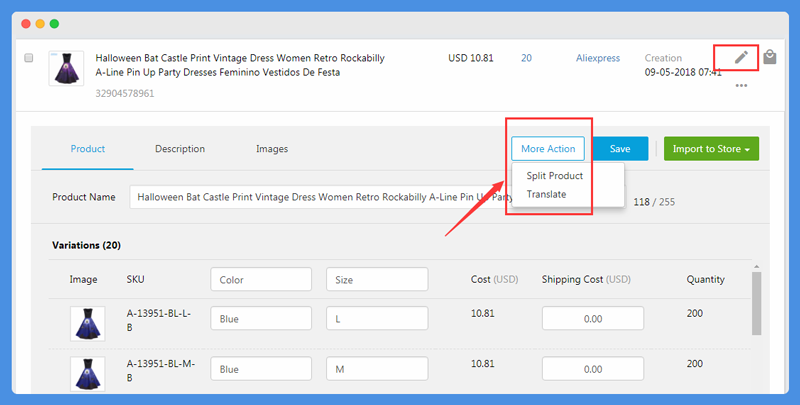 ShopMaster's editing features allow you to edit products' variants, titles, price, descriptions, and inventory among other aspects in bulk, or use a one-click translation, reorder, and/or split variation from its advanced editing tools.
Splitting products by variation options allows you to split the items into the same number of products as the options you have available. You can also split the specific variations into two products.
Useful Post: Best Dropshipping Companies
Bulk Publish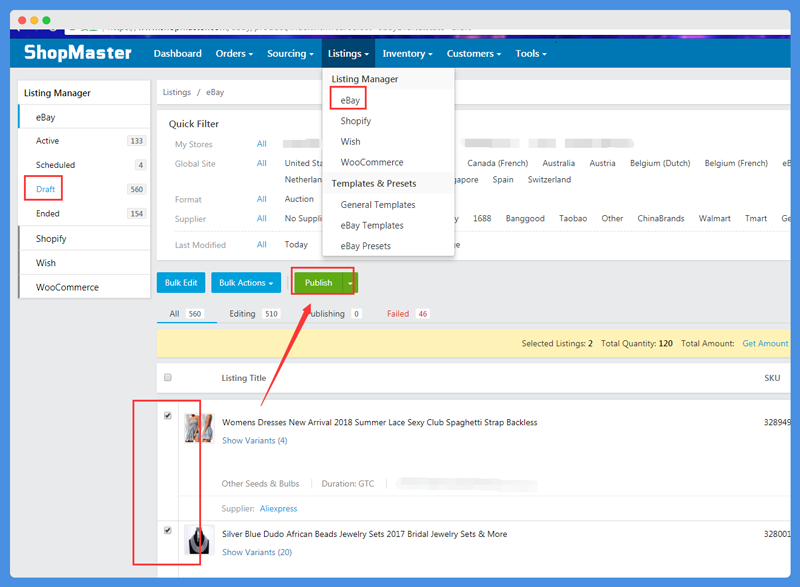 After importing your products from other sites like AliExpress, you're now ready to create listings to your online stores if you intend to sell them.
ShopMaster has a Bulk Publish feature that allows you to publish more than 300 product listings to your online store in one-click.
Variation Mapping
This feature allows you to connect multiple sources to a product, and merge several products into one listing from different suppliers.
Bulk orders
ShopMaster allows you to save lots of time and effort by auto purchasing up to 300 orders in seconds using a few clicks.
Change suppliers
You can change suppliers as easily as you want to with ShopMaster.
Manual Order Creation
ShopMaster allows you to manage your orders from all platforms by creating orders manually, whether they're individual orders or bulk orders.
Shipment Tracking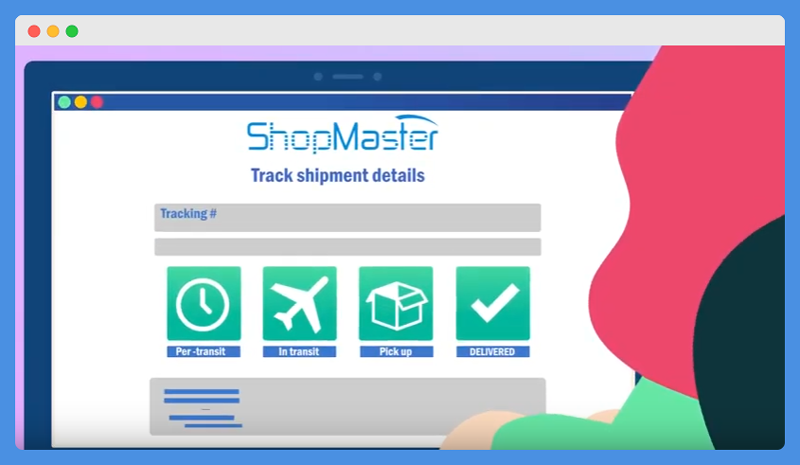 You can track the shipment details of each package you have shipped out to your customers.
Sales Report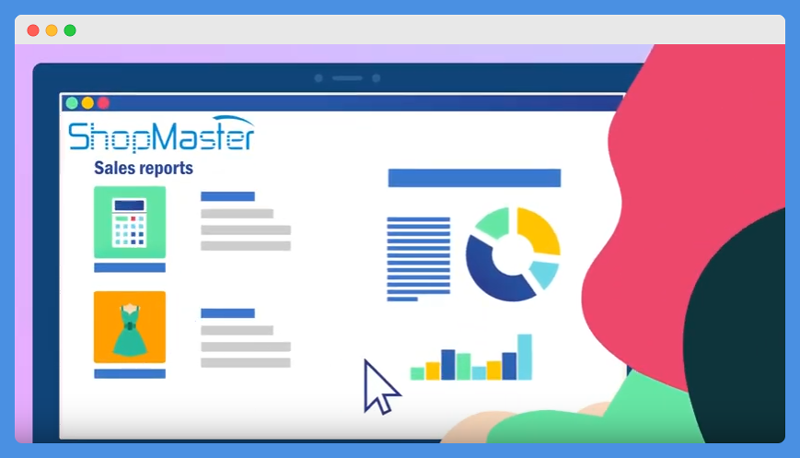 Track your sales statistics while monitoring profits, sales, and hot sellings with exact particulars.
Import Tracking Numbers
ShopMaster lets you upload tracking numbers via Excel spreadsheet.
Order Export
With a spreadsheet, you can also export order details easily.
Advanced Image Management
ShopMaster offers a native image editing tool and up to 10GB image hosting. You can customize the images by removing watermarks, resizing, adding text and icons, and more.
Multi-channels and stores
You can dropship easily to eBay, 3dcart, Shopify, and WooCommerce among other platforms, and manage all your online stores from one account in ShopMaster.
Staff Accounts
From your ShopMaster account, you can give your staff access and set user roles or permissions based on what you require of them.
Detailed Account Active Logs
This feature allows you to check each and every detail of your ShopMaster account, and the accounts of your staff members.
Interesting Read: Best Dropshipping Niches
Affiliate Program

ShopMaster's affiliate program offers you cash back when buying orders from suppliers using the Chrome extension or API for single or bulk orders.
AliExpress Whitelist
This feature allows you to place unlimited orders and bulk payments for all your orders.
Shipping Cost Import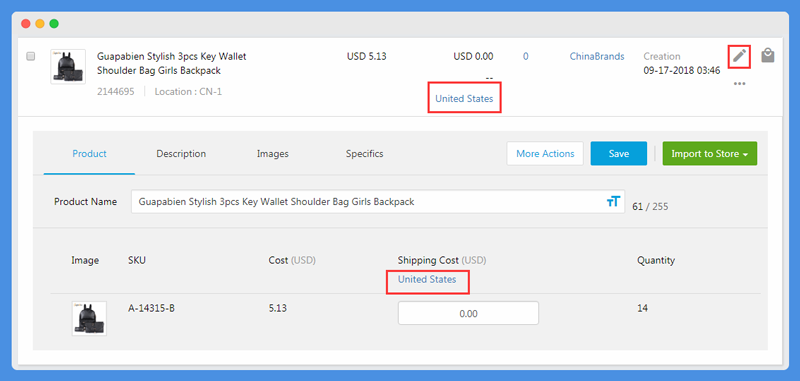 You can choose a shipping cost whenever you import a product from suppliers like AliExpress, Banggood, Chinabrands, GogoMall, and CJDropshipping.
These costs will automatically be imported to your store, including ship-to country and shipping method. All these are based on your settings on ShopMaster.
Auto-correct Shipping Address
As mentioned earlier, you can auto-correct up to 90 percent of the wrong shipping addresses when buying AliExpress orders.
Edit Purchase Item Quantity
This feature allows you to edit the quantities of items when purchasing orders.
Override Phone Number
You can keep suppliers from accessing your customers' information by overriding the phone number.
Auto Leave Purchase Note
ShopMaster provides custom purchase notes by editing your content or adding a customer note and sending it automatically to suppliers when purchasing orders.
Auto default shipping
You can set the default shipping method for many suppliers, and even select it automatically when buying orders.
Purchase order management
You can add multiple purchase orders and sync order details from suppliers automatically without any clicks.
Purchase Again
This feature allows you to purchase already-purchased orders.
Auto Assign Collections
With this feature, you can automatically assign products to Shopify collections by importing supplier category ID automatically as product type.
Auto Generate Vendor & Tag
This feature allows you to generate vendor information automatically and tag them based on supplier information.
Import Single Variant as Standalone
Import products as standalone products to your store with one variant, and increase the sales conversions.
Advanced Search
You can filter products quickly by setting advanced search conditions.
Carrier Mapping
Map carriers automatically so that buyers won't know that they are buying products from a drop shipper.
Customize URL tracking
You can customize your shipment notification's tracking URLs so you can know when buyers open or see the emails.
eBay Templates & Presets
This feature lets you pre-design description templates and apply them in bulk together with eBay policies.
Auto VeRO check
Check VeRO words automatically, in bulk or individually, and in one click remove them altogether.
eBay Auto Restock
Restock your product inventory automatically whenever a new order is created. You can also set automatic restock tasks and track details of restocks on eBay's restock logs.
eBay Auto Message
With this ShopMaster feature, you can set automatic restock tasks and track details of restocks from eBay's restock logs.
Schedule Publish
This feature allows you to schedule listings to be published during sale peak times.
Advanced Search
With this feature, you can filter products quickly by setting search conditions, simple, or advanced.
Size Chart Template
You can insert a size chart template in one click to your product descriptions using this ShopMaster feature.
Worth Exploring: Best Woocommerce Plugins For Dropshipping
ShopMaster Chrome Extension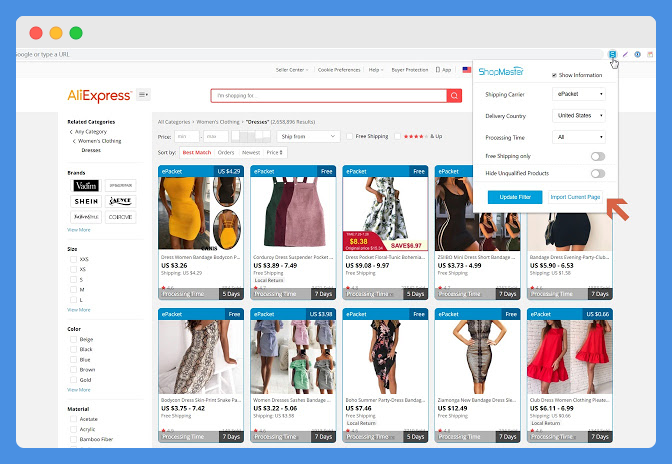 The ShopMaster Chrome extension is a simple tool that lets you import dropshipping products from multiple global suppliers straight into your online store.
Like the main software, you can use the ShopMaster extension for functions such as:
Product sourcing, to add products to your stores in one click, or bulk products (up to 100)
Automatic fulfillment through auto-purchasing orders in bulk from suppliers (up to 300), sync-track numbers, and automatically upload them to your store.
Daily inventory and price monitoring
Add pricing rules automatically or pricing formulas for advanced users
People looking for Chrome extensions for dropshipping can try ShopMaster.
ShopMaster Integrations
ShopMaster integrates with more than 30 suppliers worldwide. This way, you can import products, auto-order, monitor pricing and inventory, bulk order, and auto-sync tracking numbers.
There are more than 20 million products available for dropshipping in multiple languages, from local warehouses around the world.
Specifically, ShopMaster integrates with top-performing suppliers such as 1688, Alibaba, AliExpress, Amazon, Banggood, Chinabrands, CJDropshipping, DHGate, eBay, GearBest, Gogomall, Taobao, Tmall, Tmart, and Walmart (US, Canada).
Once you connect your eBay, Shopify, WooCommerce, and 3dcart stores to ShopMaster, you can sell your products worldwide.
How To Get Started With ShopMaster
If you're a new ShopMaster user, you need to be prepared before you can get started with dropshipping on the platform.
The steps involved are as follows:

Sign up to ShopMaster by going to the website and clicking the sign up for free button to get a free ShopMaster account, and add the tool to Google Chrome.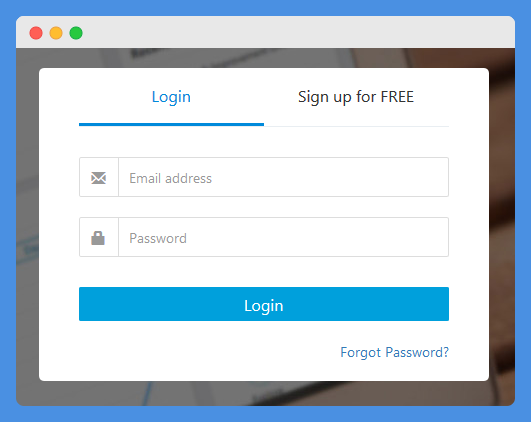 Next, connect the Channels and Suppliers by logging into your ShopMaster account, and going to Settings>Manage Channels.


Lastly, the Dropshipping Settings section allows you to set price rules and product monitoring. To do this, go to Settings>Dropship Settings, toggle on the button for these two features, set the pricing rules and monitor inventory and price of suppliers.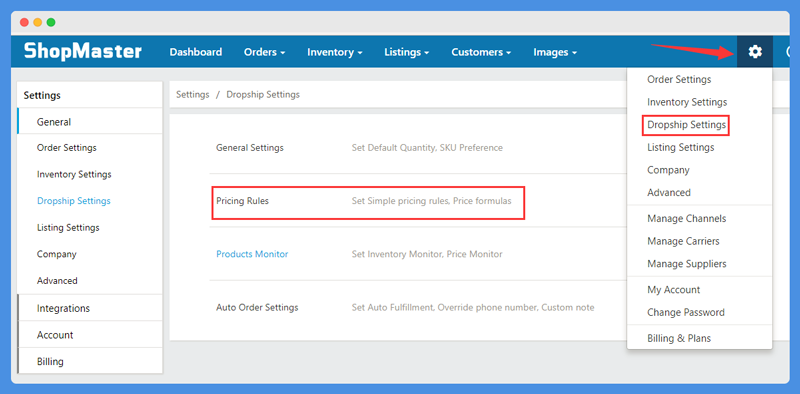 List your products. Once your ShopMaster settings are in place, you can list products to your online stores and enrich your product variety.

Here, there are five steps to take:
This involves going to the Sourcing tab and then clicking on Product Importer.
You can import products by category, copy URL or Chrome Extension, and even filter the products of AliExpress using ShopMaster's extension.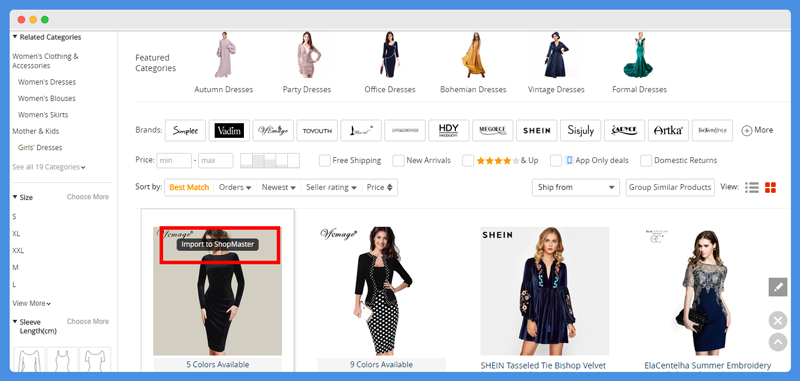 Step 2: Edit products
Editing products involves editing the information about the products before importing them into your store.
You can go to the Sourcing tab again and click on the Import List. Next, select the products you want and click Edit to modify the product information, and save it to effect the changes.

Step 3: Import products to your stores
In the Import List, you can pick the products you want to import and then click Import to Store.
The successfully imported products will be displayed in the Draft Listing section under the Listings tab.
Step 4: Edit the product listings
To edit product listings, go back to the Listings tab, pick a platform where you will list the products, and edit the ones you want.
If, for instance, you want to publish on eBay, use the eBay description template to edit the product listings for that platform.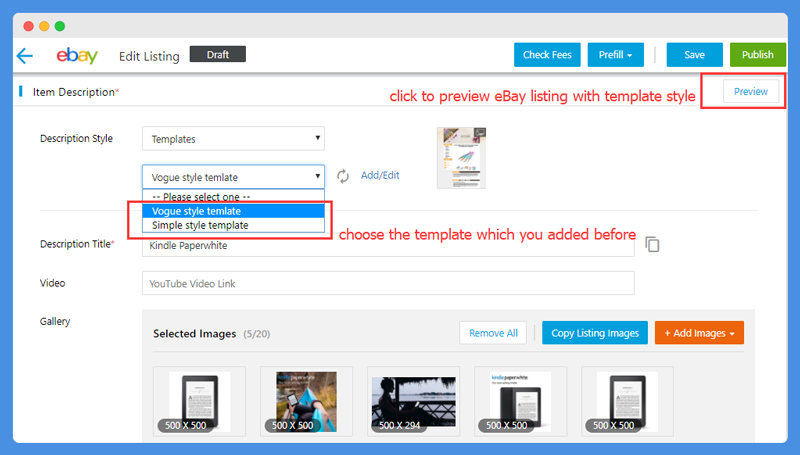 Step 5: Publish the products stores
Finally, publish your products to your stores from the Listings tab, where you'll pick the products you want to be listed.
When you're done, click Publish and Publish Immediately for the products to be listed at once. You can also click Publish and Schedule in order to list your products in the time schedule.
Note: Editing products and listings are optional, so you can decide to edit products or leave as is based on your preferences.
The next part involves order management. You can use the Order Manager in four steps including order syncing, adding supplier orders, syncing tracking numbers, and marking orders as shipped.

Step 1: ShopMaster automatically syncs orders every 20 minutes for all your connected stores.
Step 2: You can add purchase supplier orders manually or automatically, by going to the Orders section and clicking Ready to Ship>Purchase.

Step 3: Syncing order tracking numbers, which you can get automatically using the auto-orders function, involves going to the ShopMaster Settings tab and clicking Dropship Settings>Auto Order Settings.
Click to enable the button and fill any other information where necessary, and from here on, the feature will be enabled and sync tracking numbers.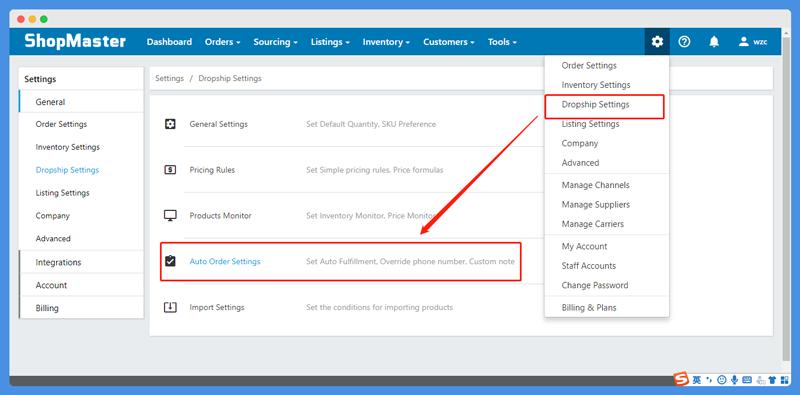 Step 4: Marking orders as shipped is enabled when the auto-order feature is turned on. ShopMaster marks orders as shipped automatically as long as they have tracking numbers.
You can also mark orders as shipped manually by going to Order>Ready to Ship, select the order(s), and click the Mark as Shipped option. Once done, fill in the tracking information, and you'll see the status change to shipped.
Worth Reading: Best T-shirt Dropshipping Companies
ShopMaster Pricing

Over to ShopMaster pricing now.
ShopMaster offers a forever free starter plan, which doesn't require your credit card details to set up or setup fees, and you can use it until you exhaust the free plan's limits.
The plan offers more than 70 features for free so you can run your store, with a connection of up to 2 channels, up to 800 import listings with variation support, unlimited order fulfillment, and specialized customer support.
However, you can upgrade to any of its premium Basic, Business, and Enterprise plans costing $19.90, $39.90, and $79.90 respectively, or downgrade your plan any time, but you won't get a refund.
ShopMaster accepts payment via credit card or PayPal.
Rating ShopMaster
1. Customer Service
ShopMaster's support team is available through email, social media, messenger chat on Facebook, or you can join its dropshipping community for more information and troubleshooting.
A knowledge base and support articles are also available on the Support page on their website, plus an FAQ section, blog, and video tutorials.
The help articles are available as step by step guides and how-to and tutorial posts, which explain clearly the commonly asked questions by customers.
Given all this, four would be an honest rating.
Rating: 4/5
2. Ease Of Use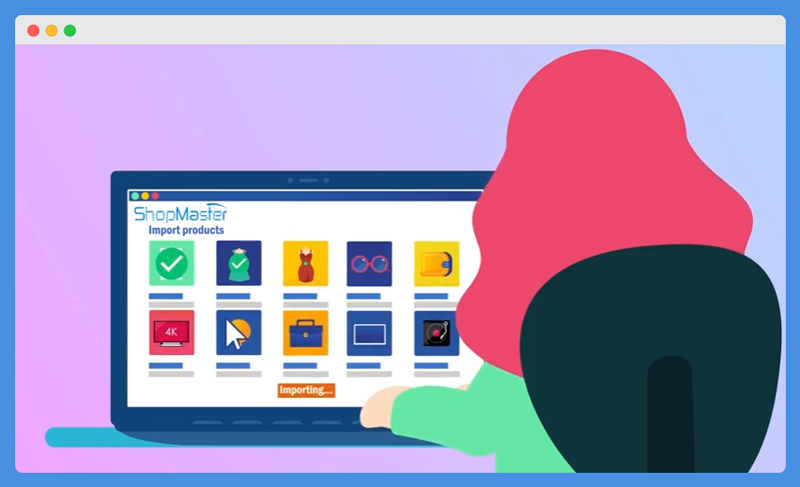 ShopMaster allows you to import products from Amazon, AliExpress, Banggood, Walmart, and 16 other sites directly to your Shopify, eBay, and Wish store.
It also allows you to set up pricing and create rapid listings automatically.
It's a useful tool for sellers managing their stores. ShopMaster has most of the popular supplier sites you want, making it easier to start your dropshipping business, with features like order management, auto pricing rules, price and inventory monitor, and much more.
Even better is the free plan that you can start without time limits.
These features and benefits altogether make using ShopMaster easier compared to other similar software.
Most sellers definitely want a tool that makes importing products, order management, pricing, and inventory management a lot easier.
We would definitely give a four here.
Rating: 4/5
ShopMaster Pros & Cons
Pros
Easy import of products and order fulfillment
Integrates with multiple platforms
Multiple suppliers globally who you can process orders with based on product availability and preferences
Cons
Monthly recurring fee can be expensive over time
Dropshipping Amazon products carries its brands on the package instead of your own
Extra fees for registration with suppliers
Easily exposes you to dropshipping inferior products
Doesn't give you full control of your business
Varying profit margins based on suppliers you use and product limitations
You Might Find It Useful: Best Dropshipping Products To Sell
Conclusion – ShopMaster Review
ShopMaster is a great software for dropshipping that easily integrates with multiple platforms, including the four major ones: eBay, WooCommerce, AliExpress, and Shopify.
However, most of the integrations are with third-party software, which requires extra fees if you have to keep your store afloat.
If you love sourcing products from different suppliers and websites though, it's the right tool for you.
In short, ShopMaster is a powerful tool with many useful features that allow you to import products from the top major dropshipping platforms, from many different suppliers across the globe.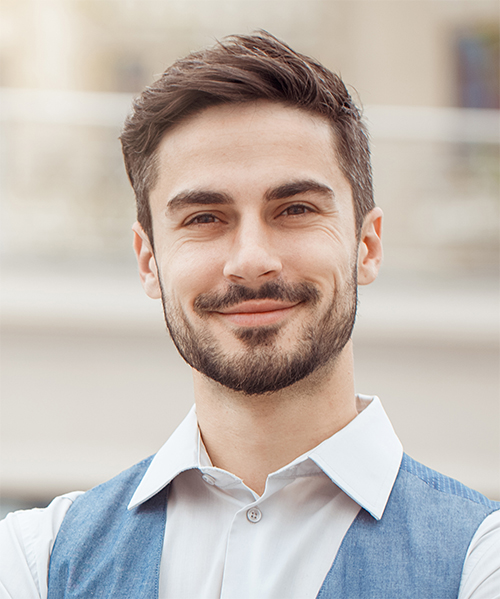 Author: Scott Macarthur
Scott L. Macarthur is a marketing consultant and an online author. He is mostly engaged in providing his expertise to startups and SMBs. He is also an author on TheNextWeb.