One of the best ways to bring back the memory of a place you went to, you once lived, or a special place is by having a customized map or poster of that place hung up in your sitting room.
Thankfully, there are so many websites out there that facilitate custom map printing with Grafomap being one of the notable services.
Meanwhile, you should be aware that Grafomap is not limited to printing maps and posters alone. In fact, Grafomap allows users to create custom t-shirts with imprinted maps.
These printed items can also be given out as gifts to your loved ones on their special days.
What Is Grafomap?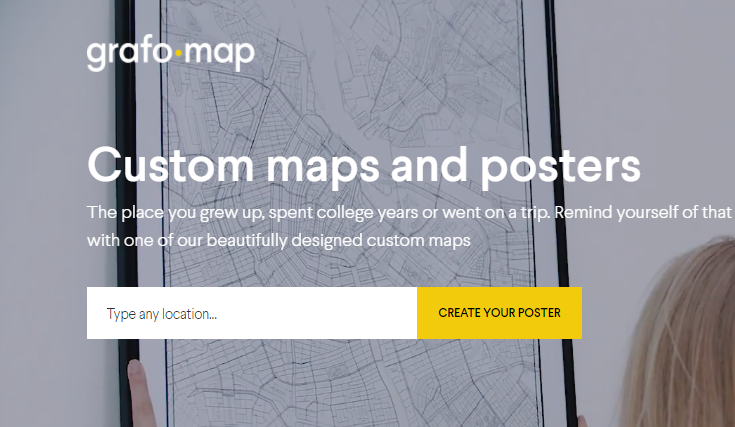 Grafomap is a design company based in Latvia that was founded in 2016 by Rihards Piks and Karlis Bikis.
This company combines OpenStreetMap Data with certain design filters to allow people to create beautiful map posters of any place in the world.
With Grafomap, you can easily create a customized map within a few minutes.
When you visit the website you will see a rectangular box where you will be required to input your city and then you click on 'Create your Map'.
After you have successfully designed your map, you can get them printed as posters or T-shirts as well as ship them down to your desired location.
Not to mention, there are several themes on the website that you can apply for your unique map poster.
Also Read: Best Print on Demand Book Companies
How To Get Started With Grafomap ( Steps For Signing Up)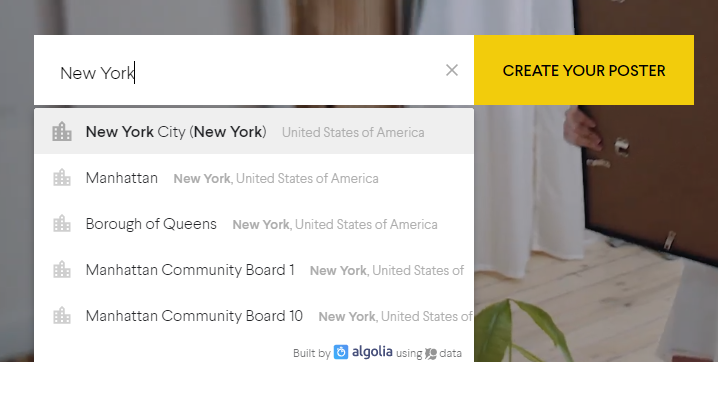 Getting that map design isn't so rigorous after all, all you need to do is to follow these few simple steps to get started with Grafomap.
Go to the official Grafomap website.
Select the location for your preferred map.
Choose your exact style, color, and layout.
Now, enter your shipping and payment details
Note: Your customized printed map will be delivered to you within 5 to 10 days
How To Create A Printable Map With Grafomap
After visiting the Grafomap website, enter your desired location while you will be redirected to the poster editor menu, which enables you to easily customize your location down to the exact address or coordinates.
Afterward, you can continue to personalize your map by adjusting, panning, and zooming the map precisely to your preference, adding or removing text, and as well as choosing the finish (paper, framed, or canvas), orientation, and size.
You will also get to choose from the several themes and colors available on Grafomap. After you are done with your map customization, add it to the cart. Then, enter your shipping and payment information, and you are good to go.
Explore: Best Print on Demand Sites
Grafomap Features
Grafomap incorporates numerous features which include:
Intuitive User Interface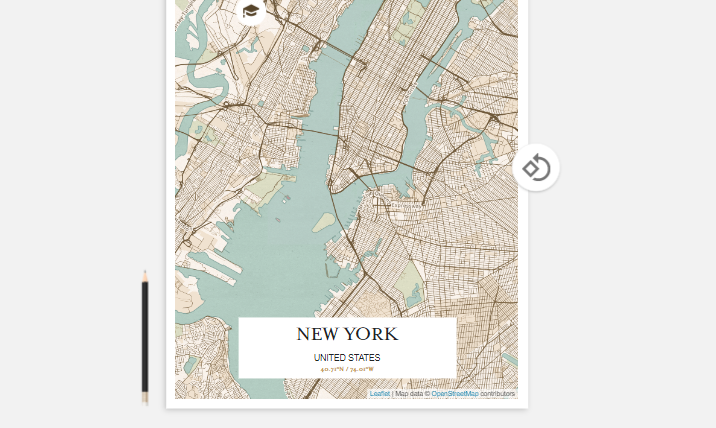 You can quickly design your custom map on the Grafomap platform which literally takes about five minutes to finish. This is because Grafomap has an intuitive user interface, which does not require technical assistance to use.
Likewise, if you get stuck, you can simply access the FAQ menu from the Grafomap editor to resolve the issue.
Interestingly, you are only required to input the location you want to feature in the map and then customize the map. This location can be a continent, country, or even a specific street in your neighborhood.
Also Read: Best T-shirt Mockup Ideas For Dropshipping
Unique Designs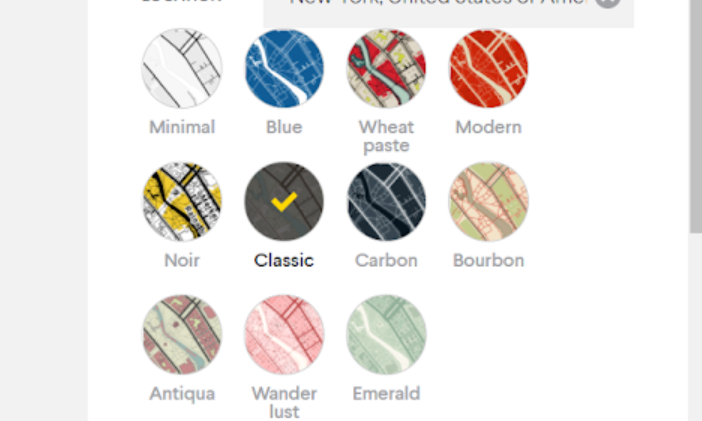 Grafomap provides users with numerous designs for them to customize their custom map, based on their preference.
There are about 11 unique color themes that you can use, which include; Modern, Noir, Bourbon, Wheat Paste, Minimal, Blue, and Classic, Carbon, Antiqua, Emerald, and Wanderlust. These amazing themes will easily give your map an appealing look.
You can as well use the 'Wheat Paste' color theme which helps distinguish elements like streets, parks, and water, among others.
Map Editor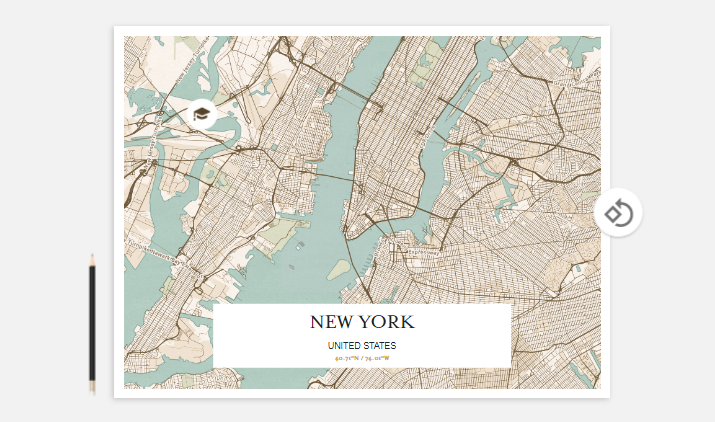 Grafomap provides you with an easy-to-use map editor that allows you to create custom maps. You can enter your street name or your preferred location into the editor for an elaborate map view.
That way, you can either zoom in or out of your preferred map location. You can also add labels and markers to your favorite places on the map such as your school, home, and hangouts.
Additionally, Grafomap's map editor allows users to customize the map's title, subtitle, and latitude/longitude information.
Check Out: Best 3d Print on Demand Services
Great Option For Interior Design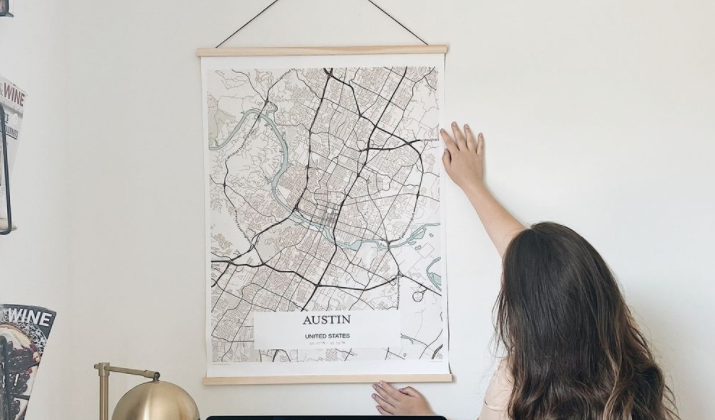 If you are looking for a unique way to decorate your home interior, then you should try getting unique map posters that suit the color of your home from Grafomap.
Fortunately, these are no ordinary maps as they are mostly designed to pass a message or bring back memories.
Shipping & Delivery
To ensure fast product delivery, Grafomap partnered with top shipping services such as UPS, FedEx, and the United States Postal Service (USPS).
That way, you can quickly get your customized map delivered to your desired location after an order is made. Their express shipping takes about four business days, while their free shipping takes up to 20 days.
Explore: Best Australian Print on Demand Companies
Grafomap Customer Support And Resources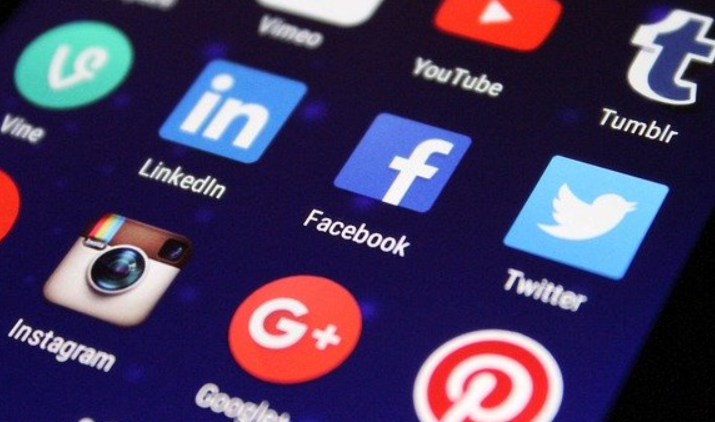 Photo by Pixelkult via Pixabay
Grafomap has a good customer support service that can help you resolve both pre-sales and after-sales issues with your purchase of map designs. Not to mention, you can also get a refund if the map design you ordered is not quite up to your expectation.
Unfortunately, Grafomap does not have a contact page or live chat support; however, you can reach them via their social media channels. Alternatively, you can also reach them via email after signing up on their website.
Grafomap Affiliate Program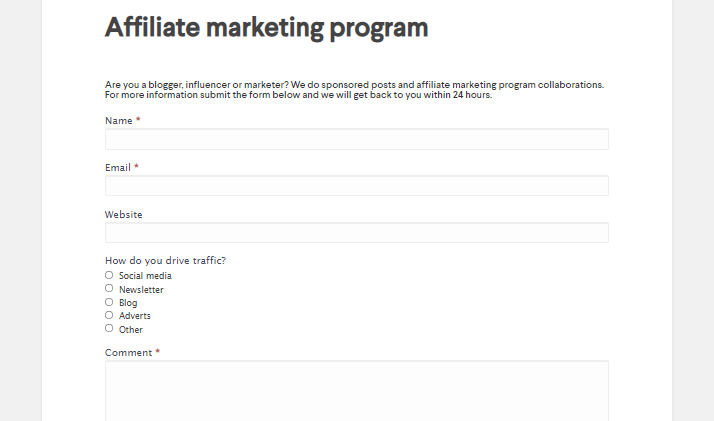 You can earn by registering for the Grafomap affiliate program and start enjoying the cash rewards when people use your discount code to purchase map designs from Grafomap.
To register for the Grafomap Affiliate Program is as simple as ABC, all you need to do is to follow the simple steps outlined below:
Visit the website
Tap on the 'Affiliate' menu
You will be required to fill a form (containing your name, email, website, how you drive traffic, etc.)
After filling out the form, click on submit.
Afterward, you will get a response from the Grafomap support team concerning their affiliate program.
Also Read: Best Canadian Print on Demand Companies
Grafomap Pricing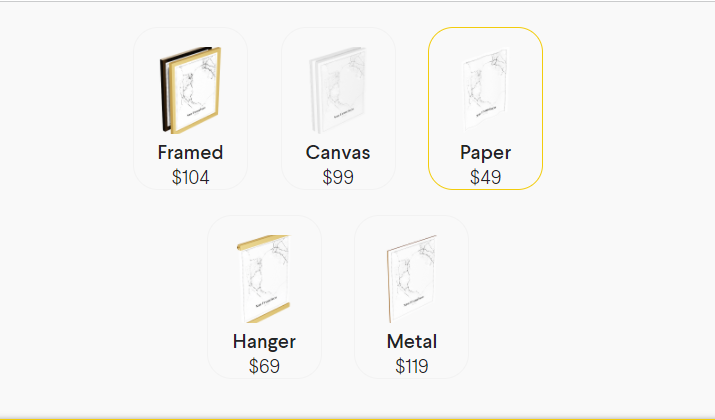 Grafomap has a flexible pricing scheme, which depends entirely on the material.
Here are its customized map posters prices:
Paper – $49
Hanger – $69
Canvas – $99
Framed – $104
Metal – $119
On the other hand, the above-mentioned price is exclusive of the shipping fee. Therefore, you still get to pay the delivery fee which solely depends on your location.
Grafomap Coupons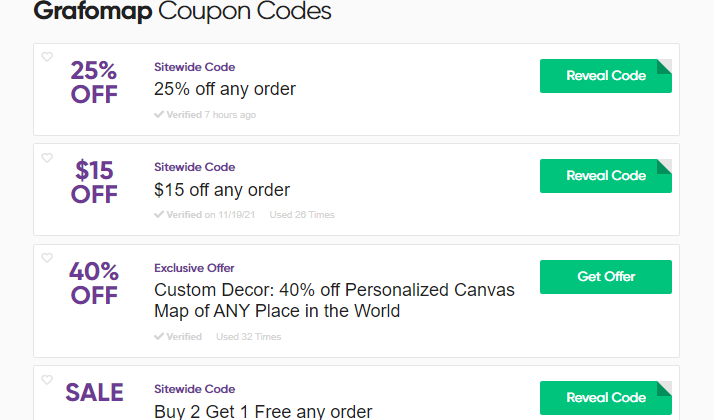 With the Grafomap coupons, you can get a price discount while purchasing your custom map design.
Prospective Grafomap users can get coupons as high as 50 percent off. Here are some sources where you can find Grafomap coupon codes:
This site offers a 25 percent discount on any Grafomap purchase that you make. You will also get 40 percent off any personalized canvas map that you purchase. Notably, when you buy two customized map designs, you will get one free map design.
This site offers a 50 percent discount on any Grafomap purchase that you make. You can get 15 percent off personalized city maps that you make on this site.
Plus, you will also get to enjoy free express shipping and 15 percent off the next purchase that you will make after making use of this coupon code.
Also Read: Best Print on Demand Sites For Artists
This site offers a 50 percent discount off any Black Friday sales purchase that you make, you will also get to enjoy a 20 percent discount off any Christmas purchase that you make via this site.
You will get a 40 percent discount on any personalized canvas map of any place in the world purchase that you make. Plus, you will also get $15 off on any personalized city map purchase that you make.
This site offers a 25 percent discount on any Grafomap purchase that you make through them. You will get a 20 percent discount on any extra purchase you make and as well as five percent off for shipping.
Likewise, you will also get $200 off Grafomap competitors' coupons for promotional products.
On this site, there are over 10 Grafomap coupon codes that are available for use. That's not all, you will also be able to earn a five percent cash back at Grafomap.
Grafomap Pros And Cons
Pros
Excellent customer support
Swift delivery
Easy customization of maps
Allows cash rebates
Makes use of quality materials on print
Allows a free return policy
Easy creation of map in less than five minutes
Cons
Highly overpriced
Occasionally delivered damaged maps (this might be due to the type of postal service used to deliver to the buyer)
Explore: Cheapest Print on Demand Sites
Is Grafomap Legit?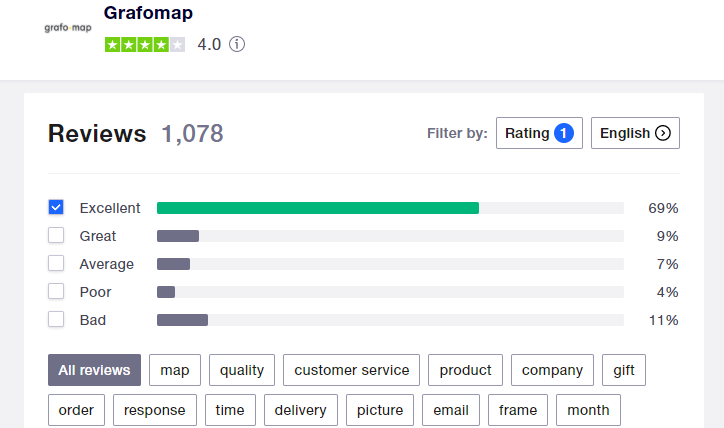 Grafomap is a legitimate custom map printing service that has been operating since 2016. At the moment, Grafomap is rated 4.0 over 5 on Trustpilot with a large percentage of its customers attributing to its high-quality services.
Is Grafomap Safe?
In short, Grafomap is a safe platform to make custom map purchases. Additionally, Grafomap utilizes a strong SSL certificate on its websites, which indicates that your payment details are in safe hands.
Ratings
Ease of use
To use Grafomap, you just need to enter the name of a city and hit Go! It's very easy. You'll get your map within a few seconds and you can edit the location, material, size, style, and more with just a click.
For ease of use, I rate Grafomap 4 out of 5 stars.
Features
With Grafomap, you can create and design personalized map prints and gifts of any location. The finished work you get is near-perfect.
You're allowed to choose your preferred material type including metal, canvas, framed, or poster. Not to mention the fast delivery and multiple supported payment channels.
For features, I rate Grafomap 4.5 out of 5 stars.
Pricing
Printing map posters on Grafomap costs anywhere between $49 to $119. Notably, metal prints cost the most.
The cost for printing t-shirts is about $35 although it still depends on the quality of the shirt and what is to be printed on it.
You also pay the shipping cost which varies depending on the end destination and the shipping service you use.
For pricing, I rate Grafomap 3.5 out of 5 stars; mainly because their pricing plan isn't very transparent.
Customer Service
Grafomap offers support via a help center that contains many helpful articles and guidelines. However, that's it; there's no option to contact customer care by phone or email.
The Grafomap email available is mainly for partnership and collaborations. Your best option for direct support from the Grafomap team is via social media – Twitter, Facebook, etc.
For customer service, I rate Grafomap 3 stars out of 5.
Also Read: Best Print on Demand Sites Like Society6
Best Grafomap Alternatives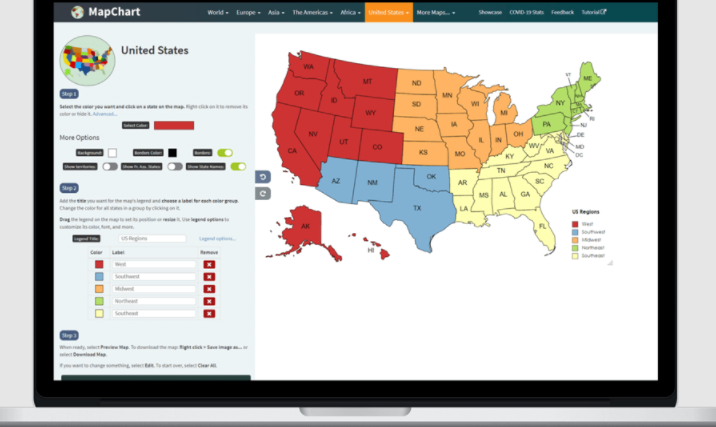 This is a Grafomap alternative that allows you to create your own custom map. In fact, both MapChart and Grafomap incorporate an intuitive editor.
You can easily use it to edit or modify any map created with it for free. You also get to use any map on it but you will have to reference MapChart when it is used.
It allows you to make a map of anywhere in the world. You can color countries or states differently as codes, add patterns, and change backgrounds.
Maps created or gotten from MapChart can be shared anywhere and with anyone. They can be used for projects, classroom, and private and commercial purposes with no cost attached.
Unlike Grafomap, MapChart has a mobile app that is available for download on App Stores and Google Play.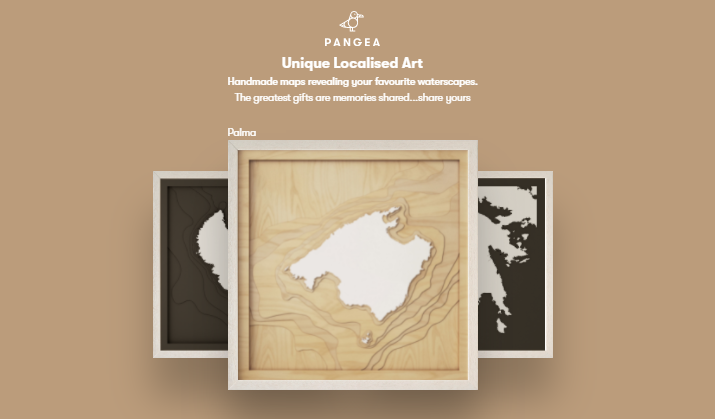 Here's another alternative to Grafomap that allows you to design maps of waterscapes and have them crafted and sent to your preferred location.
It helps to keep memories alive by creating handmade high definition maps that remind people of a particular waterscape they've been to.
The maps are either made of wood or painted black or blue. They can come in three sizes, 430mm×430mm, 600mm×600mm, and 830mm×830mm.
You can design, buy, or customize a map. Designing the map is free but the price of having it crafted starts at $490 with the shipping fee included based on your location. Compared to Grafomap, it's a bit pricey.
Also Read: Best Print on Demand For Etsy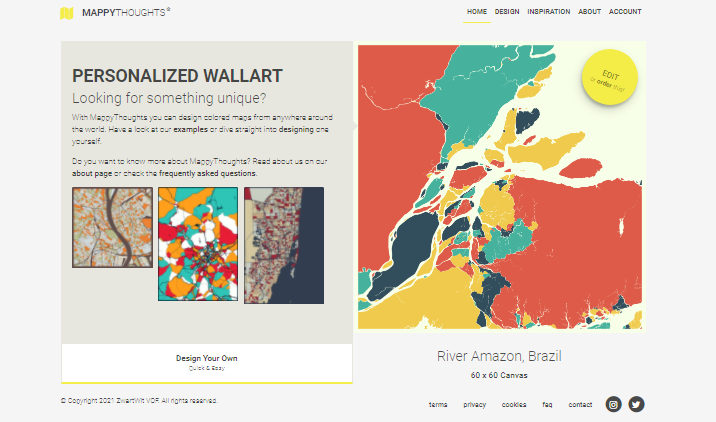 This Grafomap alternative enables you to find a location, choose the material you want a map made of, select the size and the style, and have it delivered to you. You can even buy or edit an already designed map.
The maps created on MappyThought are colorful. They can be used for personal house decoration or presented as gifts.
While Grafomap provides you with 11 color themes, MappyThought has about 12 styles available to design a map. Shipping of maps is free to any location in the world just like on Grafomap.
MappyThought crafts the maps on canvas, Dibond, and poster. The sizes differ both in landscape and portrait. Maps painted on canvas are cheaper than all with the pricing starting at €49.99 for 20×30.
Wrapping Up
A custom map is one of the unique gifts that you can use to bring back the sweet old memories of your favorite places.
Grafomap is a popular custom map maker that you can consider for creating a map gift. With its intuitive map editor, you can quickly create a custom map within minutes and then customize it based on your preference.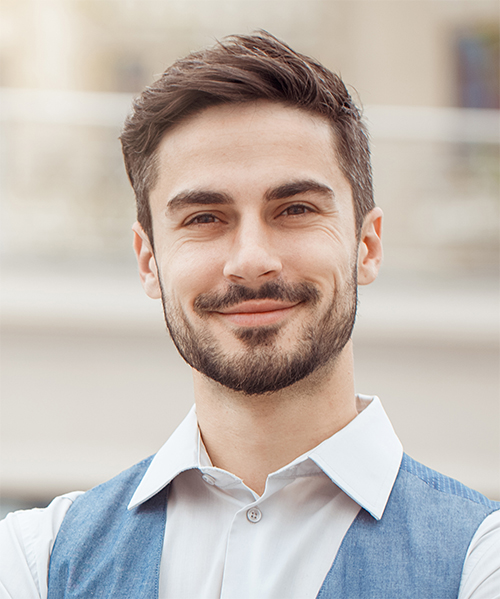 Author: Scott Macarthur
Scott L. Macarthur is a marketing consultant and an online author. He is mostly engaged in providing his expertise to startups and SMBs.