Editor's note: If you're really serious about your ecommerce business, taking professional Shopify app development services is the way to go. Being the experts of the game, they help hundreds of Shopify store owners to grow everyday. For now, check out this interesting post on Shopify dropshipping tools by Ben.
There are over 500,000 Shopify stores, and a growing number of them are dropshipping from AliExpress.
Dropshipping is an affordable business model that doesn't require upfront investment capital.
It provides an easy way to start an eCommerce business.
AliExpress, with its affordable prices and wide selection of products, remains one of the top supplier sources favored by dropshippers.
Today, I will be reviewing the top AliExpress and Shopify research tools to help you boost your Shopify/AliExpress dropshipping business.
Whether you're looking for the best products to sell or want to spy on your competitors, this article is for you.
Let us get into it.
The Best Shopify And AliExpress Research Tools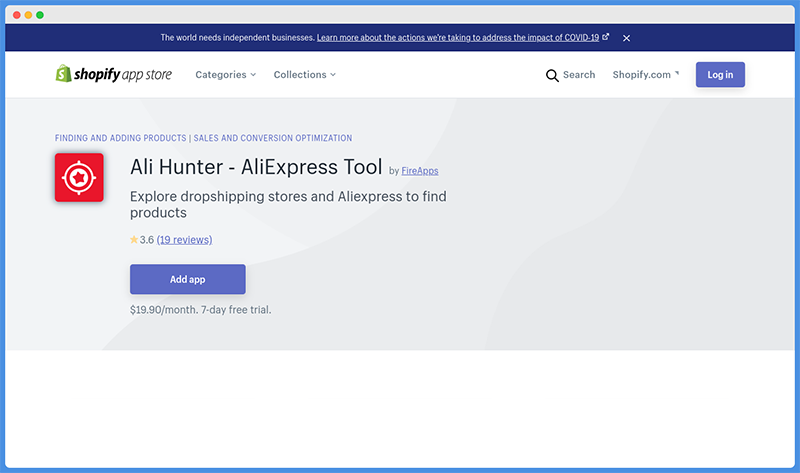 Ali Hunter is a Shopify app that helps dropshipping stores find the best products and spy on other dropshipping stores to see what they are selling.
Let me go through some top features of the Ali Hunter app:
Discover competitors: Find out which Shopify stores are selling the same products as you. See the prices they have set, so you can adjust your own pricing according to the market standard.
Track competitors: Get notifications about competitors, so you stay up to date on what they are doing.
Discover best-sellers: Find best-sellers on other stores.
Discover and analyze products: Discover AliExpress suppliers who are selling products with high sales potential.
Join the community: Share your tips with other Ali Hunter users, and follow their advice to boost your business.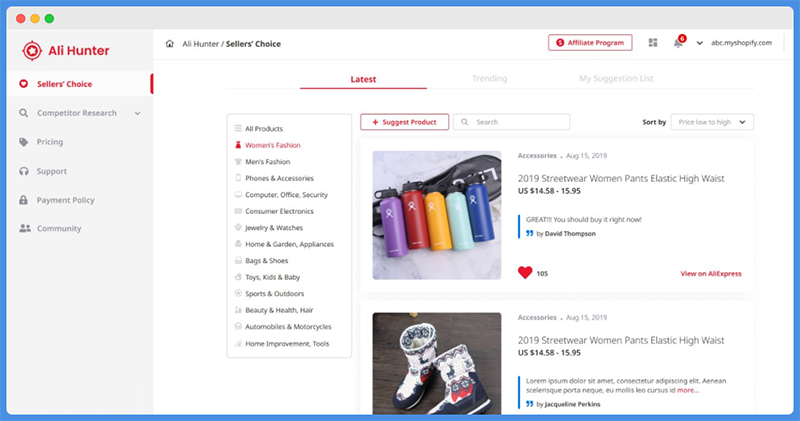 In addition to the Ali Hunter Shopify app, I recommend downloading the Ali Hunter Chrome extension.
Here are some of the things you can do with the free Ali Hunter Chrome extension:
Analyze products: While browsing products on AliExpress, reveal information like price, rating, reviews, ePacket information, and more.
Analyze suppliers: Check to see if a supplier is verified, if they have good reviews, and find their best-selling and trending products.
Price history: Discover a product's price history. See if it went up or down over the past few months. Price history will allow you to decide if a product's demand is rising or not and whether you are likely to experience a lot of sales volume or not.
Order history: Use recent order histories to predict future buying trends.
Shop research: See Shopify stores and discover their best selling products. Export all of their products as a list to a CSV file.
App research: Find out which apps are helping your competitors succeed.
All in all, Ali Hunter is the perfect tool to use – I recommend using both the Shopify app and the Chrome extension.
The Shopify app costs $19.99/month, but check the app page for updated pricing information.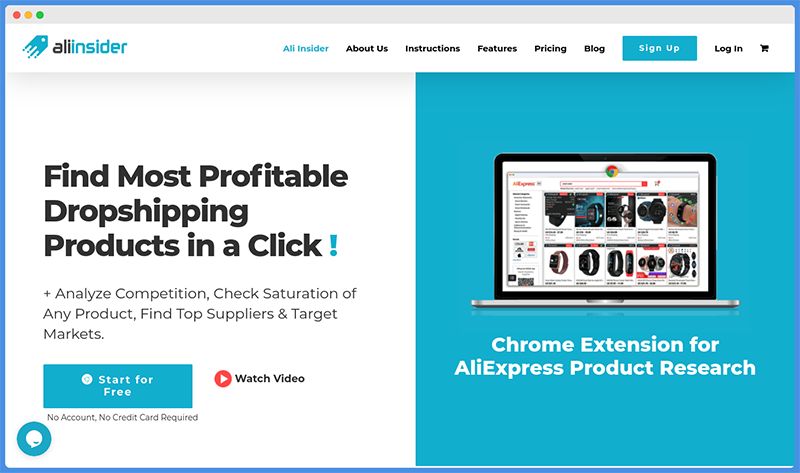 Ali Insider is another tool you will find useful as a Shopify seller. It does not have a Shopify app, but it does allow you to conduct research on other Shopify sellers, and it has a wide range of features that I know you will find useful.
Here are the top features Shopify sellers can take advantage of:
Research Assistant: The Research Assistant tool will give you valuable insights as you search for products on the AliExpress discover page. You will see data such as daily revenue, daily sales, ePacket and shipping information, date added, and more.
Sales Tracker: The sales volume graph helps you figure out whether sales are likely to go up or down.
Logistics Checker: Discover how long it would realistically take for the product to arrive (and how much it would cost) in your destination country.
Shopify already. Find out how long they have been in business, take a look at their landing pages, and reveal their current prices.
Dropship Insider: Find out whether a product is currently being dropshipped and how many dropship orders are being fulfilled every day. Also, find out how much dropshippers are earning with this product.
Suppliers Finder: Discover suppliers with good shipping options.
Although Ali Insider is free to use, there is a premium version. If you sign up for the premium plan, you will get access to features like:
Top Products: Discover the top 30,000 products on AliExpress at any given time.
Saturation Checker: Figure out if a product or niche is saturated or whether there is still potential to break into it.
Niche Analyzer: Go beyond specific products and research niches. Discover the best selling products in a niche, daily sales, and more.
As I mentioned, it is free to get started with Ali Insider.
The premium plan currently costs $19.95/month, but you can get up to 5 months per year free by signing up for quarterly, bi-annual, or annual billing.
Always check the Ali Insider pricing page for updated pricing information.
Although Ali Insider does not have a Shopify app, I believe their vast selection of research tools makes up for that.
You can get insights into AliExpress products that just are not available with most research tools.
Ali Insider does have a Chrome extension. The Chrome extension lets you research products and Shopify competitors quickly and easily.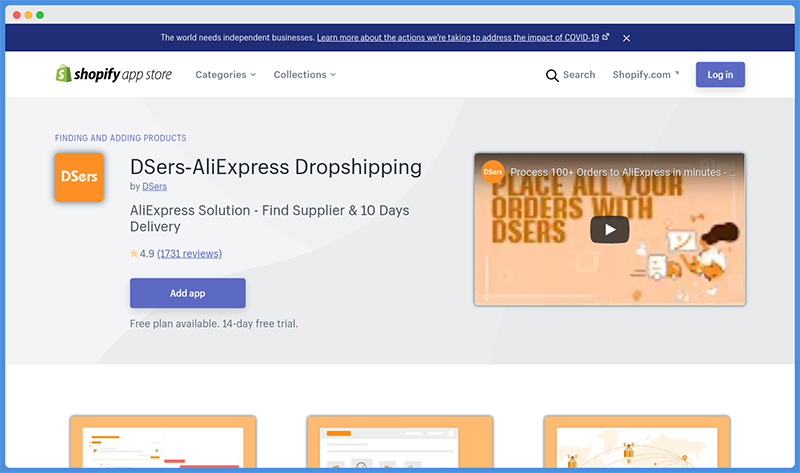 DSers is a Shopify app that not only lets you find AliExpress products to dropship but lets you import them to your site with just a few clicks.
As of this writing, it has over 1,600 reviews, with an average star rating of 4.9 stars – so you know it's going to be good.
Here are some of the awesome features DSers offers:
Find products that are selling for low prices and which ship quickly to the USA (within 10 days)
Find the same product being sold by other suppliers for less
Import products from AliExpress directly to your store
Edit the product title, description, etc. in DSers while importing them to your store
Manage multiple AliExpress Shopify dropshipping stores in your DSers account
Fulfill orders with just one click – fulfill multiple orders at once, in bulk
Earn cash back when fulfilling orders from AliExpress with DSers
The best part about DSers is that they offer a forever free plan.
The free plan comes with the ability to manage up to three stores and has most features, like bulk orders.
If you want more stores and some premium features, you can upgrade to a premium plan, which starts at just $1.99/month.
Always check the DSers app page for updated pricing information.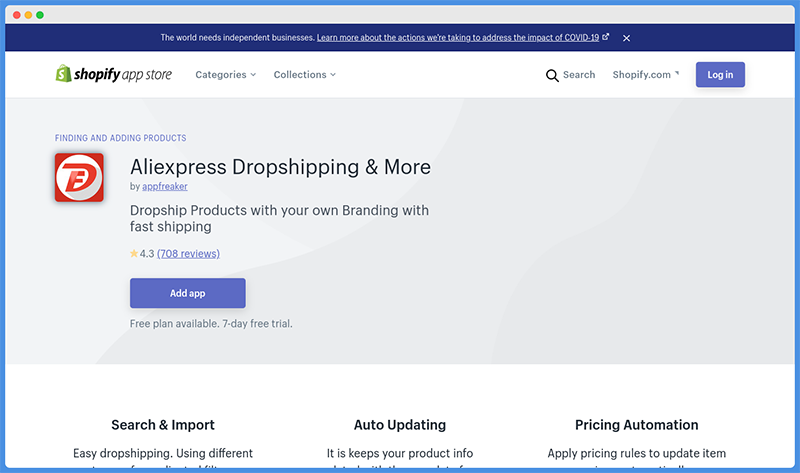 This Shopify app helps you find profitable AliExpress products to dropship by using different filters to refine your search results.
Here are some of the features provided by this Shopify app:
Search AliExpress results and use filters like

Shipping country
Shipping currency
ePacket availability

Import AliExpress products to your store with just a few clicks
Edit products while importing them
Optimize product price while importing – set up pricing rules to apply automatically
Import variants and set variant availability
Fulfill orders from AliExpress with just a few clicks
Sync tracking details to your store after fulfillment
Automatically sync and update your listing based on available inventory
In addition to AliExpress, the app supports various other suppliers, including Alibaba, Amazon, eBay, Target, Overstock, Wish, Walmart, Gearbest, and many others.
The app is free to use, but it seems like AliExpress importing is only available on a premium plan, which starts at $5/month. Always check the app page for updated pricing information.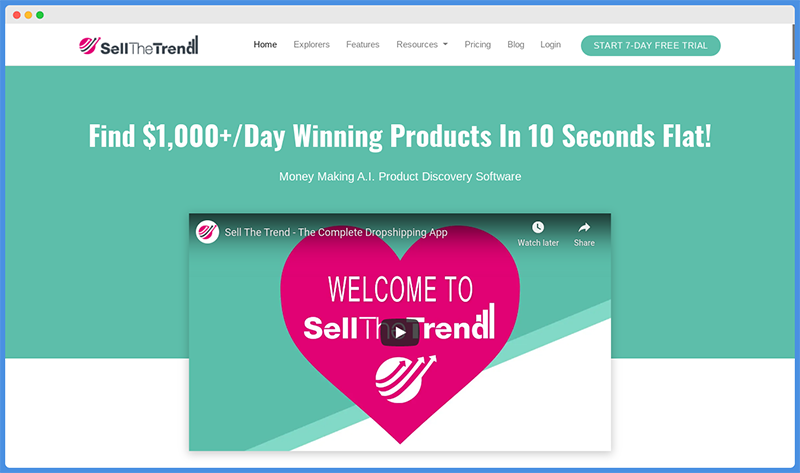 Sell The Trend remains one of the top AliExpress dropshipping research tools on the web.
It uses powerful AI to help you find the most profitable products on AliExpress for your store.
Not only that, but you can also spy on other Shopify dropshipping stores to find out what they are selling and copy their strategies.
Here are some of the great tools offered by Sell The Trend:
Nexus Research Machine: This tool uses AI to find products that are trending on eCommerce stores across the web.
Dropship Product Explorer: Search the database of dropshipping products and refine your results using filters to discover hot and trending products.
Shopify stores are selling right now. Also, see which stores are successful.
Store Intelligence: Enter a competitor's URL to discover their top products and newest products. Or, just pick a store from the list of stores being tracked by Sell The Trend.
Retail Trend Explorer: This tool focuses on helping you find the best tools on AliExpress. The tool shows you different categories of products you might be interested in – Hot, New, Trending, and "Hidden Gems." You can also enter a specific AliExpress product URL and the tool will track it for you automatically.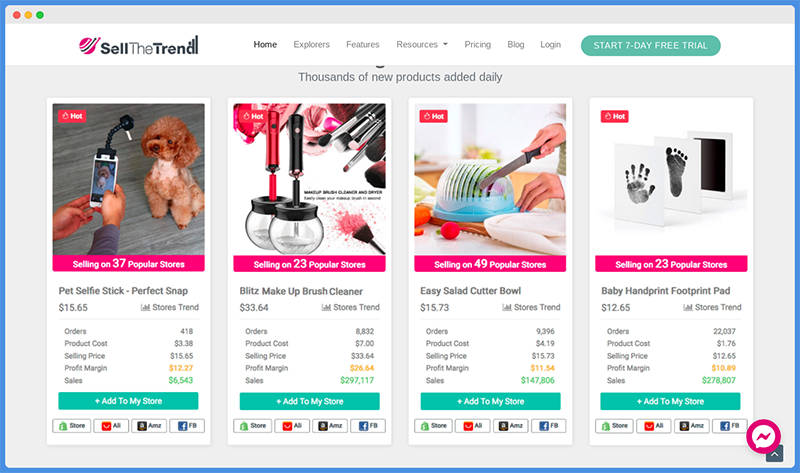 You can add any product to your Shopify store with just a few clicks.
The tool will pull the product description, images, and title from various stores online selling the product – you can choose which data you want to include and mix data from different stores to create a high-converting listing.
Also, using the Chrome extension, you can fulfill product orders with just one click.
In addition to helping you find the best products to sell on Shopify, Sell The Trend has a number of tools that will help you advertise your products and get more sales.
Video Ads Creator: Want to advertise your products on Facebook with a video? Use this tool to automatically create a catchy video, complete with effects, created with images of the product that are taken from various stores.
Facebook Audience Builder: Before you publish your Facebook ads, it is important to choose the right target audience. The Audience Builder tool will help you find the best target audience for the product you are promoting.
Influencer Engagement Calculator: Before you pay an influencer on Instagram or Twitter to promote your product, use this calculator to find out what their real engagement stats are. Some influencers have fake followers and buy fake likes.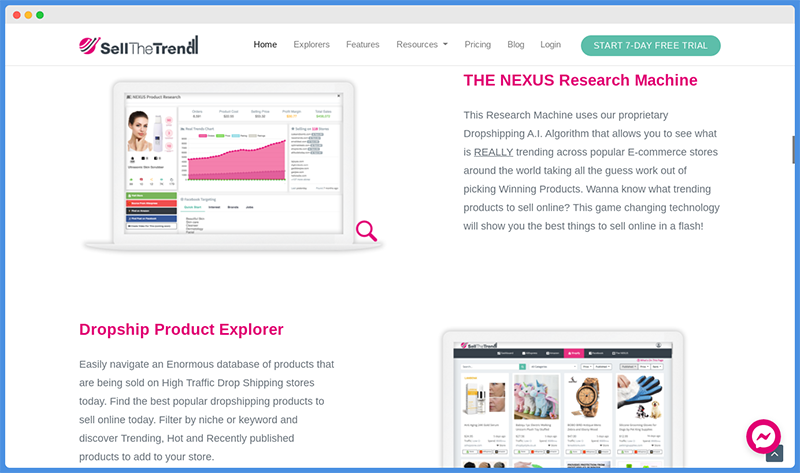 Sell The Trend is a good research tool to use if you have no prior experience with dropshipping, considering that you get a free dropshipping course when you sign up.
Right now, Sell The Trend is offering a free trial for seven days with a charge of $39.97/month afterward.
However, if you sign up for yearly billing, you will get two months free.
Always check Sell The Trend for updated pricing information.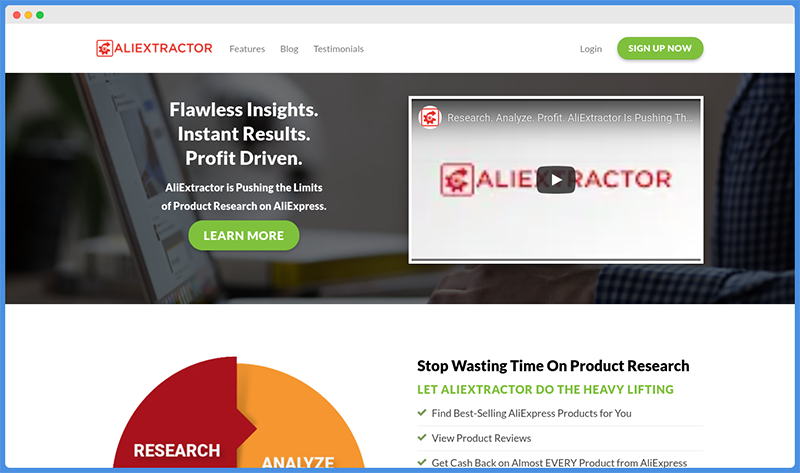 Ali Extractor bills itself as a "super-powered, product researching, competition outsmarting, sales-generating machine for your Shopify store."
Indeed, using Ali Extractor, you will be able to find great products to sell and spy on your competition.
Here are some of the things you can do with Ali Extractor:
Find best selling products to sell on your store
Use advanced filters to find the exact products you are looking for
Discover products trending in your niche
See product data, including reviews and revenue estimates, to determine whether it is a good one for you to sell
See each seller's top-selling products
Use the Idea Generator to get product ideas based on your preset parameters
Calculate the net profit you will make per sale by selling a product, as well as the monthly revenue you can expect to earn from your monthly sales
Discover variations of the product to sell on Shopify
Download product images to upload to your Shopify store
Download product reviews and seller feedback to upload to your Shopify store
Get cash back when you fulfill orders from AliExpress for your Shopify store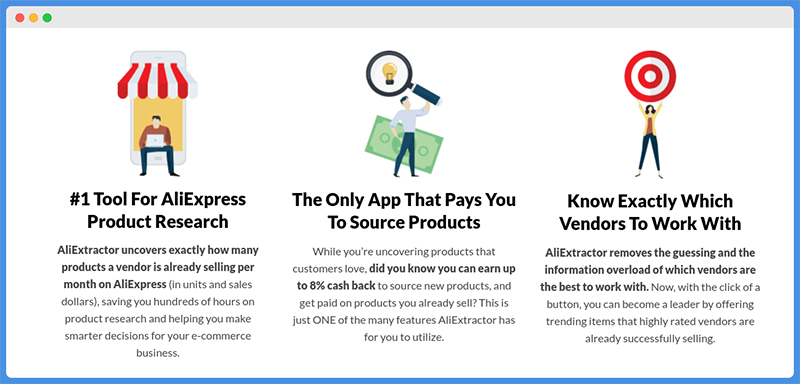 The Ali Extractor Lite Chrome extension should come in handy as well. It lets you do things like find products, download images, compare product prices, save your searches, and a lot more.
Using the Chrome extension, you will also be able to see how many units a seller is selling per month of any product, which will give you an idea of how popular the product is.
Ali Extractor costs $29/month (look at the Checkout page for updated pricing information). Although there is no free trial offered, there is a 14-day money-back guarantee.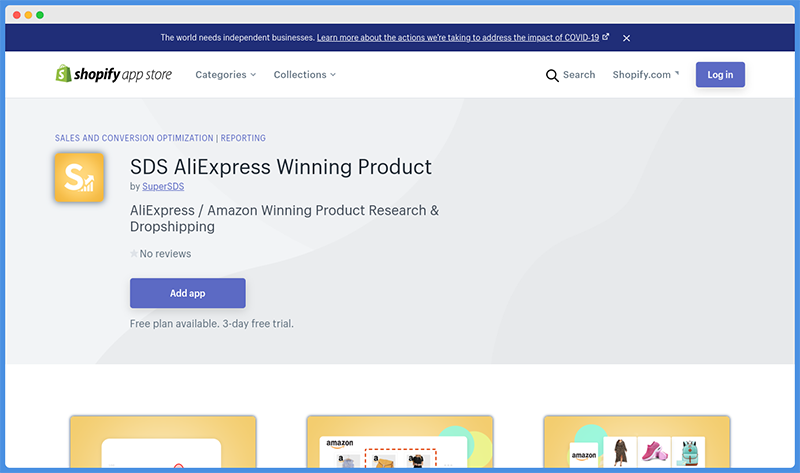 SDS AliExpress Winning Product is a Shopify app designed to help you discover the best selling products on AliExpress and Amazon for dropshipping.
Using the app, you can do things like:
Discover products' weekly sales and growth rates
Compare sales and growth rates for different periods
Discover which AliExpress products are also ranking high on Amazon
Discover products that ship quickly to the US for cheap
Find trending products that have a lot of potential
SDS is a somewhat new app, but it has a free version, so there's nothing to lose by trying it out.
The free version lets you view up to 30 products per month.
Check the SDS app page for updated pricing information.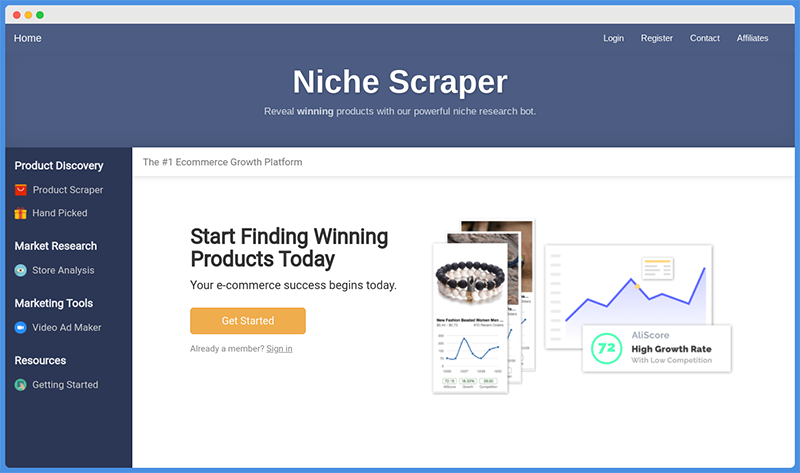 Niche Scraper is an excellent tool if you want to start a Shopify store and don't know which niche is best for you.
However, despite the name "Niche Scraper," it's also an excellent tool for finding individual products and spying on other Shopify stores.
There are four main tools you will be able to use when you have a Niche Scraper subscription:
Product Scraper: This tool will help you find the best products on Shopify to sell. You can search through products on AliExpress or on Shopify stores.

When searching for AliExpress products, you can enter a keyword and filter by category, price, weekly orders, competition, growth rate, AliScore, shipping origin, and more.
When searching for Shopify products, you can filter by product add date, store type, store popularity, relevance, and product price.

Hand-Picked: If you don't want to do your own research, don't worry – Niche Scraper provides you with a list of handpicked, curated products in various niches. New products are added each day, and only the best winning products are included on this list.
Store Analysis: This tool allows you to spy on other Shopify stores. You can browse thousands of Shopify stores and analyze their traffic and best selling products. You can filter your results based on store popularity and relevance.
Video Ad Maker: Want to create Facebook ads but don't have the time? This tool will pull product images and create a catchy video ad for you. Just paste the product URL and let the tool do the work for you.
The downside of Niche Scraper is that as of now, it does not seem to have a Chrome extension.
Nevertheless, you can use the website to browse AliExpress and find the best ones.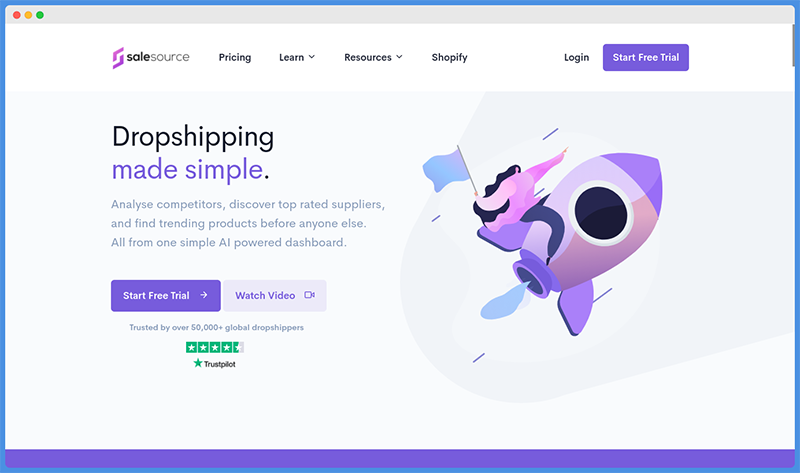 Sale Source, or salesource.io, is an excellent tool for Shopify sellers who want to find trending products, spy on their competitors, and get ahead in the industry.
Sale Source is not on the top of this list simply due to the fact that it is a bit more expensive than other tools.
However, it does have some really good features, if you can afford it.
Here is what you can do as a Sale Source user:
Analyze products and see data such as reviews and sales history
Download product images and reviews
Find the best suppliers for each product
Discover which Shopify stores are already selling a product, including their sales data and the apps and themes they are using
See which countries are ordering the most of each product
See sales trends for each product per year
Get videos for your product ads
What makes Sale Source so great for Shopify users is that they have a Shopify app, unlike most AliExpress research tools.
Using the app, you can find trending products, spy on your competitors, and much more.
Basically, you can take advantage of all of Sale Source's features if you have their Shopify app installed.
There is also a Chrome extension, in addition to the Shopify app, which will also make your life easier.
Sale Source currently offers a free seven-day trial, with plans starting at $49/month with monthly billing (it's cheaper if you pay yearly).
The difference in plans mostly boils down to how many products you can analyze per month, though higher paying members also get some extra features and perks.
Always check the Sale Source pricing page for updated pricing information.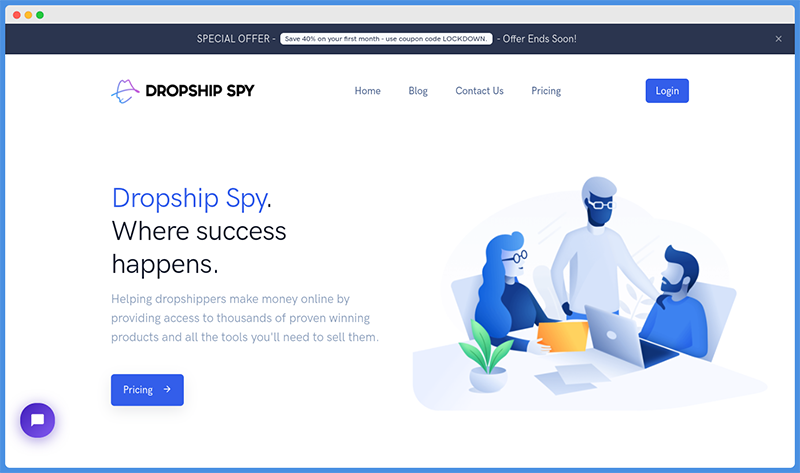 Dropship Spy is a great Shopify research tool that integrates with Shopify and also is rather inexpensive compared to tools like Sale Source.
Here are the main features:
Find Winning products, as well as promising "Up & Coming" products, for your Shopify store
Find the best suppliers
Analyze specific products to see whether they are promising or not
Integrate with your Shopify store, so you can import Winning products with just a few clicks
Get ready-made video ads and product descriptions for your store and marketing campaigns
Use the premade Facebook ad templates to boost your conversions
Use the Facebook Audience Builder to target the right people
Discover other Shopify stores and uncover their traffic sources, as well as Facebook ads
Search for Instagram influencers and calculate their real engagement rates
Use the list of approved Instagram influencers to find people to promote your products on social media
Download reviews for your store
When you sign up, you will get access to training videos that will teach you how to use all of Dropship Spy's tools to boost your success.
Dropship Spy has an uncomplicated pricing system. All users pay $20/month for access to all the features.
You won't have to upgrade later to access more features, and you can cancel or pause your subscription at any time.
For updated pricing information, always check the Dropship Spy pricing page.
Wrapping It Up: What Is The Best AliExpress And Shopify Research Tool?
I think the Ali Hunter Shopify app is the best place to get started. You can discover who your competitors are, find the best products to sell, and a lot more.
The fact that they have a Shopify app will help you save time and effort compared to a tool that does not have a Shopify app, and their pricing is fair.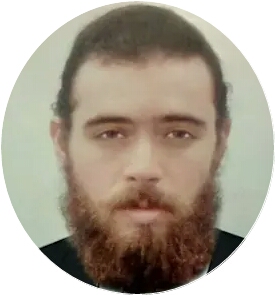 Author: Benjamin Levin
Benjamin Levin is a digital marketing professional with 4+ years of experience with inbound and outbound marketing. He helps small businesses reach their content creation, social media marketing, email marketing, and paid advertising goals. His hobbies include reading and traveling.