Did you know that the first two results on Google get more than half of all search engine traffic? SEO is a competitive business, and it's crucial to have the right tools to arm yourself with.
Today, we will be reviewing SEMrush, a popular SEO tool. We'll explore its features, who it is for, how it can help you, how to try it out for free, and whether it is worth it.
What Is SEMrush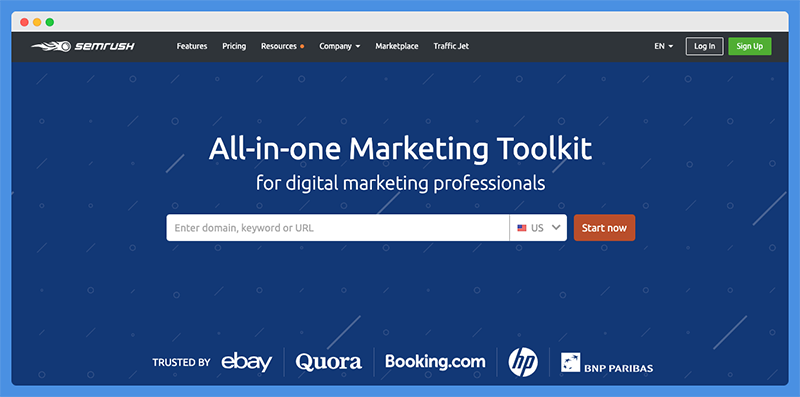 SEMrush was founded roughly 11 years ago and claims to have had more than five million users since they started.
The SEMrush team works out of seven offices in the United States, Russia, the Czech Republic, and Cyprus.
SEMrush was originally created as an internal SEO tool by its founder for their own SEO needs, but it has since become one of the top SEO tools on the market. It is also one of the most well known.
Check Out: Spyfu Vs Moz Pro Vs SEMrush
Our Pick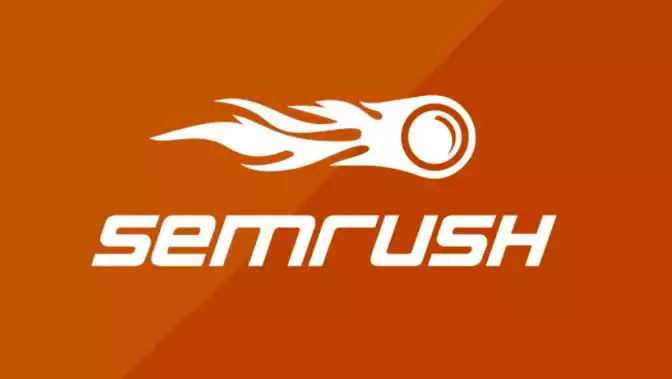 We earn a commission when you click this link and make a purchase.
SEMrush Free Trial
Before we get down to discussing SEMrush in detail, let me brief you on SEMrush free trial.
If you don't want to subscribe to the paid plans upfront, you can try SEMrush for free. Instead of SEMrush 30 day trial, you get 7 day free trial currently. It gives you limited access to its tools.
You'll only be able to do a few searches a month, but you'll get an idea of how the tool works and whether it would be beneficial for you.
Click here to get your free trial.
Who Is SEMrush For?
Businesses who are looking to do one or more of the following can use SEMrush:
Improve their SEO rankings
Get more organic traffic
Find better keywords
Beat their PPC competition
Track their rankings
Get more backlinks
Spy on their competitors
Do market research
Get website analytics
Collaborate with their marketing team
The good part about SEMrush is that it has everything in one place. Many SEO tools are missing important features — for example, there might be an SEO tool that does not have PPC research features.
SEMrush is all-in-one, so you can manage everything from a single dashboard without switching back and forth from one tool to another.
What's important to note here is that SEMrush isn't only for businesses to take advantage, nonprofits too can improve their online presence using SEMrush. It offers special discount to nonprofits along with tax exemption benefits.
SEMrush Review
In this review, we will go over how SEMrush can help you in the following areas:
SEO
PPC
Social media
Market/competitor research
Let's get started.
SEMrush SEO — How To Use SEMrush To Boost Your Rankings
The first part of this review will go over SEMrush's SEO tools and how they can help you improve your rankings.
Let's start off with the keyword tool. Choosing the right keywords is important for driving a lot of organic traffic.
Also Read: Best SEO Tools For eCommerce

There are two main things you want to look for in a keyword: A high monthly search volume and low competition.
A high monthly search volume will ensure that you can drive a lot of traffic by targeting this keyword.
However, if the competition is high, you won't be able to get on the top page, and it will definitely be hard getting in the first two results.
SEMrush's keyword tool will give you both of these data points — you'll get the monthly search volume of each keyword, as well as a difficulty score that tells you how difficult it would be to rank for that keyword based on the competition.
In addition, it shows you exactly who you will be competing against so you can decide for yourself whether targeting that keyword would be worth it.
For example, if you will be competing against CNN, Forbes, or Amazon, you might want to choose a keyword with weaker competitors.
In addition, SEMrush will give you a list of keyword ideas from over 20 million keywords.
Search for the best keywords based on your criteria for the minimum monthly volume you want and group keywords into lists to organize them so you can find them later.
Our Pick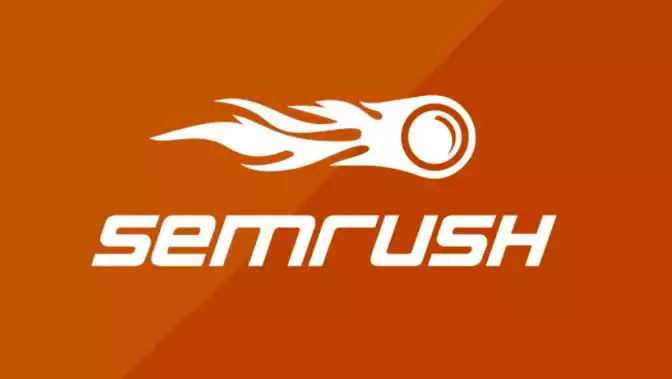 We earn a commission when you click this link and make a purchase.
In addition, you can always track your existing keyword rankings using the position tracker tool. You'll be able to see what your current position is in the search results for any given keyword or group of keywords.
You'll be able to see whether your rankings went up or down and whether you are ranking differently on mobile vs. desktop devices.
In addition to tracking your own keyword rankings, you can track a competitor's keyword rankings.
You'll also be able to link your Google Analytics and Google Search Console accounts and data.
This will reveal new keywords your site is ranking for that you were not aware of; you can then start targeting these keywords more often.
Also Read: iSpionage Vs Spyfu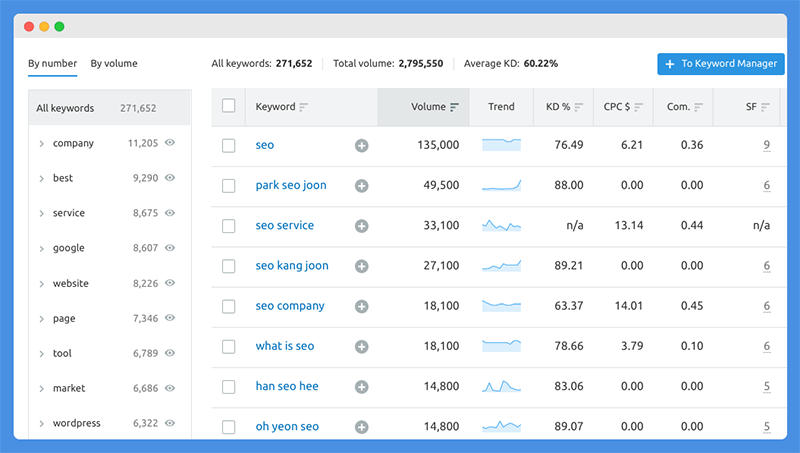 You can create a "project" for each of your websites to remain organized.
In addition to creating projects, you can create a marketing calendar that will help you map out what your marketing tasks are.
This can be shared with your team to make it easy to plan ahead, collaborate, and track your performance.
Next, let's move on to the SEO analysis tools. One of SEMrush's most useful tools is the SEO audit tool.
There can be many things that are causing your rankings to drop in the search engines.
Perhaps you are not optimizing your metadata, perhaps you are not using the right amount of keywords, or perhaps there are technical issues, such as broken links or incorrect code.
The SEO audit tool will take a snapshot of your website or page and check for SEO health issues.
The on-page SEO audit will also give you recommendations for improving your rankings, such as optimizing your content, adding content so that your article's length is up to par with those websites that are ranking in the top 10, increasing keyword density, and adding LSI (latent semantic indexing) keywords to improve SEO relevance.
You'll also get content and backlink ideas.
Speaking of content and backlinks, let's see how SEMrush can help you with each of those.
The SEO writing assistant tool, which has a Google Docs add-on, will help you create content plans and article drafts.
You'll be able to plan out an SEO-optimized blog post, improve its readability, include the right number of keywords for optimal SEO results, check your content for plagiarism, fine-tune the post to align with your brand message, and more.
In case you don't know what to write about, SEMrush will also help you come up with content ideas that are popular and which are getting great SEO results on other websites.
You'll see which blog posts and topics are getting the most shares on social platforms.
Let's move on now to backlink research.
Also Read: Best KWFinder Alternatives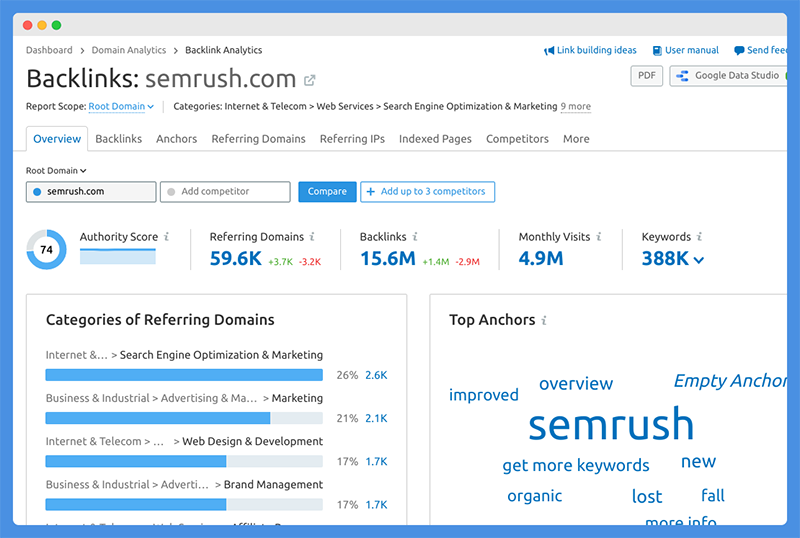 However, it's worth first taking a look at what backlinks are and why they are important.
Backlinks are links to your site from other sites. When other sites link to you, it shows Google that your content is interesting and informative.
It used to be that the quantity of backlinks mattered a lot, but when people started setting up fake sites to create backlinks in bulk, Google started focusing more on the quality of the backlinks.
A backlink from Forbes will help you tremendously, but a backlink from a spam site set up for the purpose of creating backlinks will only hurt you.
You can get quality backlinks from quality sites by writing guest posts on those sites.
Our Pick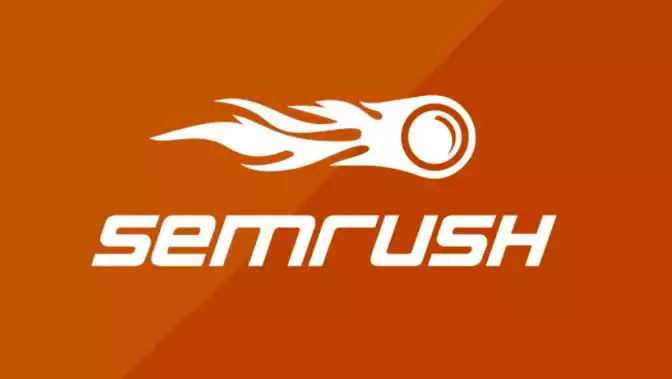 We earn a commission when you click this link and make a purchase.
There are other ways as well, and the more high-quality content you produce, the more backlinks you are going to get naturally.
Whether you want to focus on writing guest posts or on a broken link building strategy, SEMrush will help you find websites where you can get backlinks from.
The first step is analyzing your existing backlink profile. What kinds of sites are linking to you? What is their SEO value? Which links are high-quality and which are from low-value sites?
If there are any bad backlinks, you'll be able to send them to the Google Disavow tool so that they stop hurting your rankings.
Bad links from link farms and spam sites may come naturally, or they may be intentionally set up by your competitors to make Google think that you are engaging in spammy, black-hat SEO tactics.
You'll also be able to check your competitors' backlink profiles. You'll be able to find out which sites are linking to them and possibly get backlinks from those sites (or similar sites) yourself.
Also Read: SEMrush Vs iSpionage Vs Serpstat
SEMrush PPC – How To Improve Your Advertising Campaigns
Now that we have discussed SEO, let's move on to PPC. SEMrush's PPC tools are designed to help you create better ads and achieve a greater ROI.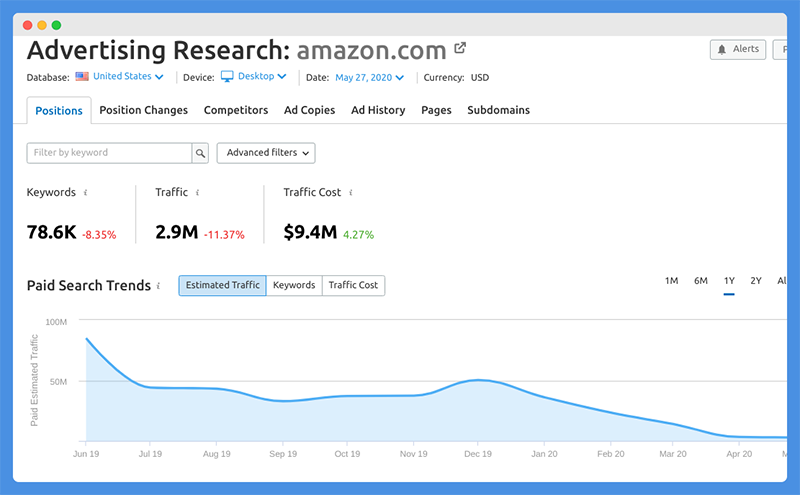 Let's start off with basic ad research.
Using SEMrush, not only could you look at your own website but spy your competitor's website too. In other words, SEMrush also offers a handful of features that you would otherwise get with a full-fledged ad spy tool like Adbeat.
If you don't know who your competitors are, you'll be able to find out just who you will be bidding against in Google Adwords.
If you can create ad copy that is more attractive than theirs, your ads will get better click-through rates. This will help lower your ad costs overall.
If you can create better landing pages than your competitors, you will convert more leads, again lowering your ad costs.
In addition to search engine ads, you'll get an overview of display ads, which are ads on websites and apps on the Google Display Network.
You'll be able to find out who your competitors are, view ads and see how they appear on different devices, be alerted of new publishers, and more.
The same goes for Product Listing Ads. You'll be able to see who your competitors are and see their best performing adverts.
Our Pick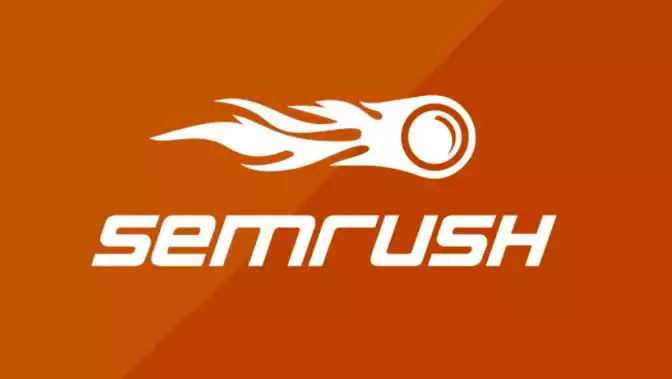 We earn a commission when you click this link and make a purchase.
All of this is to help you get an idea of what you are up against, what the current advertising situation is in your industry, and what your costs are going to be.
The dynamic CPC map, which shows average CPC prices based on location, will help you with that.
Interesting Post: SEMrush Vs Moz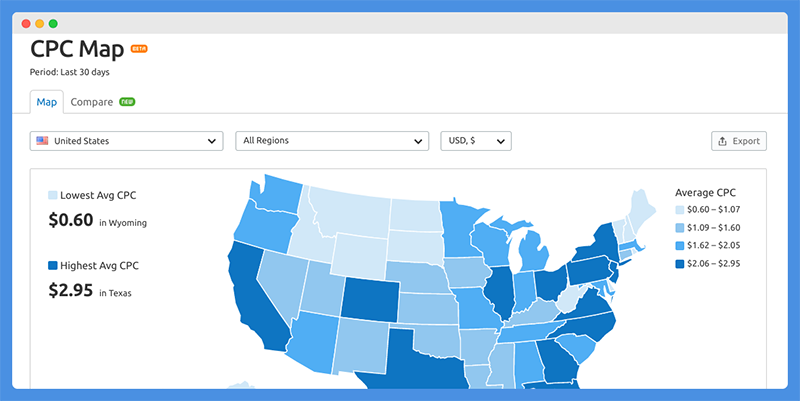 In addition, all of this will help you get ideas for your own ads, which you can create using the SEMrush ad builder.
You'll be able to create high-converting, responsive ads with relevant ad extensions.
Of course, you'll need to know which keywords to target. As with SEO, SEMrush's keyword tool will help you with PPC.
You'll discover the top-performing keywords that have low CPC rates so you can get more out of your advertising budget.
Manage Your Social Media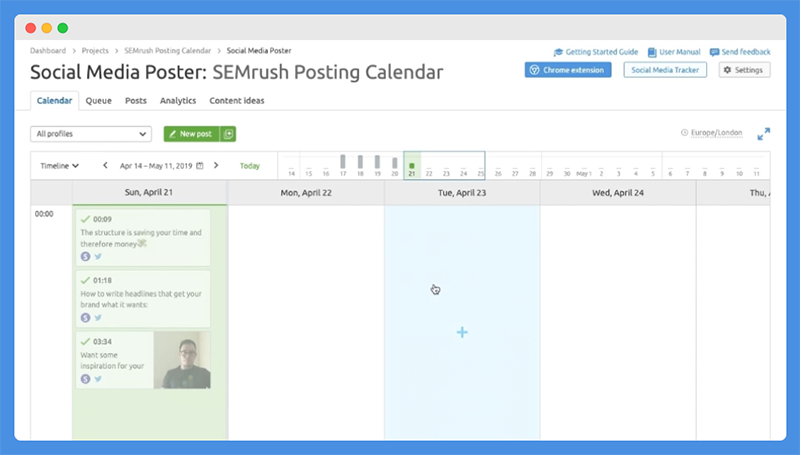 In addition to having a solid SEO and PPC strategy, it is important to grow your social media presence.
There are 3.5 billion social media users around the world, and over 90 percent of millennials use social media.
In addition, 54 percent of consumers use social media to research products.
Having a strong presence on social media will increase your exposure, but it will also boost your conversion rates by increasing your social proof and authority.
However, the problem is that posting on social media and managing your accounts can take time, especially if you are on several channels at once.
SEMrush simplifies this process by letting you connect all of your social media accounts and post to all of them at once, from one dashboard.
Not only that, but you can schedule posts in advance.
This way, you can spend a set time each week scheduling your posts for all of your accounts instead of logging into each account each day, which can take away from your productivity.
You will also be able to track your social media content's performance from your dashboard.
You'll see which posts are getting the best engagement and be able to learn from that when crafting your future posts.
In addition to that, you'll be able to check out what your competitors are up to on social media.
There is even a Chrome extension you can use to share content on social media.
Explore: Best Keywords Everywhere Alternatives
Market And Brand Research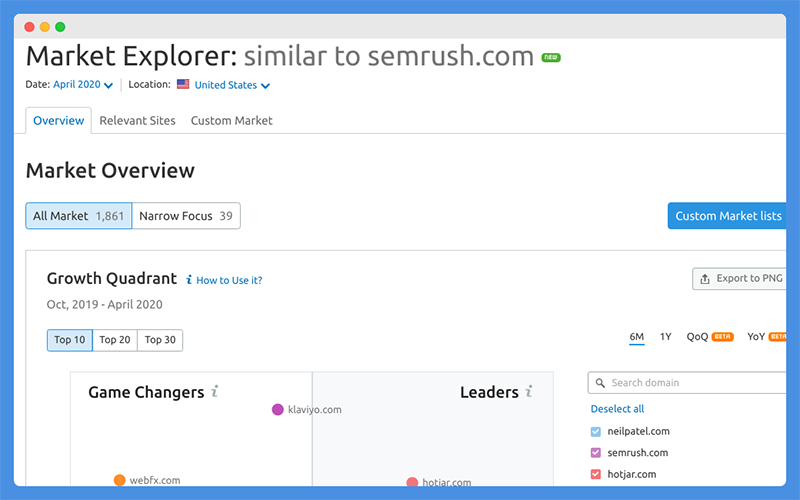 The final aspect of SEMrush that we will be exploring is market intelligence and brand research.
You can analyze new markets by entering any domain name and discover new areas you can work in. You'll get in-depth audience reports to help you understand customer behavior.
Our Pick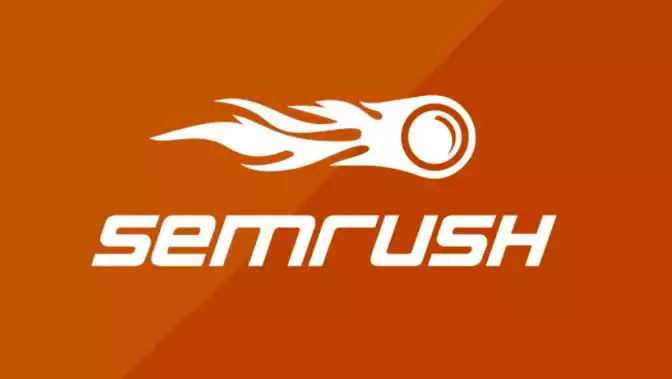 We earn a commission when you click this link and make a purchase.
You can analyze both your own traffic and performance as well as your competitors' strategies to get an idea of your position in the market and how you can improve your standing and authority.
The Gap tools will help you compare your own keyword performance (for SEO, PLA, and PPC) with your competitors.
You can see the "gap" between you and them and how much you need to do to catch up.
The Gap tool helps you compare your backlink profile to your competitors' as well.
The Market Explorer will show you who the top players are in your industry, their market and traffic shares, where their traffic is coming from, and whether they experience seasonal up/down trends.
You'll also be able to analyze your target audience, discover their demographics, and find out what their top interests are.
You can research new opportunities, do lead scoring, compare two domains side-by-side, get charts and graphs analyzing domains in your industry, and more.
All of your SEMrush data can be compiled into easy-to-understand PDF reports. You can have these reports shared and sent out automatically with your own branding on them.
Also Read: Best Spyfu Alternatives
Ratings — How Does SEMrush Measure Up?
Let's have a look at how SEMrush measures up in four key areas.
1. Ease Of Use —⭐⭐⭐⭐
SEMrush is pretty easy to use. However, there are a lot of options in the menu and it can be a bit confusing and overwhelming at first; nevertheless, you will get past that quickly.
2. Features —⭐⭐⭐⭐⭐
SEMrush just can't be beaten in terms of the availability of features they have.
3. Customer Service —⭐⭐⭐⭐⭐
SEMrush offers excellent customer support. The website is available in a variety of languages, there are helpful ideas and suggestions in the dashboard, and there is an extensive knowledge base with toolkits and how-to articles.
If you need to speak with a customer support rep, you can get help quickly by chatting live online or calling their customer support phone number.
4. Value For Money —⭐⭐⭐⭐
SEMrush is worth the price, but it still runs on the expensive side.
Plans start at $99/month, billed monthly (yearly plans get a discount). In addition, access to competitive intelligence features is an add-on that costs an additional $200/month, regardless of which plan you are on.
SEMrush Pros & Cons
Pros
Has so many tools available
Has everything in one place (SEO, PPC, social media, etc.)
Gives you an edge over your competitors
Lets you track your position in the market so you can rise to the top
Has excellent customer support
Has a limited free trial account option
Lets you downgrade or upgrade at any time
Cons
Can be a bit overwhelming at first because there are so many menu options
Competitive intelligence features cost extra
No option to pay with PayPal
SEMrush Pricing

SEMrush pricing includes three plans:
Pro – $99/month
Guru – $199/month
Business – $399/month
Paying annually would save you upto 16%.
Also Read: SpyFu Review
Our Pick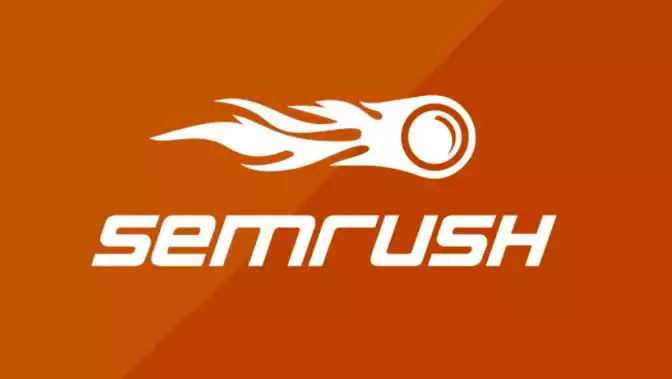 We earn a commission when you click this link and make a purchase.
Wrapping It Up — SEMrush Review
Yes, SEMrush is one of the best — if not the best — premium SEO tool on the market.
It is not cheap, but it is worth the investment as it will help you get an edge over your competitors and increase your traffic and sales.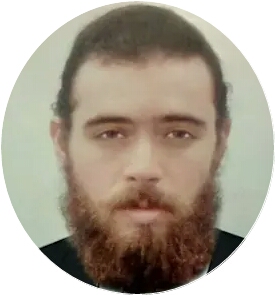 Author: Benjamin Levin
Benjamin Levin is a digital marketing professional with 4+ years of experience with inbound and outbound marketing. He helps small businesses reach their content creation, social media marketing, email marketing, and paid advertising goals. His hobbies include reading and traveling.