Irrespective of your business niche, a good email marketing campaign will help your brand reach more customers, maintain existing ones, and generate more revenue.
Email marketing has been made easier for businesses with the invention of email marketing software, and ConvertKit is notably one of the best. It is a platform for marketing automation, personalization, and email management.
With ConvertKit, you can create professional emails, sign-up forms, and landing pages. Also, ConvertKit allows you to understand your audience by providing metrics and reports.
Not to mention, it seamlessly integrates with several third-party tools for increased functionality.
Nevertheless, there are other ConvertKit alternatives and competitors you can also consider. In this post, we will be looking at them.
10 Best ConvertKit Alternatives & Competitors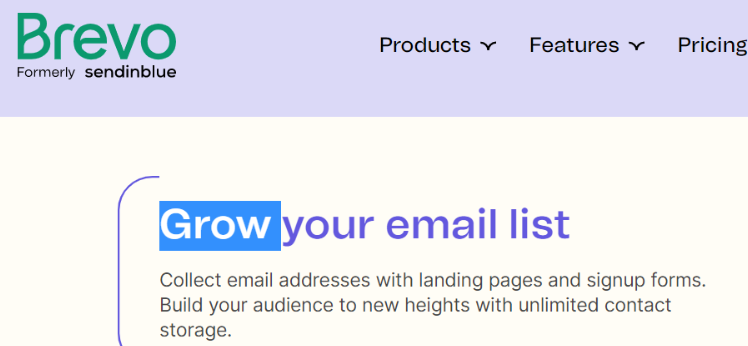 Brevo's email marketing tool allows you to grow your business by engaging existing and prospective customers using email, SMS, chat, and social media.
The platform automates engagement and functions as a customer relationship management (CRM) software, thereby allowing you to track and manage your audience.
Features
Marketing: Brevo features email, SMS, and chat marketing menu. It has a drag-and-drop builder for designing professional emails and a template library of pre-made email designs.
Emails and SMS can be fully personalized using unique attributes. Also, it supports bulk email sending. You can chat with your customers in real-time by using the Brevo chatbox that you install on your website.
Marketing Automation: Marketing can be automated using Brevo to make work easier. You can create emails to send automatically and set up automatic message replies in chats and SMS. Thankfully, Brevo supports transactional emails. 
CRM: You can easily manage your customers with Brevo's CRM. It serves as a central platform where you can store, edit, and update all customers' data, sort out customers into different lists and categories, and track their activities. With such segmentation, you can send well-targeted emails.
Landing Pages: Brevo comes with multiple landing page templates, which enable you to create landing pages based on your preference quickly. You can still create new landing page designs by using its drag-and-drop builder.
Signup forms: Easy signup forms to collect subscribers, email lists, and newsletters can be created with Brevo. There is no limit to the number of information fields you can add, and the forms can be displayed on any page with HTML embed codes. 
Ads: Brevo features a Facebook ad builder that can be used to make creative adverts on the social media platform. You can set limits, budgets, and track ads by using its ads builder. 
Reports and A/B Testing: You can generate open and click-through reports for a comprehensive insight into your marketing performance. These reports are provided in real-time. Also, it features A/B Testing, which allows you to compare and contrast your email performance.
Integrations/API: Brevo supports custom integration through its RESTful API. Also, it supports integration with several platforms such as Wordpress, Magento, SalesForce, WooCommerce, etc.
Pricing
Check out Brevo's pricing plans here.
Also Read: Brevo Review
Brevo (formerly Sendinblue) | CRM Suite
Be it marketing, sales, or customer relations, Brevo is an all-in-one tool helping businesses to carry out everyday business functions with ease. Try it today!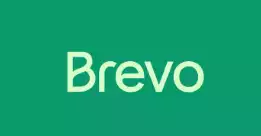 We earn a commission if you click this link and make a purchase at no additional cost to you.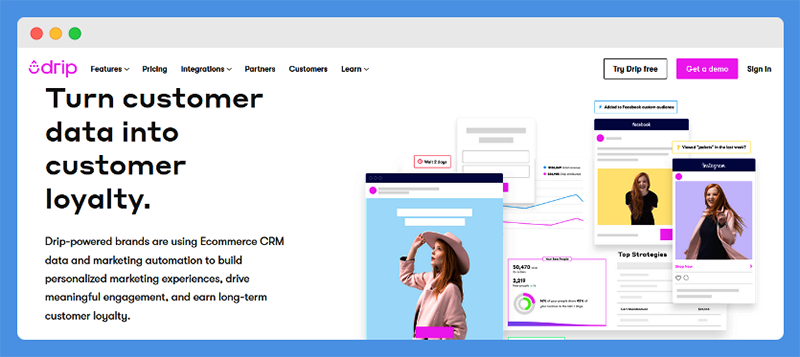 Drip is an eCommerce CRM platform that focuses on helping businesses build and maintain a better relationship with their customers.
The platform offers various tools for managing and optimizing customers' data, engaging customers, and optimizing your marketing strategies.
It was founded by Rob Walling but is currently owned by Leadpages.
Features
Behavior-based Automation: Drip can be used to automate messages by email based on several behavior triggers. This could be site visits, email opens, clicks, and more.
Data Sourcing and Segmentation: When customers visit your website, Drip sources their data to provide you with better customer understanding. The data is sourced in the form of tags and data fields. With these tags and custom fields, you can deeply segment your audience.
Email Personalization: Emails sent via Drip can be personalized for better customer experience. Its visual email builder enables you to create professional emails quickly. Also, you can personalize emails by using content blocks.
Personalized Advertising: Drip tracks the activities of your customers on the web and uses their information to serve personalized ads to them on Instagram and Facebook social media platforms.
Revenue Reports and Split Testing: You are provided with accurate reports on your business revenue, so you know which strategies are the most profitable. You can also better understand your email campaigns by using Split Testing.
Integrations: Drip integrates with third-party platforms such as Shopify, WooCommerce, Facebook, Instagram, Magento, ThriveCart, and much more.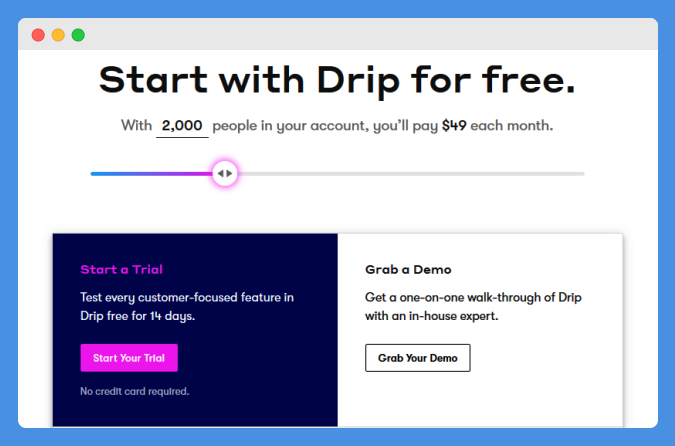 Drip's pricing scheme is based on the number of contacts you manage. Listed below are some of their pricing plans.
< 3,000 contacts – $49 per month
5,000 contacts – $122 per month
10,000 contacts – $184 per month
20,000 contacts – $308 per month
50,000 contacts – $680 per month
100,000 contacts – $1,300 per month
Above 150,000 – Custom price
Note: A 14-day trial period is available before payment.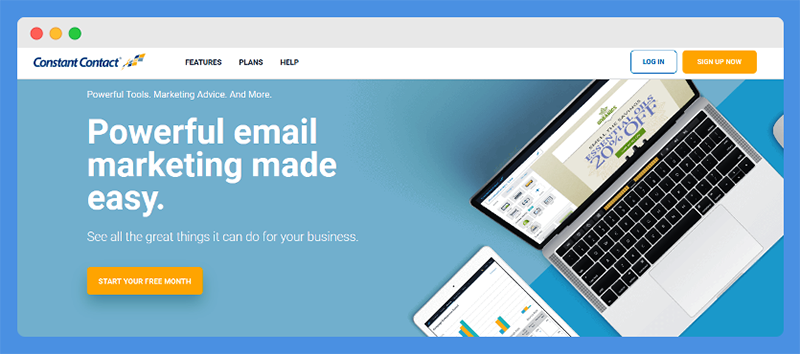 Constant Contact is a platform that primarily facilitates email marketing. The company was launched to help small businesses do better in their respective fields. Notably, Constant Contact has been around since 1995.
Features
Email Marketing: Constant Contact makes email marketing a cakewalk. It features professional, mobile-responsive email templates and a drag-and-drop editor for easy template customization. Its editor can be used to design from scratch as well.
Automation: You can automate your marketing strategies with Constant Contact. It involves sending automatic email welcome messages, setting a series of emails to send upon triggers, and also email resending. Contacts can be segmented for a proper audience reach.
Customer Relationship Management: CRM is featured to help you manage your contacts with less effort. It works automatically and records updates in real-time. Also, you can build better connections with list building tools.
Tracking and Reports: Constant Contact provides you with real-time monitoring and reports of email opens, clicks, and shares.
Landing Pages and Sign-Up Forms: Its highest pricing plan enables you to create dynamic landing pages and sign-up forms.
eCommerce Marketing and Integrations: Constant Contact has tools to assist you in growing your online store. Besides, it seamlessly integrates with Shopify and BigCommerce.
Contact List Import: If you already have a list of contacts, you can import them in an MS Excel document. Also, Constant Contact supports direct list import from Gmail and Outlook.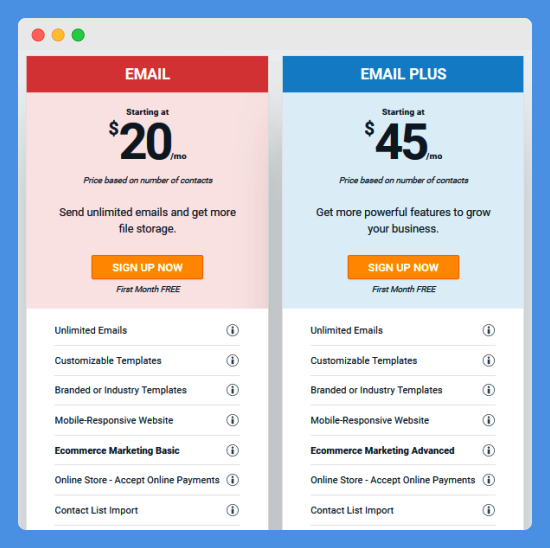 There are two pricing plans on Constant Contact, which include:
Email Plan – $20 per month
Email Plus Plan – $45 per month
However, the cost is still flexible as the prices are based on the number of contacts.
Explore: AWeber Vs Constant Contact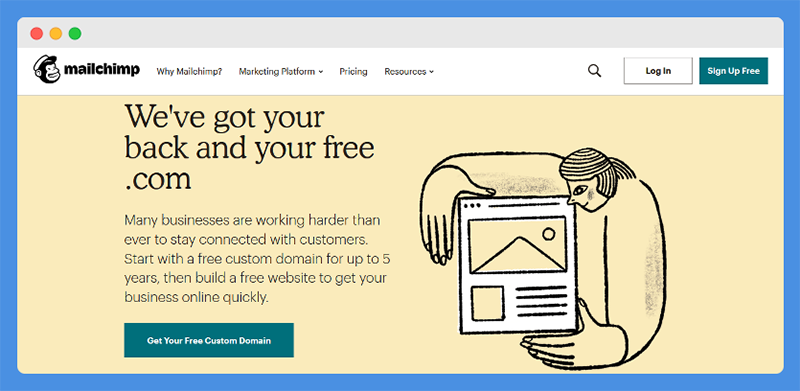 Another popular ConvertKit alternative is MailChimp, which was launched in 2001. There are various tools to help take your business marketing strategies to the next level. Startups, agencies, eCommerce stores, and more can make use of MailChimp.
Features
Email Marketing and Landing Pages: Email marketing and creation of landing pages is a hassle-free process on MailChimp. This platform provides over 100 templates for creating advanced email campaigns. Also, it has a drag-and-drop editor for customization. Plus, you can also import HTML templates.
Automation: You can automate email sends at specific times and upon triggers. Social media automation enables you to auto-publish posts on Facebook and Instagram. Also, it supports ads targeting both platforms.
CRM: MailChimp's CRM platform enables you to build a stronger relationship with your customers. You can store and organize customer data and also draw insights from their activities.
Segmentation: With its segmentation feature, contacts are properly grouped based on various filters and insights. It allows you to target the right audience with every message you send.
Personalization: Your customers can better relate with your sent messages when you personalize them with MailChimp. Data is pulled out from customers' profiles for unique email personalization.
Reports & Analytics: Real-time analytics are reported to help you monitor your marketing campaigns. A mobile app is available, which allows you to follow these analytics conveniently.
Integrations: Over 300 third-party integrations are featured on MailChimp. Popular integrations available include WordPress, WooCommerce, Magento, and Joomla.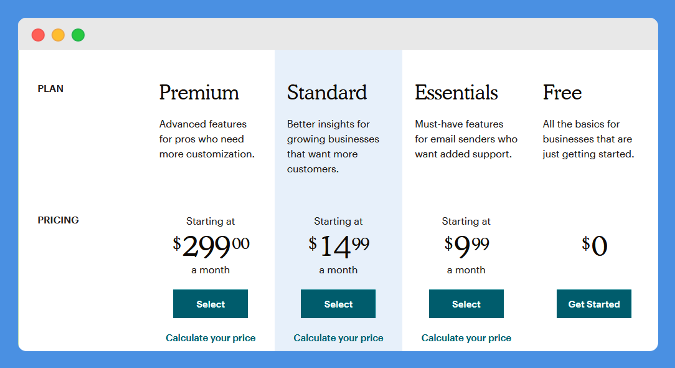 MailChimp has four pricing plans which include:
Free Plan – $0 per month
Essentials Plan – $9.99 per month
Standard Plan – $14.99 per month
Premium Plan – $299 per month
Note: A Pay-As-You-Go Plan is available so you can pay per email sent.
Also Read: MailChimp Review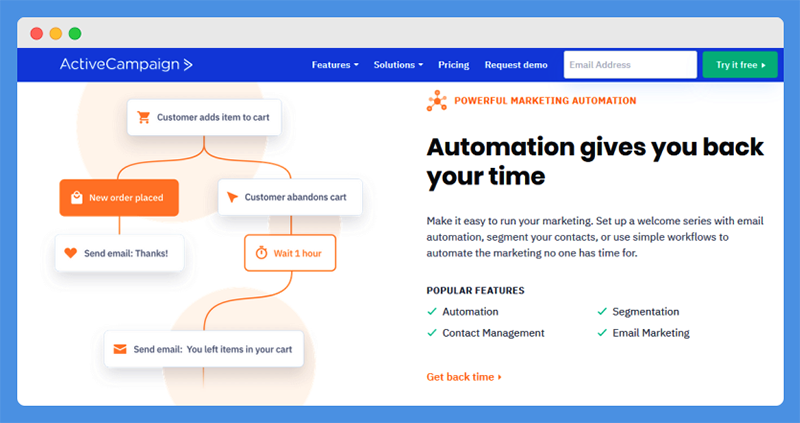 ActiveCampaign is a popular alternative to Convert Kit.
ActiveCampaign was started in 2003. It is a platform for email marketing, CRM, and sales/marketing automation. It was founded by Jason VandeBoom and is currently a workplace for about 400 staff.
Features
Email Marketing: ActiveCampaign's email marketing features allow you to collect email subscribers, create better emails with dynamic templates, segment contacts, and automate replies.
Messaging and Sign-up forms: You can interact with your customers via SMS or on-site messaging. Both messaging methods can be fully automated. The platform enables you to create sign-up forms to collect new contacts quickly.
Tracking: ActiveCampaign tracks your website visitors so you can follow up on their activities and deliver what they want. You can track opens, visits, clicks, views, etc.
Lead Sourcing: With ActiveCampaign, you can discover visitors and contacts that are most valuable to your business. Hence, you can identify the ideal customers you should target.
Split Testing: With its Split Testing functionality, you can discover high-performing emails and adequately optimize your marketing emails.
Integrations: More than 280 third-party integrations are supported on ActiveCampaign. This includes Shopify, Salesforce, WordPress, Unbounce, WooCommerce, etc.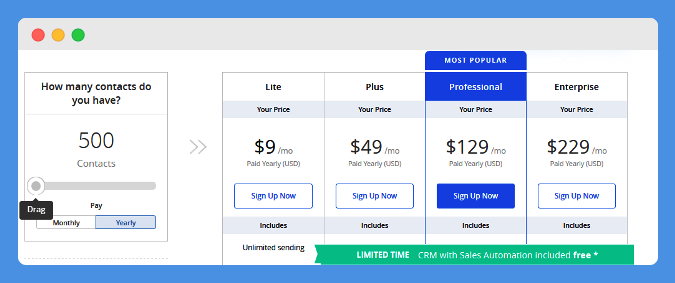 ActiveCampaign has four pricing plans but still charges based on the number of your contacts. Below are the prices for some contacts:
1,000 Contacts
Lite Plan – $29 per month
Plus Plan – $70 per month
Professional Plan – $159 per month
Enterprise Plan – $279 per month
5,000 Contacts
Lite Plan – $89 per month
Plus Plan – $169 per month
Professional Plan – $239 per month
Enterprise Plan – $449 per month
10,000 Contacts
Lite Plan – $139 per month
Plus Plan – $249 per month
Professional Plan – $349 per month
Enterprise Plan – $499 per month
50,000 Contacts
Lite Plan – $299 per month
Plus/Professional/Enterprise Plan – Custom Pricing
Check Out: Best ActiveCampaign Alternatives & Competitors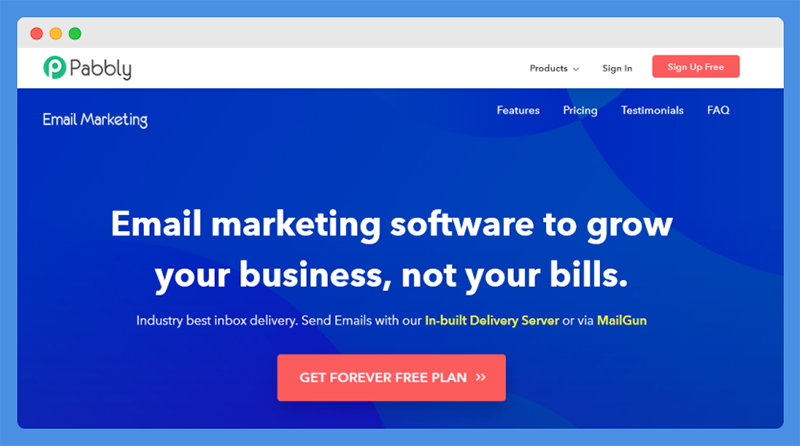 Pabbly is the perfect ConvertKit alternative. It is the ideal tool for businesses that require collecting subscribers for their mailing list. This platform works with SMTP servers. Also, it is relatively easy to use.
Features
SMTP and Email Marketing: Pabbly uses SMTP servers to send and receive emails. It features a built-in email server and connects with over 50 external ones. Emails can be quickly created with its built-in drag-and-drop builder.
Email Automation: Emails can be pre-created and scheduled to send at any given time. Also, you can schedule follow-ups for non-opens to improve your open rate and auto-responders for new subscribers.
Lead Capture Tool and Subscription Forms: Its built-in lead capture functionality allows you to acquire more email leads for your email list. Also, Pabbly enables you to add subscription forms on your website for the collection of new leads.
Tracking: With its email tracking feature, you can track your campaign clicks, opens, and more.
MX Cleaner: Pabbly's MX Cleaner is a tool that enables you to eliminate wrong email addresses from your email list. This helps you to minimize email bouncing.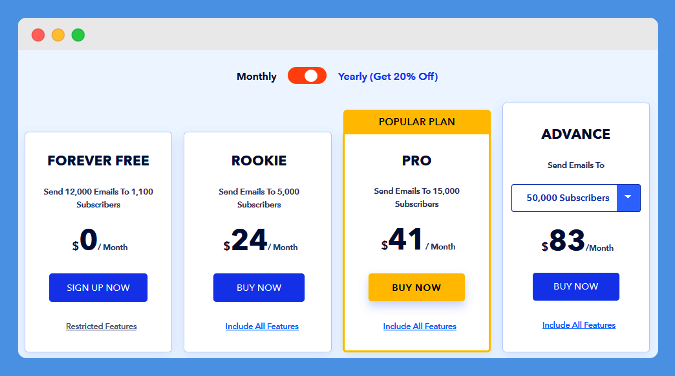 Pabbly's free plan makes it a good ConvertKit free alternative. It offers the following pricing plans.
Forever Free (up to 1,100 subscribers) – $0 per month
Rookie (up to 5,000 subscribers) – $24 per month, when billed yearly
Pro (up to 15,000 subscribers) – $41 per month, when billed yearly
Advance (from 50,000 subscribers) – $83 per month, when billed yearly
Also Read: Brevo Vs Constant Contact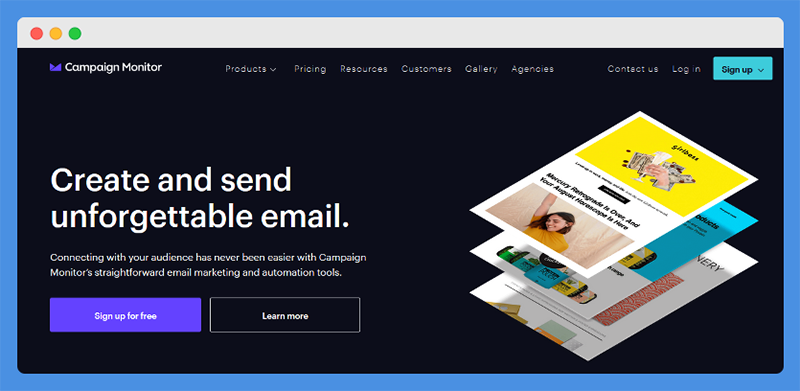 The Campaign Monitor platform focuses on helping marketers' standout in their respective industry niches. Over 250,000 marketers utilize Campaign Monitor, which makes it a renowned ConvertKit alternative.
Features
Email Marketing: Campaign Monitor provides a library of over a hundred professional email templates you can use for your campaigns. You can customize the email templates with its drag-and-drop editor based on preference. Not to mention, it also supports transactional emails.
Marketing Automation: Its marketing automation feature enables you to engage your audience by sending timely emails quickly. Automation can be activated on different triggers.
Personalization and Segmentation: Data is collected from your contacts to personalize emails you send to them. This is made easy using smart segments.
Sign Up Forms: Sign-up forms can be easily added to any page on your website. This helps in building your email list and getting more contacts.
Analytics: It has a built-in analytics dashboard that delivers metrics and insights on your email performance. It allows you to identify active, inactive, and unsubscribed contacts. Also, it integrates with Google Analytics so you can get better insights.
Integrations: Campaign Monitor integrates with different websites, CRM, and eCommerce platforms. Platforms like Shopify, WooCommerce, WordPress, Magento, Facebook, etc. are supported.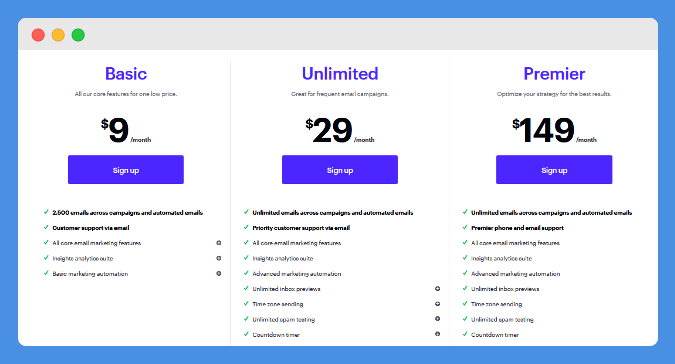 Just like some ConvertKit alternatives, Campaign Monitor also charges based on the number of email contacts. However, you can sign up for a free account with a limit of 5 contacts. The paid plans pricing include:
Basic Plan – $9 per month
Unlimited Plan – $29 per month
Premier Plan – $149 per month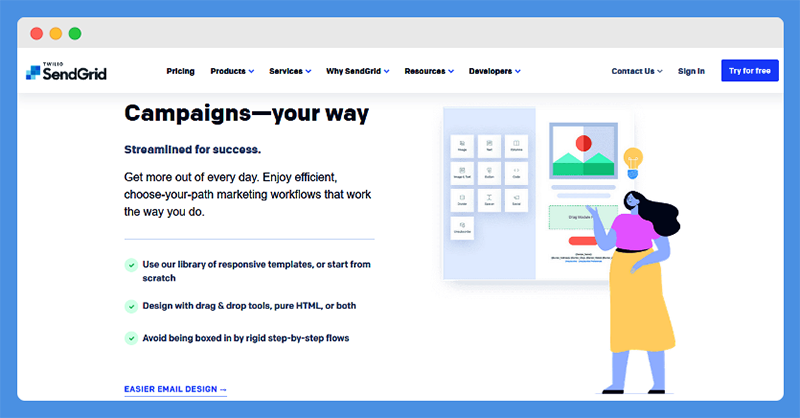 SendGrid is another ConvertKit competitor that you can utilize for your email marketing needs.
Notably, it is a subsidiary of Twilio that is ideal for creating and delivering all types of emails including newsletters, notifications, promotional emails, transactional emails, etc. The service has been functional since 2009 and utilized by over 80,000 business users.
Features
Template Library: SendGrid grants you access to a rich email template library for your email campaigns. You can quickly create email templates from scratch by using its drag-and-drop editor as well as HTML.
Email Automation: Emails can be sent automatically when triggered or in drip series.
Deliverability: SendGrid's deliverability feature ensures that sent emails get delivered straight to the inbox, thereby avoiding spam or junk folders. Thankfully, it guarantees a 96 percent success rate.
Contact Management and Statistics: You can effortlessly manage your audience with SendGrid from its centralized platform. This makes it easy for everyone to collaborate and share information. An analytics dashboard provides statistics to help in decision making.
Email Testing: SendGrid features an email testing feature that tests your emails before sending it. It checks for errors and vulnerabilities that might affect their delivery.
Integrations: Supported third-party integrations on SendGrid include WordPress, Zapier, Oracle, Mass Mailer, Drift, AutoPilot, and over 100 more.
Pricing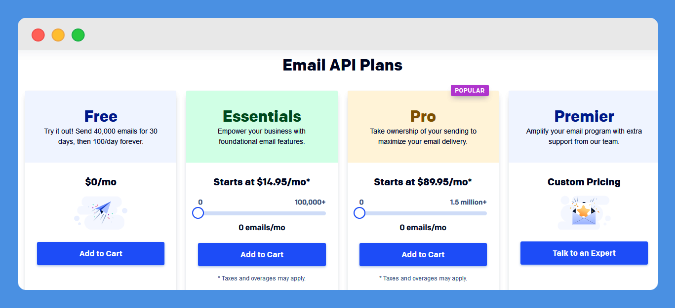 SendGrid features four pricing plans which include:
Free Plan – $0 per month
Essentials Plan – $14.95 per month
Pro Plan – $89.95 per month
Premier Plan – Custom Pricing
However, these are just starting costs as the pricing is very flexible. The exact payable amount depends on the number of monthly emails.
Worth Reading: Best Autoresponders & Email Software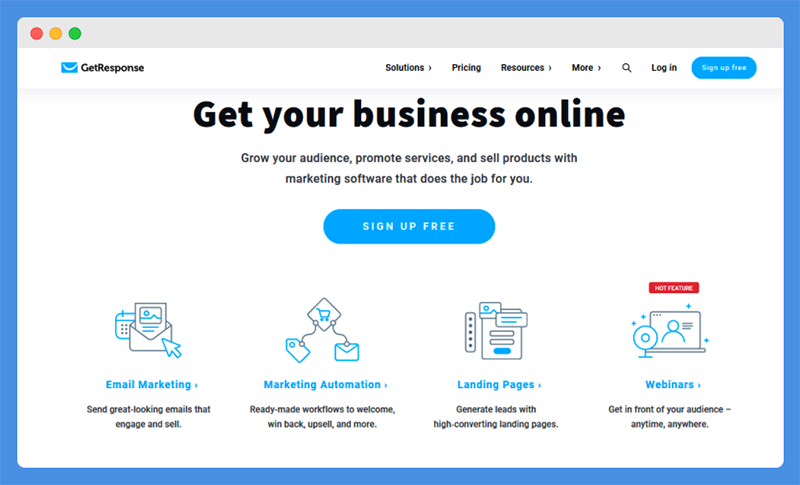 This is a perfect ConvertKit alternative that is suitable mainly for small businesses and entrepreneurs.
It is a reliable platform with a presence in about 183 countries and over 350,000 customers. GetResponse was founded in 1999, so they are one of the oldest ConvertKit competitors.
Features
Email Marketing: You can send newsletters, autoresponders, and other email types with GetResponse. Their email deliverability rate is 99 percent. Thankfully, GetResponse features a drag-and-drop editor and numerous email templates that facilitate quick email campaign creation.
Email Automation: With automated triggers, you can schedule emails to auto-send and in a drip.
Shutterstock Images: GetResponse features a Shutterstock library of 5,000+ images. You can use them in creating your campaign emails as they are licensed.
Landing Pages, Forms, and Ads: You can design landing pages, contact forms, and social media ads by using its drag-and-drop editor.
Email Targeting and Personalization: Emails can be sent to targeted contacts by using the information they supply upon signup. In addition, there are custom fields that help personalize emails for each contact.
Split Testing and Email Analytics: GetResponse features a user-friendly dashboard for advanced email analytics so you can monitor your campaigns. You can also compare email performance using its 'Split Testing' tool.
Integrations: GetResponse supports third-party integrations with popular platforms such as PayPal, Facebook, Shopify, WooCommerce, Stripe, and others.
Pricing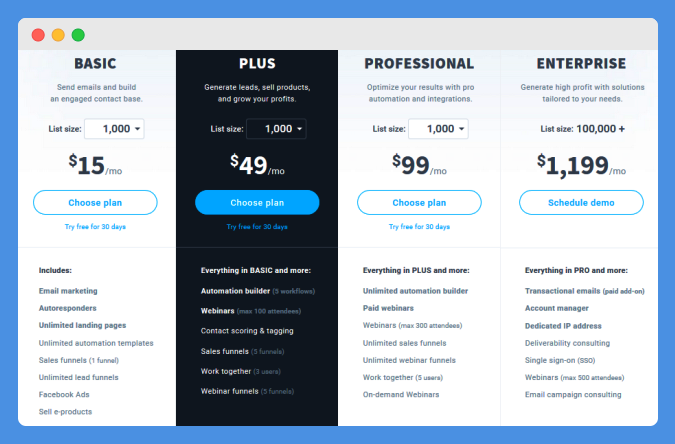 Just like other ConvertKit alternatives, GetResponse facilitates flexible pricing plans. It features four pricing plans based on the number of contacts on your mailing list.
Here are its starting prices:
Basic Plan – $15 per month (for 1,000 contacts)
Plus Plan – $49 per month (for 1,000 contacts)
Professional Plan – $99 per month (for 1,000 contacts)
Enterprise Plan – $1,199 per month (for 100,000+ contacts)
Also Read: MailChimp Vs PHPList Vs Brevo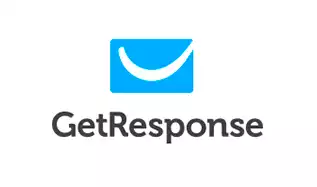 We earn a commission if you click this link and make a purchase at no additional cost to you.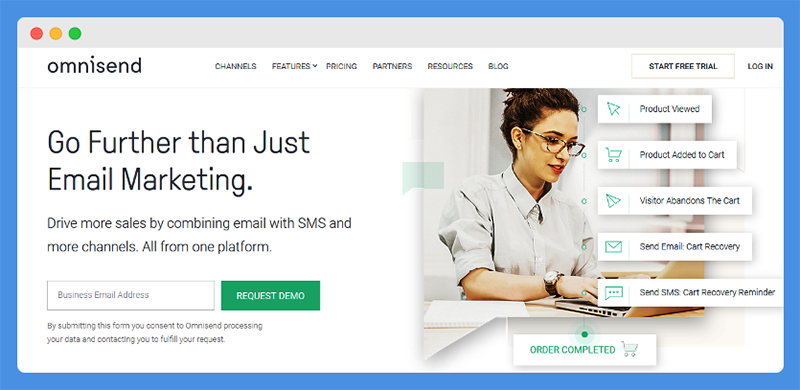 Finally, we have Omnisend as the last Convert kit alternative on our list.
Omnisend was built solely for eCommerce marketers. The platform was launched in 2014 and has been around for about six years. Over 50,000 customers use the Omnisend marketing software, including big names like Unilever, House of Organic, and ModKat.
Features
Email Marketing: Omnisend provides you with access to customizable email templates and a drag-and-drop visual composer, thereby allowing you to create marketing emails quickly. It also features campaign boosting functionalities to help you reach ideal buyers.
Automation: You can send automated emails to contacts when they sign up or carry out any specific activity on your online store.
Targeting: Omnisend monitors customer behaviors to help you know which customers you should prioritize. That way, you can target these customers with the ideal email campaign. Also, you can group customers into segments.
Customizable Forms: Omnisend features forms for collecting data from your site visitors. The forms can be customized using custom fields.
Cross-sell and Up-sell: You can cross-sell and up-sell products on your online store easily. This allows you to maintain good buying relationships with your customers.
Reports: Omnisend delivers metrics that enable you to track sales and product performance.
A/B Testing: Email performances can be tested to identify high performing email campaigns.
Integrations: Omnisend supports third-party integrations such as Shopify, Magento, WooCommerce, WordPress, PrestaShop, OpenCart, and more.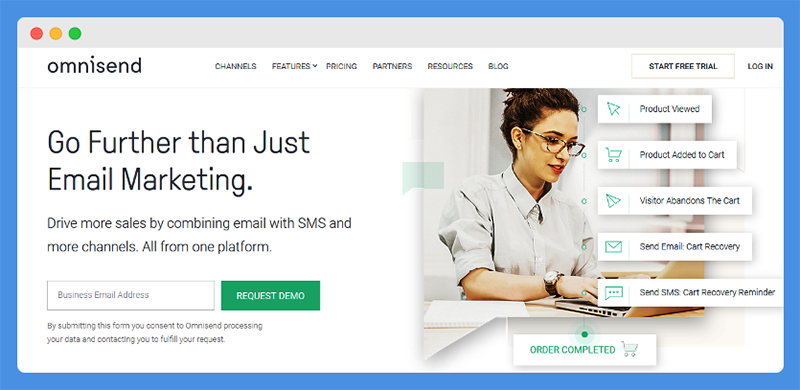 Omnisend has four pricing plans which include:
Free Plan – $0 per month
Standard Plan – $16 per month
Pro Plan – $99 per month
Enterprise Plan – Custom Pricing
Also Read: Mailchimp Vs Mailjet Vs Brevo
Wrapping Up
Listed above are ten best ConvertKit competitors and alternatives. They all have the necessary features for email marketing, albeit they have different pricing plans.
Although you can use any of the ConvertKit alternatives, Brevo is the most recommended alternative. The question "Why Brevo?'' will be answered.  
Email, SMS, and live-chat features on Brevo make it very useful for email marketing. Besides, Brevo provides automation for all these messaging mediums, including transactional emails. 
You do not have to pay much to use Brevo. With only the free plan, you can engage up to 9,000 contacts, which is quite an extended limit compared to other Convert Kit alternatives and competitors. 
Nevertheless, Drip is also a worthwhile ConvertKit alternative you should consider. It facilitates extensive marketing and automation.
Not to mention, its vast number of third-party integrations make it perfect for versatile marketers. Furthermore, Drip has flexible pricing plans, which ensure you only pay based on the number of email contacts.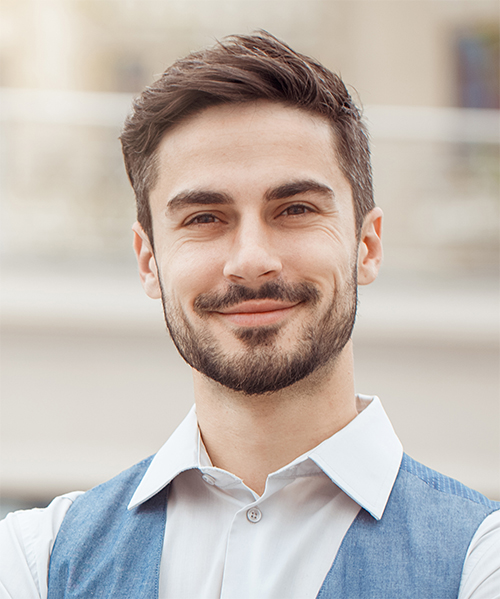 Author: Scott Macarthur
Scott L. Macarthur is a marketing consultant and an online author. He is mostly engaged in providing his expertise to startups and SMBs.