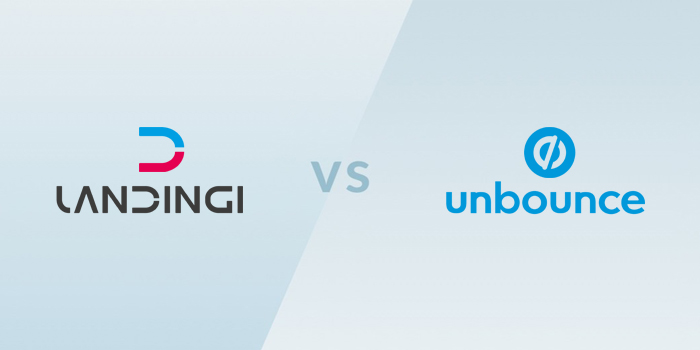 If you're selling products online, one of the crucial cogs in the conversion funnel is your landing page.
The challenge lies in crafting solid yet effective website landing pages that will deliver impressive results for your business.
Landing pages require some essential elements, which if incorporated properly into your page and designed with your specific audience in mind can deliver (and/or exceed) the conversions you're looking to achieve.
However, finding a starting point isn't easy because you need a canvas on which to test and tweak your landing pages, which can end up consuming much of your time and eat into your budget, especially if you're working on a custom page with a web designer.
Thankfully, there are several platforms you can use instead of the expensive, time-consuming custom designs, which are still great and can yield amazing results, but they're not the only option available.
In this comparison post, we'll look at two popular platforms you can use to quickly launch templated landing pages for your digital marketing campaigns: Landingi vs Unbounce.
Read on to find out which of the two platforms is the right choice for your business and which one takes the crown.
Also Read: Best Landing Page Builders
Why You Should Use A Landing Page Platform
To help you decide whether to pick Landingi or Unbounce, you'll need to consider some critical factors that'll influence your decision. These include quality, price, feature set, and available support.
Quality determines whether the pages will actually convert
Price, which is usually offered based on monthly visitors, determines whether you need to adjust your budget upwards or downwards to get the best pages for your business that'll convert
Features or tools available for each option determine how much you have at your disposal to make great campaigns
Support system comes handy in case you run into problems and need quick resolutions
However, not all landing page builders are created equal, neither are Landingi and Unbounce, which is why this comparison of both tools will help you decide on the right one for your needs.
Landingi Vs Unbounce – What Are They?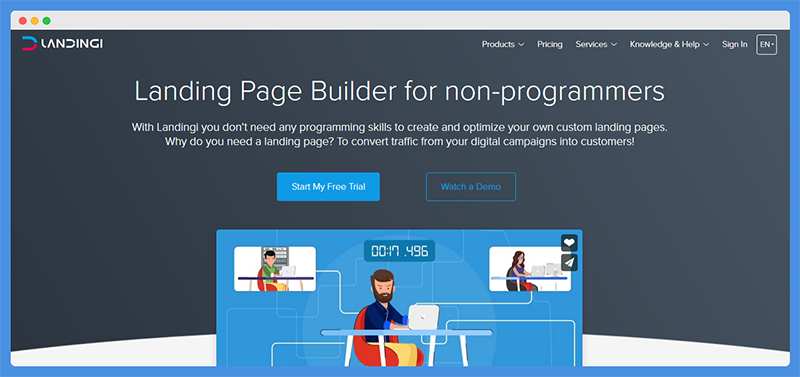 Founded in 2013, Landingi has grown to be one of the popular names in the landing page builder/platform market.
The end-to-end platform lets you create, publish, and optimize high-converting landing pages, and run split tests by yourself without requiring tech skills like coding or IT and graphic design knowledge.
Landingi's intuitive Pixel-precise drag/drop editor offers customization options for every element of the landing pages you create, and there are more than 200 templates you can pick from to build awesome sales funnels quickly.
The fully-featured, cloud-based platform is the go-to tool for creating conversion-focused marketing campaigns, so you can outshine the competition with guaranteed success rates.
Its designs work with and are optimized for different devices from smartphones, tablets, and desktop, plus they're highly responsive and promote the reliability and consistency of your brand across all devices.
This way, you can streamline your landing page creation process and save time altogether.
It's ideal for marketers and business owners who want to capture more leads through their landing pages.
Check Out: ClickFunnels Vs Leadpages Vs Unbounce Vs Instapage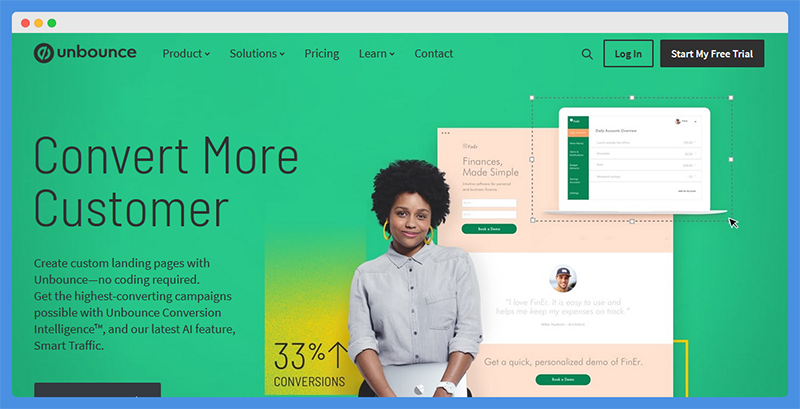 Unbounce is another landing page platform used by SaaS, agencies, and eCommerce brands to convert traffic to their businesses.
With this tool, you can build your own pages and bring campaign visions to life in a fraction of the time you'd take if you hired a designer or developer.
You can create the exact page you want that looks and acts exactly how you want them to and for any industry and use case, in order to continually grow your return on investment (ROI).
The platform also uses built-in artificial intelligence (AI) power and split testing so you can see what works, experiment with designs, messaging, and forms so as to validate what brings your visitors back to convert over and over again.
What makes Unbounce different from Landingi and other similar platforms is in how it's positioned against the competition.
Not only does it offer unlimited support on all plans 24/5, which gives customers access to their in-house support team via email, phone, and live chat, it also offers a powerful and flexible builder with advanced design features and scales with your business as it grows.
That said, let's delve deeper and look at each of these platforms' powerful features.
Also Read: Unbounce Review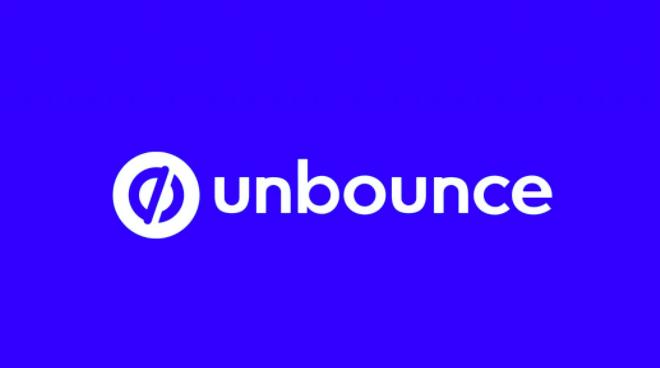 We earn a commission if you click this link and make a purchase.
Landingi Vs Unbounce – Features
Landingi
Drag and drop editor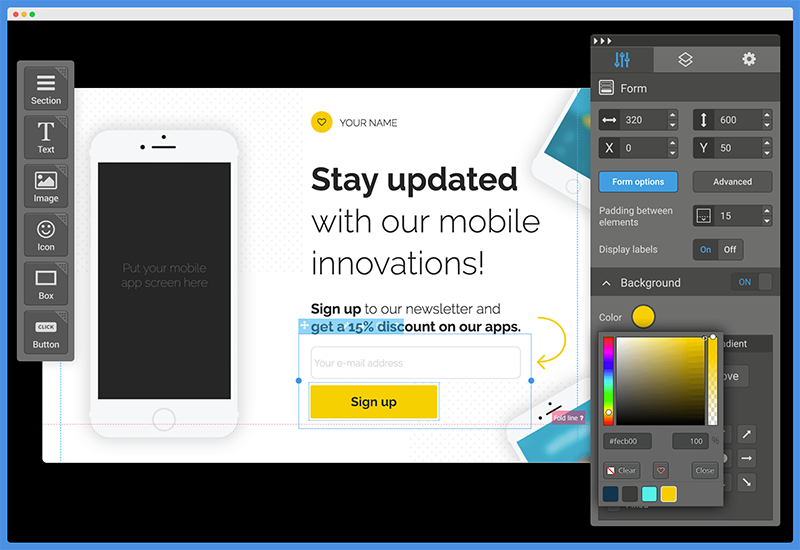 Landingi provides an easy drag/drop landing page editor to change, customize, and add whatever you need without coding knowledge or skills.
Landing page templates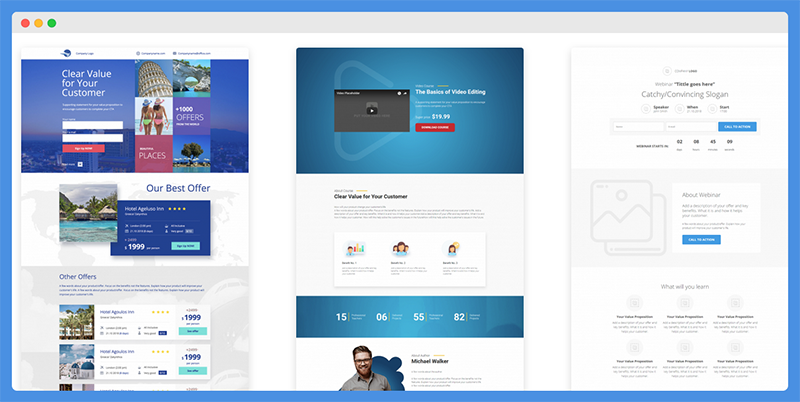 There are 200+ customizable landing page templates tailored to suit your customers, industry, products, and/or services.
These stunning, customizable templates are available in the landing page generator, so all you need to do is pick the best one for your goal, drag and drop, and edit it to your liking.
There are lots of images, scalable and customizable icons, and 800 Google fonts free of licensing fees or you can add your own to help you enhance the pages and ensure your campaigns hit the goals you want.
Simple lightboxes are also available to help you show useful information once users click on your pages.
All the landing pages are customizable to look good on a range of devices, and you can use the Preview feature to check your work before going live.
A Thank you page is also included for follow-up purposes, and you can integrate custom HTML/JS/CSS elements too.
If you want to duplicate the pages, you can do it in one click and test the keywords or strings for effectiveness. You can also invite your colleagues to collaborate with you on the work and get it done faster.
AWS Cloud hosting
Landingi offers 99.95 percent uptime availability as it runs on Amazon Web Services (AWS), giving you confidence and reassurance.
Compatibility
If you want to publish the landing pages under your existing domains, you can add the domains to your Landingi account and publish them.
Plus, Landingi's landing pages are compatible with all major browsers so you don't have to worry if they'll work together.
They're also mobile-ready as they're dedicated to a responsive web design, and Facebook compatible so you can embed it as a tab on your page.
SSL ready
Landingi's landing page generator is SSL-ready and secured with the latest technology in encryption for peace of mind.
Image optimization
The landing page software optimizes your images automatically to ensure the landing pages' speed is fast and the pages are maximized for speed.
Form creator
This tool helps you define all the data you need to get from the visitors who click or land on your landing pages.
Form validation
You can execute the exact data you'd like to get from visitors by setting a field format as you create your forms.
Lead export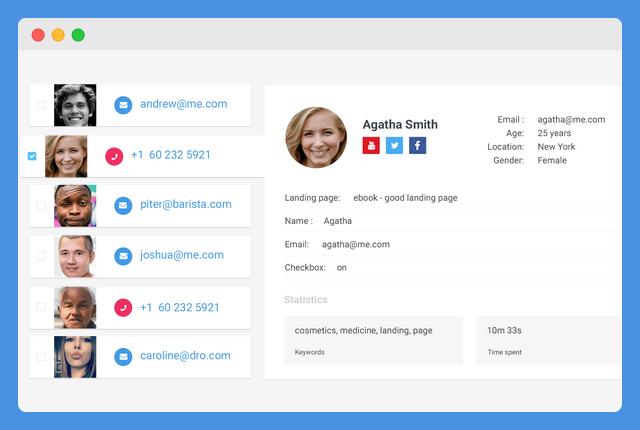 You can export all your leads into a Google sheet or CSV file in one click and integrate them into your processes.
Also Read: Unbounce Vs Hubspot
Anti Spam security
Landingi's landing page forms are secured with several anti-spam rules, which means you'll only get quality leads coming in from the lead-gen software.
Lead notifications
If you want to be ready for any hot leads that come in, this tool helps you get notifications so you're always on time.
Autoresponder
Landingi also allows you to set up automated emails to respond to your leads as they fill out forms so that they get quick responses 24/7.
Landing page scheduler
This feature lets you track all your planned and current launches for easier campaign management.
Webhooks
You can integrate webhooks for messages or event notifications via HTTP callbacks.
Analytics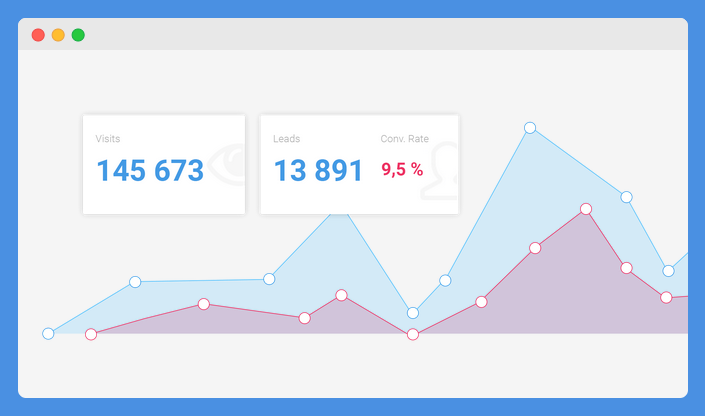 Landingi integrates with Google Analytics so you can see the full customer experience and be able to use your lead-gen software better. It also has conversion pixels available that can be placed on your landing pages to track your campaign goals and see the performance of the pages.
Custom scripts
These can be inserted into your landing pages to analyze whatever data you want tracked using other tools.
A/B/x testing
With this feature, you can get down to the variables that work for your landing page, as it lets you field and compare A/B/x splits.
Agency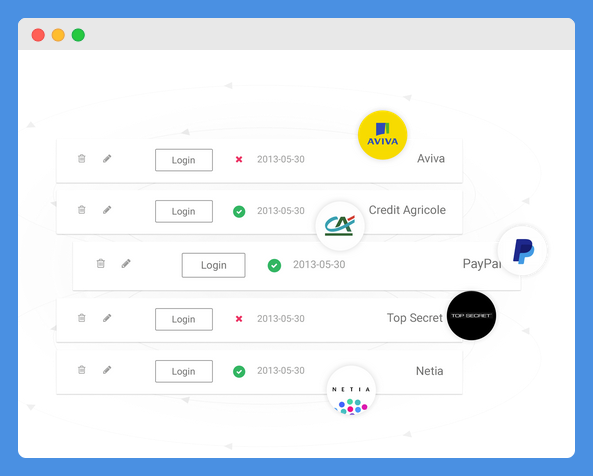 Landingi also helps agencies with useful tools like sub-accounts, which can be managed from one account, user agents who you can authorize to create and monitor the landing pages.
Subaccount flexibility is included to help duplicate and move the pages between sub-accounts, unbranded emails (without Landingi logo), custom templates, a URL builder for tracking campaigns, and white label to reinforce your own branding.
Explore: ClickFunnels Vs Unbounce
Pop up Maker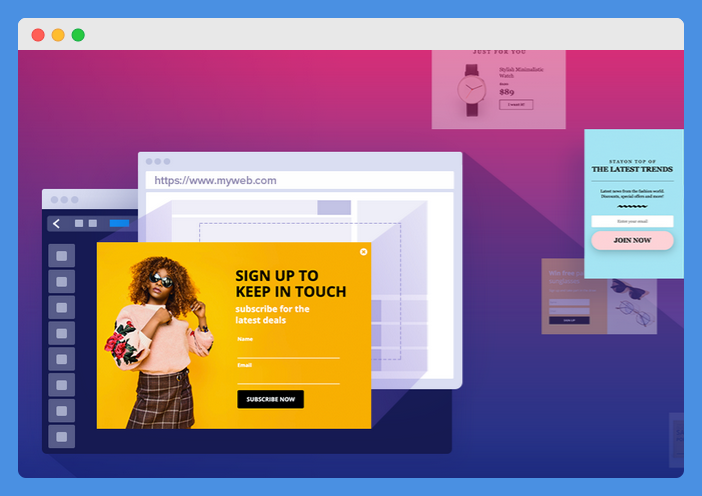 This tool helps you convert visitors into leads as it grabs their attention and increases engagement. You can embed them anywhere you want, and use them on landing pages, external pages, and on your CMS. There's a free version and a Pro version.
Unbounce
Drag and drop builder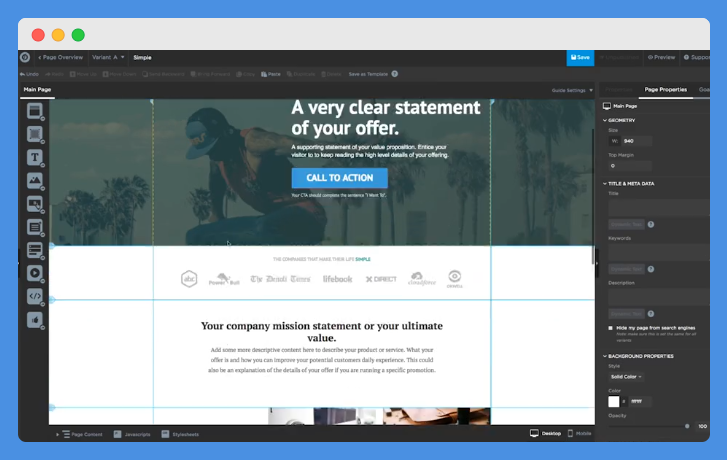 Unbounce lets you drag and drop elements on your landing pages in just a few clicks to create high-converting pages in a matter of hours. You can also add custom pixels and scripts like JavaScript, HTML, and CSS to any page, and integrate without any coding skills.
High-converting templates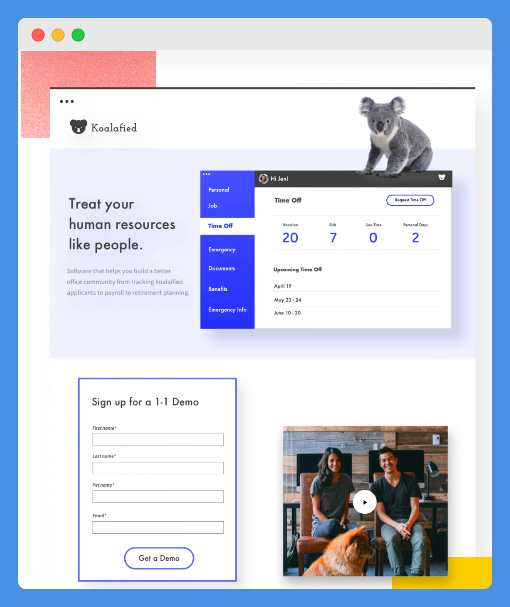 Unbounce offers 100+ high-converting templates in its gallery though you can still make your own design from scratch.
Duplicate/edit
You can clone and edit landing pages for your new campaigns instead of creating one from scratch.
Copy and paste
Once you customize your forms or text, just copy and paste them between landing pages without recreating them all over again.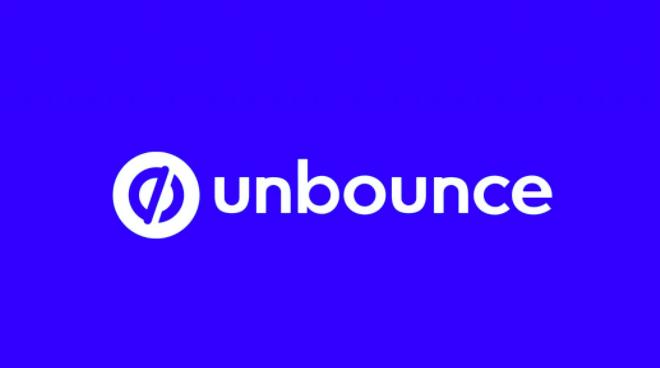 We earn a commission if you click this link and make a purchase.
Script Manager
This tool lets you apply custom scripts universally across your landing pages.
Accelerated Mobile Pages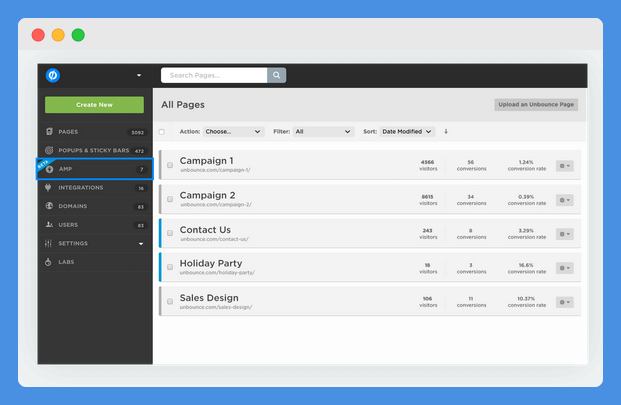 To boost your conversion rates, you can create AMP landing pages, which load faster than the standard pages by 85 percent more.
Explore: Unbounce Vs Elementor
Mobile-ready
Unbounce's landing pages are 100 percent mobile responsive, and you can always switch between views to make sure they look good regardless of the platform.
A mobile layout assistant is available to let you convert the desktop landing page automatically into a mobile version and publish in one click. There are also custom mobile pages you can customize and control in order to tailor them for conversions.
Publish to Domain or WordPress
Unbounce allows you to publish your landing pages to any custom URL or domain, and any WordPress website in one click with no DNS record or CNAME set up needed. It's plug and play.
Branding options
With Unbounce, you can customize every element to stay on brand and still design for conversion. It also lets you enjoy complete design control as you can make adjustments without using grids, rulers or boxes, and use free Unsplash images inside the Unbounce builder, and built-in 950+ Google typefaces to match your brand's signature look.
If you want more customizable templates, you can get them from the Themeforest marketplace.
A/B Testing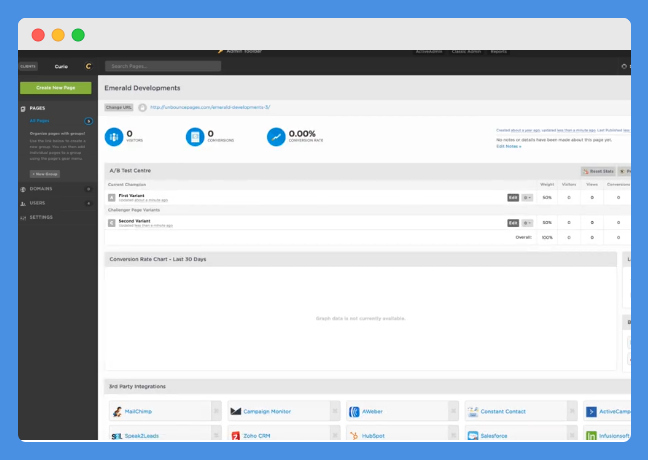 This feature lets you see how your landing page variants resonate with your web visitors so you can tweak and tailor them for better conversion rates.
Auto image optimizer
With Unbounce, your images are optimized for quality and file size automatically so that your pages load even faster and you have full control once you fine-tune your settings. SVG graphics can be added that make your pages faster as they offer tiny file sizes scalable to any screen size.
Embed videos
You can drag and drop engaging and helpful videos to your landing pages and add stunning full-background video clips that'll play in sections.
Parallax scrolling
Unbounce provides parallax scrolling that gives the illusion of depth and an immersive visitor experience, so as to enhance the landing pages.
Lightboxes
You can add lightboxes to your pages to declutter them and display extra images and texts so you can avoid linking off the page and visitors can focus on your CTAs instead.
Form builder
With this feature, you can add forms and use radio buttons, checkboxes, hidden fields, and drop-downs on the forms to capture information from your leads.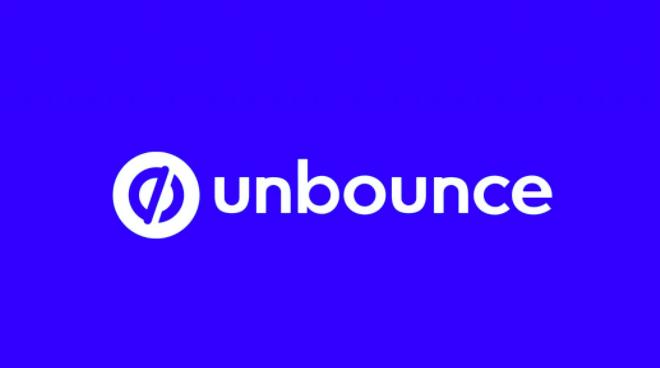 We earn a commission if you click this link and make a purchase.
There are two-step opt-in forms that visitors can use when they're ready to convert, a custom thank you message, and a custom form redirect that sends your visitors to any web page like ebooks, whitepapers, and others once they complete the forms. You can also add gated content here to capture and nurture your leads.
Smart Traffic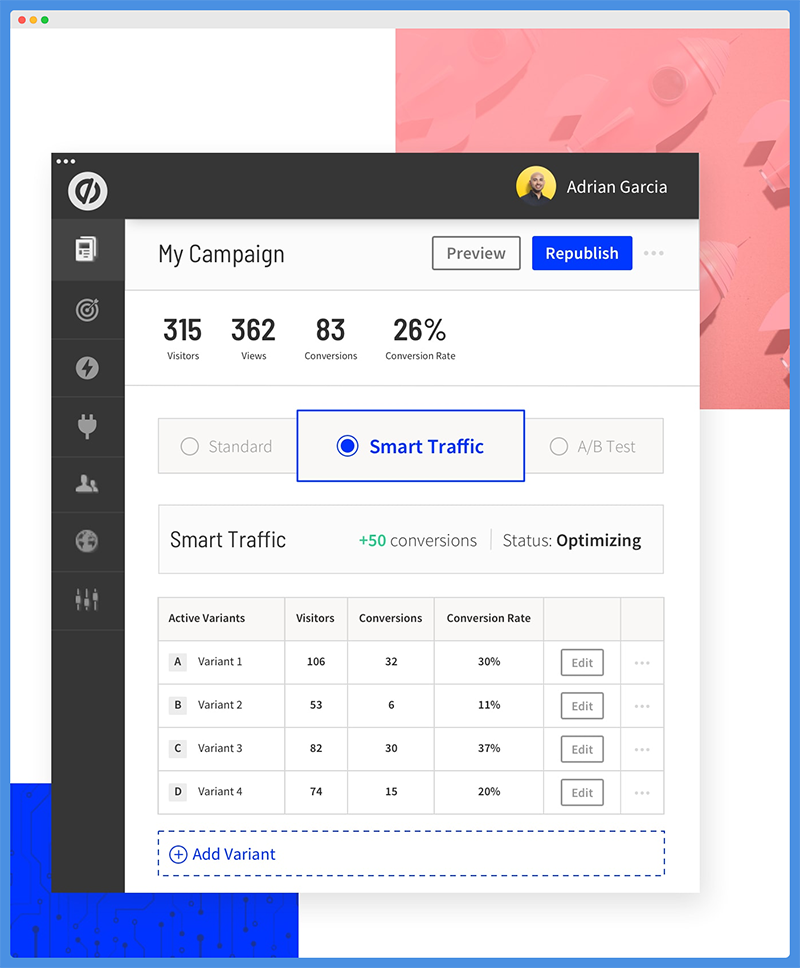 This is an AI-powered optimization that matches visitors to the pages they're likely to convert the most.
Dynamic Text Replacement
This tool boosts the relevance and likelihood for visitors converting to leads as it matches the text on your landing page to the exact search terms your visitors key in.
Check Out: Unbounce Vs Webflow
Real-time data dashboard
From here, you can see the performance of your pages and tests and connect Google Analytics for even more tracking as it integrates with Unbounce.
Popups and Sticky Bars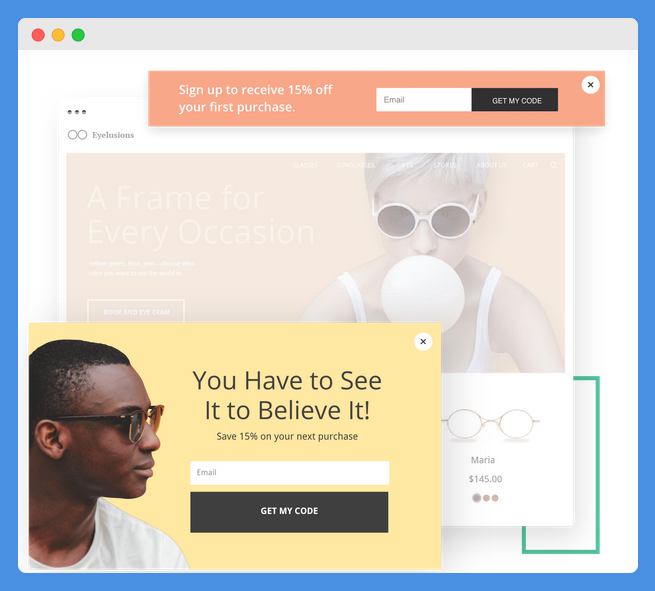 You can use targeted offers to prompt your visitors to convert by launching custom popups and sticky bars that provide highly-relevant offers on any page on your site when they arrive on your page, abandon it, click elements, scroll, or otherwise.
Schedule offers
This tool helps you schedule your popups and sticky bars and stop whenever you have promotions or seasonal campaign plans.
Targeting
You can target visitors by location, to get the offers in front of them for specific locations, cities, regions or countries, or target by referring URL, which creates segmented offers based on the source of traffic. You can also target with cookies to show a popup or sticky bar based on browsing history, previous actions or conversion status, and more.
Branding and integration options
Unbounce allows you to send email notifications customized to match your brand and embed third-party tools as it supports custom code.
Agency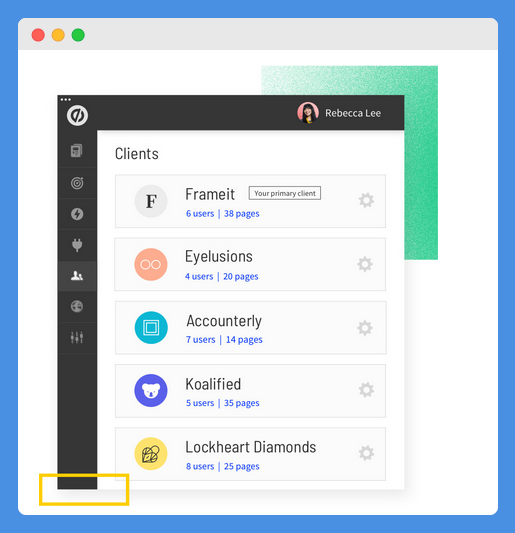 For agencies and larger teams, Unbounce offers tools to help you manage multiple clients, sign in quickly, add unlimited users and collaborators, filter IPs to keep your reporting data clean, and test/visit campaigns from anywhere.
It also offers version control audit logs, export options for single or multiple pages, and free hosting among others.
Performance and security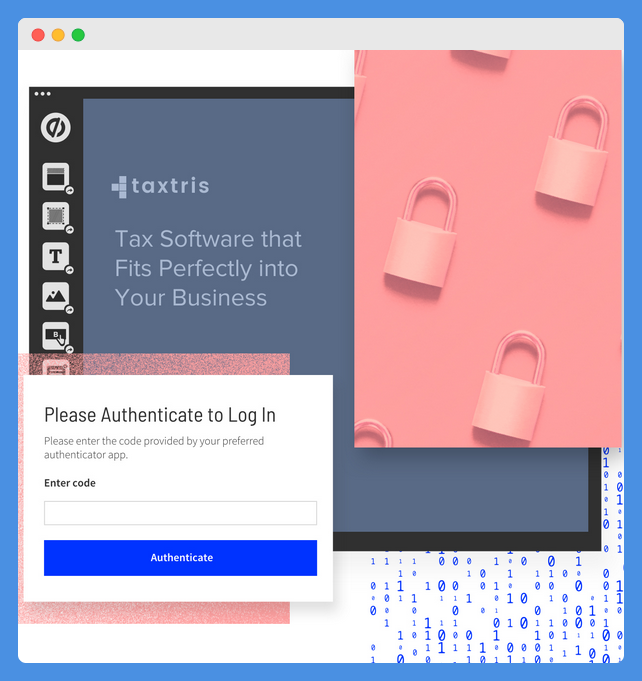 Unbounce ensures security for your data and customer payment information through features like the Speed Boost to enhance web performance and speed, five data centers globally in every country you target, fast content delivery using CloudFront, and 99.96 percent uptime of your pages.
It's also GDPR compliant and offers extra security such as automatic SSL encryption and two-factor authentication.
Unbounce Vs Landingi – Integrations
Landingi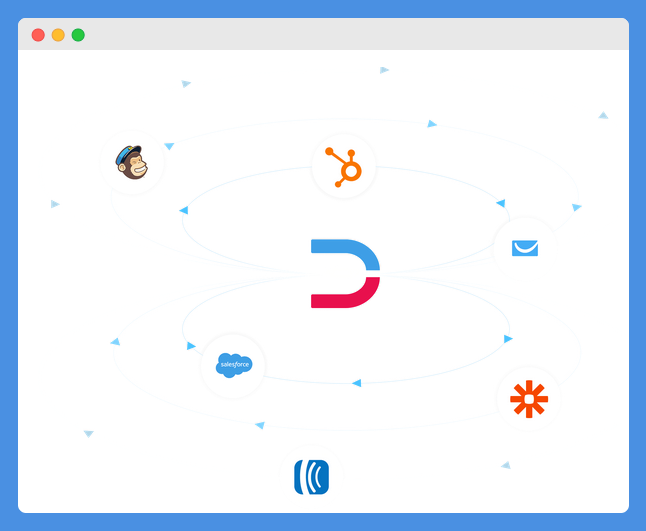 Landingi saves you the headache and hassles of workflow automation by integrating with solutions like MailChimp, HubSpot, SalesForce, Drip, Zendesk Sell, Ohmylead, ConvertKit, Campaign Monitor, Active Campaign, AWeber, PayPal, Shopify, WordPress, Zapier, Facebook Pixel.
Landingi Live Chat, Freshchat, Intercom, Zoho CRM, Google Analytics, and 40 more integrations are available as well.
Unbounce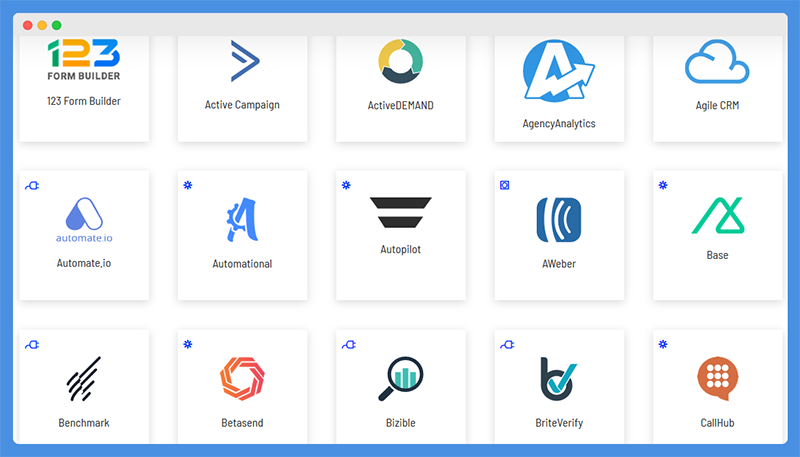 Unbounce also integrates with your favorite tools so you can save time and minimize repetitive tasks.
These include but aren't limited to Active Campaign, AWeber, Facebook, Drip, Crazy Egg, Agile CRM, CallRail, Callingly, Bizible, E-goi, Email by Zapier, Emma, 123 Form Builder, Google Ads, Google Analytics, WordPress, Slack, Kissmetrics, HubSpot, InfusionSoft, and many more.
You can also use WebHooks or Zapier to integrate or use the Unbounce API to bring conversion automation and lead-gen power of Unbounce to your own solution.
Unbounce Vs Landingi – Customer Support
Landingi
Support is available via a contact form, blog, case studies, and knowledgebase.
Unbounce
Support is available via phone, blog, a help center, marketing resources, landing page resources, and Unbounce Conversion Intelligence.
Explore: Unbounce Vs Wix
Unbounce Vs Landingi – Pricing
Landingi pricing
Landingi price starts from $47/month for Automate plan. Create is at $89 per month, and Core $127 per month.
All plans come with unlimited landing pages and a 14-day free trial. You don't need a credit card to subscribe to the free trial. All these are Business plans.
Agencies get 2 plans to pick from. Agency at $199/month and Agency Pro $329 per month.
You can pay using PayPal or Credit Card (except AMEX) when you're ready to subscribe to a paid plan.
Unbounce pricing
Unbounce also offers Four plans: Launch $80 per month, Optimize $120 per month, Accelerate $200 per month and Scale $300/month.
However, it doesn't offer unlimited landing pages like Landingi, but it also has a 14-day free trial with no restrictions.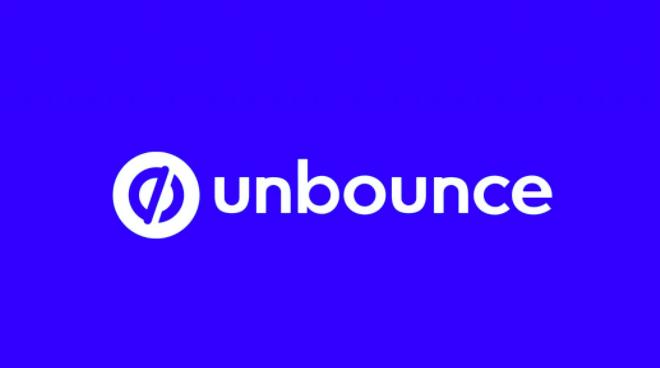 We earn a commission if you click this link and make a purchase.
It also won't obligate you to continue beyond the trial period so you won't be billed after it's over, and you can pay via PayPal, Visa, AMEX, or Mastercard.
Landingi Vs Unbounce – Similarities & Differences
Unbounce Vs Landingi – Pros & Cons
Landingi
Pros
Easy to use features
No technical skills or IT knowledge needed
Wide template selection
Affordable and flexible offers
Rich page builder options
Cons
A/B testing only on high-end plans
Unbounce
Pros
Easy to use
Fast, available, and helpful support
Professional landing pages
Mobile responsive
Plenty of integration options
A/B tests easy to create in few clicks
Customizable
Focuses on security
Cons
Pricier plans
Fewer template designs available
Not friendly to small businesses
Explore: Unbounce Vs Wordpress
Landingi Vs Unbounce – Which One Is Best?
So this was our Unbounce vs Landingi review.
Now that you know what each of these tools has to offer, it's time to find out which one takes the crown overall.
Landingi has lots of powerful features, as does Unbounce, but there are some subtle and major differences in a few key areas.
While Landingi offers more than 200 templates, Unbounce only gives you 100+, but the latter also offers security on top of customization capabilities.
Landingi is also cheaper than Unbounce, which makes it more attractive to marketers and small business owners, while Unbounce is pricey and suitable for agencies, eCommerce, and SaaS brands, who have bigger budgets to work with.
If you're just starting out with landing pages, you can go for Landingi, but if you're already established, Unbounce is a better option.
Ultimately, you want something with a good price, great quality landing pages, and great support too, which is why Unbounce is the clear winner in this round.
Not only does it check all the boxes in what you need for a landing page builder, but it also brings the security and artificial intelligence components for an even better experience.
Sam loves to write on technology & related stuff. Ecommerce, mobile and internet marketing equally drive her interest. Likes gardening and experimenting with new recipes. An avid reader and absolutely mad @bout donuts 🙂