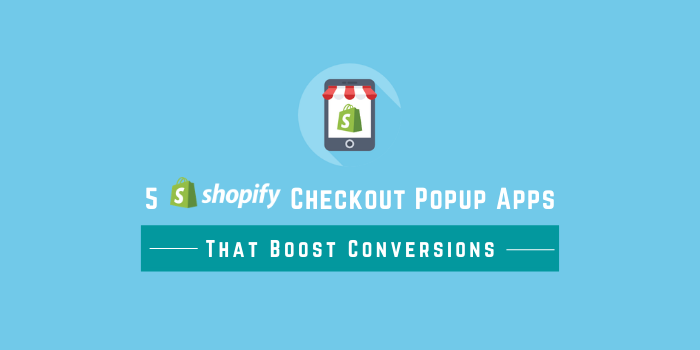 Shopify is one of the biggest commerce platforms on the planet! Long before Amazon Go, Shopify has gone beyond eCommerce to become the darling of brick and mortar stores.
Last year, Shopify's Black Friday/Cyber Monday weekend sales grossed over $2.9 billion.
Over the years, this Canadian company has built a seller-base of more than 25 million merchants. With that number of sellers, you'd agree that competition is stiff.
So, the question turns on how to stand out.
How do you differentiate yourself, your business, and your product? How do you become and remain profitable in this sea of sales dogs?
The answer?
Popups!
If you know how to leverage Shopify popups, you could be on your way to making your business profitable. And profitable on autopilot, in some cases.
If you're wondering, "Why popups?" and "If the answer to business success if popups, what popups should I use?"
Read on for answers.
Related: Best Shopify Apps

Why Popup Apps Is The Answer
But just before we get started, you probably have questions, and I want to address them first.
What can popups do for you? How can they make your Shopify business perform better? With a ton of popup apps popping up on Shopify, it's worth asking what benefits you can get from them.
Believe it or not. Popups outperform email when it comes to conversions. While email converts at an average of 2.61 percent across industries, popups convert at an average of 3.09 percent.
The top ten percent of highest performing popups enjoy an average conversion rate of 9.28 percent, according to the Sumo study. When you consider the economic impact, you'll begin to understand the power of popups.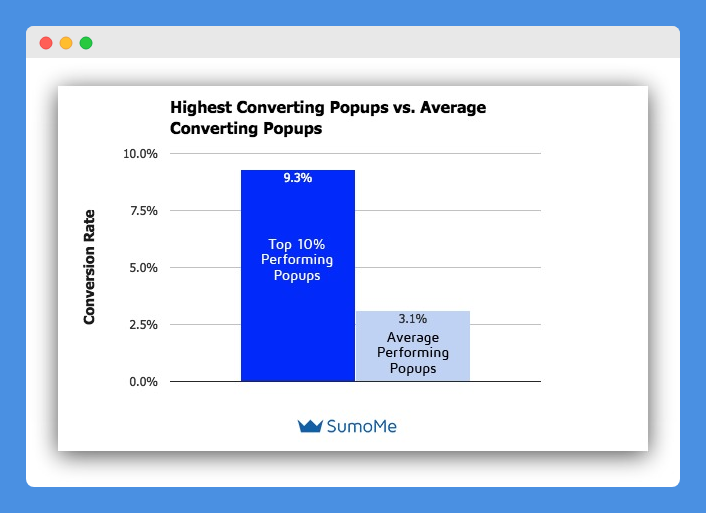 In a study by Entrepreneur.com, they boost their subscriptions by 86 percent using popups. That boost in subscription helped them see a revenue increase of 162 percent! Not bad for using popups on their site.
So how do you experience this financial magic in your Shopify business? Well, guess you know it by now – use Shopify popup apps!
Let me show you some of the most potent of them.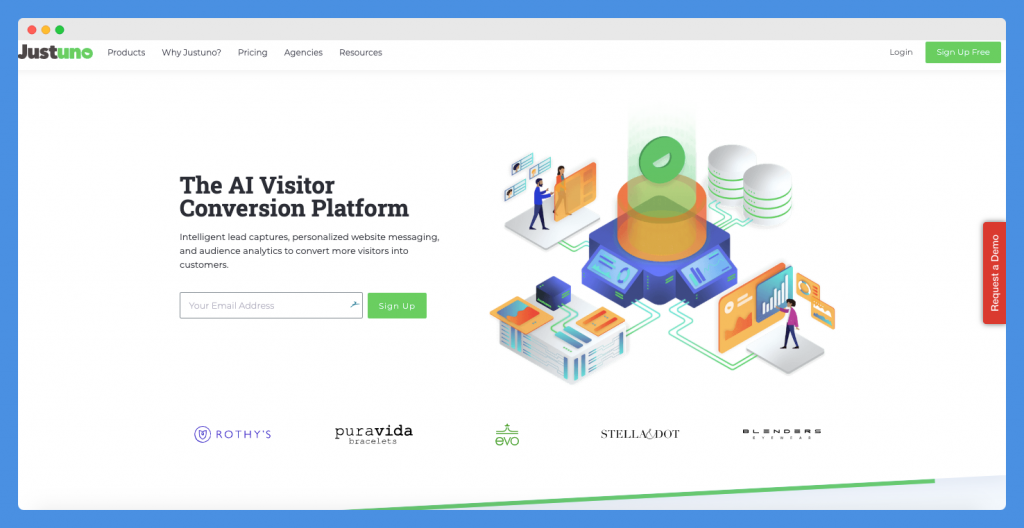 Justuno uses artificial intelligence to help businesses grow. It boosts their average order volumes, lead captures, exit offers, and more. The Shopify app has a 4.7-star rating and more than 2,200 reviews.
This tool aims to help you optimize your marketing ROI. It achieves this by communicating with all your marketing tools. So you can
Trigger abandoned cart offers
Offer intelligent discounts
Cross-sell
Upsell
And more.
You also have access to a conversion rate optimization (CRO) Analyzer Tool. This tool helps analyze your website performance and see how Justuno can help you boost your site's CRO.
Mobile-Specific Promotions
Geo-Targeting
E-Commerce Integrations
Design Canvas
Analytics
A/B Testing
Omni-Channel Messaging
Audience Segmentation
Advanced Behavioral Targeting
What do these features do, and how can you benefit from them? Let's find out.
1. Mobile-Specific Promotions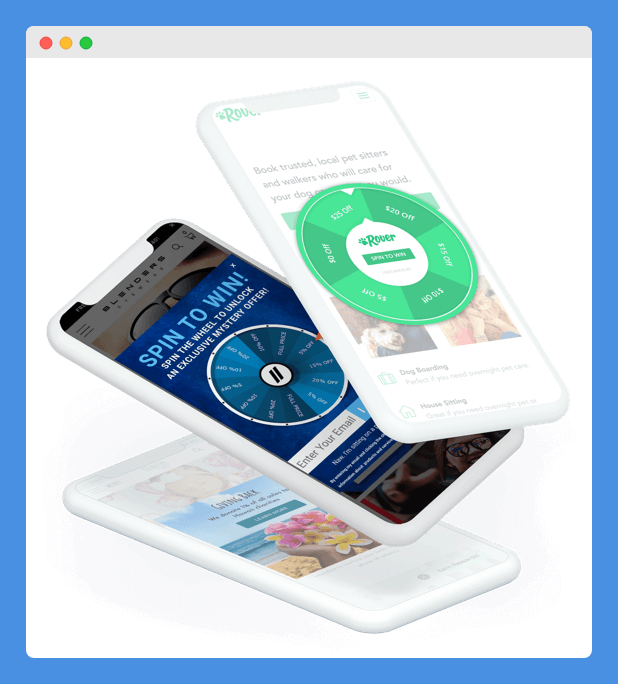 Justuno provides its users with promotions targeted at mobile audiences only. Since most buyers use mobile channels to make their purchase, this feature is powerful for targeting your mobile audience.
Merchants experienced 22.5 percent conversions on Justuno over the Black Friday/Cyber Monday weekend last year.
Explore: Best Shopify Paid Apps
2. Geo-Targeting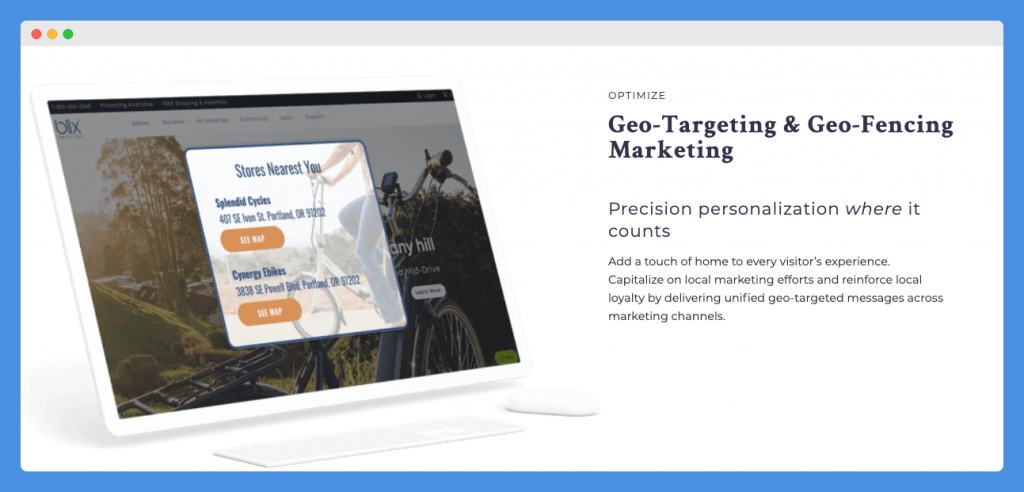 Make every visitor feel at home with geo-targeting. Since most people seek local content when they search for solutions, this is an opportunity to localize each site user's experience.
3. E-Commerce Integrations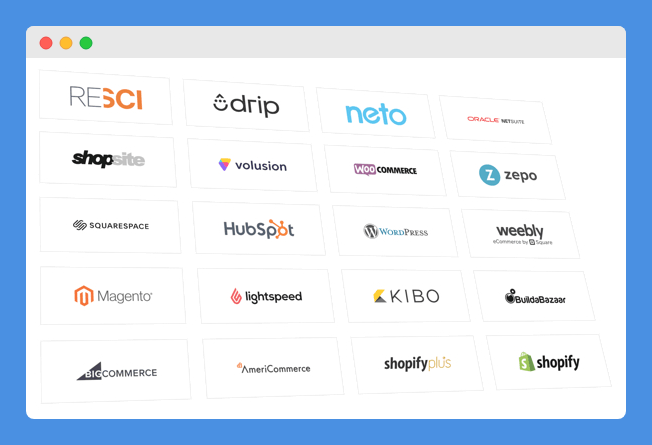 You can integrate with multiple eCommerce platforms. So as your business grows, you can easily expand into new platforms with one Justuno account.
4. Design Canvas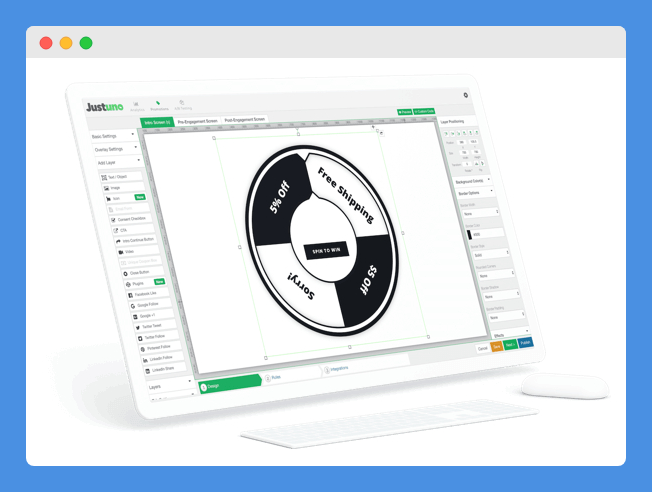 This tool provides you with more than 25 design templates to choose from. But it doesn't stop there. You can also customize these templates to match your brand colors, logo, fonts, and more.
5. Analytics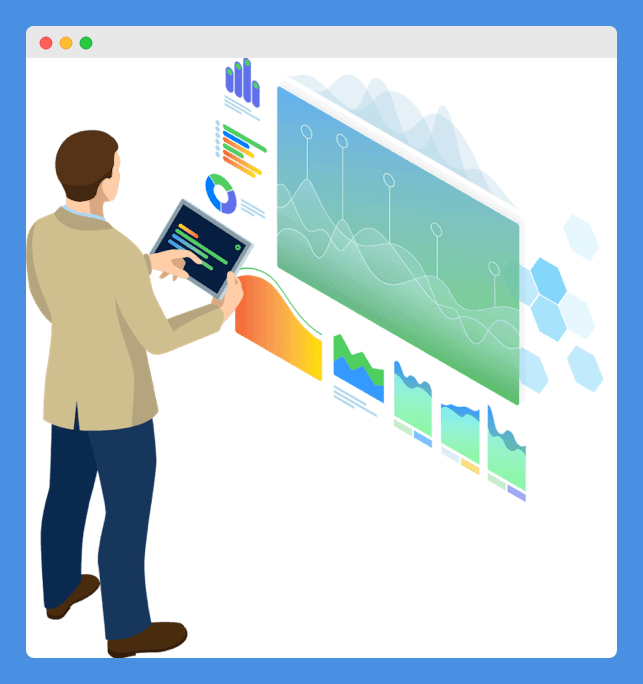 The lack of data completeness and quality is one of the biggest challenges of businesses trying to grow using data. Although 85 percent of business desire to drive business objectives with data, only 37 percent of them are making a meaningful success of it.
Hence, the need for an analytics tool that provides high quality and complete data. That's what Justuno does for its users.
6. A/B Testing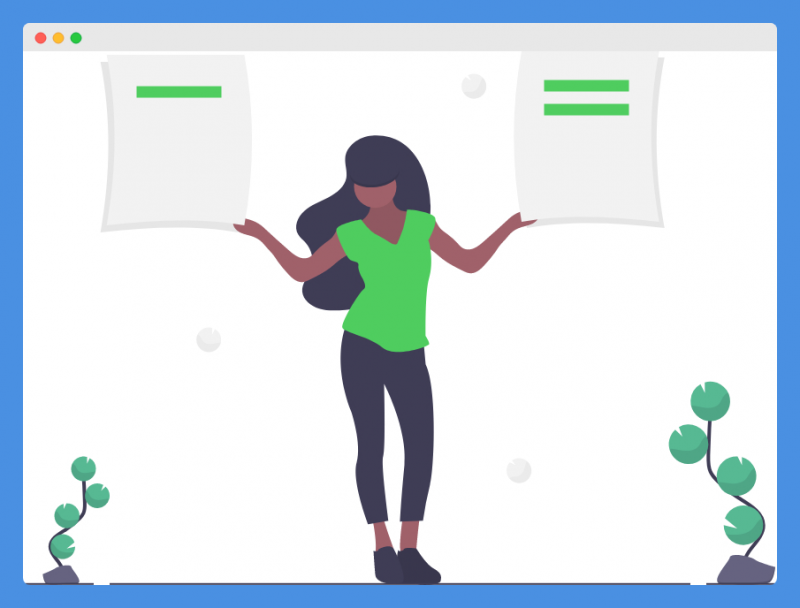 Split test your content and site design variations with Justuno, and continually make improvements to see what works for you.
7. Omni-Channel Messaging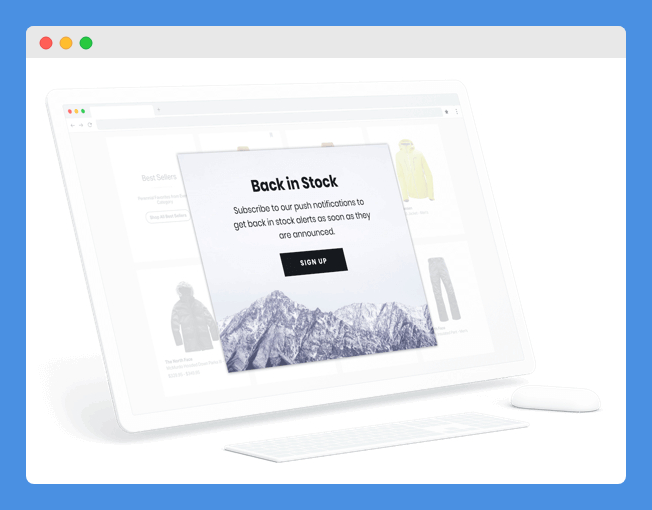 Unify your brand messaging across all communication channels while maintaining your brand's voice across these channels. You can deliver push notifications, Facebook messages, and SMS without breaking a sweat.
8. Audience Segmentation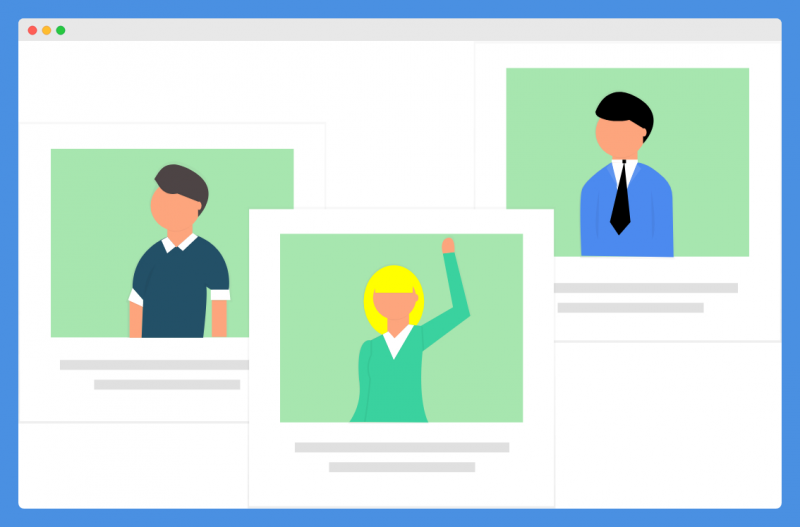 Deliver highly relevant messaging to your audience by segmenting them into groups. Using data from billions of sources, Justuno is able to customize your site's messaging.
Worth Reading: Best Shopify Newsletter Apps
9. Advanced Behavioral Targeting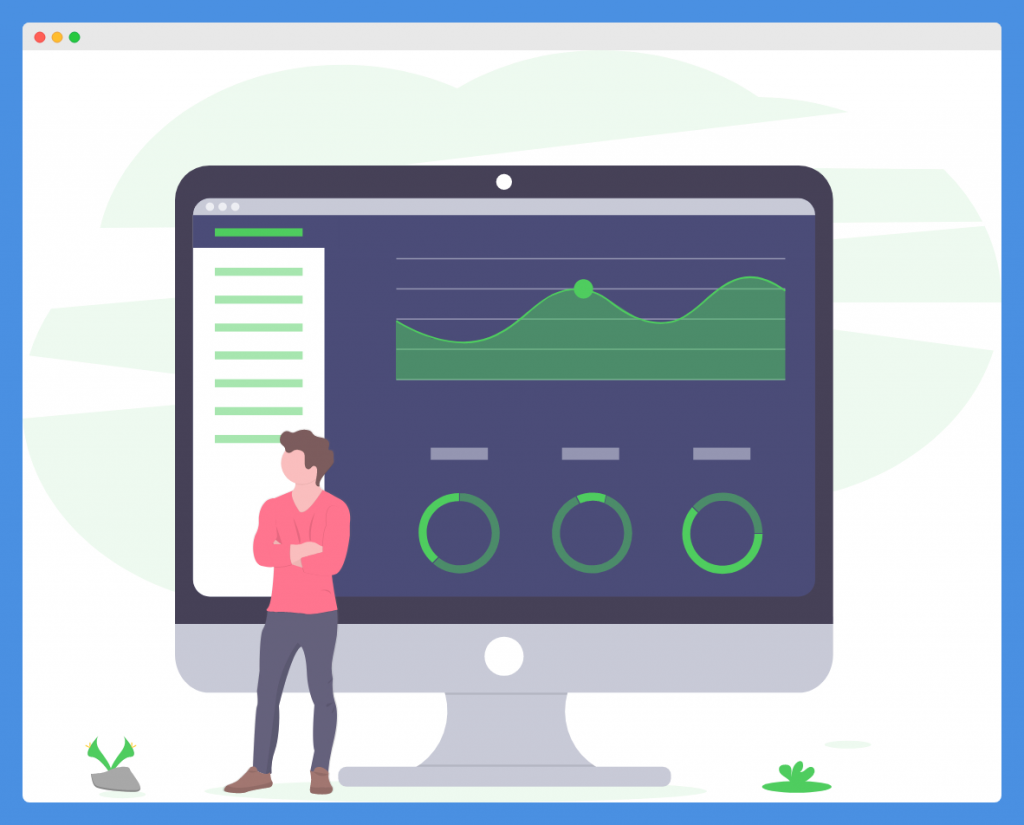 Use advanced targeting rules to segment your audience by their behavioral patterns. This AI-powered feature helps you serve every visitor a highly-personalized message.
Pricing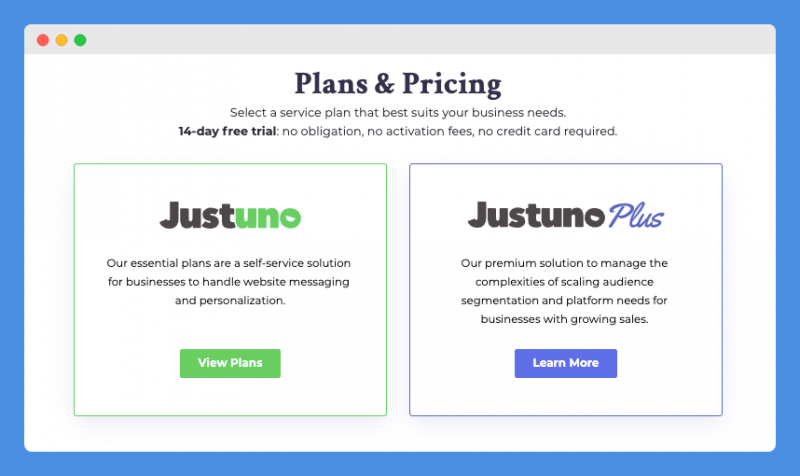 You have two pricing plans for Justuno; Justuno essential plan and Justuno Plus for premium solutions. However, if your website receives less than 5,000 people monthly, you can use the app for free.
Justuno Essential
The Justuno Essential plan prices from $25 to $699, depending on the specific options you choose. For example, the 10,000 traffic plan costs $25 per month if you paid for a full year at once, but costs $29 a month if you paid one month at a time.
Your site traffic and payment frequency determine how much you'll pay for your Justuno Essential.
Justuno Plus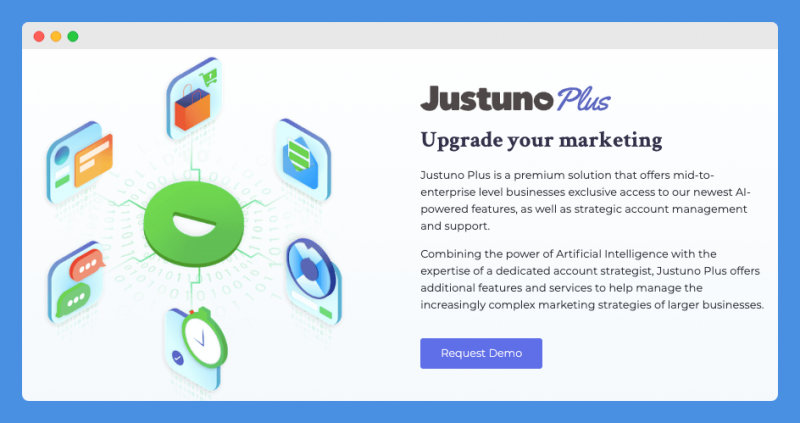 The Premium plan, Justuno Plus, targets enterprise customers. Interested organizations can request a demo.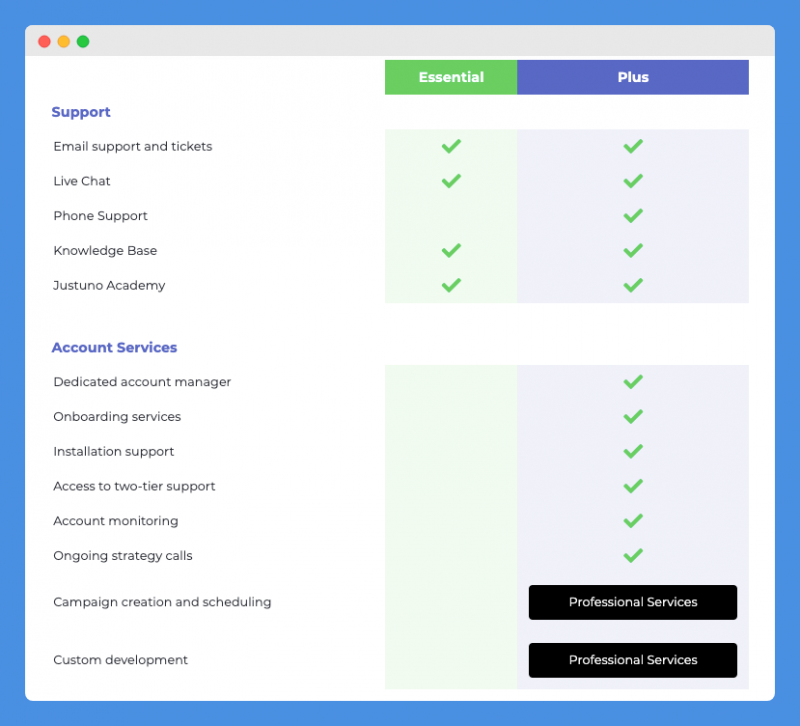 This plan features everything you'll get from Justuno Essentials but adds extra value with Account Services like
A dedicated account manager
Onboarding
Installations
Two-tier support access
Account monitoring
Strategy calls
Additionally, on the product side of things, premium plan users get "Commercial AI" and "AI upsell and cross-sell promotions" features.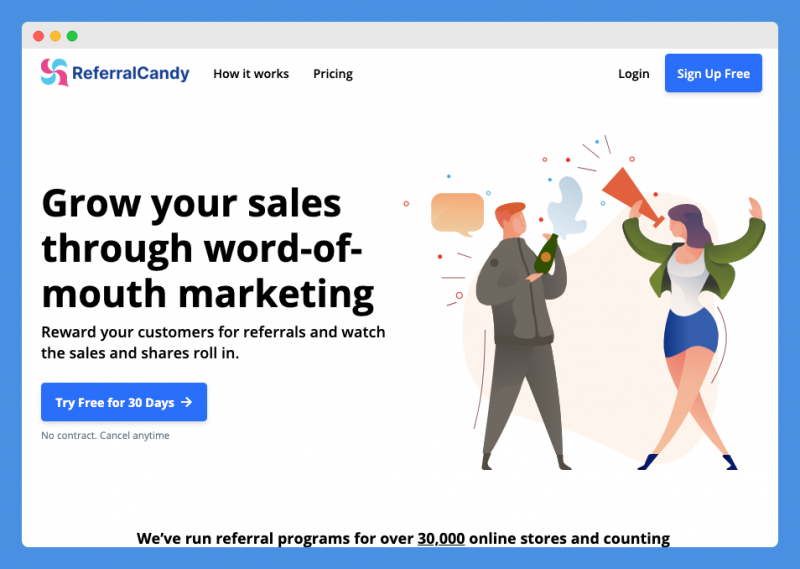 ReferralCandy is a word-of-mouth marketing tool. It helps you incentivize your customers to refer their friends.. The platform has enjoyed the trust of some big names.
For example, Jay-Z's Tidal uses the platform to boost its word-of-mouth growth.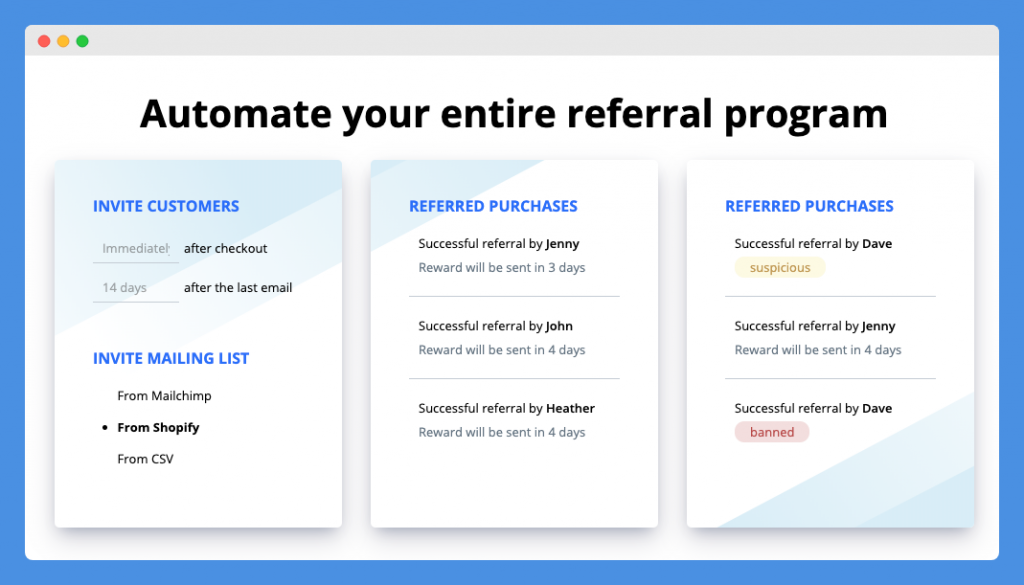 You can leverage ReferralCandy to gain customers from people who already use your product. The platform has been in operation since 2009. It features helpful tools to help Shopify website owners nudge their buyers into becoming advocates.
You can enjoy these features from ReferralCandy:
Choose Rewards
Integrations
Analytics
Multiple Sales Platforms
Referral widget
Embedded Signup Form
Post Purchase Popup
Customizable Branding
Affiliate Program
ReferralCandy keeps a simple features profile. However, it provides a potent word-of-mouth marketing tool that takes less than 10 minutes to set up.
1. Choose Rewards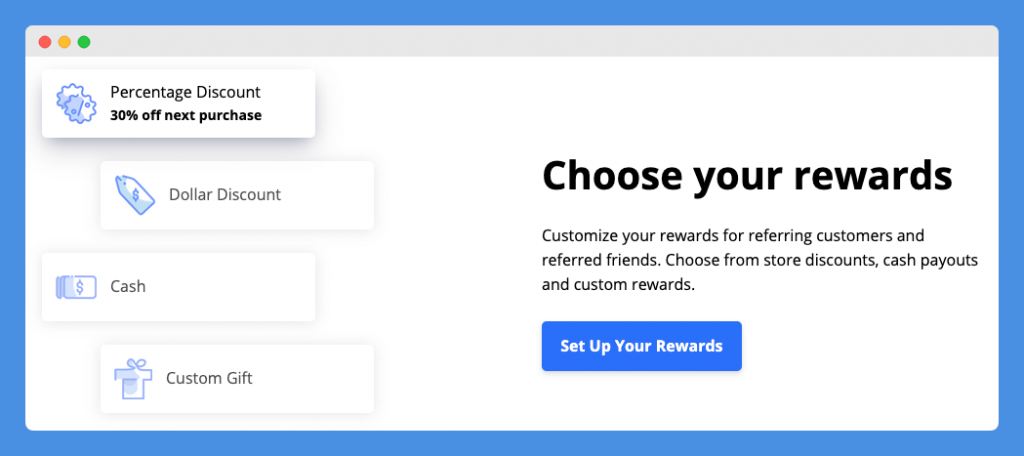 This Shopify app lets you decide on the rewards you want to give your customers. You can choose from a variety of options here. ReferralCandy makes it possible for you to use percentage or dollar discounts, cash rewards, shopper gifts, and more.
More so, you can mix and match these rewards to reflect your style and fit your audience better.
2. Integrations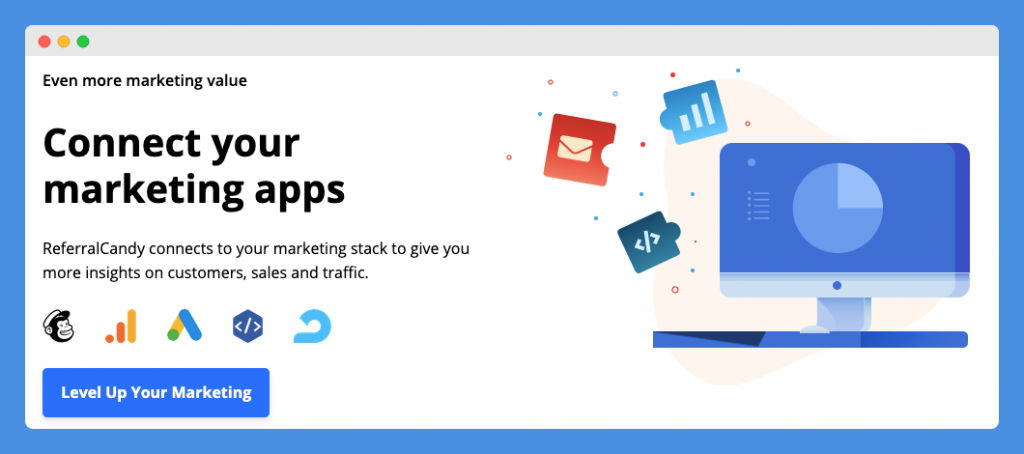 This Shopify popup app can integrate your existing marketing tools, including MailChimp, Google apps, Adroll, and more. You can use your existing marketing workflows with ReferralCandy without breaking things.
3. Analytics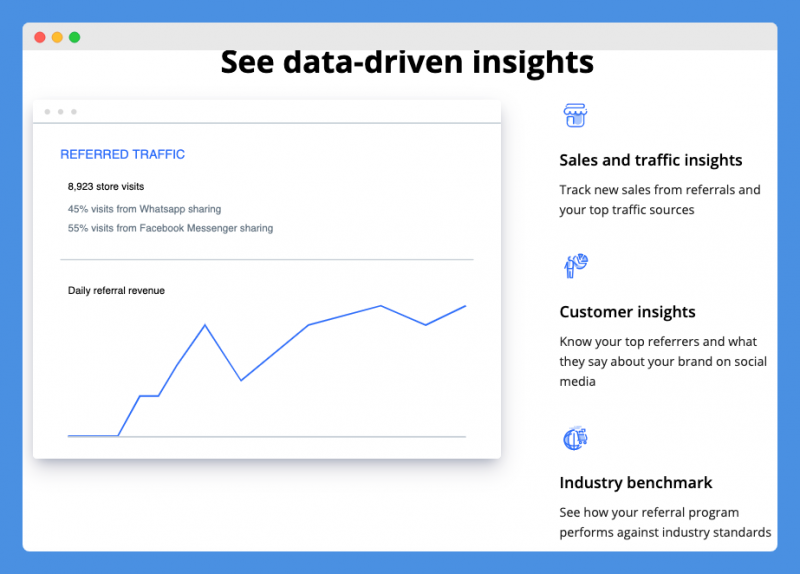 Referral Candy comes with a rich analytics dashboard too. So you can get better insights into your sales, traffic, and customer activities. You'd know who referred the most customers, what reward levels your program participants are reaching the most.
4. Sell On Multiple Platforms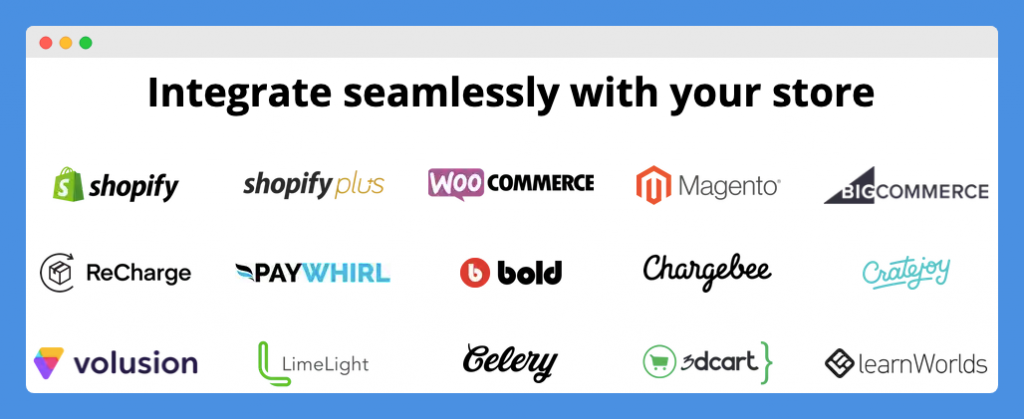 Referral Candy accommodates multiple sales platforms. So apart from Shopify, you can access other platforms. If your business grows and you start considering selling on other platforms apart from Shopify, then this feature will come handy.
Also Read: 75+ Free & Paid Shopify Apps Ecommerce Experts Recommend
5. Referral Widget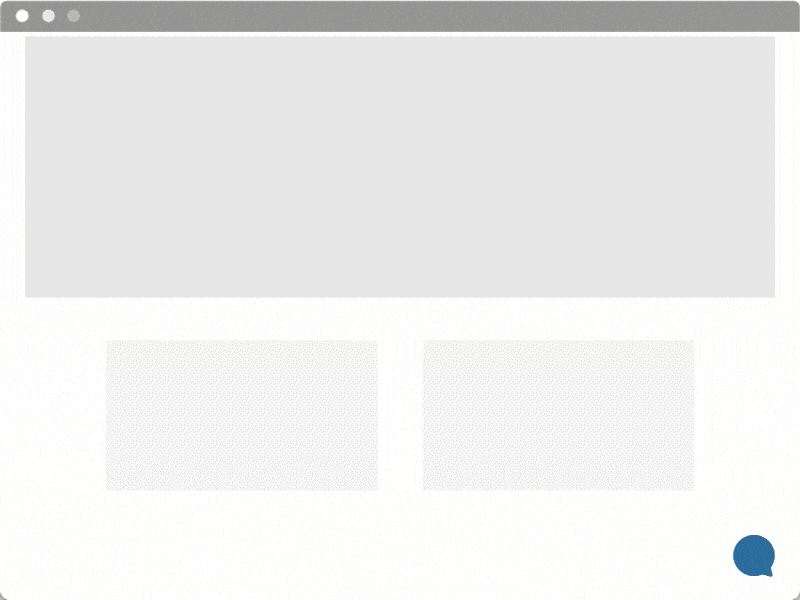 This tool provides a referral widget to help you engage with your customers and nudge them to join your referral program. This feature would pop up in the corner of your website to invite your customers and visitors into your program.
6. Embedded Signup Form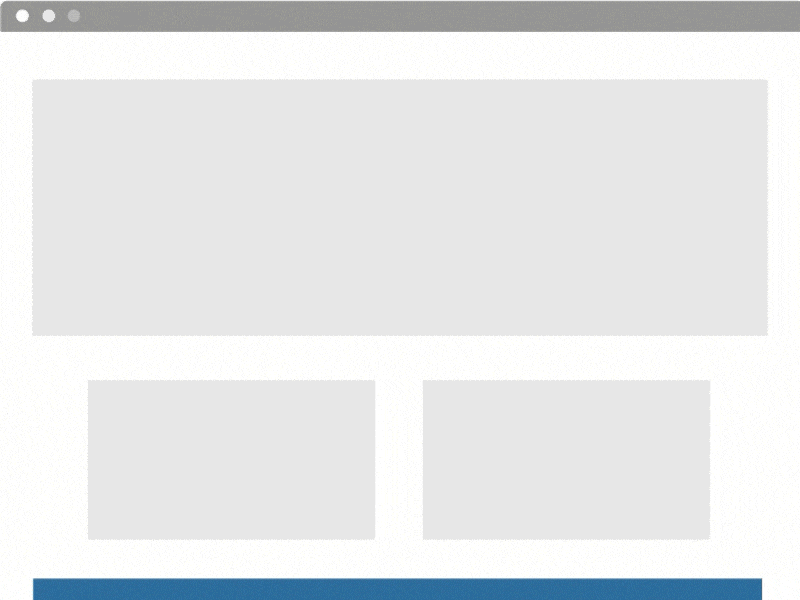 Just like the referral widget, the embedded signup form is an engagement feature to draw shoppers' attention to your referral program. This feature aims to make your referral program part of your customers' shopping experience.
7. Post Purchase Popup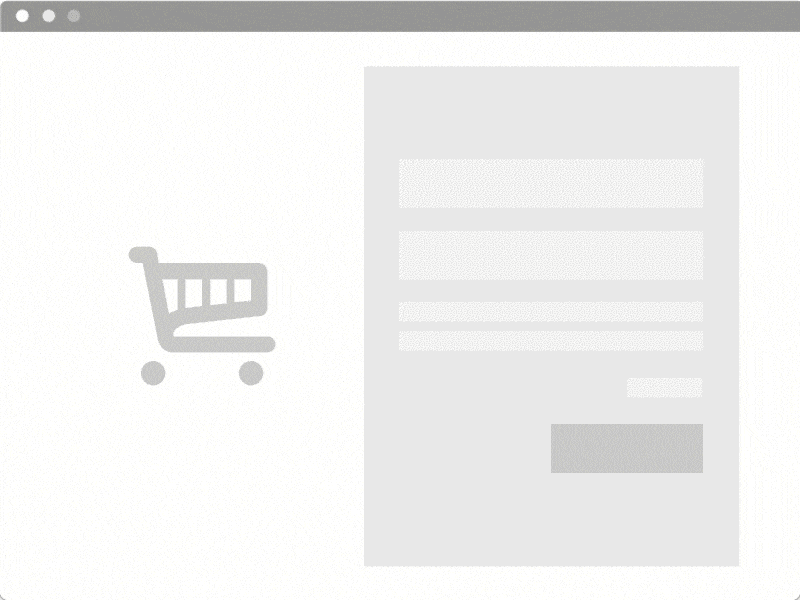 Post-purchase popup, much like embedded signup forms and referral widgets, help you engage with your customers. So you'd invite them to join your referral program.
However, the post-purchase popup shows up when the customer is most open to referring their friends and loved ones. That's what makes this popup different.
8. Customizable Branding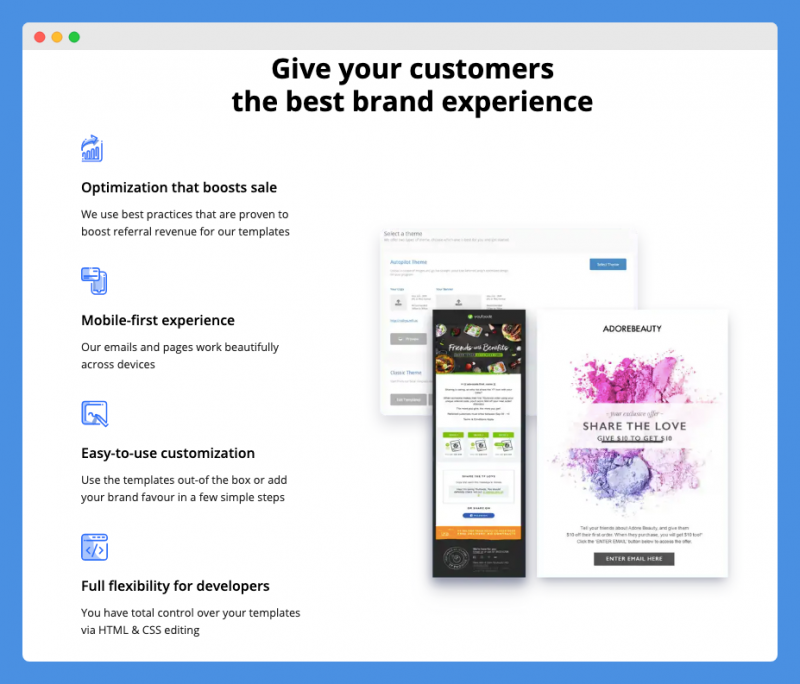 You can customize your ReferralCandy Shopify app to your taste. The tool lets you upload your logo, use your brand color and font, and craft your own brand copy. It simplifies the process to just three steps, so it's a breeze.
9. Affiliate Program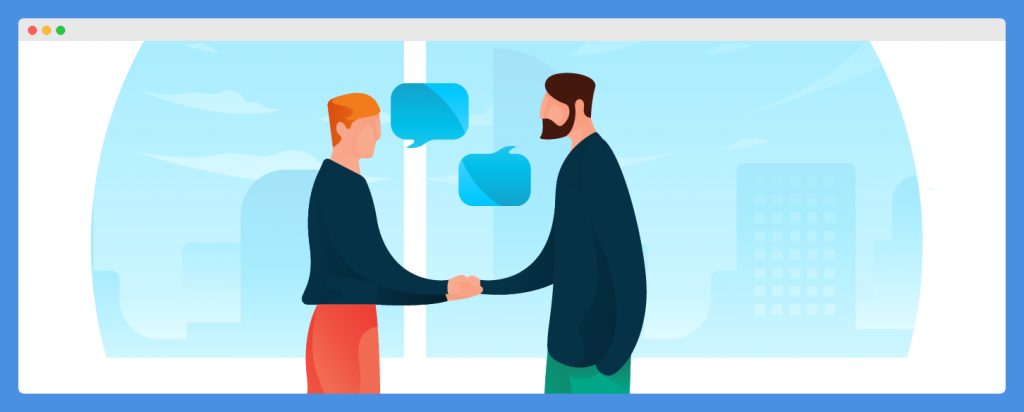 ReferralCandy rewards you with $15 for every successful referral you make to them. Like anything else they do, this Shopify app makes the process a breeze. You share your link with friends, they buy, and you earn a reward.
The tool offers you two payment plans. Interested users can leverage their 30-day trial to test-drive the product at no risk. After the trial period, a charge will apply.
Note that the free trial applies to the premium plan only. Enterprise users can request a product demo to explore how the product works.
Premium Plan
The Premium plan bills $45 per month plus commissions. This plan lets you access
Unlimited customers in your program
Gives you dashboard and data reports
Provides 24/7 live chat customer support
Grants automatic fraud protection
Enterprise Plan
The Enterprise Plan bills you annually, NOT monthly. However, this plan costs $3,999 per month. It includes everything in the Premium plan, plus priority support and account manager.
How the Commissions Work
The app charges a commission on new customer referrals. It charges the commission for the first three times the new customer makes a purchase only.
Related: Best Shopify Dropshipping Apps
Here's a breakdown of how commissions work.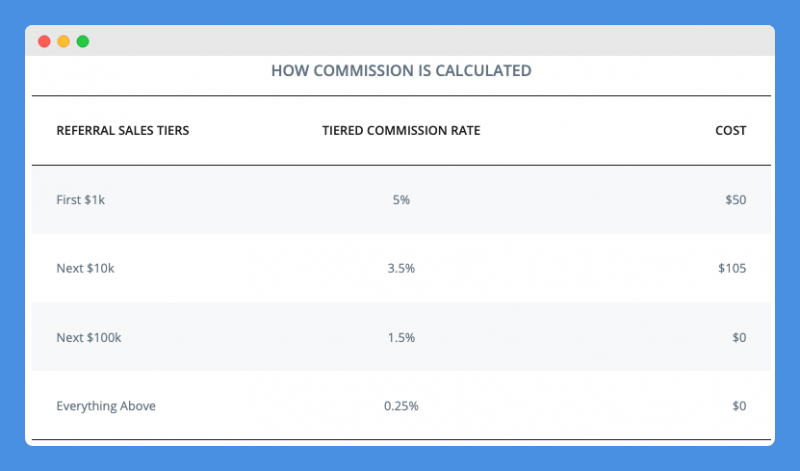 And here's an example of how the commission works.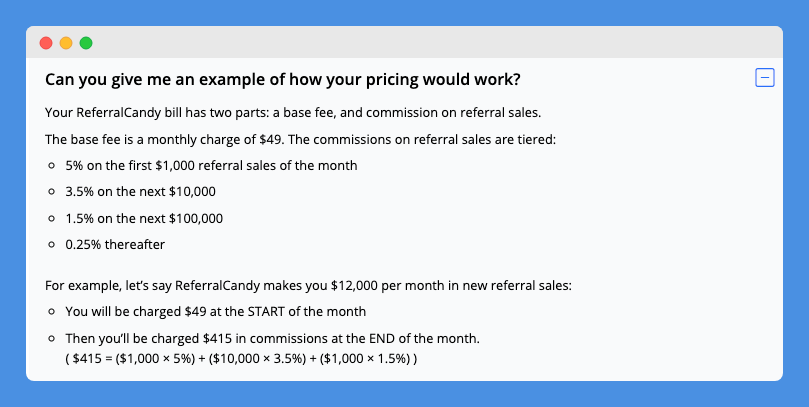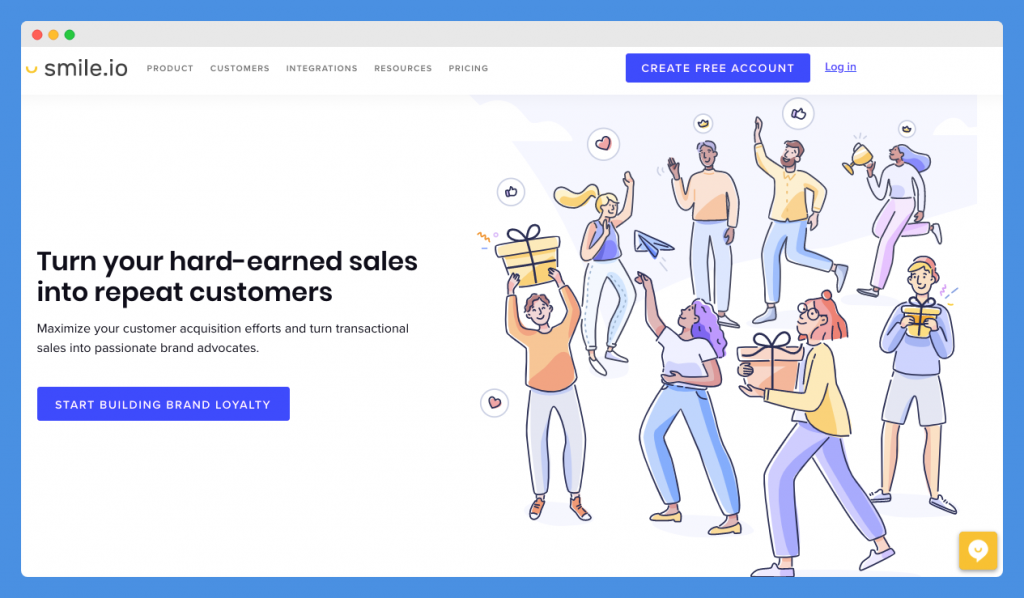 Businesses that have loyalty programs get and retain more customers than businesses that don't have one. That's why a tool like Smile.io gets a ton of love from Shopify merchants.
This Shopify popup app has over 25,000 users and maintains a rating of 4.8-star and 3,375 reviews. The app aims to help merchants turn transactional sales into loyal advocates.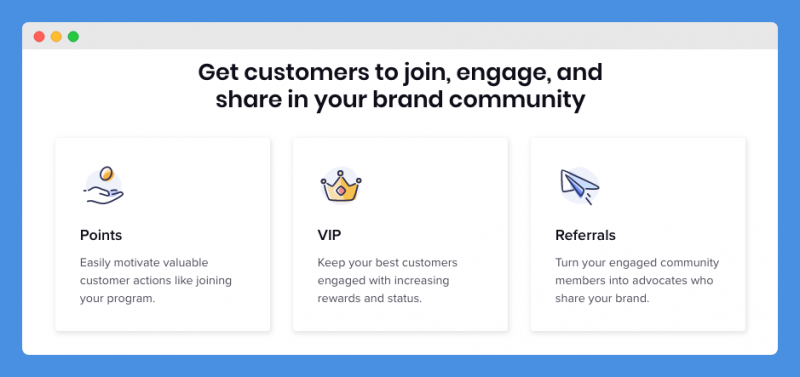 Smile: Rewards & Loyalty aka Smile.io, offers users three types of loyalty programs
VIP program
Referral program
Loyalty points program
This Shopify popup app uses its Smile UI and Smile Admin platforms to help you engage with your customers. The UI helps you craft your loyalty program interface, where your customers will interact. The Admin tool helps you manage your program.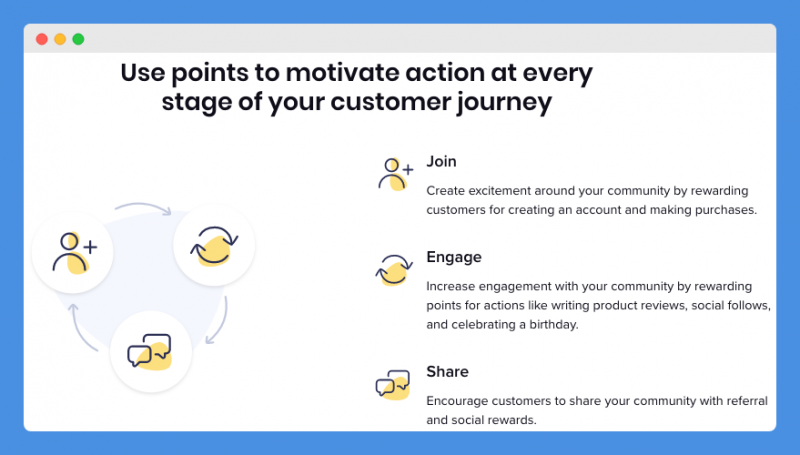 Smile.io makes it easy for customers to join, engage with, and share your loyalty program. One of the benefits of a point-based rewards program is that you can build a strong switching barrier with it. Hence, your customers are less likely to switch to a competitor if they're close to earning a reward.
Smile: Rewards and Loyalty is laden with features that help you build strong customer loyalty. Here are its features:
Engagement-based Rewards
Different Types of Rewards
Points Expiry
Custom Points Names
Rate Limiting
Earning Conditions
Make Real-time Changes
Custom Editor
Manage Members
Analytics
Integrations
Multi-device Friendly
How will these features help you? Let's find out.
1. Engagement-based Rewards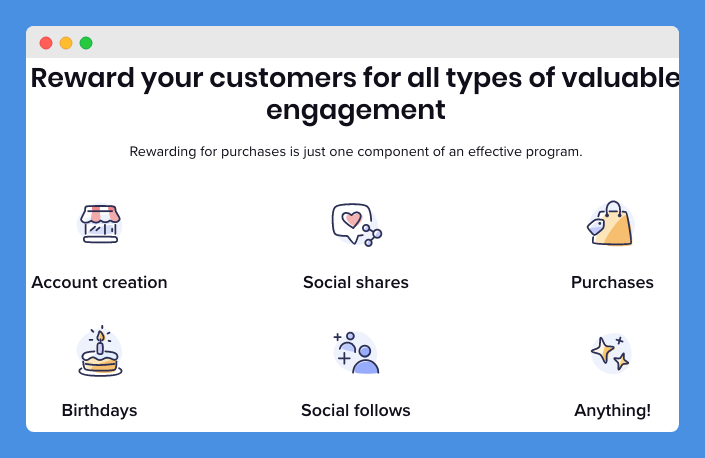 Smile.io makes it possible for you to reward your customers for any engagement you see as valuable. So they can win rewards for
Creating an account or joining your loyalty program
Sharing the program or other brand-related items on social media
Their purchases
Special days like birthdays and anniversaries
Social follows
Making referrals
You can reward them based on anything else you deem as valuable.
Explore: Awesome Ways To Use Mailchimp Popups On Shopify Store
2. Different Types of Rewards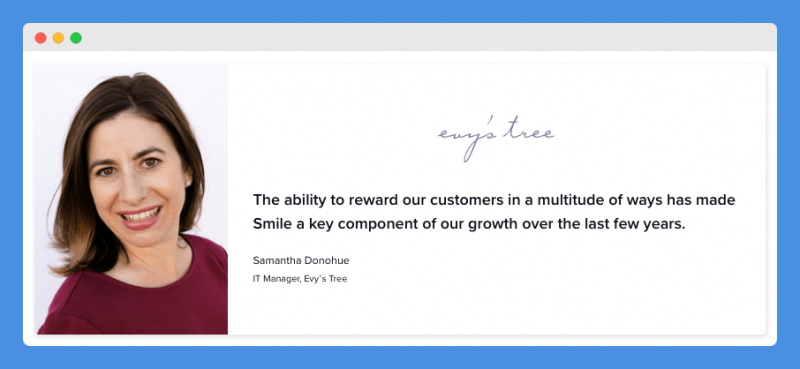 You can let your customers redeem their rewards as they like based on the options you give them.
So you can give them options like
Percentage discount
Dollar discount
Free product
Free shipping

3. Points Expiry
Some customers will stop engaging with your program as unredeemed points expire. You can re-engage these dormant customers using their built-in reactivation emails.
4. Custom Points Names
You can give your points custom names to reflect your brand identity. So you can use names like "Stars," "Pixi Dust," or "Swarm Swag" to spark your customers' interest in the program.
5. Rate Limiting
You can weight some activities more than others. That's what the rate-limiting feature helps you do. So you can predetermine the number of times a customer can earn rewards for taking a particular action.
6. Earning Conditions
Just like rate limiting, you can use earning conditions to control how your customers earn. Earning conditions sets earning rules for specific groups. It customizes your rewards program and tailors it to fit your reward objectives.
7. Make Real-time Changes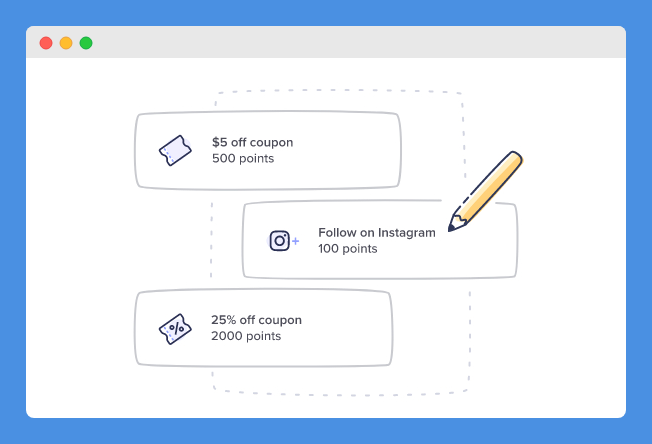 Smile.io simplifies the loyalty management system by making it easy for anyone on the admin team to change. So you won't need a developer or someone from the IT department to make changes.
8. Custom Editor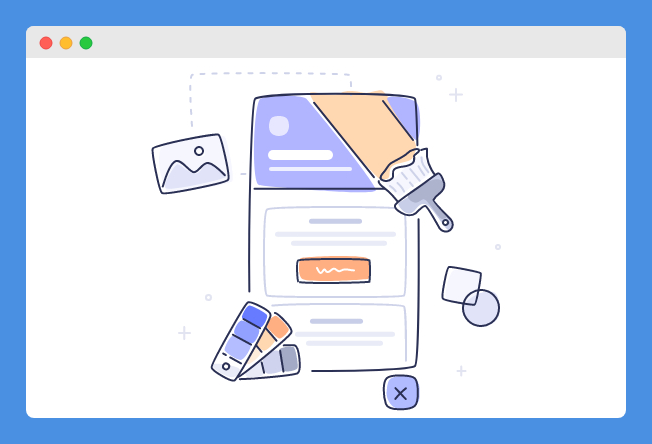 You can build a look and feel that matches your brand without using a developer. So you can create a rich customer experience in minutes.
9. Manage Members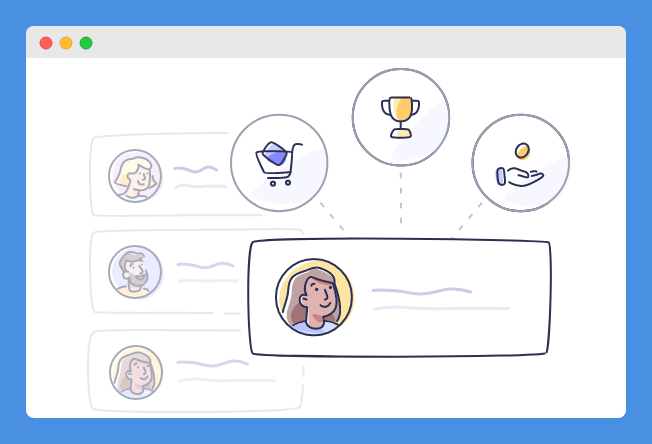 The tool lets you see your member details and how they've interacted with your program. Right from your dashboard, you'll see insights such as
The customer's point balance
Their referral URL
VIP tier
The customer's rewards history
10. Analytics and Testing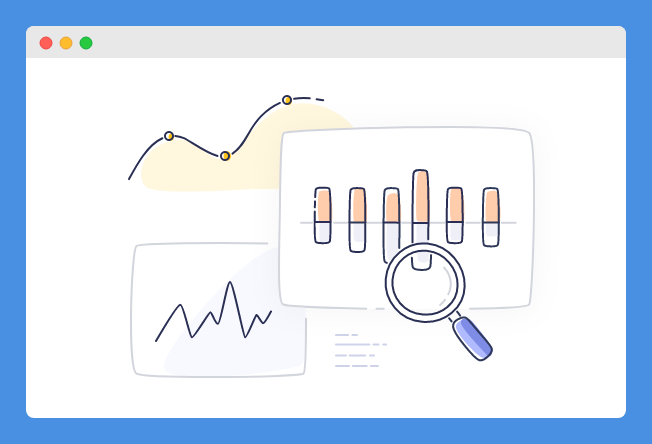 Within the Smile.io dashboard, you'll find its analytics tool. You can test new ideas and execute your marketing in real-time. Based on your results, you'll find what works for you and do more of it.
11. Integrations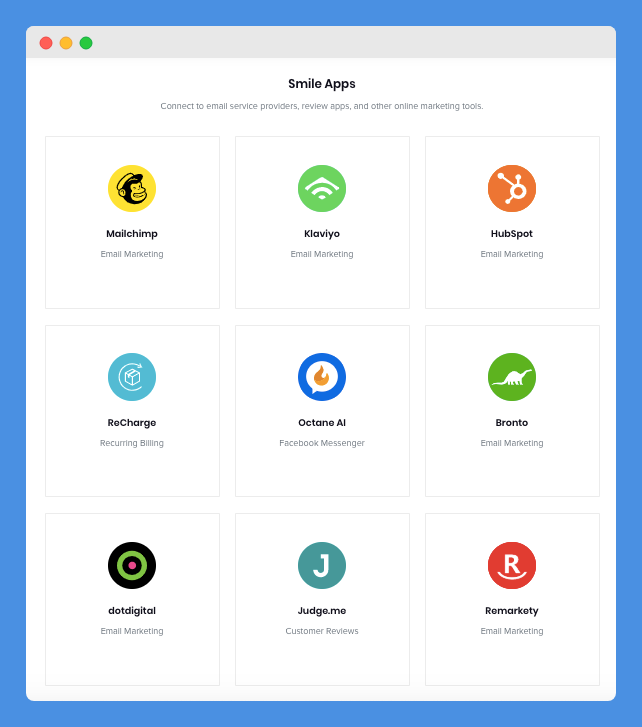 Smile.io integrates with a wide range of apps. It connects with more than 20 applications, including Yotpo, Hive.co, Ominisend, Shoelace, Loox, Gorgias, Okendo, and more.
12. Multi-device Friendly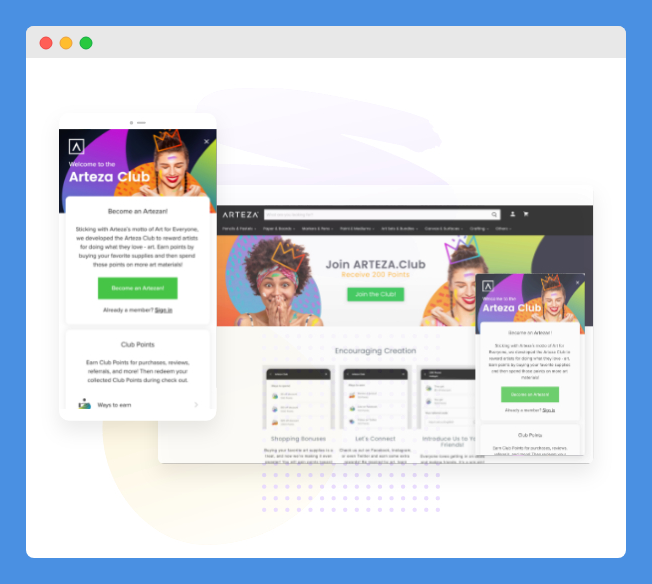 You and your customers can enjoy Smile.io on all devices. With more than 50 percent of all your site traffic coming from mobile phones, you want a platform that works across all surfaces.
Pricing
Smile.io offers three pricing plans. They designed each plan to reflect the needs and financial capabilities of its users.

The plans are
Starter: Goes for $49 a month
Growth: Prices for $199 a month and is their most popular plan.
Pro: Goes for $599 a month
Also Read: Best Pop-up Window Shopify Apps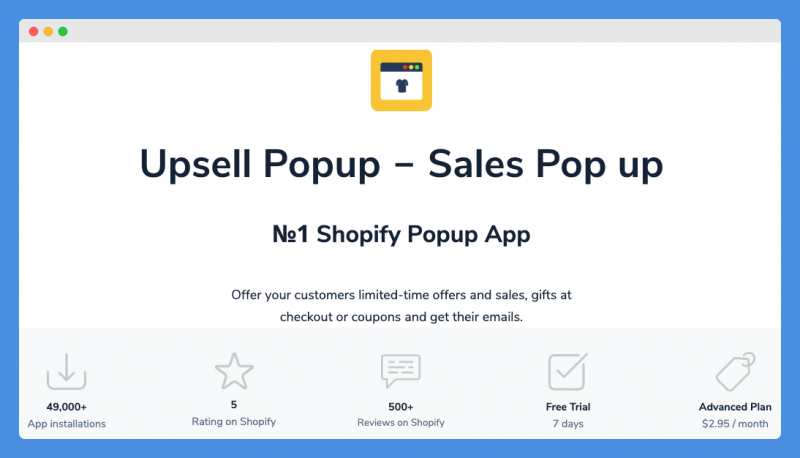 Upsell Popup aims to provide users with a tool that engages their site visitors and encourages them to buy. It starts with a warm message to welcome the visitor. If the visitor doesn't buy anything from the seller, Upsell Popup uses an exit-intent popup to give the merchant's product another chance at success.
The setup process is pretty straightforward. It has four steps
Popup Window Setup: A merchant can set up a popup window to appear when a customer opens or exits the page of a web store.
Create Button: Create and name your button and add a link to it.
Set up Popup Timing: Set a time when the popup would appear to your customer.
Customize Popup: Use relevant customizations to reflect your brand and message as you want it.
This app has more than 49,000 installations and over 500 reviews. It manages to maintain an impressive 4.8-star rating on Shopify.
We'll consider each of these features listed here. Click on anyone you want to know more about.
Unlimited Popups, Visitors, and Offers
Option to Create Different Campaigns
Highly Customizable Templates
Zero Coding Required
Email Integration
24/7 Support
So what's in it for you in each of these features? Let's explore them.
1. Unlimited Popups, Visitors, and Offers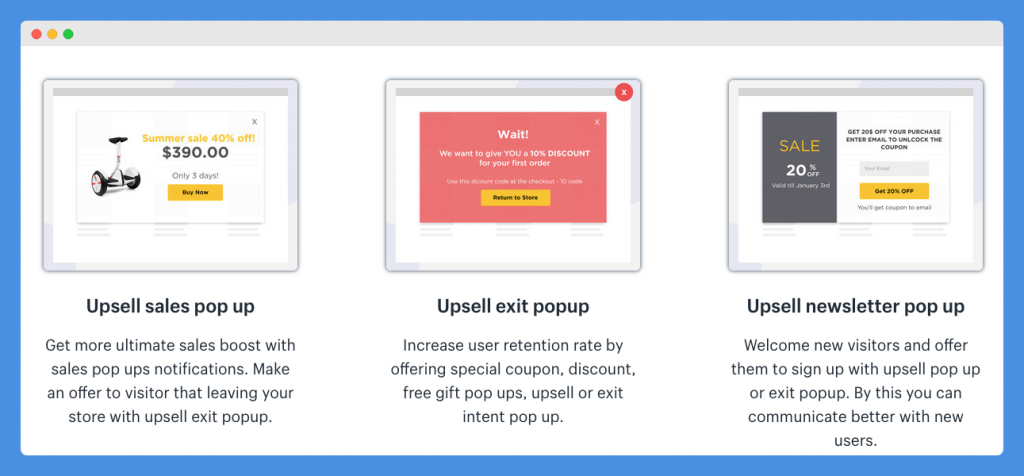 This Shopify popup app features an all-in-one toolbox of popups. It includes
Free gift popup
Exit intent
Email popup window
Discount offer popup
Upsell popup
Sales popup
You can use these popups as you wish. Yes, use it to drive your sales and marketing goals on your terms.
For example, you can use the upsell popup to gain email subscribers by making your visitors an offer in exchange for their email addresses.
2. Option to Create Different Campaigns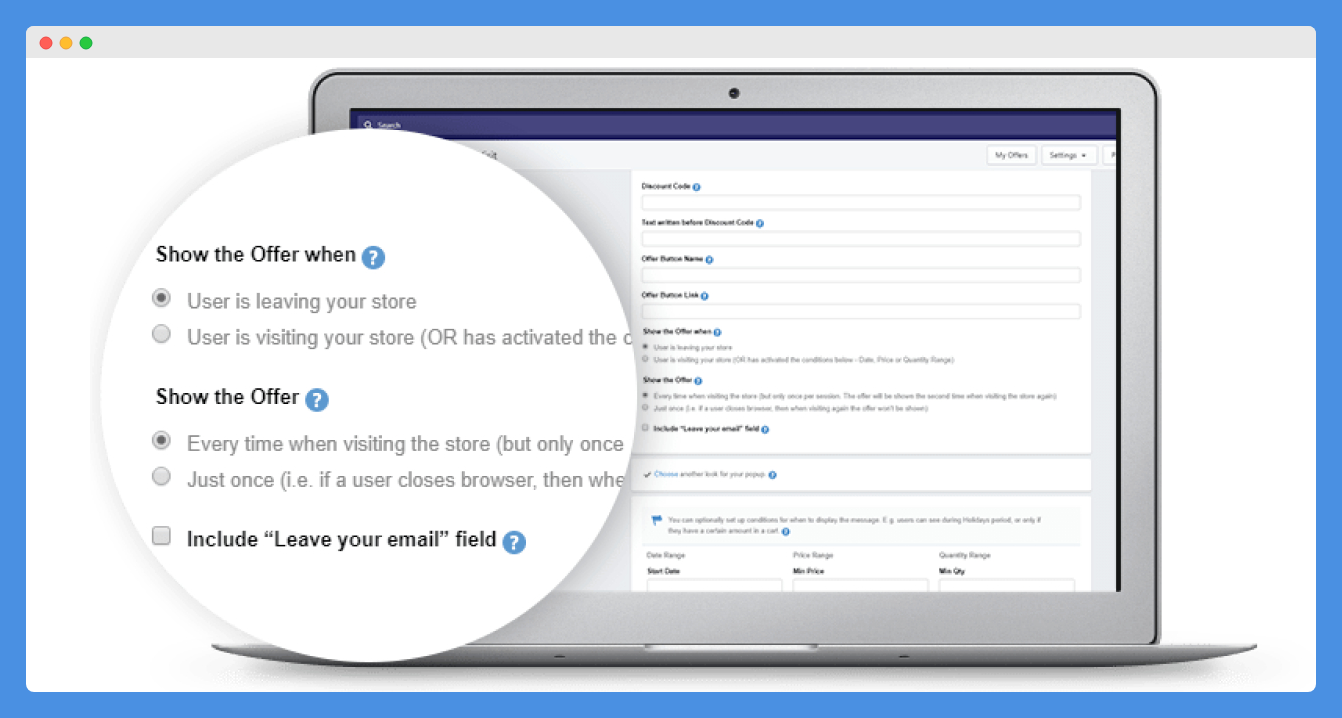 Upsell Popup makes it possible for you to run different campaigns that match your business goals. You can give limited-time offers, run a sale, give gifts at checkouts, and more. You can also offer your site visitors coupons to leave their email addresses.
This tool lets you customize each pop to fit the audience you're targeting for each campaign. So two campaigns don't have to look the same.
3. Highly Customizable Templates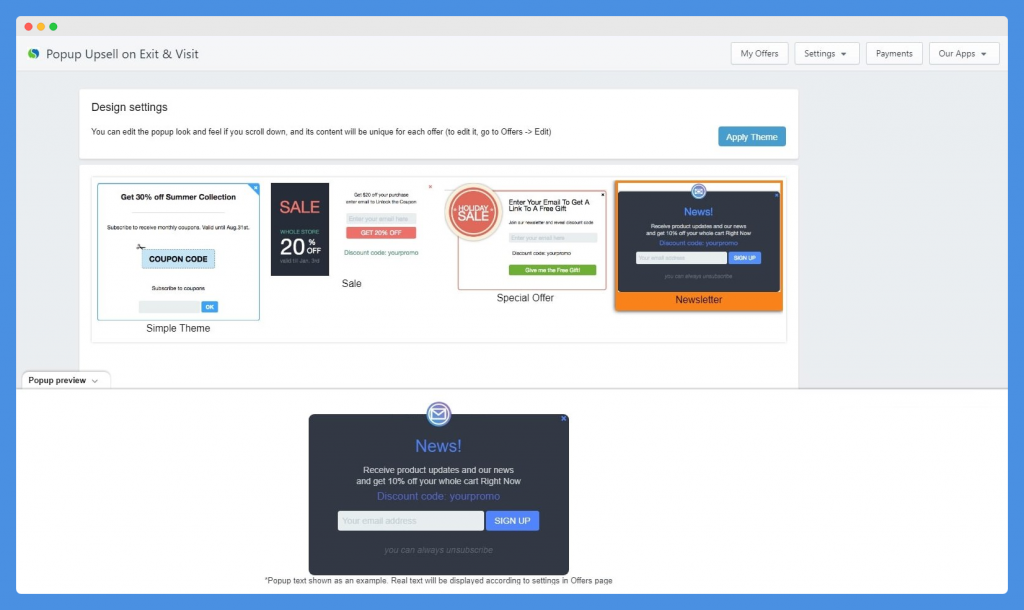 Upsell Popup comes with an easy-to-use editor. Consequently, you can create popup templates and customize them to your needs.
4. Zero Coding Required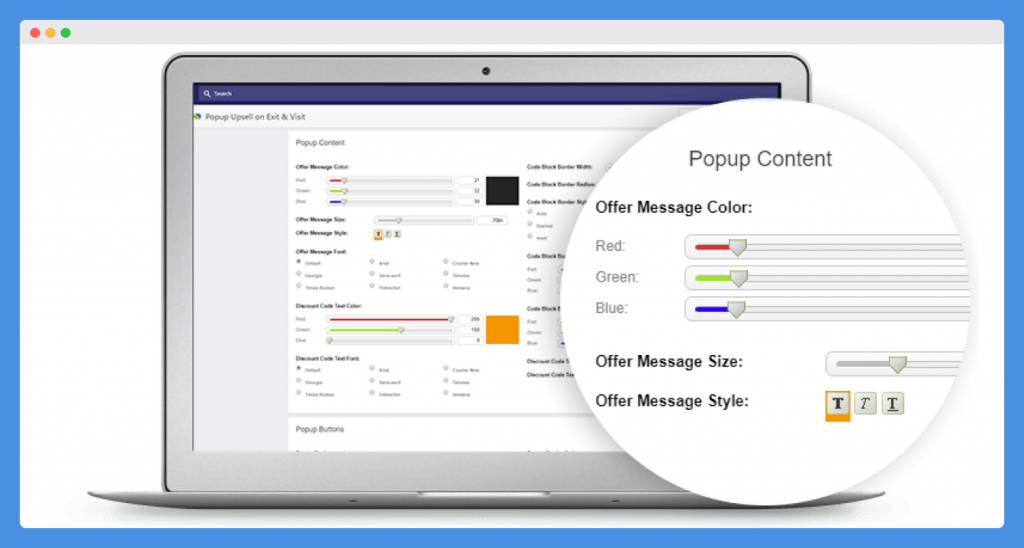 This Shopify popup app wants to give users a simple but powerful experience. So it doesn't demand users to make any manual code modifications during or after the app installation.
However, it doesn't Waterdown user flexibility and experience. Upsell Popup provides rich customization for everything while keeping them all as drag-and-drop.
5. Email Integration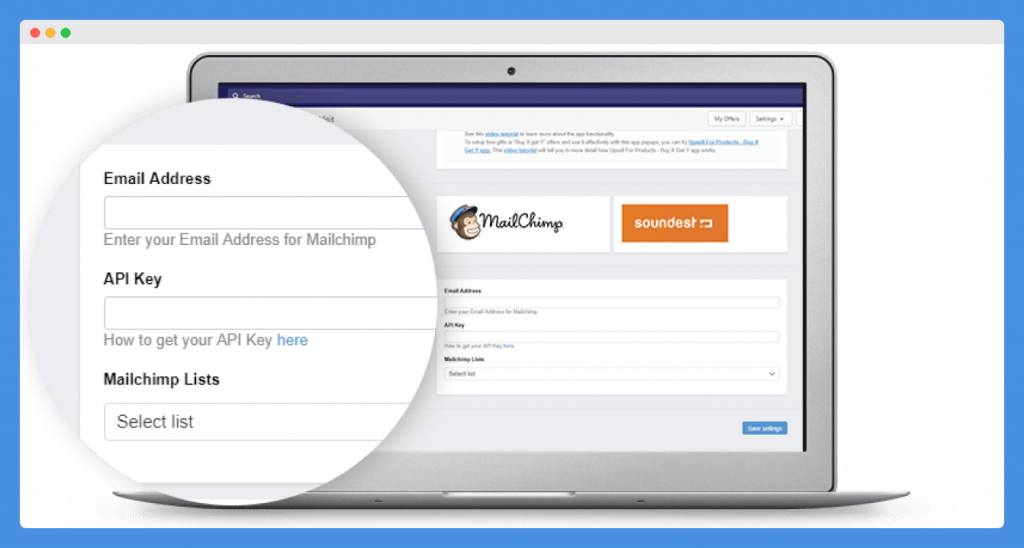 To make sure your campaigns run smoothly, Upsell Popup provides email integrations with MailChimp and Omnisend. This arrangement guarantees that your newsletter, coupon, and email offers can run without a hitch.
6. 24/7 Support
The app provides merchants with 24/7 support whenever they need it.
Pricing
Upsell Popup keeps a simple pricing plan. Merchants can test the app for seven days before committing.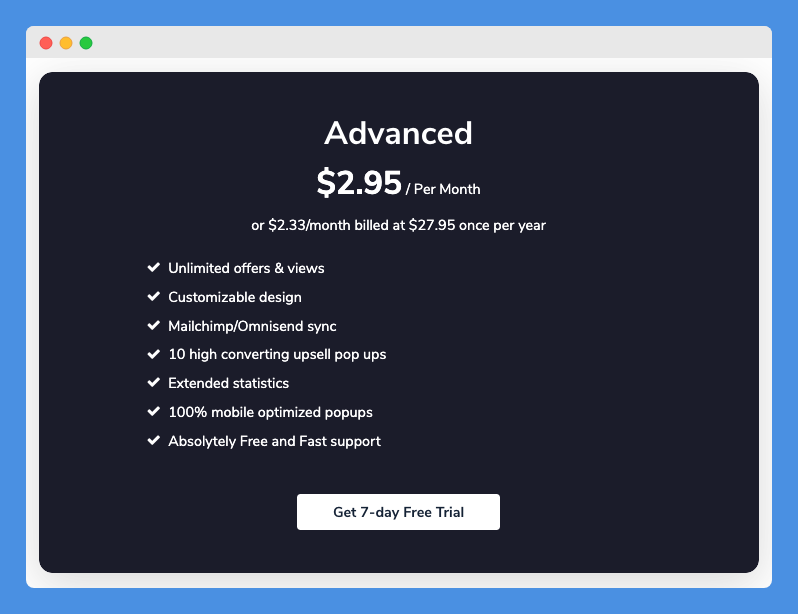 For $2.95 a month, paying users can have access to this app. If you pay for a full year at once, at $27.95, it comes to $2.33 per month.
Check Out: 10 Best Shopify Exit Intent Apps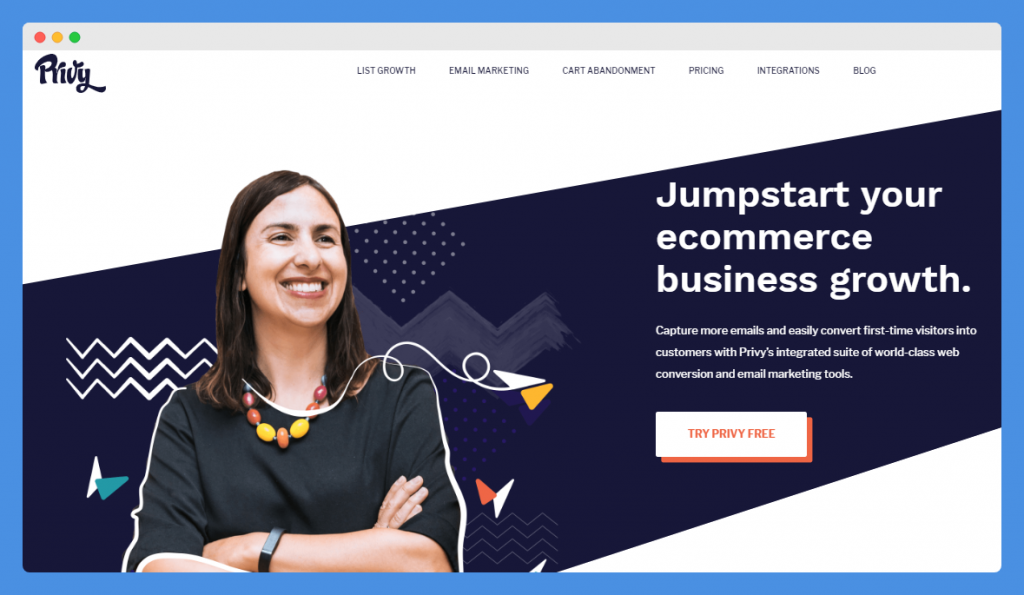 Privy allows you to capture emails and convert first-time customers easily. This app allows you to use automated recovery emails and special discounts to increase order size and reduce cart abandonment.
The popups, embedded forms, landing pages, and other tools make it easy to promote your products and engage your customers easily. Since you only have one chance to make a first impression, the app works to convert even your first-time visitors.
Features of Privy
Privy promotes free shipping, sales, and special offers. It syncs new registrants to your SMS, email, retargeting, and loyalty platforms to personalize your customers' experience. These features make it possible,
SignUp Displays
Upsell Displays
Announcement Bars
A/B Testing
Cart Saver Display
Automated Abandoned Cart Emails
On-sight Segmentation
Drag and Drop Designer
Let's explore these features in detail.
Related: Best Shopify Newsletter Pop-up Apps
1. SignUp Displays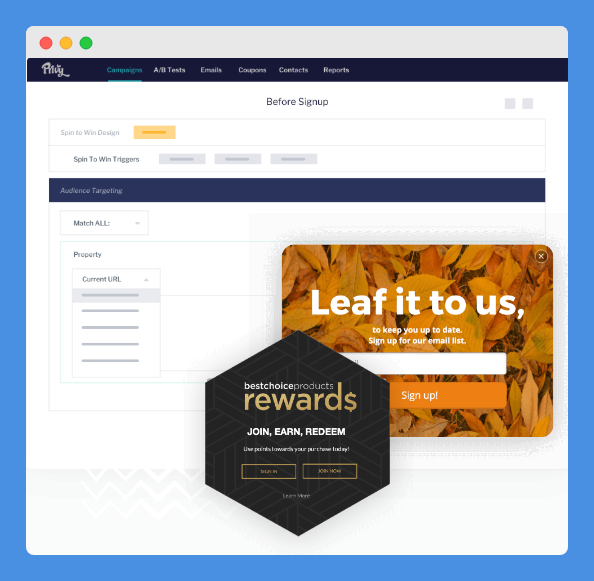 Sign up displays offer your customers discounts, unique contents, or updates in exchange for their emails. You can even gamify it with the spin to win display
2. Upsell Displays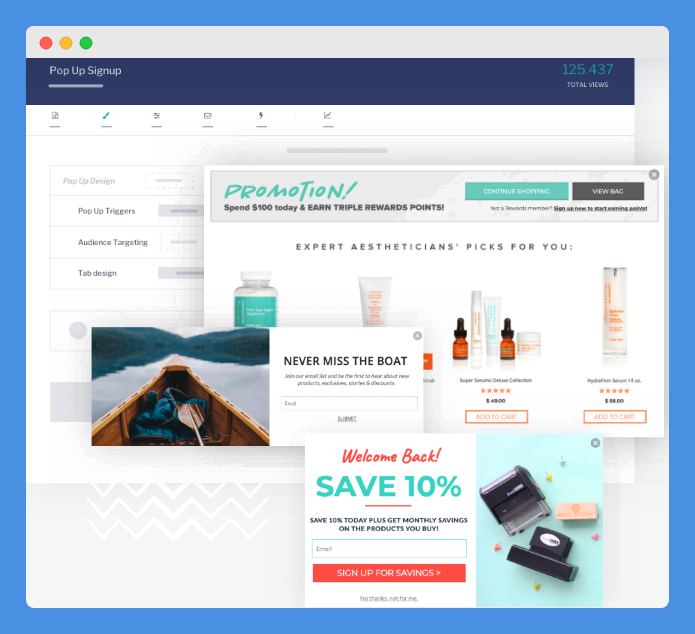 Upsell displays recommend additional products that go with what your customer already has in the cart. If the cart is empty, the popup can suggest products that might interest the customer.
3. Announcement Bars
Use announcement bars to promote special offers. These usually show as messages at the top or bottom of your site.
4. A/B Testing
You can see which of your designs, triggers, or offers perform best by using the A/B testing feature.
5. Cart Saver Display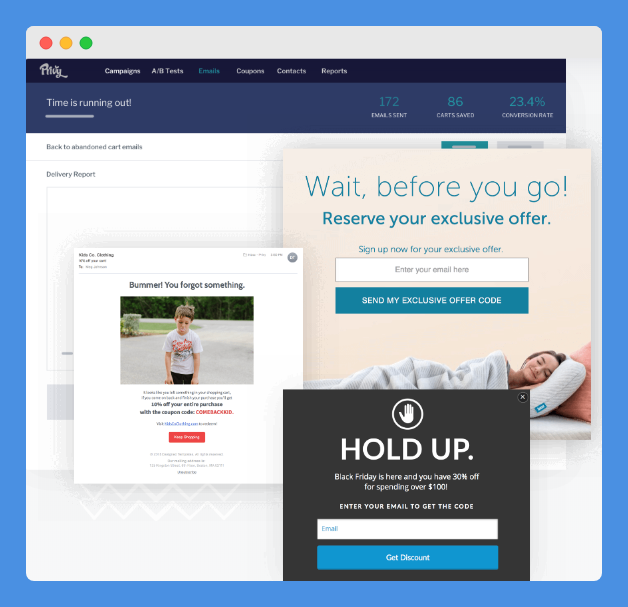 The cart saver display prevents cart abandonment with exit-intent popups on your cart or checkout page. So you're sure your customers would complete their purchase.
6. Automated Abandoned Cart Emails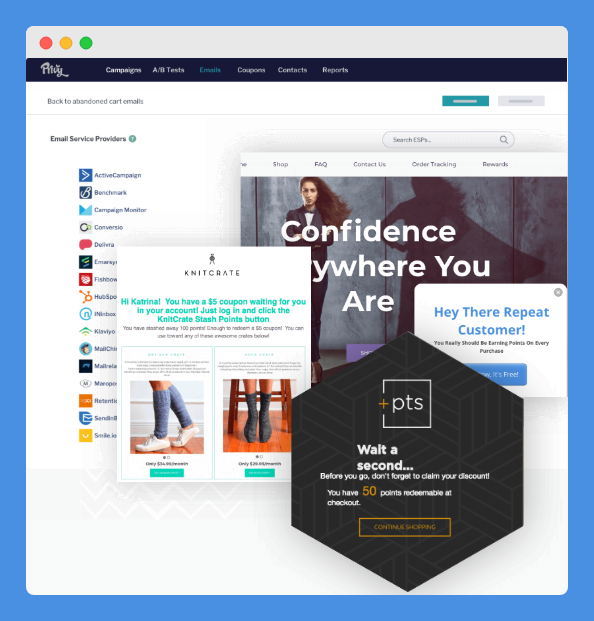 All the popups work together to reduce abandonment. However, when shoppers add products to cart and don't checkout, the automated emails remind them of it.
7. On-sight Segmentation
The app has an on-sight segmentation feature that records your visitors' session count, device, and other behaviors. So you can personalize your customers' experience.
Also Read: 15 Best Shopify Cart Abandonment Apps
8. Drag and Drop Designer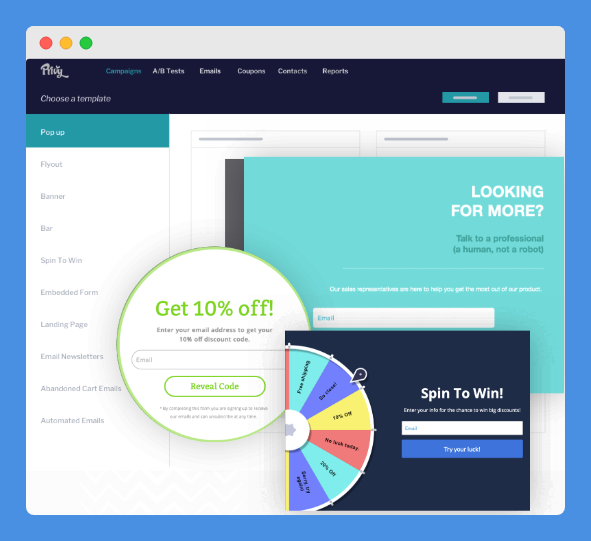 With the app's drag and drop designer, you can create professional-looking emails and displays that align with your brand
Privy's Pricing
Privy offers pricing for two products; The Privy's Growth plan and the Email plan.
Privy Growth Plan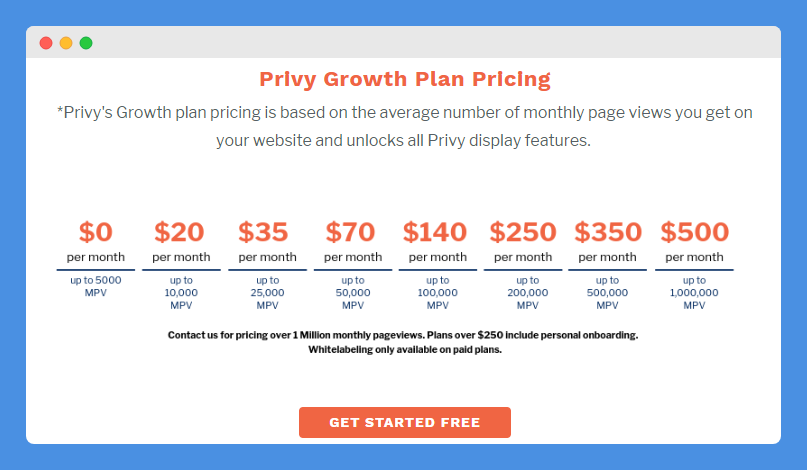 Your average monthly pageviews (MPV) determine your Privy's Growth pricing. Plus, you have access to all the features.
If your average monthly pageview ranges from zero to 5000, you can use Privy for free. But even when you start paying, it's affordable.
From 5,001 to 10,000MPV, you pay $20.
$35 covers up to 25,000MPV, and all you need to cover 1,000,000 MPV is $500.
Although this payment plan covers a maximum of 1 million monthly pageviews, you can contact Privy if yours are larger.
Email Marketing Pricing
For the email marketing plan, the payment starts at $10 per month for the first 1,000 contacts. And for every 1000 mailable contact, you pay $5 per month. Note that this pricing doesn't include the Growth plan.
Check Out: Apps To Boost Shopify Traffic
Wrap Up
These are some of the top Shopify checkout popup apps on the platform. You don't have to install or use everything at the same time.
You can find what works for your brand and go with it. Of course, you can switch things up any time, if you want.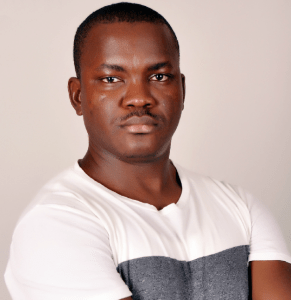 Nicholas Godwin helps businesses tell profitable brand stories that their audiences love. He's worked on projects for Fortune 500 companies, global tech corporations and top consulting firms, from Bloomberg Beta, Accenture, PwC, and Deloitte to HP, Shell, and AT&T. Works with Mofluid these days.