Email isn't dead, and it is not fading into oblivion anytime soon. The number of daily email exchanges will hit 347.3 billion in 2023.
Over the years, organizations have harnessed email marketing to drive growth. About 80 percent of small and medium businesses still use email marketing for customer acquisition.
MailChimp leads the email marketing industry with a 60 percent market share. Other email providers, including Moosend, share the remaining 40 percent.
MailChimp and Moosend equip businesses with email marketing and automation tools. They also have extensive customer support. But they offer more features, and we will highlight some of them in this article.
Furthermore we will compare both platforms to determine which one is the best.

Overview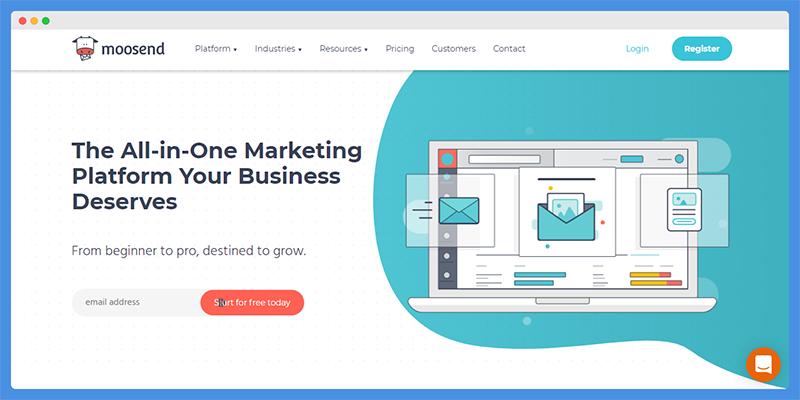 Moosend is an email marketing and automation tool for businesses. Using Moosend, companies can create and manage marketing campaigns and promotions.
The company was founded in 2011 by Yannis Psarras and Panos Melissaropoulos. Also, Moosend is headquartered in London, England and has solutions for
eCommerce companies
Publishers
Agencies
Travel companies
Non-profit organizations
You can create email newsletters using their easy to use campaign builder. Their powerful email automation tool will enable you to set campaigns in motion.
With their subscription forms, you can capture leads and turn them to paying customers.

We earn a commission if you click this link and make a purchase at no additional cost to you.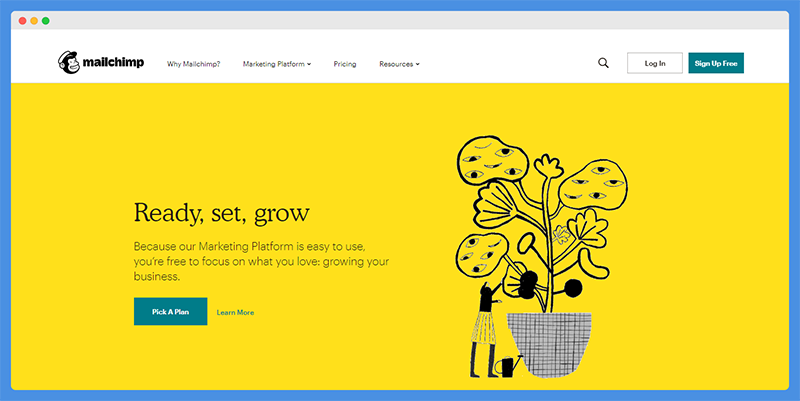 MailChimp is an email marketing service provider. Businesses can use MailChimp to drive traffic, boost sales, and increase conversion.
With MailChimp, you can run campaigns and grow your brand and audience.
The Atlanta-based company is one of the leading names in the email marketing space. Having operated in the industry for more than 20 years, MailChimp offers more than just email service. They provide a complete suite of growth tools for startups and growing businesses.
The MailChimp platform hosts over a billion emails per month. And it caters to
Marketers
Startups
B2B and B2C companies
Non-Profit and charity
Content creators
Freelancers and more
MailChimp was founded in 2001 by Ben Chestnut and Mark Armstrong. Moreso, they commit to support businesses through every stage of their journey.
MailChimp has a huge customer base of over 12 million people.
Interesting Post: Best Autoresponders & Email Software
Similarities
Moosend and MailChimp share similarities. They both offer incredible business growth tools including
Email marketing
Marketing and email automation
Landing pages
Subscription forms
Segmentation
Personalization
Email tracking
Reporting & analytics
Integrations
Differences
Email Marketing
Moosend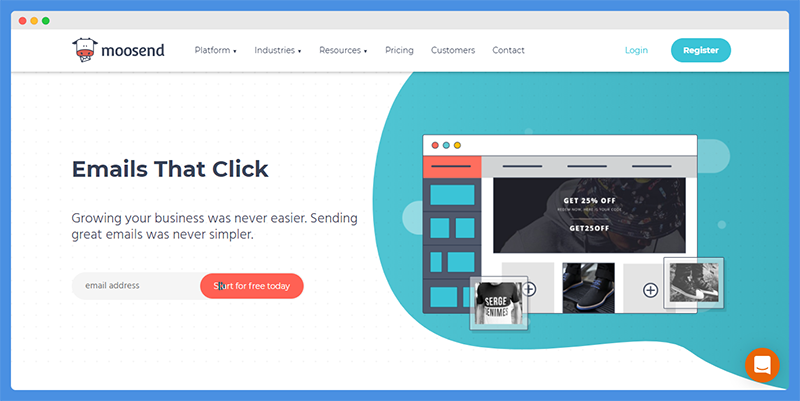 Moosend has email marketing features to grow your business. You can create and send compelling email newsletters with ease. The simple drag and drop campaign editor allows you to create professional email designs.
Plus, you don't need coding knowledge. You can choose from existing templates to create mobile-responsive email campaigns.
MailChimp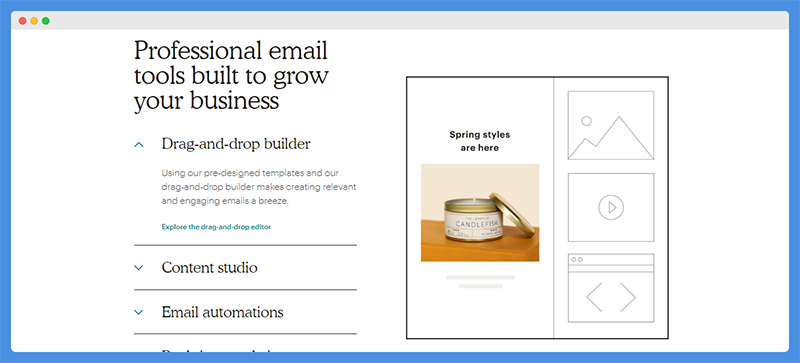 MailChimp's easy to use email builder helps you create beautiful and branded emails. Marketers can increase audience engagement with email campaigns and newsletters. Whether you are a pro or you are just learning the ropes, MailChimp will guide you through every step.
Verdict
Moosend and MailChimp are winners in this category. They both have email marketing tools to take your business to their next level.
Also Read: MailChimp Review
Email Design Tool & Templates
Moosend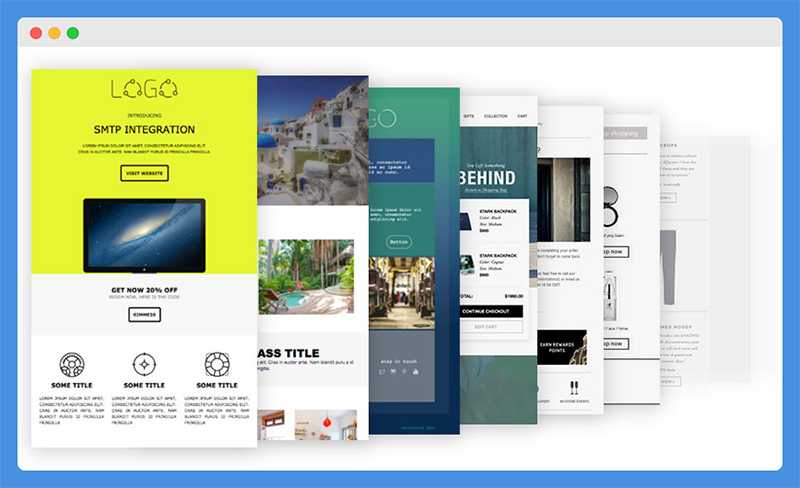 Moosend has more than 40 free, responsive, and beautiful design templates. You choose any template that suits your needs to create your campaign in a few minutes.
Also, you can edit existing templates and spice them up with dynamic elements to give you a branded look. With access to templates from different categories, you can send the right email on every occasion.
Some of the template categories include
Christmas
e-Commerce
Black Friday
Real estate
Food and more
MailChimp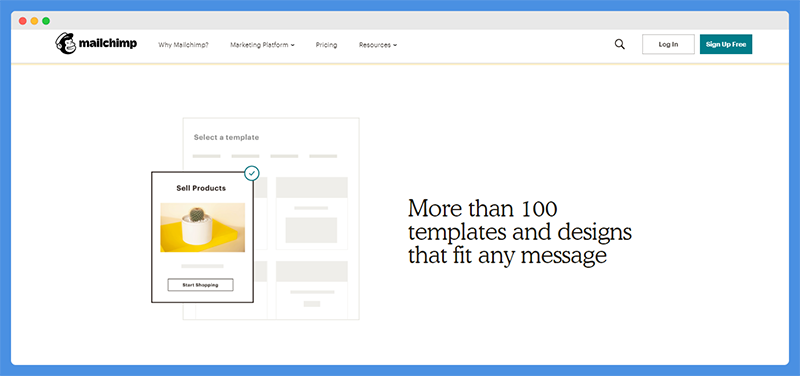 MailChimp has pre-designed templates to help you create your campaign in minutes. You can use the content blocks and design elements to customize your design.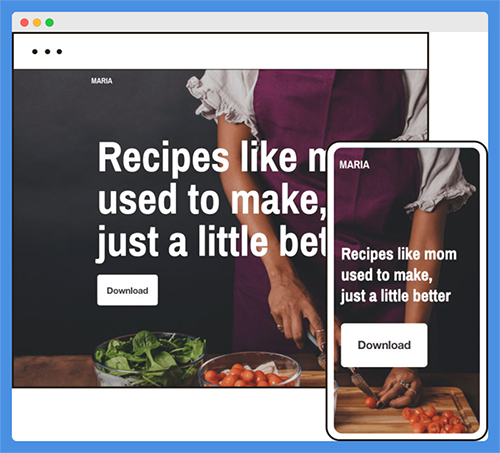 MailChimp has a library of over 100 templates and you can choose suitable templates for every occasion. You will find templates that will help you
Drive product sales or app downloads
Promote a new or existing product
Welcome new users or subscribers
Verdict
MailChimp is the winner. MailChimp has over 100 templates, while Moosend has just 40 templates. With MailChimp, businesses can choose from a wide range of templates.
Interesting Comparison: Aweber vs Constant Contact
Email Marketing Automation
Moosend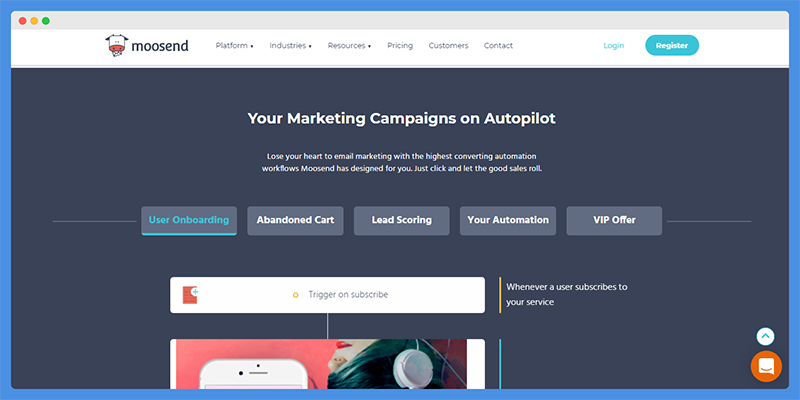 This feature lets you automate marketing tasks so that you don't miss out on anything important.
With email automation on Moosend, you can
Save time
Increase effectiveness
Achieve your goals
Just build unique automation workflows and your marketing campaign will be on autopilot.
First, select your events that trigger the automation. Next, set conditional and control steps. Finally, choose the actions that should occur from the list.
Moosend has eCommerce automation templates for
User onboarding
Cart abandonment
Special offers
Lead scoring

We earn a commission if you click this link and make a purchase at no additional cost to you.
MailChimp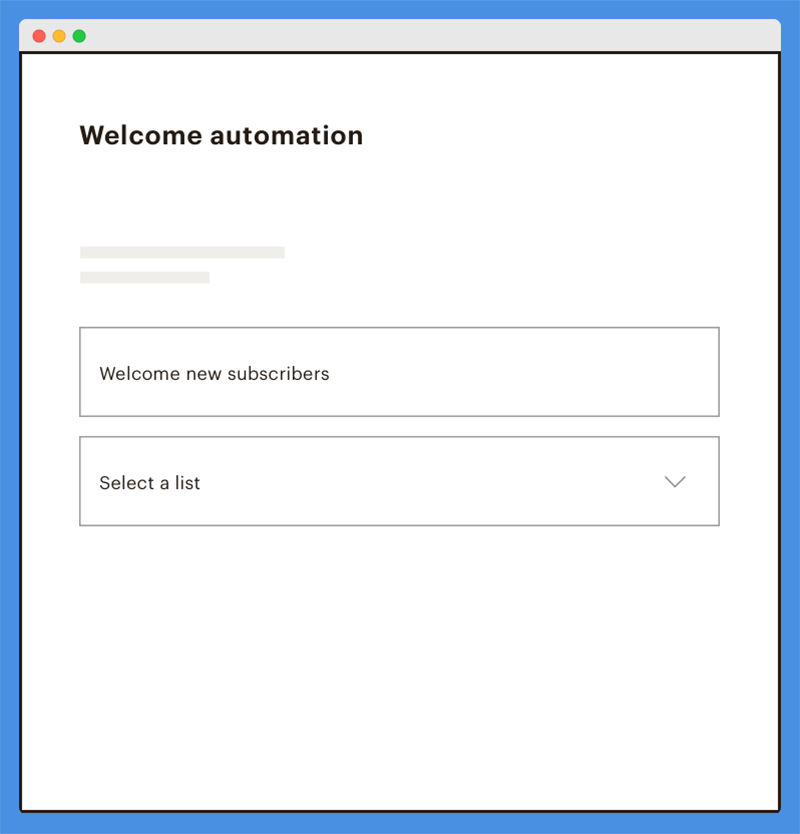 With the email automation feature, you can create and use timely customer engagements.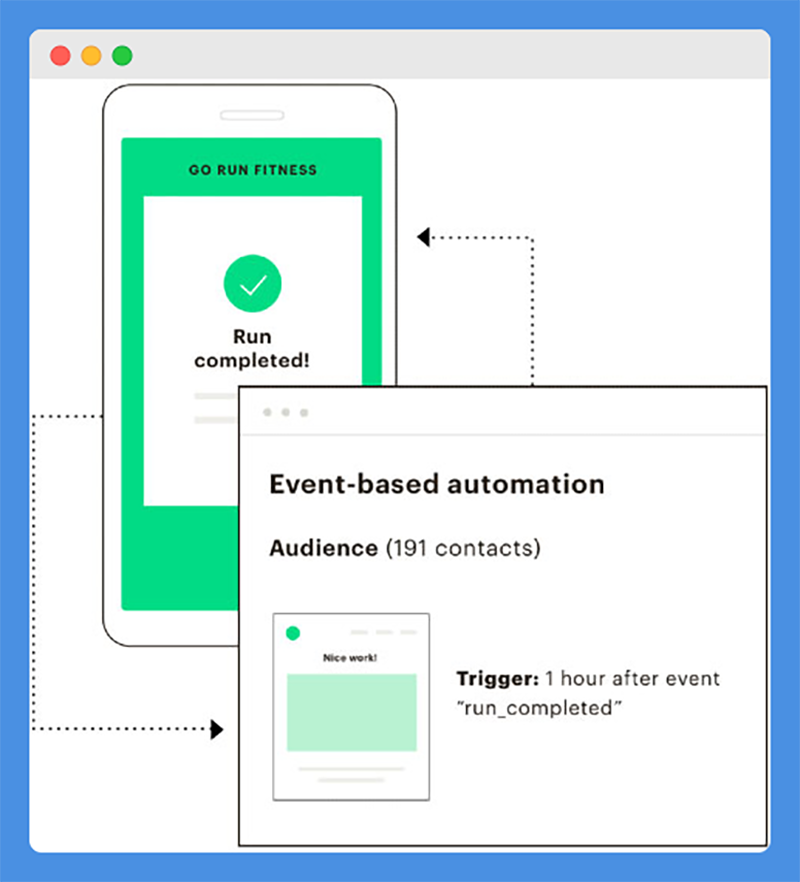 Furthermore, companies can
Build their brand via automated emails and interactions with prospects. They can send welcome, date, and event-based automation. Also, they can reach out to customers on birthdays, anniversaries, etc.
Increase sales by sending cart abandonment emails. This automated email is to remind customers of items they left in the cart
Recommend and showcase their products to customers
Send product retargeting emails and order notifications
Drive customer loyalty via product and service follow-ups, exclusive sales, loyalty and reward programs, and promotions
Verdict
Firstly, MailChimp has more automation options and templates. Secondly, their automation features are more advanced but easier to set up. You can design your workflows in a matter of minutes. Therefore, MailChimp wins.
Landing Pages
Moosend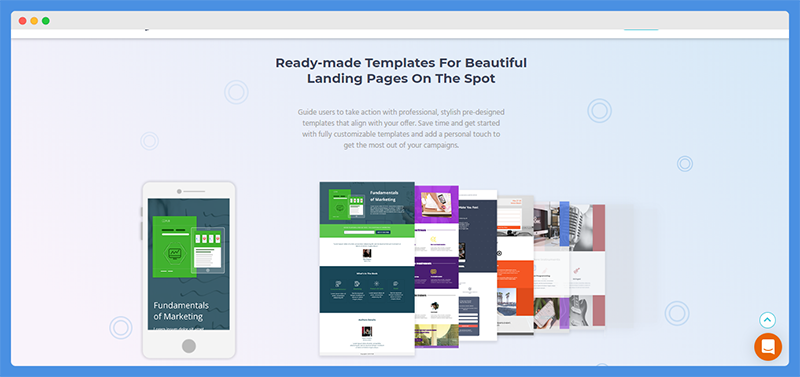 Moosend lets you create beautiful landing pages that can boost conversions. With high conversion landing pages, you can convert visitors into customers.
Marketers can create, edit, move, and resize your landing pages using the drag and drop editor. There is no need to hire a web designer.
Additionally, you can use their ready-made templates to create your landing pages. With just a few tweaks, you can customize existing templates to your taste.
Their templates are responsive. And it allows you to create a unified experience between mobile and web users.
Moosend's CDN improves your Google rankings and AdWords quality. Moreso, it distributes your content to many places and increases your coverage.
Furthermore, you can add countdown timers to your landing pages. By creating a sense of urgency, you can generate more leads and increased sales.
Moosend provides landing page success boosters including
Facebook and Google Analytics pixel tracking
Custom JavaScript capabilities
Spambot protection and free SSL
Built-in forms and custom fonts
Landing page versioning
Campaign and page labeling
WordPress plugin
MailChimp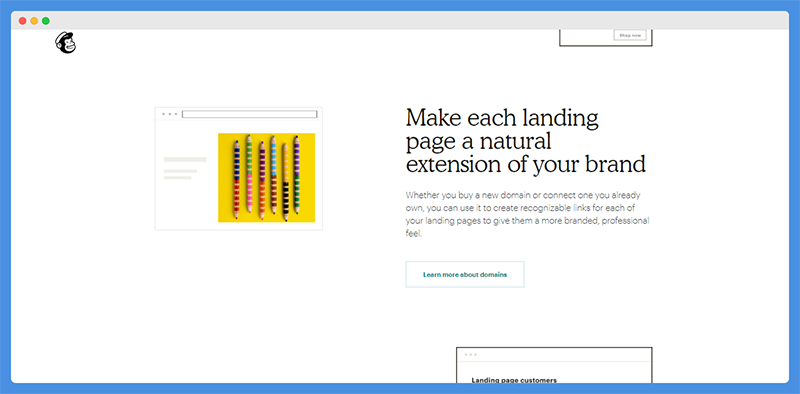 With MailChimp, you can design beautiful landing pages in a few minutes. You can use the drag and drop builder to create your landing pages. Yes, it's that simple.
MailChimp allows you to choose from existing templates to build your landing pages.
Their templates library caters to different business categories.
Whether you are testing your products or creating a buzz for your new brand, MailChimp has got your covered.
Landing pages help businesses increase their MailChimp audience by 36 percent.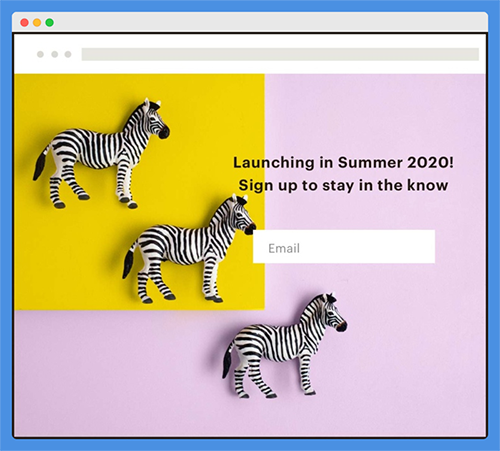 Companies can build landing pages to
Sell items and receive online payments
Promote best and top-selling products
Encourage downloads
Grow your email and contact list
MailChimp optimizes your landing page to become responsive on any device.
You can use your brand domain to create links for your landing pages.
Verdict
Moosend is the winner. Their landing page has additional features to increase landing page visibility. The Moosend content delivery network improves your Google rankings and AdWords quality.
You Might Want To Read: Best MailChimp Alternatives
List Building & Management
Moosend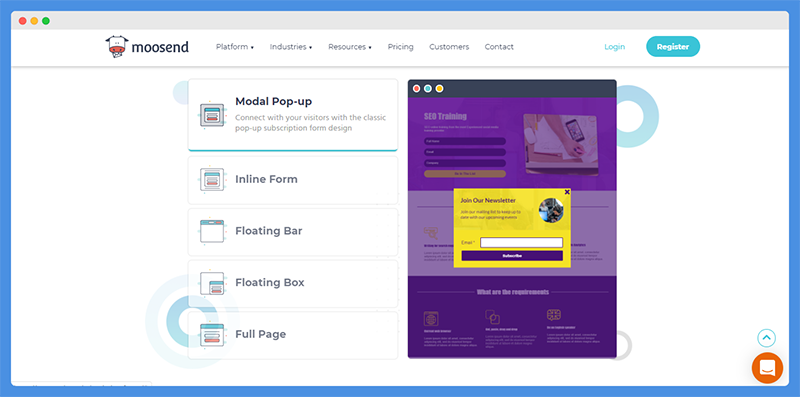 Moosend has subscription forms to help you build your customer list. Although, it doesn't have an inbuilt CRM tool. Moosend supports integrations with a wide range of CRM tools, including Zoho, Microsoft Dynamics, Salesforce, and more.
You can collect contacts and leads with their mobile responsive and user-friendly forms. Bloggers can add subscription forms to capture their reader's attention and collect their info in the process.
Moosend has a myriad of ready-made forms for various industries. You can choose and customize your forms using different styling options. Furthermore, by adding your brand elements, you can give the form a more professional look.
You can create full-page forms, inline forms, floating bars, floating boxes, and modal pop up forms.
Moosend lets users create form rules. They can
Set their visibility and decide what and when they want their visitors to see
Decide whether forms are targeted at mobile or desktop users
Display subscription forms based on visitors city or country
Choose the displays based on visitor's operating system

We earn a commission if you click this link and make a purchase at no additional cost to you.
MailChimp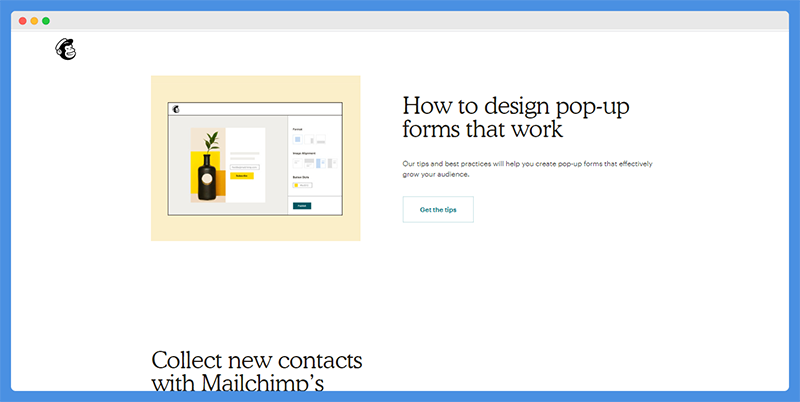 Using subscription forms on their websites can help businesses increase the list growth by 50 percent.
With MailChimp's sign-up forms you can build your customer list.
Furthermore, users can create custom forms that match your business needs. They can
Grab visitors attention using useful popups
Embed their custom form to the website's sidebar or footer
Share their forms by posting the links to their digital channels
Building a subscription form on MailChimp is easy. You don't need a design or coding experience.
Go ahead and add your logo and background images to create a visual appeal. Then, choose your fonts and colors and create a compelling call to action button.
MailChimp lets your translate your form into more than 50 different languages.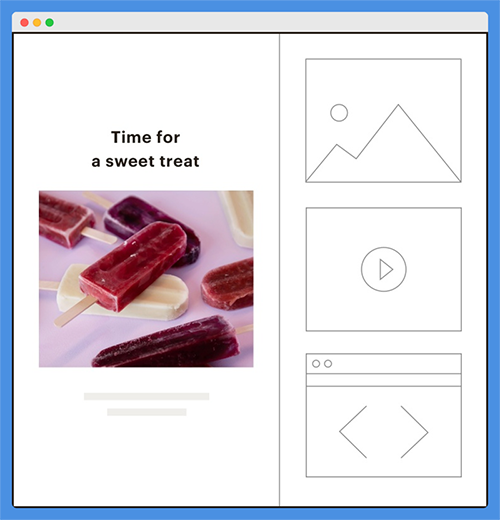 It doesn't just end with building your email list. MailChimp's complete CRM helps you manage your subscriber or customer list. Moreso, the marketing CRM tool will help you create long-lasting customer relationships.
First, you need to organize your customer data into ready-made or self-created segments. Then, understand customer data patterns, such as growth sources, customer lifetime value, etc. Finally, you can act on the insights from data to build personalized customer experiences.
Verdict
MailChimp has a marketing CRM tool that can help companies manage customer engagements. The CRM tool is a useful addition and makes MailChimp the winner in this category.
Worth Reading: MailChimp vs SendinBlue vs Mailjet
Audience Targeting & Segmentation
Moosend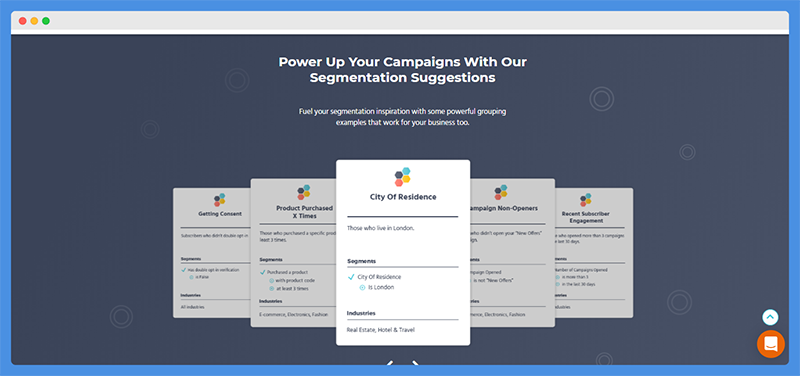 With this feature, you can segment your audience for effective targeting. Moosend lets you create dynamic recipient categories and your segmentation criteria may be based on different information types.
You can base your segmentation on demographic data like gender and age. Also, you can use advance segmentation options that groups audiences based on user behavior.
Moosend lets you create advanced segments based on
Type and number of purchases
Number of times they have viewed your products
Segmentation allows marketers to get their message to the right audience in a few clicks' time.
Furthermore, behavioral segmentation and targeting will help you increase sales and conversion.
Moosend lets you create and send personalized emails to customers. You can send personalized abandoned cart emails or product recommendations to boost sales.
MailChimp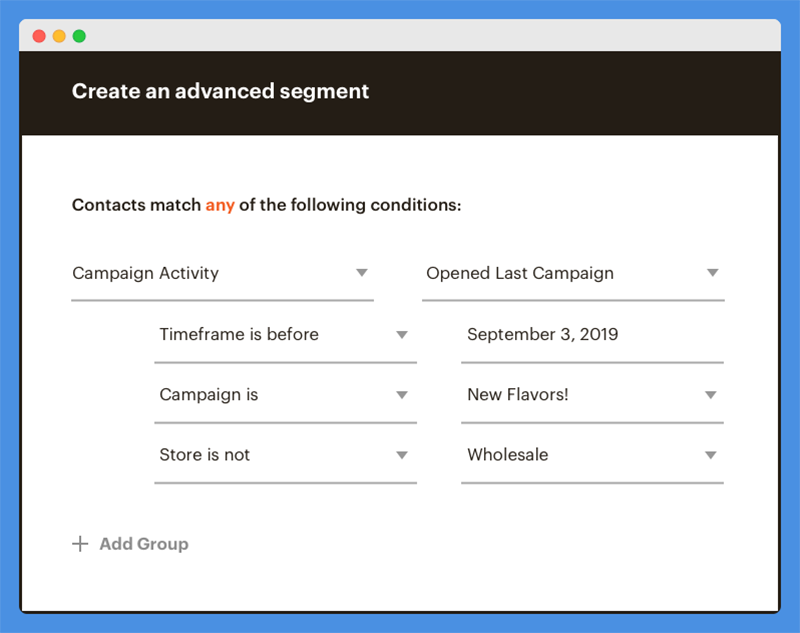 Segmentation lets you send the right emails and campaigns to the right audience.
Segmented campaigns have higher open rates and click-through rates than unsegmented campaigns. MailChimp reports that the open rate and click-through rate is 29 percent and 49 percent higher, respectively.
MailChimp has extensive segmentation options. It allows you to combine up to five segmentation criteria to create a target audience.
You can create segments and filter audience data based on
Automation activity
Campaign, postcard, and conversation activity
Contact rating
Email client (desktop, mobile, webmail, Outlook, Gmail, Android, iPhone, etc.)
Email marketing status (subscribers, unsubscribed, non-subscribed, and cleaned)
Landing page activity
Sign-up source
Language and location
Email marketing engagement and more
MailChimp also provides advanced segmentation options based on gender, age range, purchase activity, and more.
Additionally, MailChimp allows users to send personalized campaigns targeted at specific audiences.
You can trigger emails based on customer behaviors such as
Campaign clicks and opens
Website visits and page navigations
Product purchases
App engagements and interactions
MailChimp has a lookalike audience finder. This tool scans your CRM data and network to help you find contacts that share similarities with your contacts.
Verdict
MailChimp is the winner. They offer advanced personalization, segmentation, and targeting features. The lookalike audiences finder helps you reach the right audience.
A/B Testing
Moosend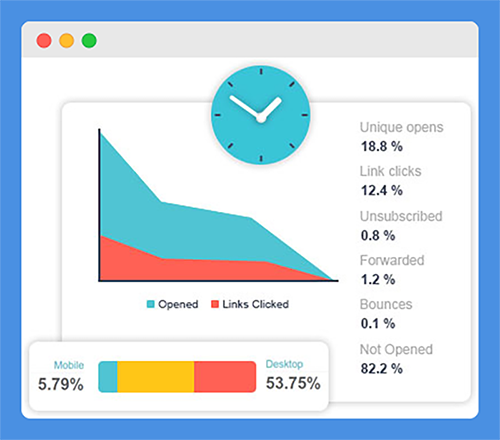 Moosend's A/B split campaign allows you to test different email design versions. This feature helps you identify the variants that customers prefer, what they want, changes that should be made, and more.
You can create different versions of the
Campaign sender
Subject line
Email campaign content
After creating different campaign versions, go ahead and set up the campaign winning criteria. The winner may be the campaign with the highest number of unique opens or the highest number of unique clicks.

We earn a commission if you click this link and make a purchase at no additional cost to you.
MailChimp
With the A/B testing feature, you can send test campaigns to different audience segments. You can try out different campaign layouts, send times, images, subject lines, and content to see what works best. And you can test up to three different variations of your campaign.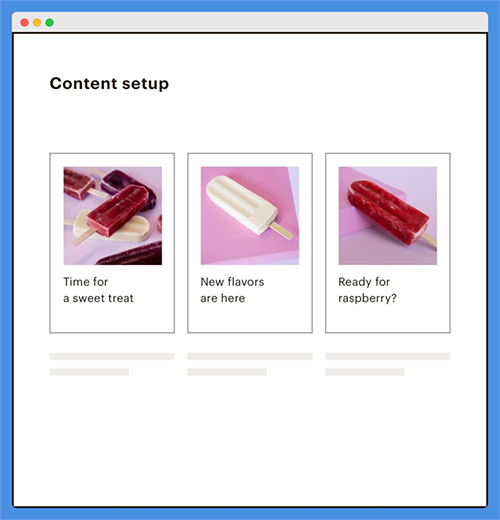 More so, you can decide how many people will receive your test campaigns.
MailChimp allows you to define your success metrics. Your success metrics may be opens, clicks, or revenue.
After the test, MailChimp will automatically send out the campaign that performs best.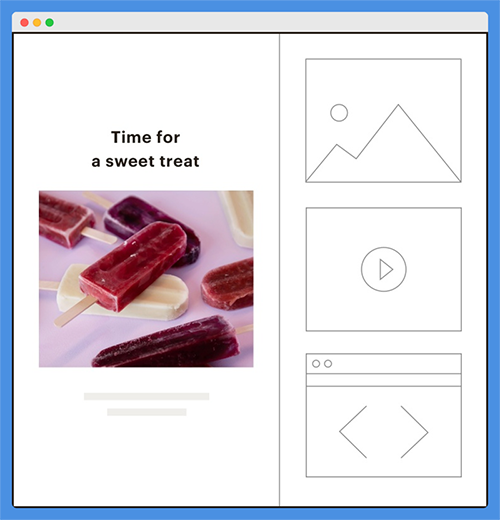 MailChimp's multivariate testing allows you to test eight different versions of your campaign.
Verdict
Moosend allows you to create only two different versions of your campaign. But MailChimp's A/B testing lets you test three campaign variations. Also, with the Multivariate testing, you can test up to eight different campaign variations. So MailChimp is the clear winner.
Also Read: MailChimp vs PHPList vs SendinBlue
Mobile Apps
Moosend
Moosend does not have a mobile app for email marketing.
MailChimp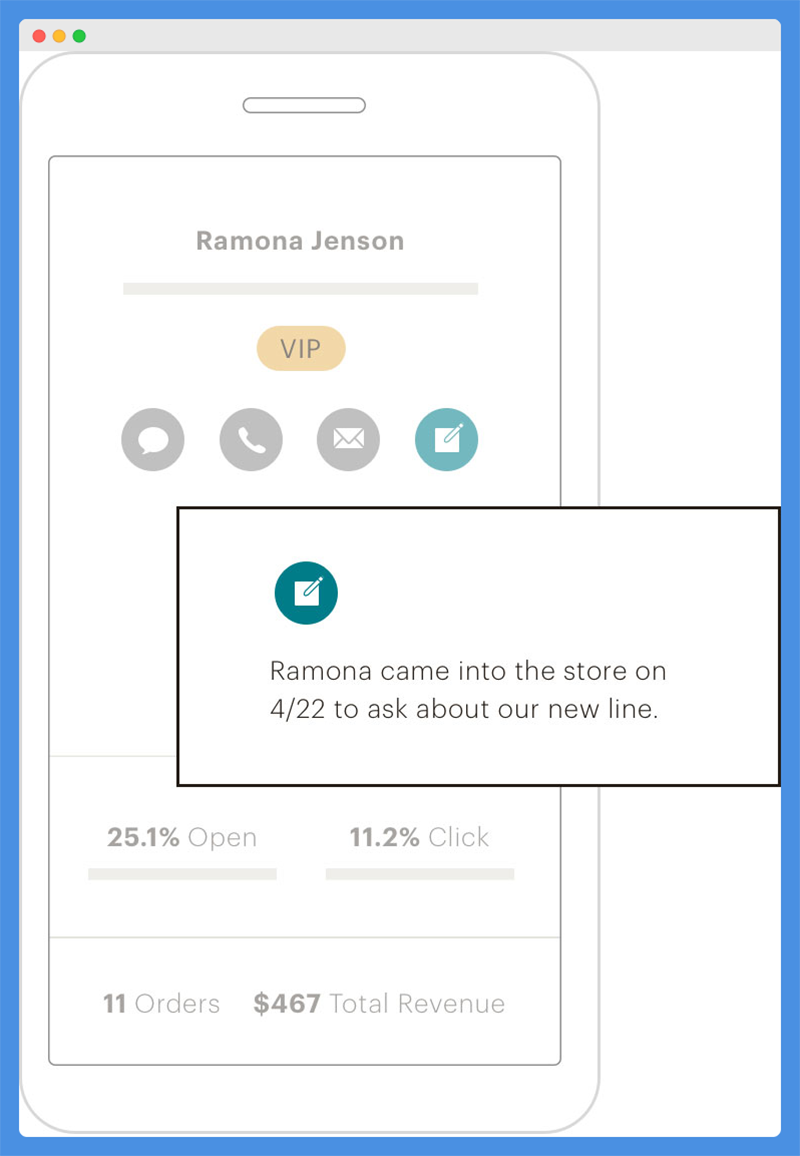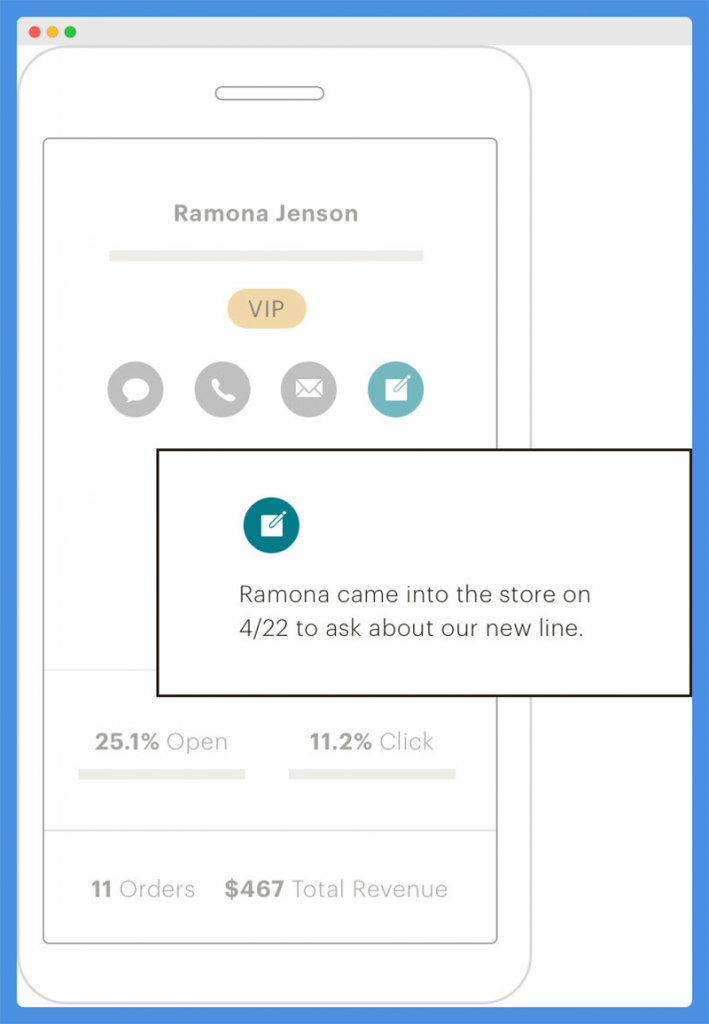 MailChimp has a mobile app that allows you to create and send email campaigns on the go. You can also track your campaign content, audience growth, and engagement.
With their dashboards, you can view and gain insight on campaign analytics and performance.
Verdict
With their mobile app, you won't miss out on essential activities. You can create and manage your email campaigns wherever you are located.
Therefore, MailChimp is the winner.
Tracking, Report & Analytics
Moosend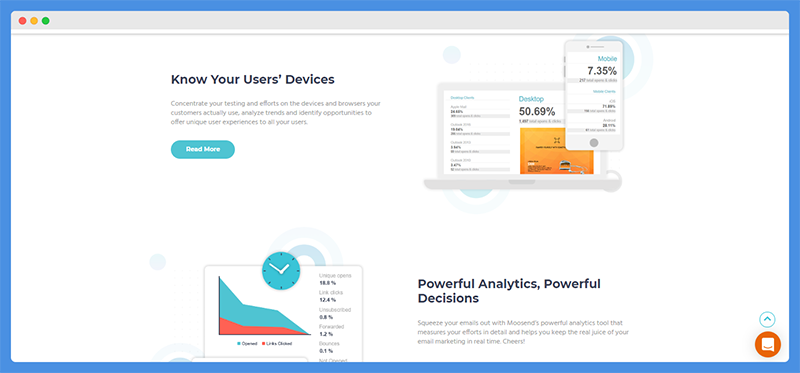 This tracking feature allows you to keep tabs on your customers' journey on your website. Moosend utilizes advanced techniques to help you track your campaigns, automation, and list building. Their comprehensive reports and analytics will help you make accurate business decisions.
You can get a complete overview of your campaigns. Also, marketers can track subscribes, unsubscribes, bounce rates, click-through rates, and more. With the analytical data, you can measure and improve your performance.
Moosend allows you to download, share, and analyze your data.
MailChimp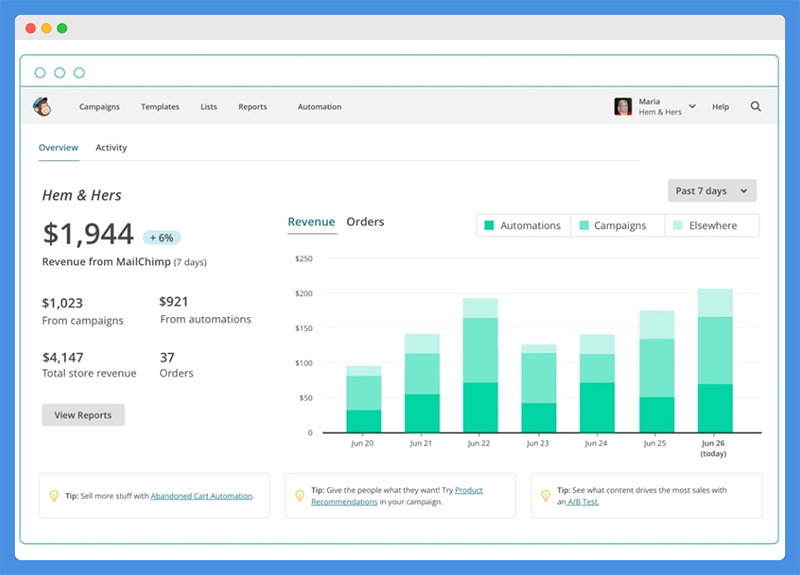 MailChimp allows you to track your marketing campaigns, automation, landing pages, and more.
With the real-time data, you can track performance and refine your campaign strategy. More so, you can monitor trends to make smart decisions.
With their revenue, growth, and engagement data, you can gain insight into audience behavior.
You can compare your email data such as email clicks, opens, subscribes, or unsubscribes with your competitors.
MailChimp's revenue reports will help you measure your campaign ROI. You can analyze purchases by customers and revenue from those purchases.
Furthermore, MailChimp provides smart and personalized recommendations to help you achieve more results. They have tools that will enable you to create, manage, and optimize your campaigns.
Verdict
Again MailChimp wins.
MailChimp has advanced tracking and analytics features. They provide revenue reports and help you calculate your campaign ROI. Furthermore, they offer smart options to help you achieve success.
Interesting Comparison: ConvertKit vs Aweber
Integrations
Moosend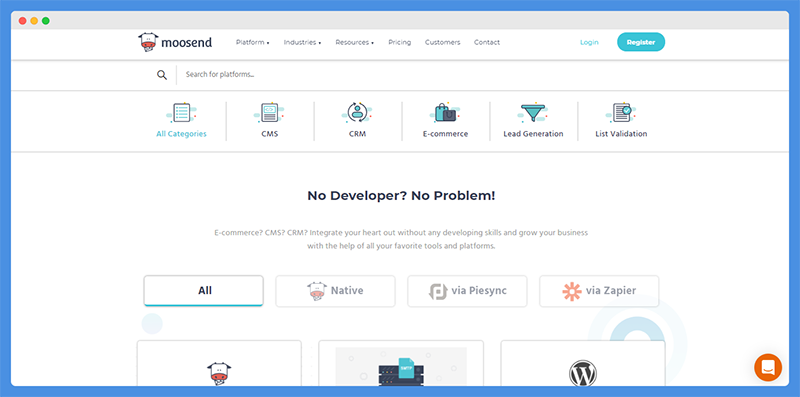 Moosend supports integrations with more than 1,000 tools. You can connect with tools in the following categories
CMS
CRM
eCommerce
Lead generation
List validation and more
MailChimp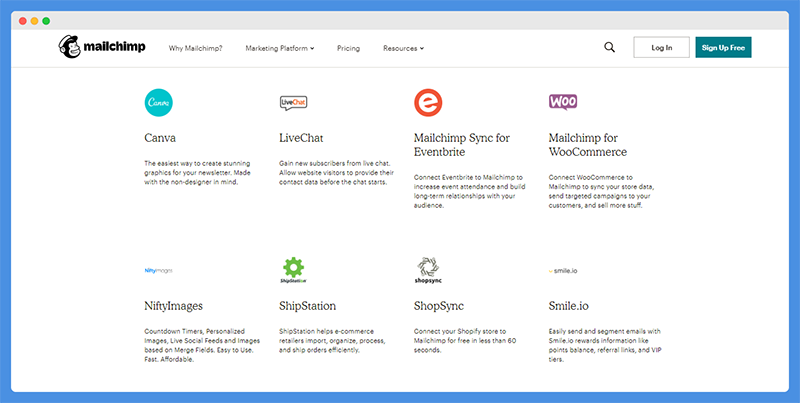 MailChimp supports integrations with more than 300 tools. You can access tools in categories including
Marketing
Productivity
Social media
Finance and accounting
eCommerce and more
Verdict
Moosend supports more integrations than MailChimp, therefore Moosend wins.
Email API
Moosend
Moosend offers an API that allows developers to connect their software to the email platform.
MailChimp
With MailChimp email API, developers can build integrations and solutions that will connect with their email software.
Verdict
Both Moosend and MailChimp offer an email API. Therefore they're both winners in this category.
Security
Moosend
Moosend has advanced security features. It has Antibot protection that protects your landing pages from spambots. Moosend offers free SSL to help keep your data secure and is GDPR compatible.
MailChimp

The MailChimp provides robust security. Its email platform has transport layer security (TLC) encryption.
Login pages and customer logins through the platform API have brute force protection.
Verdict
Both tools offer advanced security features. Moosend and MailChimp are both winners.
Customer Support
Moosend
Moosend offers email and phone support, live chats, webinars, and a knowledge base.
MailChimp
Customers on the free plan can access the knowledge base and email support. Subscribers on other paid plans will access the knowledge base, email, and chat support.
Users on the premium plan can access all the customer support options, including phone support.
Verdict
Moosend wins. Users on the free plan have access to live chat, phone, and email support
Pricing
Moosend
Moosend's pricing depends on the number of subscribers. All plans support unlimited email campaigns every month.
Zero to 1000 subscribers – $0
1,001 to 2,000 – $10
2001 to 3000 – $20
Just slide the subscriber number, and you will see the pricing for that range. Annual payments will help you save 20 percent.
Moosend also offers PAY AS YOU GO pricing.
Each email costs $0.001
350,o00 credits – $350
500,000 credits – $500
750,000 credits – $750
1,000,000 creits – $1,000
One credit represents one email sent.

We earn a commission if you click this link and make a purchase at no additional cost to you.
MailChimp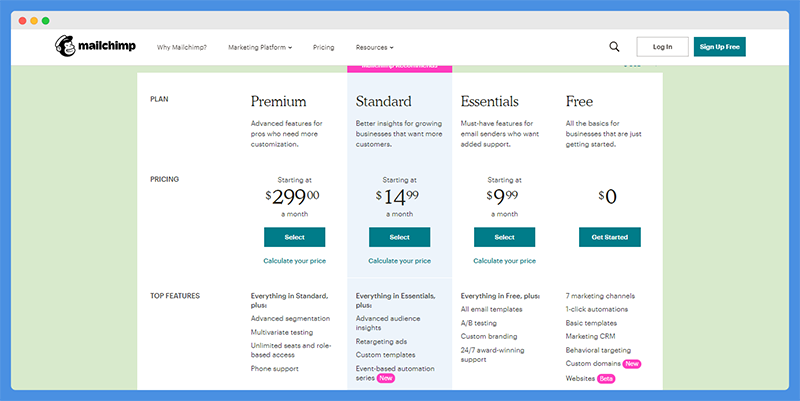 MailChimp has four major pricing plans. Pricing is calculated based on the audience and list size.
Free Plan (2000 contacts) – $0
Essentials (50,000 contacts) – $9.99 per month
Standard (100,000 contacts) – $14.99 monthly
Premium (more than 200,000 contacts)- $299.00 per month
Verdict
Moosend is the winner. They offer two pricing options and with the free plan, you can send unlimited campaigns every month.
Also Explore: SendinBlue vs Constant Contact
Advantages
Moosend
Has a free plan and unlimited emails per month
Supports a plethora of integrations
Flexible pricing plans and options
Customer support is responsive and helpful
Robust knowledgebase
MailChimp
MailChimp has a free plan
Supports a broad range of integrations
MailChimp offers smart recommendations
Has a mobile app
Form translation into 50 languages
Business can create digital and social media ads
Their tracking and analytics tool offers better insights
You can manage customer list with their CRM tool
Extensive resources and knowledgebase
Verdict
MailChimp has more pros and is the winner.
Disadvantages
Moosend
No mobile app
Has limited email design templates
MailChimp
Users on the free plan have limited support
Verdict
MailChimp is the winner because it has a few cons.
Final Verdict: Moosend vs MailChimp
MailChimp is our overall winner. It is one of the leading email marketing platforms. However, Moosend also offers incredible value to users. The beautiful thing is that both tools have free plans.
MailChimp has evolved from just an email marketing tool to a business improvement tool. The email remains its most robust feature and offers more customizations.
MailChimp has a tracking and analytics feature that provides in-depth and real-time insight. And their mobile app allows users to create and manage their campaigns on the go.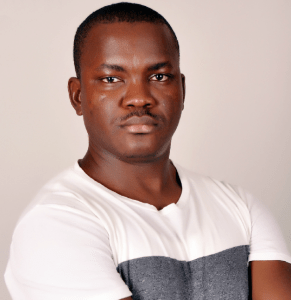 Author: Nicholas Godwin
Nicholas Godwin helps businesses tell profitable brand stories that their audiences love. He's worked on projects for Fortune 500 companies, global tech corporations and top consulting firms, from Bloomberg Beta, Accenture, PwC, and Deloitte to HP, Shell, and AT&T. Works with Mofluid these days.