Finding the best Amazon seller tool is quite hard since there is so much competition out there.
There are tools that are based on feedback such as "feedback five" and "feedback genius" as well as ones that are based on market research like "Helium 10" and "Viral Launch" and even ones like "SageMailer" that depend on emails.
However, there are those out there that are filled with features that you don't really use and ones that are completely useless.
Amaze Owl can be thought of as a counter to those tools since it sticks to the bare essentials that you need in order to boost your sales.
There is nothing that you can look at in AmazeOwl and say that there is no use for it. It provides you with the bare essentials and charges you accordingly so that you can use the bulk of your funding for other projects that are near and dear to you.
Other seller tools may run you dry and cost you a pretty penny to do a lot that doesn't boost your sales at all or barely makes an impact.
Though you can easily find AmazeOwl reviews on the internet but most fail to cover the tool inside out.
Today, we will do a through AmazeOwl review, covering everything from features to pricing, Amaze Owl reviews and also what we think about it.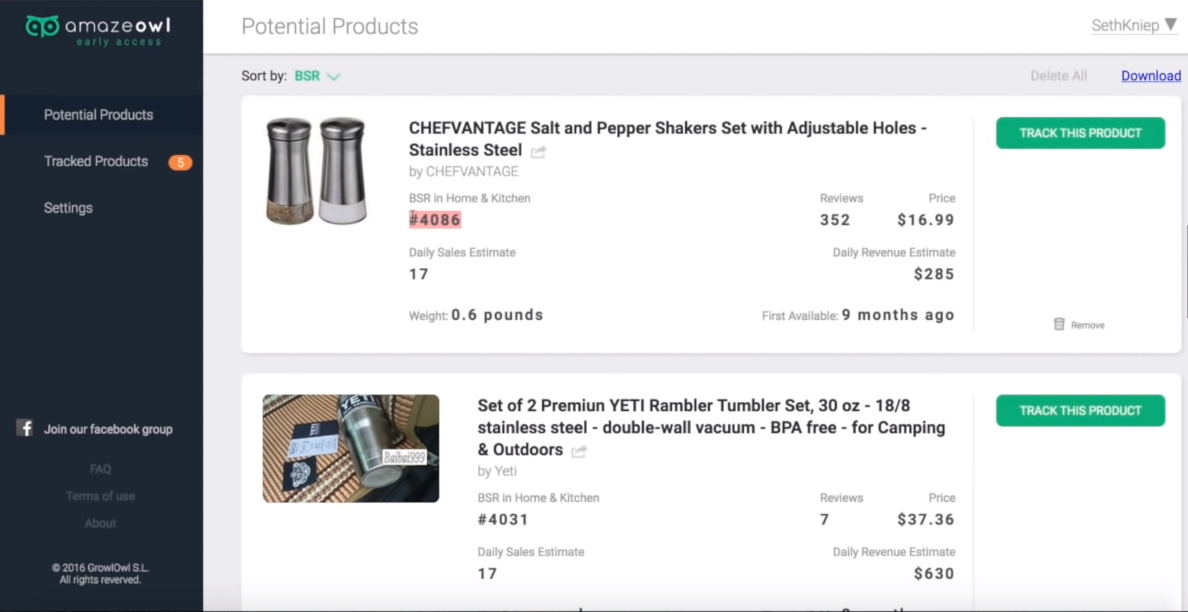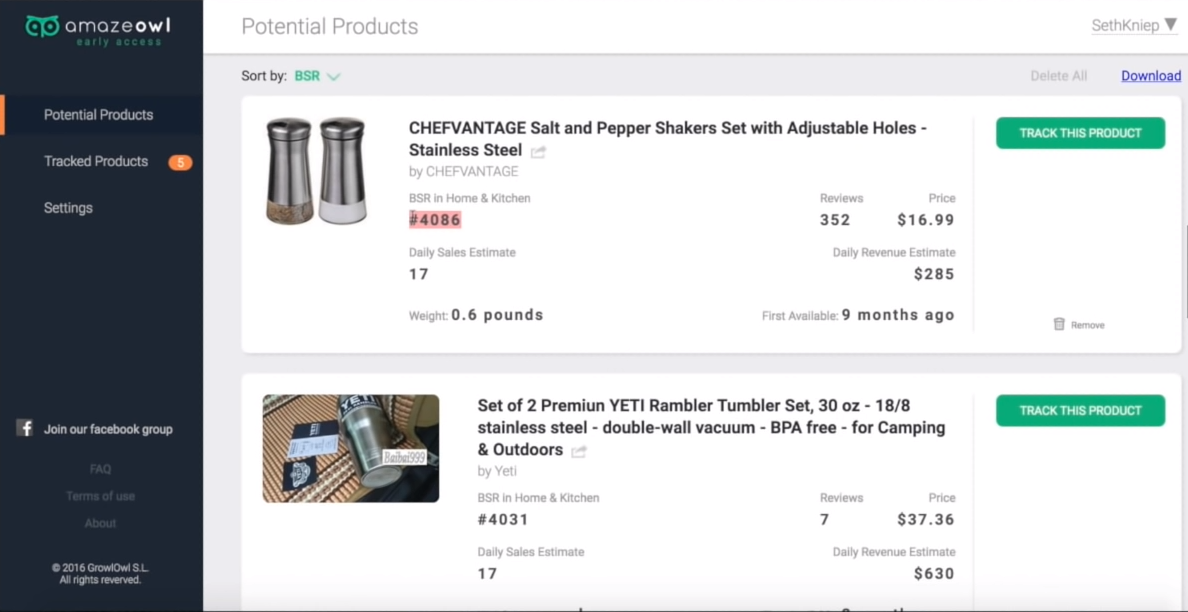 AmazeOwl, as mentioned before, is extremely bare bones in its approach. It does have access to a very large database and many marketplaces, but it sticks to the essentials when it comes to boosting sales.
It has three main features which focus on tracking down similar products, validating ideas, and staying ahead of the competition.
The product purports to have helped nearly 4000 people every month take their first steps into the Amazon seller business since its inception.
While that is a tall claim and nowhere does it mention the number of successful businesses that have spawned, it certainly isn't something to sneeze at.
Explore : Amaze Owl Vs Viral Launch
Amaze Owl Product Database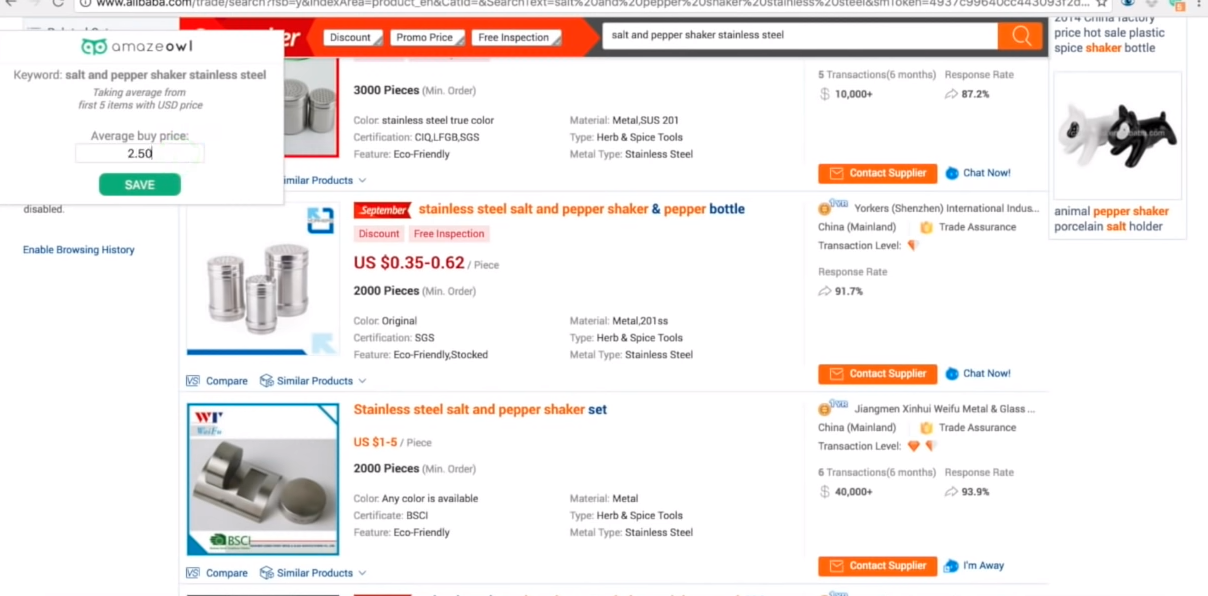 Any good seller tool should have access to the best products from all around the world so that it can compare and contrast which products are the best and which are similar to your inventory so that you can mould your strategy to try to beat their marketing.
AmazeOwl's database is 600 million products strong and growing, and it has access to 11 marketplaces including Amazon so you can see how big your competition is and where it is gaining the most traction.
This access to 11 marketplaces is what makes Amaze Owl one of the best seller tools out there.
This is great if you want to become an Amazon seller since knowledge is the one thing that you'll use to your advantage the most. Through this access, you can find product ideas very quickly and find high potential products automatically through AmazeOwl's services.
You can also access millions of product ideas through the Amazon database that AmazeOwl offers. This is updated daily so you can check every day and find new product ideas waiting to be used.
Product Validation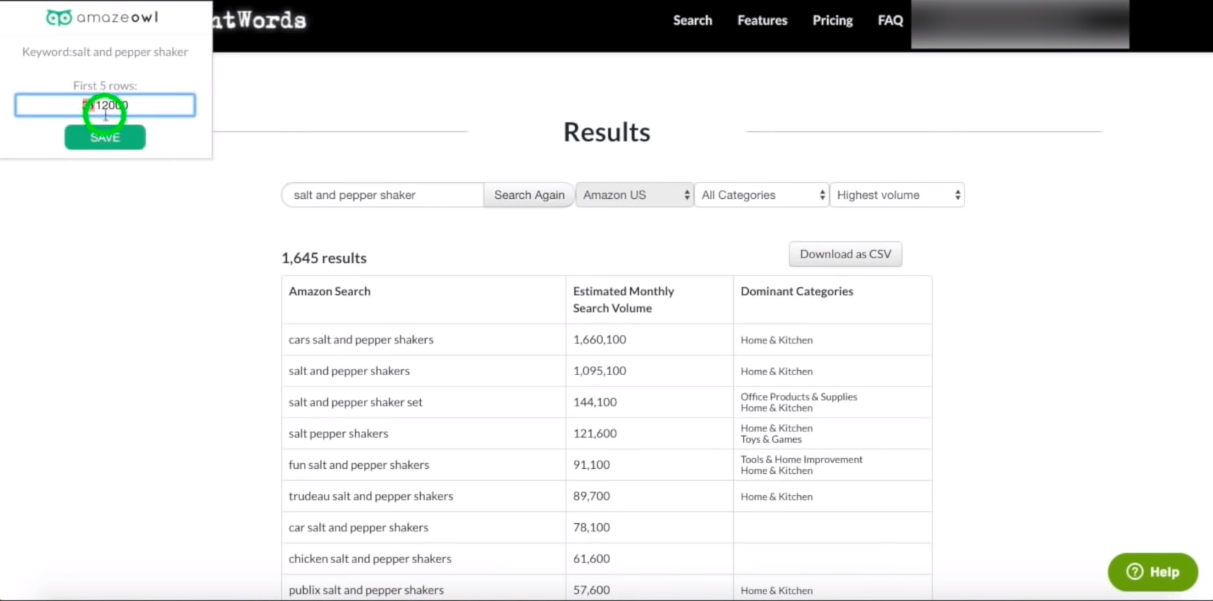 Due to the huge level of competition out there, a lot of people will be selling similar products that are similarly priced with very little difference in specifications or even in looks.
However, that doesn't mean that you can't make a profit or be successful in selling those products on any marketplace if you have a well-defined strategy and make the right moves.
This is what product validating is all about with AmazeOwl. This feature of the product helps you find out if your product idea will fly and if it will attract enough attention for you to even make the effort.
This is very helpful for businesses because it not only saves money and effort, but the most valuable resource, which is time.
With this feature, you can get accurate data that will put into objective perspective whether you need to change your strategy with a product and change the way that you market it so that you can crush sales on Amazon.
The products will be ranked with a simple 5-star rating on the AmazeOwl app and will show you in each case what the demand and the ease of entry and potential profits will be for the product.
What you need to remember is that whatever product you will be marketing; there will be hundreds out there like it, so this is a necessity, not an option.
You can also get insights on what images to use in order to market your product. Take it from the biggest company on Earth right now, Apple.
Their products are some of the most beautiful, and they're known for their presentation even more than their specs and their sales.
Hence, it's always great to get some good advice on how to show off your product to the masses to create a great first impression.
You can also get great advice on pricing and adjust the pricing of your product so that it may sell better. This is important for two reasons.
Related : Ways To Find Amazon Product Niches With Low Competition
The first is the competition bit, which encourages the buying of products that are less pricey than others and the second is customer hesitation or reluctance, which is something that you feel when you're about to buy a product but don't hit checkout.
This is somewhat lessened if the product price drops. You'll find yourself much more willing to buy a product that has a discount on it as opposed to one that doesn't.
This isn't just a onetime thing that occurs for some products; you'll always find yourself looking for the cheapest stuff if you can find it.
Secretly, everyone just wants to get the cheapest thing they can so they can stop from being told that they got ripped off. AmazeOwl understands this mentality and helps you along with trying to use it to your advantage.
Access To Multiple Marketplaces

They say keep your friends close but your enemies closer, well AmazeOwl helps you do just that. It has access to 11 marketplaces and can help you keep track of the sellers and product manufacturers that are closing in on you as well as selling the same products as you.
You can not only see the changes that your competitors are making to their prices and images as well as keywords to stay ahead, but you can also get notified exactly when that happens. You can thus adjust your strategy and fend them off for a time.
However, this doesn't help nearly as much as keyword monitoring with which you can drive more buyers to your product. You can even see the impacts of the changes in real time.
Related :
AmazeOwl Tutorials
There are tutorials that you can follow within the program that will help you learn the entire app and exploit its potential to help you gain more and more customers and drive home more and more traffic.
There are 6 video tutorials that you can browse through that will show you basic and advanced features.
Worth Reading : Amazon Seller App Review
AmazeOwl Pricing
AmazeOwl Pricing really puts the Amaze in the name. If nothing else, you'll be amazed how affordable it is at any of the various packages that it supports.
This is the feature that makes AmazeOwl one of the best seller tools on the market.
Monthly Pricing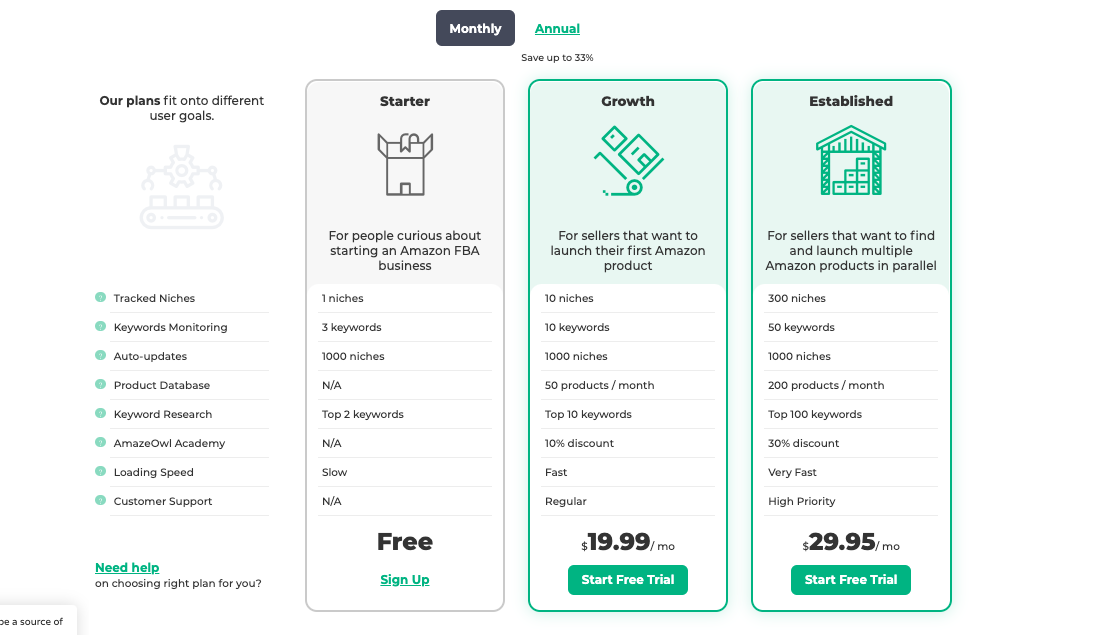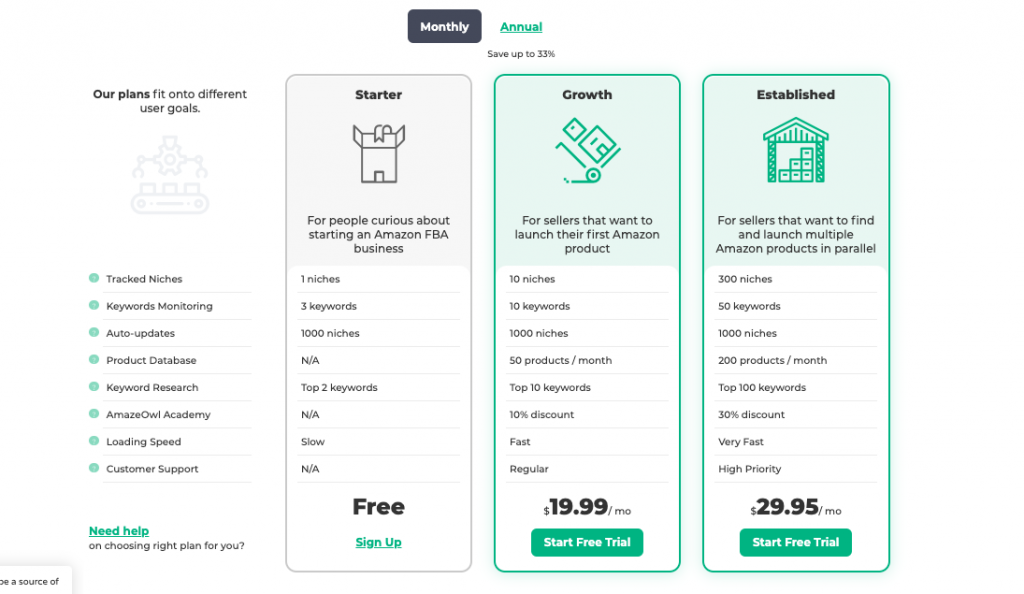 The Monthly pricing plans for AmazeOwl are quite competitive and cheap as they offer the bare essentials needed in order to boost sales and are priced accordingly.
The first plan is free and allows you to track a single niche, 3 keywords, and get auto updates for 1000 niches. There is no product database access or customer support for the free plan.
The second plan is called the Growth plan, and it goes for $19.99 per month. This is for businesses that are growing currently and aren't in their final stages of being established. However, it can be used by beginner companies as well.
It has the ability to track 10 niches and 10 keywords. It also has auto updates for 1000 niches and includes a product database access for 50 products a month. The package also includes customer support for customers.
The third and final plan is called the Established plan and costs $29.95 a month. This is for established businesses as the package named suggests. However, due to the pricing, it can be used by businesses that are just growing as well.
This includes tracking of 300 niches and 50 keywords. It has the same auto updates enabled for 1000 niches and includes database access for 200 products. There is also high priority customer support enabled for you in this package.
Helpful Resource : Best FBA Tools For Amazon Sellers
Annual Pricing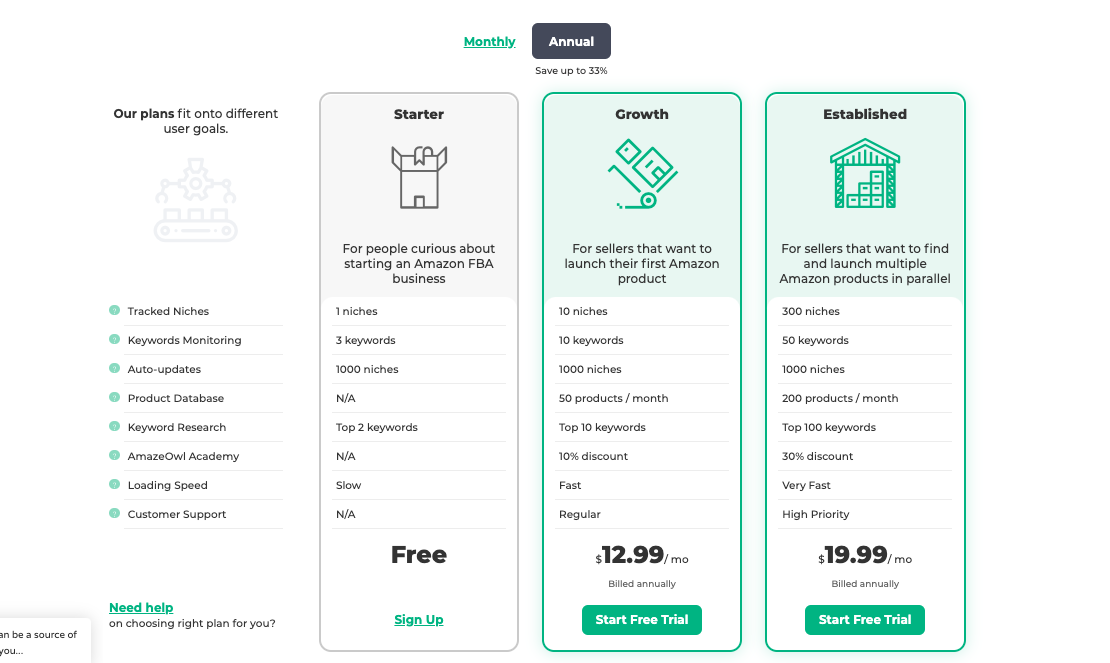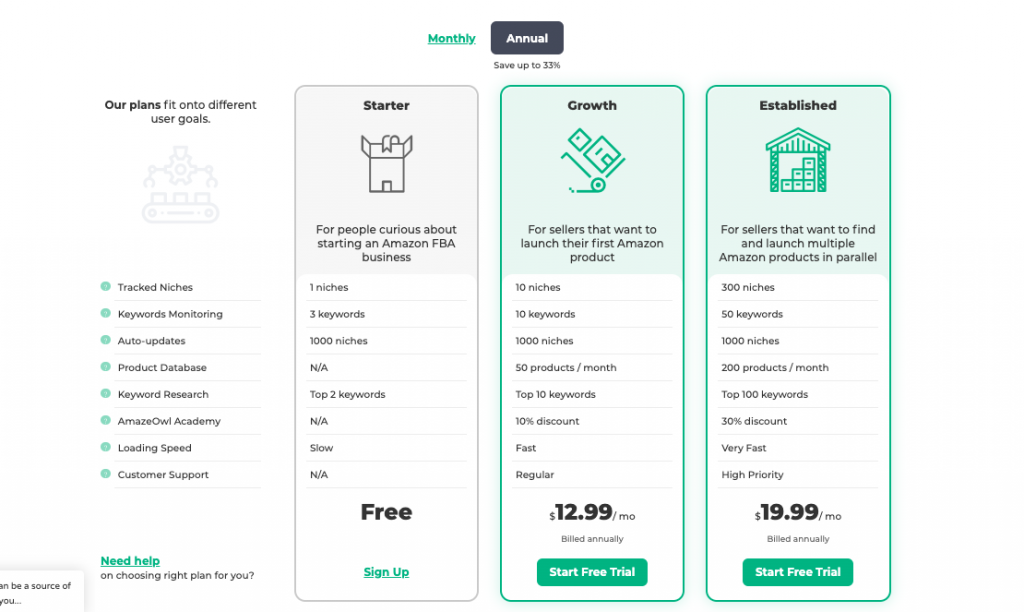 The annual pricing for AmazeOwl is some of the cheapest that you'll ever see for any Amazon seller tool out there. You could even say that their prices can't be beaten – quite literally.
The first plan is free and offers the same conveniences as the monthly version.
The other plans are also allotted the same features as their monthly counterparts. However, as mentioned before, the prices are wildly different. The Growth plan is now priced at $12.99, and the Established plan is priced at $19.99.
Also Read : Best Amazon Listing Softwares
AmazeOwl Promo Code & Trial
Let's now discuss AmazeOwl promo code.
The pricing plans for AmazeOwl all begin with a 10 day free trial. There is no requirement for a credit card. Also, there is a promo code that you can enter right now to get 10% off for the annual growth plan.
The plan is already $9.99 and with the discount will become $9.09, which is a great offer for greatly priced AmazeOwl app and plan.
You Might Find It Useful : Best Amazon Sales Estimator Tools
AmazeOwl Reviews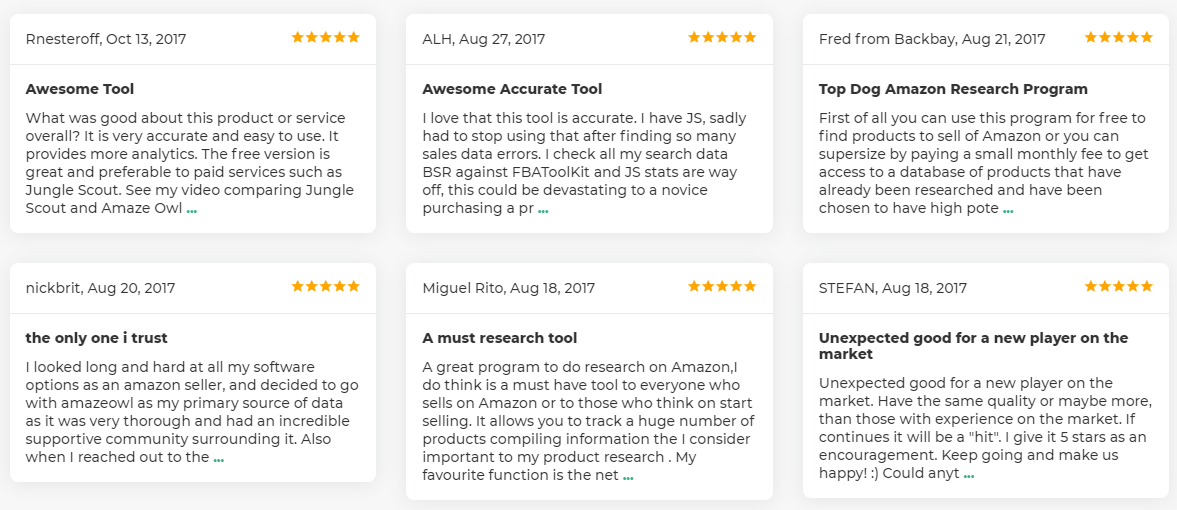 Positive Reviews

AmazeOwl has great reviews across the board from its customers. Most of them emphasize the fact that the customer service is great and that it's excellent value for money.
It offers the bare minimum but charges accordingly. There is also praise for its easy to use interface.
The information that it provides has been described as detailed and solid upon which customers can make decisions without inhibition.
The customer service has been described as quick and helpful. This is most true of the priority customer service that is offered by the Established package.
Related : Ways To Get More Reviews On Your Products
Negative Reviews


The single negative review of AmazeOwl that can be found on Webretailer.com is a one-off that complains about the customer service that the product has.
Now, this can be treated as a one-off bad customer experience, but it warrants paying attention to since it may highlight make or break features for you.
The review goes on to say that not only did the app stop working within a single year of subscription, but the customer service department didn't respond to their many requests and only emailed them back after a long time.
This is unacceptable behavior from the customer service department.
They are there to assist with whatever problems a customer is facing and should have done better in this regard.
Related :
Final Verdict
AmazeOwl is an amazing value for money; that much can't be denied. If you look at all the products and pricing plans out there or seller tools, nary a product package will give you the kind of pricing and combination that you can get here.
However, it does warrant saying that there are better products out there which will give you more when you need it.
There are products like Viral Launch, which are based on market intelligence and data analytics and Helium 10, which emphasizes on the use of keywords and prioritizing back end and front end keywords for better trending search results.
These tools are not only more fully featured than AmazeOwl, but they're also extremely well reviewed and have a great reputation online.
If you're a small business that is starting out, then AmazeOwl may be the one for you, but it cannot be denied that there are better options out there if you can pay more.
Heck, there are even free plans out there which offer more than the free plan for AmazeOwl.
If you're starting as a small businessperson or a struggling entrepreneur, then you can maybe go for the AmazeOwl plan and try your luck to boost sales.
This may work very well; however, you would do well to check out the competition and the emphasis that those tools put on their various features.
I do recommend AmazeOwl wholeheartedly, but that doesn't mean that it is the best Amazon seller tool out there.
It's a tool that has the bare essentials you need to take off and even the access to multiple marketplaces that many other tools don't have, but beyond that, if you want to diversify your portfolio, you should go with other Amazon seller tools.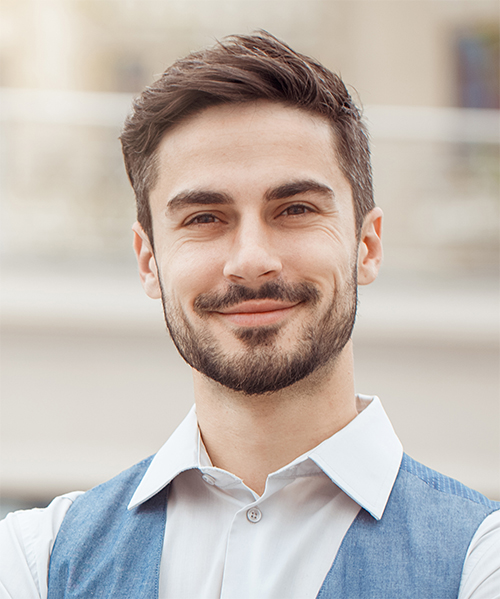 Author: Scott Macarthur
Scott L. Macarthur is a marketing consultant and an online author. He is mostly engaged in providing his expertise to startups and SMBs.