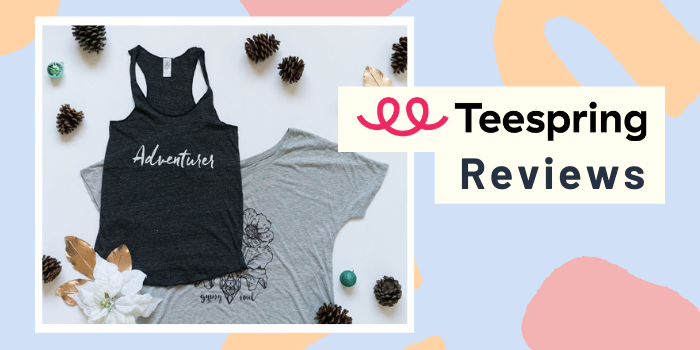 Due to its low running costs, many online merchants have embraced print on demand.
Besides, it enables merchants to trade products that are produced only after customer's demand.
They can feature their designs on these products.
Teespring is a popular POD platform. I'll be reviewing Teespring, how it works, features, etc. to help you decide if it's good for print-on-demand business.
What Is Teespring?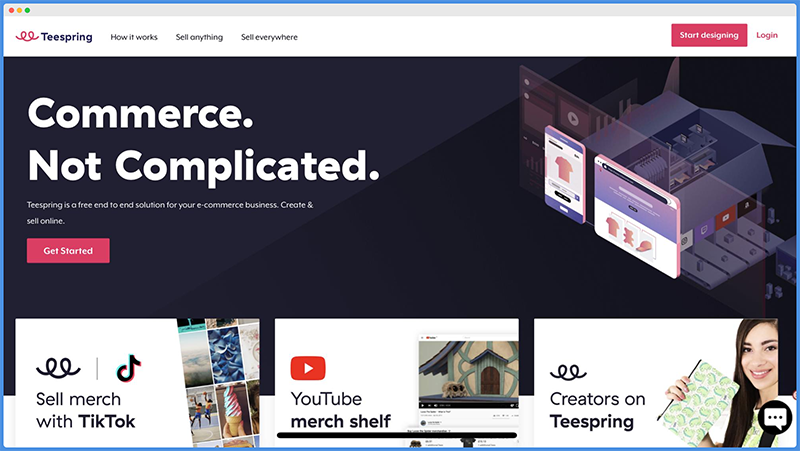 Teespring was launched in 2011, has been rebranded to Spring, and is used by print-on-demand merchants in different countries.
Since its launch, the platform has generated more than $100 billion in product sales.
Teespring is a platform for creating and selling custom products online.
Users don't need to keep inventory since all customized products are produced on demand.
The platform features several designing and selling tools for seamless business management.
There are different product types from different suppliers available.
Merchants are only tasked with providing designs for these products.
Then, they can list the products for sale on their storefront, so customers can view them.
Explore: Cheapest Print On Demand Sites
Who Can Use Teespring?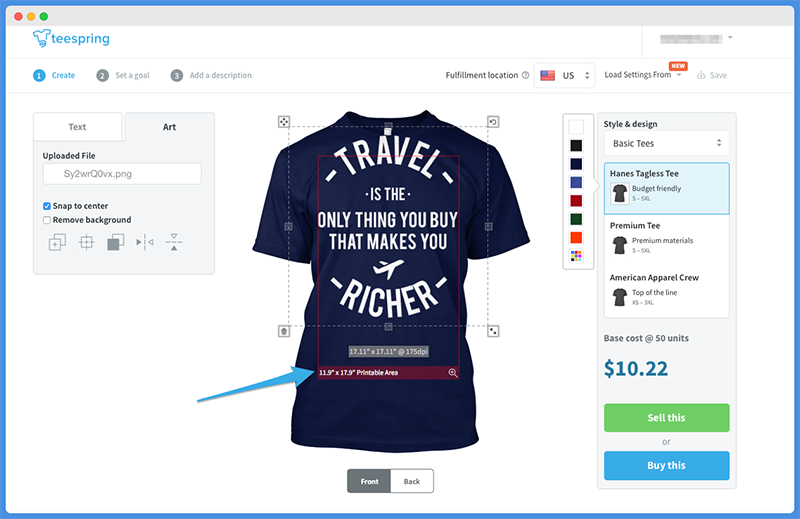 Teespring is a global platform which means it can be used by anyone.
The platform is ideal for content creators and designers who want to make more money from their works. Just in case, you need inspiration to use TeeSpring, read this post that talks about Teespring millionaire stories.
Due to the integrations, Teespring is ideal for merchants who are interested in selling products on social media platforms.
Not only individual creators can use Teespring.
The platform can also be used by teams as it supports adding team members.
Teespring does have age limits. You cannot use Teespring if you're under 13 years of age.
If you're above 13 but below 18, you can only make use of Teespring with parent/guardian approval.
How Does Teespring Work?
First of all, you have to sign up for a Teespring account.
With your created account, you can start selling in less than 10 minutes.
You have to customize your storefront and then select your fancied products.
Upload your designs using the Teespring Launcher and add them to the products before listing them on your store.
Once a customer pays for a product, the order gets received by Teespring who sends it to the supplier.
The supplier produces the product, while Teespring handles shipping and delivery.
From the money paid by the customer, Teespring takes only the product base price and shipping cost.
The rest goes to you.
Physical Products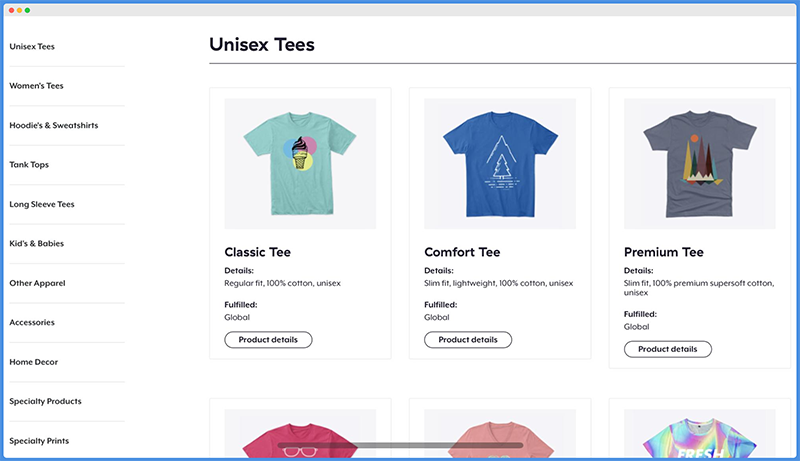 There are different physical products to sell on Teespring.
However, the majority of them are clothing.
Teespring features unisex tees, women's tees, sweatshirts & hoodies, tank tops, long-sleeve tees, and kids' & babies' clothing.
These products are sourced from three main brands, which are Champion, Puma, and Russell Athletic.
Other apparels on Teespring include socks, joggers, leggings, etc. T
here are accessories such as phone cases, pouches, tote bags, stickers, mugs, face masks, etc.
Teespring also features posters, pillows, wall tapestries, canvas prints, blankets, towels, and a few more home decor products.
There are specialty products that you can access if you have high sales and follow Teespring's policies.
Digital Products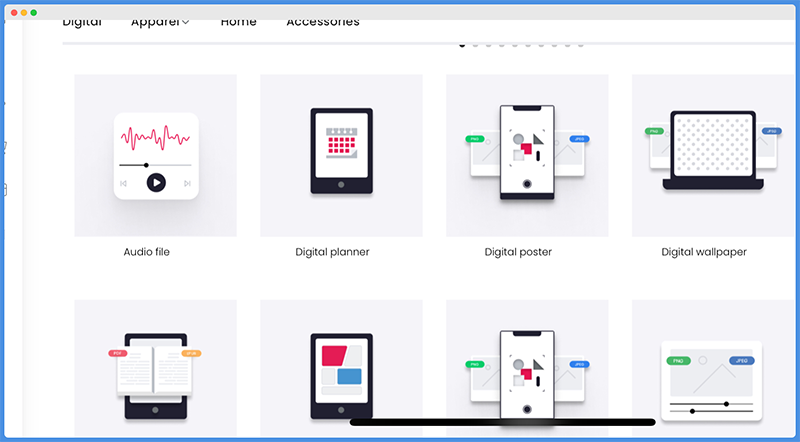 Teespring supports selling digital products. This includes items like ebooks, e-services, events, audio, video, images, etc.
You upload them and customers will get a downloadable link when they pay for them.
Selling digital products with Teespring is easy thanks to the Digital Launcher.
This launcher lets you upload just one file at a time. Therefore, it's recommended that you ZIP multiple files.
You can make your digital products public or private.
In public mode, it can be viewed by anyone while in private mode, it's just you and your team members.
You can unlist them and share only via URL.
Also Read: Best Print On Demand Book Companies
Storefront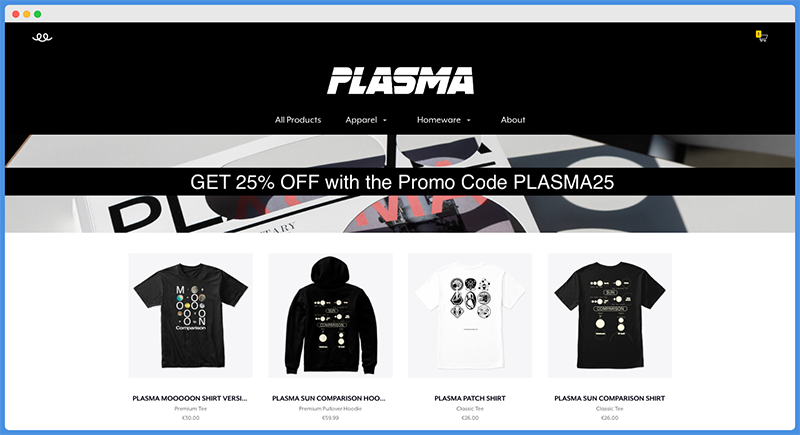 Your Teespring storefront is your online store where customers visit.
Teespring doesn't support Shopify and other eCommerce platforms, so you must sell directly on their website.
Nevertheless, there are different features to ensure you have a great storefront that showcases your brand.
You can add a logo and Teespring features a free logo maker. If no logo is uploaded, your business name is displayed instead.
Next, you can upload a banner of up to 1600 x 2000 pixels. This serves as a cover photo to showcase more of your brand.
You can use it to display discounts, rush sales, etc. to grab buyers' attention.
Product Listings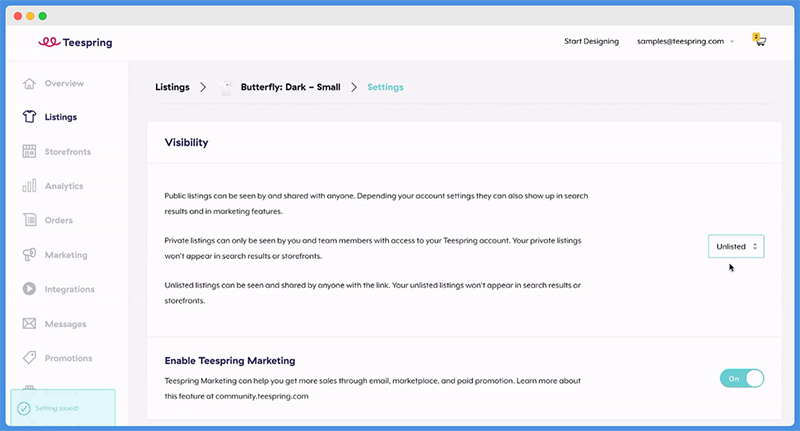 From the Teespring Product Listing section, you can manage products in your store.
For each product, you are provided with an overview of sales, profit, and fulfillment regions. You can add, delete, or edit details of any product from here.
Some settings you can manage here include product visibility, print cycle, tracking, and schedule an end date. With the visibility settings, you can make products public, private, or unlisted. T
here are options for listing optimization.
Changes you make to your product listings are immediately reflected on your Teespring storefront.
However, if you're selling via YouTube or Twitch, it could take a couple of hours to reflect.
Product Design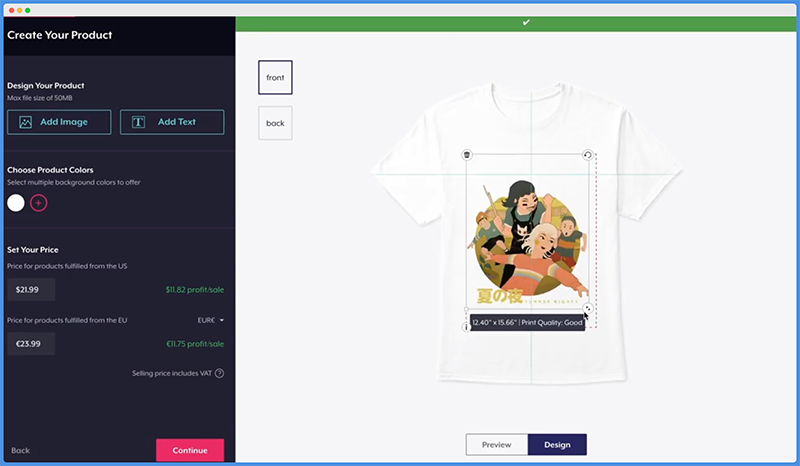 You can upload designs and try them on products using the Teespring Launcher.
The launcher works fast and supports adding designs on more than 50 products at a time.
Designs you upload shouldn't exceed 50 MB in size. The minimum DPI accepted is 120 while the recommended DPI is 300.
Also, the recommended file type for quality is PNG. Nevertheless, the launcher will accept other design file formats except for EPS files.
You can upload designs with CMYK or RGB color profiles. Although Teespring printers use an RGB workflow, they can handle CMYK too.
It's important to turn off anti-aliasing when exporting your designs.
Production
For printing, Teespring uses two methods – screen printing and DTG.
The product type, order quantity, and colors will determine the printing method to be used.
For high quantity orders, screen printing is used while DTG is used for low quantity orders.
Before products are produced, your uploaded design is analyzed to ensure it's of good quality.
Teespring has a production facility in Kentucky.
However, the company also works with various print partners in different parts of the US and Europe.
The production facility where orders are printed depends on the customer's location.
This is to ensure that orders are fulfilled on time.
Check Out: Best Shopify Print On Demand Apps
Shipping
Teespring ships products from facilities in the USA and Europe only.
For these two regions, domestic standard shipping, international standard shipping, and rush domestic shipping are available.
For US fulfillment, domestic shipping takes 9 to 12 business days while international shipping takes 12 to 15 business days.
Rush shipping takes between 4 and 5 business days.
For EU fulfillment, shipping to the UK, Sweden, France, Netherlands, and Germany takes 7 to 12 business days.
International shipping to other European countries takes 10 to 16 business days, while rush shipping takes 3 to 4 business days for all countries.
Currently, Teespring only supports order tracking for US shipping.
Team Management
If you work with a team, Teespring allows you to add your team members to your account.
This can be done from your dashboard settings and there's no set limit of team members you can add.
A team member can be assigned any of these three roles – admin, manager, or launcher.
An admin has full access to the Teespring account. They can update and edit any settings like the original account owner.
Managers can access everything in the Teespring account except settings.
Notably, they cannot update login or payment credentials. Launchers can only publish product listings as they only have access to the Teespring Launcher.
Analytics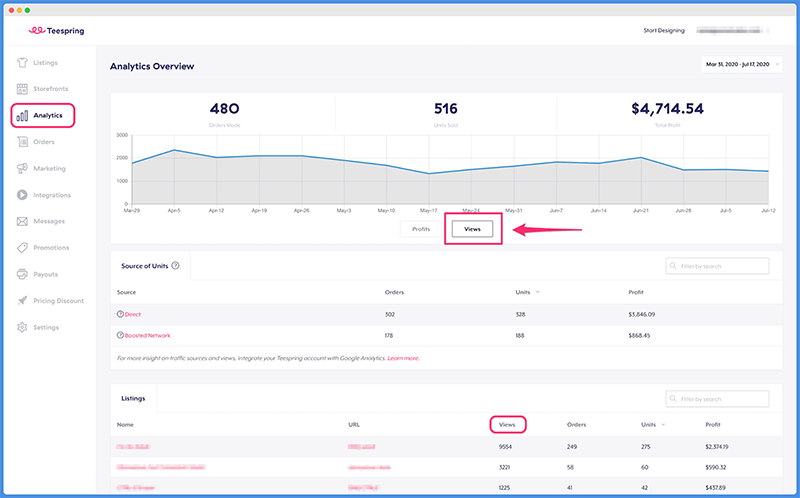 From your Teespring dashboard, you can get insights on your store via Analytics.
This includes order count, view count, sales, profit, etc.
The analytics can be sorted by date to view insights of a particular time frame.
You can also filter the data by searching for a unique product keyword.
The page features a data visualization for quick comprehension.
Aside from this, you can get quick insights from the listing section as mentioned earlier.
This section is ideal if you want to view individual analytics of each product in your listing.
Furthermore, Teespring integrates with Google Analytics which could give you more insights.
Now, let's proceed with third-party integration for this Teespring review.
Third-party Integrations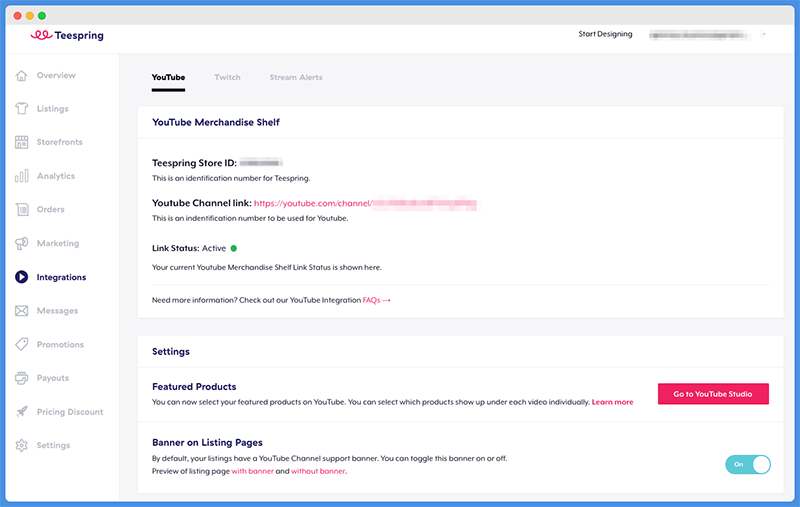 Since Teespring works as a marketplace, it doesn't integrate with eCommerce platforms like Shopify, WooCommerce, BigCommerce etc.
Users don't need them to build their storefront.
However, to help users sell more, Teespring integrates with social media merch platforms.
This includes YouTube Merch, Twitch Merch, and Streamlabs.
With this, you can easily sell your products to your followers on these social platforms.
This is why you'll find lots of Teespring merchants on YouTube.
Teespring also integrates with Google platforms including Google Analytics and Google Shopping.
The Google Shopping integration isn't available to all Teespring users. It's allowed on a case-by-case basis and you unlock it over time.
Promotions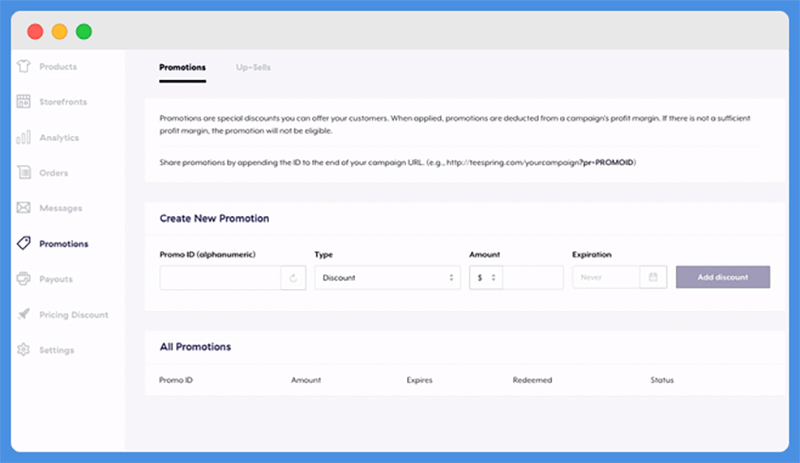 With Teespring promotions, you can reward your top-spending customers with discounts.
This enables them to shop at a reduced price at the cost of your profit margin.
Promo codes can be created from the Promotions section of the dashboard.
You can set the promotion discount at a particular amount ($10 discount) or at a percentage (10 percent discount).
The promo code can be any text or you use the generator to automatically generate one.
Furthermore, you can schedule an end date for the promotion or turn it off manually at any time.
Orders made using the promo code will be marked in your product listings.
Check Out: Best T-shirt Dropshipping Companies
Teespring Customer Support & Resources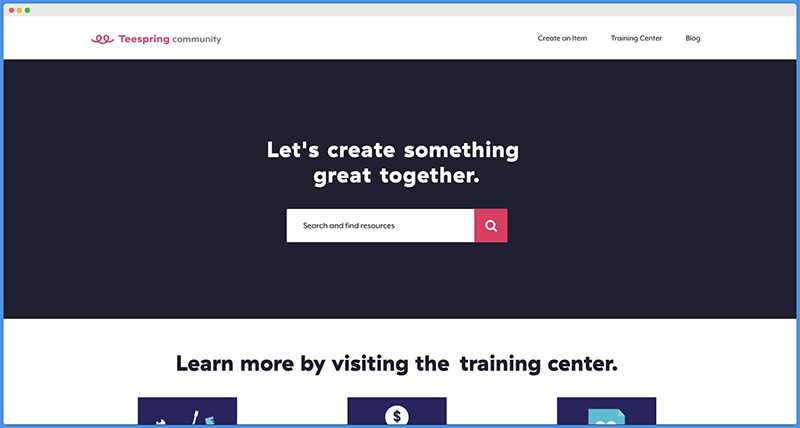 Customers don't need to get support from sellers as Teespring provides it. They can get support via LiveChat which is available on business days.
They can also send emails to the support team and expect a reply within 48 business hours.
The Teespring support team operates from 9am to 5pm EST.
This support team is a very reliable one as it consists of more than 50 staff.
If sellers choose, they can chat with customers to offer personalized support.
Teespring has very rich resources for customers.
The Teespring community is a comprehensive help center, which contains all the important guides customers will need.
Seller Support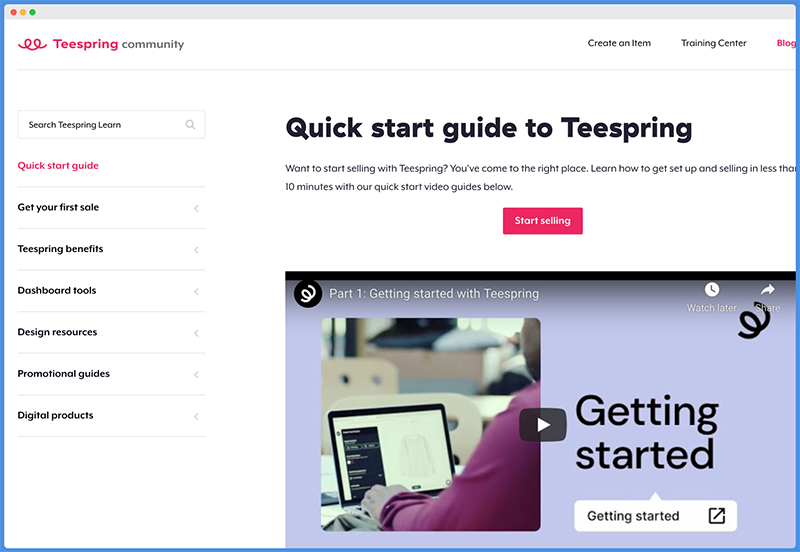 As a merchant, you can also get reliable support from Teespring.
You can mail the support team and get a response within 48 business hours. Suffice it to say, you can use the LiveChat option, which is featured within the Teespring Launcher.
Although the support channels seem the same, the Teespring Seller Support Team is independent of the Customer Support Team.
When messaging the team as a seller, you'll have to provide the URLs to your products or listings that you're having problems with.
The Teespring community also has many articles to help buyers.
There are selling, designing, listing, optimization, promotion guides, and many others.
Teespring is an entirely free print-on-demand platform. Literally, you don't pay for anything, but you get to make a profit.
The platform uses the base price + artist price = selling price pricing model.
If a product base price is $10, you can set your artist price at any amount. If you set your artist price at $15, the product selling price becomes $25.
A customer purchasing the product will pay $25; $15 goes to you while $10 goes to Teespring without you spending anything.
However, you should note that the base price is a total of the product cost, printing cost, shipping cost, and product hosting cost:
Teespring Pricing
The base prices of products on Teespring differ according to the product type.
As mentioned earlier, the product cost, printing cost, shipping cost, and hosting cost determines the base price.
Out of all these, printing influences the price the most. Double-sided printing costs more than single-side printing.
You can get lower base price costs from Teespring's monthly discounts if you reach certain sale thresholds.
You're eligible for monthly discounts if you sell over 100 products per month.
To help you effectively calculate product prices, Teespring features profit calculators.
There's a US Profit Calculator, UK Profit Calculator, and EU Profit Calculator.
How Does Teespring Pay You?
Teespring pays merchants via PayPal or Payoneer.
Likewise, you can only request payouts at the end of your listing's print cycle. This usually ends every 3 days.
When you request remittance, it takes 1 to 7 weekdays for it to be processed.
Besides, processing involves checking and balancing all your sales activities, so the correct amount is paid out. If your account is well optimized, payments can be fast-tracked.
Once processing is complete, you get credited within 24 to 48 hours.
Teespring Rating
Here are my ratings for this Teespring review.
Ease Of Use
You can create your Teespring account and set up your store in minutes.
The launchers make creating physical or digital products to publish on your store very simple. Teespring handles every other thing from production to shipping, support, etc.
Rating for Ease Of Use is 4.5 stars out of 5.
Features
There are several features needed to run a print-on-demand business and Teespring features the most important ones.
You don't get to connect with other eCommerce platforms yet you can completely manage your print-on-demand business with ease.
Teespring features are rated 4 stars out of 5.
Value For Money
With Teespring, you have the flexibility to set your artist margin to any amount.
Product cost, shipping cost, printing cost, etc. are all deducted only when customers pay. The platform is 100% free yet 100% profitable.
For Value Of Money, Teespring is rated 4.8 stars out of 5.
Customer Support
Teespring's dedicated support to buyers and sellers is highly commendable.
The support team stays on standby for multiple hours every working day to attend to users via email and LiveChat.
Furthermore, the community is a great quick-help resource.
All these give the platform a 4.5 stars out of 5 rating for Customer Support.
Does Teespring Own Your Design?
Teespring doesn't own designs of users. Every user has a 100 percent right to their design and they can protect this right using Teespring's Design Guard.
This Design Guard makes sure that the original work of designers isn't pirated.
If a copycat designer is identified, their account is banned and all their listings will be deleted from the platform.
Furthermore, Teespring forwards the details of the copycat designer to the original design to enable them to take legal actions.
You can request Teespring Design Guard if you own a copyrighted design or trademarked design.
All you have to do is to show evidence of this and provide URLs to all your products on Teespring you want to protect.
Is Teespring Legit?
Yes, Teespring is legit. You cannot lose your money doing business with Teespring because you don't have to pay for anything.
Thus, there's little risk involved.
You get to access designing and selling tools without having to pay for them.
All of these features show that Teespring is a legit print-on-demand platform.
Out of more than 19,000 reviews of Teespring on Trustpilot, the platform has a 3.7-star rating.
If you experience issues with Teespring, you can quickly get help from the seller support team.
If your customers do, they can get help from the customer support team.
Teespring Pros
Free to use
Easy to use
Bulk designing
Physical and digital products
Design protection
Promotions & discounts
PayPal and Payoneer support
Monthly discounts
Reliable buyer and seller support
Teespring Cons
Not many eCommerce integrations
No brand personalization
Payment processing takes time
Best Teespring Alternatives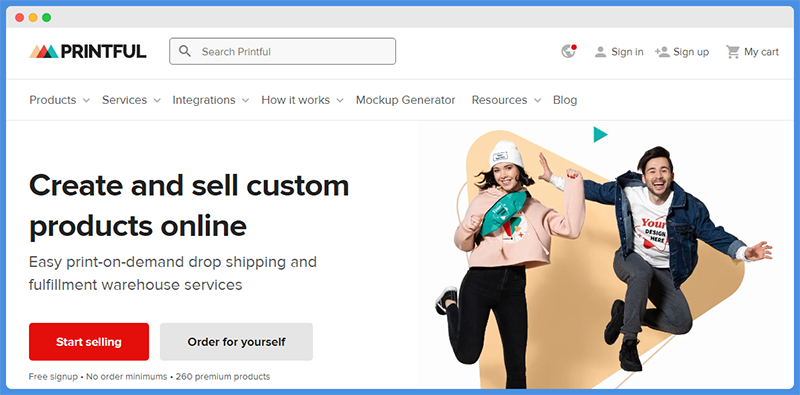 Printful is a unique Teespring alternative. It doesn't require subscriptions and like Teespring, sellers are charged only the base price of products.
However, Printful isn't focused on only clothing like Teespring.
Printful doesn't use outside printers like Teespring as all production is in-house.
This makes their products high quality, but just like Teespring, the platform uses DTG and screen printing.
With fulfillment centers in the USA, Europe, and Australia, Printful ships products worldwide.
Printful is white-label so you can brand-personalize your products.
To sell Printful products, you must connect with a third-party eCommerce platform.
It's different from Teespring that features its marketplace. Supported eCommerce platforms include Amazon, Shopify, Etsy, eBay, WooCommerce, etc.
Our Pick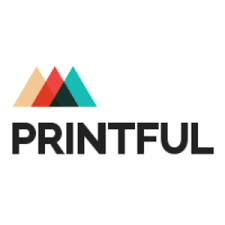 We earn a commission if you click this link and make a purchase.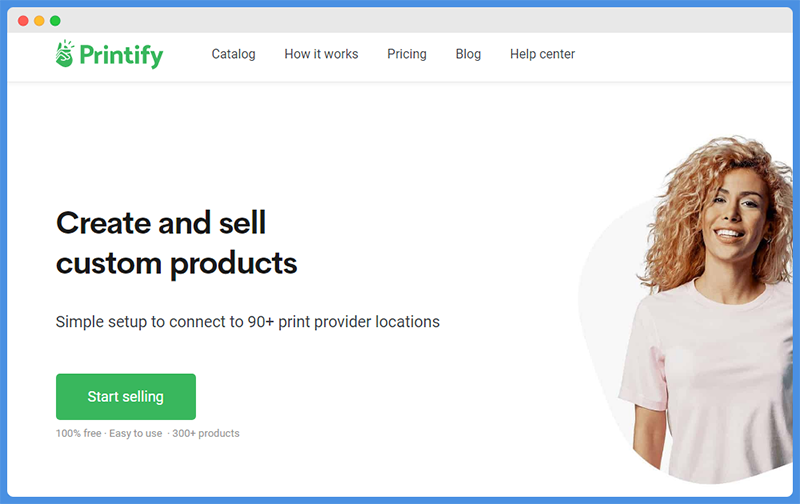 Launched in 2015, Printify is one of the simplest print-on-demand platforms.
It's simple to use because all the processes are automated.
Like Teespring, Printify can be used for free, but there are premium pricing plans that would interest larger businesses.
With a free Printify account, you can host about 5 POD stores.
Teespring doesn't compare to Printify when it comes to products as the latter features over 300 product types.
Printify ensures fast fulfillment and is much faster than Teespring as the platform works with over 90 print providers spread across the world.
You can't brand your products with Teespring but you can with Printify using custom shipping labels and neck labels.
Furthermore, Printify can be connected to Shopify, Etsy, eBay, Prestashop, Wix, BigCommerce, WooCommerce, and more.

We earn a commission when you click this link and make a purchase.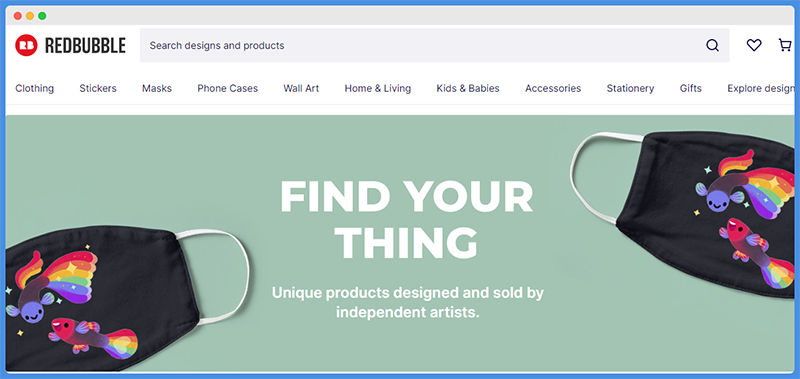 This is a similar print-on-demand platform to Teespring.
It was launched for independent artists and lets them create and sell products directly on the website.
As a designer, you can sell your designs on almost anything on Redbubble since their product catalog is vast.
Non-artists can purchase designs from artists to sell on products.
Interestingly, Redbubble utilizes print partners like Teespring.
They have print providers in the USA, Canada, UK, Germany, Spain, Australia, amongst others.
This platform is not a go-to alternative if you want to brand product packages.
Products are shipped in packages that carry the "Redbubble" brand.
Finally, Redbubble is more independent than Teespring.
While Teespring integrates with some social media platforms, Redbubble has no integration support.
Wrapping Up The Teespring Review
Teespring is a legit and recommended print-on-demand platform.
Although it doesn't integrate with other eCommerce platforms, it has the necessary features and tools to run a successful print-on-demand business.
There's a few cons but the pros massively outweigh them.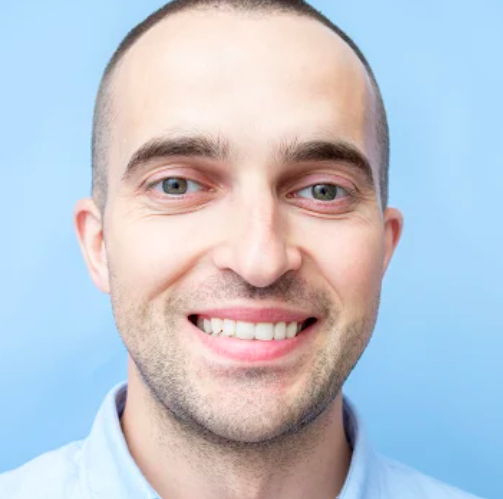 Hi guys..this is Brian. I started my first e-commerce company in college designing and selling t-shirts for my campus bar crawl using Print-On-Demand. Having successfully established multiple 6 & 7 figure e-commerce businesses (in women's fashion and hiking gear), I think I can share a tip or 2 to help you get succeed.