A sales funnel is an important aspect of the consumer journey as it helps automate the consumer journey, and guides prospects and leads through all the stages.
There are several sales funnel builder software options on the market today, but the tool that you pick should facilitate and support your business.
ClickFunnels and Convertri are among the best sales funnel builder software. Most ClickFunnel vs Convertri reviews attest to the fact that the two sales funnel builder tools provide businesses with high-converting sales funnels. But which is the better funnel builder?
This Convertri vs ClickFunnels review compares the two sales funnel builder tools to help you discover which one is right for your business.
ClickFunnels vs Convertri: What Are They And How Do They Work?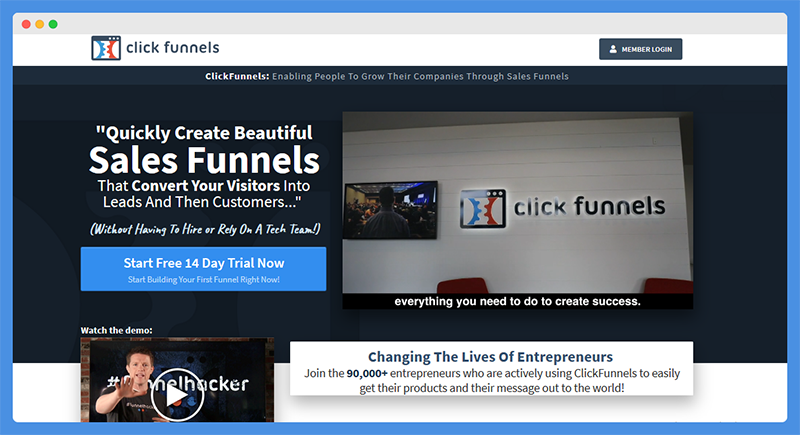 ClickFunnels is a sales funnel builder that offers a simple, hassle-free way for businesses to carry out their marketing, selling, and delivery of products and/or services while controlling every stage of the consumer journey.
ClickFunnels is not a dedicated website builder like WordPress and focuses more on improving traffic and sales.
The web-based funnel builder helps businesses rank their online stores or sites in search engine results pages and automates the sales process using premade funnel options for specific products.
With ClickFunnels, it's easier to create a sales and marketing funnel from the ground up.
Plus, ClickFunnels eliminates the hassle of having to find an IT team to build traditional online funnels.
The old system involved dealing with email autoresponders, landing pages, website hosting, and others for them to work together as a whole. This manual process was not only time consuming, but it was also expensive for businesses.
ClickFunnels incorporates all the elements of the manual process and gives businesses a more unified and comprehensive package they can use altogether, instead of handling each component individually.
Besides saving time and resources, ClickFunnels helps businesses attract their ideal and target clients.
ClickFunnels offers a simplified and complete funnel suitable for different businesses. Plus, its user-friendly interface helps you integrate other elements like clocks, videos, and animations to your funnel templates, plus split testing to know what works and what doesn't work.
There are several alternatives to ClickFunnels but Convertri stands out as one of the best. Let's take a look at it.
ClickFunnels - Check Special Pricing
Beautiful high-converting sales funnels. Simple, quick & easy to build. Includes email, Facebook automation along with in-built shopping cart. Check Special Pricing.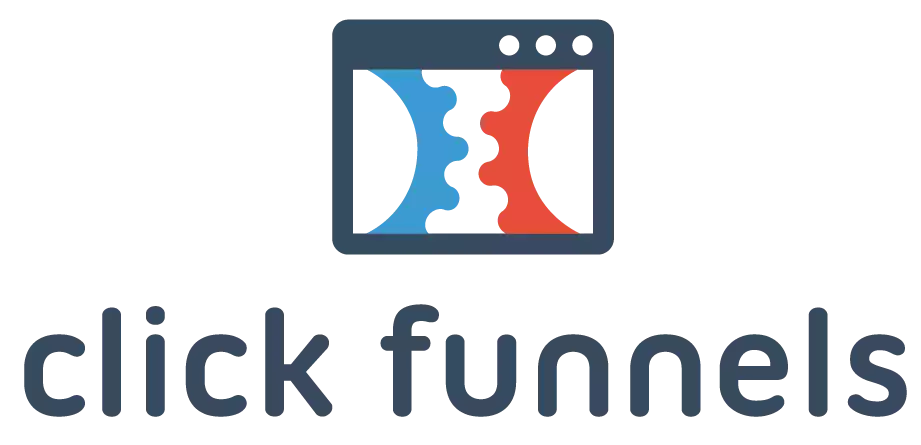 We earn a commission if you click this link and make a purchase.
Convertri is also a sales funnel builder that's used specifically for sales funnels, landing pages, and squeeze pages.
The software claims to be the world's fastest funnel builder owing to the super-fast loading speeds for pages built on it, compared to other pages on the web.
The Convertri page builder is intuitive and user-friendly such that newbies and professional marketers will find it handy. The software aims to help businesses build up pages and funnels fast, so as to save time, launch campaigns faster, have great experiences, and derive value.
The funnel builder is fairly new compared to ClickFunnels, which has been around longer and is much more trusted and established as a brand.
The choice between ClickFunnels or Convertri will ultimately depend on your business needs, as Convertri has similarities with ClickFunnels, but it also lacks in many aspects compared to ClickFunnels.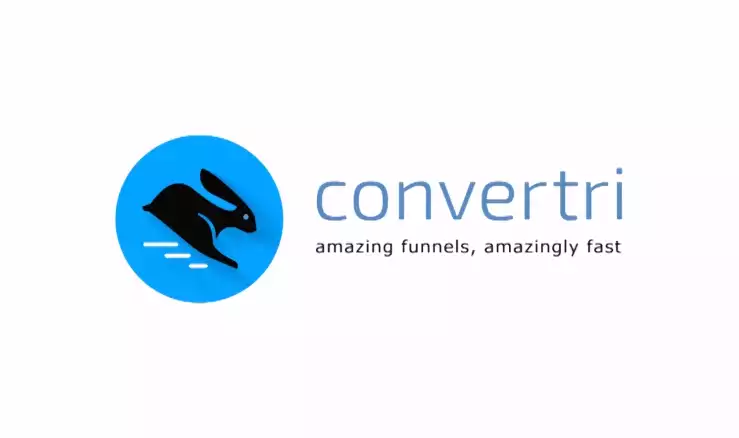 We earn a commission if you click this link and make a purchase.
Features
ClickFunnels
ClickFunnels doesn't market itself as an all-in-one marketing platform but rather it's known for its exceptional funnel building capacity.
The tool has several powerful features that distinguish it from among other sales funnel builders on the market and make it a trusted and established brand in its field.
Etison page editor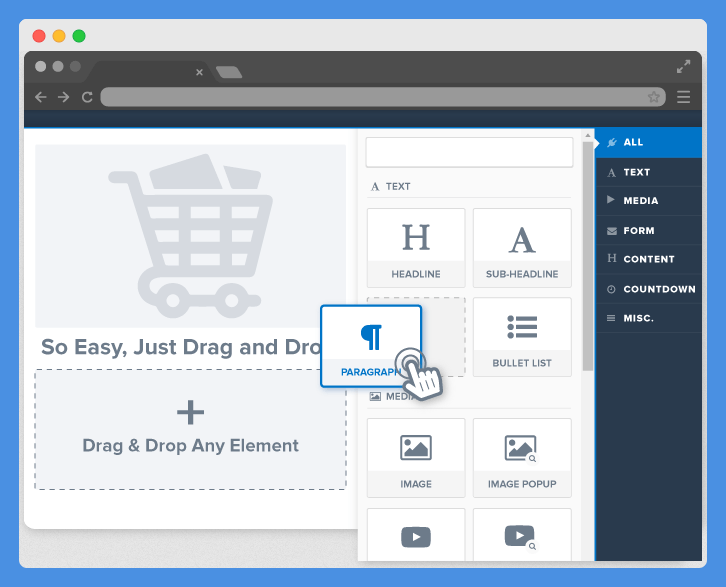 ClickFunnels has an easy drag-and-drop visual editor that helps you create high-converting pages by picking elements, dragging them anywhere on the page, and then editing them. This way, you can easily and completely customize your sales funnel.
High-converting funnels
A sales funnel is carefully crafted to guide your target customer from being a prospect to a lead, and ultimately a buying customer.
ClickFunnels creates high-converting funnels that help business owners and marketers sell more products and/or services, and grow their businesses.
It's a complete sales funnel creation software that sets it apart from its competitors like Leadpages and Unbounce.
One-click upsells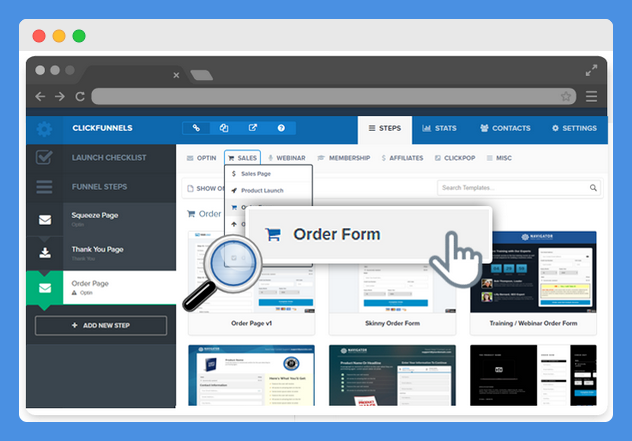 ClickFunnels also offers business owners and marketers a simple and quick way to upsell products in high-converting ways. Once the prospect enters their payment and shipping information, it's possible to add a one-click upsell, thereby increasing the value of their orders. This process makes for higher conversion rates than any other tactics and ClickFunnels offers it for free.
ClickFunnels - Check Special Pricing
Beautiful high-converting sales funnels. Simple, quick & easy to build. Includes email, Facebook automation along with in-built shopping cart. Check Special Pricing.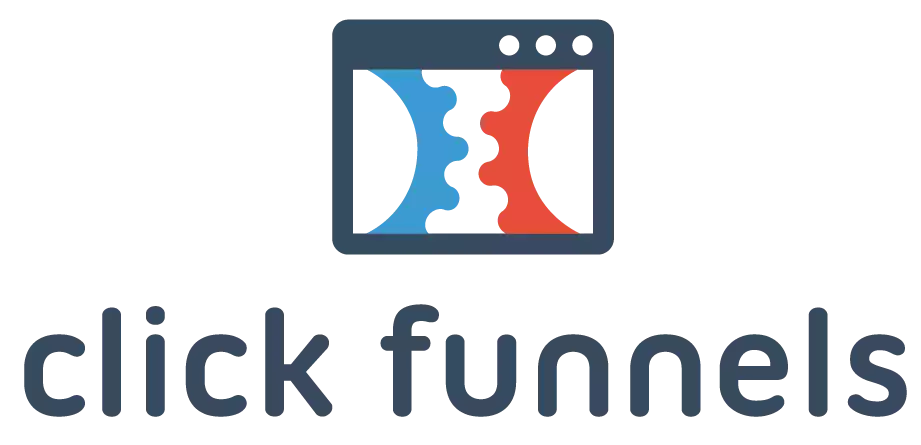 We earn a commission if you click this link and make a purchase.
Themes and templates
ClickFunnels also offers beautiful templates and themes that have been tested and proven to convert prospects and leads into customers. You can buy templates from the ClickFunnels marketplace or use their templates to build a high-converting sales funnel.
Split testing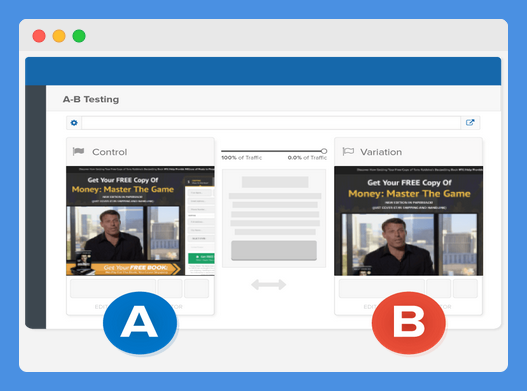 The best way to know what works or doesn't work is to test, iterate, and keep testing. With ClickFunnels' split testing capabilities, you can change the copy, headline, button colors, and other elements to test any piece of your funnel. This helps you see what converts best so you can test and iterate more for the best results and conversions.
Website hosting
You don't need to pay for hosting with an external service because ClickFunnels allows you to search, buy, connect, and host new domains directly from your account. If you already own a domain, you can add it through your account and enjoy the web hosting service.
Conversion tracking
Without conversion tracking that's easy to use and that works, it'll be difficult to test, iterate, and create the best and highest-possible sales funnel. ClickFunnels strives to create the best sales funnels that will work for different products or services and delivers metrics critical to your mission and sales funnels.
Autoresponder
If you have an email list, or you want to build one, ClickFunnels helps you do so, but it goes further to help you follow up with prospects, upsell customers, offer discounts, and more through an email autoresponder.
This feature helps you build your list and contact the leads from the contact or email list from your ClickFunnels account. If you have an email service provider like GetResponse, you can integrate it with ClickFunnels.
Membership access page/area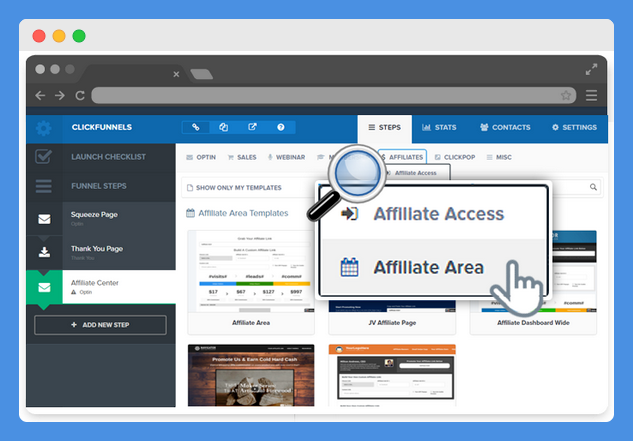 The membership Access Page is what customers see when they create and sign in to their accounts. ClickFunnels also allows you to create a membership area for people to login to access specific content for different lesson sections. You won't need a third-party plugin to do this as sometimes they may not work with your theme.
Shopping cart
The shopping cart feature in ClickFunnels helps business owners and marketers sell more of their offerings to their customers. You don't need a shopping cart tool unless you want your shopping cart to be more robust with a plethora of features.
Free funnels
ClickFunnels offers a wide variety of free funnels such as: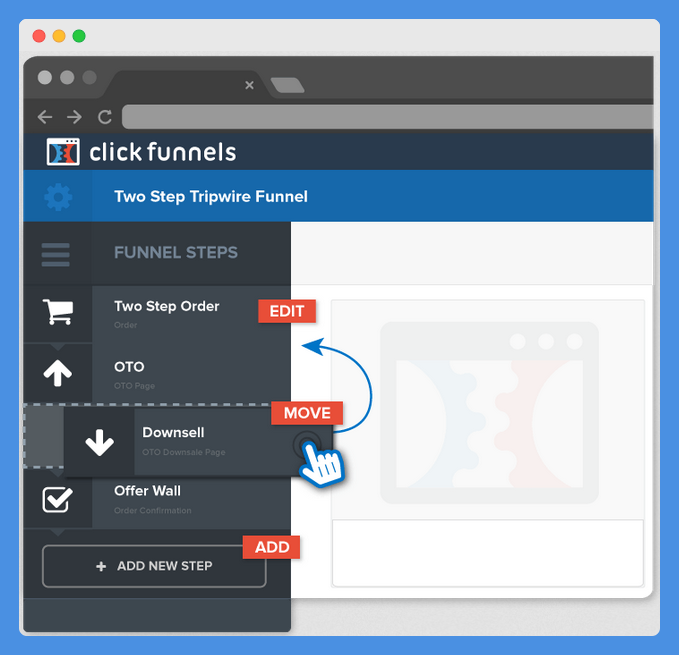 Tripwire, for low-cost products that sell fast to acquire prospective leads and turn them to customers. You can also use tripwires to generate profits with upsells
Squeeze page, for capturing all the contact information you can get out of prospects before they access anything
Product Launch, which helps you launch new offerings and hype customers for the launch
Webinar and Auto-webinar funnels, which allow you to go before your audience in a conversational way to sell products or announce upcoming features or new releases. With the auto-webinar funnels, you can offer evergreen webinars 24/7 without making them live webinars
Application, to get contact details and more information on the leads via longer form applications so as to qualify them for higher ticket items
Sales or video sales letter, for items that require more selling through presentations or explanations so as to generate more profit through upsells
Order forms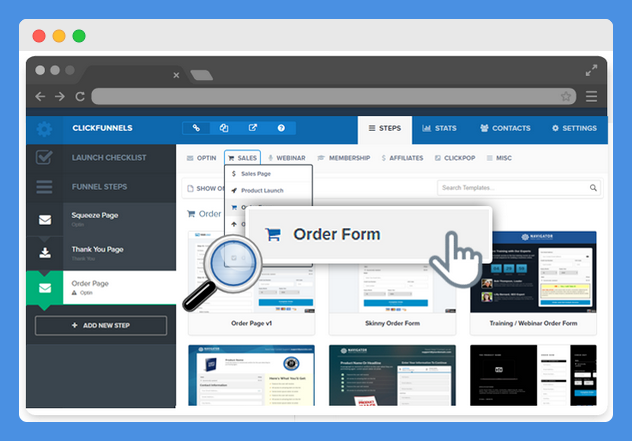 This feature reduces cart abandonment. It's easy and doesn't confuse your customers during checkout, and you can increase profits by adding instant order bumps.
Backpack feature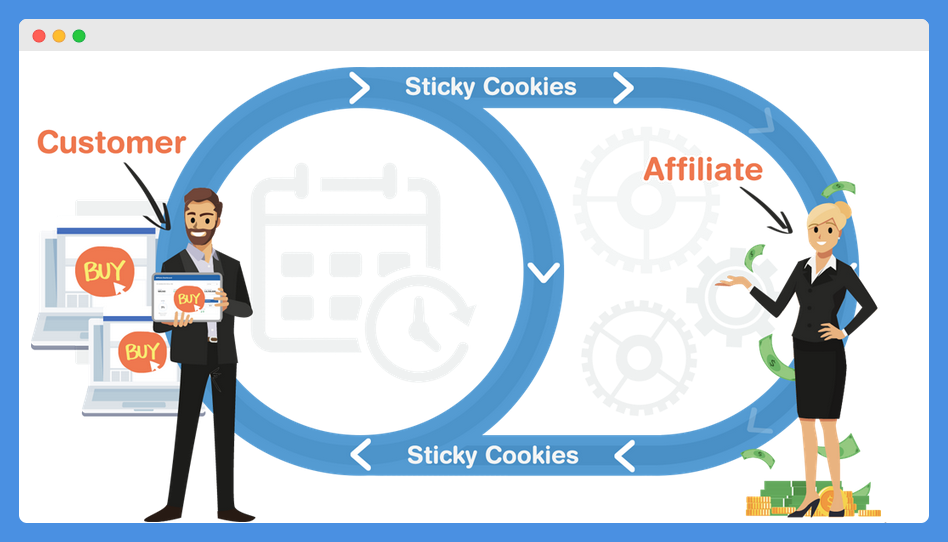 The backpack feature is meant to help you run smart affiliate programs through your funnels. Its setup is fast, seamless, and uses sticky cookies to keep affiliates loyal, happy, and sending traffic your way.
Affiliate centers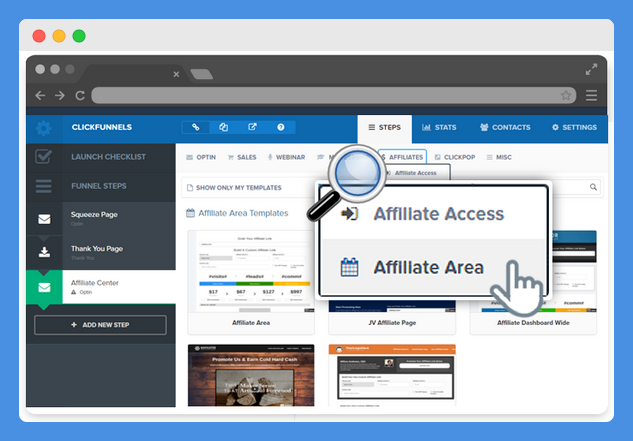 With affiliate centers, you can add affiliate programs, create affiliate areas, change affiliate types and commission plans, and do payouts. It also lets you generate affiliate links so that your affiliates can share your content, make their sales, and get paid.
ClickFunnels - Check Special Pricing
Beautiful high-converting sales funnels. Simple, quick & easy to build. Includes email, Facebook automation along with in-built shopping cart. Check Special Pricing.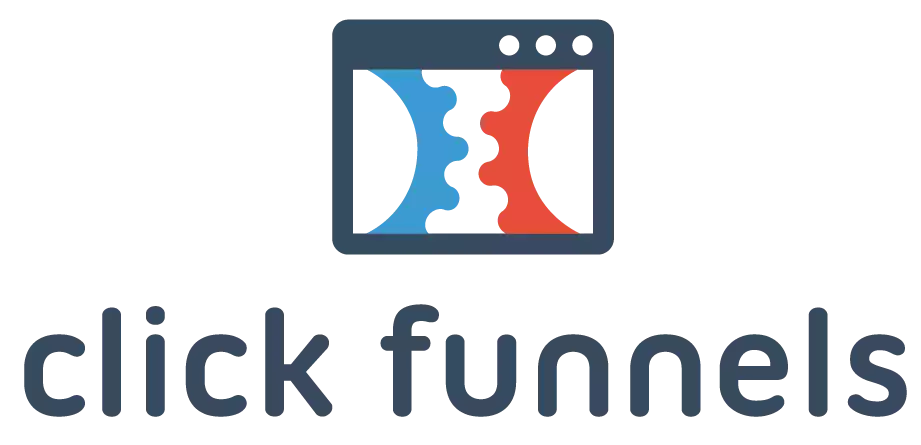 We earn a commission if you click this link and make a purchase.
Dashboard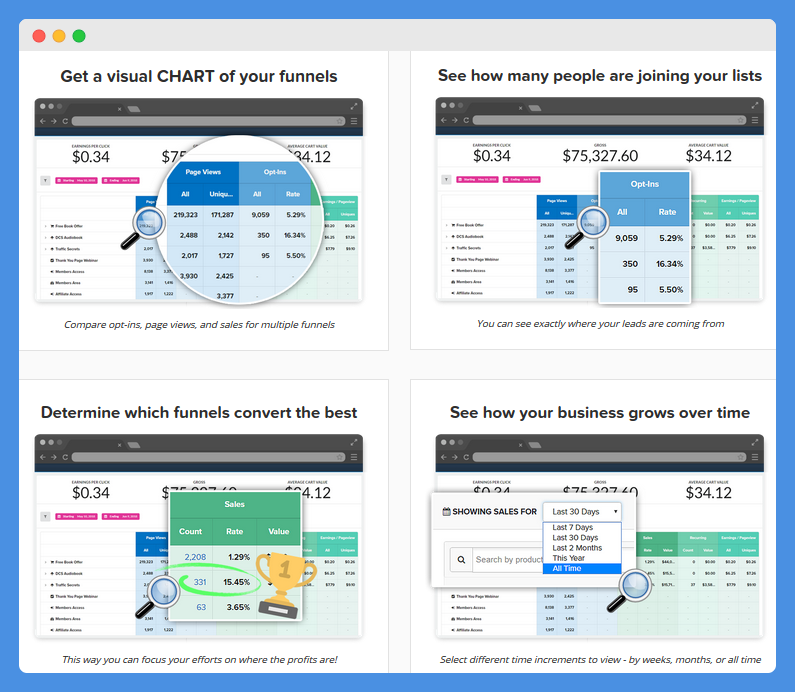 ClickFunnels also offers a dashboard through which you can view your metrics via visual charts. You also get to see your sales for different funnels, compare page views, and see how many join your funnel and where leads are coming from.
ClickFunnels Business Tools
ClickFunnels also offers free online tools for small businesses to run their online operations. These include an Add Play button, which can be added to images to increase engagement.
Other soon-to-come business tools include a QR code generator, image resizer, image compressor, invoice generator, meme generator, policy generator, logo maker, business plan generator, business card maker, and sales tax calculator.
Convertri
Free-form funnel editor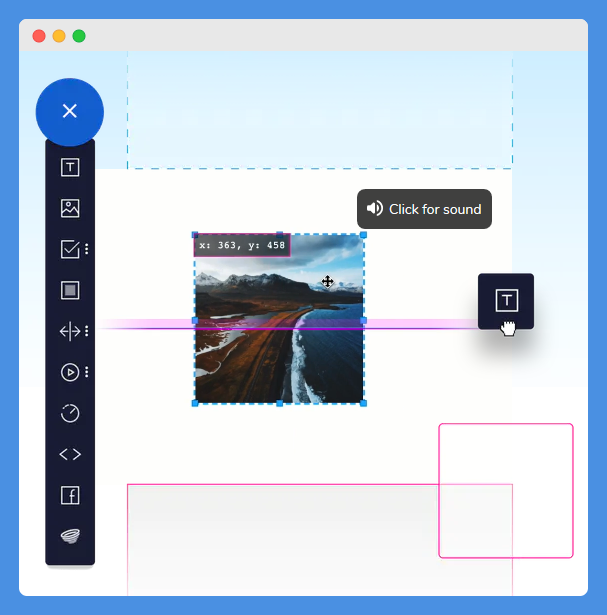 Like ClickFunnels, Convertri also has a drag/drop editor called a free-form editor. The Convertri funnel editor allows you to tailor or customize your funnels, and build any page you want.
There are several customizable and mobile-ready templates you can choose from so you don't have to start from a blank canvas. These templates are built for speed and for conversions.
The flexible editor ensures you won't get stuck with the prebuilt templates as they are, so you can add, remove, extend the templates, add elements, and make them 100 percent your own.
Mobile control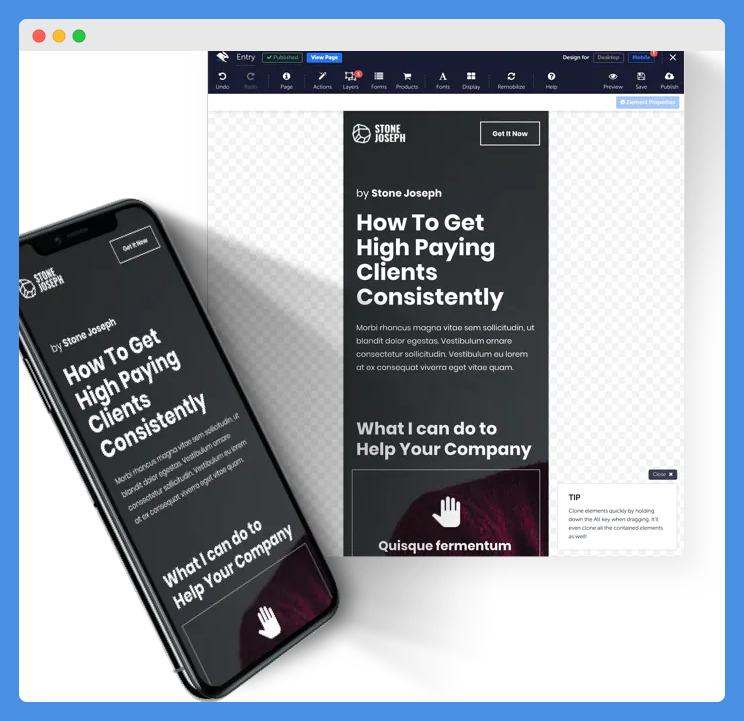 Convertri also lets you adjust the mobile view positions, rearrange pages, and display different elements in any way you want.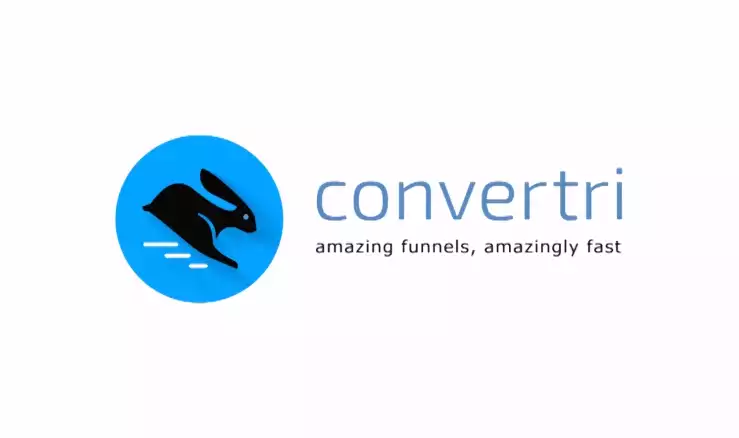 We earn a commission if you click this link and make a purchase.
Interactions
You can show, hide, and change elements on your sales funnels thanks to Convertri's huge range of event and action hooks based on user behavior.
Dynamic text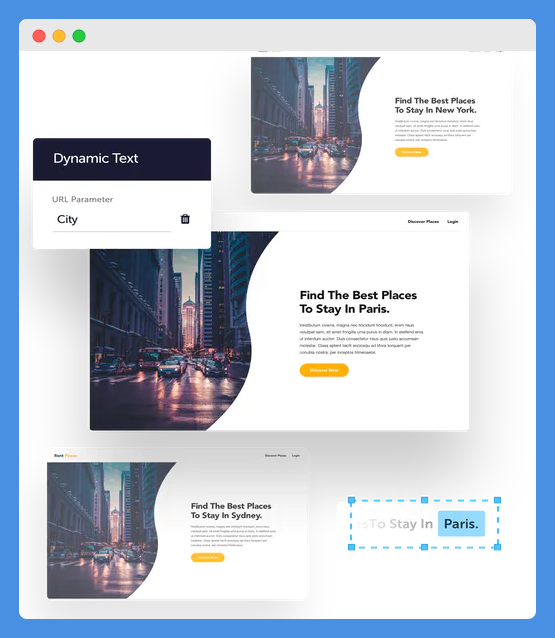 With Convertri, you can build your page in a flash using the ready-made content blocks and have your pages ready in just seconds.
You don't have to build pages for different sub-niches. You can adjust the copy on your pages based on the keywords from your ads, target better, increase conversions, and profits with less work.
Conversion tracking
You don't have to struggle wondering about the performance of your sales funnel. Just use the conversion tracking function in Convertri and check the metrics.
Share and import funnels
Funnels are attached to domains, and in Convertri, it doesn't matter how you plan on using the pages for a single sales funnel. Plus, you can upload custom funnels created somewhere else to use on Convertri, or export funnels you've created on Convertri to other platforms.
This is handy when you're using different tools and want to import or share funnels before they're finalized for implementing on your site.
Convertri Funnel templates
Convertri funnels are just as many as ClickFunnels. They include:
Software, that showcases the latest software with videos, upsell pages, customized checkouts, and more
Free-plus-shipping, which helps you build excitement for products using space for features and benefits, and embedded video. It works with physical products so that customers don't think twice about making the purchase
Webinar funnel, which gives a sense of urgency, and helps you have your prospects on the edge of their seats as you inspire them around your product or service
Lead-gen, which helps you build a loyal band of customers and draw in leads using forms and videos
Info funnel, which allows you to sell products using downsells, upsells, and VSL
Timed elements, invisible layers, and triggers
You can also set triggers, elements, and layers to hide or show after a specific time period lapses, and keep your prospects or leads engaged where you want them to be.
One-click upsell and two-step checkout
Convertri also allows you to convert more leads using upsells. You just need to click the box to make a one-click upsell and get more leads and profits trickling in.
Also included is the two-step checkout that lets you link your pages to get contact information before the customer checks out on the main checkout page. This helps with follow-up on abandoned carts and boosts conversions.
Background videos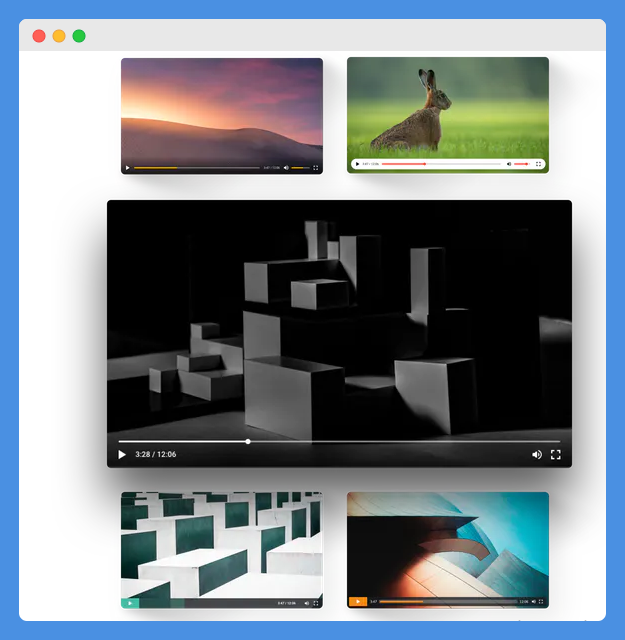 This feature is available for Convertri members to use to make a site look beautiful and draw customers' attention. It plays in the background when people visit your site.
Split testing
Convertri also offers split tests for any piece of your funnel to know what works, what doesn't work, and make the necessary changes.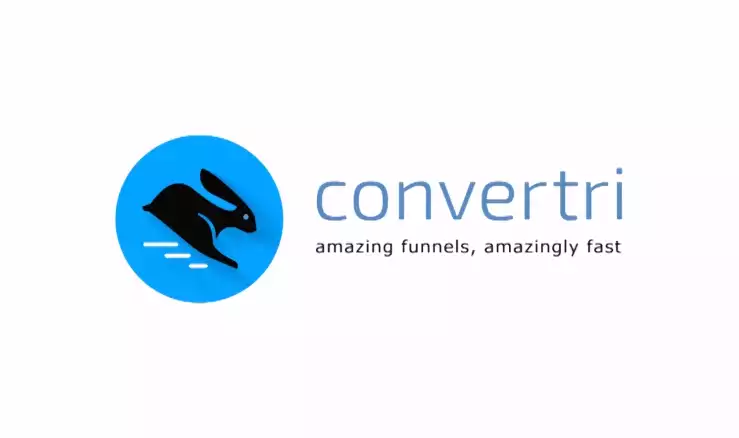 We earn a commission if you click this link and make a purchase.
Countdown timers
This feature helps you create a huge amount of urgency on your offers using multiple skins, expiry effects, and styling.
Page Importer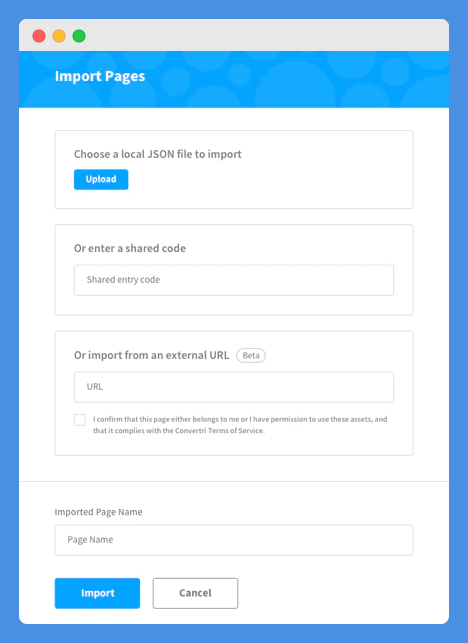 With Convertri's page importer, you don't have to recreate existing pages on a new platform. You can transfer all your pages in seconds, and clone almost any page on the web. All you need to do is add the Convertri URL and press the button.
Domains and hosting
Convertri offers custom domains that you can add to any sub-account, free hosting for all your most valuable pages, and free SSL for every Convertri account without complicated certificates or setup. It also offers custom 404 pages, and you can switch between no-follow and do-follow in a simple click.
Speedy editing
You can quickly edit your pages and add fixes live instantly. You don't have to wait for long for things to pass through a filtered system. Just click 'publish' and you're good to go.
Integrations
ClickFunnels and Convertri both integrate easily with other third-party apps including email services, social media platforms, and more.
ClickFunnels
ClickFunnels integrates with top service providers and tools that allow you to build your funnel better. These include Convertkit, Constant Contact, Facebook, GVO, HTML Form, Ever Webinar, Twilio, Sendlane, HubSpot, Mad Mimi, Webinar Jam Studio, Maropost, MailChimp, Zapier, ShipStation, SalesForce, Interspire, InfusionSoft, GoToWebinar, and more.
To take payments via ClickFunnels, you can set up PayPal, Stripe, InfusionSoft for Payments, Ontraport for Payments, ClickBank, or NMI.
Convertri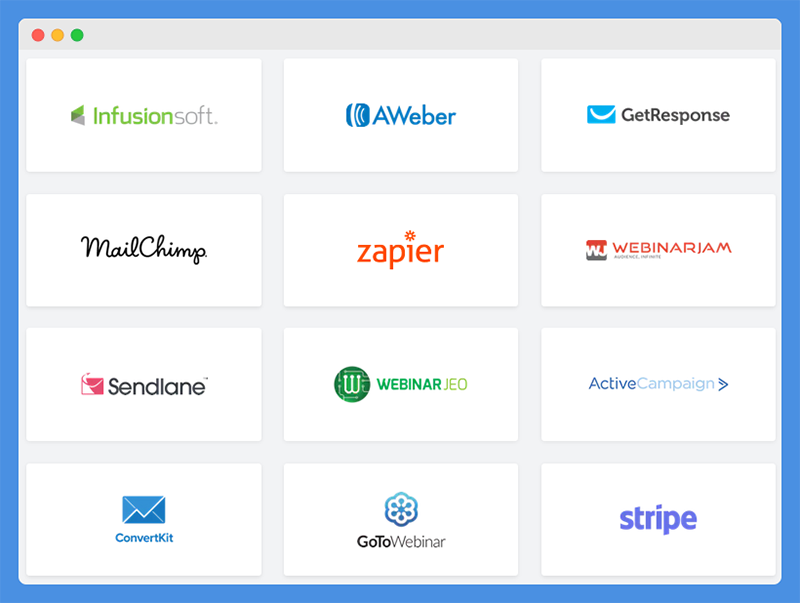 Convertri, on the other hand, has API integrations for multiple services including Zapier. Other integrations include platforms such as Drip, Stripe, MailChimp, Keap, ActiveCampaign, AWeber, WebinarJam, ConvertKit, and many others.
Support
ClickFunnels
ClickFunnels offers 24/7 support through their customer service team, which you can reach through a support link on any of its pages. You can also get support articles from the ClickFunnels helpdesk, and drop your query in the Facebook group.
Convertri
Convertri offers support through an online contact form and a handy knowledge base with support articles on different topics. A Facebook group is also available where you can ask your questions.
Pricing
ClickFunnels Pricing

ClickFunnels offers three pricing plans: ClickFunnels plan for $97 per month, ClickFunnels Platinum $297 per month, and ClickFunnels Two Comma Club (formerly Collective) $2497 per month.
The ClickFunnels Platinum and ClickFunnels Two Comma Club plans offer the most value for money in terms of features and support.
You get unlimited funnels, unlimited pages, priority support plus VIP phone support, FunnelFlix (hours of additional training, courses, and more), 27 domains, 27 payment gateways, and much more.
You can cancel your account easily without engaging the customer support team via email or phone and download your data before canceling so you can keep your members and contacts. Check out the ClickFunnels pricing page for more details.
The thing to note with Clickfunnels is that it doesn't have the option to pay annually. If you want to stay away from the hassles of recurring payments, Optimizepress might be the answer. It's a solid platform like ClickFunnels.
ClickFunnels - Check Special Pricing
Beautiful high-converting sales funnels. Simple, quick & easy to build. Includes email, Facebook automation along with in-built shopping cart. Check Special Pricing.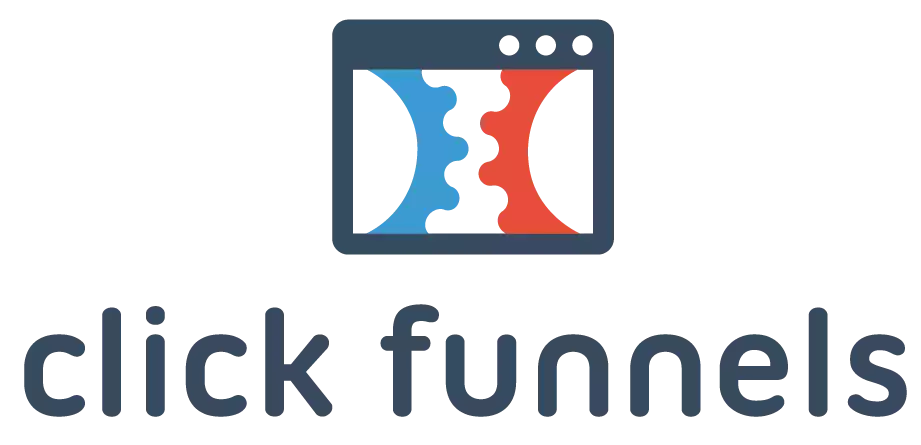 We earn a commission if you click this link and make a purchase.
Convertri Pricing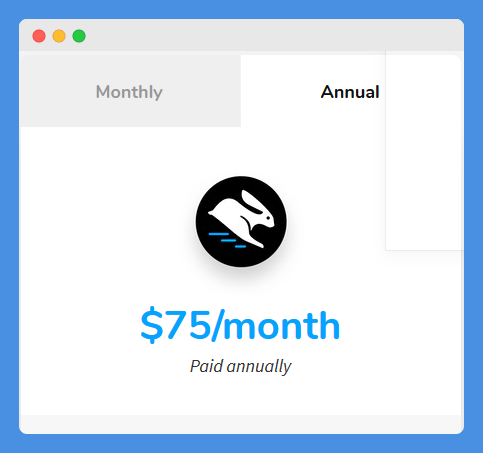 Convertri has one pricing package that costs $99 per month, but if you're paying annually, you get a discount and pay $75 per month instead.
The features you'll get for both the monthly and annual subscription include 25 funnels, 250 pages, 10 custom domains, 400+ templates, 100GB video hosting, 10 team members, 250,000 impressions per month, unlimited products, SSL, split testing, Convertri page builder, and Page Importer. Refer to Convertri's pricing page for more details.
Both ClickFunnels and Convertri offer a free trial for 14 days so you can try them out before committing to their plans.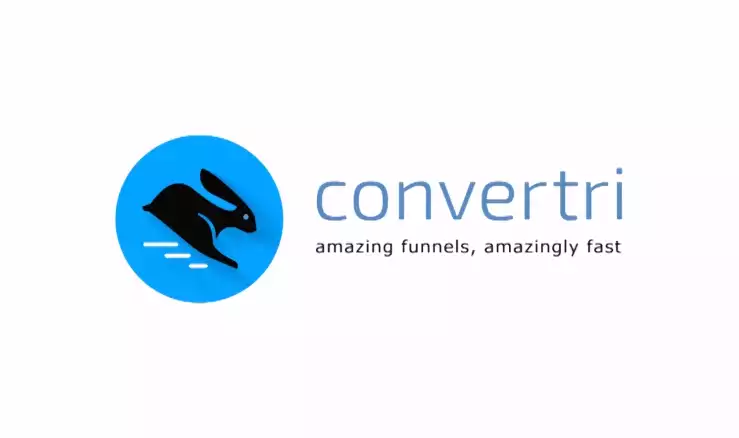 We earn a commission if you click this link and make a purchase.
Convertri vs ClickFunnels: Similarities & Differences
Wrapping Up
This ClickFunnels vs Convertri review covers the main aspects of the two sales funnel builder tools. The question is, which of the two is best for your business, and which one will help you build the best sales funnels?
ClickFunnels is a trusted sales funnel brand and is more established compared to the fairly new Convertri. When it comes to price, ClickFunnels cost per month is higher than Convertri pricing. The difference lies in the value that you get, which is more with ClickFunnels than with Convertri.
The major tradeoff you're going to make here is mostly about the tools you need to make things work and your budget.
Depending on the customization capabilities you want for your business, ClickFunnels is the way to go. Not only does it offer value for money, but it also gives you proven, high-converting sales funnels that you can customize to your liking. Plus, you can test run it for free and see if it's a good fit.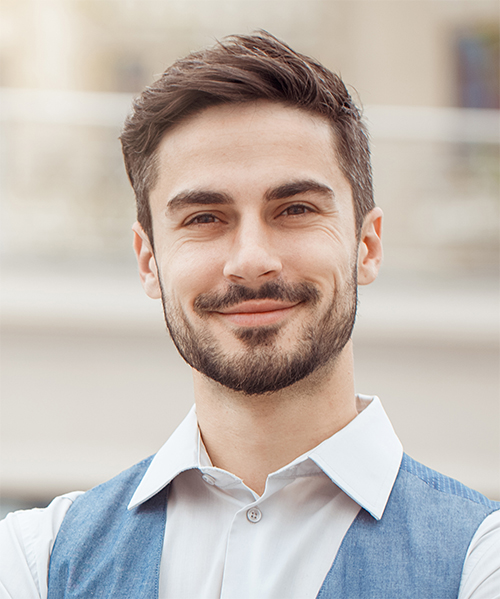 Author: Scott Macarthur
Scott L. Macarthur is a marketing consultant and an online author. He is mostly engaged in providing his expertise to startups and SMBs.