Did you know that 91.5 percent of all organic traffic goes to the websites that appear on the first page of Google? That's why having an effective SEO strategy is so important — appearing on anything less than the first page just isn't an option.
However, there are only 10 spots on that first page.
This means that you have to be better than the rest; you will face a lot of competition as everyone wants to land in one of those 10 spots.
Tools like Ahrefs let you analyze your SEO performance, choose the right keywords, and track your competitors so you can be better than them.
However, Ahrefs might not be for everyone; that's why today, we will review the top 10 free and paid alternatives to Ahrefs.
Best Ahrefs Alternatives & Competitors [Free & Paid]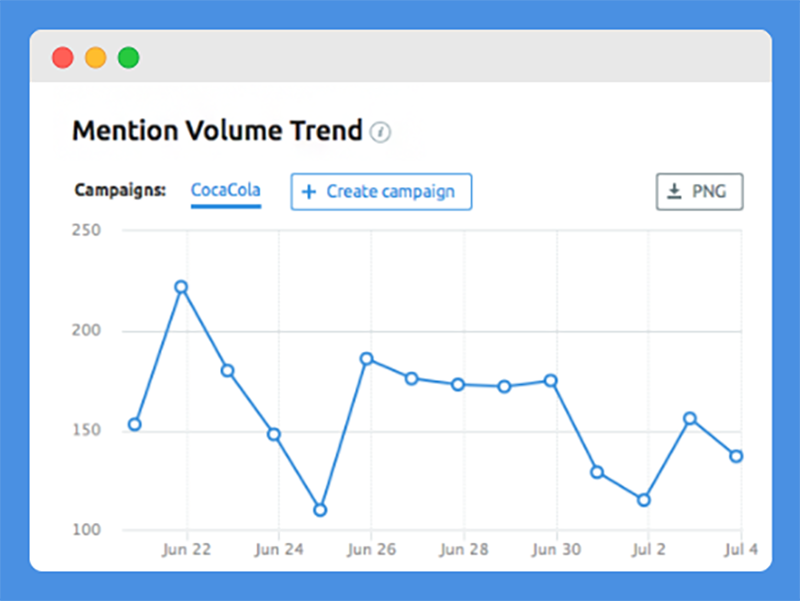 SEMrush is, without a doubt, one of the most well-known SEO, PPC, and competition research tools. It is a one-in-all app that will fulfill all of your SEO needs.
Let's go through SEMrush's top features:
Our Pick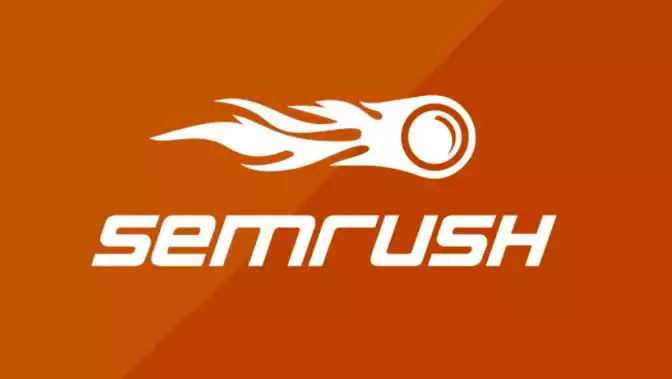 We earn a commission when you click this link and make a purchase.
Organic SEO research
Keyword tool: The keyword tool will give you information about keywords to help you determine whether they get enough monthly volume, are easy to rank for, and have a low CPC. The keyword tool works with multiple languages and countries. Get over 20 million regular and long-tail keyword ideas, create keyword lists, and find the top keywords.
Market research: Research any market and see who the top players are, how many visits their websites are getting, traffic trends, and traffic sources. Get audience insights into interests, demographics, and behavior.
Content research: Discover topic ideas to write about that are trending.
Content analysis: Analyze your blog posts and check for SEO value, keyword density, brand message, and much more.
Position tracking: Track your position in the search engine results for your target keywords.
Site audit: Audit your site for SEO errors and mistakes, such as broken links or insufficient metadata.
PPC research
Competitor research: Discover who your top competitors are, track their ads, analyze their ad copy, and spy on their performance.
PLA: Find your top competitors for product listing ads.
CPC map: Get a visual map displaying CPC prices based on region and niche.
Ad builder: Create high-converting ads.
Social media
Social media tracking: Track your social media performance and the performance of your competitors
Social media auto poster: Schedule your social posts in advance and manage your profiles
Analysis and reporting
Track your SEO performance
Monitor your brand mentions
Check two domains side-by-side to get SEO scores
Analyze your competitors' sites and discover their keywords and backlink sources
Track your backlinks and discover backlink opportunities
Find bad backlinks and send them to the Google disavow tool
SEMrush has various other tools and features.
Read our full SEMrush review for more information.
In a nutshell: SEMrush has every possible tool and feature you will need to boost your SEO rankings, get more traffic, beat your competitors, and get more out of your advertising campaigns.
Our Pick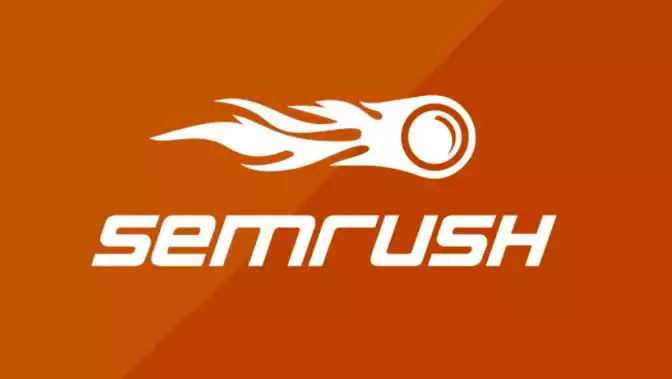 We earn a commission when you click this link and make a purchase.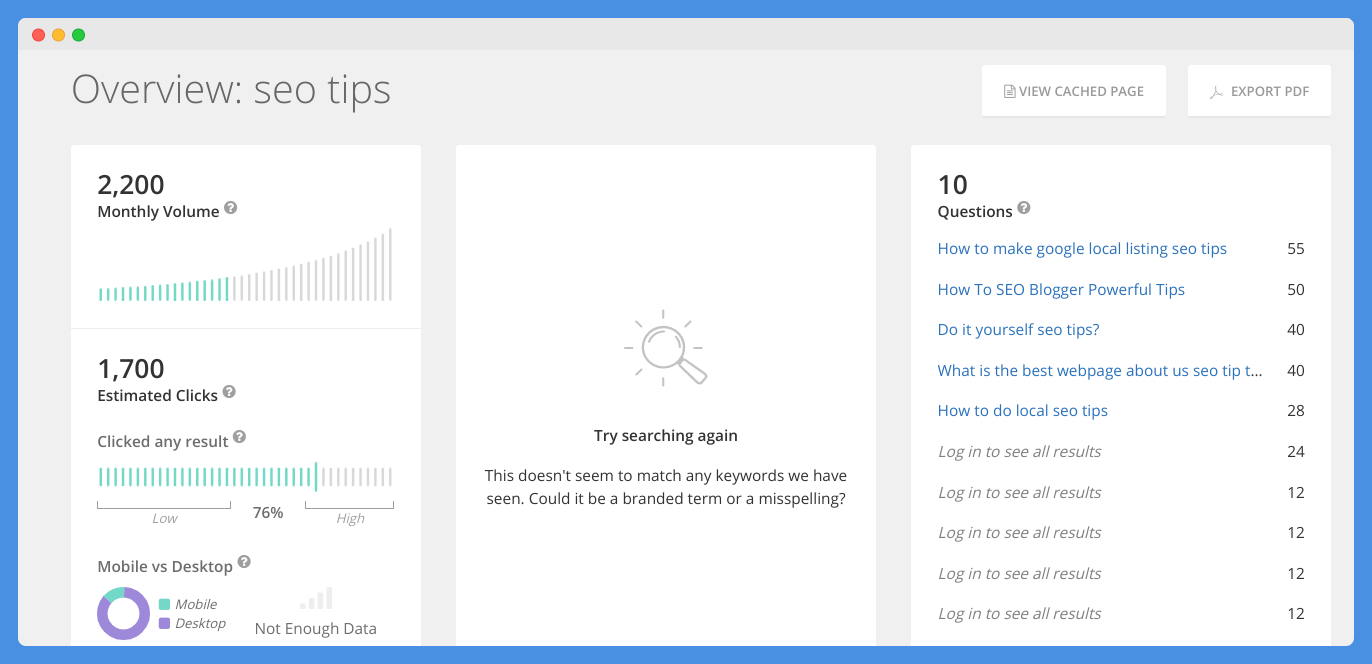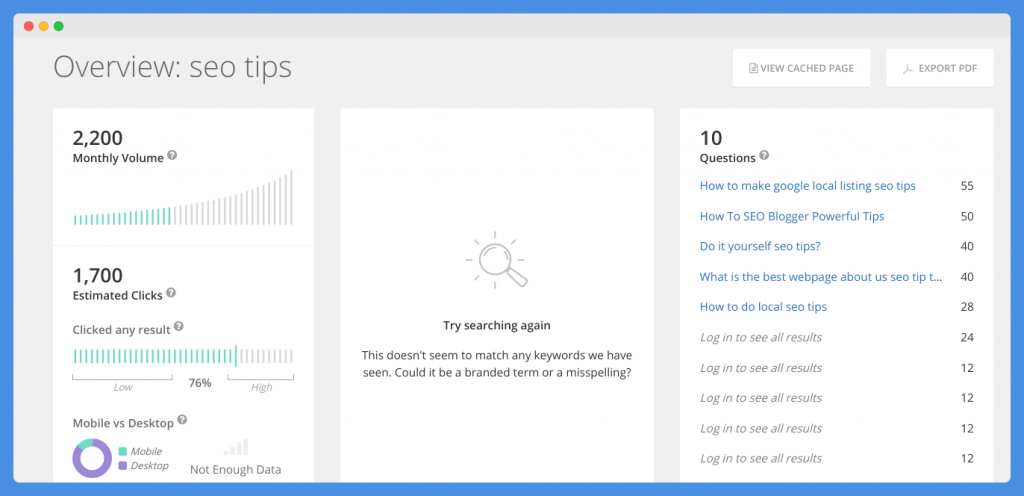 SpyFu is another great alternative to SEMrush. Although its name suggests that it is primarily a competition research tool, it has excellent SEO and PPC research tools as well.
Let's review its top features:
SEO competition research
Download a list of the keywords your competitors are ranking for
Track your competitors' rankings over time
Enter three competitors and discover the top-performing keywords across all three of their sites
See which backlinks are helping your competitors rank for a specific keyword
Find influencers to get backlinks and social media mentions
Track your own SEO rankings
Keyword tool
Discover the top-performing keywords in your niche for both PPC and SEO
Find sites you can get backlinks from to help you rank for a specific target keyword
Group keywords together to save time
PPC competition research
Download a list of target PPC keywords your competitors are targeting
See how much your competitors are paying for their target keywords
Enter your website to discover the top keywords you should be using, based on your competition
Track your competitors' keyword performance over time
Group your keywords together
Find out which keywords you should NOT use
You can also download all sorts of SEO reports to help you improve your rankings. Spyfu can be tried for free, without even signing up.
Read our full SpyFu review for more information.
SpyFu - The Best SEO & PPC Tool
SpyFu reveals the marketing formula of your competitors. Search for any domain on internet, track rankings, keywords, ad variation and more. Make better marketing decisions with SpyFu.

We earn a commission if you click this link and make a purchase at no additional cost to you.


UberSuggest used to be a popular standalone tool to find keyword ideas. It is now under the ownership of Neil Patel and has been transformed into an even better all-in-one SEO, keyword, PPC, and competitor research software.
Let's go through UberSuggest's features and see how you can use it to boost your rankings.
We can divide UberSuggest into three main features, which you will see in the left-hand menu of the app.
SEO research
Keyword overview: Type in any keyword and you will get a keyword difficulty score, monthly traffic volume data, a paid difficulty score, the average CPC, and various charts depicting trends.
Keyword ideas: As with the old UberSuggest, the new UberSuggest will show you a list of high-performing keywords you can use. You will see important volume, history, and competitor information for each keyword. You will also be shown question-based keywords, such as "how can I rank for SEO."
Content ideas: Not only will you get keyword ideas but you will get ideas for blog posts that will attract attention.
Site research
Site SEO research: Enter your or a competitor's domain name to see information such as how many monthly visits it is getting, how many organic backlinks it has, its domain score, its top keyword rankings, its top SEO pages, and various other graphs and charts.
SEO audit
Full site audit: Discover SEO errors and mistakes, see warnings, check your site speed on desktop and mobile devices, and see the top issues affecting your rankings.
Backlink research: Enter your or a competitor's site to see its top backlinks. Discover information about each linking site, such as its SEO score.
UberSuggest can be used without signing up, but signing up allows you to create projects and track keywords and sites over time.
Check Out: Spyfu Vs Moz Pro Vs SEMrush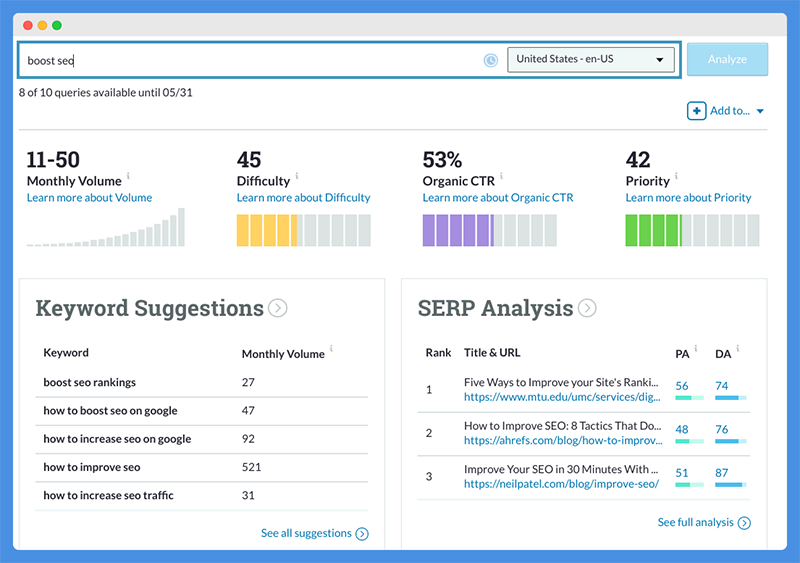 Moz is an old name in the SEO industry. It has a full suite of SEO tools:
Keyword research
Keyword monthly search volume, difficulty score, and CTR
Keyword suggestions
Keyword search results analysis
Keyword lists
Site analysis
Enter any site domain or URL and see its page authority, domain authority, top-rankings keywords, and top positions
Analyze its top keywords, along with their monthly volume and the pages ranking for them
See ranking distribution
Backlink research
Enter a site to see how many inbound links it has, how many domains are linking to it, and more
See newly discovered backlinks
See deleted or lost backlinks to find out if some sites that were linking to you removed their links or went offline
Analyze links to see how many no-follow vs do-follow backlinks there are
See the top backlinks that are generating the most traffic and coming from sites with the highest page authorities
See a graph detailing linking domains based on domain authority distribution
See which anchor text keywords are used the most when linking to your site
Discover spam scores for your backlinks
Enter a competitor's URL to discover backlink opportunities for your own website
Create link building lists to track and analyze your progress
Pro features
Grade your on-page SEO performance and discover how you can further optimize your page for SEO rankings
Check your SEO rankings
Track your keyword rankings over time
Track your competitors' rankings over time
Create campaigns to stay updated on your SEO performance
Moz has a forum where you can ask SEO questions and get answers from other marketers or even from the Moz moderators.
There are also blog posts, guides, webinars, and other informational resources to learn more about SEO.
Although we distinguished the free features from the Pro features, keep in mind that the free tools only allow you to make 10 searches per month.
Interesting Post: SEMrush Vs Moz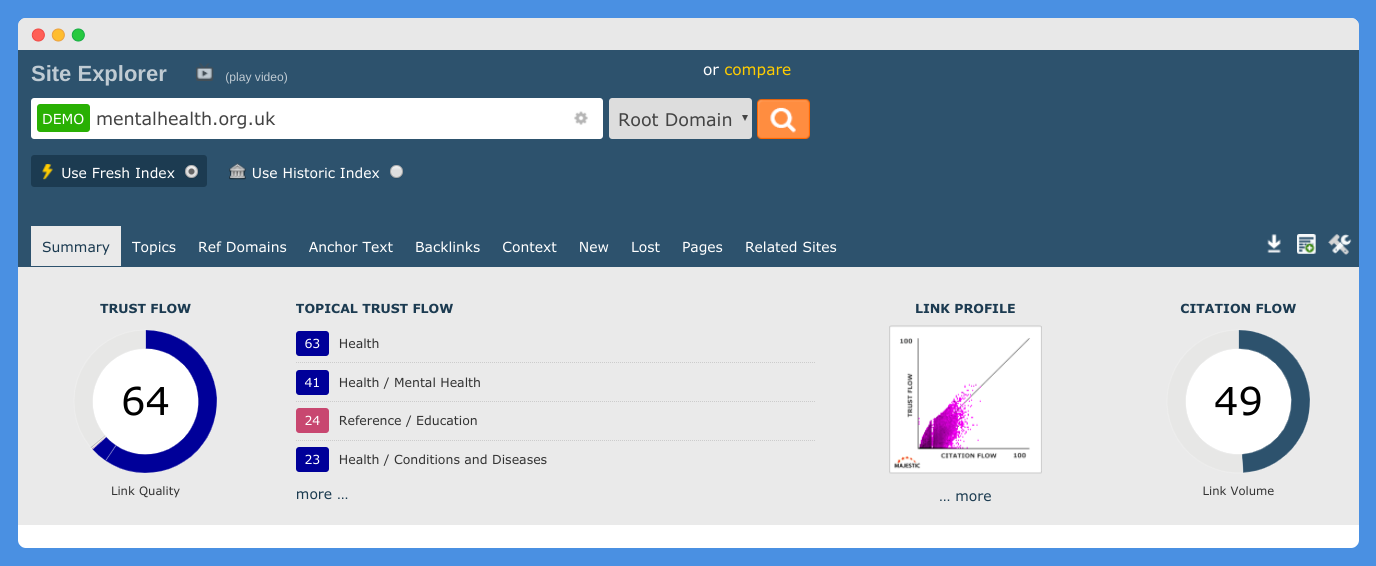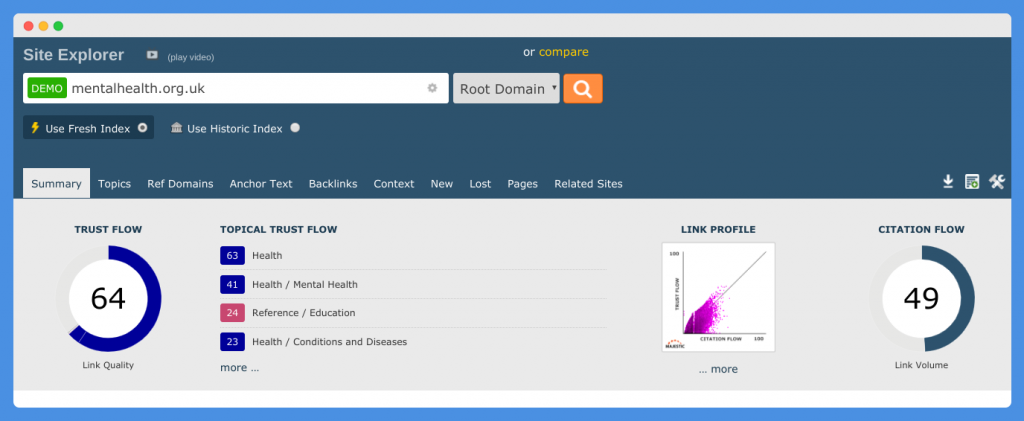 Majestic's primary focus is on backlink research. Nevertheless, there are various other SEO tools you will find useful.
The website itself might feel a bit dated compared to some of the other tools in this list, such as SEMrush. Nevertheless, there are so many tools and sub-tools available and so much information to uncover.
For example, you can enter a URL and see the domain's trust flow, citation flow, link profile, referring domains, IP addresses, anchor texts, new backlinks, lost backlinks, and more.
The Bulk Backlink Checker tool is one of Majestic's most popular tools. You can analyze the backlinks of up to 400 URLs at once.
Other tools include the keyword generator tool, which will help you find the best keywords ideas in any niche, and the keyword checker tool, which will give you deeper insights into a keyword you were planning to target and let you know if it would be worth it.
You can audit a site's SEO performance. If your URL was not yet crawled by the Majestic system, you can just submit it for instant indexing.
There are some tools that are not provided by most other tools in the SEO research category. For example, let's say you use a shared hosting plan to host your website.
If you don't have a particularly large website, you probably are on a shared hosting plan; paying for a private server costs a lot of money and is not included in standard hosting plans.
This means that you will be sharing a server with other websites. Have you ever wondered which websites they are?
The Majestic Neighborhood tool will help you find out which other sites are hosted on the same IP address as your own.
The Neighborhood tool is only included in the Pro plan.
Other features only included in the Pro plan include a tool to help you find sites that are linking to your competitors but not to you; you can then try to get backlinks from those sites to catch up with the SEO advantage those backlinks gave to your competitors.
You'll get access to five years of historical SEO data, discover backlink growth gaps, and much more.
You can discover mutual links and compare sites to see each of their backlinks and SEO performance histories.
There is also an API plan available, which lets you develop your own, internal tools, and you can use the API to integrate with your dashboard.
Explore: Best Keywords Everywhere Alternatives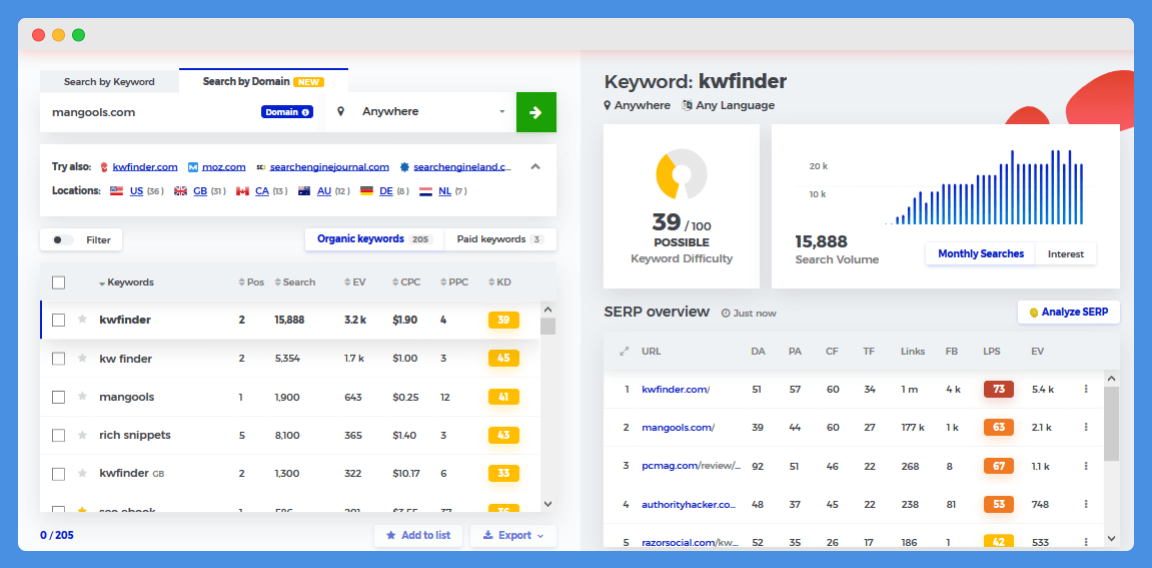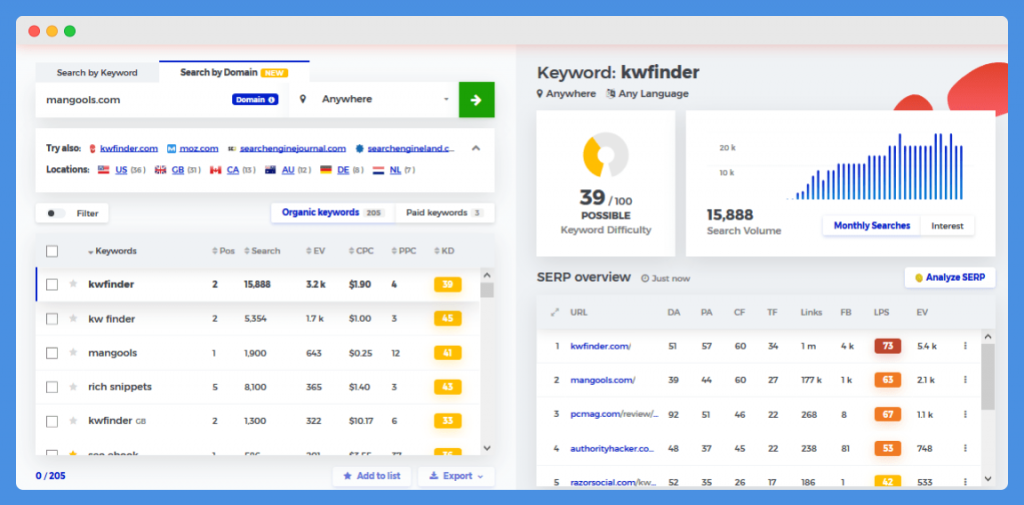 Mangools is not as well-known as the SEO tools mentioned in this list so far, but it is a great alternative to Ahrefs at a very affordable price.
The keyword research tool lets you search by keyword or by domain.
If you search by keyword, you will be given a keyword difficulty score, search volume information, and related keyword ideas.
You will also get a search engine results analysis, with a list of the domains ranking for that keyword and their domain scores.
This will help you get a better idea of what kind of competition you will be up against.
You can go to the SERP Analysis tool to get an even deeper analysis of the search engine results.
You will learn how many backlinks each result has, their SEO scores, their trust flow scores, the meta descriptions and featured snippets being used, and much more.
If you want to track your keyword rankings over time, using the Rank Tracker tool.
You will see what your position is for the keywords you are targeting, whether your position has risen or fallen, and graphs that track your rankings over time so you can get a birds-eye view of your historical performance.
You can use the Website Analysis tool to analyze your own or a competitor's website.
You will see stats such as the citation flow, the trust flow, the Alexa rank, the number of referring IP addresses, and much more.
You will get insights into the backlinks linking to the website, the audience and visitors of the website, its top content, and more.
You will even see how many shares the website is getting on social media.
The Backlink Analysis tool goes deeper into the backlinks of your site (or your competitor's site).
You will learn the SEO values of the domains linking to you or your competitor, see how many do-follow links there are, and see new links and lost links.
Mangools has a very nice interface. It feels almost fruity, with mango colors being used throughout the website.
Overall, Mangools is a good SEO tool that is very easy to use and simple to navigate.
Also Read: Best KWFinder Alternatives
Mangools - Now Make SEO Simple
See SERP for any location, track your rankings, find backlinks, gauge competitor website & more. Use Mangools to simplify your search engine optimization.

We earn a commission when you click this link and make a purchase.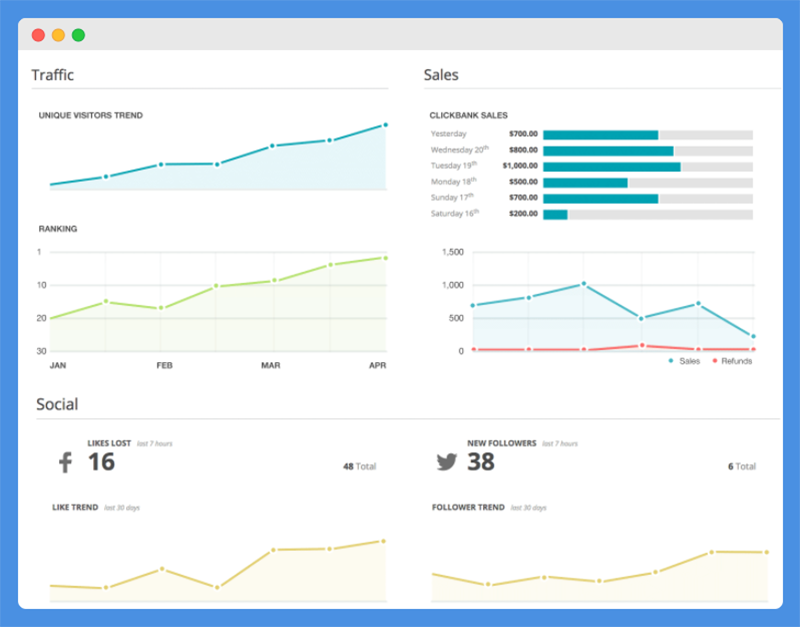 AffiloTools, by the makers of Affilorama and Salehoo, is a bit different from the other software programs we have looked at so far because it is a downloadable program for Windows and Mac as opposed to being a cloud-hosted tool.
Nevertheless, it is free and will give you the ability to track your SEO performance, manage your backlink campaigns, and spy on your competitors.
The first part of AffiloTools is the SEO research section. Here, you can conduct keyword research and discover a list of keywords; you will get a difficulty score for every keyword as well as search volume information.
Next, you can track your own site and see how well you are performing.
You can track your keyword rankings in multiple locations and languages, and you will also be shown which keywords are bringing you traffic and which are not.
You will get a snapshot of your site's performance, including traffic, keyword rankings, indexed pages, Facebook likes, and Twitter mentions. You will also be shown your Clickbank earnings.
The last part won't be relevant to most businesses — it's only for affiliate marketers still using Clickbank to promote products.
Although the name "AffiloTools" might make it seem as if it can only be used by affiliate marketers, the truth is that any small business or website owner can use it to improve their SEO.
You will also get an SEO health audit of your site and be shown critical errors.
The second part is competition research. You will discover your top competitors, see who the big players are, and find out where they are getting their backlinks from.
You will be able to be alerted in advance if they are creating new backlink campaigns.
Finally, the last part is backlink campaign management. Choose the kind of backlinks you want (guest posts, for example), and the tool will look for sites that might be useful to you.
Although AffiloTools is free, it might feel a bit outdated to you, but it is a tool that has been around for a long time.
Also, the backlink opportunity finder tool might not be as helpful as you expected.
Nevertheless, it is a decent, solid, SEO tool.
Also Read: SEMrush Vs iSpionage Vs Serpstat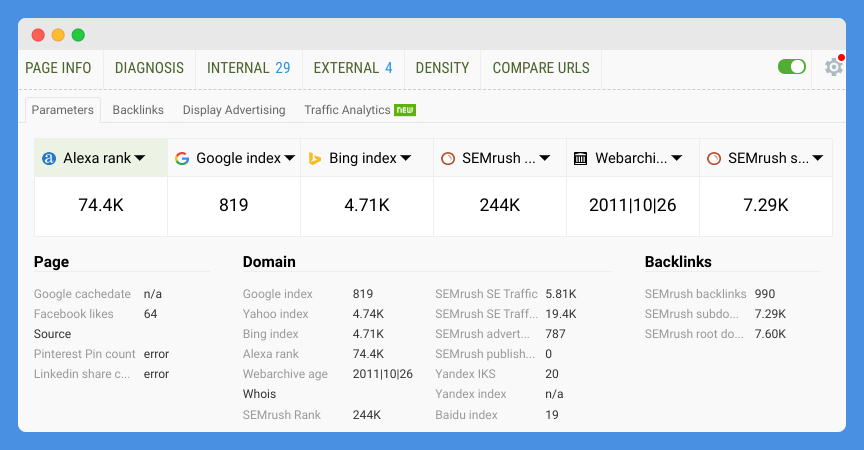 SEOquake is again different from the other tools mentioned so far in that it is a Chrome extension. It allows you to do your SEO research while you are browsing the web without heading over to a separate website or program.
Go to any website and click on the extension icon in your browser bar to get a popup in the corner of your screen showing that website's SEO stats.
You will see information such as the website's Alexa rank, Google Rank, Yahoo rank, and much more.
They also pull data from SEMrush, including backlink analysis and traffic analytics.
If you want deeper reports, click on one of the options in the popup and you will be taken to their website, where the analysis will appear.
For example, you can see a list of SEO errors, tips for improving SEO rankings, keyword density, a list of internal links, a list of external links, and more.
In addition, when you conduct a Google search, you will get basic SEO data under each result snippet.
It's pretty simple and basic, but it does the job.
Also Read: iSpionage Vs Spyfu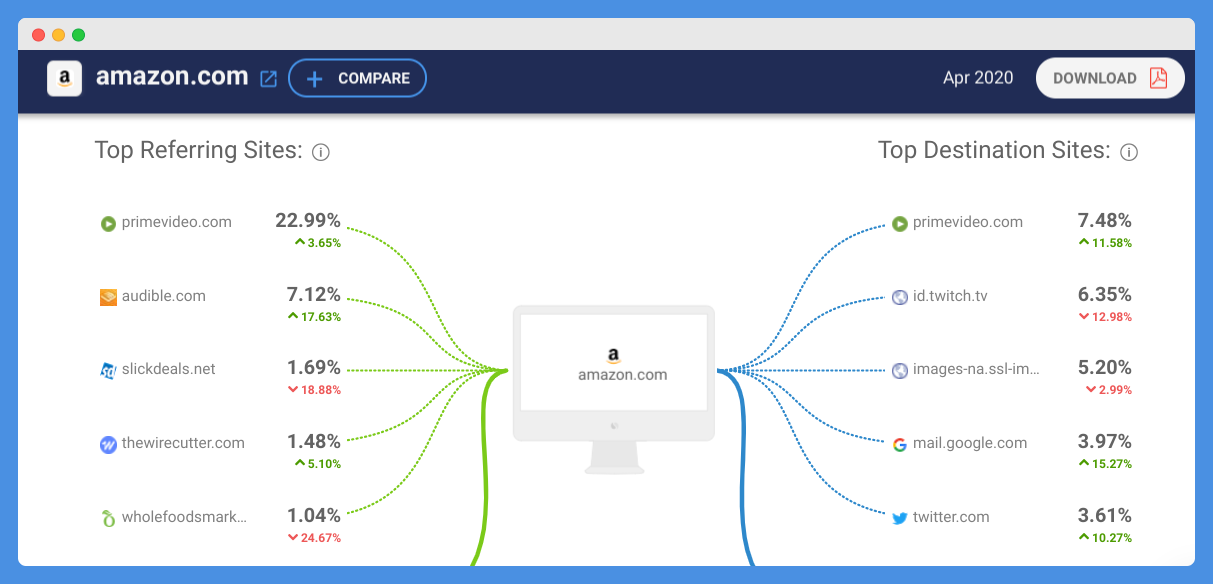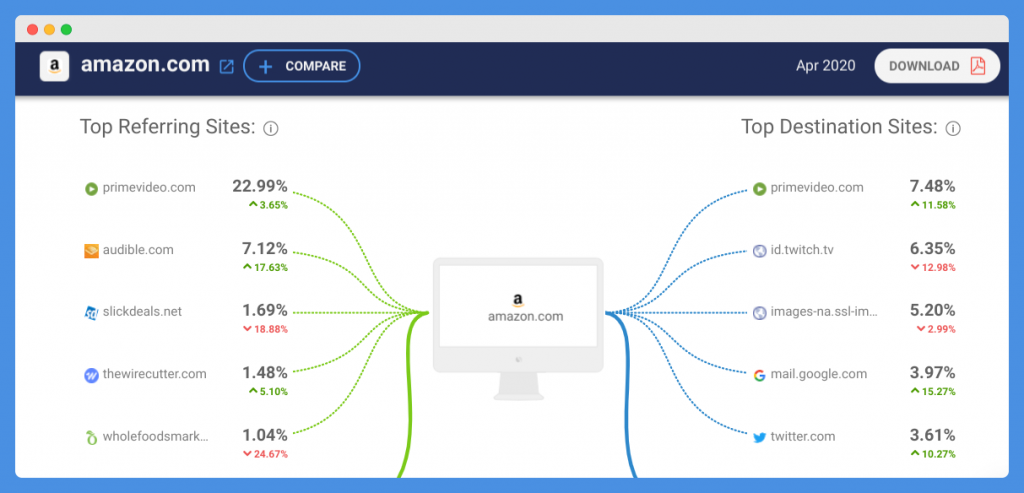 SimilarWeb is not usually considered by businesses looking for an SEO tool, but it is actually a great choice.
It crawls and analyzes all sites, and lets you find out which sites are the top ones in your industry.
If you enter a domain name, you will be able to see important data, such as:
Traffic overview
Traffic breakdown by country
Traffic sources
Top referring domains
Search engine breakdown
Keyword breakdown for SEO and PPC traffic
Social media traffic and sources breakdown
Display advertising breakdown and top referring domains
Top audience interests
Top websites visited by that website's visitors
Top competitors and similar sites
Related mobile apps
This is all provided for free without having to sign up for an account.
If you do sign up for a Pro account, you will get access to even deeper competitor analysis reports, as well as keyword research tools and market insights.


What if you just want to do keyword research and don't need to do competitor or backlink analysis? Keywordtool.io is a great tool to use.
Just enter the keyword you want to research and select the search engines you are targeting.
Besides Google and Bing, you can conduct searches for Amazon, eBay, Youtube, Twitter, Instagram, and the Google Play Store.
There is also a Chrome extension.
When it is installed, you will get keyword data under the Google search bar when you type something into Google, as well as under the related search terms at the bottom of the page.
Bonus: If you just want to do backlink research, MonitorBacklinks.com is a great tool that will show you all your backlinks and the SEO data of your referring sites; you will also get alerts for new and lost backlinks.
You can also track your keyword rankings with this tool.
Wrapping It Up — Which Is The Best Ahrefs Alternative?
SEMrush is the best Ahrefs alternatives as it is the easiest to use, doesn't have a complicated learning curve, and has the most features, tools, and research capabilities of any tool listed on this page.
You can try it out for free on their website.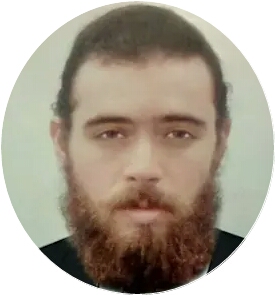 Author: Benjamin Levin
Benjamin Levin is a digital marketing professional with 4+ years of experience with inbound and outbound marketing. He helps small businesses reach their content creation, social media marketing, email marketing, and paid advertising goals. His hobbies include reading and traveling.