If you run a website, one of the most important tools to have is a website analysis tool.
SimilarWeb is one of the best website analysis and business intelligence tools available that displays analytics for any website.
Not only that, but the tool also gives you the data you need to help boost your site's credibility, engagement, reach, and steer your digital marketing tactics in the right direction.
Whether you're a webmaster, advertiser, or site owner, SimilarWeb allows you to capture, access, and view insights into what your competitors are doing to rank better, increase authority, and beat you at your game.
SimilarWeb isn't the only tool with all the best features and rich insights though.
Here are the best SimilarWeb alternatives (free and paid) you can use to benefit your website and your unique digital marketing campaigns.
Best SimilarWeb Alternatives (Free & Paid)
If you've tried to discover your site's ranking on the web, you've probably come across Alexa.
Alexa is a popular tool that helps online marketers, webmasters, publishers, and other online website owners find great examples of other sites with desirable ranking on the web.
The tool comes with a free version that allows you to access basic traffic analytics. Being an intelligence tool, you don't get much with the free version as you would by using the premium/paid version that gives access to richer insights.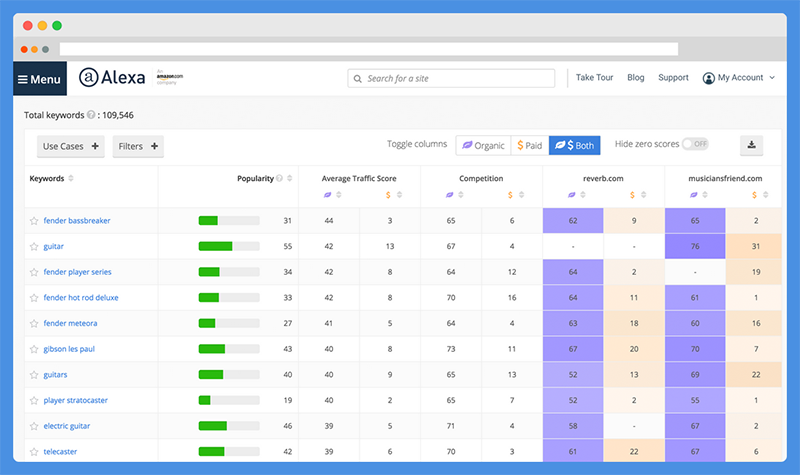 Alexa digs deep into sites to help you compare similar sites to yours globally, and displays insights such as keyword (paid/organic) data and reports, social media influence and exposure, ad methods, search data, and more.
Alexa helps you understand the data and put it into an organized context by displaying the information on charts and graphs so that you know how to use the knowledge.
Like SimilarWeb, Alexa offers analytical insights to help you compare, benchmark, and optimize your business online. Plus, Alexa and SimilarWeb also share audiences including leadership teams, marketing directors, publishers, and business professionals among others.
With Alexa, you can find, reach, and convert your audience. The tool also helps you find untapped opportunities to get better marketing results and grow your business.
You also get all the tools you need to improve your strategies for SEO and PPC and discover new traffic growth ideas. These tools include keyword research, SEO analysis, competitive website analysis, target audience analysis, and backlink checks.
There are free tools such as website traffic statistics, which help you gain insights into the strengths, weaknesses, and digital marketing opportunities in a particular site.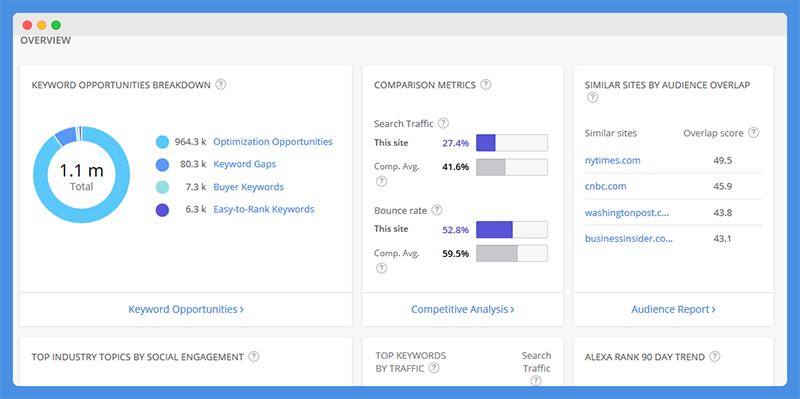 You can also find similar sites as you would in SimilarWeb, using Alexa's audience overlap tool that's based on keyword overlap and shared audience. This way, you can find keyword opportunities that your site doesn't have.
Top Sites is another Alexa feature that shows you the top sites lists ordered based on their one-month Alexa traffic rank. This one-month rank is a combination of average daily page views and visitors over the past month, so if your site has the highest combination, it's ranked first.
Alexa also shows you popular, trending articles by topic, across more than 275 topics, and it has a browser extension like SimilarWeb, along with toolbars for Chrome. Alexa's browser extension shows you a website's popularity, how it looked in the past, sites similar to it, and queries that drive traffic to that site.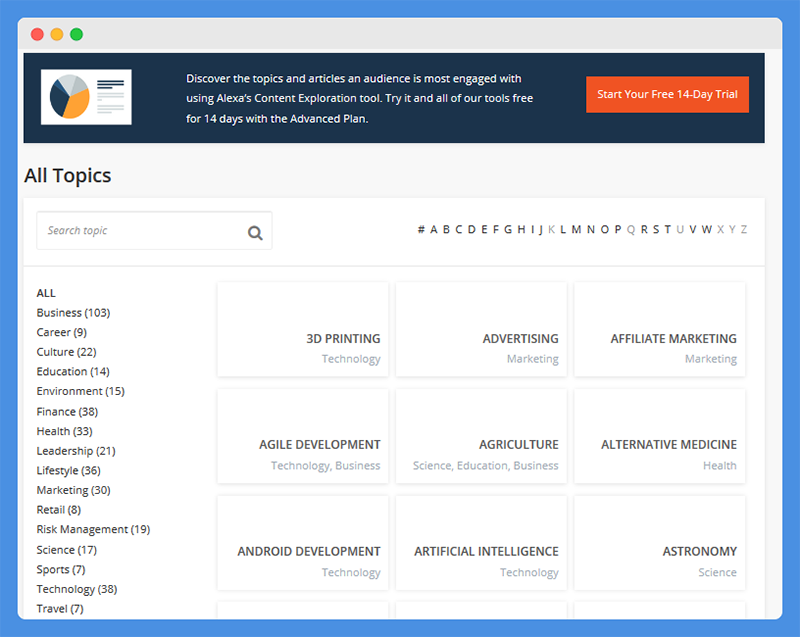 Premium tools you'll find in Alexa include audience overlap, an on-page SEO checker, a site comparison tool, SEO audit tool, competitor keyword matrix, and a backlink checker to check your competitors.
In terms of pricing, Alexa doesn't offer a Free plan like SimilarWeb. However, Alexa offers a free trial and its plans are more defined in terms of cost. SimilarWeb offers an Enterprise plan but you have to contact them to get actual fees.
Alexa has different plans based on three tools: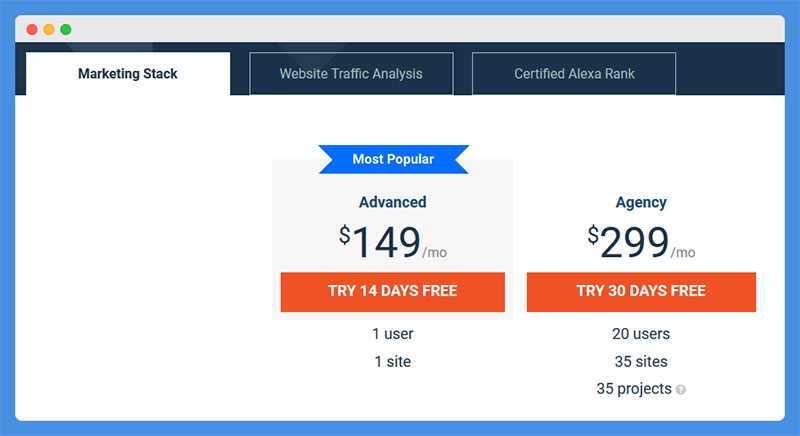 Marketing Stack: Advanced plan $149 and Agency plan $299 per month
Website Traffic Analysis: Insight plan for $79 per month
Certified Alexa Rank: Basic $19 per month, Insight $79 per month, Advanced $149, Advanced High Traffic $799 per month.
For more on features and tools available with each plan, check out Alexa's pricing page.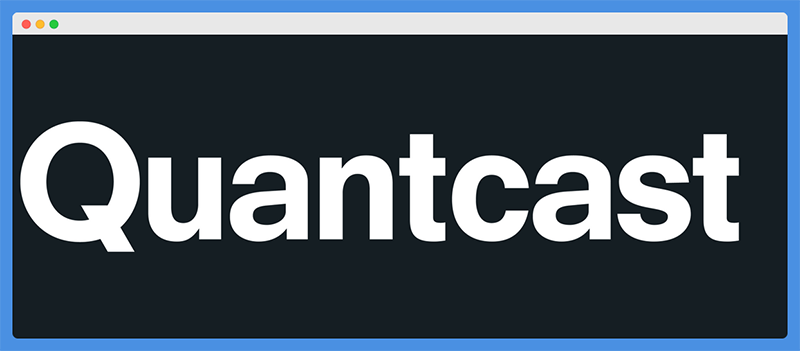 Quantcast is another SimilarWeb alternative used by agencies, consultancies, and publishers to discover new customers, deliver business outcomes, and drive incremental growth.
Like SimilarWeb, Quantcast enables site owners, publishers, agencies, and marketers to gain data about their target audiences. The tool leverages augmented intelligence and machine learning to give audience insights in real time.
Quantcast helps professionals find new customers and improve sales performance, benchmark metrics against the competition, and compare sites to see where they need to improve and where they have an edge.
The tool offers four main features: Quantcast Measure, Quantcast Choice, Quantcast Advertise, and Q for Publishers.
Quantcast Measure is a free tool that offers real-time, deep insights on your audience, what drives them, and how they navigate and spend time across your site.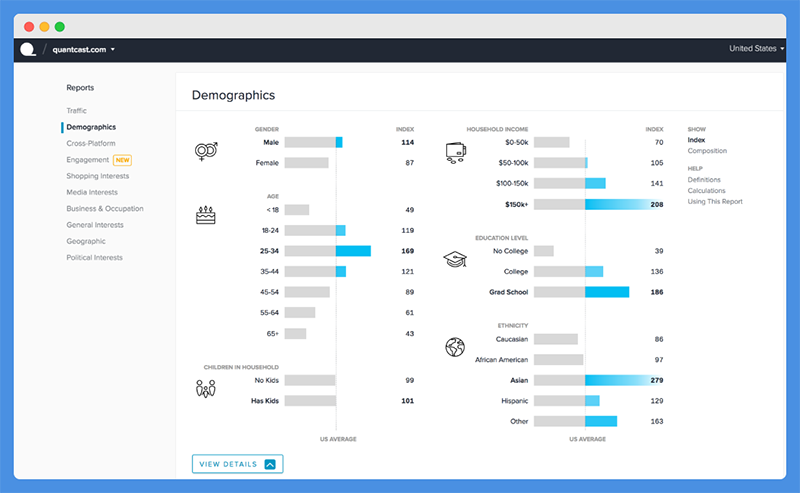 Quantcast Choice allows you to get and manage consumer consent across your properties and digital ecosystem, while Q for Publishers helps you plan your content, grow visitors, and increase earnings from ad sales.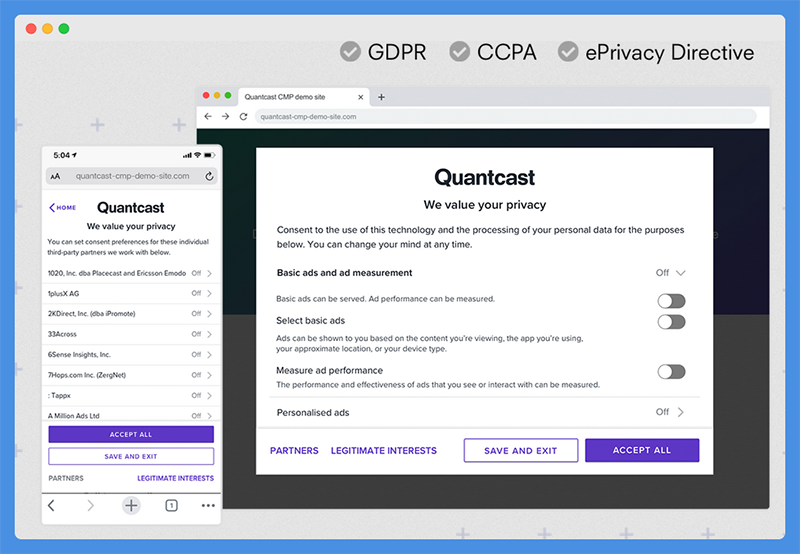 Quantcast Advertising helps you find new customers and grow your brand. It also helps you reach your audience when it counts and gain a competitive edge from insights that count.
Like SimilarWeb, Quantcast helps you get a real-time understanding of your audience, accurate consumer targeting, and in-depth impact measurement so you can know how well your digital marketing campaigns performed.
In terms of pricing, Quantcast Measure is free and offers access to custom audience insights including their demographics and psychographics, custom labels feature showing where your content excels or falls short, and helps you wow your advertisers through cutting-edge data analysis.
SimilarWeb and Quantcast don't display their Enterprise pricing plans so you'll have to contact their sales team for more information on custom pricing plans for your business or organization.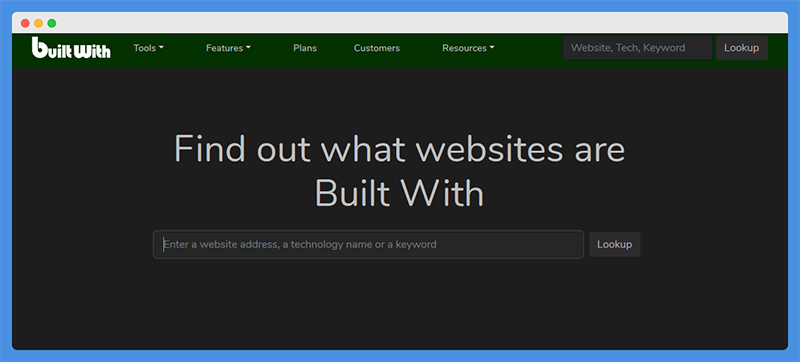 BuiltWith is a comprehensive, fast, and easy-to-use web technology information profiler tool. With this tool, you can find out what a website is built with, and still get insights about the competition and other business intelligence information.
The tool is designed to track elements such as widgets, advertisers, content delivery networks, frameworks, web servers, and web standards, among other technology categories.
Once you enter the domain or URL of the site you want to check, BuiltWith quickly scans and displays the details about the technologies it can find on its database about the particular site.
Like SimilarWeb, BuiltWith also offers a Chrome extension that shows the full breadth of information directly on your browser toolbar.
Some of the powerful features you can use for technology profiling, business intelligence, and analytics in BuiltWith include lead generation, internet-wide analysis, historical data from 9 years ago, depth, and quality data coverage.
With BuiltWith, you can access data that covers leads based on sites across the world.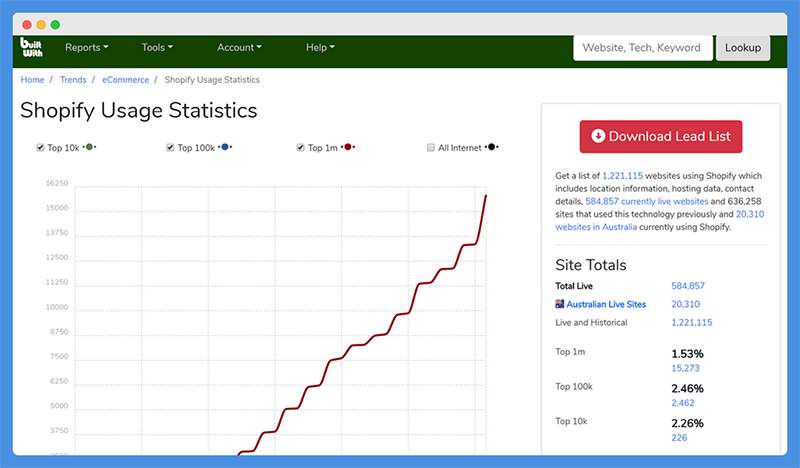 You can drill down to relevant results based on lead lists, predict future leads based on technology usage, see your current leads technology usage, history, and spend. You can also determine sites with different technology spend budgets among other website attributes.
Some of the lists you can find with BuiltWith include technology report filtering, keyword and phrase-based lists, global eCommerce retail leads, or import your own lists.
BuiltWith also offers internet-wide analysis to help you understand the global web technology playing field. Its sales intelligence feature helps you make more compelling offers to your leads, and engage better with your current customers through more informed conversations.
If you want to know whether you're truly capturing your full market, BuiltWith offers depth and quality data coverage, as well as Google Style Indexing for more robust level data coverage.
If you're looking for historical data, BuiltWith helps you find out what sites were doing from as far as 9 years ago. The information that its API gathers can help you understand the risk levels that a website exposes to your business.
BuiltWith also offers alternative data products such as market share analysis, custom projects, technology customer acquisition and loss, and competitor customer movement trends and reports.
You can filter these reports by technology spend or usage duration, keyword, vertical or phrase, mobile readiness, currency, multiple technologies, technologies category, country, state, and zip code.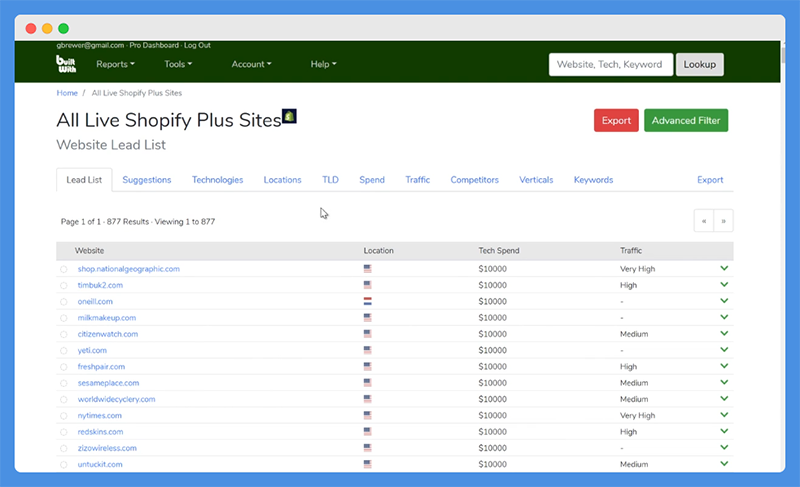 The tool also offers CRM integrations with other apps like Salesforce, HubSpot, Slack, Marketo, Gmail, Excel, Google Sheets, and Crunchbase Pro.
Like SimilarWeb, you can use BuiltWith on your browser by getting an extension for Google Chrome, Mozilla Firefox, or Microsoft Edge.
BuiltWith is free to use for single-site lookups, but it also offers three pricing plans for different scope requirements.
The Basic plan costs $295, Pro $495, and Team $995. All plans include data from 370 million websites, trends and technology history, predictive leads, advanced lookup, report download, 45,602 technologies, and Pardot integration among many other features. Refer to the Builtwith pricing page for more details.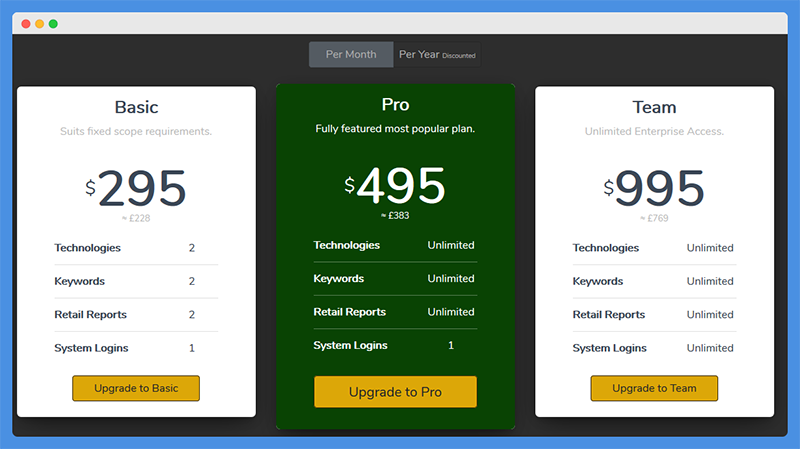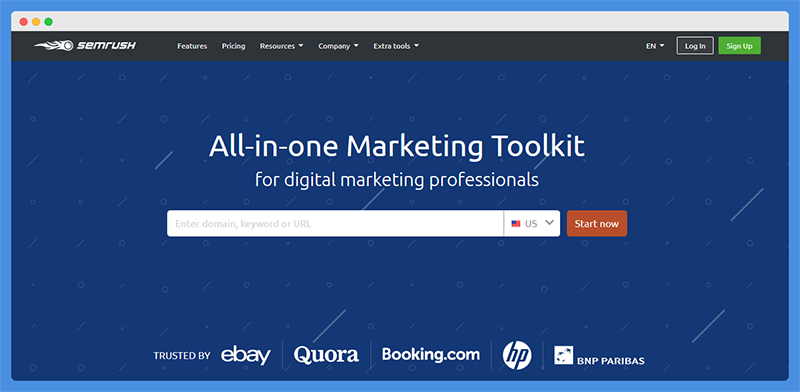 SEMrush is a comprehensive SEO tool that helps you discover marketing insights and improve online visibility. The tool supports both traditional and competitor-based keyword research methods and is used by marketers working in SEO, PPC, SMM, content marketing, keyword and competitive research, and PR among other fields.
SEMrush helps you measure, improve, and report on your digital marketing goals regardless of your expertise or area of focus. Its features are categorized into technical SEO, local SEO, backlink analysis, SEO keyword research, and SERP tracking among others.
With technical SEO, you get to check your site's health using site audits, log file analyzer, and on-page SEO checker.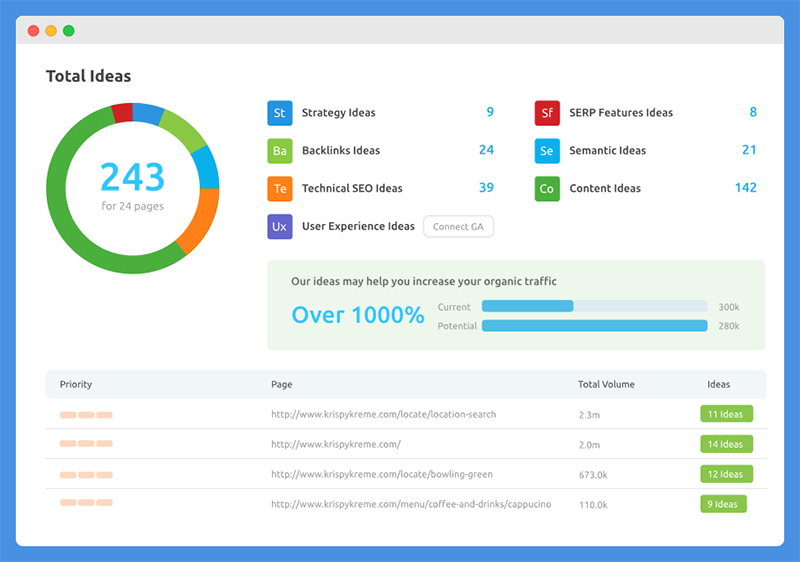 Like SimilarWeb, you can do keyword research using SEMrush and discover keywords and their values, as well as competition to discover how these fit your marketing goals.
The keyword research tool analyzes the competition's organic keyword pages and rankings while giving you the top-performing keywords in your niche. You also get a keyword magic tool and keyword gap for comparing your profile versus the competition's profiles.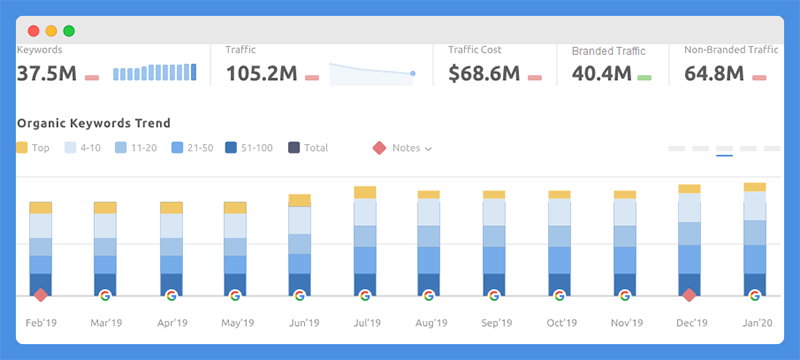 SEMrush also offers backlink analysis, which is useful when you need to strengthen and monitor the quality of your backlink profile.
Other tools available in SEMrush include Local SEO, which helps you distribute your data to reputable online directories, on-page SEO checker, SERP tracking to track your campaign's progress, domains, competitors, and keywords.
Content marketing is included in SEMrush's toolset, which helps you create a powerful content strategy and includes features like topic research, spotting influencers in your niche, finding relevant content distribution platforms, and more.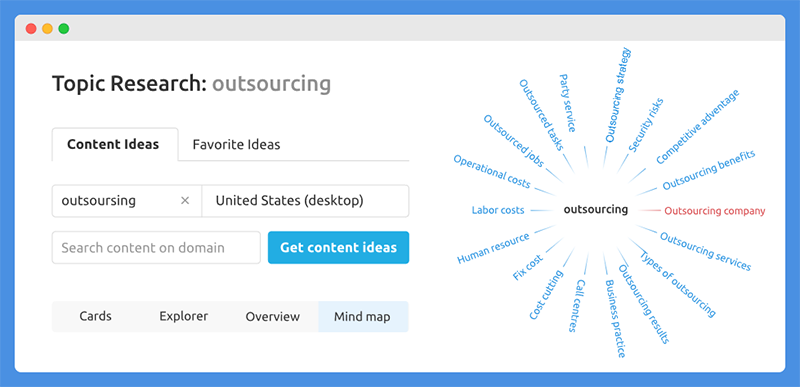 You also get market analysis, competitor analysis, and paid tools such as advertising reach, ad builder, PLA, and display advertising. You also get intelligence that helps you monetize your site's traffic and social media management solutions for ad management, publishing, and monitoring.
SEMrush is priced in three plans unlike SimilarWeb, which offers one free plan and a custom Enterprise plan.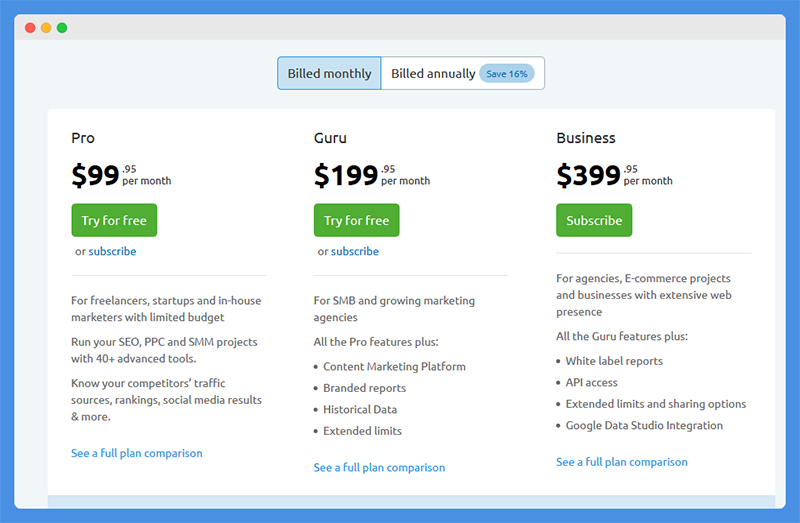 SEMrush doesn't have a free plan but breaks down its plans into Pro $99.95, Guru $199.95, and Business $399.95 per month. For more details on what you get with each plan, refer to SEMrush's pricing page.
If you're a Nonprofit, you can avail special discounts on their plans.
Explore: Moz Vs SEMrush
Our Pick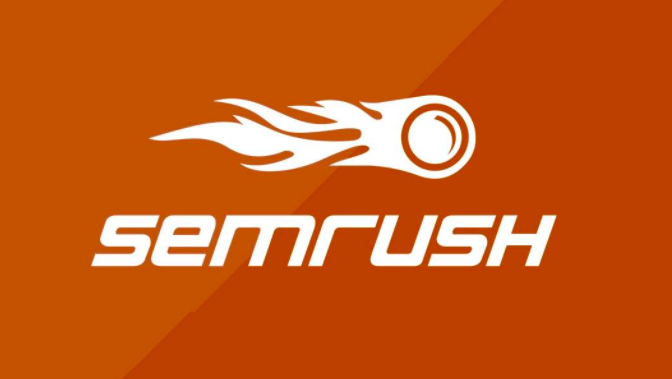 We earn a commission when you click this link and make a purchase.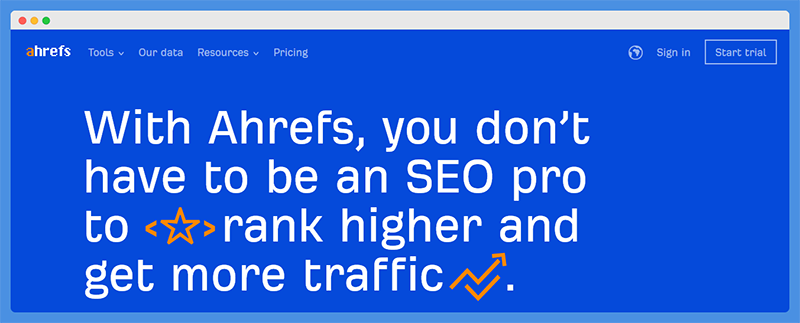 For many people, Ahrefs is one of those tools that come across as complex, until you actually understand how it really works.
Ahrefs is an all-in-one, comprehensive SEO toolset that helps you optimize your site, analyze competitors, study what audiences search for, learn from top-performing content in your industry, and track your ranking progress.
The tool is used by multinational brands to bloggers across the globe who turn to it to grow their search traffic.
Among Ahrefs' powerful features include the Site Explorer, which offers an in-depth look at the backlink profile and organic search traffic or any URL or website. In the US alone, Ahrefs monitors more than 150 million keywords and over 150 countries, so you can get an accurate picture of the organic search traffic for various sites.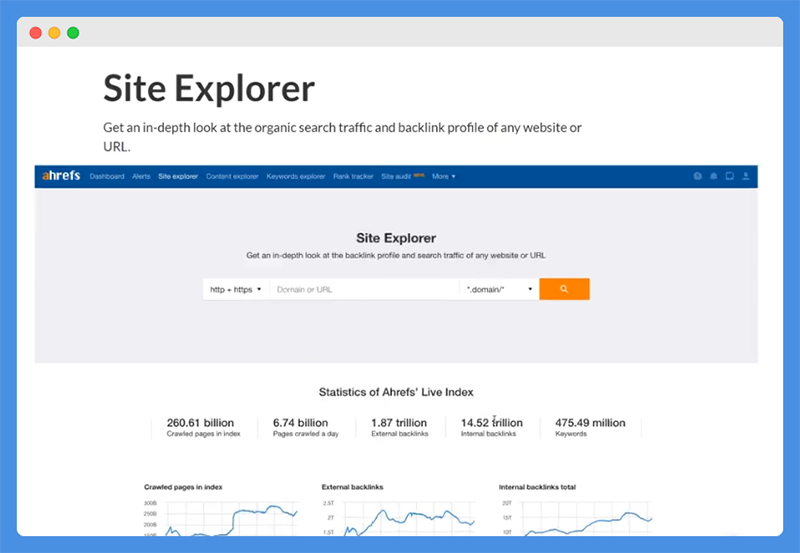 Ahrefs Keyword Explorer works similarly to the Keyword Generator in SimilarWeb, as it helps you discover thousands of great keyword ideas while calculating their traffic potential and ranking difficulty.
SimilarWeb's keyword generator helps you discover new keywords for PPC, SEO, and content so you can see the sites that receive the largest share of traffic from each keyword and group.
Ahrefs' Keyword Explorer boasts the largest third-party search query database, and the most complete keyword research tool in the world supporting data for 171 countries and 10 different search engines.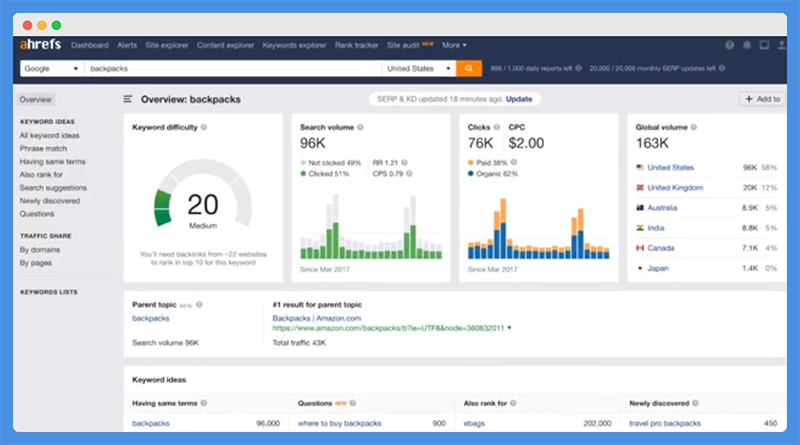 You can also get an exhaustive website analysis using Ahrefs' site audit that crawls all your site's pages and gives you an overall SEO health score. The audit also visualizes key data in charts and offers recommendations on how to fix all SEO issues it flags.
Ahrefs Rank Tracker monitors rankings over time and displays performance against rival sites through charts and scheduled reports. You can get ranking updates for desktop and mobile across 170 countries, visualize SEO progress, sort keyword lists with filters and tags, and see if your site ranks in SERP features.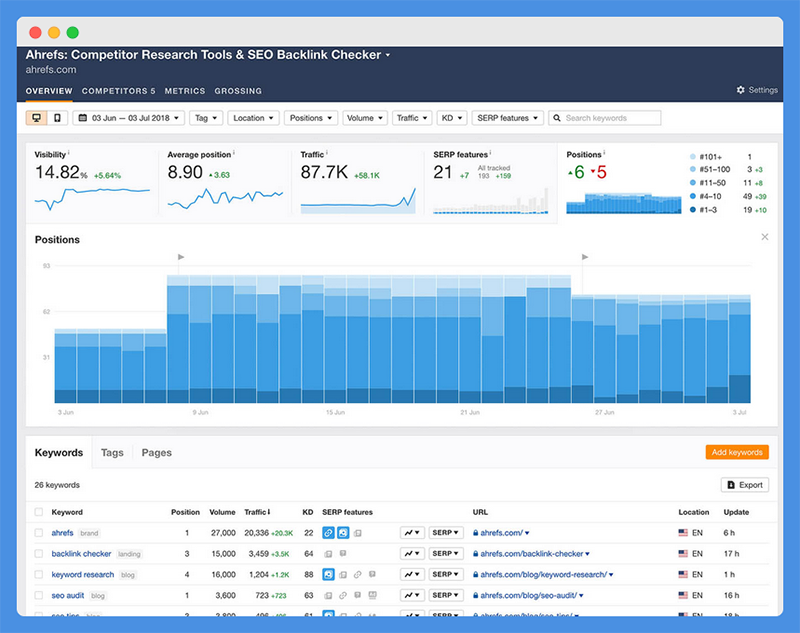 Like other tools on this list, Ahrefs offers a Content Explorer that helps you discover and analyze top-performing content in your niche. With this tool, you can research more than a billion web pages including social and SEO metrics, filter results by language, organic traffic, author, social shares, and see content trends over time.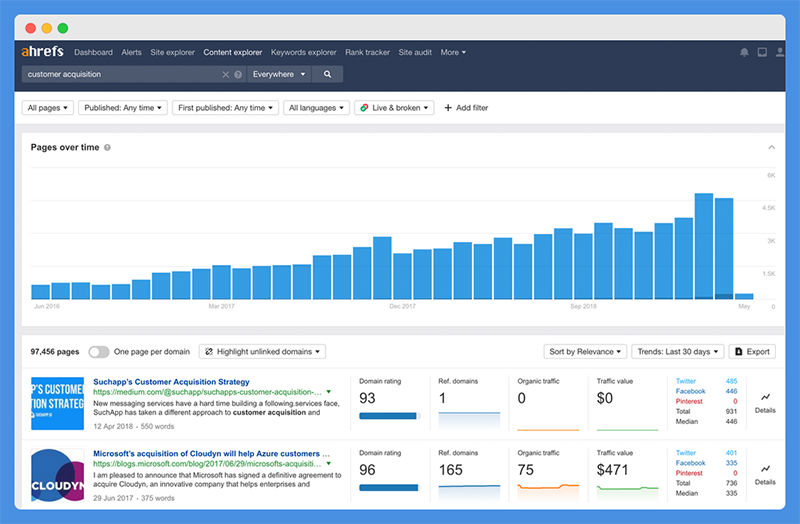 You can get free tools with Ahrefs such as Webmaster tools, backlink and broken link checker, website authority checker, keyword generator like SimilarWeb, and many others. Extra features include domain comparison, batch analysis, email alerts, and an SEO WordPress plugin.
Ahrefs doesn't offer a free plan like SimilarWeb. Instead, Ahrefs offers a $7 trial that runs for only seven days, but you get full access to all its features.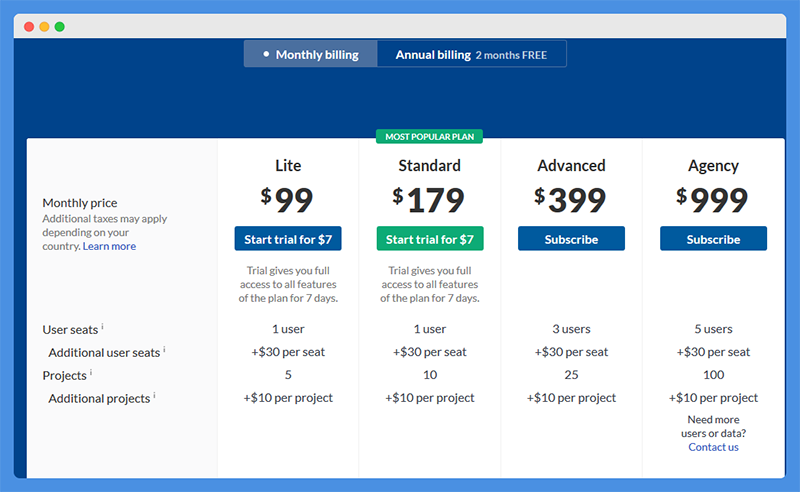 Ahrefs offers four plans: Lite $99, Standard $179, Advanced $399, and Agency $999 per month. Refer to Ahrefs pricing page for more details on what you get with each of these plans.
Explore more Ahrefs-like tools here.
Mangools is an all-in-one SEO toolset that comprises a bundle of five powerful "apps" for beginners and professionals. These apps include KWFinder, SERPChecker, SERPWatcher, LinkMiner, SiteProfiler, SERP Volatility Checker, SERP Simulator, and an SEO extension.
With the KWFinder, you can get long-tail keywords that have low SEO difficulty. The tool also offers over 20 million competitor keywords and over 2.5 billion related keywords, so you can find keywords you can easily rank for.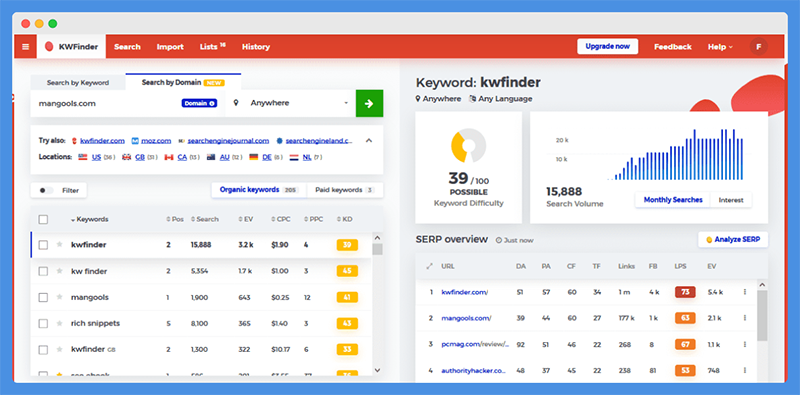 The SERPChecker on the other hand helps you identify the weak spots on your competitors' sites, their SEO authority, as well as their strengths and weaknesses. It also checks and analyzes SERPs for any country or city.

With Mangools' SERPWatcher, you can set up daily rankings and see your site's performance in SERP. You also get to see your site's organic traffic potential, daily rank updates, historical data, location and device-based SERP results, and email alerts on important rank changes.
LinkMiner is a tool that helps you mine your competitors' most powerful backlinks and evaluate the SEO power. You also get to see previews of the link placement of your competitors' anchor text and save what you get into a list.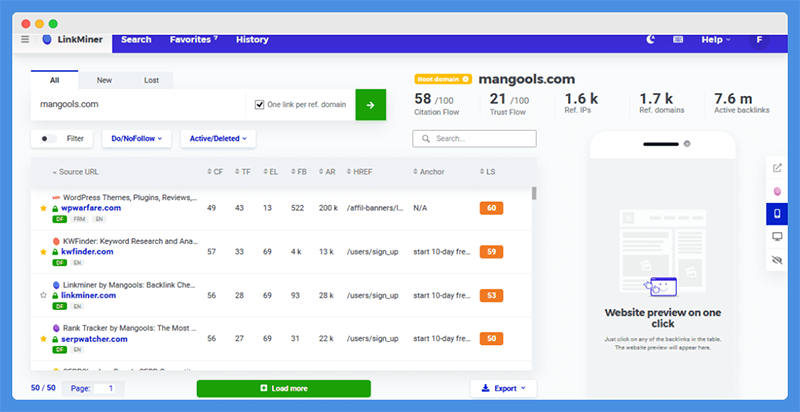 Like SimilarWeb, you can profile your competitors' sites via a URL or domain and see the relevant SEO insights that you need using Mangools' Site Profiler.
The Site Profiler tool works like SimilarWeb's Competitive Analysis tool and points you in the right direction while displaying link building opportunities for your marketing activities.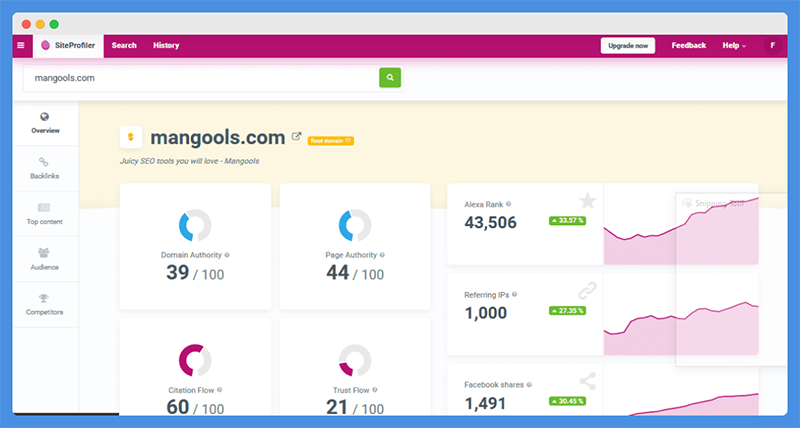 Mangools also has an SEO extension that works on your web browser so you can see exact search volumes, SEO metrics of any domain or URL, and keyword positions among other metrics.
The SERP volatility checker and SERP simulator help you see the size of the change of SERP positions daily and your site's SERP snippet preview respectively.
In terms of pricing, Mangools is fairly priced but doesn't have a free plan like SimilarWeb. Instead, Mangools offers a 10-day free trial so you can test run it to see if it suits your needs before committing to a monthly subscription.
Mangools offers a Basic plan of $29.90 and a Premium plan for $39.90, which are pretty affordable compared to other tools on this list. Refer to the Mangools pricing page for more information on the features available with each plan.
Mangools - Now Make SEO Simple
See SERP for any location, track your rankings, find backlinks, gauge competitor website & more. Use Mangools to simplify your search engine optimization.

We earn a commission when you click this link and make a purchase.
Wrapping Up
SimilarWeb is a great tool to measure your digital ecosystem and web analytics.
However, if you're looking to swap it out for a new tool, or want to discover alternatives before settling on one for your business, these six alternatives offer most, if not all of the features you need to get the right insights.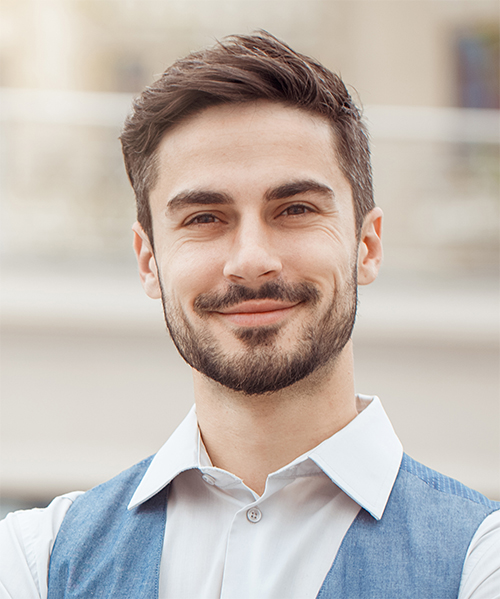 Author: Scott Macarthur
Scott L. Macarthur is a marketing consultant and an online author. He is mostly engaged in providing his expertise to startups and SMBs. He is also an author on TheNextWeb.