Tired of selling the same dropshipping products as everyone else? Perhaps it is time to start using a dropshipping product research tool so you can discover top-selling products that don't have a lot of competition.
Today, I will be comparing Pexda and Dropship Spy, two product research tools that claim to help you find the best products for dropshipping.
After reading this article, you will have a pretty good idea of which product is more effective and provides a better value for your money.
What Is Pexda?
Pexda is a product research tool that helps you find the top trending products on sites such as AliExpress and Amazon.
Not only do they help you find the best products, but they also claim to help you write high-converting Facebook ads and find the best target audiences for the product you are selling so you can increase your conversion rates.
What Is Dropship Spy?
Dropship Spy claims to help you spy on the best selling and up and coming products to sell in your dropship store.
They also claim to help you find the best target audiences on Facebook and provide you with winning templates for your Facebook ads.
Pexda vs Dropship: Searching For Products
How easy is it to use the Pexda's or Dropship Spy's search tool, and how effective is it at discovering great products?
Pexda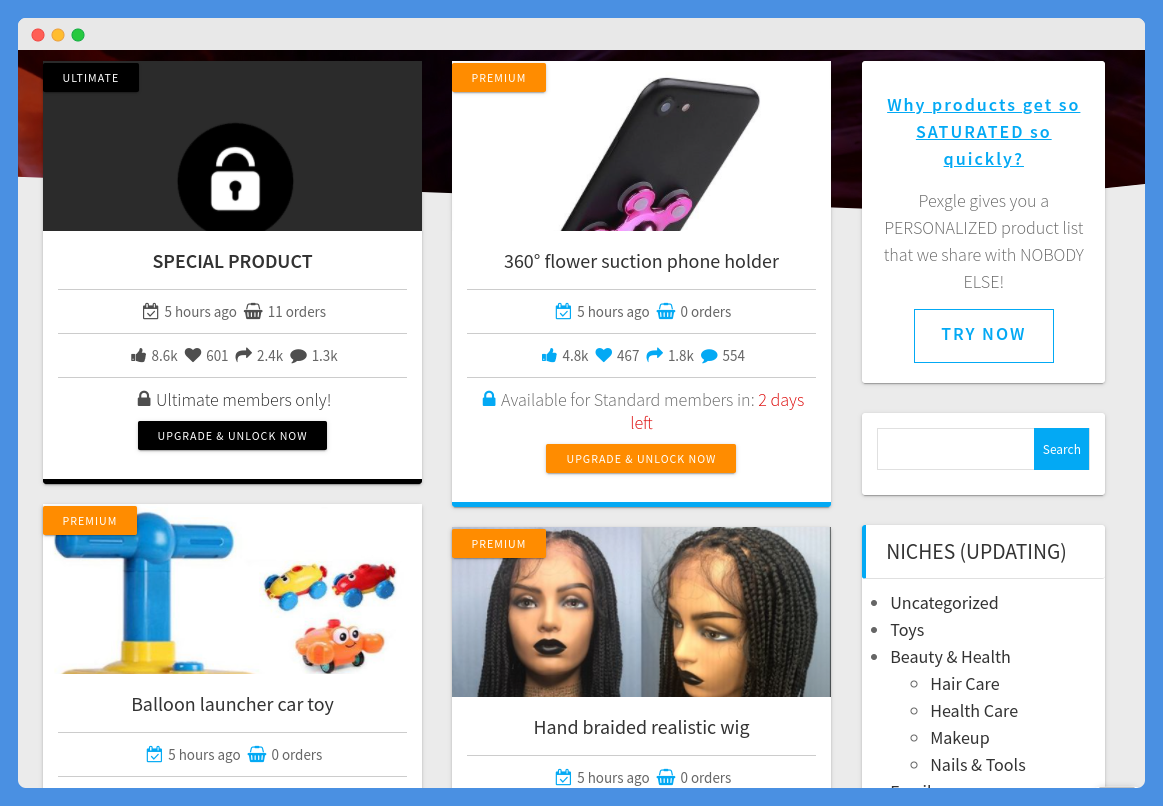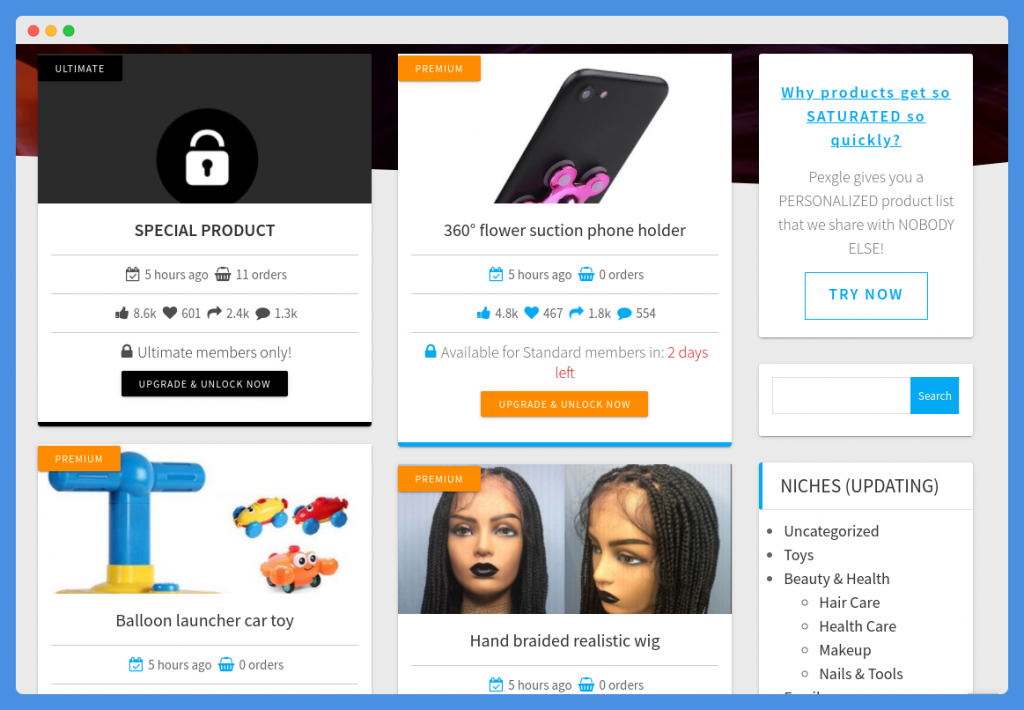 Pexda will show you three types of products in the search results when you click on the "Products" tab:
Standard products: These products are available to all members
Premium products: These products can be seen by Premium members and by those who have a trial account (for the first day or so)
Ultimate products: These products are hidden from everyone except Ultimate members
Each product will show some quick stats, including:
How long ago it was posted
How many orders the product has
How many likes, favorites, shares, and comments the product has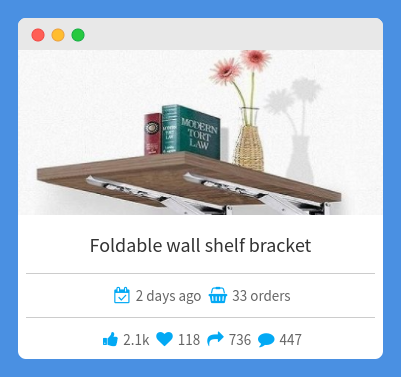 These quick stats will help you decide if a product is "hot." For example, if a product was just posted and already has a lot of sales, you might want to jump on this opportunity and join in on the action yourself.
If you click on a product, you will get more detailed information, such as:
Product cost on AliExpress
Selling price for dropshipping sites
Shipping cost
Profit margin
Product rating
Product vote quantity
Positive feedback percentage
Where the product is being sold (Amazon, eBay, or private websites)
Facebook ad information (likes, reactions, shares, comments, and ad post date)
Audience targeted
Product description
Facebook ad copy
And much more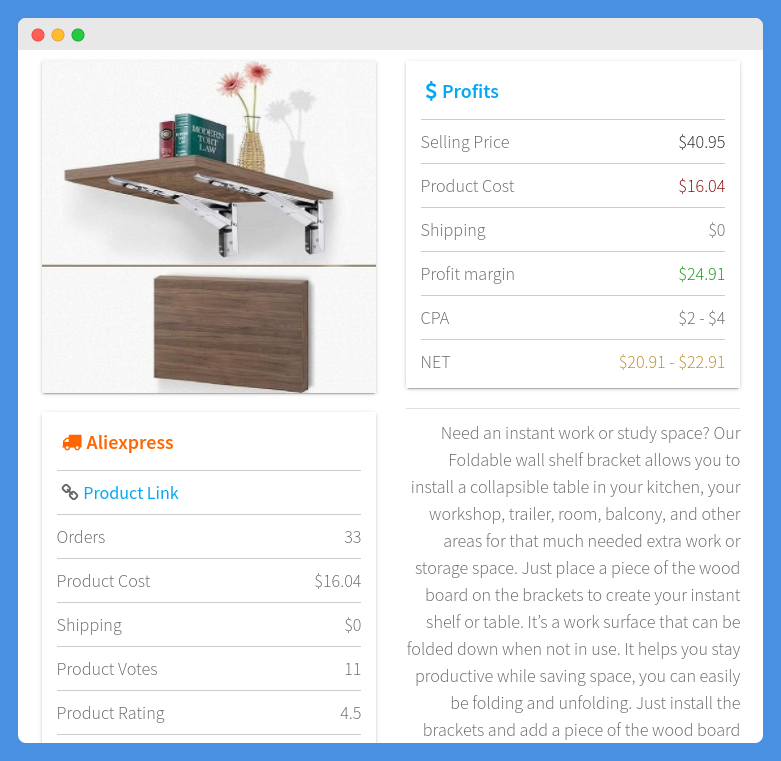 I think that there is a lot of useful information here. For example, you can see whether the ad is successful on Facebook and what ad copy and target audience were used to make it successful; you can also see how much you should price the item for.

In the product search results, you can also sort the results by:
Category
Newest
Order quantity
Facebook ad likes, shares, comments, or reactions
If you are a premium member, you can also sort by:
Selling price
Product cost
Targeting reach
You will even be able to see some products that were popular in the past but are now marked as "Not Hot Anymore!"
Dropship Spy


Dropship Spy's search results are also designed to help you find the best selling products to sell. You will see products that are marked in ways such as "High Engagement Rate" or "Super High Engagement Rate" to help you quickly pinpoint the best selling products, along with metrics such as likes, comments, and shares.
Clicking on a product will give you more information, such as buying/selling prices, profits, engagement rate, Facebook engagement data, product description, and more.
You will also be able to see supplier information, ready to use video ads that contain images of the product along with catchy music, information about product adverts and their engagement rates, and the ability to download reviews from AliExpress to your own website so that you get more conversions.


Dropship Spy features both "Winning Products" and "Promising Products." Apparently, Winning Products are products that are already selling well, while Promising Products are starting to become more trendy, have increasing sales figures, and have a lot of potential; watching out for them may allow you to take advantage of new trends quickly, before they become saturated.
All the Winning Products will come complete with information such as the product description, winning adverts, sales figures, reviews, and supplier information.
All in all, both Pexda and Dropship Spy will help you achieve similar results (not necessarily in terms of the exact products that will show up but in terms of finding trendy, top-selling products).
Dropship Spy vs Pexda: Other Features
In this section, I'm going to explore other features that are available in Pexda or Dropship Spy. These two tools have different additional features, so I'll go over Pexda first and then Dropship Spy.
Pexda
Pexda's Chrome Extension is pretty cool and allows you to conduct research by simply clicking the Pexda Chrome extension icon in your browser bar.
The best part about the Chrome extension is that you can go to Facebook and let the extension search for profitable Facebook ads. You can filter only for ads that meet certain parameters, such as ads with a certain number of likes, comments, and shares.
You can set it up so that it automatically conducts a search every 15 minutes (or another time period), or you can click on Auto Hunt to start a search. The tool will go through your newsfeed and find ads that meet the parameters you set.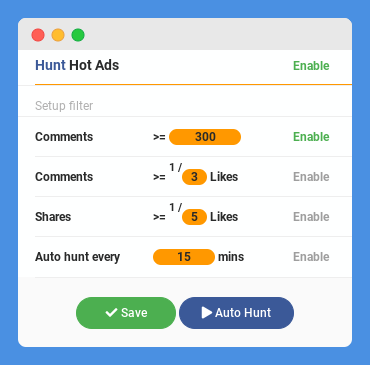 Once a search is completed, you can click on the Magnifying Glass icon in the bottom middle of the extension popup to see the results. You will see details about each ad, including engagement rates, and you will be able to see where the advertised product is being sold (Amazon, eBay, etc.) and download the ad copy.
Personally, I found the Chrome extension to be a bit glitchy. It wasn't working that well for me.
In addition, it is still a work in progress. For example, the "Search Stores" feature (I guess that will allow you to search stores for profitable products) is marked as "coming soon," and I couldn't figure out what the AliExpress Targeting Suggestion feature did.
There's also the ability to send a request to the Pexda team if you are looking for specific information or specific research data. The number of requests you are allowed per day will depend on your plan.
Pexda also has a sister site that they call Pexgle. It claims to give you a personalized list of winning products that they do not share with anyone else.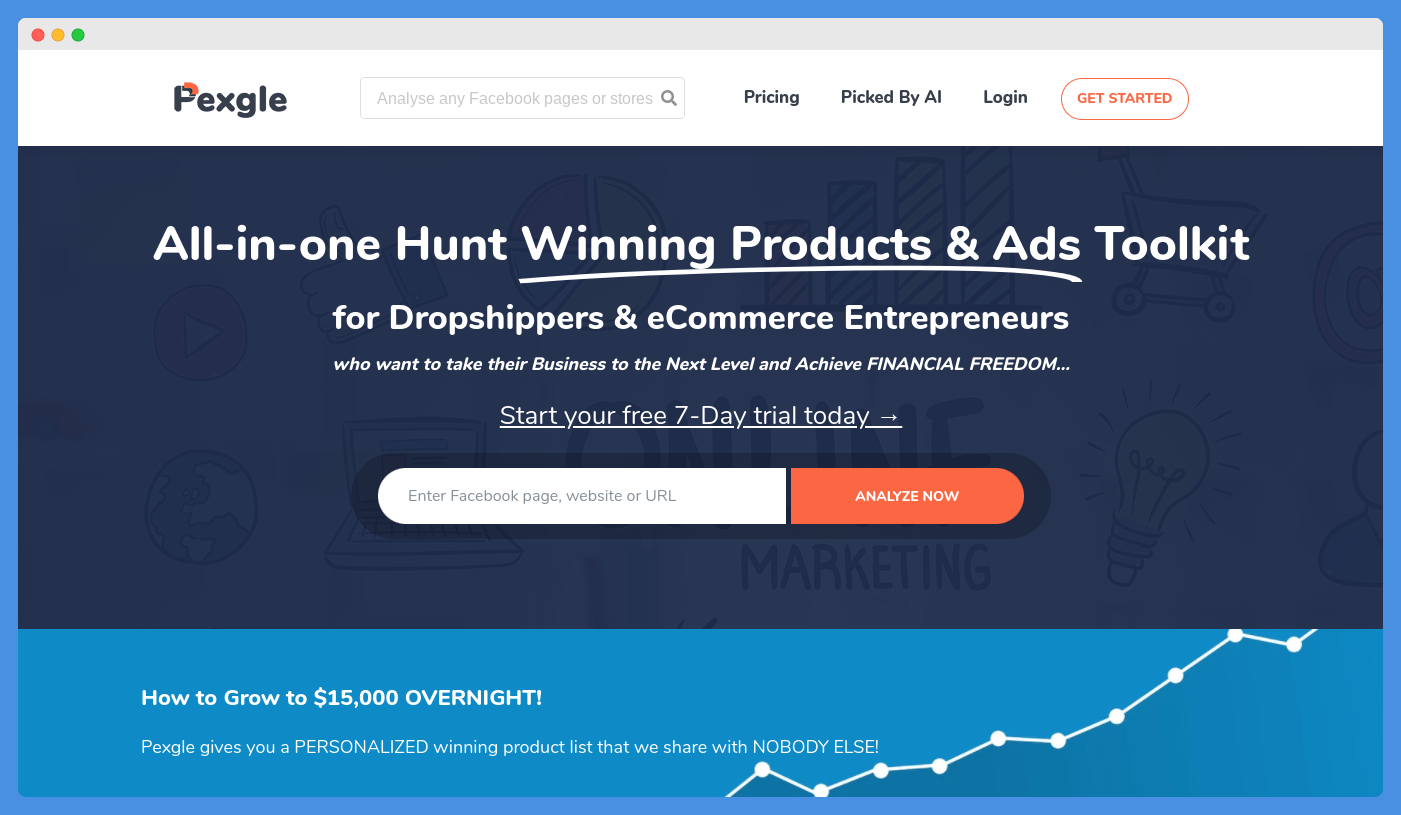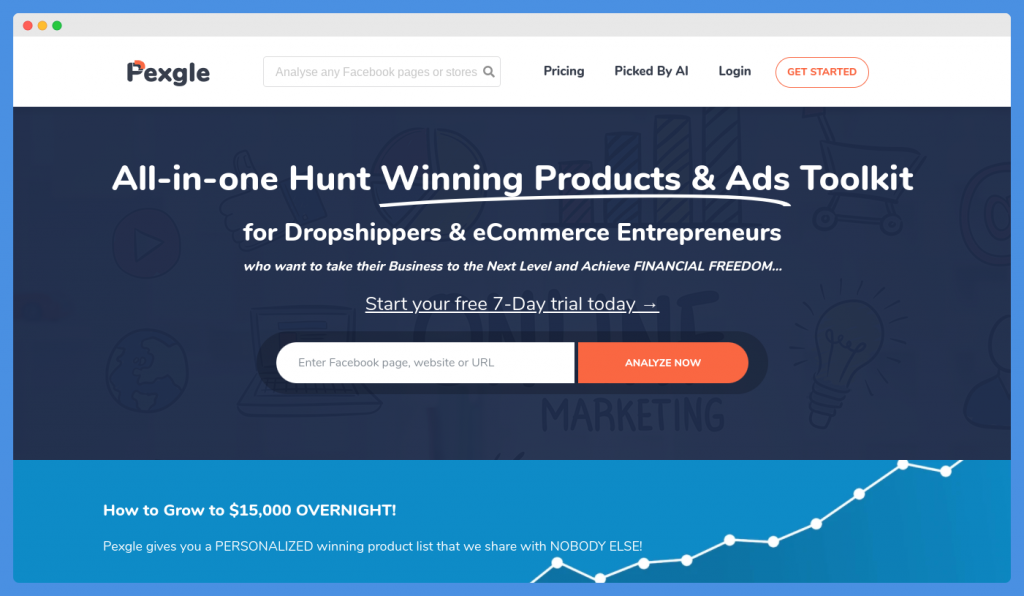 In addition to giving you a list of the best products, Pexgle claims to help you discover the best products with their market research features, as well as give you the ability to track sales trends and analyze your competitors.
Pexgle does currently offer a free trial. However, since it is not the focus of this article, I invite you to check it out yourself by going to this page.
Dropship Spy
Dropship Spy definitely has some interesting, cool features as well. For example, there is an Influencer Search feature that allows you to find influencers to promote the products you are selling.
This list includes influencers and data about them, such as how many followers they have, how many posts they have, and their engagement rate. You can contact any influencer from the list, negotiate a price for a shout out, and get more exposure.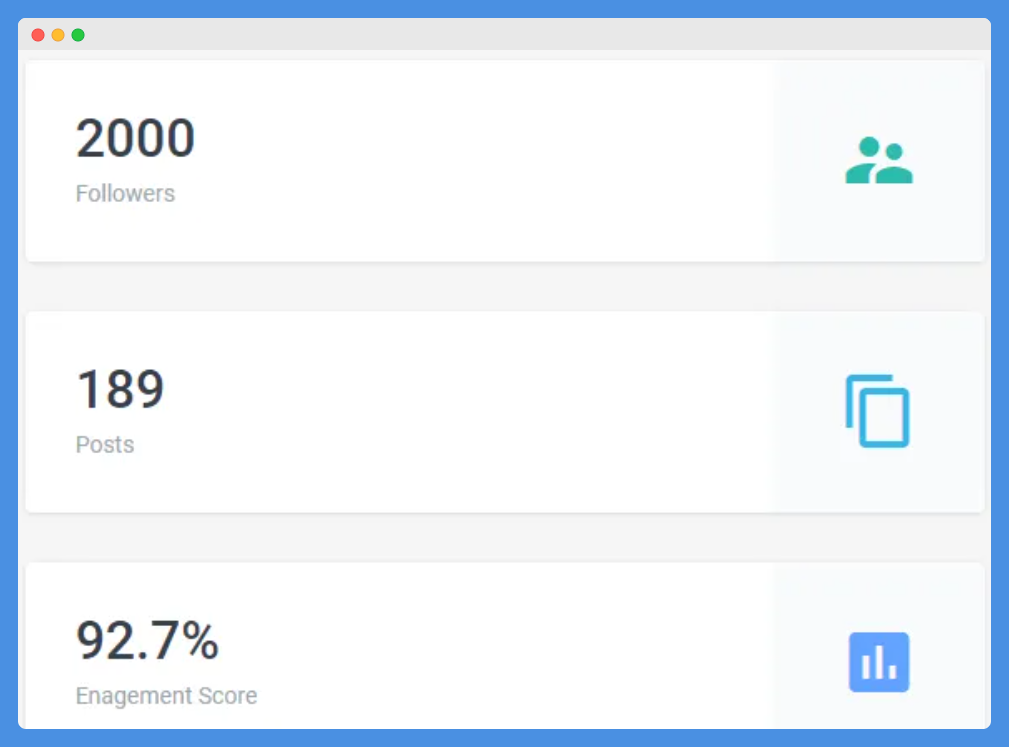 In addition, there is a list of approved influencers. Only trusted Instagram influencers who have high engagement rates are added to this list, so it is a great way to find influencers and micro-influencers you can work with to get great results.
Dropship Spy lets you download reviews from Amazon and AliExpress and upload them to your own store. The reviews will be downloaded in a CSV. format and they can be uploaded to your Shopify store by using the Dropship Spy Shopify App.
Dropship Spy allows you to submit requests for personalized data. For example, if you are looking for promising products in a specific niche or Instagram influencers who are suited to promote your product, submit a request and you will get a reply in 24 to 72 hours.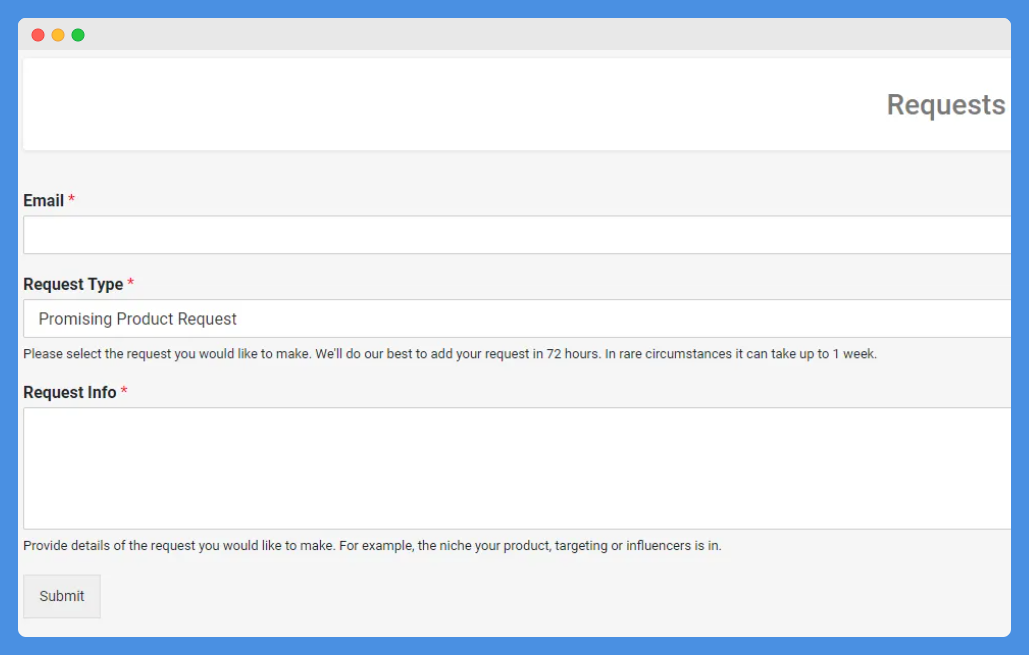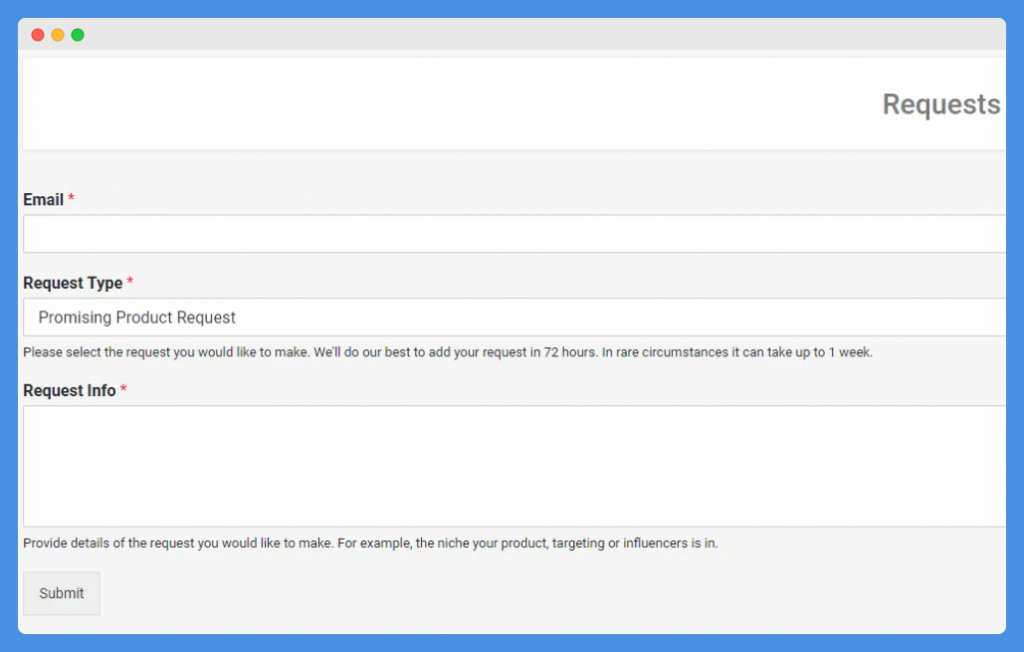 The Audience Builder feature helps you create an audience on Facebook. It gives you targeting suggestions to help you get more conversions.
Pexda vs Dropship Spy: Shopify Integration
In this section, I will review whether Dropship Spy or Pexda offers integration with Shopify.
Pexda
Unfortunately, it seems that Pexda does not offer a Shopify integration as of the time of this writing. Instead, you will have to do more manual work.
Dropship Spy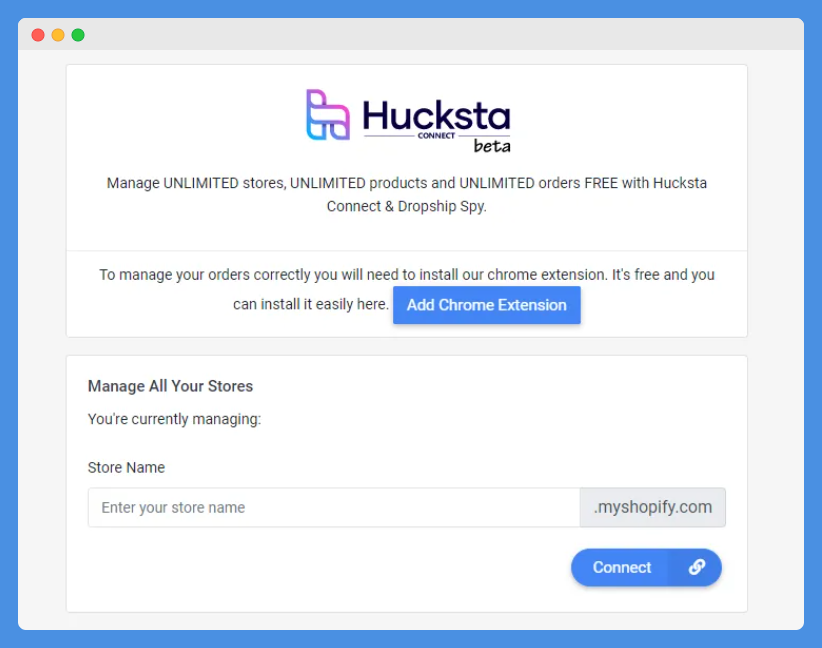 Dropship Spy does offer a Shopify integration. You can connect as many Shopify stores as you want, and you can switch between one and another at any time.
Products you find in the Dropship Spy tool can be added directly to your Shopify store. You can import products from AliExpress and manage all of your stores from the tool, which is called Hucksta.
When you import products from the "Winning Products" list to your store, all information such as the product title and description will automatically be added. However, you will get a chance to edit this information before you publish your listing.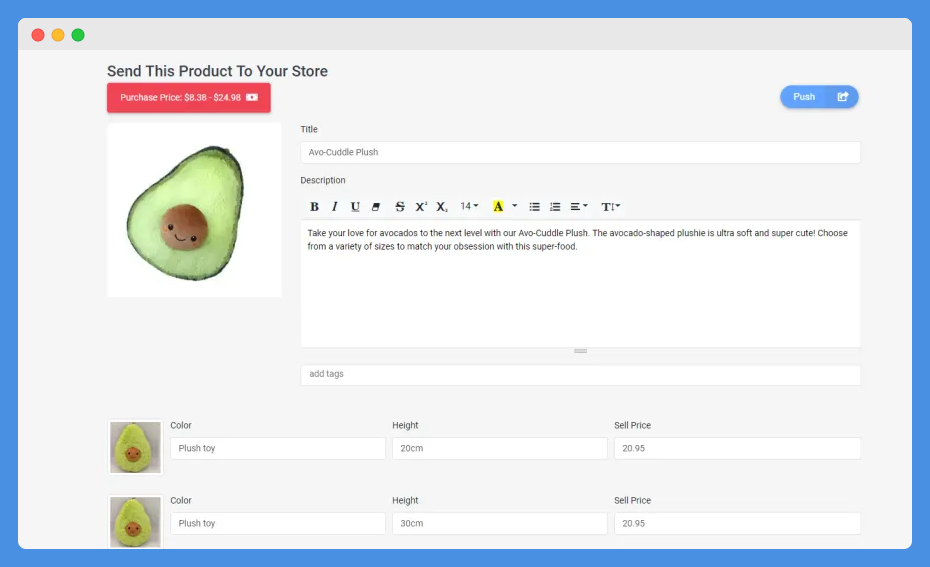 You can import Winning Products from these sources:
AliExpress
eBay
Amazon (US)
Amazon (UK)
The Manage Orders feature will also make your life easier.
When an order comes into your store, you can click on Order and you will be taken to the listing on AliExpress, Amazon, or eBay. All customer information will already be filled out automatically, so all you will have to do then is click Confirm and Pay and complete the transaction.
Then, once the product is shipped, go to the Shopify app, add a tracking number, and mark the product as fulfilled.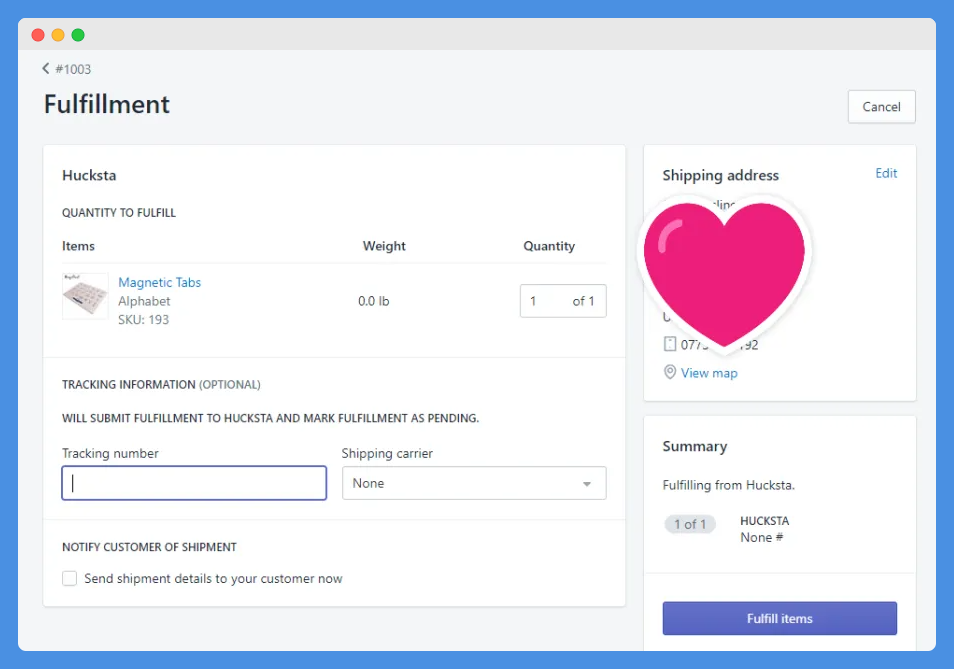 Hucksta supposedly also has a Chrome extension. However, when I tried to go to the Hucksta Chrome extension page, I got a 404 error.
This may just be a temporary glitch.
Dropship Spy vs Pexda: Affiliate Program
What about making money by promoting Dropship Spy or Pexda as an affiliate? Is there any way to do that?
Pexda
Pexda does have an affiliate program. Just go to this Affiliate Signup page to become an affiliate.
In fact, it is a multi-level affiliate program. What this means is that you can refer to another affiliate and earn commissions on what that affiliate (Affiliate B) earns.
As Affiliate A, you will earn 50 percent commissions on sales you make. When you refer Affiliate B to the program, and Affiliate B makes a sale, you will earn 25 percent on that sale.
In your affiliate dashboard, you will get a special affiliate link, as well as some free emails you can use to promote Pexda. You can also see some quick stats, such as Clicks, Sales, Commissions, and Revenue.
Dropship Spy
Dropship Spy also has an affiliate program. However, the commission rates are not nearly as high.
The first level commission rate is 35 percent (with Pexda, it is 50 percent). The second level commission rate is only five percent, which is only a fifth of Pexda's 25 percent rate.
In addition, you have to apply to become a Dropship Spy affiliate. Though the application process is rather simple, as you can see in the screenshot below, becoming a Pexda affiliate is an easier process.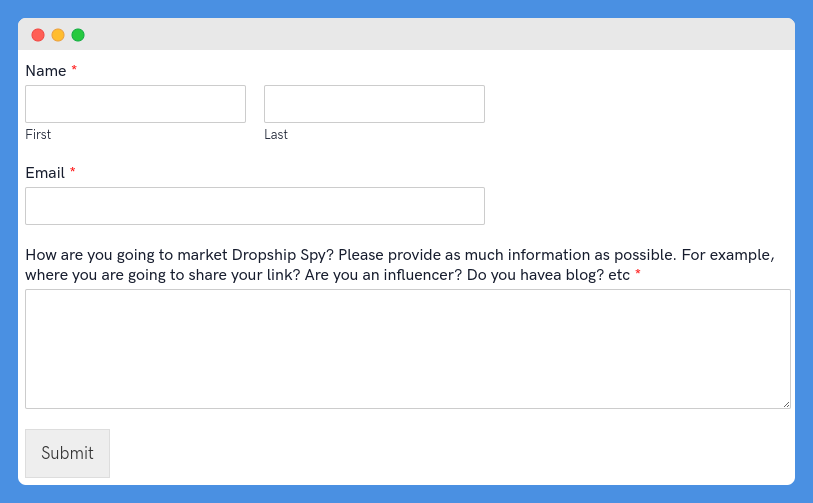 Pexda vs Dropship Spy: Customer Service
In this section, I will review the help options available from Pexda and Dropship.
Pexda
Pexda has two options for contacting customer support. You can email them at support@pexda.com or you can go to their Facebook Page and send them a message on Facebook Messenger.
Dropship Spy
To contact Dropship Spy, go to their Contact Page and fill out the form.
Dropship Spy vs Pexda: Pricing And Free Trial
In this section, I will compare the cost of Pexda vs Dropship Spy. In addition, you will learn whether Pexda or Dropship Spy offer a trial (free or not).
Pexda Pricing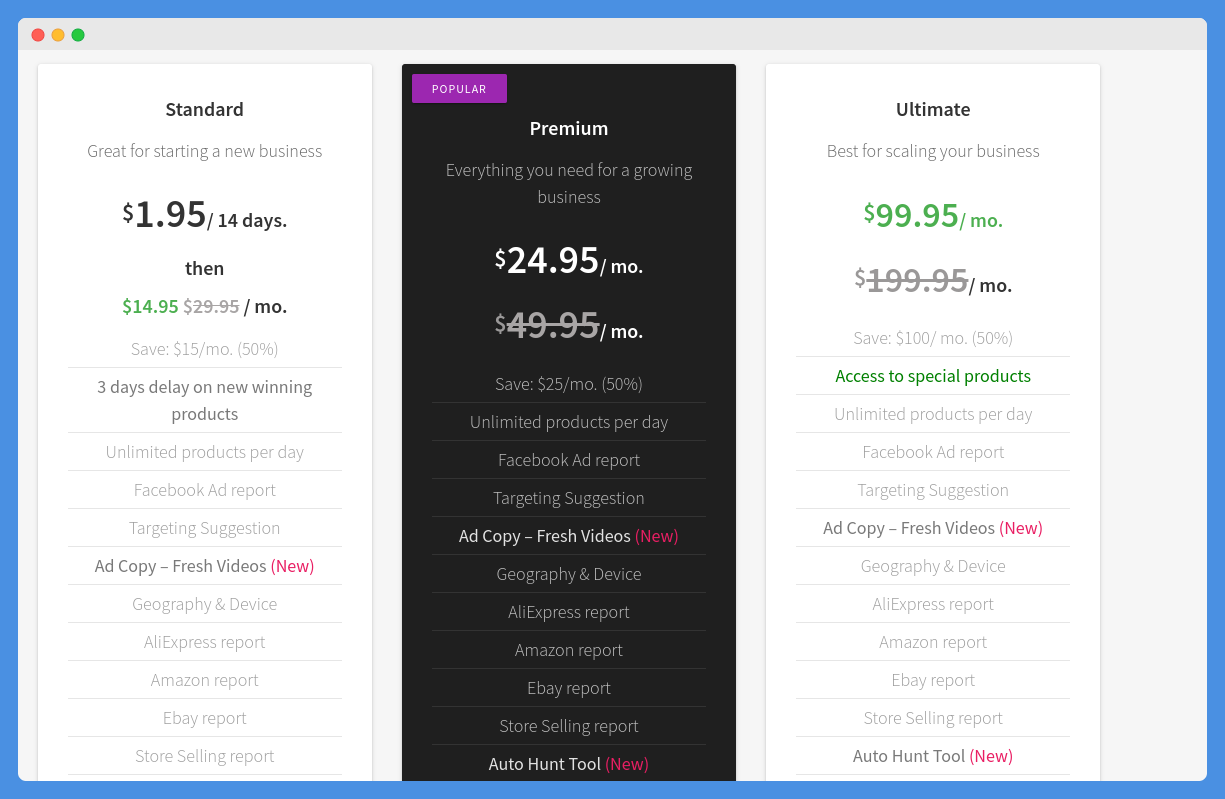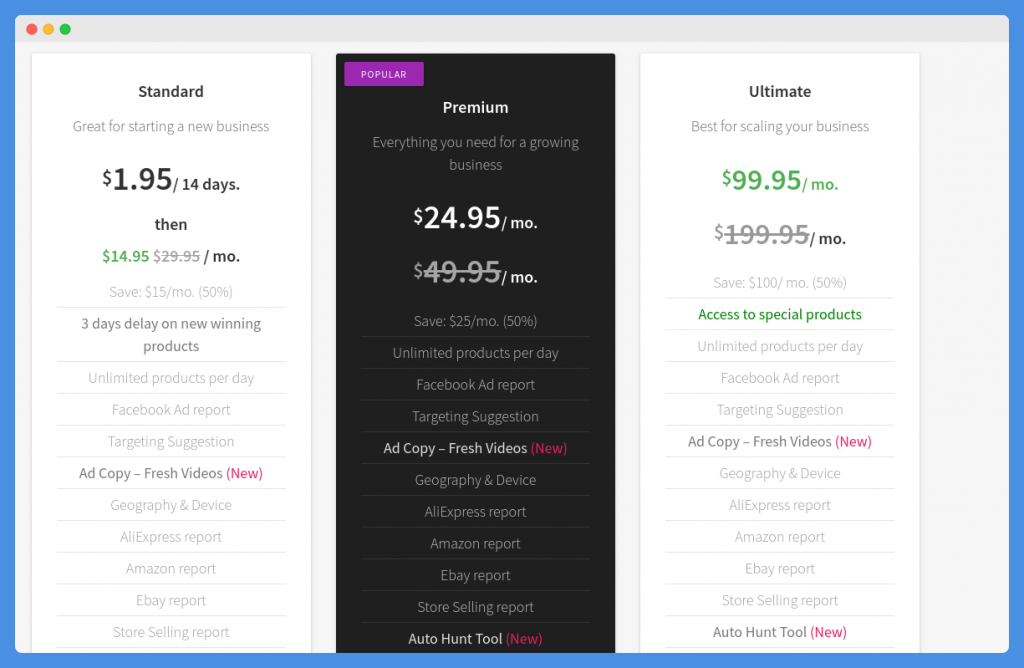 As mentioned, Pexda offers three plans with varying degrees of product result access:
Standard: This currently is discounted at $14.95/month and has some limitations, such as a three-day delay on new winning products.
Premium: This is currently discounted at $24.95/month and gives you access to most products.
Ultimate: This is currently discounted at $99.95/month and gives you access to all products.
Right now, all plans are at a 50 percent discount. Always check the Pexda pricing page for updated pricing information.
In addition, Pexda does offer a trial, although it is not totally free. The trial costs $1.95 for 14 days of access to the Standard plan, as well as very short access (just a day or two) to Premium products.
When you sign up for a Pexda trial, make sure to cancel your subscription if you do not want to continue paying every month. Otherwise, you will be charged automatically after 14 days are up.
Dropship Spy Pricing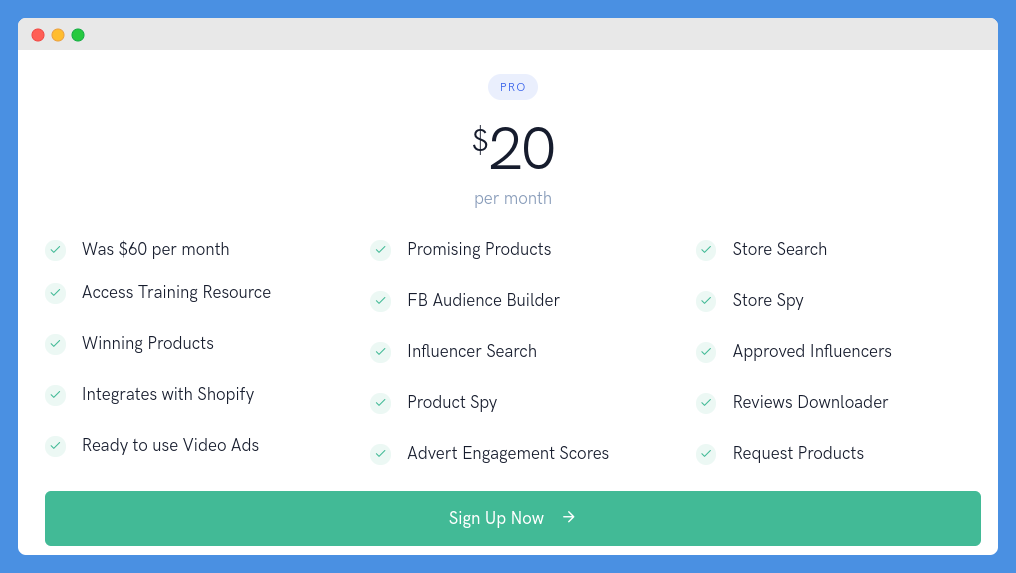 Dropship Spy's pricing scheme is very simple, as there is only one plan for full access to all features.
The plan is $20/month (it used to be $60/month). Always make sure to check the Dropship Spy pricing page for updated pricing information.
Although Dropship Spy is cheaper than Pexda (when you consider Pexda's standard non-discounted prices and the fact that the Standard plan limits how many products you can see), it is a shame that there is no trial available that lets you try out Dropship Spy. On the other hand, Pexda's trial is not free either, although it is very cheap.
There's one more thing to consider: Pexda allows refunds when certain requirements are met, while Dropship Spy generally does not allow refunds.
Similarities And Differences
Wrapping It Up: Which One Is Better?
As you can see, Dropship Spy and Pexda are similar in many ways. However, I believe Dropship Spy is a better choice.
The major downside of Dropship Spy is that there is no trial available. However, the Pexda trial is not totally free either, which makes this less of a disadvantage.
In addition, Dropship Spy does not hide certain products from you based on your membership. I felt that Pexda was a bit pushy in trying to get you to upgrade as well as trying to get you to sign up for another membership with their sister site, Pexda.
Dropship Spy's pricing scheme, on the other hand, is much simpler, with only one plan for everyone.
In addition, there are some features that Dropship Spy has that Pexda does not. The most important one is the Shopify integration, which will make your life a lot easier by allowing you to import products and manage orders.
Other useful features include the Instagram influencer list and the automatically generated video ads.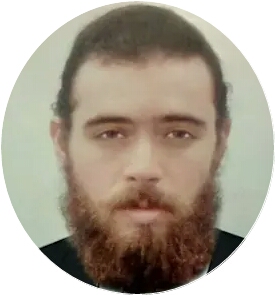 Author: Benjamin Levin
Benjamin Levin is a digital marketing professional with 4+ years of experience with inbound and outbound marketing. He helps small businesses reach their content creation, social media marketing, email marketing, and paid advertising goals. His hobbies include reading and traveling.