There are several reasons that drive people to start selling products on Amazon.
Not only does Amazon enjoy indisputable popularity, but it's also the leading shopping app across the US, with over 150 million mobile users as of last year.
Over the years, Amazon has developed and cultivated great relationships with its customers, and sellers get to leverage the trust that Amazon's customers have to sell and earn from the platform.
However, it's one thing to be on Amazon, and another to sell and be successful. Amazon sellers need to have a wide range of products and offerings that can satisfy the needs of each customer.
With the increasing consumer demand on various products, it becomes necessary for sellers to source for this variety and deliver it to the customers in good time.
The challenge, especially for startups or newbie sellers, lies in finding the right dropshipping supplier.
The right supplier is critical to kickstarting your business to realize success. Thus, you want to rely on various suppliers over wholesalers and manufacturers who tend to focus on single products and narrow your alternatives.
Dropshipping suppliers are also preferable as they'll help you save on inventory, operation, and shipping costs, and you can earn commissions without handling the products physically.
All you do as a seller is set up a proper and efficient online store and generate leads and sales.
Is It Possible To Dropship On Amazon?
Yes, many merchants on Amazon dropship on the platform.
Amazon became popular over time because it gives retailers a platform upon which they can sell their wares.
Brands and manufacturers can sell on the Amazon marketplace as an extra channel for their stores.
Once a seller is approved to run an Amazon seller account, you can start selling on Amazon. However, it's important to note that Amazon doesn't approve all the brands and products that apply.
However, there are rules that merchants should follow if they're to succeed in the Amazon marketplace.
Among these Amazon rules include making sure that:
The customer doesn't receive third-party packaging
The seller handles all dropshipping complaints and returns (not the supplier)
Sellers must comply with all policies and agreements
How Amazon Dropshipping Works
To start dropshipping on Amazon, you'll need to go through the Fulfilled by Amazon program.
Here, you'll be able to ship products to the Amazon marketplace, who will then manage the inventory and shipping directly to customers.
The benefit of the Fulfilled by Amazon program is the fast shipping times, meaning your customers will be able to receive their products at their doorsteps sooner.
Also Read: Best Amazon Dropshipping Courses
Best Dropship Companies For Amazon In 2021
We've rounded up the best drop ship companies for Amazon right now to help you find one that you can partner with to kickstart your business.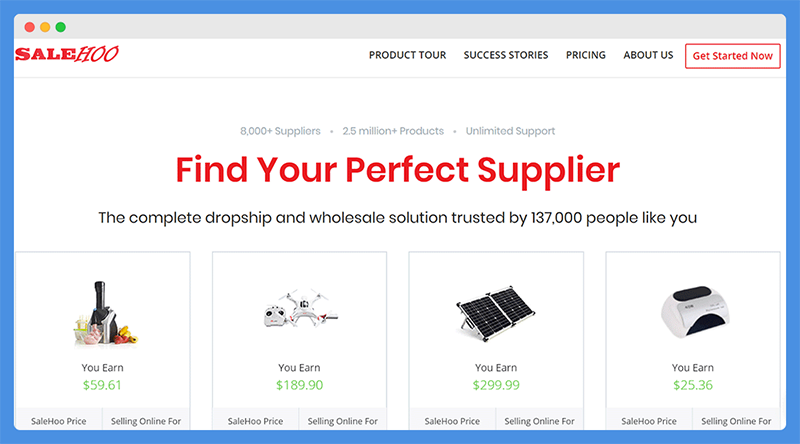 This dropshipping behemoth has over 8,000 vetted suppliers for low-cost product sourcing, more than 2.5 million products you can list on your Amazon store and award-winning customer support.
Most of the suppliers at SaleHoo offer products at low costs, which will help you increase your profit margin.
They'll also help you fulfill orders domestically and internationally, in turn allowing your store to realize quick growth.
SaleHoo also offers tools like the Market Research Labs, which helps you find items to sell and the supplier directory to find suppliers who can deliver products at a low cost.
You can also contact the suppliers, place your orders, and start reaping good profits.
With SaleHoo, you can dropship products from your Amazon store to your customers and get them delivered to their doorstep in good time.
SaleHoo's annual subscription costs $67 while SaleHoo Lifetime subscription costs $127.
Both plans allow you to access all the features and tools such as personal email support, access to the supplier directory, Market Research Labs, and members forum at your disposal.
Pros
Access to low-cost product sourcing
Huge catalog of vetted suppliers
Lifetime subscription available with all features
Items from genuine brands
Cons
Support may be wanting especially during weekends
Related: Salehoo Review
We earn a commission if you click this link and make a purchase at no additional cost to you.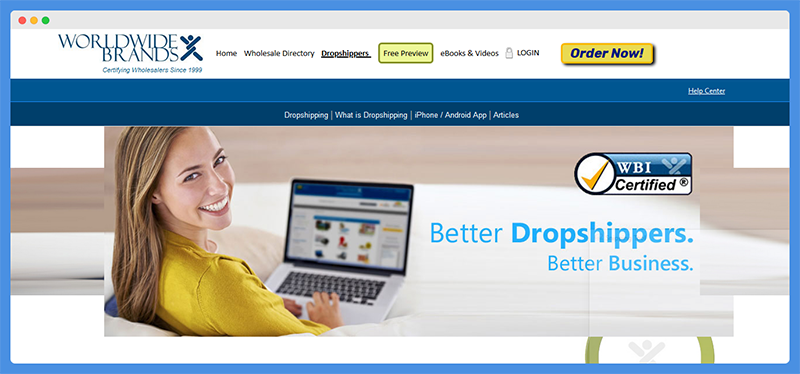 Worldwide Brands is another huge dropshipping company for Amazon with an enormous catalog of suppliers.
The platform exists to make sure that sellers can access a wide variety of quality wholesale products from the top, vetted, and certified wholesale suppliers.
Worldwide Brands also makes sure that sellers can find dropshippers, light bulk wholesalers, and volume distributors are certified almost anywhere.
From product warehouses to tradeshows, it's possible to find the best distributors of products so that members are guaranteed to be in partnership with bulk suppliers and quality dropshippers.
Once manufacturers go through the Worldwide Brands' certification process, they get a Certified Seal, which shows that the supplier is genuine and factory-authorized at the top of the supply chain.
You can source a wide range of items including health, travel, jewelry, beauty, drinks, food, and pet and clothing supplies among other accessories at a factory price.
Worldwide Brands offers a one-off lifelong subscription of $299, so there are no monthly or annual subscriptions. This gives you access to all wholesalers and more than 16 million wholesale products.
Pros
Budget-friendly
Works with Amazon
Extensive upper-market wholesale directory
Certified dropshippers
Reliable and responsive support
Affordable one-time lifelong fee
Cons
Some products can be found on free dropshipping platforms
Also Read: Worldwide Brands Review
Printful is a leading print-on-demand service and one of the best dropship companies for Amazon.
The platform not only fulfills and ships your products to your customers' doorsteps, but it also offers warehousing services for a wide range of products from clothing and accessories to home and living goods.
Setting up your store on Printful is free, and there are no monthly fees you have to pay or minimum orders to place before you get your earnings.
Once your store is connected to Printful, your customers can see what you're selling, and once they buy the items, Printful takes their orders, fulfills them, and ships them directly to the customers' doorsteps.
Founded in 2013, Printful has grown to offer several features including complete automation, and integration with the top eCommerce platforms including Amazon, Shopify, Squarespace, Etsy, WooCommerce, Ecwid, and Wix.
Printful also uses an API for automatic order imports straight from your store. You also get the best shipping rates for reliable and affordable delivery of products to your clients.
There are several advantages of using Printful as your dropshipping company for Amazon. Some of them include brand building in product quality and using Printful's push generator as Fulfillment by Amazon alternative.
Pros
Zero minimum order requirements
Automatic printing and shipping of Amazon orders Automated fulfillment
Easy adding of products
Quality control
Extra bonuses
Low-risk business model
No monthly charges
Automates businesses with Amazon
Re-shipment for lost or damaged items
Customized branding and design
Cons
Offers slim margins for drop shipped products
Branding limited to the customization available
Some items may not ship globally
Product selection tailored to some categories
Interesting Post: Printful Vs Printify
Our Pick
We earn a commission if you click this link and make a purchase.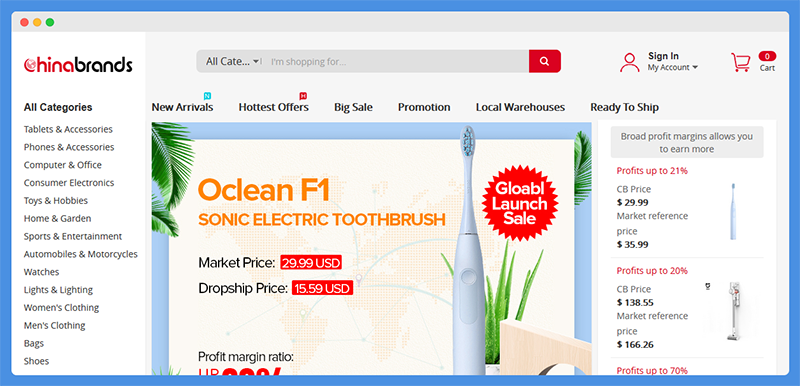 Chinabrands isn't just a dropshipping company for Amazon, but it's also an expert in distribution and logistics.
As one of the leading wholesale and dropshipping platforms in the world, you can rest assured that Chinabrands will serve you with a huge variety of products from different suppliers, retailers, and manufacturers.
The platform works with other stores including Shopify, eBay, AliExpress, and more, so you can use the API linking technology to integrate it with eCommerce stores, Fulfillment by Amazon Shipping and other platforms.
Chinabrands also has partnerships with popular shipping companies including UPS, FedEx, and DHL. Plus, it has warehouses across the world so that you can fulfill timely deliveries to all your clients.
New store owners get to sign up for free with Chinabrands, but in order to enjoy the full access to the premium features and advantages the platform offers, they'll need to upgrade to the premium plan.
Pros
Variety of suppliers, retailers, and manufacturers
Extensive product selection
Handles inventory
Order tracking on shipments to customers
Low-product sourcing
Cons
All perks aren't free and require an upgrade to Premium plan to access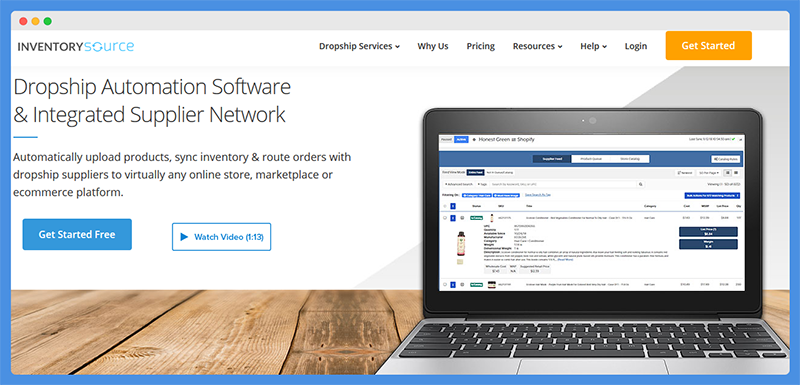 Inventory Source offers unmatched dropship automation software with full product data upload to your store, over 230 pre-built supplier integrations in various product niches, and 24/7 customer support.
For enterprises, the Flxpoint Enterprise software by Inventory Source powers your entire business with the flexibility that helps you solve the major pain points of dropshipping.
These include sales reporting, vendor onboarding, order routing optimization, and cross supplier inventory management.
Inventory Source integrates with Amazon and syncs more than 1.6 billion products and over $3 million in dropship orders each month. It also syncs more than 8,000 integrations daily.
You can integrate your supplier's inventory to upload sync inventory and product data quantities with more than 25 online store platforms, multi-channel management platforms, and marketplaces including Amazon.
Inventory Source has two plans: Inventory Automation for $99 and Full Automation for $150 per month.
Pros
Syncs more than 1.6 billion products
Huge catalog of quality suppliers
Free account available
Automated inventory and orders
Cons
No market research tools
Suppliers have separate fees
Explore: Best Dropshipping Niches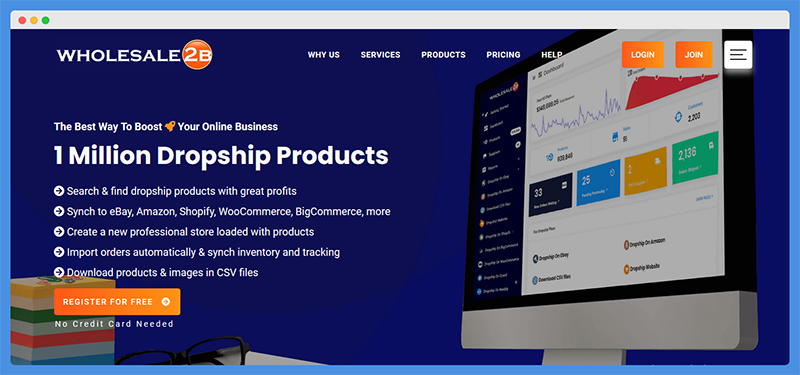 Wholesale2b is a versatile dropshipping and supplier hub with over 1 million products you can search and find with great profits.
The platform syncs to Amazon and other major eCommerce stores and lets you create a new professional store packed with products.
The items can be imported automatically, and you can sync inventory and order tracking. If you need a list of the products on your store, Wholesale2b allows you to download them in CSV files.
Wholesale2b integrates dropship products into a single account all from the best suppliers so you don't have to sign up with any of them. They also handle any order or return with suppliers on your behalf.
The automated dropshipping solutions in Wholesale2b let you import products to Amazon or your own store. However, they can create their own turnkey website for you if you want.
You don't need a credit card to sign up and it's free to open an account, risk-free. Wholesale2b's pricing plans aren't pricey like other platforms here.
Each plan is charged separately whenever you activate it and offers unlimited orders.
The free plan offers 1 million products at true wholesale prices, and you can see all the dropship suppliers or browse by supplier/category.
The account is free for a lifetime, comes with standard support, and you don't need any credit card.
The Dropship on eBay and Dropship on Amazon account plans cost $37.99 each, but you can push an additional 10,000 for $27.99 per month.
The Amazon plan also gives you unlimited orders, automated inventory updates, validated UPC to ASIN, push tracking codes to Amazon, and process orders with 1 click at a 3 percent fee.
Pros
Free account registration
Extensive product inventory
Integrates with Amazon
Can use advanced tools
Cons
Limited to three suppliers
Requires a paid plan to start selling products
Check Out: Best Dropshipping Products To Sell This Year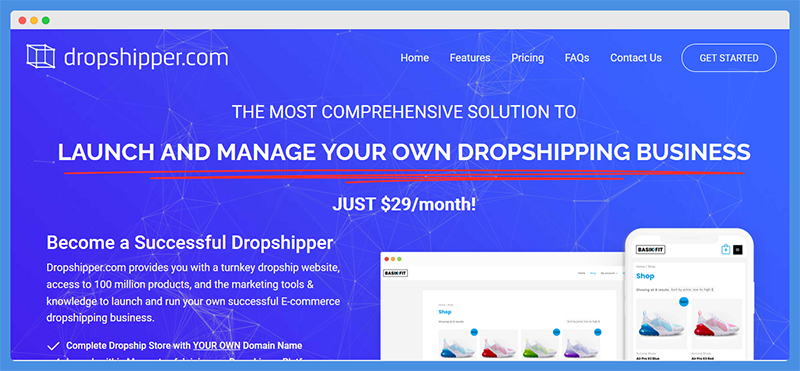 Dropshipper.com is the most comprehensive solution for launching and managing your own dropshipping business with Amazon.
Not only do you get a turnkey dropshipping website, but it also offers you access to 100 million products, knowledge, and marketing tools you need to run a successful dropshipping business.
The platform also offers more than 2 million products in its product catalog that you can select from, and all you need do is pay the monthly fee to access all the benefits.
Dropshipper is a transparent platform with a high success rate, and you can start it with or without a website or store. You also get to carry out in-house logistics for your store from setting it up to selling.
On the platform, you can get a turnkey store complete with a domain name, professional web design, contacts of suppliers, automated product imports and updates, and a price calculator. If you already have a store, you can also export products to other platforms.
Dropshipper imports products to Amazon, eBay, Volusion, and BigCommerce among other huge platforms.
Plus, it gives you a robust email marketing platform, abandoned cart recovery automation, affiliate marketing tools to grow your business, and notifications on the progress of your shipments to customers.
The platform will soon offer print-on-demand dropshipping and fulfillment.
However, you can enjoy more tools such as email opt-in to increase conversions, professional SEO tools for ranking on Google, live chat system to connect with customers on your site, Facebook Sales Accelerator, and Product Feed Generator for more than 125 major online marketplaces.
Pros
Easy to set up a store in Dropshipper
Import and export products to Amazon
Wide product catalog
High success rate
Cons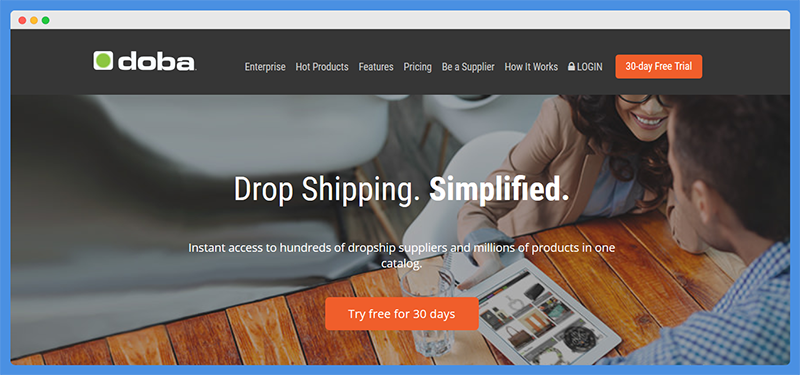 Doba is a huge dropshipping company for Amazon that offers instant access to millions of products in one catalog and hundreds of suppliers.
To use Doba, all you need to do is find products by searching its product catalog, upload and export them to your Amazon store, and then sell to your customer.
The customer will buy from Doba and receive the product directly from the supplier, and you can sell all over again to earn more.
The platform offers product categories including kids, books, sports, health, automotive, equipment, beauty supplements, and apparel among others, with equal access to suppliers from one platform.
Some of Doba's unique features include elite seller report to find the top 30 products per category, custom data export tool to market products on Amazon, an API, and order life cycle fulfillment engine.
Each supplier in Doba's marketplace must pass the rigorous standards and you can see their rating, average processing and ship times, costs, and more.
Doba works with major shopping cart providers like Shopify, Magento, and others, but you can use the API or data export integrations to dropship with Amazon and 100 other major eCommerce platforms.
Doba has four pricing plans:
Basic $29 with access to 1.4M+ products, access to suppliers, email support
Advanced $69 with access to all Basic plan features, plus curated product list, live chat support, and one premium data export to Amazon, eBay, or Shopify
Pro $249, with all Basic and Advanced features, access to all Doba suppliers and over 19.M products, plus elite seller reports, premium data exports, phone support, private FTP catalog data transfers, and custom data export (all third-party platforms)
Enterprise (custom pricing) with everything in the Pro plan plus API Integration, Sandbox Dev Environment, a dedicated account manager, merchandising services (including supplier sourcing)
Pros
Easy product export
Free 30-day trial available
Full access to product catalog
Cons
Products hardly have competitive pricing
Also Read: Doba Review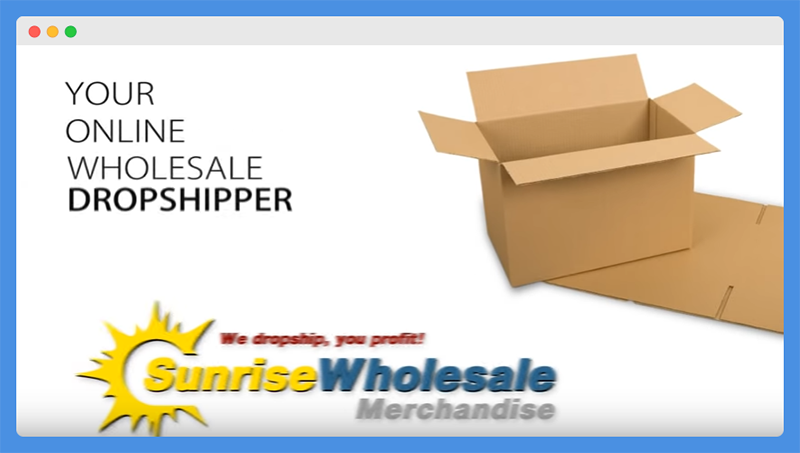 Sunrise Wholesale has been offering instant access to thousands of wholesale products for dropshipping for a little over two decades.
It features 30 categories in its product catalog and offers a membership that comes with support services such as gold member pricing per product, data, and product feeds in XML and CSV, with toll-free email, phone, and chat support.
You can post products on Amazon or your own site, make the sale, and Sunrise Wholesale does the fulfillment.
The platform also allows you to preview products in its products catalog, all of which are perfect for Amazon, mail order, home parties, online auctions, retail stores, and more.
Sunrise Wholesale also gives a 7-day free trial, and once that ends you can upgrade to a membership for $29.95 per month.
Other benefits you can enjoy with Sunrise Wholesale include no minimum orders, free digital images to sell online, free inventory files, shipping in 1-2 business days, online tracking numbers, weekly sales and specials, custom email inventory alerts, and shipping to USA and Canada.
Pros
No minimum orders
Integration with Amazon and other eCommerce platforms
Transparent product pricing
Affordable monthly subscription
Free trial
Setup a custom site or domain
Cons
Charges restocking fee on returned products that have no defects
Limited products – you can only choose from the 10,000 available
Free trial limited to 7 days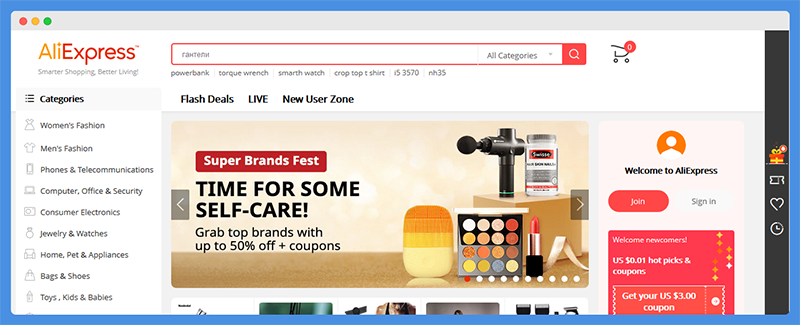 AliExpress is often used by dropshippers when they're looking for suppliers and products.
It's not actually a dropshipping directory, but it's a marketplace with a wide variety of products with competitive pricing thanks to the many sellers on the platform.
The marketplace is accessible to anyone, and its listings usually include high-quality product images and up-to-date product descriptions.
Once a customer places an order on your store, you can order the product on AliExpress, and then put the physical address of the customer, where the product will be delivered to in the delivery information.
Suppliers need not know that they're being used as dropshippers, but this is a common thing on AliExpress that most sellers probably already know that it happens.
While AliExpress isn't a dropshipping director, dropshippers will find the process a lot easier especially when they're just starting out, and want to test run a few platforms before settling on one.
AliExpress also offers competitive prices with hardly any starting costs, but shipping times may be longer because the items are often shipped from overseas.
Pros
Affordable
Wide variety of items
Easy for newbie sellers to use
Cons
Related: How To Dropship From Aliexpress To Amazon
Wrapping Up
If you want to get into the dropshipping businesses, you need to find different suppliers who are not just competent, but provide quality products and on good dropshipping terms.
The best terms in this case offer good pricing, wide product selection, with the best shipping rates and times.
The best dropship companies for Amazon offer all these and some go the extra mile to allow you to set up a turnkey store even if you have one already.
However, you also need to check for perks like product promotion, integration with Amazon and other major eCommerce stores, among other features.
Ultimately, the right dropshipping supplier for you will depend on the criteria you're looking for.
This includes the needs you want the supplier to meet before they start delivering products such as location, policies, and diversity.
The success of your dropshipping business is pegged on all these and other factors that you set upfront.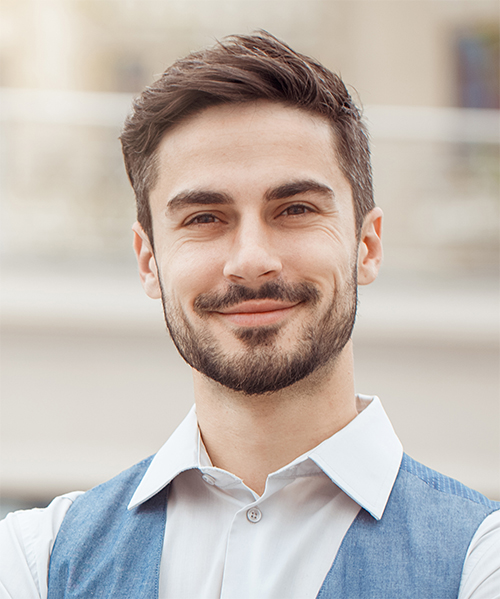 Author: Scott Macarthur
Scott L. Macarthur is a marketing consultant and an online author. He is mostly engaged in providing his expertise to startups and SMBs. He is also an author on TheNextWeb.