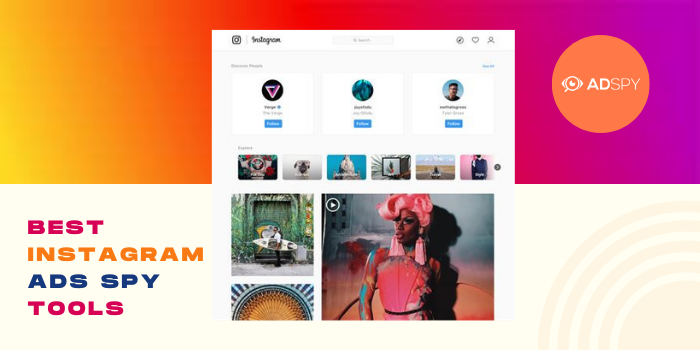 Ad spy tools let you look over the virtual shoulder of your competitors, see which ads are working, improve on the content and positioning, and replicate results.
The Instagram Ad spy tools below offer insight and analysis of competitors, the industry, and even, in some cases, category-wide advertising.
Some naturally work with Facebook while others incorporate analyses from a host of other platforms.
Optimize your social media performance with the best Instagram Ad tools.
Best Instagram Ads Spy Tools
Channels: Facebook and Instagram
Price: $149/month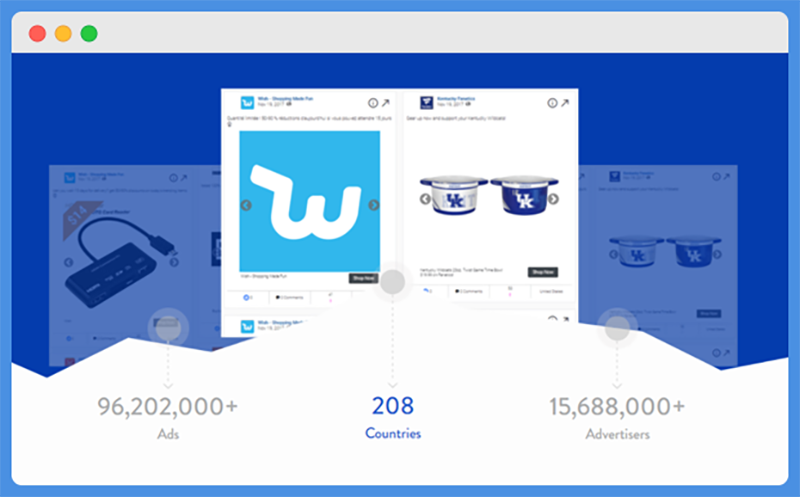 AdSpy is a popular tool for spying on the Facebook and Instagram ad campaigns of competitors.
It searches more than 90 million ads from 15 million advertisers in more than 200 countries.
It allows you to manipulate and filter ads that are displayed on Instagram so that you can search by competitor.
Advanced search features make it easier to find the desired ads. You can search by company name, branded hashtag, or other general search features.
You can also search for ads based on factors such as site type, media type, and the content of the ad.
Ads can be filtered according to their key performance indicators.
For example, you could search for ads in your industry that received over 1,000 likes or even 1,000 shares.
This level of engagement would indicate that the advertiser got a decent return from their campaign. By copying and optimizing that particular ad, you could enjoy similar, or even better, results.
Alternatively, search for relevant ads that have received very little engagement.
This will give a clear picture of the tactics you need to avoid.
Other search options include comment searches, so you can search for brand mentions or trending hashtags.
Filter ads with links from specific affiliate networks or point to individual affiliate programs so that you can find competitors promoting the same products as you.
AdSpy's system can determine the intended demographic of the ads, too. Identify gender, age, interests, and other key stats of the market your competitors are targeting.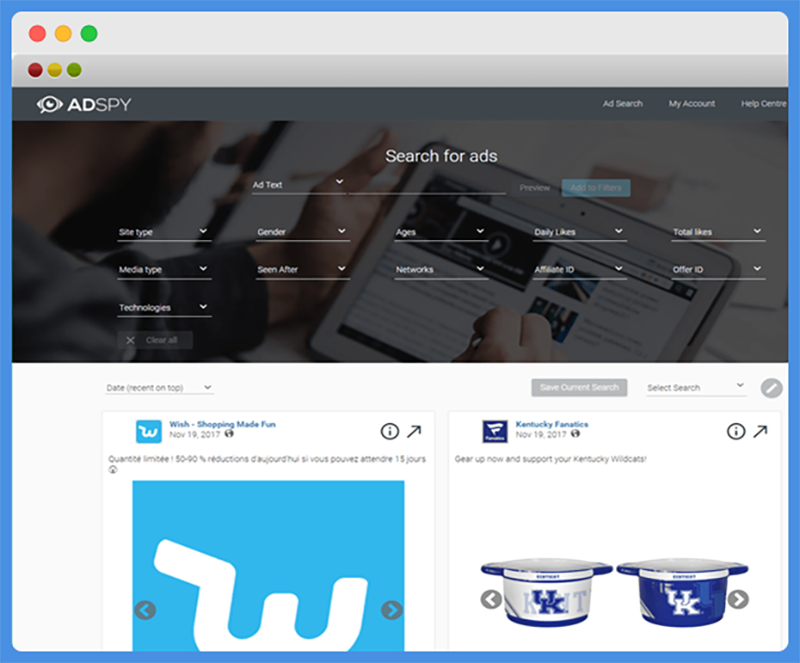 To search, add the ad text you wish to search for and choose filter settings using the dropdown menus.
Results are usually returned within a matter of seconds, although more complex searches can take minutes.
AdSpy costs $149/month but they usually have a $50 discount available for the first month.
This price means that it may not be beneficial for a solopreneur or solo affiliate that is just starting out, but considering the price of running multiple unsuccessful campaigns, it is worth the investment, if you have it.
The ease of use, huge amounts of data, extensive search features, and compatibility with Facebook and Instagram mean that it is a strong choice for those that can afford the investment.
Explore more AdSpy alternatives here.
AdSpy - Get $50 OFF & a FREE Trial
Uncover the competitor ads you want to see. Largest searchable Facebook & Instagram Database. Unparalleled search functionality & more.
Special: Get $50 OFF Adspy & a FREE Trial ==>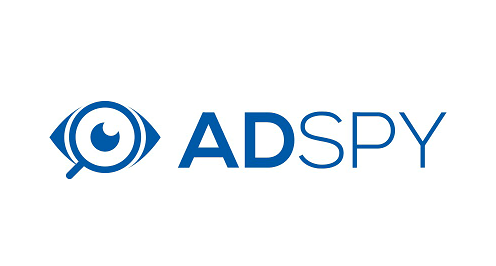 We earn a commission if you click this link and make a purchase.
Channels: Facebook and Instagram
Price: $147/month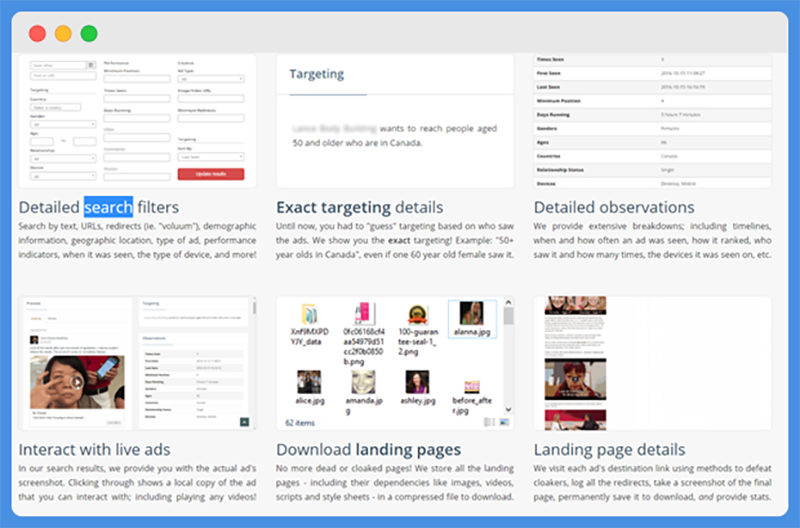 Social Ad Scout is another program that works with both Facebook-owned social media platforms.
It is a powerful tool. It has a couple of unique features, like the minimum Alexa score search option and the great Last Seen search option and its dashboard with real-time ad updates is not only clean but it keeps you constantly updated with new additions and ads.
It costs around the same as AdSpy but its database of ads is somewhat limited compared to the competition.
The social media platform, Instagram, is primarily a mobile app, but it does offer both mobile and desktop apps. It can be installed on wearable technology like smartwatches, and it can be used on devices like game consoles.
Social Ad Spy not only displays mobile ads but desktop ads too, enabling you to optimize all of your Instagram ad formats.
It allows you to interact with live ads so clicking on an ad will open and display a copy.
You can even play the video of an ad to see what you're competing with.
Social Ad Scout has a social-media-like dashboard.
When you first visit this screen, the latest ads will be displayed and include information such as likes, shares, and comments, as well as the time the ad has been running.
Whenever you search for ads, you will be presented with this information, so you can see how quickly an ad attracted the amount of engagement it received.
An ad that receives 1,000 likes in one day is arguably more effective than one that received 1,000 likes in ten days.
The software offers extensive filter options. Search by basics like domain name and keyword, as well as ad targeting options, such as country, age, gender, and more.
Filter by the type and location of creative used, how well ads performed, and sort results by when the advert was last seen.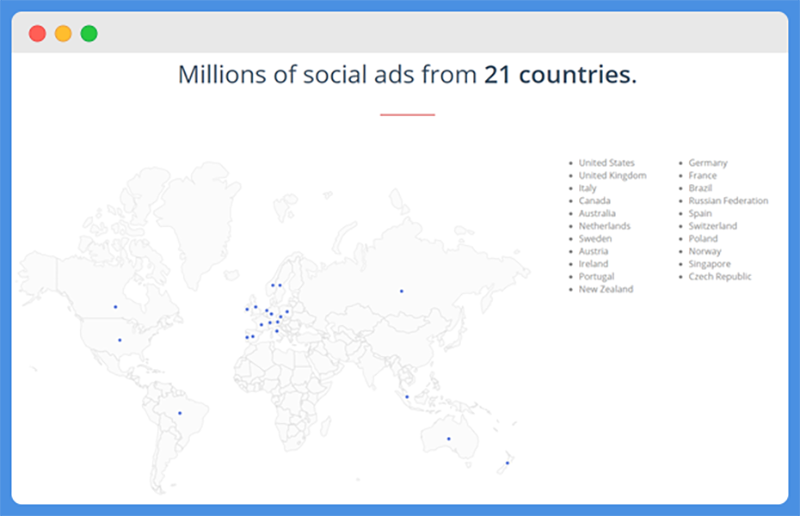 Once you receive results, you can view ads by country, target age, gender, ad type, device, or network.
While a lot of platforms update their ads and results periodically, Social Ad Scout updates on the fly, which means that you always have access to the latest data.
The program does not have quite as extensive a database as some other networks, but its dashboard is easy to use and information is updated frequently.
Interesting Comparison: AdSpy Vs AdSector
Channels: Facebook and Instagram
Price: Free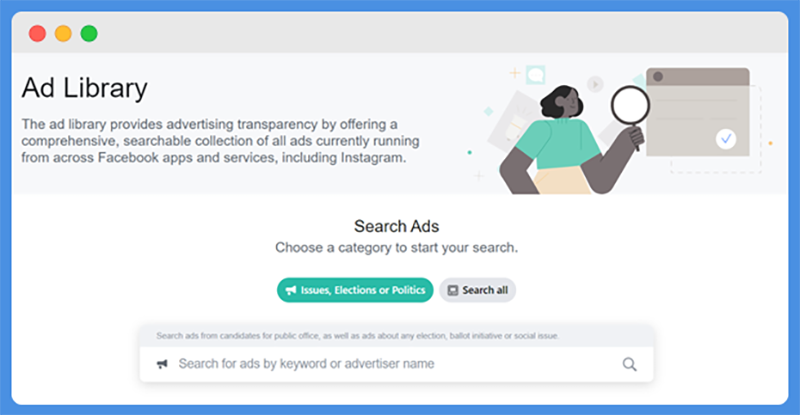 The Facebook Ad Library was established in 2019 and the social media giant says that it offers a "comprehensive, searchable collection of all ads currently running from across Facebook apps and services", crucially "including Instagram".
The service was launched to show transparency in political matters and in response to accusations that the social network was used to influence the 2016 US elections.
You do not need a Facebook or Instagram account to access ad data unless it contains adult content.
Ads show up 24 hours after receiving their first impression, so while it isn't live, it isn't too far off.
As a free tool provided by the company themselves, the Facebook Ad Library is a little limited compared to other software.
Before you start your search, click the icon next to the search box and choose "Search All" otherwise you will only be shown social and political advertising results.
Once you've opted to search all ad data, you can search for the brand name of your competitor and will be shown results grouped by the month the ads were released.
There are several filters that you can apply to narrow results down further. These filters include country and platform.
You can also click the "Why am I seeing this ad?" link by clicking the three dots button.
This option is always available on Facebook ads, and it displays the exact targeting that has led to the ad being displayed in your feed. You can find out whether your competitor is targeting specific regions, ages, gender, languages, and other targeting data.
Facebook Ad Library is free and it contains information directly from the source. It enables you to see the Facebook and Instagram content of your competitors while being easy to use.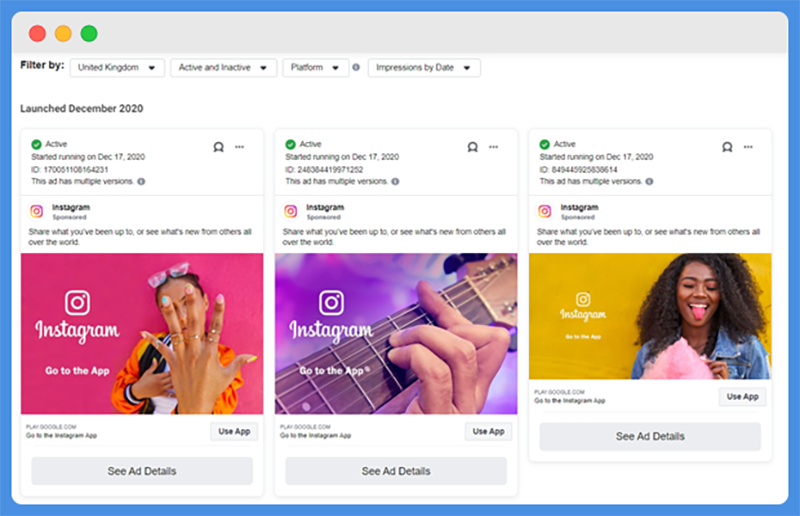 However, the information is severely limited. It only displays active ads, unless you're specifically looking for political and social content.
It also has limited filters and search functions, and while it does allow you to click and view individual targeting data for each ad, it is a manual process for each ad.
Also, you cannot view data like impressions, likes, or other engagement metrics.
Although Facebook Ad Library may prove useful for a cursory look and beginners, this free tool will need to be combined with other software to offer critical information.
Explore: Best AdSector Alternatives
Channels: Facebook, Instagram, YouTube, AdMob, Twitter, Pinterest, Yahoo
Price: Free – $499/month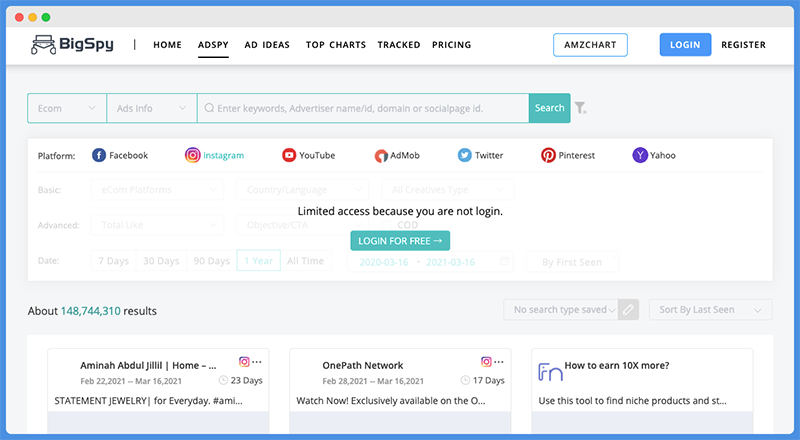 BigSpy not only offers insight into Facebook and Instagram but to five other social networks, too.
However, while you can get detailed insights into the demographic of Facebook ads, the information offered on other networks is much more restricted.
If you are looking to advertise on multiple channels, BigSpy does offer some good features.
For a start, you can directly and literally copy ad content.
View the number of likes and shares that an Instagram post has received and track results so that you can see how the ad program continues to perform for its duration.
Click into one of the Instagram ad listings and you will see the creative and ad copy as well as a link to the landing page.
It shows a category of the ad, although this is admittedly limited on Instagram.
Performance metrics for the campaign include the number of comments, number of likes, and the total duration that the campaign has been running. From here, you can choose to download or save the ad content.
On the BigSpy dashboard, you will see a few other options to help drive ideas for your new campaign.
On the Ad Ideas page, enter a keyword and it will display the best performing ads related to that keyword.
You can view and sort ads according to the number of ads in a campaign, how many likes they received, the number of comments they attracted, and how many times the ad was shared.
This works with Instagram, as well as Facebook, Twitter, and Pinterest ads.
There is also a Top Charts section that displays the most popular and trending ads.
For now, however, this new feature does not work with Instagram but it does work with the rest of the included networks.
In terms of pricing, BigSpy offers a few options, including a free account.
The Free account only offers access to Facebook ad results and it only allows five daily searches with limited search functionality.
However, the Basic account offers 20 queries a day and includes Instagram ads.
It also allows you to download or track 25 ads, and it costs a fraction of services like AdSpy.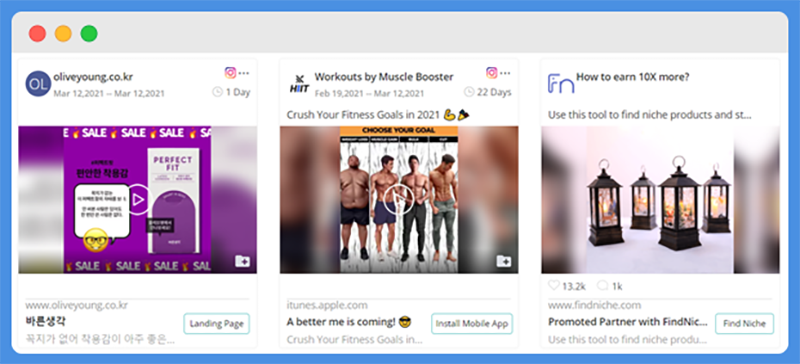 BigSpy can work out to be less expensive than premium competitors and a cheap account offers enough for somebody just starting their first Instagram account or with very little social media advertising.
But if you are managing a lot of ads, you will need the Pro or VIP account and these do cost more.
While BigSpy does offer access to more networks, Instagram features are limited so the premium accounts will be beneficial to those using multiple social media platforms.
Check Out: AdSector Review

We earn a commission if you click this link and make a purchase.
Channels: Facebook, Instagram, YouTube, Google, Quora, Reddit, TikTok, GDN
Price: Free – $349/month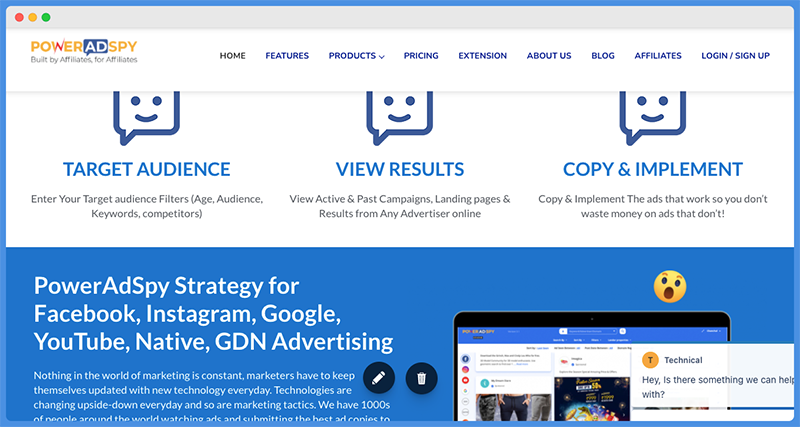 PowerAdSpy is a powerful, feature-rich tool. Unlike most of its alternatives, It works with a huge range of social networks such as Facebook and Instagram but also including Google, YouTube, Reddit, and Quora, although you will need the expensive Palladium package to get access to all of the platforms.
For Instagram ads, you need a Standard membership, which is competitively priced compared to the likes of AdSpy.
Search for ads based on keywords, competitor name, or the direct URL of a competitor.
You can then filter by the position of the ads, so whether it features in the news feed or the sidebar, and you can choose from 15 countries.
There are more than 6 million ads, which is not as many as some other software, but, as well as the country of origin of the ad, you can also search by ad type, ad position, and gender, language, and age of the target.
Another filter offered by PowerAdSpy is that of the Call To Action (CTA). Instagram stories have their own swipe-up CTA but research shows that optimizing your Instagram Stories CTA offers an 89% increase in conversions. Filtering by CTA enables you to identify which is the most effective for your chosen ad type.
Once results are displayed, you can view all of the live ads on your chosen platform. From here, it is possible to visit each ad so you can view likes, responses, and other engagement figures in real-time.
You can also copy the text and creative content of the ad so that you can modify and use it yourself.
Another feature of PowerAdSpy is that it shows the most successful and popular ads on the platform. Even if these are unrelated to your business and your niche, they can provide useful insight into what performs well on the platform.
Look at factors like the CTA that has been used. Determine whether video or images are more popular. You can even see whether ads posted at a certain time of day enjoy a greater engagement.
PowerAdSpy offers similar features to AdSpy. If you only require Instagram ad statistics, it is a little cheaper.
However, the big benefit of this software is that it can be used with a selection of other platforms, including Quora.
Quora can be a good source of content-driven users, and access to data from this network is useful.
But you will have to pay double or even triple the price of the Standard PowerAdSpy software.

The platform is easy to use, but the data can feel a little limited. Six million ads is a decent amount, but these are not Instagram specific and, especially if you operate in a small niche, you might feel like the results are somewhat constricted when using the software.

We earn a commission if you click this link and make a purchase at no additional cost to you.
Channels: Facebook, Instagram, Twitter, YouTube
Price: Not Published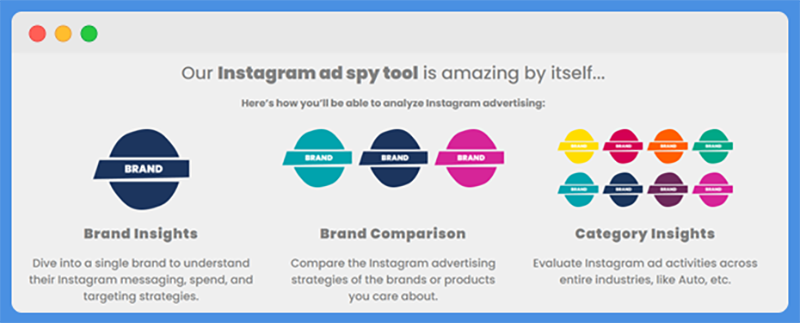 Pathmatics is a little different from the rest of the tools on this list, primarily because it is designed for use by agencies and brands with a large network of users. Even the "apprentice" package offers access for 25 users while the "wizard" package offers unlimited access.
This professional-grade package comes at a price and, while Pathmatics does not publish a cost on its website, research suggests that potential buyers need to budget at least $10,000 a year, equivalent to more than $800/month, which is five times more expensive than AdSpy.
To spy on the Instagram ads of your competitors, you will be using the Explorer tool.
This works with Facebook, Instagram, YouTube, Twitter, display, and video platforms. It works with brands from eight regions.
The platform enables you to analyze strategies according to creative content as well as demographically.
You can analyze ad viewers by gender, location, and more.
You can also analyze results by device type, ad type, site targeting, and more. There is certainly plenty of ad segregation and targeting data.
The Creative Tactics tool can help drive your ad content. It displays the different ads being used by your competitors.
It includes the platform on which the ad appears, the landing page it directs to, the time the ad has been running, and, crucially, the ad trend.
The trend includes ad spend and the number of impressions that the ad has received.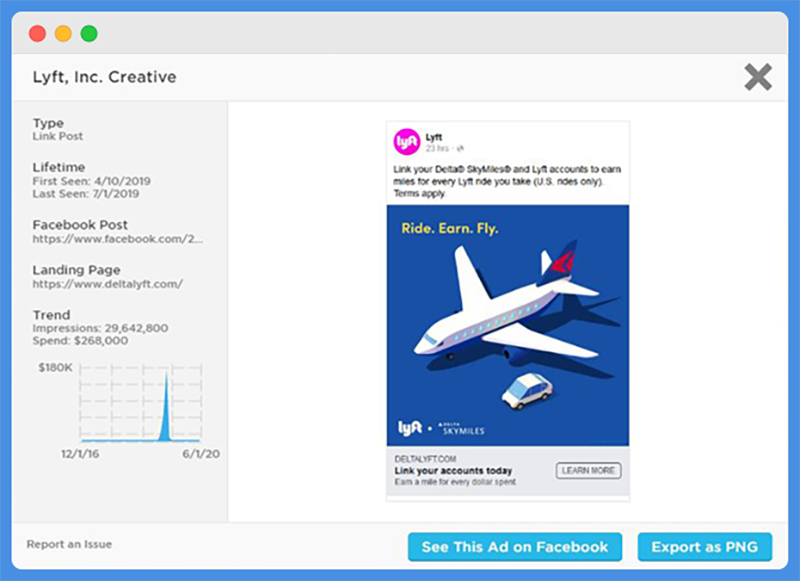 In this example, Lyft has enjoyed 30 million impressions from a $268,000 spend, or roughly 9 cents per impression.
If Lyft had a 2% click-through and made $1 profit per visitor, they would be getting $600,000 profit, or double their ad spend: a worthy investment.
You may not have the budget for that size of ad campaign, but you can scale investment down and determine whether a similar campaign would prove profitable.
The point is that Pathmatics may be expensive but it provides excellent levels of insight that can drive an advertising campaign.
Whether you need to justify the expenditure to yourself or a board of directors, that is the kind of insight that delivers decisions.
The biggest drawback of Pathmatics is its price. Most solopreneurs and lone traders won't have the budget or require the level of detail offered by this platform.
But major enterprises and some agencies will be able to justify this spend because of the potential returns it brings.
It is also worth noting that Pathmatics can be heavily customized.
It can deliver results via the site's web-based UI or a data stream that connects to your existing software – and this is just one way that the platform offers better-optimized results.
Also Read: Best Tools Like TweetDeck For Instagram
Channels: Facebook, Instagram, Twitter
Price: $99/month – $249/month
Sprout Social is a social media analysis tool. It works with Facebook and Instagram, as well as Twitter accounts, and it can be used to optimize your ad campaigns and social media performance.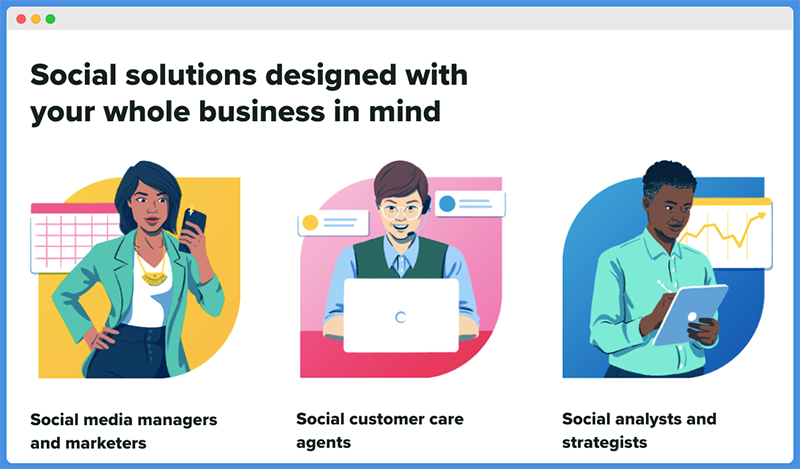 Sprout Social includes several key elements, including the Listening element.
This is the section that enables you to look at competitor performance and borrow their results and ad content.
It doesn't just work with paid social media ads, and it can be used to determine your share of voice with organic social media posts, as well.
Share of Voice is your share of advertising compared to the total advertising in your market or niche.
It can include everything from PPC to organic traffic. The figure can be traced more easily on digital platforms than physical, so it has become an especially important metric in modern marketing.
You can determine your own Share of Voice within a market sector, while also seeing the leading players among your competitors, using Sprout Social.
Listening data not only drives marketing but can be used to optimize other areas of your business.
For example, you can identify competitor products that buyers are most enthused by.
Ensure that you have a similar product and use this information to drive your product development.
You can also use listening data to improve areas like customer care and your overall marketing campaign.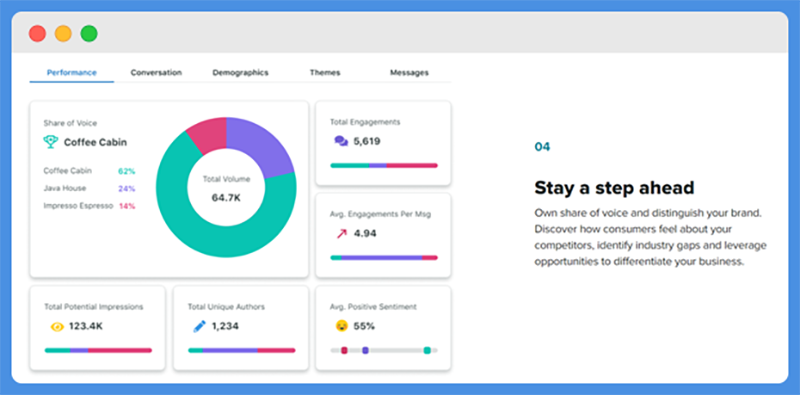 As well as its Listening reports, Sprout Social offers advanced social analytics from platforms including Instagram and Twitter.
It enables you to more easily publish content to your social profiles, and with a host of engagement monitoring and optimization tools.
The software is especially beneficial for those that want a full social media marketing and advertising platform.
It has reasonable Instagram spy features, but they are not as comprehensive as some other specialist tools.
However, when combined with features like Share of Voice reporting, they can drive excellent social media and overall business performance.
Also Read: Best Tools Like TweetDeck For Facebook
Conclusion – Best Instagram Ad Spy Tools
Instagram can be a powerful marketing tool to promote your business, but it can also be an expensive waste of your marketing budget.
Spying on your competitors and improving on their results is an effective way of ensuring good results.
We found AdSpy to offer the best features over other tools such as PowerAdSpy, Social Ad Scout, BigSpy, etc.
It is specifically geared towards Instagram advertisers and, even when compared to professional agency tools like Pathmatics, its price is reasonable and affordable.
Sam loves to write on technology & related stuff. Ecommerce, mobile and internet marketing equally drive her interest. Likes gardening and experimenting with new recipes. An avid reader and absolutely mad @bout donuts 🙂