Do you want to start a dropshipping store? You should use a reliable platform to streamline your activities.
Dropshippers are mainly concerned about finding the right product.
Not to mention, several dropshippers do not focus on competitor spying, which can be a major business advantage.
Therefore, I'll be reviewing Dropship Spy, a dropshipping platform that focuses on product research and competition spying.
Dropship Spy Review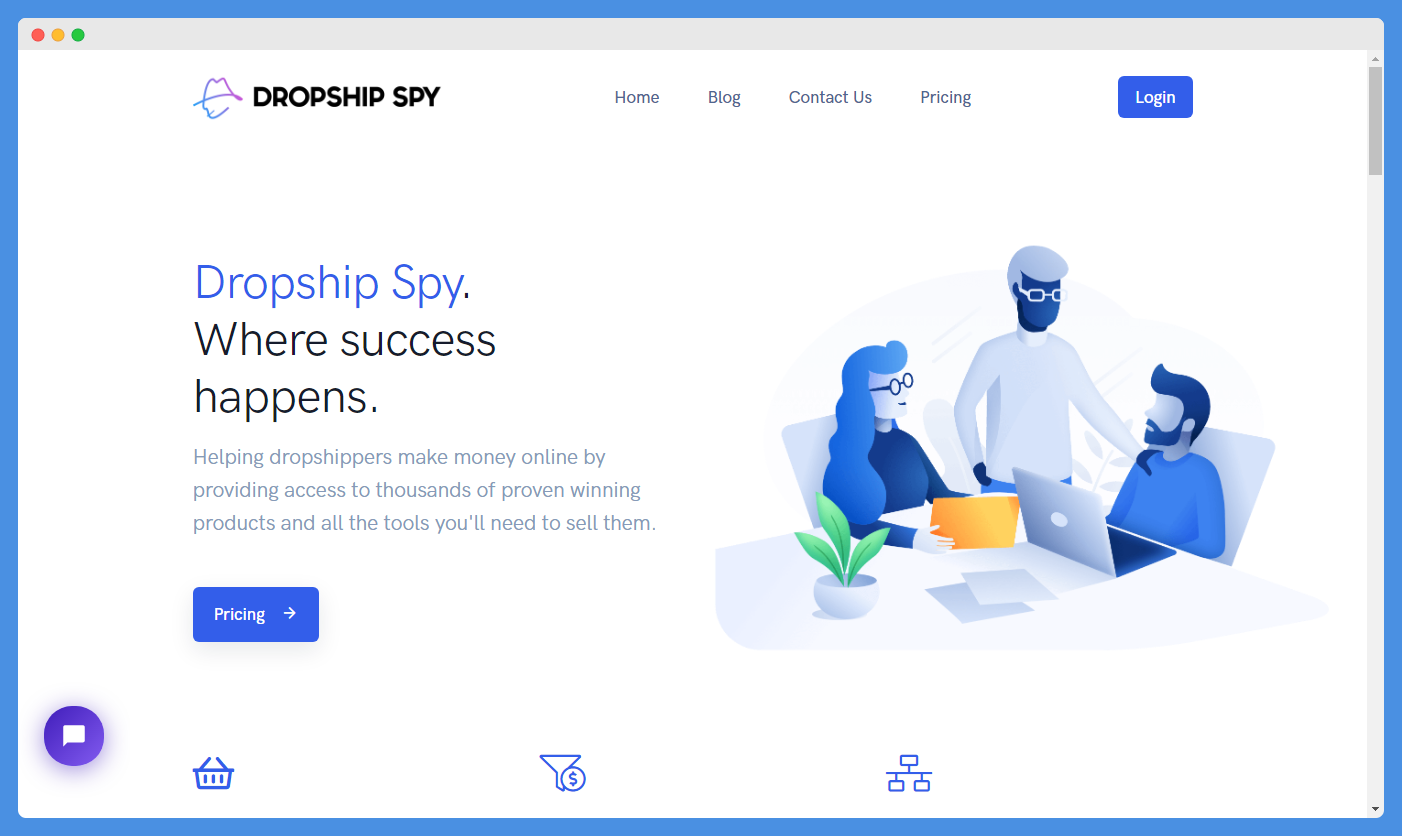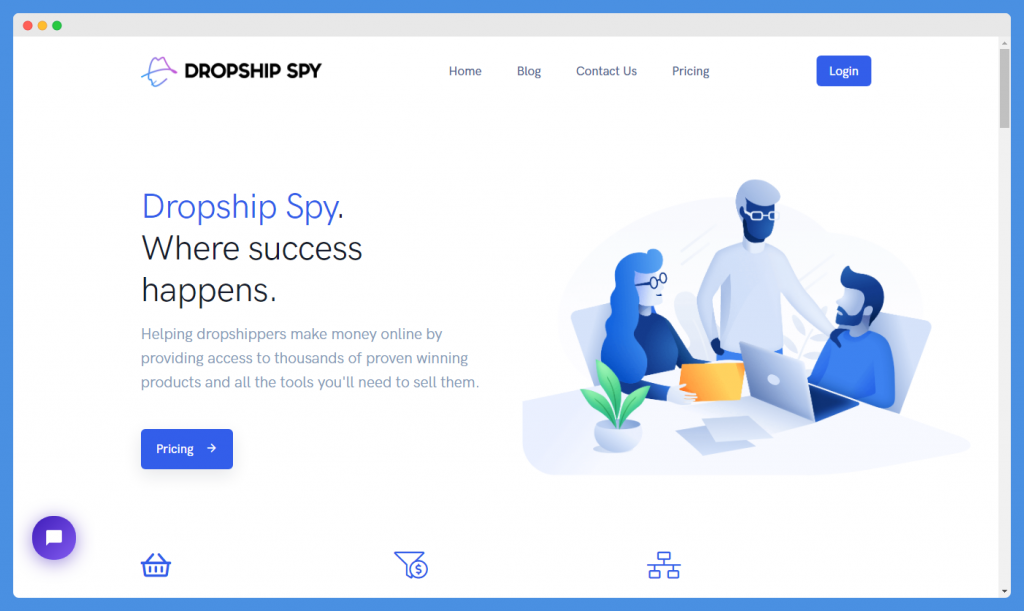 Firstly, let's discuss what Dropship Spy is.
Dropship Spy is a platform launched to help dropshippers make money. The founder, Tristan Glaves, launched Dropship Spy in 2017, and the company has its headquarters in West Sussex, UK.
There are three major things you can do with Dropship Spy, which include:
Spy on dropshipping stores
Drive social media engagements
As an easy to use platform, Dropship Spy incorporates several useful tools and features. You don't have to sell products on it; instead, you connect it with your dropshipping store on other eCommerce store platforms.
In fact, the platform facilitates several third party integrations so that you can streamline your dropshipping activities.
How To Start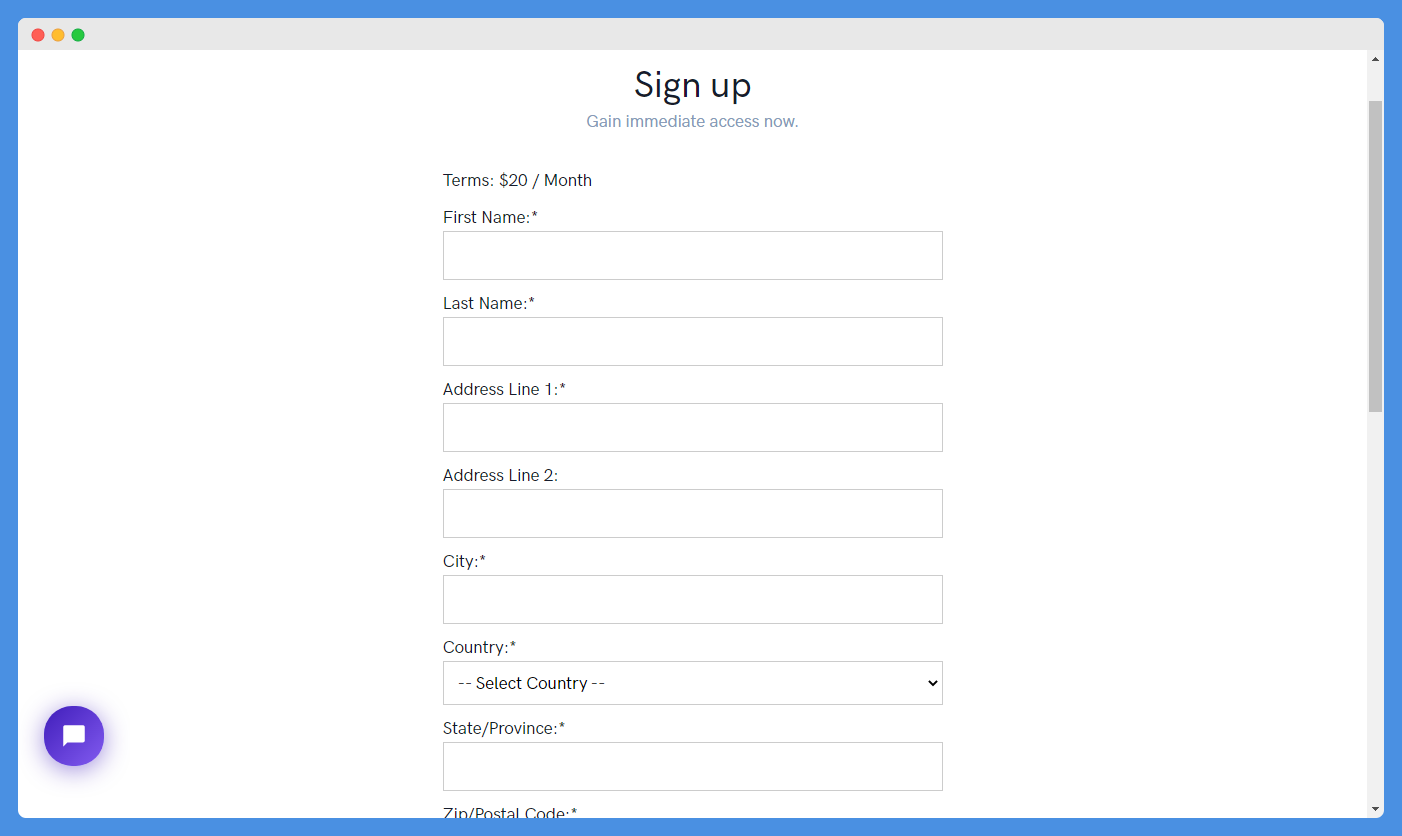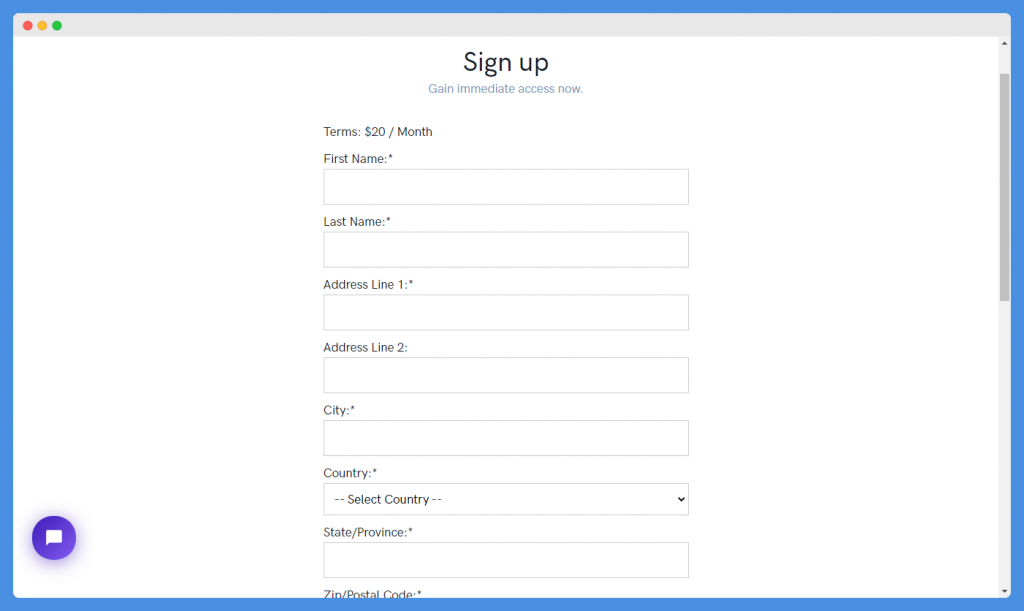 As a beginner with Dropship Spy, you first have to sign up. The signup process is simple as the details needed include your name, address, country, state, zip code, email, and a strong password.
However, to gain access, you'll have to pay for a subscription. There are two methods of payment supported: PayPal and credit/debit cards. The supported cards are Visa, Discover, Amex, and MasterCard.
After payment, agree to the terms and conditions for access to your dashboard. The dashboard is a user-friendly one with a left-aligned menu.
Explore: Ultimate Guide To AliExpress Dropship Center
Supported ECommerce Platforms
To use Dropship Spy, you have to connect the platform to your dropshipping store. The two eCommerce store platforms supported on Dropship Spy are Shopify and WooCommerce.
It's easy to connect any of these stores in the members' area from your dashboard. All you need is the store URL and access approval.
Dropship Spy also supports online marketplaces. This includes Amazon, AliExpress, and eBay. As a dropshipping merchant, you can either source dropshipping products from these marketplaces or sell on them.
There's no limit to the number of dropshipping stores you can connect to Dropship Spy as long as you're on a subscription.
Finding Products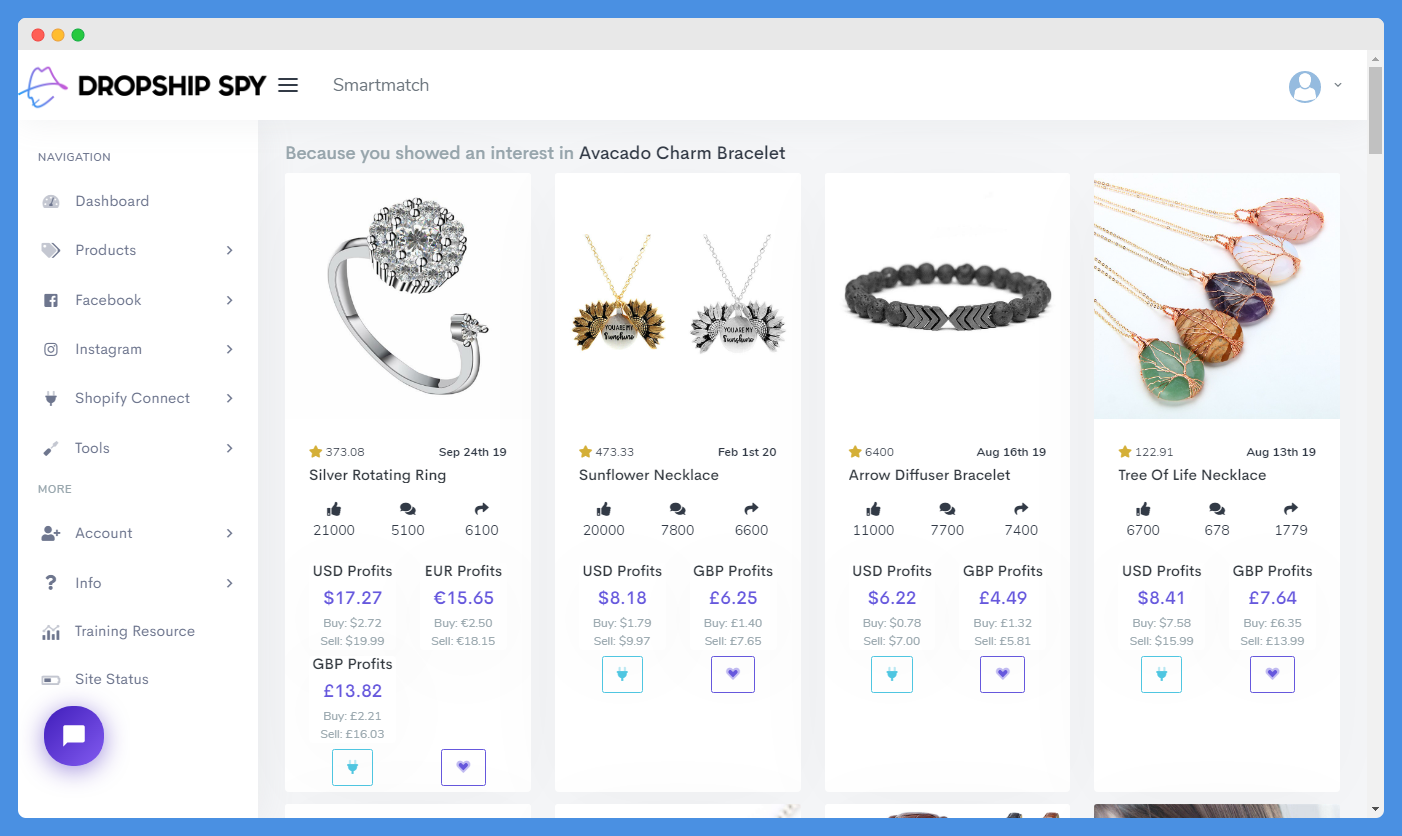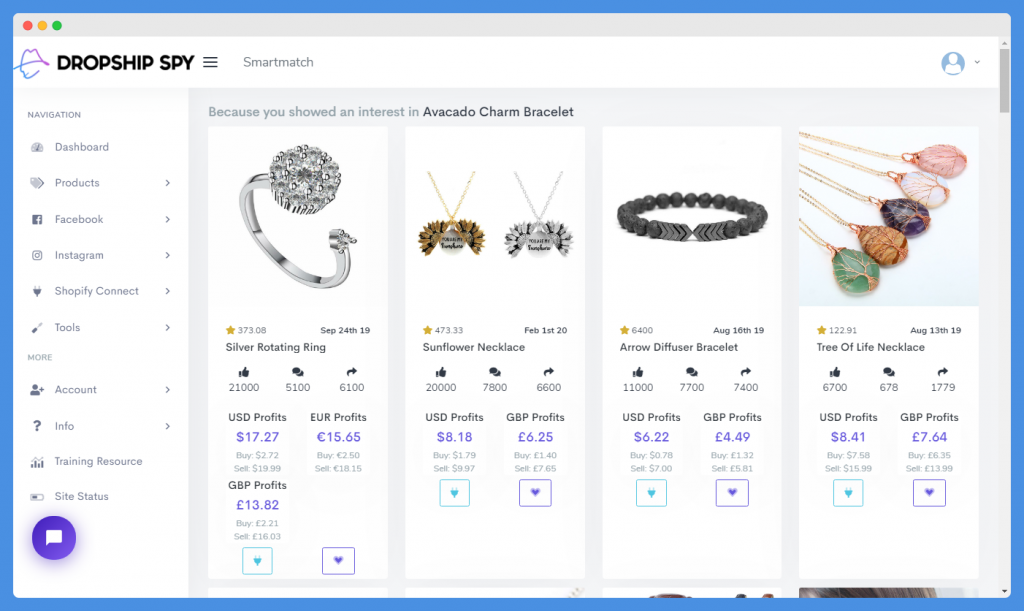 Dropship Spy takes the task of finding products to sell for your dropshipping business. You'll be provided with five products consisting of three promising products and two winning products every day.
The promising products are products with the potential of attracting customers, while winning products are products that are currently top-selling.
You can also find products using the Smartmatch tool. This tool automatically generates products you will like based on your previous interests, i.e., based on products you've sold or recently viewed.
Additionally, Dropship Spy features a Product Spy tool. This tool calculates the selling potential of a product, whether it's hot or not. You only have to supply the product URL.
Product Import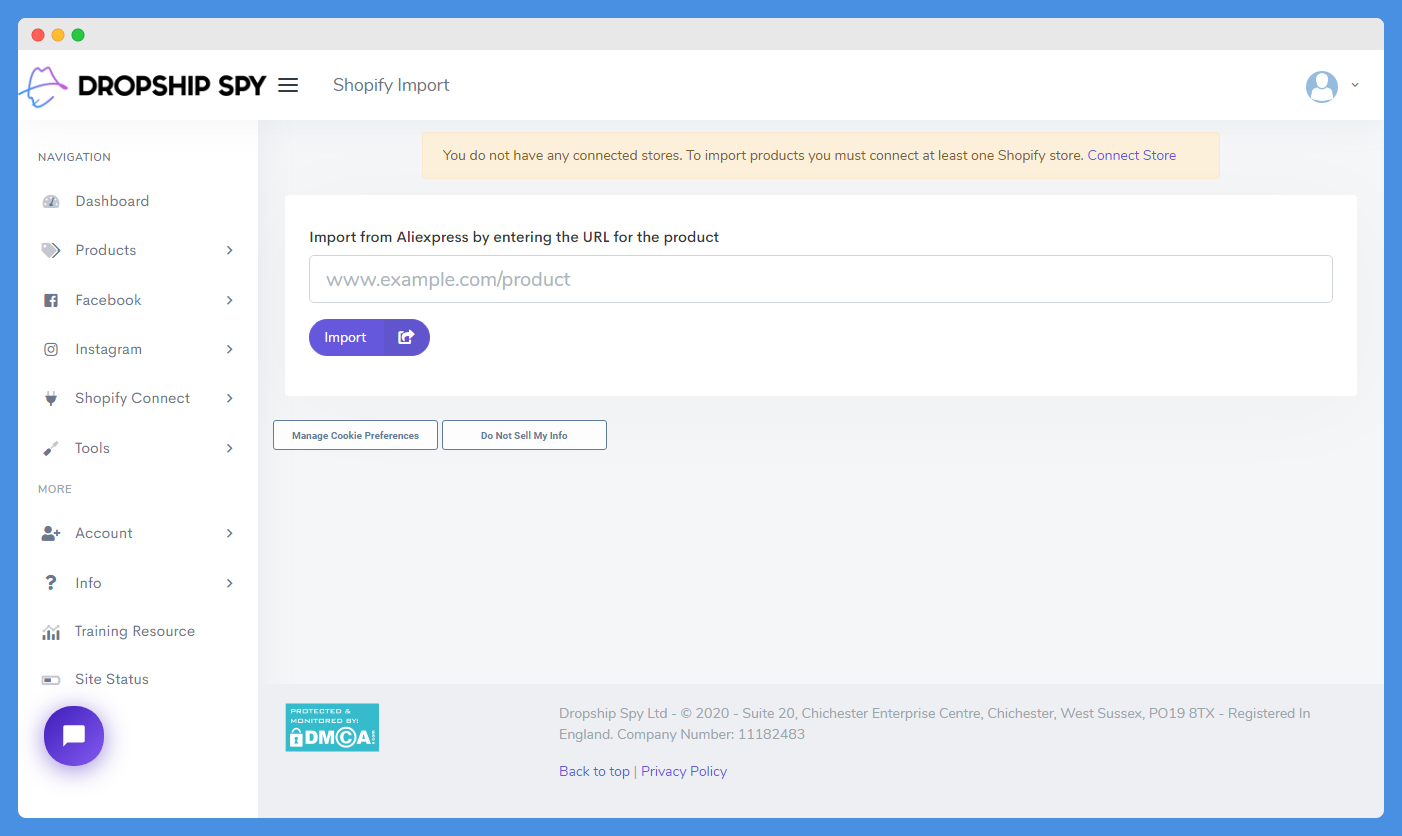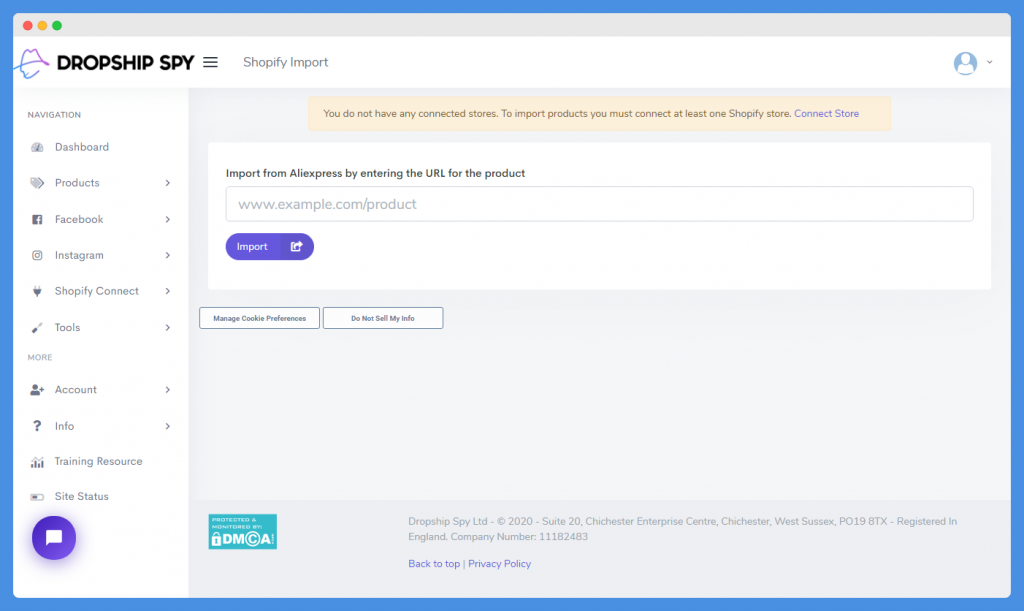 To import any of the winning products, promising products, or Smartmatch products, you simply need to click "Push to Store." You'll get a pop-up displaying the product details; Click on "Push," and it will be listed on your store.
If you've got a list of products, you can import them easily using the Product Import tool. Just like the Product Spy Tool, you only have to supply the product URL.
One downside of the Product Import tool is that it doesn't support bulk import. If you've got a ton of AliExpress product URLs, for instance, you have to enter and import them one after the other.
Worth Reading: How To Dropship From AliExpress To Amazon
Product Suppliers
Dropship Spy gives you the flexibility to work with any product supplier. Hence, you can import any dropshipping product to your store by simply entering their URL.
However, the winning products, promising products, and Smartmatch products the platform presents are sourced from the best suppliers.
To select the best suppliers available, Dropship Spy put various factors into consideration. These factors include supplier rating, number of products sold, customer reviews, and product prices.
The downside here is that Dropship Spy only presents suppliers from AliExpress, none from Amazon or eBay. Nevertheless, you can directly work with suppliers on these platforms since you can import products from them.
Store Search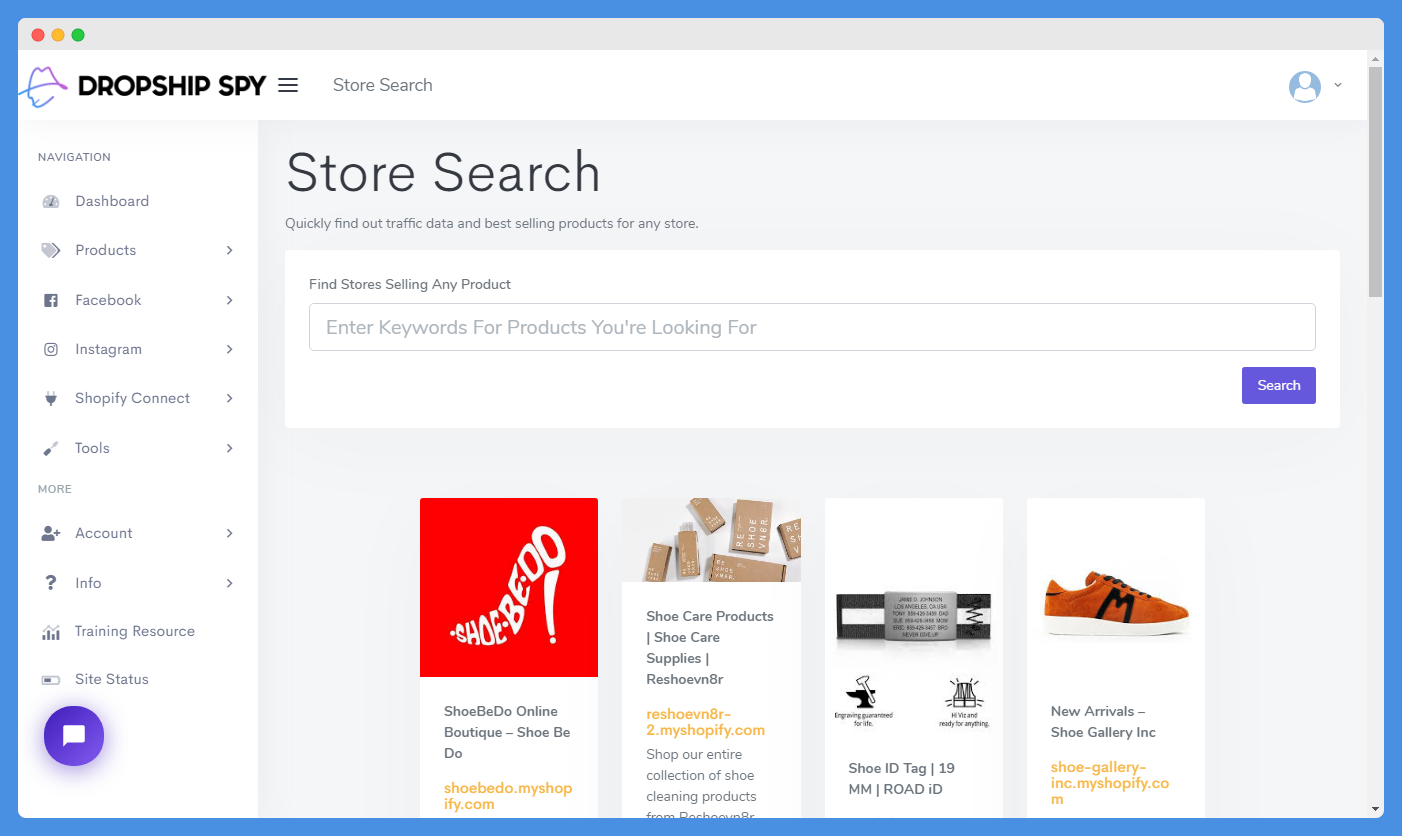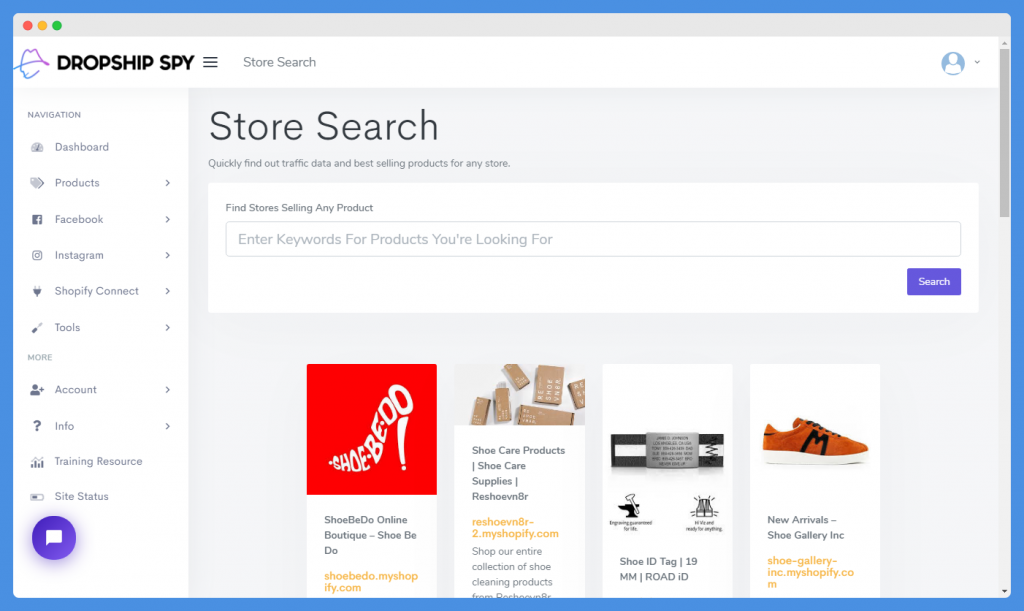 Store Search is a feature that lets you spy on other dropshipping stores. It provides traffic and product selling data of any dropshipping store on Shopify, WooCommerce, Amazon, eBay, and AliExpress.
You should simply enter a product keyword. For example, entering the keyword "shoe" will give you a list of various stores that sell shoes and shoe-related products. Most of the stores that you will get are Shopify stores.
By clicking on "View Traffic Data" for any of the stores, you'll be redirected to the site scanner where you get a rundown of the stores' traffic. This includes estimated visits, product views, top-selling products, etc.
Review Importer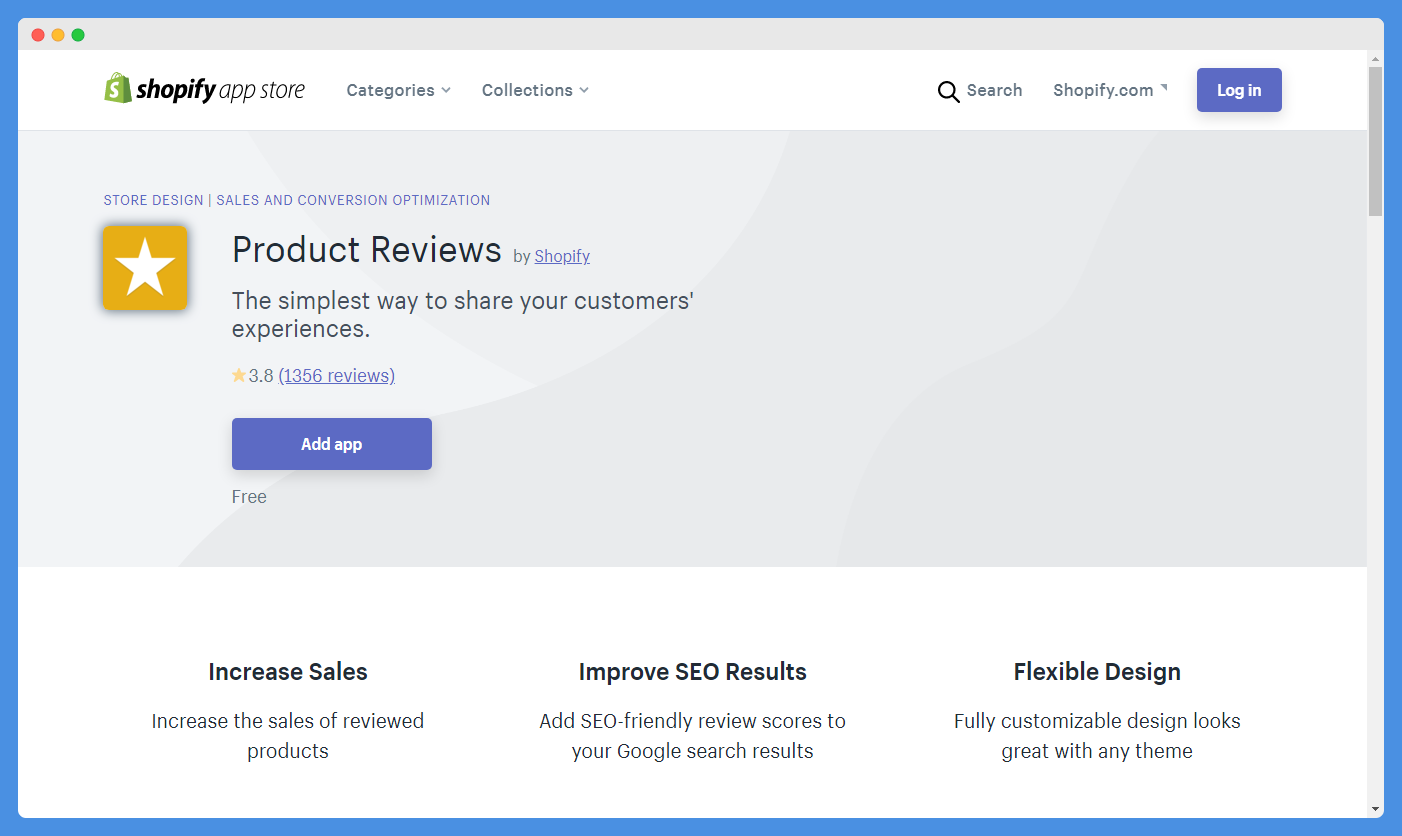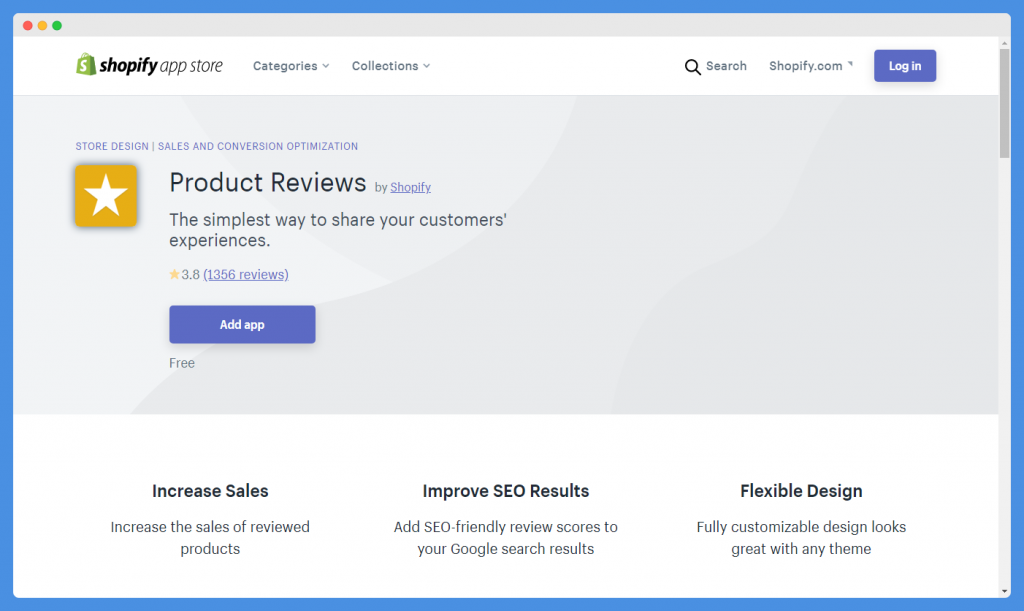 When you import products from suppliers with Dropship Spy, it only comes with the product details and descriptions. User reviews are not imported.
To get reviews, you'll have to use the Reviews Downloaded tool. However, this tool is only compatible with Shopify stores, and for it to work, you'll have to install the Shopify Reviews app in your Shopify store.
You can download reviews for products on AliExpress and Amazon. Simply enter the product URL and generate the reviews file.
Then, from the Shopify Reviews app on your store, upload the reviews file, and import the reviews. You have to make the first column of the file the same as the product URL for an accurate import.
Check Out: Best Shopify Apps For Your Dropshipping Store
Sales Reports
Dropship Spy isn't the best dropshipping platform when it comes to reports and analytics. Your dashboard only gives you a rundown of the number of winning products and promising products you have used.
To get detailed statistics of your dropshipping shop, you'll have to check that which is provided by your eCommerce platform. Shopify and WooCommerce – which are both supported by Dropship Spy – have vibrant reports and analytics dashboards.
Nevertheless, it's worth mentioning that Dropship Spy provides Amazon and eBay sales reports. The reports cover the top-selling products on both online marketplaces, amongst other information. It's one of the platform's latest features.
Social Media Engagements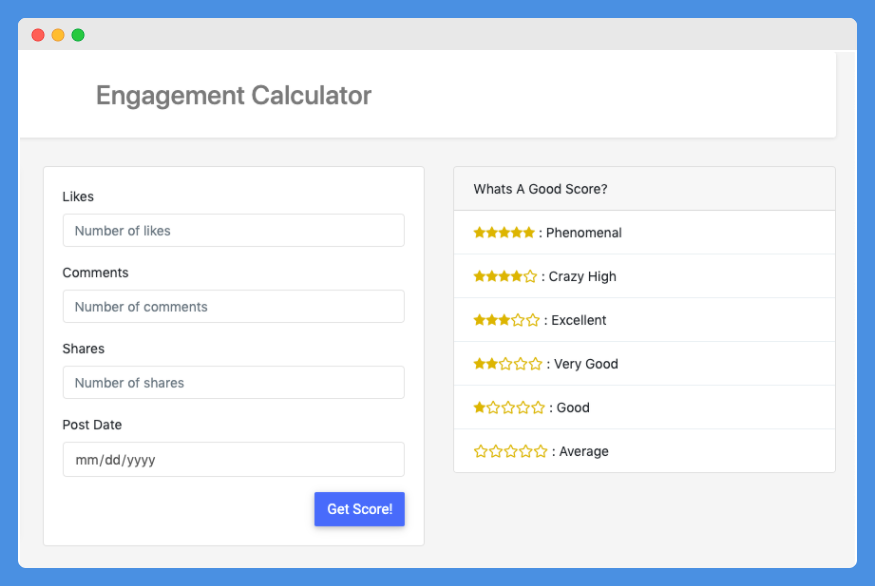 You're likely to advertise your dropshipping store and attract customers via social media. This is why Dropshipping has features that can help you build engagements on two major social media platforms – Facebook and Instagram.
First is the Facebook Audience Builder. This tool helps you strategically target your adverts to reach the right audience. With the Engagement Calculator, you can follow up on the engagement ratings of all products you've shared on Facebook.
For Instagram, you have the Approved Influencers and Influencer Search tool. The Approved Influencer tool provides top Instagram suppliers in your niche that can help promote your products. The Influencer Search tool lets you search and discover influencers.
Shipping & Delivery
In dropshipping, the product goes directly from the product supplier to your customer. As the store owner, the most you can do is follow up on ensuring it does get to the customer.
Unfortunately, you can't do this with Dropship Spy. The platform has no support for streamlining the shipping process. You'll have to monitor the process from your eCommerce store platform or contact the supplier directly.
However, since Dropship Spy presents you with products from only the best suppliers, you can rest assured that your products will be delivered in good condition and on time.
The shipping cost involved depends entirely on the supplier. You can pay for shipping yourself or let your customers pay for it.
Affiliate Program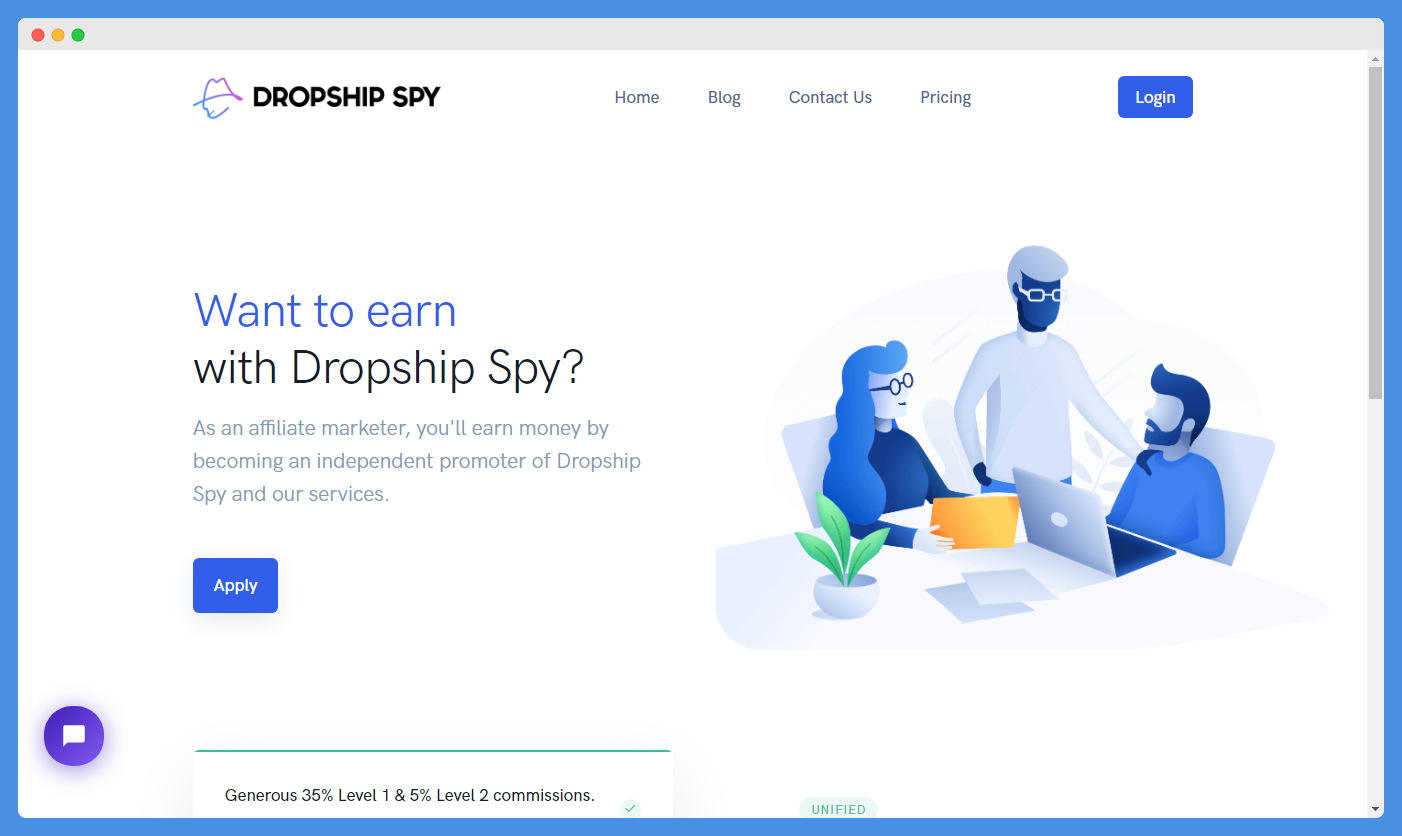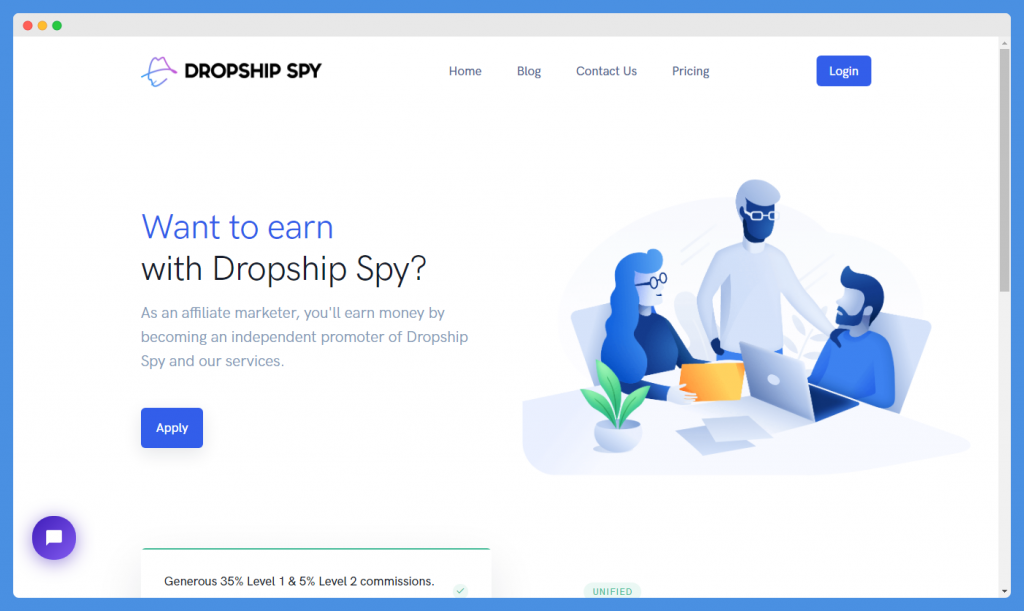 The Dropship Spy Affiliate Program is open for everyone who wants to promote the platform and earn money.
Joining the affiliate program is free. You don't need to be a premium user of the platform to apply, although that has its advantages.
To apply, you have to explain how you plan on marketing the platform. You stand a higher chance of being approved if you are an influencer with large followings on prime social media platforms like Twitter, Instagram, Facebook, and YouTube.
The commissions are 35 percent for Level 1 affiliates and five percent for Level 2 affiliates. Payments are issued via PayPal on the first day of every month.
Third-Party Integrations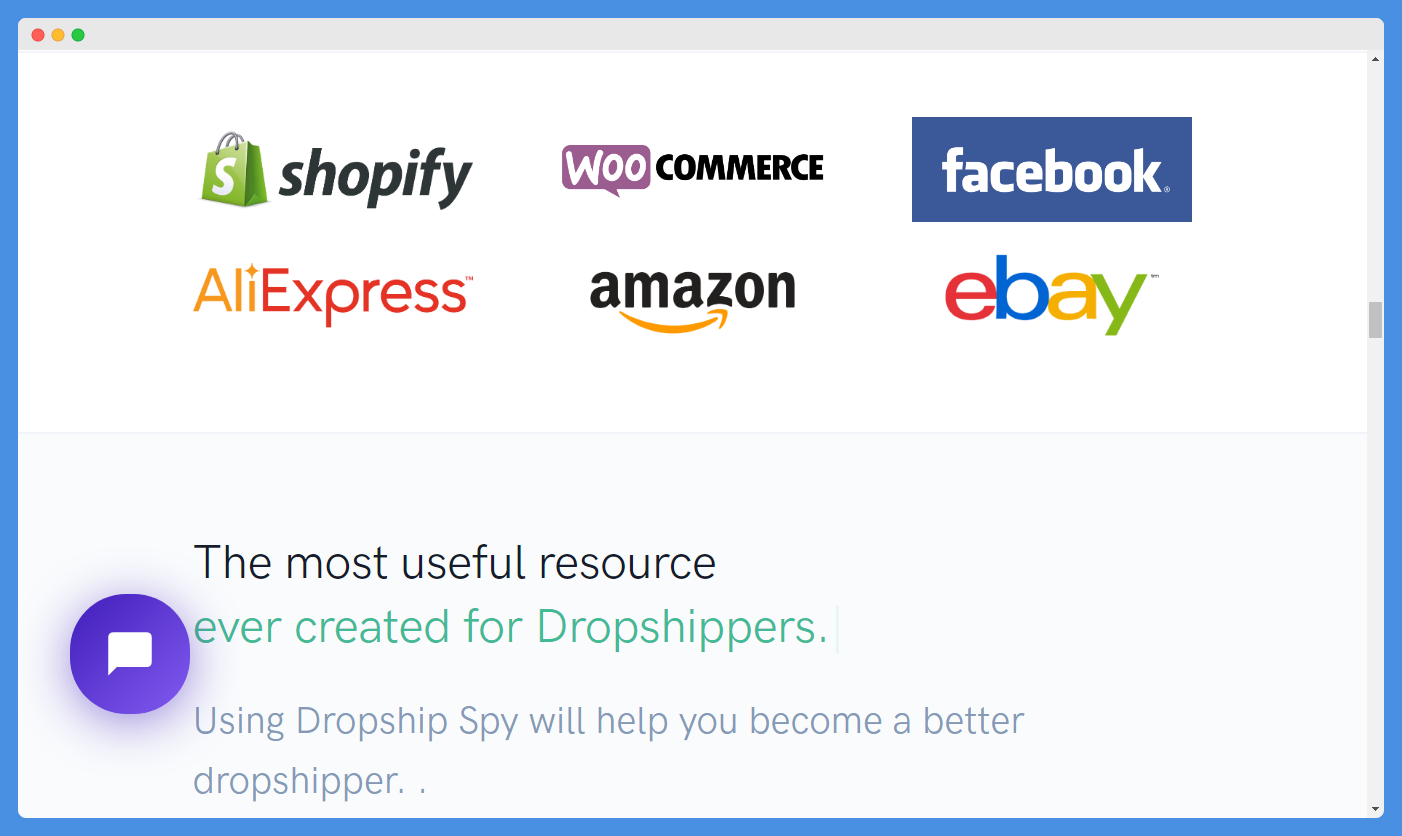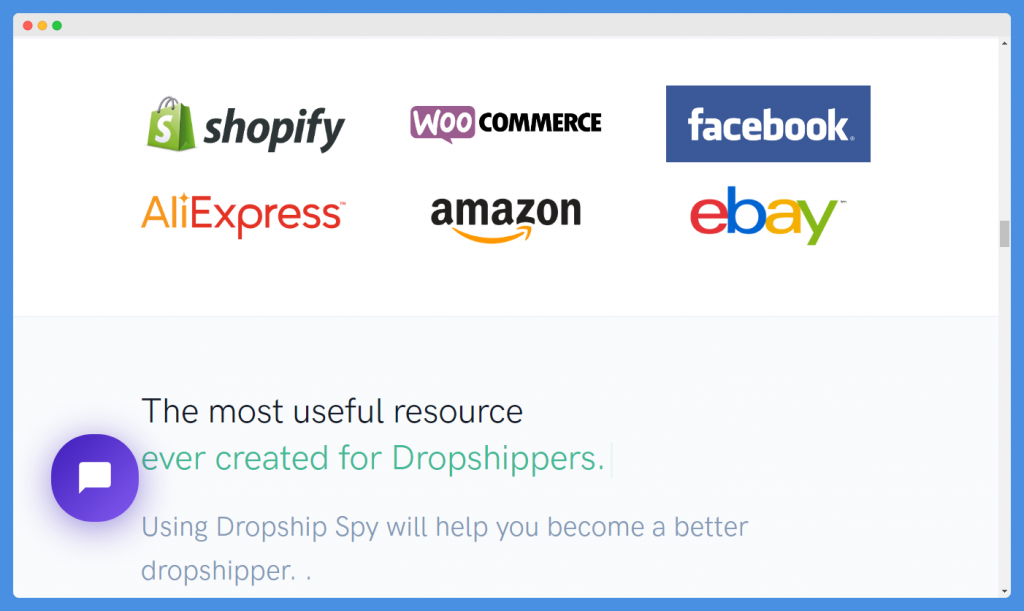 The platforms Dropship Spy integrates with has already been mentioned. They include eCommerce store platforms, online marketplaces, and social media platforms.
The eCommerce store platforms are Shopify and WooCommerce, while the online store platforms are Amazon, eBay, and AliExpress. For social media integrations, Dropship Spy supports Instagram and Facebook.
Customer Support & Resources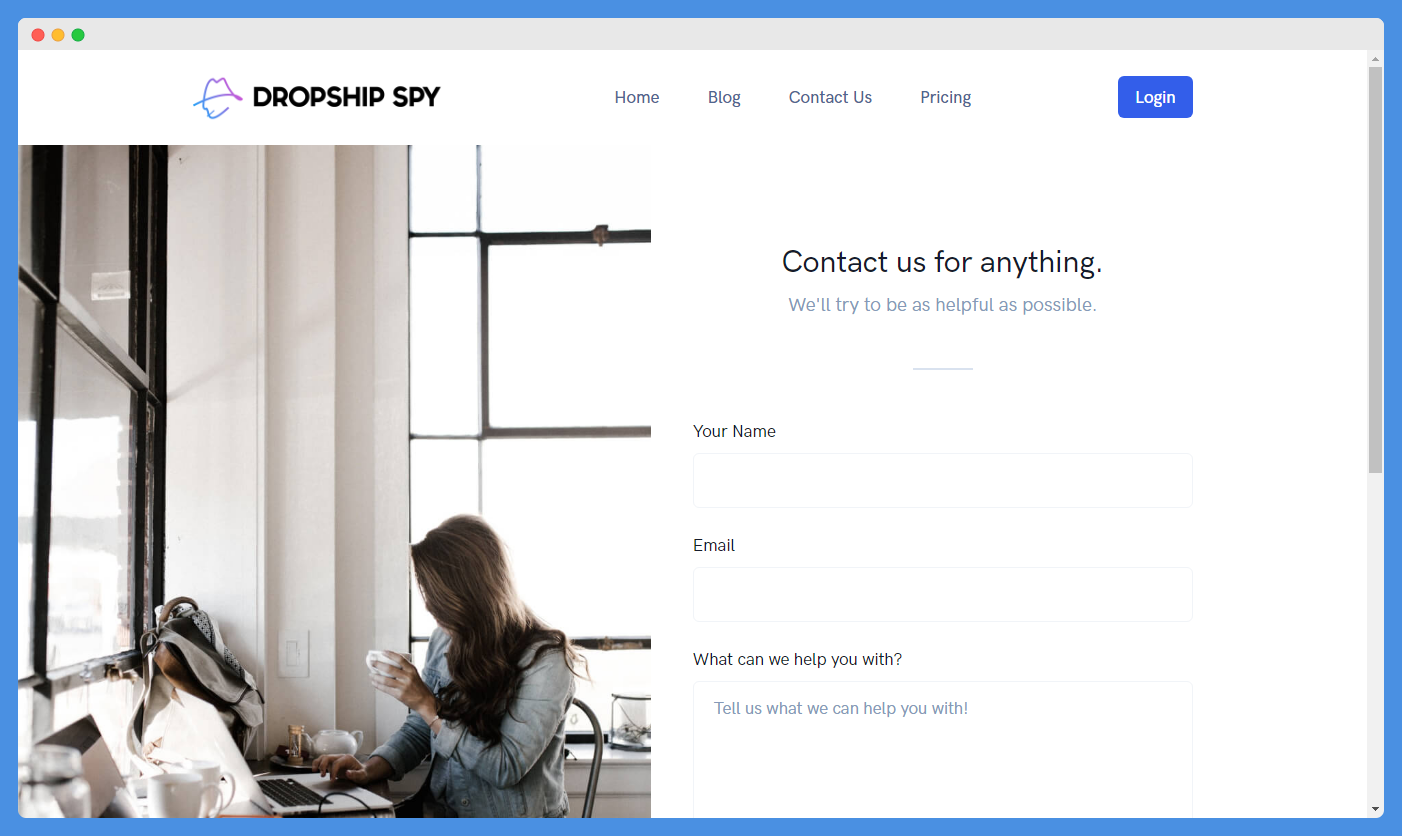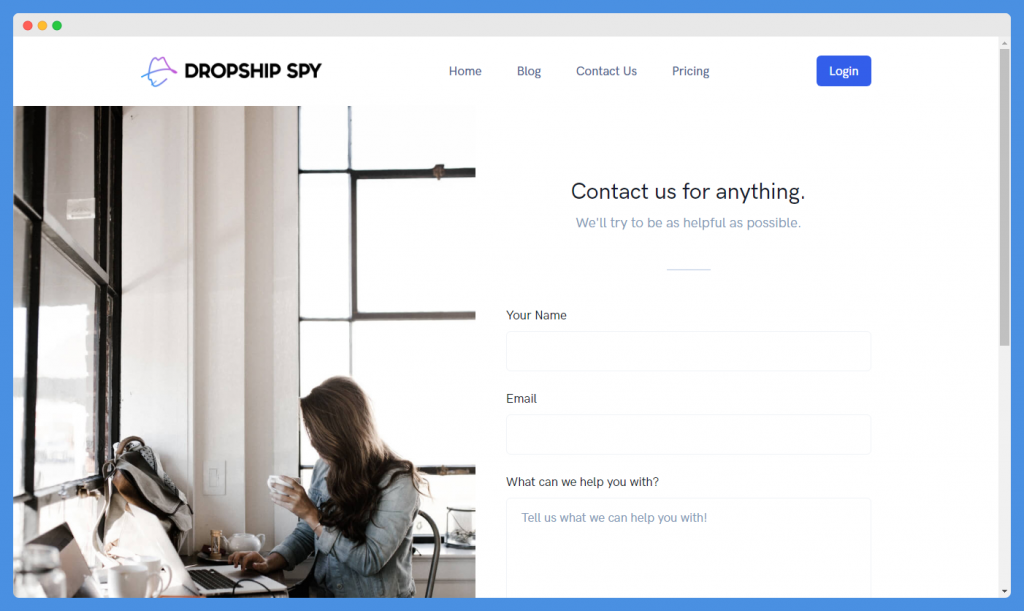 You can contact the Dropship Spy support team for any inquiry using the contact form. Simply provide your name, email, message, and then send it.
There is no direct email support or phone support. However, there's a LiveChat on the site for faster responses.
Dropship Spy doesn't have a help center or documentation page. What's available is an FAQ page, blog, and a training resource. The training resource features articles on dropshipping on Amazon, eBay, AliExpress, Shopify, and WooCommerce.
On social media, you can connect with Dropship Spy on Facebook, Instagram, Pinterest, and Twitter. You can also subscribe to the Dropship Spy newsletter and get email updates on the latest.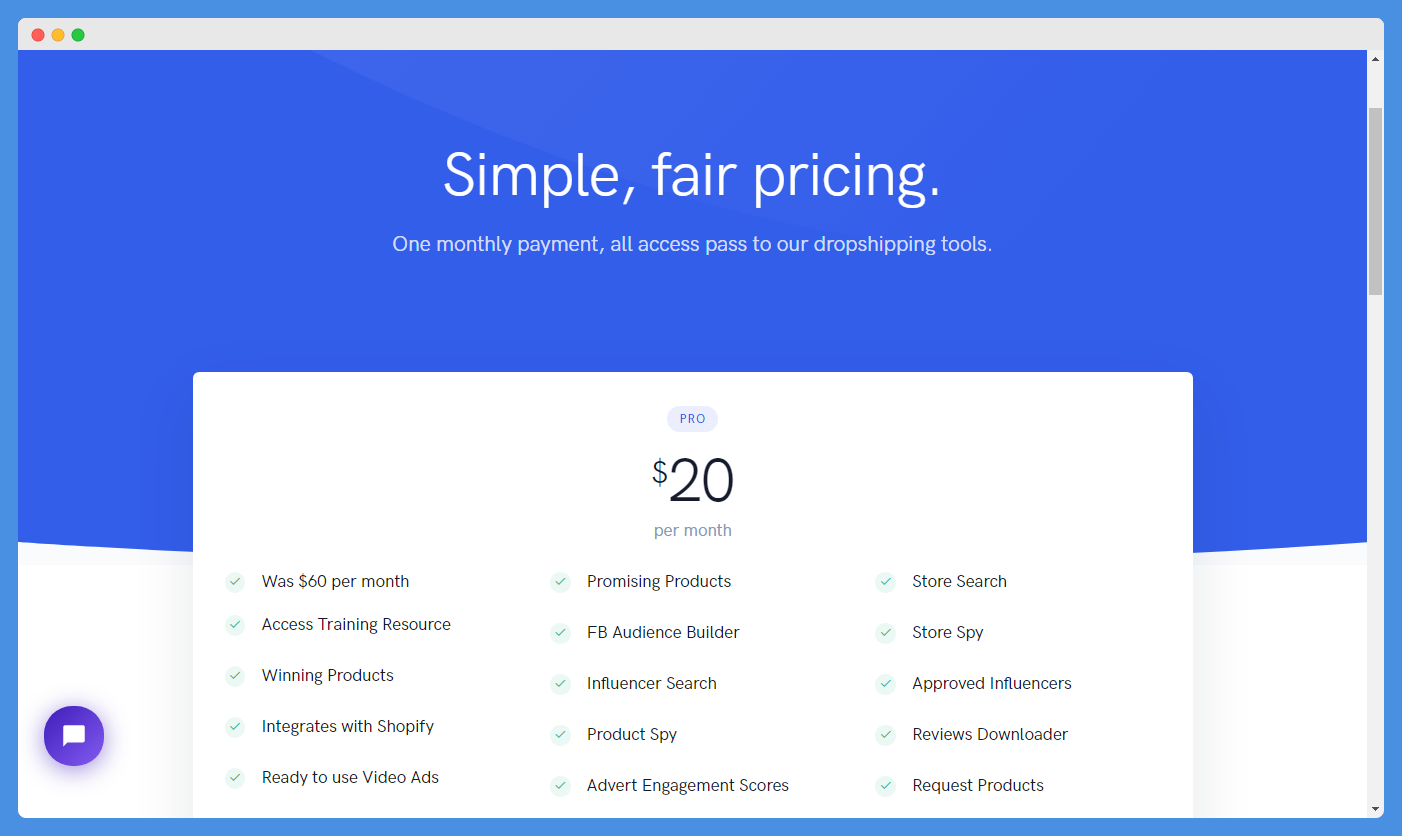 Dropship Spy features what the owners describe as a "Simple, fair pricing" plan. You pay monthly to access all the tools on the platform.
Dropship Spy Pro – $20 per month
Dropship Spy Trial
Free trials allow you to use the software without paying for a few days, after which you'll have to pay. Unfortunately, Dropship Spy doesn't offer any free trials for new users.
The platform is entirely premium. To access the tools and features, you must subscribe to the Pro monthly plan.
Dropship Spy Coupon Code
Below are available Dropship Spy coupon codes you can apply to get discounts on subscriptions:
LOCKDOWN – With this coupon code, you get a 40 percent discount on your first month
SAVE10 – With this coupon code, you get a 10 percent discount on the Pro Plan
Note: Dropship Spy officially offers the above coupon codes.
Ratings
Ease of use
Dropship Spy has a user-friendly interface that I can describe as cartoonish with colorful icons. The right-aligned menu makes it quick to access the available features with just one click.
It is effortless to use the platform. Ease of use is 5 stars out of 5 for Dropship Spy.
Features
Officially, Dropship Spy has about 14 features that cover dropshipping, eCommerce, and social media engagements.
Some of these features are the Store Search, Integrations, Product Finder, Reviews Downloader, Engagement Scores, etc. Although not all features can be rated 100 percent, they are worthwhile; so I will rate Dropship Spy with 4 stars out of 5.
Customer Service
As mentioned earlier, submitting a contact form and starting a live chat are the two ways to contact Dropship Spy customer service. Useful resources are also offered via a blog, FAQ, and training page,
The downside here is that there's no phone support and no documentation page. Hence, I rate it 3 out of 5 stars.
Value for money
Using Dropship Spy as the dropshipping platform for your business can help you save money. First of all, the platform is relatively affordable at just $20 per month.
It was previously priced at $60 per month, which is still not as expensive as other dropshipping platforms. Furthermore, there are coupon codes for discounts, so it gets 5 stars out of 5 here.
Dropship Spy Pros & Cons
Pros
Ease of use
Store spying
Review downloads
Multi eCommerce platform support
Social media engagements
Affiliate programs
Third-party integrations
Cons
No analytics
No native support for shipping
No phone support
No help center
Is Dropship Spy Legit?
Dropship Spy might be a relatively new dropshipping platform, but its genuineness cannot be questioned. All its features prove that it's good product research and competitor spying platform for dropshippers.
The platform has been used for dropshipping over 4000 products; connect with over 800 social media influencers, and engage different audiences on Facebook.
Not having a free trial and the need to pay before access might be one reason you might be skeptical about using the platform. However, you are allowed to cancel or pause your subscription at any time.
Furthermore, the platform is DMCA protected and monitored with a valid DMCA certificate.
Best Dropship Spy Alternatives
If Dropship Spy doesn't pass as an ideal dropshipping platform to you for any reason, check out its best alternatives below: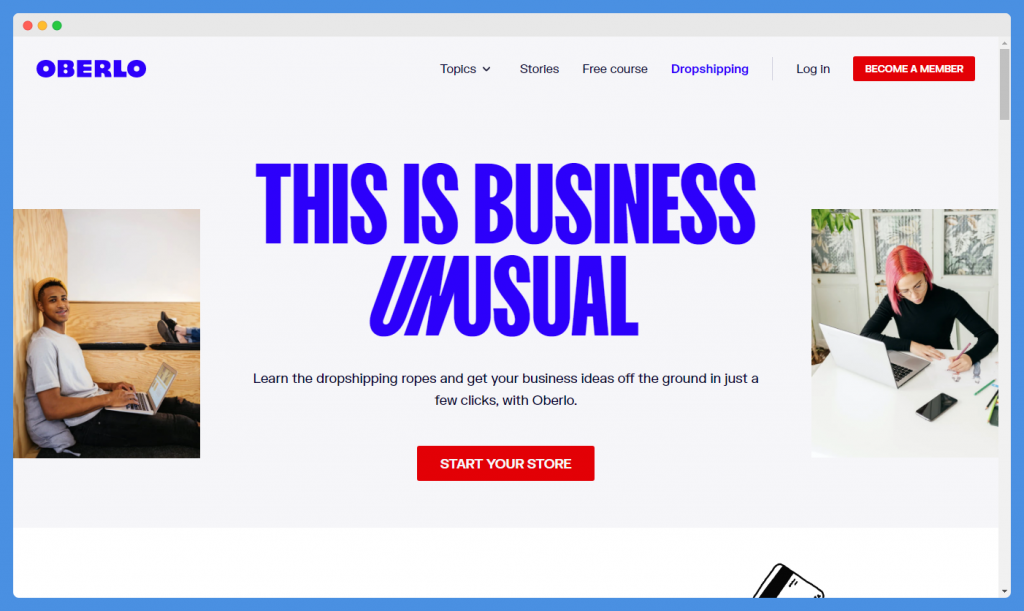 Oberlo is a popular platform for dropshippers and other eCommerce merchants. The platform is exclusively for dropshipping with Shopify, unlike Dropship Spy that supports Shopify and WooCommerce.
Nevertheless, like Dropship Spy, most of Oberlo products are sourced from AliExpress suppliers. There are millions of dropshipping products available to import to your store and you can also import products that you discover off the platform.
The platform can be natively translated into six languages, including English, Brazilian, German, Spanish, French, Portuguese, and Italian.
With Oberlo, it is easy to customize your product listings before publishing to your Shopify store. Furthermore, there's a Chrome extension for discovering and importing products as you browse.
A plus with using Oberlo is that you can directly track your customer orders while in transition. Oberlo offers 24/7 customer support and several resources. Notably, there's a help center that Dropship Spy doesn't have.
Oberlo Pricing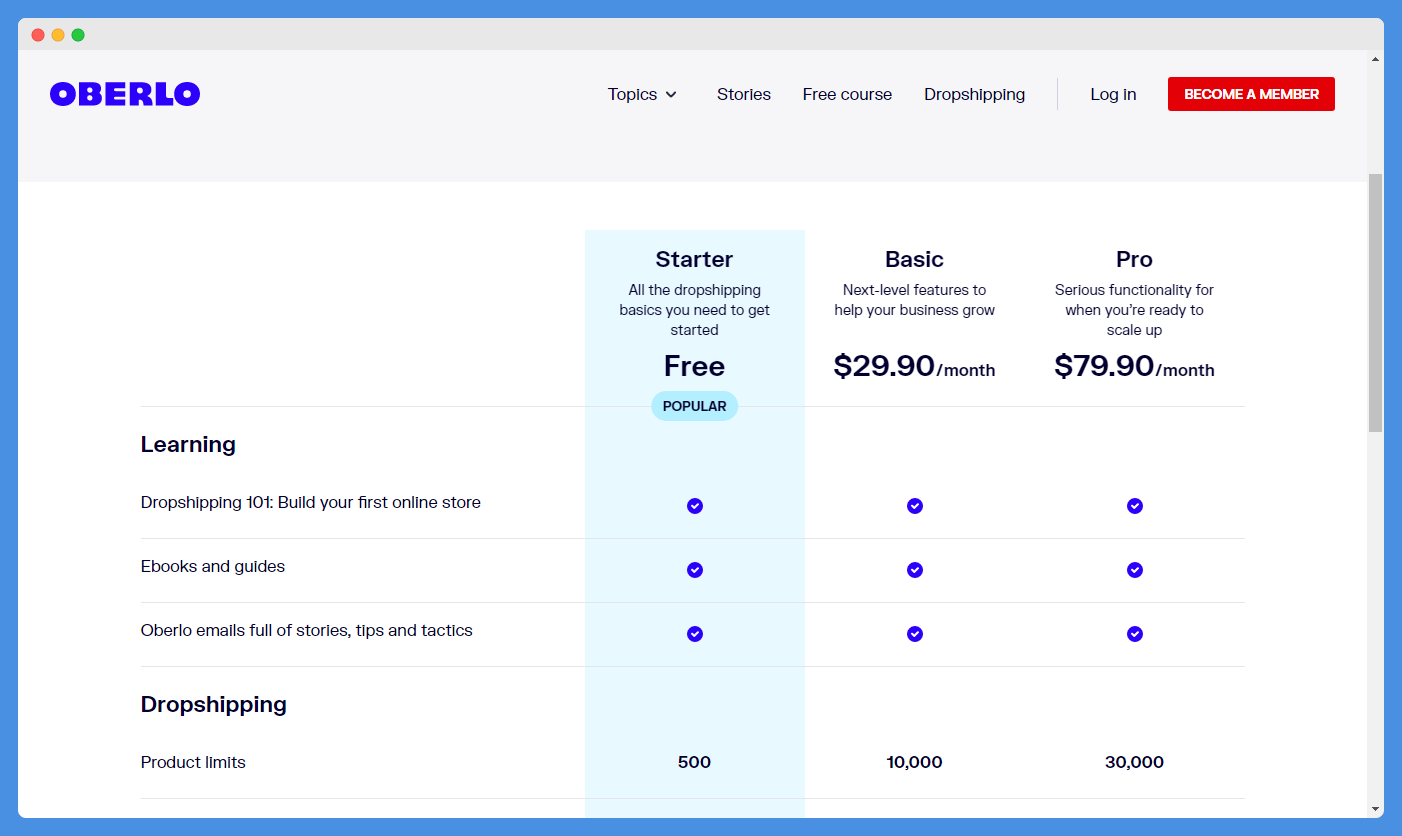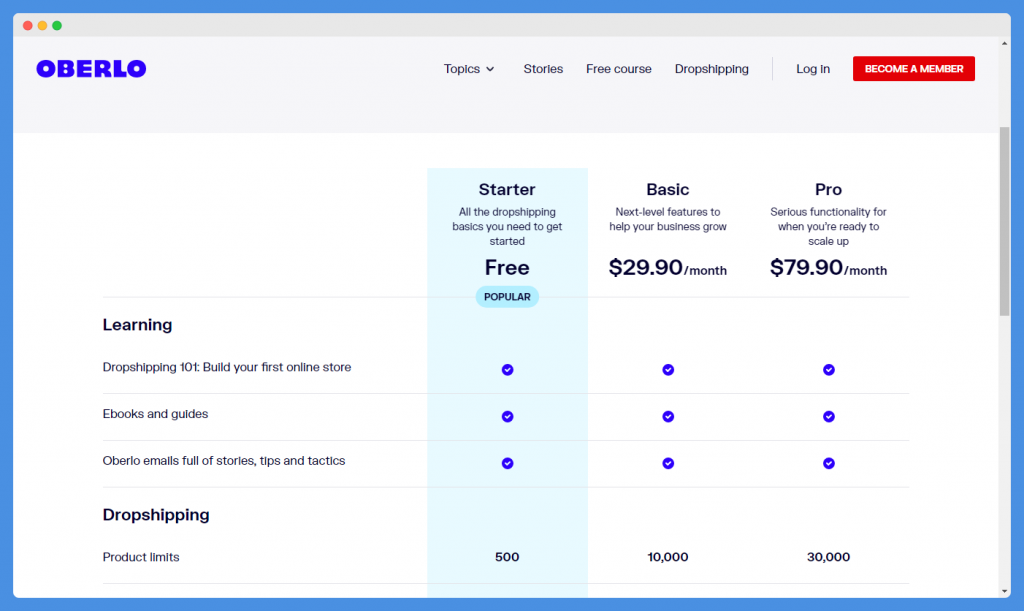 Here are its pricing plans:
Starter Plan – Free
Basic Plan – $29.90 billed every month
Pro Plan – $79.90 billed every month
Verdict: The major advantage of Oberlo over Dropship Spy is the free Starter plan. You can use the platform to dropship over 500 products without paying. Besides, Oberlo does have more product finding features but less on competitor spying.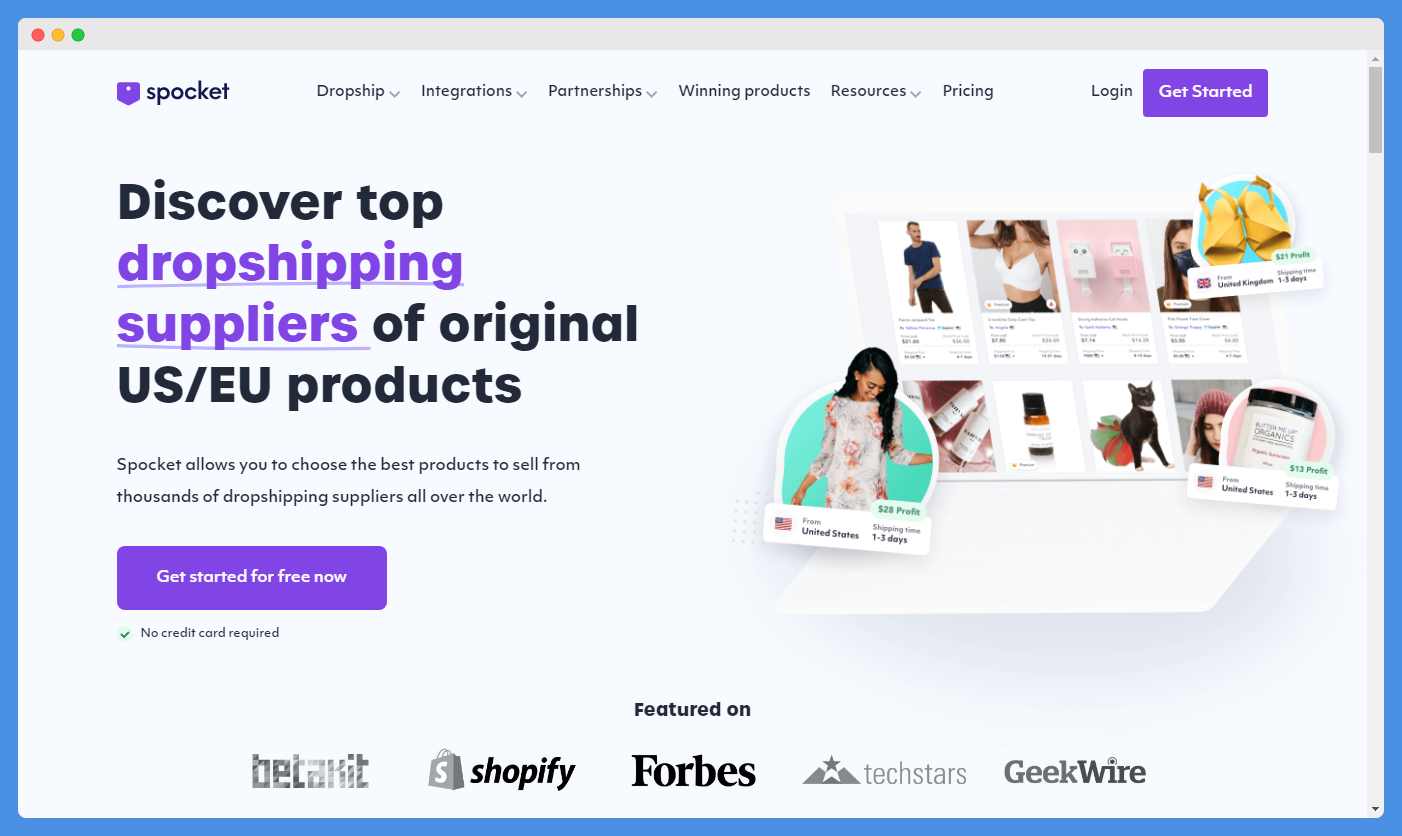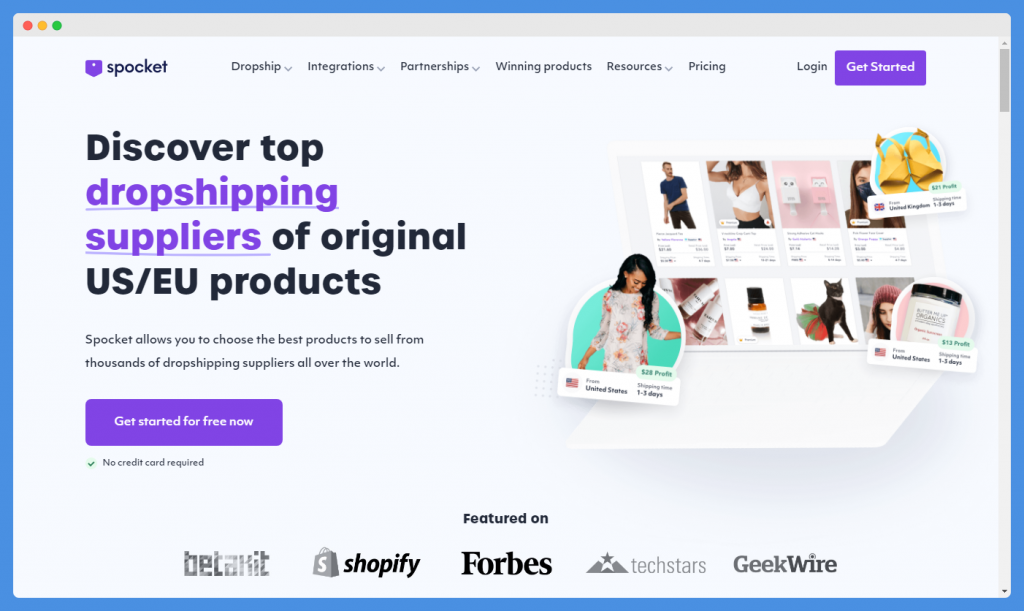 If you are based in the US or Europe, Spocket is a worthwhile Dropship Spy alternative. It is renowned with over 60,000 users and featured on Forbes, GeekWire, and Shopify, amongst others.
Spocket supports more eCommerce stores than Dropship Spy. Basically, Dropship Spy stops at Shopify and WooCommerce, while Spocket includes BigCommerce and Wix. In addition, it integrates with AliScraper.
Discovering products to dropship on Spocket is simple as they are grouped in categories. Some of the categories are toys, pets, accessories, men's clothing, women's clothing, hats, etc.
Spocket is open to both dropshippers and suppliers. Hence, as a dropshipper, you don't source products from top marketplaces alone; you can source from direct suppliers.
Like Dropship Spy, there's a Spocket affiliate program that rewards up to 30 percent commission on all referrals.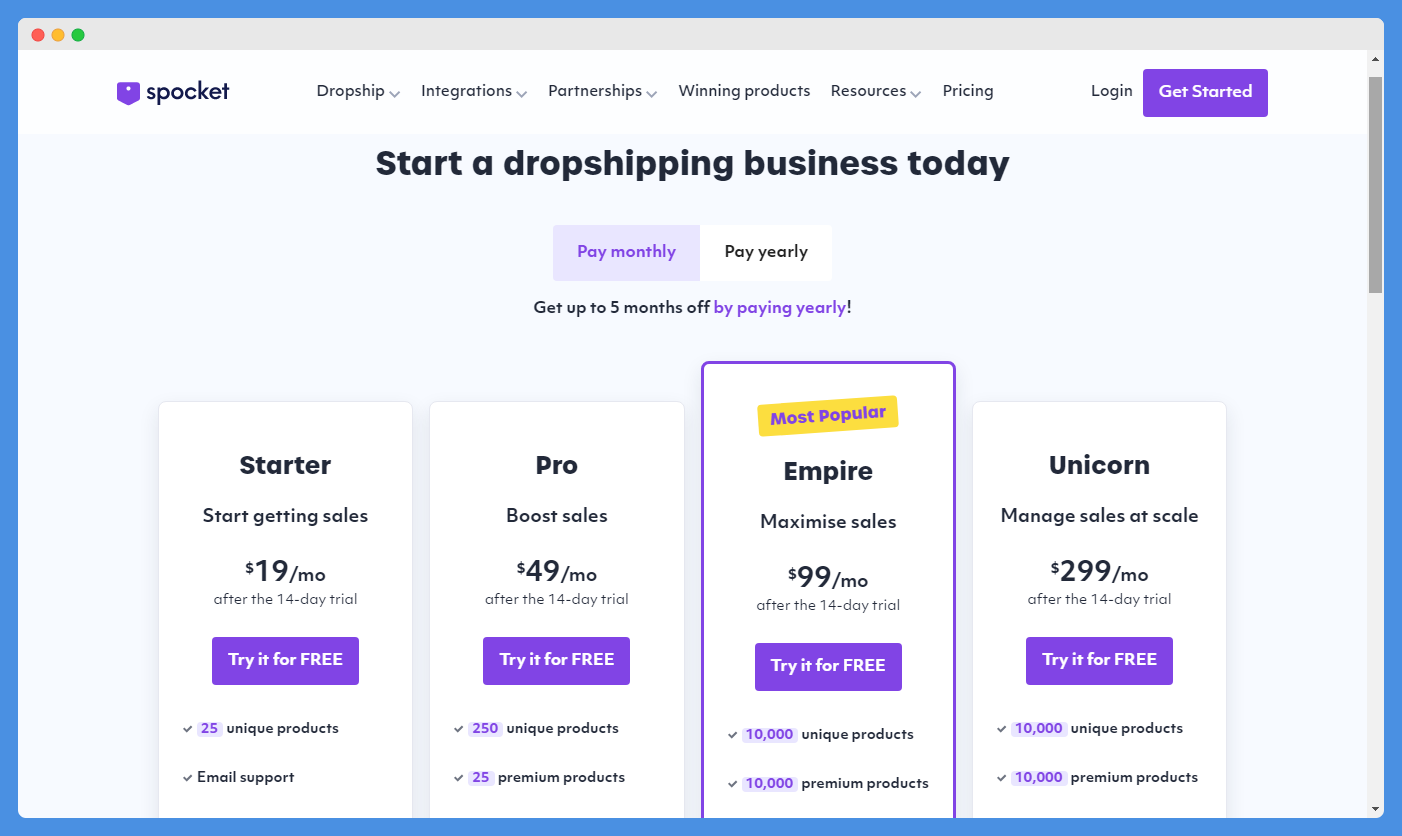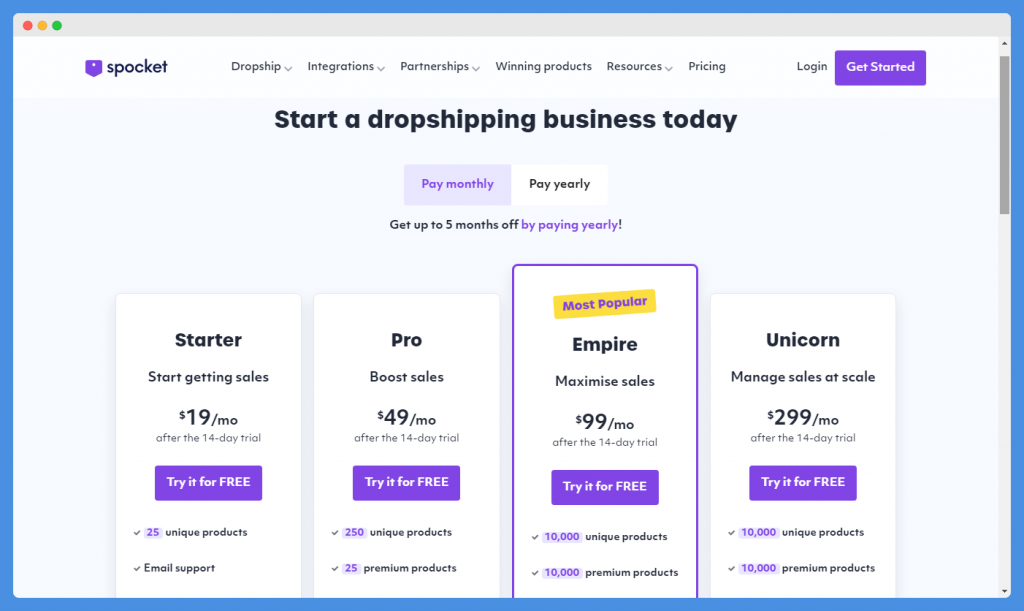 Spocket offers a 14-day free trial; after that, you can opt for any of its pricing plans below:
Starter Plan – $19 per month
Pro Plan – $49 per month
Empire Plan – $99 per month
Unicorn Plan – $299 per month
Verdict: You get more features with Spocket than Dropship Spy. Spocket is an ideal Dropship Spy alternative for big dropshipping stores as it offers more integrations and access to more suppliers.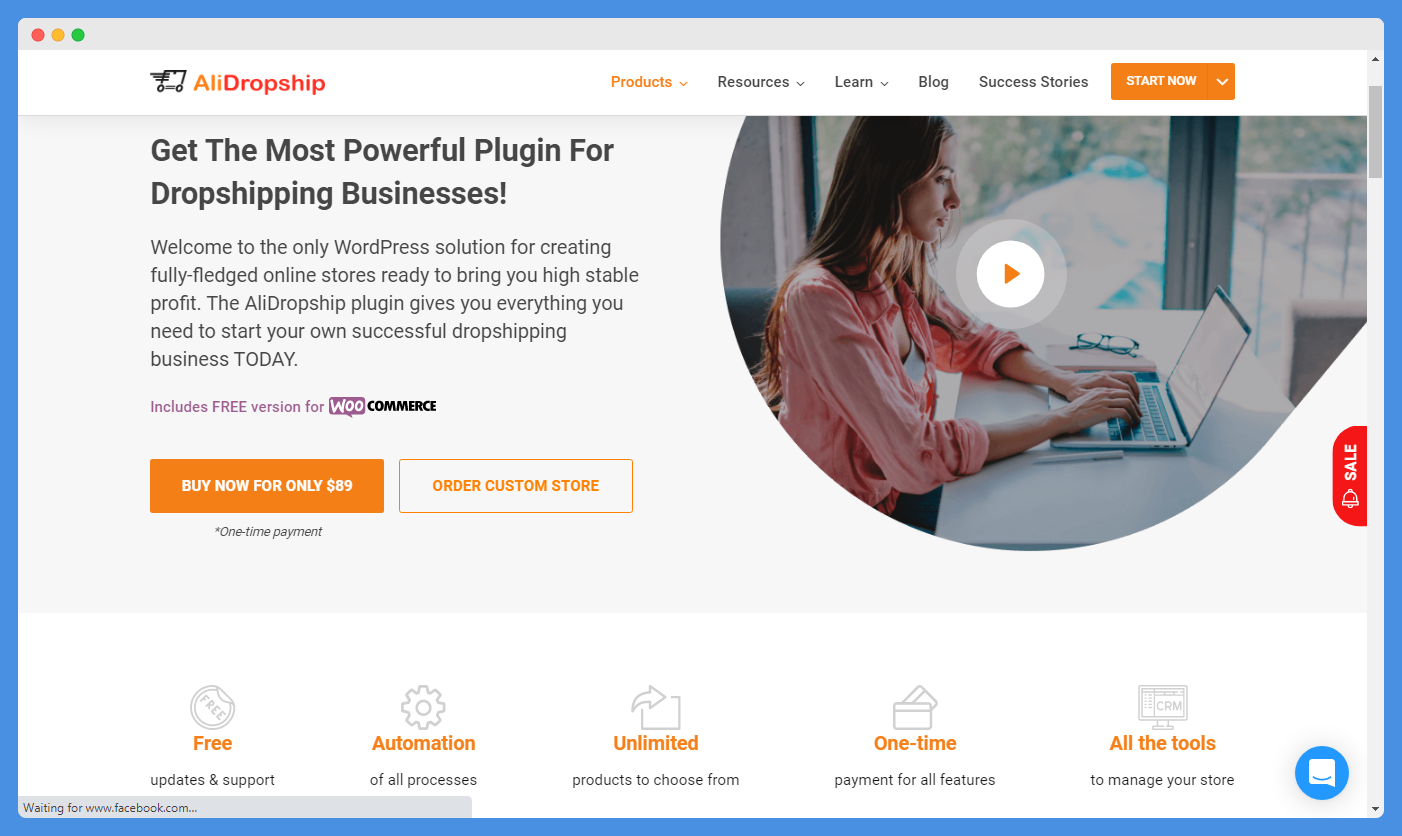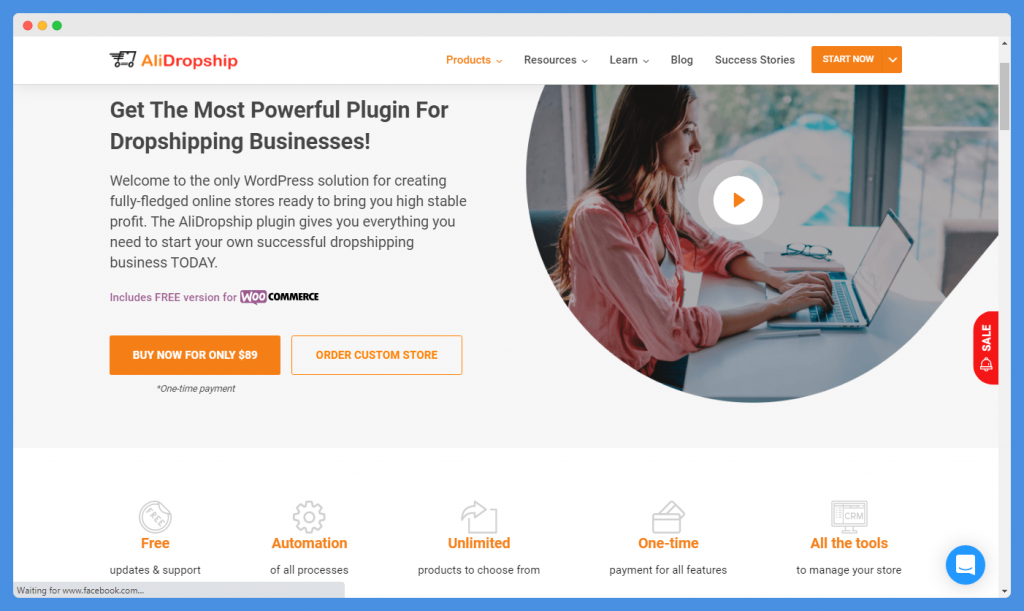 AliDropship is a plugin for streamlining dropshipping businesses on WordPress and WooCommerce. It is a native platform for AliExpress dropshipping, and you can only import AliExpress products.
The AliDropship plugin provides you with access to an unlimited number of products. Importing products from AliExpress requires just one click and you get access to over 50,000 top selling products.
AliDropship plugin is available in two different variants: the AliDropship Woo Plugin and the AliDropship Original Plugin.
You can use the AliDropship Original Plugin on your WordPress website with or without installing WooCommerce. Meanwhile, the AliDropship Woo Plugin is exclusively for WooCommerce. There's also a Chrome extension.
AliDropship is very reliable in terms of customer support and resources. Over 13 resources are available to users. Plus, you can contact their support team by LiveChat or email.
Interestingly, you can pay a one time fee of $89 for the AliDropship Original plugin. Upon purchase, you can also get the AliDropship Woo Plugin without an additional cost.
Verdict: Although AliDropship and Dropship Spy are both dropshipping platforms, they are individually unique. If your dropshipping store is on WordPress or WooCommerce and you intend to work with AliExpress suppliers, AliDropship is the best.
Wrapping Up
There you have it! The Dropship Spy review.
Dropship Spy presents value to dropshippers, although it has its drawbacks. You can connect with different eCommerce platforms to sell products, marketplaces to source products, and even social media to drive engagements.
The platform is ideal if you're on a low budget or a dropshipping beginner, as the pricing plan is relatively affordable. Anyway, if the platform doesn't meet your interest, you can try any listed alternatives.

Author: Sam Zaman
Sam loves to write on technology & related stuff. Ecommerce, mobile and internet marketing equally drive her interest. Likes gardening and experimenting with new recipes. An avid reader and absolutely mad @bout donuts :)