2016 is the year where mobile commerce apps will dominate. Online stores are realizing the switch and investing into developing their own.
But there is still a problem. Retailers struggle with making money with their mobile apps.
This is not because people are not ready to buy from their smartphones but mostly because of the lack of effective strategies to sell on mobile.
Related :
In this post we're going to cover how to increase your conversion rates and sales that your mobile commerce app generates.
So here's what you should do:
Use Analytics Tools To Dig Deeper Into Customer Behavior
The first step into improving your mobile commerce app sales is to understand better your customers.
You want to dig deeper into their behavior and identify what they'd like to buy and what's stopping them from doing so.
One of the best ways to do that is to:
Use Google Analytics –
It is a great free tool you can use to gather data about how people are using your mobile commerce app.
Later on you can use it to understand where you should improve your marketing efforts – run A/B tests, implement push notification strategies, etc. to improve conversions and sales.
The first step is to set up Google Analytics for your mobile app in order to be able to track and collect data.
To do that go to the admin tab in Google Analytics, select an account for which you'd like to add a new property.
From the dropdown menu click on "Create New Property".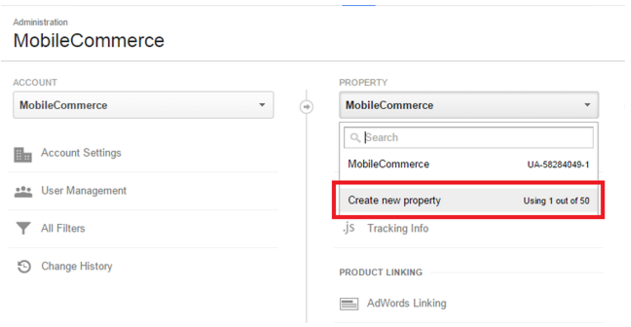 Select "Mobile app", fill out your data and get your tracking ID.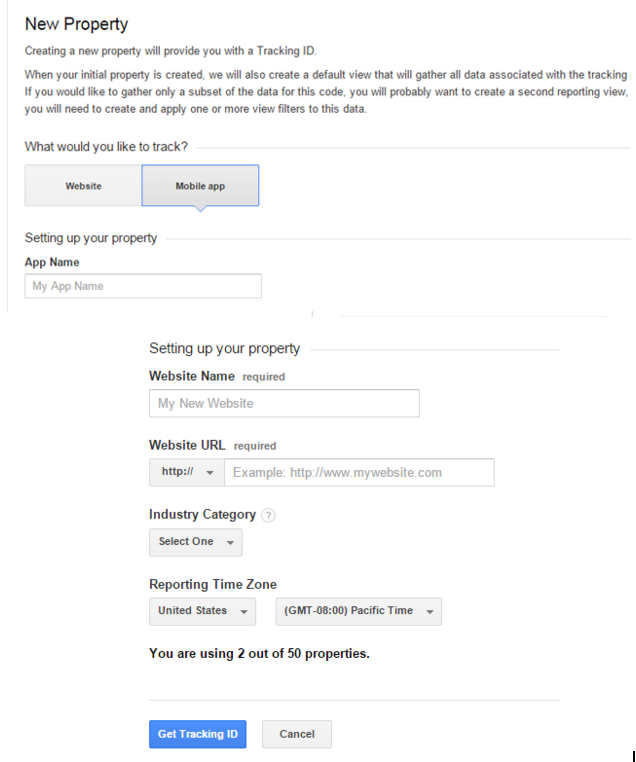 Then you will need to install one of the SDKs to the Google Analytics API.
For Android you'll need to download:
Next you have to:
For iOS you'll need to download:
Next you have to:
Focus On Usability
The rule for usability states that the easier your app is to use the more likely are people to use it and buy from you.
In order for this to happen you should pay attention to several important factors that highly affect usability, user-experience and sales.
You should always avoid large menus and instead you can use the 3-line method.
This approach is used by companies like the New York Times, ModCloth and Facebook.
This navigation allows the user to easily check out use a vertical menu on the left, search bar and the shopping cart on the right.

Quick Movement –
Minimize the taps that the user need to take to get to his desired screen.
It's important to design your app for touch, not clicks. For that you'd need to create bigger buttons and leave enough space for fingers to press them.
Useful Post : How To Use Admob To Promote Your Mobile App
Auto-filled Consumer Data –
Filling out information is much harder on mobile than on desktop. That's why it makes sense to make it easier for your customer and auto-fill his information when you have the chance.
Once you have bought from you once, store his information to make it easier for him to buy again from you.
Of course, give him an option to change things as well. People change their address, phone numbers, credit cards, etc.
Run Usability Testing –
User testing is one of the best ways to improve usability, identity and fix bugs and increase your conversion rates and sales.
To do this you'd need:
A camera to record your user when interacting with the mobile device
A microphone to record him speaking when he's testing your ecommerce app
Software to project the video from the camera and sound from the mike to a computer screen (you can use Morae, Camtasia, Ovo, or even GotoMeeting and Webex)
Testing environment or a room where to perform the tests with your participants
Beta testers to work with your app. Be sure that people are familiar with the device you're giving them. Don't ask from an iPhone user to test your Android app.
When you're running usability tests ask participants to complete realistic tasks and observe how well they perform.
The important thing is to tell them what to do but not how to do it.
If you spot them struggling with executing a task, this is where you should improve usability.
For more information on how to perform usability tests, check out our detailed guide.
Related : Smart Practices For Engaging And Retaining Mobile App Users
Simplify Your Design
Simplicity is the key to make your mobile commerce apps easily to use and navigate. Which as a result increase your conversion rates and sales.
The top 3 screens you should simplify the most are:
Simplify Homepage –
Your main focus should on your navigation, site search and shopping cart.
Minimize the products that you include on the page. You can have something like deal of the day, top picks, etc.
But in all cases – focus on simplicity.
Simplify Product Page –
The screens on which you present your products are one of the most important ones of your entire ecommerce app.
People are one step away from adding your product to the cart. So you can either encourage them to do so or push them away.
By simplified your product screens you make it easier for your customers to look at product details and to order from you. So it's a win-win.
To do that:
Eliminate all unnecessary information
Prioritize your call-to-action in the above the fold area
Make your buttons big enough to be clickable
Related : How To Optimize Product Pages For Higher Conversions
Simplify Checkout –
Bad checkout will kill your sales. Even if people want your product, they won't do it if you provide them with bad checkout experience.
To simplify it you should:
Include only vital fields that are needed to complete the order
Allow users to check out as guests. People are less likely to create a new profile on mobile.
To learn more about how to simplify your design, check out our guide on Elements of a Mobile-Friendly ecommerce.
Useful Post : Tips To Improve Checkout
Run A/B Tests To Increase Conversions And Sales
By running A/B tests on your mobile commerce app you'd be able to compare different versions of screens and identify what works better.
As a result you will be able to improve your conversions and sales.
So this is how you should start:
Use The Right Tools –
There is simply no way to run A/B tests without the right tools. There are variety of solutions on the market but we'll point out the ones we believe are worth using.
First, if you some something free, check out our list of 12 Free A/B Testing Tools For Mobile Apps.
If you want something more sophisticated you should use tools like Optimizely.
It is free for up to 50,000 monthly active users but for anything above that you'd need to ask for a custom quote.
Understand What To A/B Test –
Figuring out the right things to A/B test is essential for running a successful A/B test campaign. Get this wrong and your whole efforts will go nowhere.
The easiest way to do this is first to find the app screens that are killing your conversions that most.
To do this you can use either Google Analytics or KISSmetrics. Check out Funnel report and see which type of app screens leave to the biggest abandonment and drop in visitors.
This will tell you that there is a problem with that screen that need to be fixed.
You can further prioritize app screens to test based on the visits they generate and their current conversion rate.
KISSmetrics made a great post on things you should A/B test on mobile – when you start from your product choice, page layout, navigation, funnels, pricing and so on.
We highly suggest you check it out.
How To Run A/B Tests –
You can't run too many A/B tests at once because you wouldn't know at the end what gave you the increase or the decrease in conversion rates.
Instead, you should prioritize tests and start with the ones that are more likely to give you the biggest increase in conversion rates.
Prioritize app screens based on:
Visits – Increase in conversions from app screens with more visits will contribute to higher increase in revenue.
Screens with biggest abandonment rates – This indicates a huge problem in your funnel. If you fix it, this will have a huge impact on your conversions and revenue.
Interesting Read : Top Reasons Why People Abandon Your App
Implement A Push Notification Strategy
Using push notifications is one of the best ways to increase your sales.
They tend to have higher open rates than email, increased engagement and retention.
A study made by Localystics say that segmented push notifications convert at the amazing 54%.
So how do you implement a successful push notification strategy for your mobile commerce app?
Use Limited Time Offers And Deals –
People subscribe for your push notifications to receive special offers from you.
So make them happy by sending them special deals and discounts on products they are interested in and willing to buy.
Use your analytics tools to figure out what products they've been browsing, adding to wish list or cart and send them special offers exactly for that products.
You know that there is a high chance they're interested into them so give them an extra encouragement to take action with that special discount.
Also set the offer to expire within a few days to trigger emergency. Otherwise, people might not take immediate action.
Send Reminder Messages –
The more people engage with your app, the more likely they are to come back and buy something from you,
By regularly sending them push notifications you remind them about yourself and this is a huge opportunity to reengage with them.
Every time you hit them up you should offer something of value to them. But this doesn't have to be a discount offer.
You can also share useful tips, news or anything else that might be of interest to your customer.
Feel free to wish them happy birthday or Marry Christmas and send them a special discount offer for that day. I'd love you for that.
Interesting Read : How Walmart Leveraged Push Notifications To Increase Sales
Deal With Cart Abandonment –
You can easily use push notifications to recover cart abandonment and close more sales.
Most often when people don't to finish their orders they have just forgotten. So you can simply remind them to do so with a simple push notification (just like you can also use email).
Related : Cart Abandonment Email Templates For Magento
Upsell And Cross Sell Products
Upselling and cross-selling contributes for up to 35% of ecommerce site revenues.
The good thing is that you can also implement these strategies into your mobile app to further increase your sales.
Here's how to do that:
Upsell A Product That Costs ~60% Less –
Numerous studies show that your best option is to try to upsell a product that costs no more than 60% of the price of the original product.
In other words, if someone is buying a shirt, you should upsell him a tie, not a suit.
Offering him to buy additionally another product that's more expensive than that will bring too much pressure for him. And you might lose him as a customer.
Upsell Only Relevant Products –
When you're upselling keep in mind that people will be willing to buy one more product only if it's related to what they're already buying.
If someone is about to purchase a shirt and you offer him a tie, he might buy it because the 2 go well together. In fact, your customer might be thinking of buying one anyway.
But it won't make sense to offer him sunglasses as an upsell if he's buying a shirt. The 2 are not much related to each other.
Related : Best Magento 2 Extensions To Run Upsell Offers That Convert
Upsell The Most Popular Products –
90% of people admit that they make their buying decisions based on ratings.
So it makes sense that if you offer them to buy a more expensive product that has higher ratings and more reviews they'd prefer it instead.
At the end, everybody wants to make the best purchase and the social proof makes them believe that that would be a better option for them.
Upsell The Best Sellers –
Most of the time your best sellers will be the ones with the most reviews as well. But not always.
Your best selling products are doing their best job in fulfilling your customer's needs.
So it makes sense to upsell a product that already sells better. You know that at the end your customer will be satisfied.
Worth Reading : How To Increase Downloads For Your Ecommerce Mobile App
In Conclusion
Track the behavior of your mobile users, identify your biggest issues and implement strategies to improve.
Among the most effective ones are A/B testing and push notifications.
Be sure to also upsell and cross-sell products and you'll see a drastic increase in your revenue.
So which strategies would you implement immediately to increase your mobile commerce sales?
What are you currently doing in order to improve your results? Let us know in the comments below.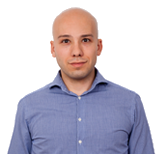 Author: Martin Zhel
Martin Zhel is an inbound marketing expert and Founder of Orior Creative. He specializes in SEO, content marketing & conversion rate optimization.