Websites and distinct web pages are built every day, using different web building tools and software.
Among the top web building tools are Unbounce and Webflow; both are popular platforms used by so many customers in creating websites and web pages.
In this post, we will be making a comparison between Unbounce vs Webflow, their features, pros and cons, and how they compare against each other.
At the end of this comparison, you should be able to decide between Unbounce and Webflow.

What Is Unbounce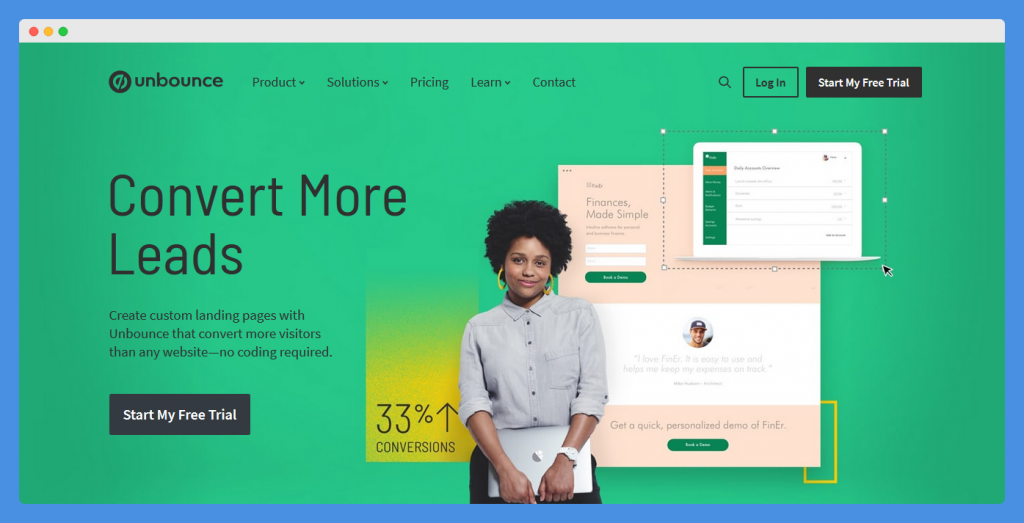 We begin with Unbounce in this Webflow vs Unbounce review.
Unbounce is a page builder tool that you can use to create landing pages easily. It eliminates the need for hiring a professional developer to create landing pages.
With its simple drag and drop pattern, you can create great landing pages with high conversion rates.
Unbounce was built by a team of 6 developers led by Rick Perreault in 2009 to make work easier for online marketers and influencers. Currently, Unbounce has over 175 workers, and it is one of the most used landing page builders in the world.
Aside from creating landing pages that convert, the tool offers features that help you to get the most out of your conversions.
You do not need to have any coding skills to use Unbounce. However, you can still add custom HTML, CSS, and Javascript if you desire.
Some of these features include a landing page organizer and a conversion benchmark report. Nevertheless, Unbounce facilitates easy learning curve through the provision of its landing page course; hence, users can create effective landing pages without hassles.
Explore: Complete Unbounce Review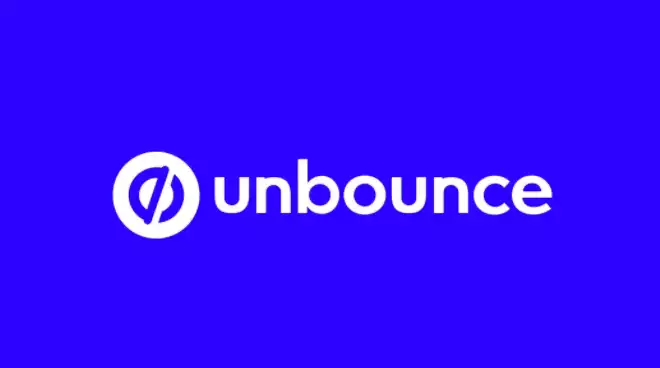 We earn a commission if you click this link and make a purchase.
Unbounce Features
A lot of features make Unbounce a widely used landing page builder tool. Below are the key features of Unbounce:
Unbounce Page Builder
Unbounce is primarily a drag-and-drop page builder for creating landing pages. This feature makes it possible for you to quickly and simply create a high-converting landing page.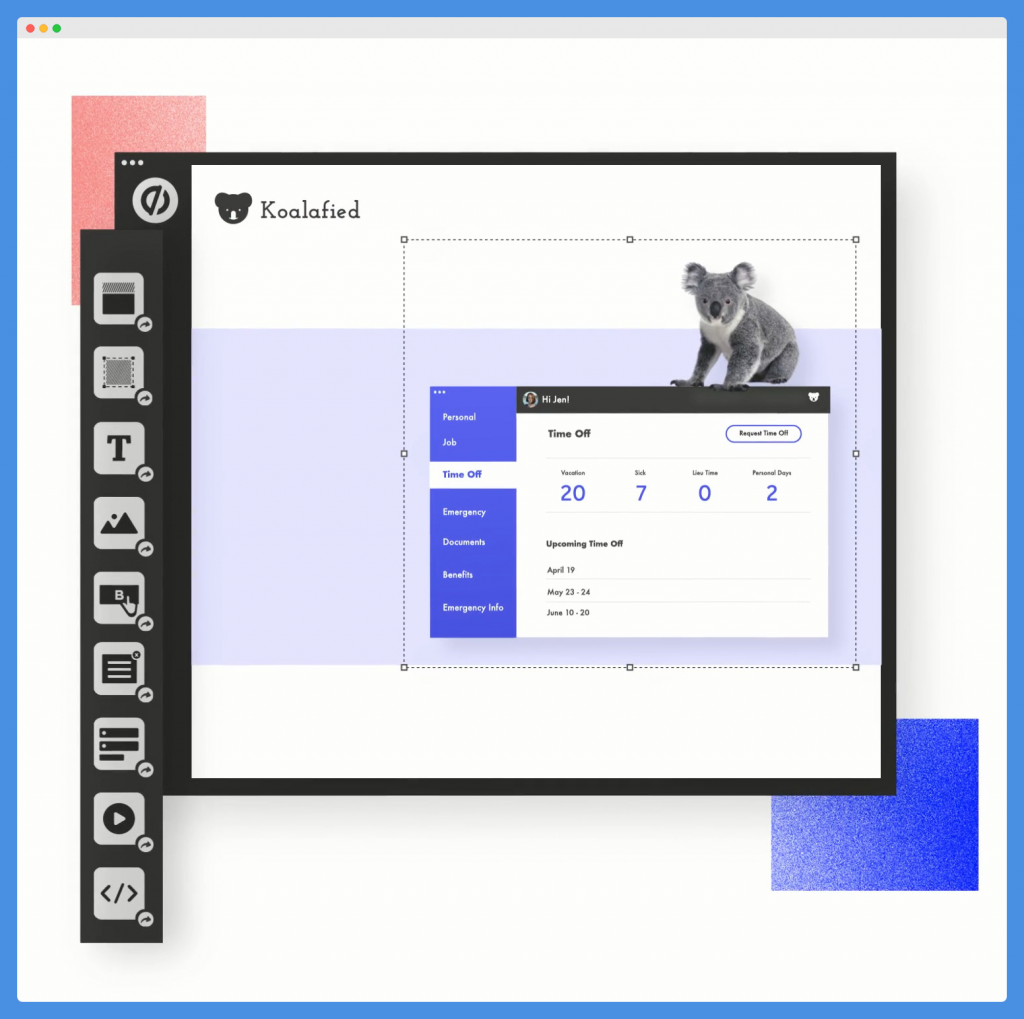 Unbounce Templates
You can choose from more than 100 Unbounce's landing page templates to create amazing and high converting landing pages.
An AMP landing page template can do wonders to your conversion rate.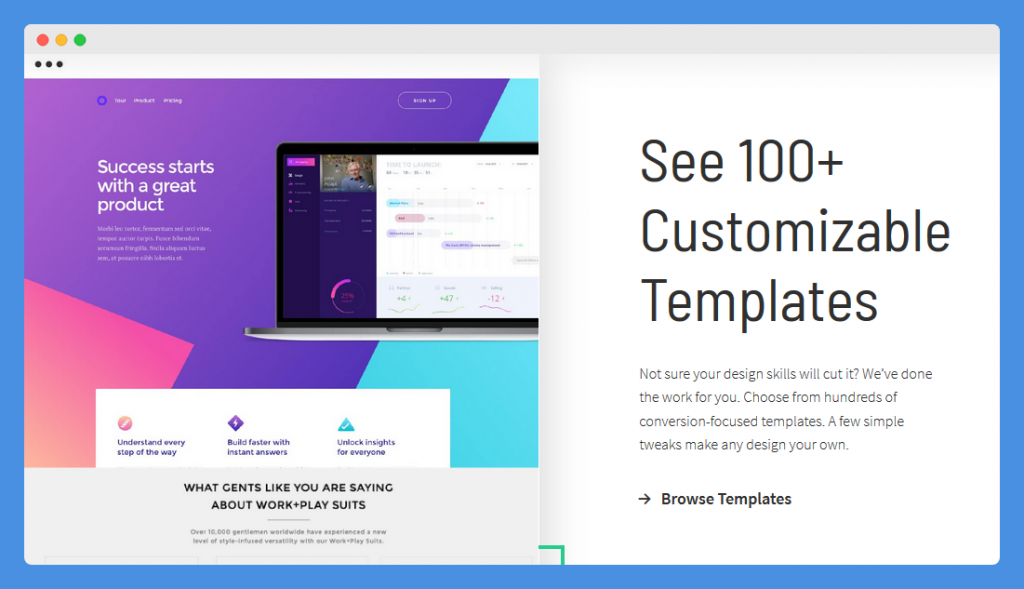 Accelerated Mobile Performance (AMP)
The tool lets you create an AMP landing page that loads faster on mobile browsers with a loading speed of 85 percent faster than its average loading speed.
AMP landing pages created with Unbounce work with several marketing tools such as HubSpot, MailChimp, Marketo, etc.
WordPress compatible
Unbounce is compatible with WordPress CMS, which is the most popular website building platform.
If you run a WordPress website, you can use Unbounce to easily create your landing pages and import them to your site with just a click. All you need to do is install the Unbounce Wordpress plugin on your website.
Built-in Fonts
Unbounce has more than 950 Google fonts you can use to create unique landing pages with amazing fonts.
This improves the design process as you have a wide range of fonts with different styling to choose from.
Unbounce Images
As you build your landing page, you would undoubtedly need some images to complement its structure.
Unbounce got you covered with it's more than 850,000 royalty-free images. You can use any of these images to create high-converting landing pages at no extra cost.
Parallax Scrolling
Parallax scrolling is a popular web designing technique used on many websites and online pages.
It makes images on the website background move slowly compared to images on the foreground.
You can use this feature on Unbounce to add an illusion of depth to your landing page without any knowledge of CSS or HTML.
Form Builder
An built-in Lead-gen form builder lets you create and integrate online forms on your landing page.
This builder has features like drop-downs, radio buttons, checkboxes, and a few others to collect as much information as you need.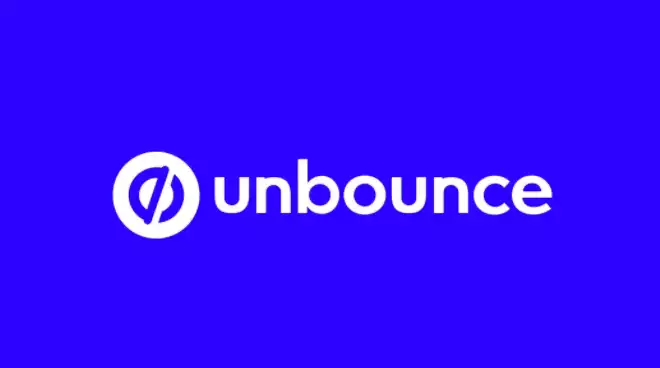 We earn a commission if you click this link and make a purchase.
A/B Testing
With Unbounce, you can run A/B Tests on your landing pages to discover the page with the highest conversion rate.
It is quite easy to perform A/B split testing on landing pages created with Unbounce to help you understand better how traffic convert on these pages.
Pop-ups and Sticky Bars
You can display specific information or adverts using Pop-ups and sticky bars featured on Unbounce.
There are different launching options available, and you can set these pop-ups to display on a particular page, or when a specific action is triggered.
You can also display pop-ups and sticky bars based on location, cookies, etc.
Also Read: Clickfunnels vs Unbounce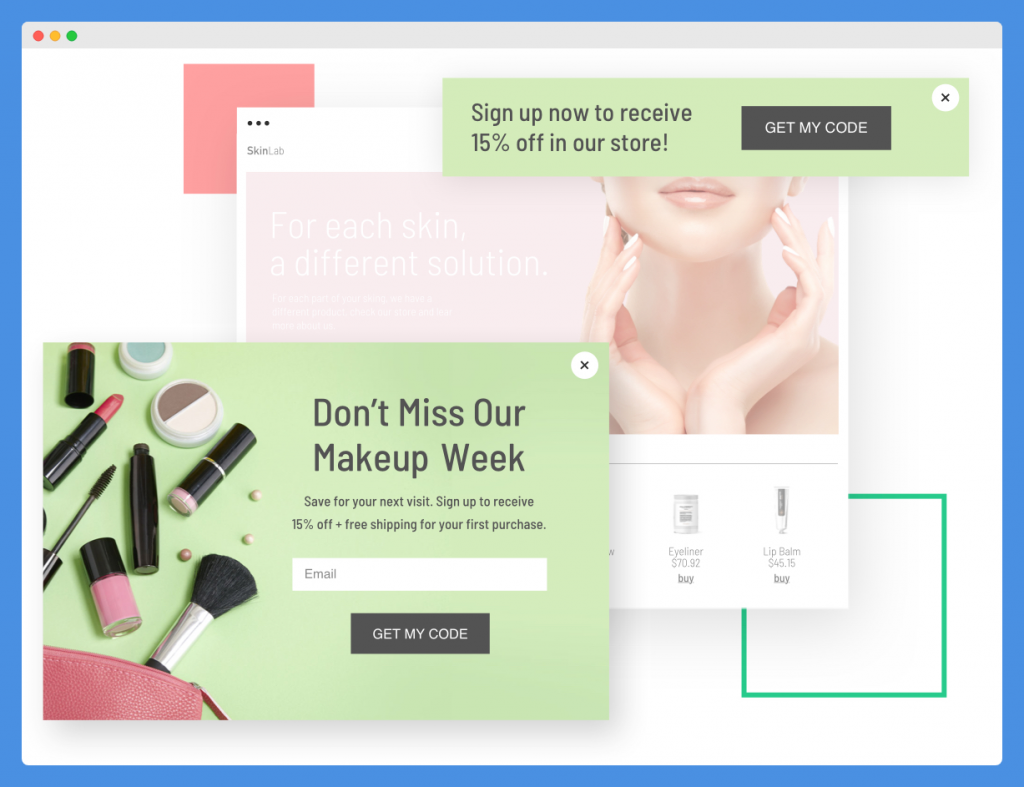 Integrates with Google Analytics
The Unbounce tool integrates with Google Analytics to help you keep track of your page views and visitors.
You can get these statistics directly from the Google Analytics platform. All you need do is add your Google Analytics ID to Unbounce.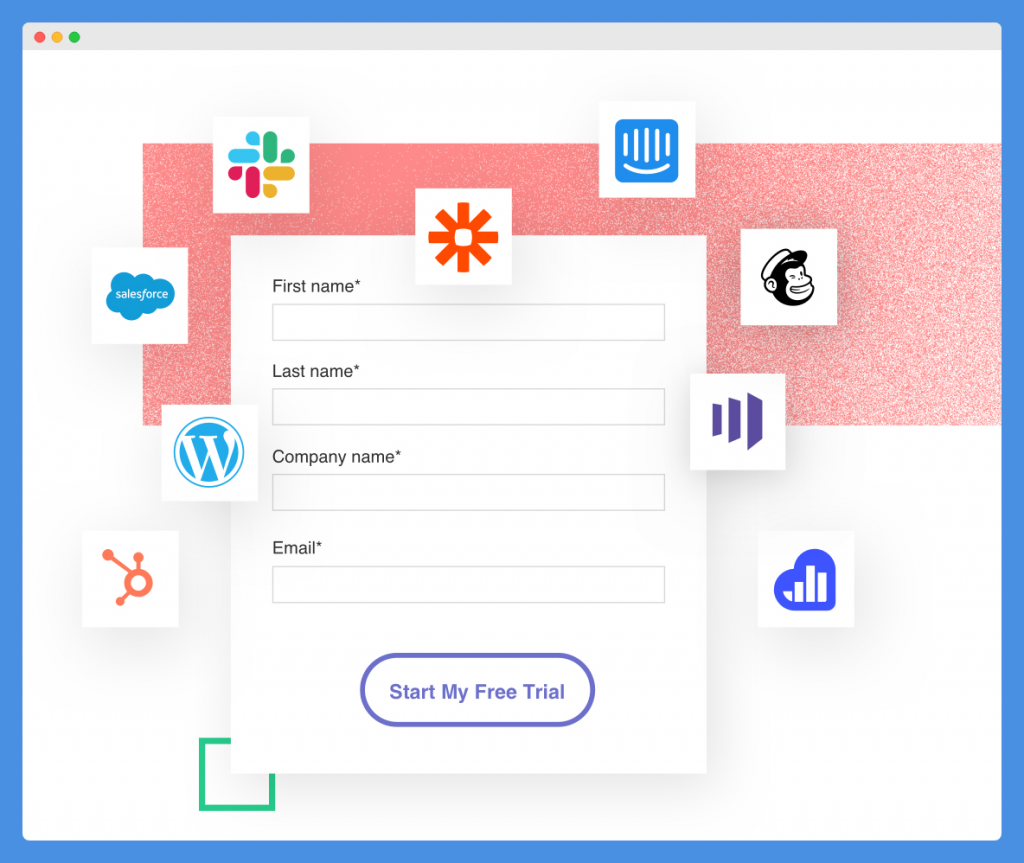 Unlimited Users
You can add as many users as you require to manage your landing page. Unbounce does not limit users to a particular amount.
Aside from the features discussed above, the Unbounce page builder tool has many other exciting features that you get access to when you purchase it.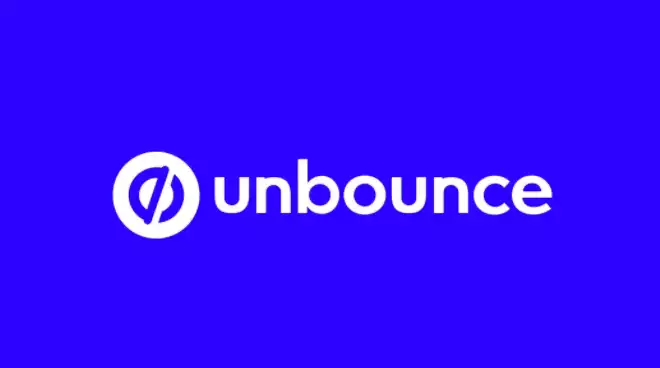 We earn a commission if you click this link and make a purchase.
Unbounce Pricing
Unbounce pricing has four plans.
1. Launch
$80 per month
Upto 500 conversions
20000 visitors
1 domain
2. Optimize
$120 per month
Upto 1000 conversions
30000 visitors
3 domain
3. Accelerate
$200 per month
Upto 2000 conversions
40000 visitors
7 domain
4. Scale
$300 per month
Upto 3000 conversion
50000 visitors
15 domain
Annual plans come with 10% discount. Free trial is there as well for 14 days.
Unbounce Pros & Cons
Pros
Good Support
Access to professional templates
Access to professional photos
WordPress compatible
Easy to use
Does not limit users
Mobile optimization
Cons
High pricing
Technical Support is not available 24/7
What Is Webflow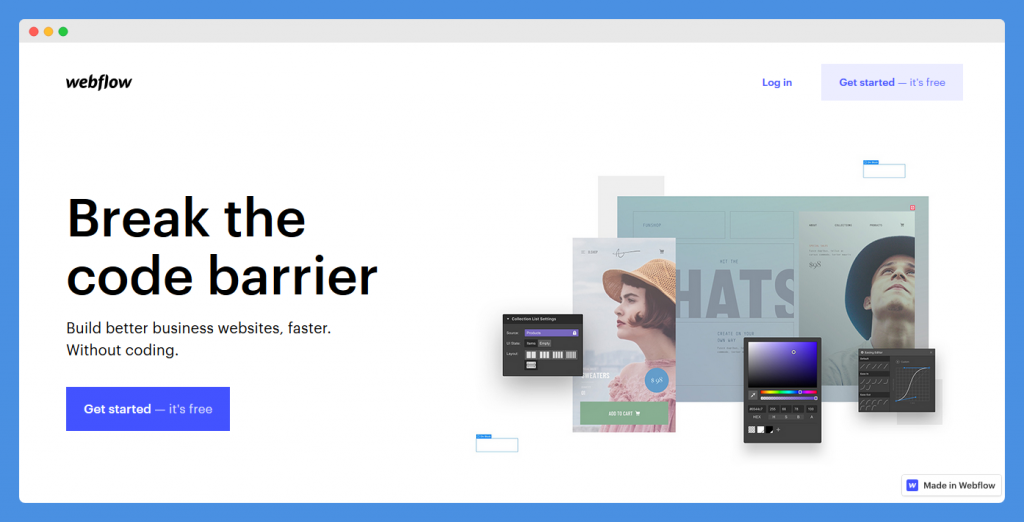 Webflow is a website building platform that lets you build websites without any coding knowledge.
Meanwhile, Webflow was developed by Vlad Magdalin, Branyt Chou, and Sergei Magdalin in August 2013.
Webflow functions by converting your design to codes while building your website, Webflow translates your actions into HTML, CSS, and other coding languages.
Asides from being a web builder, Webflow is also a Content Management Software (CMS) from which you can manage your websites.
You can use Webflow to write and publish posts, pages, and any other information you want to be featured on your website.
Webflow also serves as a hosting platform for hosting websites. With the backing of Fastly and Amazon Web Service (AWS), – Webflow manages traffic efficiently and provides maximum uptime for sites.
Webflow Features
Take a look what Webflow offers:
Website Design
Webflow lets you create websites easily using different methods. It allows you to build websites using CSS grids, Flexbox, and CSS filters.
You do not need to know how to code to use the Webflow site builder tool because the tool writes the codes for you.
You can export the coded files for use on other web building platforms.
Related: Unbounce vs Elementor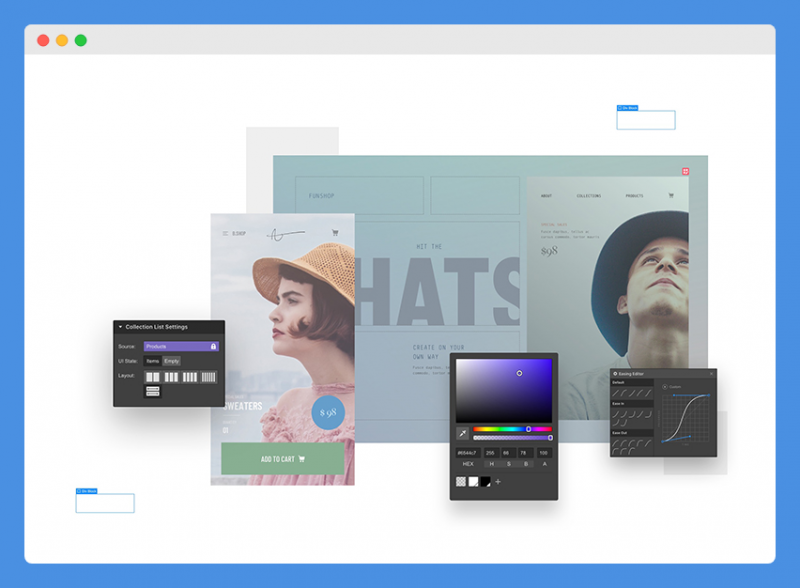 Professional Templates
There are over one hundred web templates available on Webflow that you can use to create great websites.
These templates are mobile responsive templates that adapt quickly to a variety of devices and screen sizes.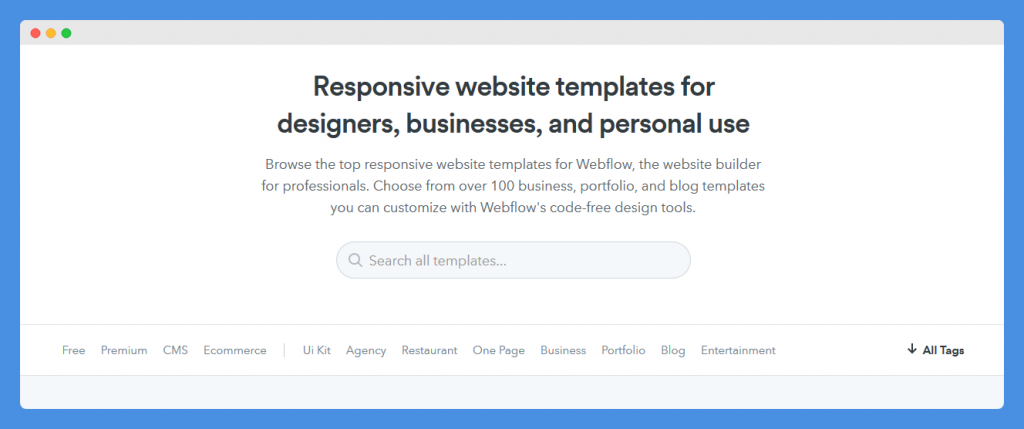 Automatic Backups
Webflow automatically backup your data and files for future restorations. This makes it impossible for you to lose your web files and data if you ever encounter any issues.
Besides, you can back up your website at any time.
SuperSpeed
Websites and web pages hosted on the Webflow hosting platform loads faster with a super loading-speed.
This is because the Webflow hosting platform features Fastly and Amazon Cloudfront, which are Tier 1 content delivery networks to ensure that your website gets a super-fast loading speed.
Password Protection
You can use Webflow's password protection feature to prevent visitors from viewing your site while it is under construction.
You can also use Webflow's per-page password protection to prevent specific viewers from viewing classified web pages.
99.99 percent Uptime and Security
Webflow's You can rely on the Webflow hosting service to provide your website with 99.99 percent uptime, which translates to all year availability with a few hours of downtime in a year due to maintenance.
Webflow's hosting platform is ISO 27018 certified to guarantee maximum site protection.
This ensures that Personal data and information provided by you and your visitors are fully protected.
Instant Upgrades
From time to time, Webflow gets updated with new features, improvements, and fixes.
The good news is that updates are automatic; hence, you do not have to worry about using an outdated version of Webflow
Custom 301 Redirects
The custom 301 redirect feature ensures that visitors to your site are automatically redirected to your new website URL without displaying a 404 error page when you change your site's URL.
Custom Fonts
The software features a variety of fonts you can use to create a stylish website.
You can also upload your custom fonts and add google fonts to Webflow collection of fonts for a more versatile choice.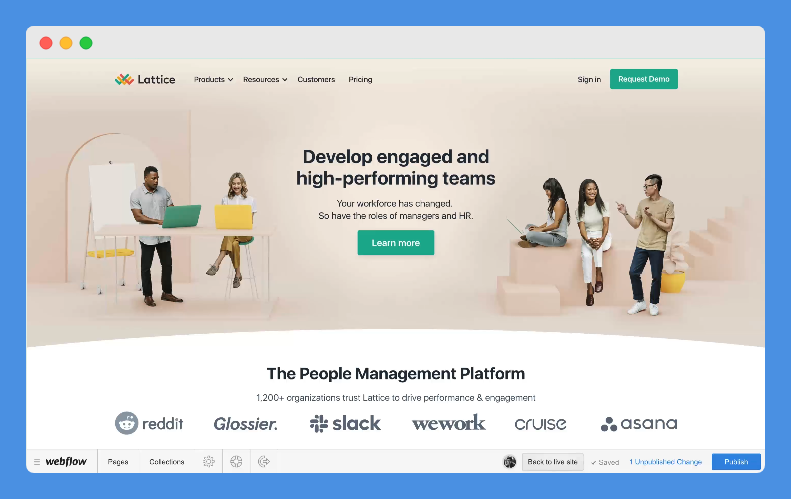 Webflow sitemap xml
Every website needs a Sitemap to make indexing easier for search engines. Webflow automatically generates a sitemap for your website.
Once your site is live, search engine bots can crawl your website for indexing by search engines.
Search Engine Optimization
Websites and web pages created with Webflow are search engine optimized for better ranking on search engine results indexing.
All you need to do is add your SEO content to your website for better rankings on the search engines.
Google Analytics
This feature lets you integrate your Webflow website to Google Analytics. You can monitor your site traffic from your Google Analytics dashboard by adding your Analytics ID.
Explore: Unbounce vs WordPress
Webflow Pricing Packages
Over to Webflow pricing.
a. Website Plans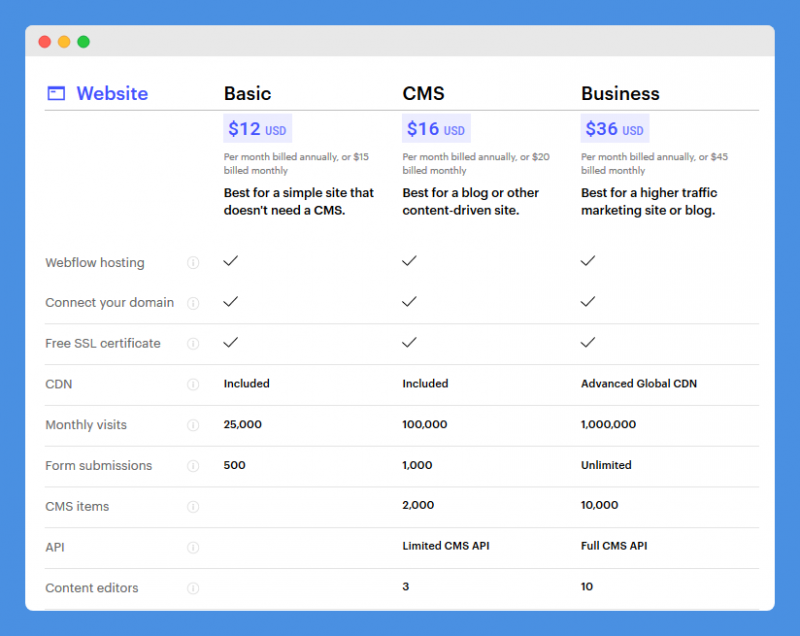 Basic Website Plan
$15 monthly when billed monthly or $12 per month when billed annually –
Free web building tools
Webflow hosting
Free SSL certificate
Content Delivery Network (CDN)
25,000 monthly visits
500 form submissions
Site auto backup
Password protection
Advanced SEO controls
Fast loading pages
99.99 percent uptime
Immediate Scaling
CMS Website Plan
$20 per month when billed monthly or $16 per month when billed annually-
All other features of the Basic website plan, including;
100,000 monthly visits
1,000 form submissions
2,000 CMS items
Limited CMS API
Three content editors
Site search
Business Website Plan
$45 when billed per month or $36 per month when billed annually –
All other features of the CMS website plan
Advanced Global CDN
1,000,000 monthly visits
Unlimited form submissions
10,000 CMS items
Full CMS API
Ten content editors
Form file upload
b. Account Plans
There are two plans under the Account Plan, which are; Individual plans and Team plans.
Individual Plans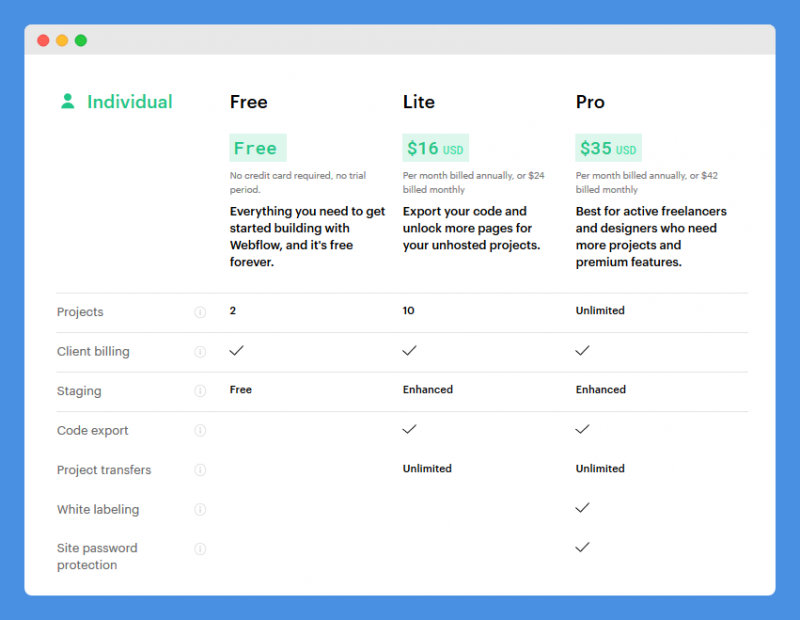 Free Individual Plan
No cost.
Two projects
Client Billing
Staging
Unlimited Hosted Projects
100+ templates
3D Transforms
Global Swatches
Flexbox
Custom Fonts
Interactions and Animations
Reusable symbols
Lite Individual Plan
$24 per month when billed monthly or $16 per month when billed annually –
All other features of the free individual plan, including;
Ten projects
Client Billing
Enhanced Staging
Code export
Unlimited Project Transfers
Pro Individual Plan
$42 per month when billed monthly or $35 when billed per annually –
All other features of the Lite Individual Plan, including;
Unlimited Project
Client Billing
Enhanced Staging
Code Export
Unlimited Project Transfers
White Labeling
Site Password Protection
Also Read: Wix vs Unbounce
Team Plans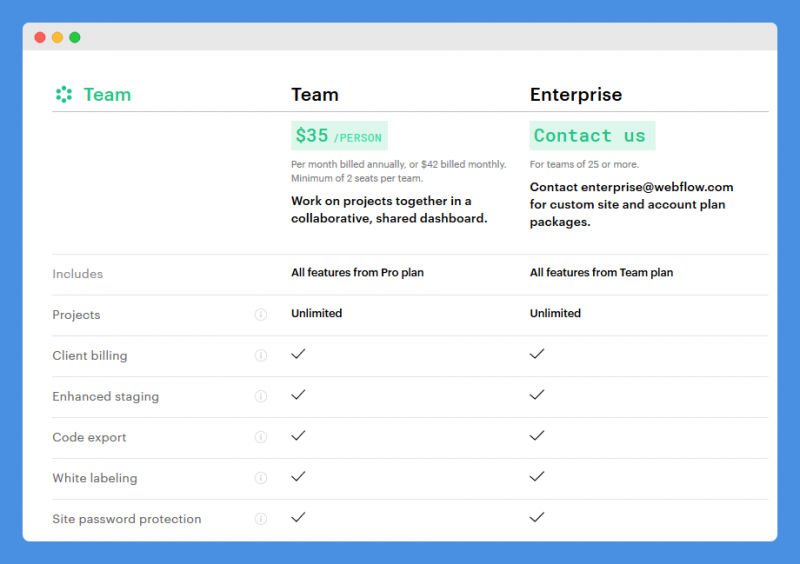 Team Plan
$42 per month billed monthly or $35/month/person when billed annually –
All features of the Pro Individual Plan, including;
Unlimited Projects
Client Billing
Enhanced Staging
Code Export
White Labeling
Site Password Protection
Team Dashboard
Note: The Team Plan is available for a minimum of 2 seats (person)
Enterprise Plan
Contact support for the price –
All features of the Team Plan
Note: Enterprise is ideal for teams of 25 persons or more.
c. Ecommerce Plans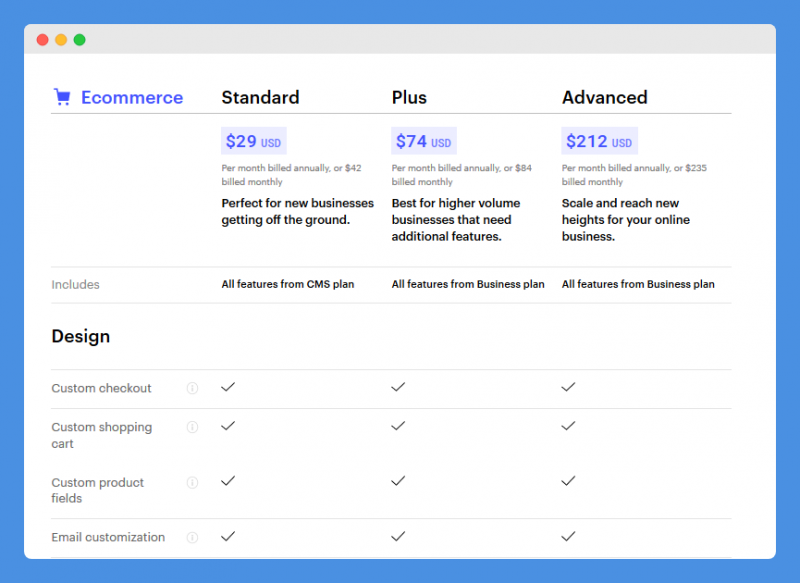 Standard plan
$42 per month when billed monthly or $29 per month when billed annually-
All features of the CMS Plan, including;
Custom Checkout
Custom shopping cart
Email customization
Custom product fields
Integrated CMS for blogs
2 percent Transaction fee
Stripe powered payments
Automatic tax calculation
Apple Pay and Web Payments
Paypal support
Facebook and Instagram Integration
Google Shopping integration
Google Analytics integration
MailChimp integration
Custom code
Configure manual shipping rules
Three staff accounts
$50k yearly sales volume
Plus Plan
$84 per month when billed monthly or $74 when billed annually –
All features of the eCommerce Standard Plan, plus;
Unbranded emails
Zero percent transaction fees
Ten staff accounts
$200k yearly sales volume
Advanced plan
$235 per month when billed monthly, or $212 per month when billed annually –
All features of the Plus Plan, including;
15 staff accounts
Unlimited yearly sales volume
All in all, Webflow cost is nicely segregated depending on your requirements.
Also Read: Best Landing Page Builders
Webflow Pros & Cons
Pros
Good customer support
Hosting provider
Motion design
Auto Backup and Updates
Optimized for search engines
Easy to use
Good uptime
Password protection
Third-party integrations
Cons
Codes can't be imported to another CMS platform
Unbounce vs Webflow – Which Is Better
Setup and Ease of Use
Both Unbounce and Webflow are relatively easy to set up. However, the Unbounce dashboard is user-friendly, and being a drag-and-drop builder makes it easy to use.
Unbounce requires you to connect your domain and hosting provider with the tool. Connecting your domain is as simple as just typing in the domain name while connecting your hosting provider requires you to change your domain's CNAME record.
Everything should be fully connected in minutes. But sometimes, it can take a bit longer than expected.
Webflow setup only requires you to connect your domain. This process is simple, provided you have purchased a Webflow website plan. You can buy your domain from any domain seller, and you can also purchase from Webflow.
The Webflow dashboard is user-friendly and responsive so users can access it on any device. Webflow is also available as Android and iOS mobile applications. This is an edge over Unbounce, which does not have mobile versions.
Of the two, Webflow is the easiest to set up as all you just need to connect your domain. It is also easier to use because you can access Webflow from different platforms.
Cost
Unbounce features different plans at different costs. The least plan is priced at $99 per month. You can enjoy A free 14-day trial period before making payments for a preferred plan.
There are more plans available on Webflow because the software is multi-purpose. Unlike Unbounce, Webflow offers a free plan which attracts no payment. Paid plans on Webflow starts at $15 per month, compared with Unbounce $99 per month.
Webflow wins since it has a lower starting price, and it also features a free plan.
Integrations
Both Unbounce and Webflow facilitates series of third-party integrations.
For instance, Unbounce integrates with several marketing tools and CRM tools such as Aweber, Zapier, and Salesforce. Unbounce Mailchimp integration is a possibility too.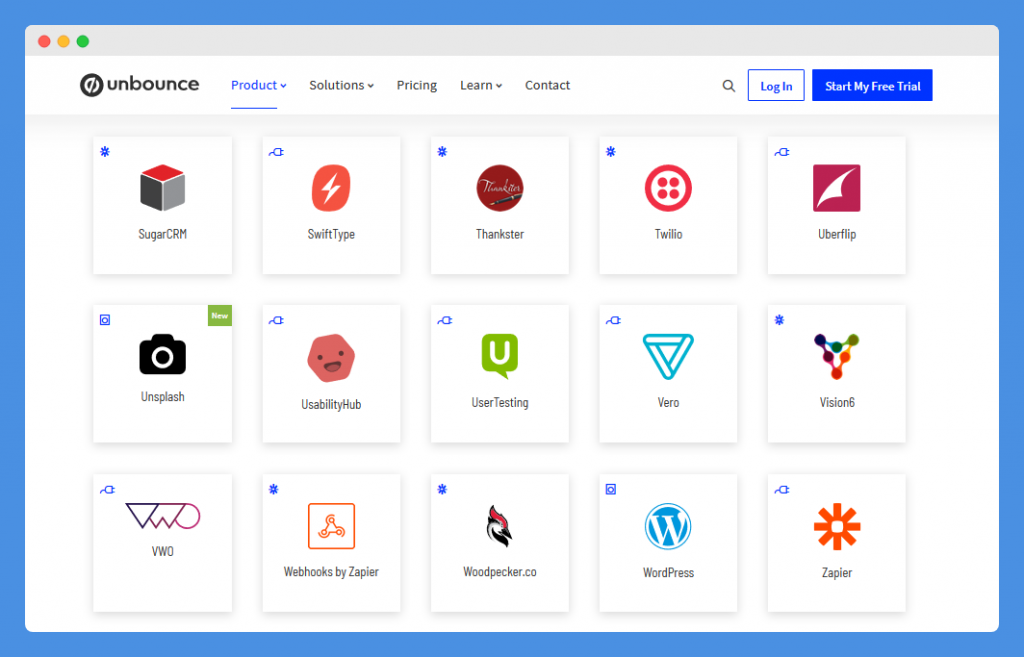 In addition, Unbounce also works with WordPress, Shopify, Google Analytics, and so many others. You will find it easy to integrate these third-party tools with Unbounce as every process is well documented.
On the other hand, Webflow integrates with different third-party platforms to meet different needs.
For website building, the software integrates with Memberful, MailChimp, Localizer.io, Google Analytics, and a few others. Webflow live chat is possible as well. For Ecommerce, the software integrates with Foxy, Hubspot, Donately, etc.
You Might Want To Read: Leadpages vs Optimizepress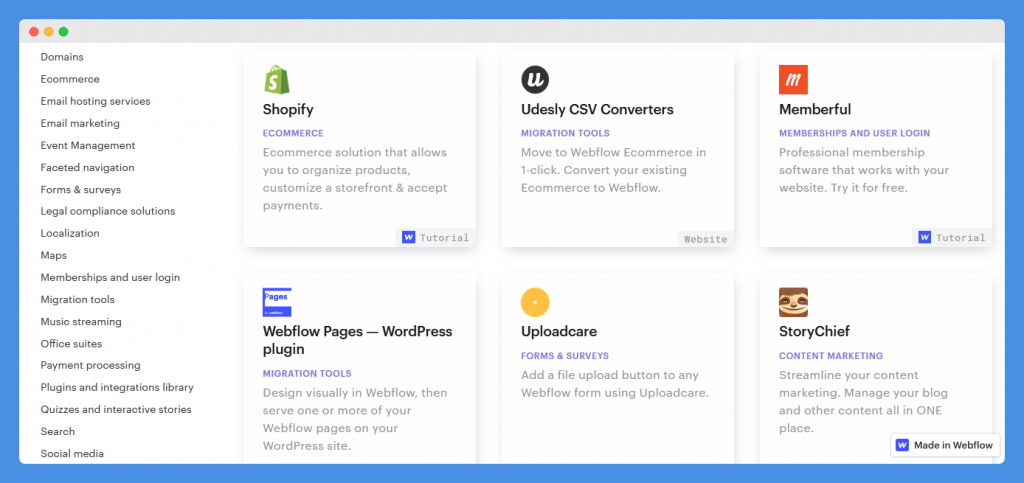 In total, Unbounce integrates with over 100 platforms, which is more than the integrations available on Webflow.
Security
Unbounce and Webflow are very secure platforms. Specific security features were implemented on Unbounce to make it safer.
Unbounce is GDPR compliant and provides SSL encryption to all landing pages. It also features 2FA, which adds an extra layer of security to your Unbounce account.
Webflow is an ISO 27018 compliant software. That tells a lot about the security it offers; It provides a free SSL certificate for hosted websites so they can run on secure https.
Besides that, Webflow facilitates per-page password protection as a form of additional security. Auto backup is available so users can quickly restore their websites if there's an issue
Unbounce only provides security for your landing page, and you still need to ensure that your hosting service is secured as well. Webflow has a better security as it secures both your hosting and website.
The winner here is Webflow since it offers your websites and webpages a comprehensive security protection.
Customer Support
There are various ways by which customers can get support on Unbounce. Customers can get support by live chat, email, or phone contacts provided on the Contact Customer Support Page.
An FAQ is available to provide answers to frequently asked questions and a full documentation section, which contains detailed information on using the tool.
Customer support on Unbounce is reliable but not available 24/7. Support is open weekdays between 1 am – 8 pm, but unavailable on Weekends.
Webflow customer support is also not available 24/7. It is open from 6 am to 6 pm on weekdays and unavailable on weekends support is provided on Weekends. Customers can contact them via phone or email.
Interesting Post: Unbounce vs Clickfunnels vs Leadpages vs Instapage
Webflow has an online university that provides information that is helpful to customers.
The University is the official Webflow customer support system. There are FAQ and documentation sections, and customers can send messages via a contact form.
Unbounce and Webflow do have online forums where customers can interact with each other. Both platforms are about the same when it comes to customer support.
Conclusion – Webflow vs Unbounce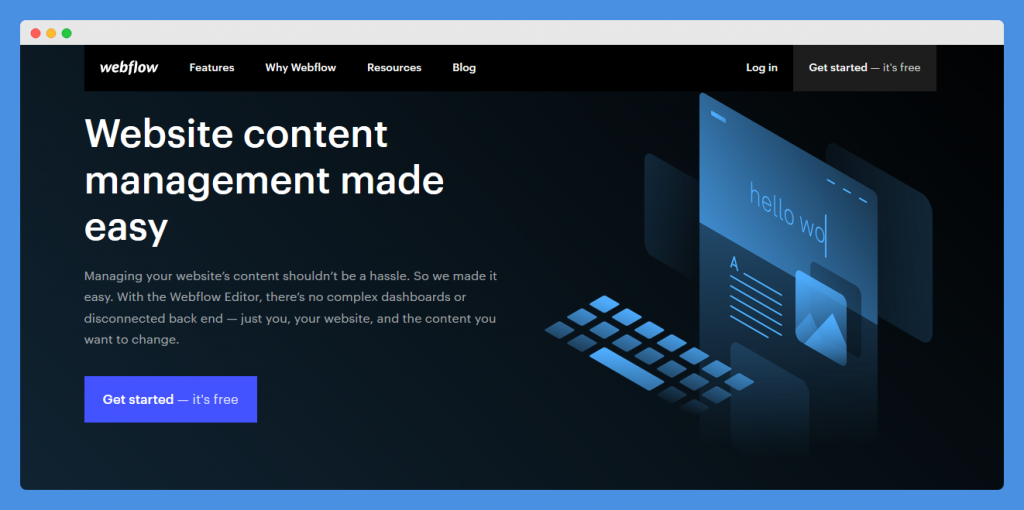 The difference between Unbounce and Webflow is clear; one is a page builder, while the other is a website builder.
Which among the two is better? The answer is Webflow.
With Unbounce, you can only create business landing pages, but with Webflow, you can create a full business website and landing pages.
Webflow lets you build a website with ease, and the platform also provides hosting service. It has several website design templates available, so you do not have to take the task of designing one.
Besides, Webflow also works as a CMS so you can efficiently manage your website. It also has eCommerce plugins for creating online stores for dropshipping.
Unbounce on the other hand, is an excellent software, one of the best when it comes to building landing pages.
With an easy drag and drop builder, AMP, and A/B testing feature, etc. you can get the best out of your landing pages.
However, Unbounce comes short when compared to Webflow in terms of flexibility, and multiple use cases.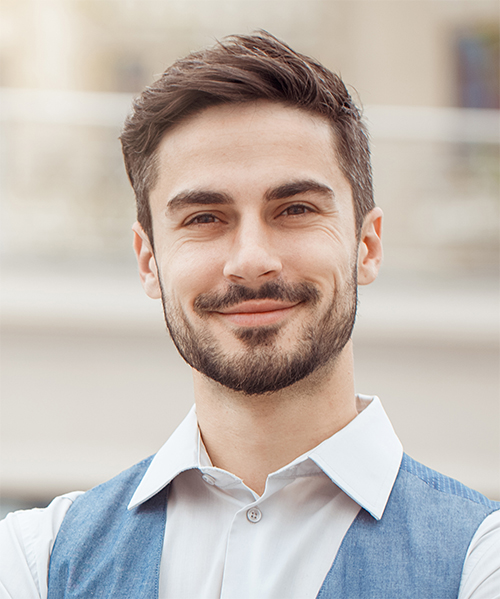 Author: Scott Macarthur
Scott L. Macarthur is a marketing consultant and an online author. He is mostly engaged in providing his expertise to startups and SMBs. He is also an author on TheNextWeb.