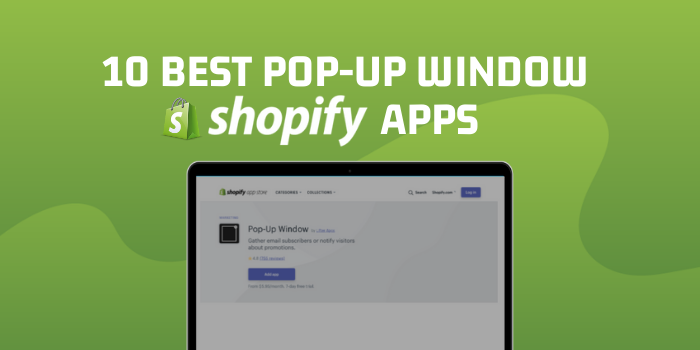 One of the most effective ways to increase newsletter and email list subscriptions is by using pop-up windows. pop-up windows are the perfect balance between having a clear CTA and not being too pushy.

pop-ups can also be used for various other purposes, including getting visitors to like your Facebook page, copy a promo code, or fill out a survey.

Although the average pop-up conversion rate is around three percent, the top 10 percent of pop-ups have a conversion rate of 9.28 percent.

Using pop-ups on your ecommerce site can allow you to build an email list or increase sales through seasonal and other special discounts and deals.

The following are the top 10 Shopify apps to use for pop-up windows.
Related: Best Shopify Apps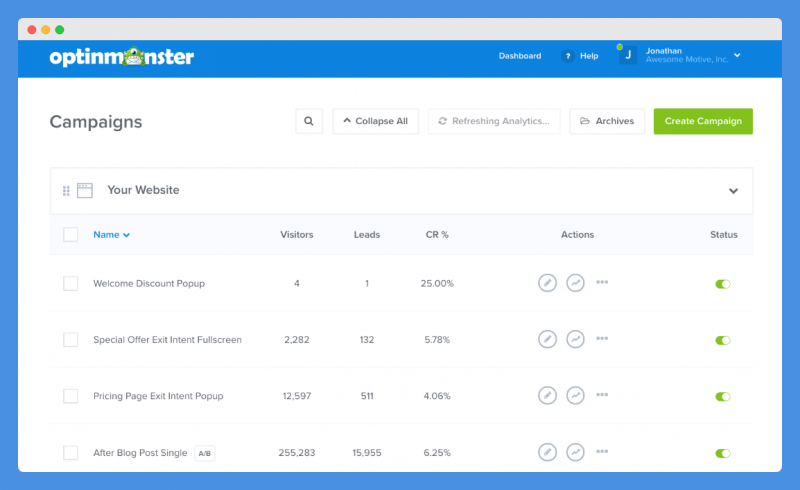 This app, called Exit Pop-Ups & Email Pop Ups, will allow you to add OptinMonster pop-ups to your site.

OptinMonster is one of the oldest and most well-known pop-up services. All of their pop-ups are easy on the eyes and have stylish designs without being too outlandish.

One of their most popular features is the Yes/No buttons that you can put on their pop-ups.
Although this adds another step, it can actually increase conversions by making your CTA seem to require less effort and time.

There are a lot of display rules you can use to boost conversions as well.
You can wait until visitors have spent a certain amount of time on your site or scrolled to a certain section until you show your pop-up, for example.

Exit-intent pop-ups can help boost conversion rates by showing a pop-up at the exact moment a visitor is planning to leave.
You can offer special discounts to entice them to return to shopping or offer them a free giveaway to get them to sign up.

You can also reduce cart abandonment rates by capturing email addresses and sending reminder emails or using exit-intent pop-ups.

There are over 100 fully customizable templates to choose from. According to the app description, the different types of pop-ups include:

"Lightboxes, fullscreen welcome mats, hello floating bars, inline forms, slide-in scroll boxes, sidebar, Google SEO mobile-friendly pop-ups, video pop ups, email pop ups, exit intent pop ups, thank you pop ups, social pop ups, Facebook Messenger pop ups with ManyChat, gamified pop ups, spin a wheel pop ups, 2-step pop ups, lead form pop ups, countdown timer pop ups, inline pop ups, and much more!"

A/B split testing is easy and allows you to compare how different versions of a pop-up perform.

The cost is $49/month, which gives you access to OptinMonster's highest-paying plan, Growth. There is also a 30-day free trial.
Explore: Best Shopify Paid Apps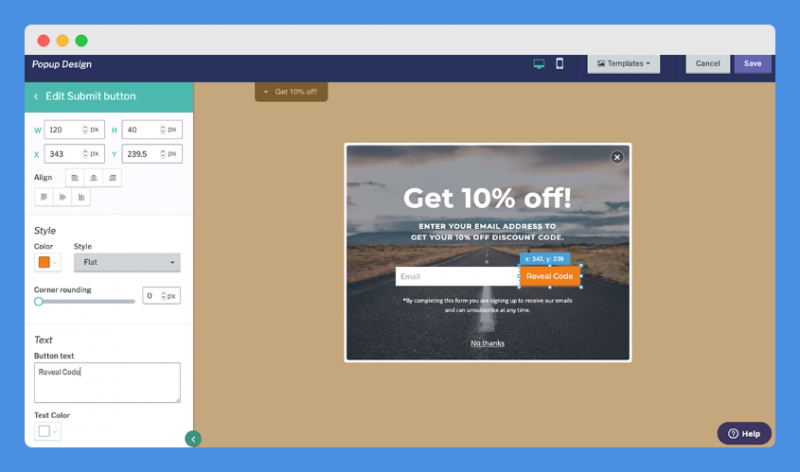 Privy is one of the most popular Shopify pop-up apps, with over 23,000 reviews and a 4.7-star rating.

You can build beautiful pop-ups, spin-to-win wheels, banners, flyouts, scroll boxes, announcement bars, and embedded forms by customizing any of the premade templates.

There are all kinds of triggers you can use to create pop-up display rules, including cart value, scroll, time, device type, geographical user location, number of visits, number of orders, referral site, language, and much more! This kind of targeting can increase conversions.

You can also create exit-intent pop-ups to reduce cart abandonment rates.
With Privy's Automate plan, you will get access to email marketing features and will be able to send cart abandonment emails and automated follow-ups to increase conversions.

Another useful feature is the ability to add coupon codes to either your actual pop-ups or emails. You can create either bulk coupon codes or single-use codes.

You can see real-time reporting in your centralized dashboard or get email notifications when someone signs up. You can also run A/B split tests to optimize conversion rates.

Privy also integrates with Mailchimp, Klaviyo, Bronto, smile.io, octane.ai, and Retention Rocket. You can sync the contacts you collect to your Mailchimp account.

One of the best parts about Privy is that unlike the latter option on this list, it is actually free to use for up to 5,000 page views (all of your pop-ups will also have the Privy logo). After that, it is just $20/month.

If you want to use Privy Email Marketing, plans start at just $10/month for up to 1,000 contacts.
After that, the price will go up by $5/month for every additional 1,000 subscribers.
Worth Reading: Best Shopify Newsletter Apps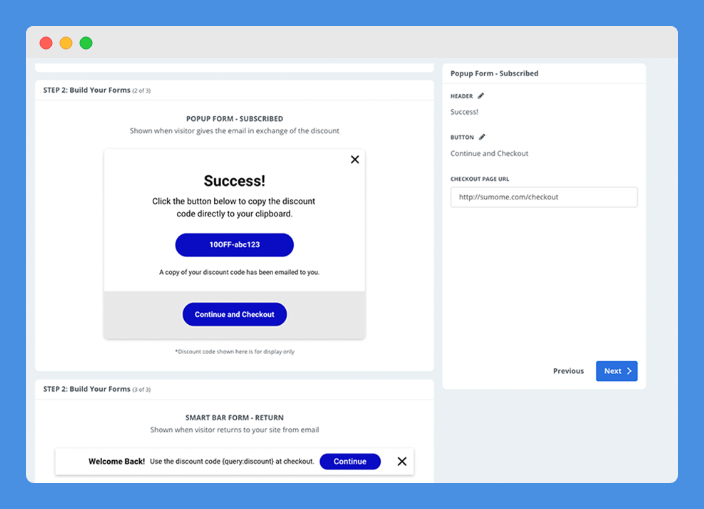 Sumo used to be known as SumoMe. It offers a suite of conversion optimization tools.

Although its WordPress plugin is better known, it also has a Shopify app, available in the Shopify App Store.

Let's focus first on their pop-up window features. You can create as many signup forms and pop-up boxes to get users to sign up for your newsletter as you want.

You can also create exit-intent pop-ups to reduce cart abandonment rates.
When users browse products without making a purchase, you can have them sent an automatic email reminder to go back and complete their intended purchases.

Sumo allows you to offer unique discount codes on your forms to increase conversion rates.

Another feature is the ability to display related products or other offers that are personalized to a visitor's browsing history. This can increase your average order value.

Sumo integrates with MailChimp, Aweber, Campaign Monitor, Constant Contact, Klaviyo, and HubSpot.

Sumo is also free to use. The free plan allows you to create an unlimited number of forms and send up to 10,000 emails a month.

The Pro plan costs $49/month ($39/month with yearly billing) and allows you to send an unlimited number of emails.
It also removes the Sumo logo from your site and provides you with personal onboarding.
Also Read: 75+ Free & Paid Shopify Apps Ecommerce Experts Recommend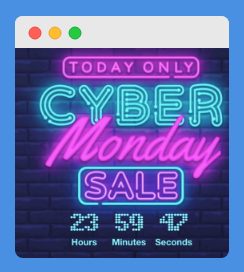 Justuno offers pop-ups and various other Conversion Rate Optimization tools for your Shopify ecommerce site.

The pop-ups allow you to share information or display special offers before visitors complete the checkout process.

Justuno comes with a special machine learning AI system that tracks every website visitor and analyzes billions of data points.

There are over 100 rules that you can use to target your visitors, including visit frequency, scroll percentage, geographical location, previous engagements, and more.
You can combine multiple files at once to create custom targeting.

The artificial intelligence is also useful for upselling and cross-selling. When visitors add products to their cart, you can show them related products to increase your overall sales value.

All pop-ups are mobile-optimized and work well on small screens, including phones and tablets. You can create banners, bars, full-screen window pop-ups, and more.

You can even use countdowns to create urgency and increase your sales or subscriptions.

Justuno integrates with Mailchimp, Klaviyo, Hubspot, Octane AI, Oracle Bronto, and Wordpress.

Justuno is free to use for up to 5,000 visits per month. After that, plans are $29/month for up to 10,000 visits, $49/month for up to 25,000 visits, and $99/month for up to 50,000 visits.

Anything above that will require a custom plan.

There is also a 14-day trial in which you can have unlimited visitors.
Related: Best Shopify Dropshipping Apps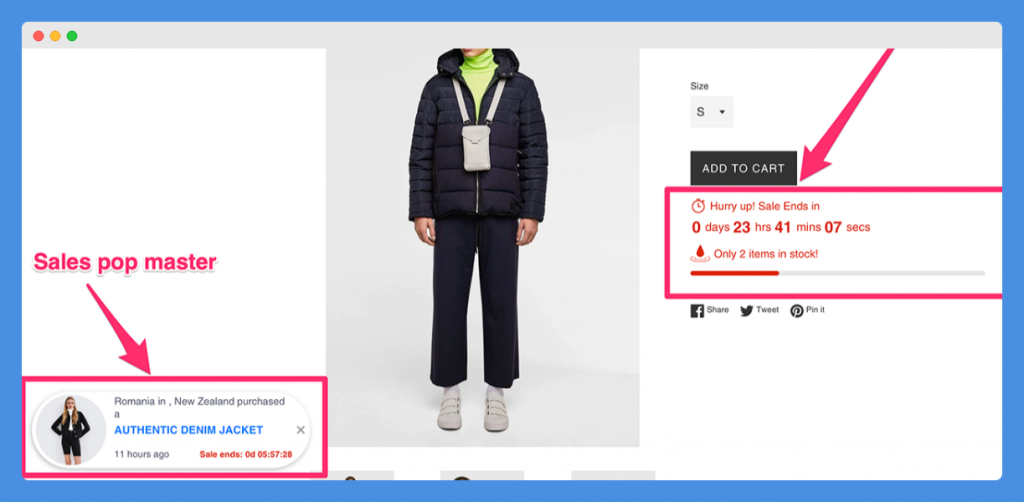 Sales Pop Master – Countdown is a pop-up app with a twist. It allows you to show recent sales to increase social proof.

There is a little pop-up window that shows any recent sales made in the past 60 days. It increases social proof by showing that other consumers are purchasing your products.

It also increases urgency – after all, the product might go out of stock if so many people are buying it.

In the case of a new store that does not have any orders yet, you can display pop-ups indicating items that people added to their carts.

Another type of pop-up you can add is a "Quick View" of a product's information.
When a customer clicks on a product name, they don't have to be redirected to a new page anymore, which can be annoying if they were only curious about the product.

Instead, they can stay on the shopping page and see a quick view of the product's information right away.

When customers are in the checkout page, you can also show promotion notifications and countdown timers to increase conversions.

There are two more unique countdown pop-up types that can increase sales.

One is a countdown timer pop-up, which can appear when a user adds a product to their cart and the product has a limited-time discount.
This can increase conversions by reducing cart abandonment rates through urgency.

Another is a countdown stock pop-up, which displays how many items are left in stock. This is another way to show scarcity and create urgency.

Sales Pop Master costs $2.99/month. Pro costs $7.99/month and gives you access to unlimited countdown timer campaigns (as opposed to only one) and the quick view mode pop-up.
Explore: Awesome Ways To Use Mailchimp Popups On Shopify Store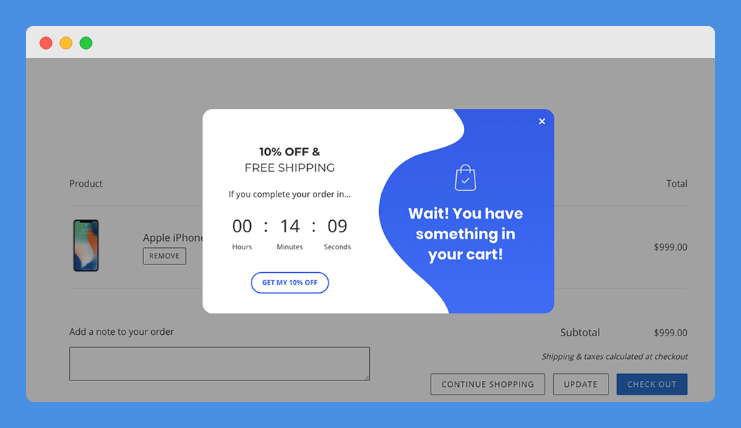 Personalizely offers email signup pop-up forms that are stylish and look great.
Their goal is to give you as many tools as possible in one place so you don't have to download multiple apps and spend a lot of money.

Their pop-ups and exit intent pop-ups can help you build your email list and reduce cart abandonment rates.
You can use the bars to motivate more purchases; for example, you can display countdown timers, free shipping offers, and other discounts.

Another way to motivate sales is to show how many more dollars' worth of products a visitor has to add to their cart to qualify for free shipping or any other discount (such as 10 percent off).

All pop-ups and bars are fully responsive and appear great on any mobile device.

Personalizely even has a Facebook Messenger pop-up. You can convert visitors into subscribers on Facebook Messenger, and you can use a chatbot to send them automated follow-ups.

According to Hubspot, Facebook Messenger broadcasts have an open rate of around 80 percent on average. This can be almost 4x higher than email marketing open rates.

You can cross-sell recommended products by displaying related products next to each other.

You can also customize these recommended product displays based on each specific visitor's history and location.

Personalizely integrates with the following email service providers to allow you to sync your contacts and send automated email follow-ups:

Mailchimp
Omnisend
Klaviyo
CM Commerce
Drip
AWeber
Active Campaign
Campaign Monitor
Constant Contact
Marsello
Jilt
Sendinblue
SendPulse
Getresponse
Hubspot
iContact
Smartrmail
ConvertKit
Sendlane
Manychat
CleverReach
Personalizely has a complex pricing system. There are two plan options for $29/month.

One plan is a Widget plan, which allows you to use upsells, cross-sells, sales motivator bars, pop-ups, and Facebook Messenger pop-ups.
The other plan is a Personalization plan – this allows you to personalize text and banners based on each visitor's history.

If you want to purchase both plans, you will get a discount – The Widget and Personalization plans together cost only $49/month.

All of the above three plans allow for up to 10,000 visitors a month.
You will have to pay more for additional visits, but the exact price will depend on whether you choose only a Widget or Personalization plan or a combined Full plan.
Also Read: Shopify Checkout Popup Apps That Boost Conversions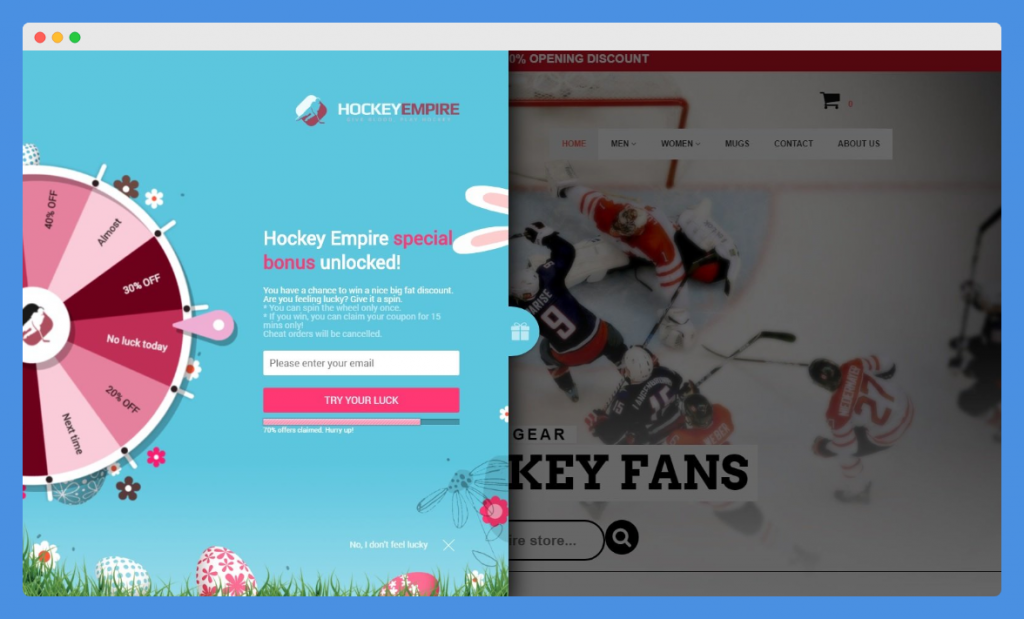 Wheelio is not an ordinary pop-up app. It makes pop-ups much more exciting and interesting.

A common problem with pop-ups is that some users may find them intrusive and annoying, blocking their view of the page they want to read.
Wheelio aims to fix this by making the experience fun and rewarding for your visitors.

Sometimes, a simple 10 percent off exit pop-up is not enough. They have become so common nowadays that some visitors don't even pay attention to them.

However, with Wheelio, visitors are confronted with the possibility of winning big.
They don't know what their reward will be or how much of a discount they will get until they spin the wheel, at which point they have already interacted with your pop-up – they are already hooked.

Customers have to enter their email address to spin the wheel and try their luck, so this is a great way to build your email list.

Wheelio can be used both to collect email addresses and Facebook Messenger subscriptions. You can choose one or the other or provide both options on a pop-up.


They even offer email validation at a low price.

Another feature is a pop-up that can inject coupons to the checkout page at checkout.
This little surprise can remove any doubts customers had about checking out and increase conversions.

Wheelio costs $14.92/month. This plan has no limitations in terms of how many pop-ups you can use, visits you can get per month, emails you can collect, etc.

The Pro plan has additional features, however, and it costs $54.92/month.
It comes with email validation built-in, email duplicate prevention, custom fields in your forms (such as telephone number), advanced analytics, and campaigns and segmentation.
Check Out: 10 Best Shopify Exit Intent Apps
WooHoo is another gamified pop-up plugin, but it works a bit differently.
It actually shows users different types of rewards they can get, which stimulates their minds and motivates them to enter their email address to play and get their rewards.

There are four different games you can offer your visitors:

Wheel of Coupons: Display different coupons on a wheel and allow visitors to spin it. They get whichever coupon they land on.

Reel of Coupons: Allow visitors to get a chance of winning a discount if they get all three results of the reel to match up.

Pick a Gift: This is a bit more of a mystery. There are four mystery boxes, and visitors have to pick one to see what they get.

Card Dance: Display different coupons and discount codes on cards. Then, hide them and switch them around and allow users to pick a card.

You can select from different triggers for when to display your pop-ups. You can also use exit-intent pop-ups.

You can use your pop-ups to increase sales or collect email addresses.

All of your pop-ups can be split-tested. You can even split-test different games and see which ones are more popular.

With the new Automatic Unique Coupon feature, you can offer single-use discounts that are unique to each visitor.

As opposed to Wheelio and Justuno, WooHoo offers a variety of games to choose from instead of just one.

In addition, it is free to use for up to 100 pop-up impressions. After that, plans start at $4.95/month for 500 impressions, $9.95/month for 1,000 impressions, and $14.95/month for 3,000 impressions.

In addition, paid plans include autoresponders and Recart integration for Facebook Messenger signups.
Also Read: 15 Best Shopify Cart Abandonment Apps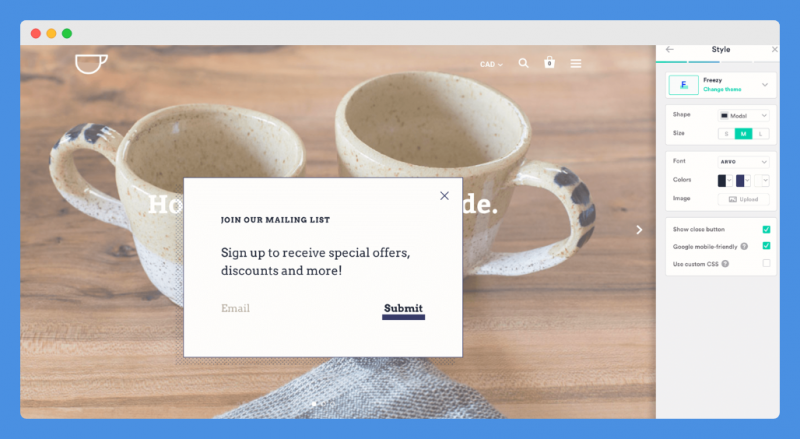 PixelPop is an app by Pixel Union that lets you create interactive pop-ups to engage with visitors and collect email subscribers.

There are a number of things you can do with their pop-ups. One option is directing visitors to a landing page, a product page, a blog post, an affiliate link, a gallery, or catalog, or any other URL.

You can also collect email addresses and sync them to Mailchimp or other email service providers.
Using the floating header or footer bars, you can display special offers, including discounts and free shipping.

Exit-intent pop-ups that are triggered when a user is about to leave the site can help reduce cart abandonment rates and fix rising bounce rate problems.

All in all, there are seven pop-up types you can use with PixelPop:

Email signup
Announcements
Promote URL
Display coupon code
Show custom linked image
Promote your social platforms and get likes and followers
Cookie disclaimer and user agreement
There are four pop-up shapes:

Promo bar at the top or bottom of your site
Card
Modal
Full-screen takeover (this last option can be a bit more annoying, so it is best to use it for huge discounts that happen very infrequently)
There are tons of triggers and targeting options to choose from. You can also choose how often your pop-ups are shown to each visitor (for example, it can be once per day or once per week) to avoid annoying your return visitors.

PixelPop is free for up to 500 monthly impressions. Premium plans cost $12/month for up to 10,000 views, $24/month for up to 50,000 views, and $48/month for up to 300,000 views.

Premium plans also include features like exit-intent delays, display frequency options, device targeting, and more.
Check Out: Apps To Boost Shopify Traffic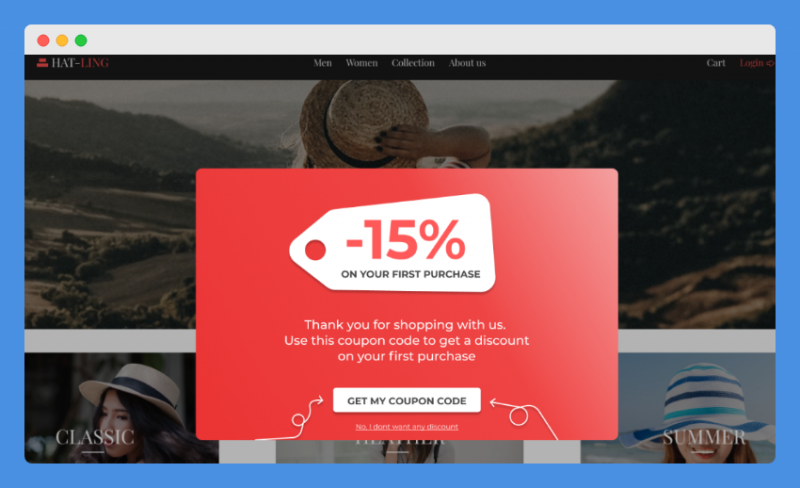 This app is entirely free to use, with no premium plans.

Although it is free, the pop-ups look great and are very stylish. They can be customized to fit your needs.

You can display pop-ups with coupon codes when visitors land on your site to increase conversion rates and entice them to complete their purchases. All pop-ups are fully responsive and adapt to any screen size.

You can customize the message you show in your pop-up, as well as your CTA.

You can also set up rules for when your pop-ups are to be shown.
For example, you can show them right away, as soon as a visitor lands on your site, or only at the end when they are about to leave your site.

Keep in mind that this app is best used to increase sales and reduce cart abandonment issues. If you are looking for a pop-up to collect email addresses, you can choose from any of the above options.

Poppy is produced by Beans, which has a number of other apps you can use to increase conversions:

Lotus – Social Auto Post
Bamboo- Referral Program
Liana – Rewards and Loyalty
Snow – Notification Widget
All of these are either free or have a free plan available.
Related: Best Shopify Newsletter Pop-up Apps
Wrapping It Up
The average cart abandonment rate is around 70 percent.
That means that the majority of your website visitors are not going to complete their purchases the first time around.

By using pop-ups, you can get them back to your site and recover lost revenue.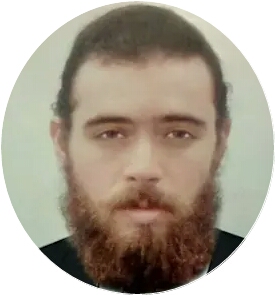 Benjamin Levin is a digital marketing professional with 4+ years of experience with inbound and outbound marketing. He helps small businesses reach their content creation, social media marketing, email marketing, and paid advertising goals. His hobbies include reading and traveling.