Unbounce and Wix are both amazing options for designing landing pages. They both have distinct features that make them special in their own ways.
It is easy to get lost in the many features that these tools have which is why many people have trouble identifying which between the two is most suitable for their websites.
The question is most people's mind therefore is, which one is better between the two.
Let us do a full review of these two amazing tools and based on their respective features, pricing plan and overall integration suggest which one is better.

What Is Unbounce

Since 2009, Unbounce has been in the business of providing landing pages to their customers, something that has earned them a great track-record on the market.
The developers of Unbounce have not only made it a landing page builder but also a tool for creating, publishing and testing multiple landing pages.
Over the years, Unbounce has been constantly improving on the functionalities of the tool to enhance the overall user experience.
Unbounce has a successful conversion rate of around 250 million.
Simply put, this tool is an all-in-one platform that enables niche businesses to create functioning landing pages leading to an increased conversion rate.
Perhaps the most amazing thing about Unbounce is that you do not need to hire a web designer or developer to create the landing pages for you.
Even with zero design and web development skills, Unbounce is an easy-to-use tool.
We earn a commission if you click this link and make a purchase.
Explore: Complete Unbounce Review
How Does Unbounce Work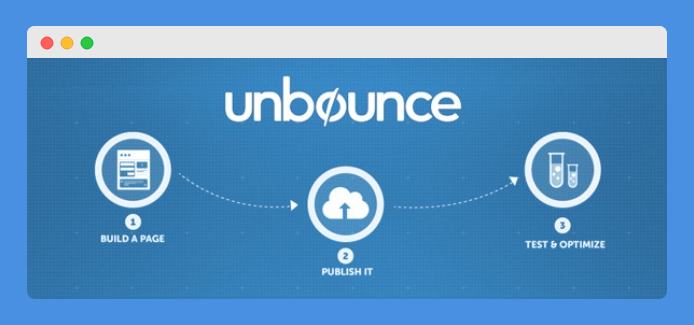 Unbounce happens to be one of the easiest landing page creation tools around.
If you have used a drag and drop builder in the past, using Unbounce will be a piece of cake. Here are the basics steps when using Unbounce.
Sign Up For A Free Trial Version And Start Creating Landing Pages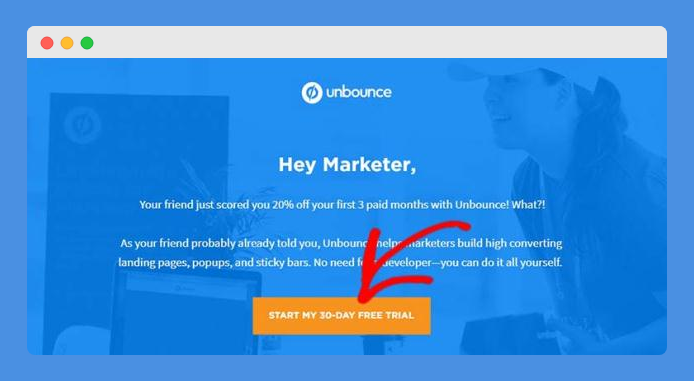 When you go to the Unbounce Home Page, sign up for a free trial option and enter your login details. On the user dashboard, there is a Create New on the upper-left hand corner.
When you click on the button, you will be redirected to a new window for landing page creation.
Choose From The Many Large Templates And Start Editing
On this page, you have different options in terms of the page layout. You can either start creating your landing pages with a blank page or a template.
If you are looking to save on time and effort, then choosing a template is your best bet.
After identifying a template that you like, click on the button that indicates" Start with this template" at the bottom-right corner and immediately start editing.
Also Read: Clickfunnels vs Unbounce
Customize Your Template
After selecting your template, you will be redirected to the Unbounce builder that gives you access to different customization tools.
Here, you can change the background image of your template, add text, images or elements.
There are further customization options such as adding your own photo and adjusting the background colors that you can implement within your template.
Use Unique Elements In The Landing Page And Save It
On the right side of the user dashboard, you can preview the properties of different items.
This means that you can change the properties of individual items such as changing the font size, color or inserting a link.
Once you are satisfied with your landing page, there is a save option on the right-top corner.
By clicking on the save option, everything on the page is saved and you can implement it in any way you wish thereafter.
We earn a commission if you click this link and make a purchase.
Unbounce Features
Unbounce has the following features that can help you make the best out of this landing page creation tool.
Unbounce Landing Page Builder
Compared to other landing-page creation tools, Unbounce has a very unique way of doing this.
This uniqueness is very evident once you start using Unbounce and has past experience with other page builders.
You often find that many landing-page tools often take a simplistic approach towards creating these landing pages.
Unbounce on the other hand gives you this simplicity as well as the ability to create very unique pages.
The simplicity of this tool is that it has a drag-and-drop feature that makes it possible for non-coders to also use this tool.
Once you take time and learn all the features on Unbounce, utilizing these features can never be problematic as long as you are familiar with the basics.
Editing your landing pages on Unbounce is also very dynamic as there are over 840 inbuilt Google fonts to choose from.
Interesting Comparison: Unbounce vs Webflow
Unbounce Conversion Tools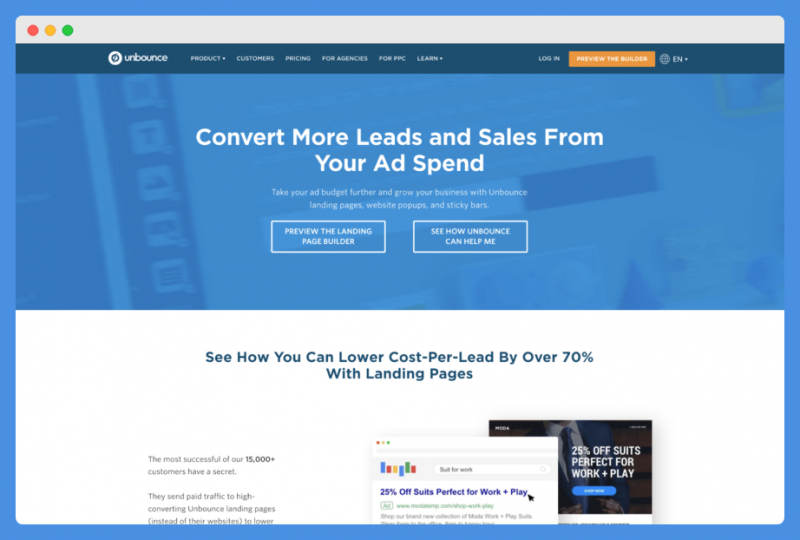 The key difference between a web page and a landing page is the conversion.
This is the simple reason why Unbounce has many conversion tools. The main conversion tool on Unbounce is the pop up.
The pop-up feature has the ability to show up anywhere on your website.
Pop-up creation is very easy as the only thing you need to do is to drop-and-drag some elements as well as some little editing and you have yourself an amazing pop-up feature on your website.
Apart from pop-ups, there are also sticky bars that you can use to engage the mobile-users. Creating these sticky bars is also very simple.
Once you have yourself a good template from the Unbounce page builder, combine this with a drag-and-drop builder and select the sticky bars you want to be displayed on your website.
The whole idea of having pop-ups on your website is that they tend to catch the customers' attention.
However, it is not guaranteed that this engagement will lead to a higher conversion rate.
This is the reason why Unbounce has a unique targeting system that narrows down your target demographic ad displays the right message, to the right customers, at the right time.
Unbounce A/B Testing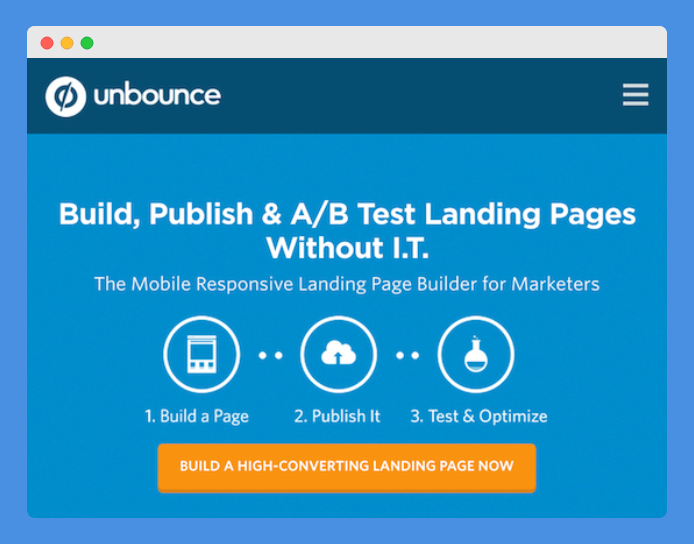 Some of the tools on Unbounce are meant to help you run successful conversion campaigns but it is not guaranteed that they will automatically have better conversion campaigns.
To resolve this issue, Unbounce has a feature known as A/B testing who main role is to analyze the different kinds of conversion campaigns you are running and identify which one is the best for your business.
The A/B testing is quite simplistic in nature. All you need to do is to have two different landing pages, each with different design, features and layout.
The A/B testing feature is therefore supposed to help you track the two landing pages and establish which one has a better conversion rate than the other.
You can then decide which landing page is most suitable for your business from the results.
Related: Unbounce vs Elementor
We earn a commission if you click this link and make a purchase.
Unbounce Landing Page Analyzer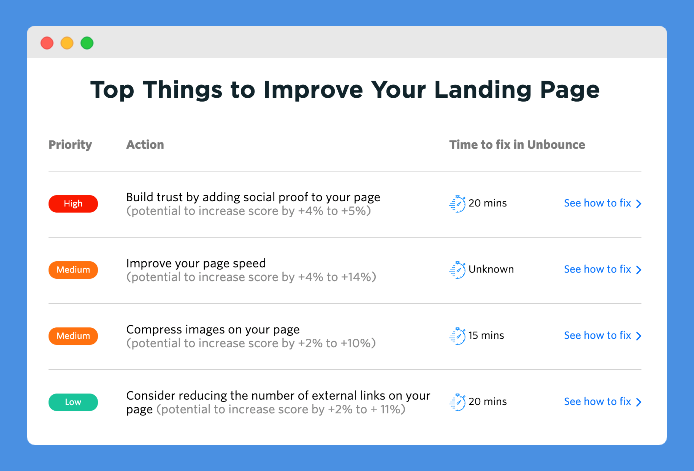 The A/B testing feature is an amazing one to establish which landing page version is best for your business.
However, you can never be entirely sure about the best landing page which is why the Unbounce tool has a landing page analyzer.
The working of the landing page analyzer is almost similar to what the name indicates-analyzing a landing page.
What this feature does is to analyze landing pages for any potential issues so that you can have them resolved before publishing the landing page.
This feature will also generate a comprehensive report on the issue for future reference.
From the generated report, you will be able to see a comparative review of your landing page and others in your industry of operations.
You can therefore check what your landing page has or don't have with reverence to similar landing pages in the industry.
Simply put, this report will give you a sneak-preview of the page request, speed and loading time of your landing page.
Who Should Consider Using Unbounce?
When trying out a new tool in business, the learning process takes time.
It is important that you understand that you cannot implement every feature on Unbounce overnight. Maybe an experienced professional can do that.
Unbounce is arguably one of the best landing page conversion tools that can increase the conversion rate of your website significantly.
Using Unbounce as your primary landing page builder will no doubt boost your business competitive edge.
Since the primary objective of landing pages is to increase the conversion rates of a business, there are many different features available on Unbounce that can help you improve on this.
However, do not expect to master using all the features on Unbounce instantly. It takes time and some effort to do that.
Even as an amateur, you can still tap on Unbounce's unlimited potential in landing page creation and solve the conversion problem that your business could be facing.
Unbounce Review Pros & Cons
Pros
Ease of creating customized landing pages
Ease of selecting and using templates within the tool
A help center that gives you access to resources to use in order to maximize Unbounce's untapped potential.
Ability to test your landing pages in many different ways
Security when using the tool
Cons
Not affordable to many small-scale business owners
The different functionalities available on this tool can be overwhelming
The customer support services are only available during normal working hours
Check Out: Unbounce vs Hubspot
We earn a commission if you click this link and make a purchase.
Unbounce Pricing
Following are the Unbounce pricing plans.
Launch costs $80 a month
Optimize costs $120 a month
Accelerate is priced at $200 a month
Scale costs $300 a month
The plans vary in terms of number of visitors, domains and conversions. If you pay annually, you get some discount.
Explore: Unbounce vs Wordpress
What Is Wix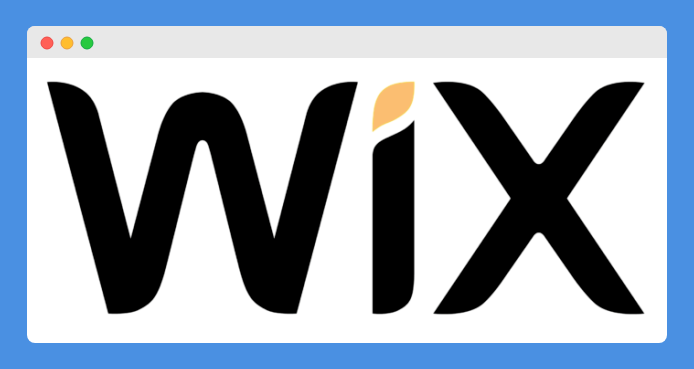 Wix has over 100 million people spread across 190 different countries in the world.
This makes the tool one of the most popular in the web design and development world. It is easy to create a fully-functional website on Wix in just a matter of minutes.
Think about it this way, building websites in the past used to be a reserve of whiz-kid coders or people with financial muscle to pay these coders to get things done.
Thanks to tools like Wix, everyone is a web designer in their own unique way.
Regardless of your coding skills, Wix is a powerful tool that gives you access to design and editing tools, without needing any coding skills.
No matter your niche, this tool will no doubt be a perfect match for your business goals.
You could be a dog walker; a life coach or an internet star, there is no industry that Wix does not cover.
Since it was launched in 2006, this tool has consistently established itself as a leading web=building tool.
Our Pick
Wix - Free Website Builder
Whether you want to create your online presence, open a store, start a blog, Wix makes it all easier. Design and build high-quality websites using Wix. What's more, Wix lets you do it for free.
We earn a commission when you click this link and subscribe.
How Easy Is Wix To Use?
When using Wix, you have to options to choose from. You can either use the Wix Editor or the Wix ADI. The
Wix Editor has a drag-drop functionality that can move and reposition any item that you click to any part of the website.
You simply click the item, drag and move it to your desired area.
The Wix ADI on the other hand designs the entire website for you.
All you need to do is to answer a few questions about the website you wish to have and it will automatically be created before your eyes.
You can make edits to the final design if necessary. However, this kind of website design and creation is not deal if you wish to have complete autonomy of the process.
When designing a website using WIX ADI, think about it as how you can play a game on your phone compared to the same experience on a gaming console.
You can still play the game in app-mode on your phone but you won't get the same level of control as you would on a gaming console.
For people with some coding skills and experience, you can use the Wix Code to design the website.
This function enables you to access and edit the raw HTML codes for even better customization. The Wix Code is most suitable for people who are a little more tech-savvy.
Wix Features
Apart from the features and templates on Wix that seem to steal the show, there are also a number of amazing tools that keep things ticking on this amazing tool as seen below.
Check Out: Wix vs Squarespace
Wix App Market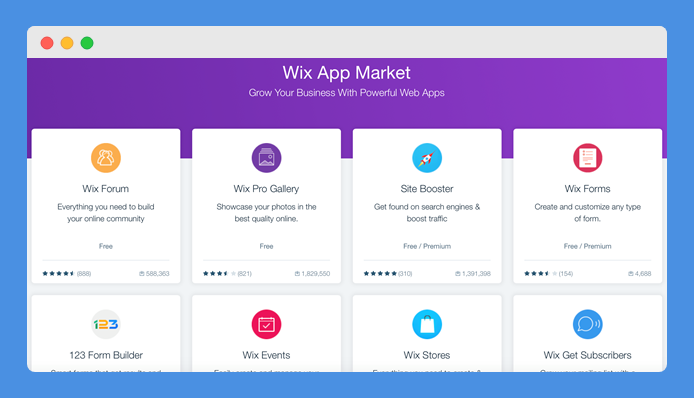 Most of the inbuilt apps and tools on Wix are amazing in their own ways. But they cannot always be perfect.
If there is something that these inbuilt tools cannot do, there is definitely a Wix app that can.
Our Pick
Wix - Free Website Builder
Whether you want to create your online presence, open a store, start a blog, Wix makes it all easier. Design and build high-quality websites using Wix. What's more, Wix lets you do it for free.
We earn a commission when you click this link and subscribe.
The Wix App Market has hundreds of amazing third-party applications that enhance the functionalities of your website. Simply put, there are some core tools and features that are not part of Wix's inbuilt tools.
To fill the void, Wix gives you access to alternative tools from external service providers.
From the Wix App Market, you can access amazing integrated tools such as live chat widgets, marketing tools, shopping carts and many more.
Most of these apps are free but there are some that are only available to premium Wix subscribers.
123FormBuilder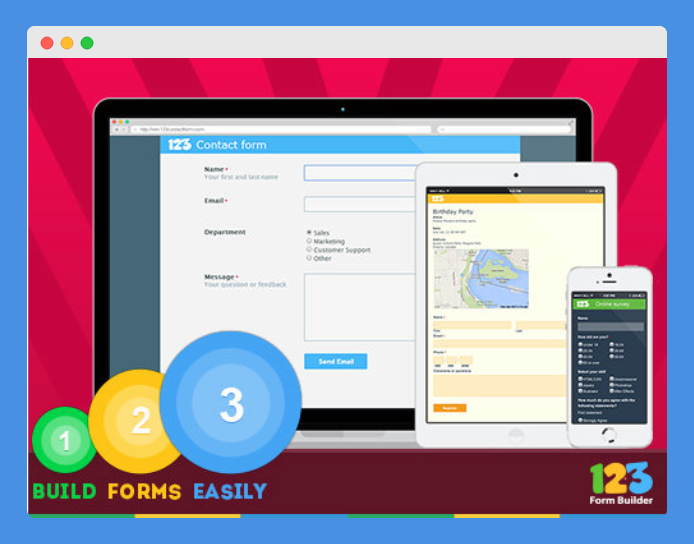 The 123FormBuilder is a cloud-based that is specially engineered to collect online and offline data for businesses.
This amazing platform offers unlimited data collection techniques such as questionnaires, surveys, polls, quizzes and even time-sheets.
Flip Books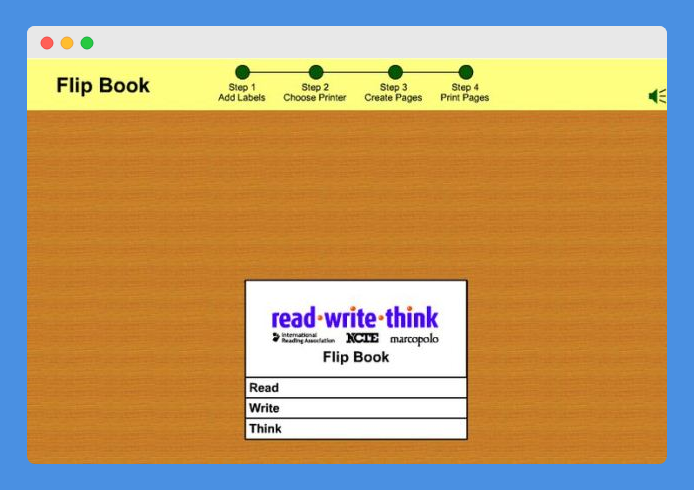 If you are involved in the business of producing printed materials such as brochures and magazines and want to make them available to your audience offline, then Flip Books is the perfect tool for the job.
What Flip Books does is that it designs and creates a digital version of every printed material you wish to have.
Our Pick
Wix - Free Website Builder
Whether you want to create your online presence, open a store, start a blog, Wix makes it all easier. Design and build high-quality websites using Wix. What's more, Wix lets you do it for free.
We earn a commission when you click this link and subscribe.
This makes it possible for users to turn virtual pages on-site without necessarily having to download the entire copy of the material.
Related: Wix vs Wordpress
Wix Help & Support Features
On the Wix dashboard, you will come across many question marks buttons spread across the entire platform.
However insignificant they may seem, these buttons are very helpful both individually and collectively.
Each of these buttons comes with a load of clever tips and hacks about the specific item they are attached to. Some of them even have video tutorials.
Whereas Wix does not have a live chat support function, you can still have your concerns and questions addressed by the Wix team through their various social media pages and Wix's official forum.
Wix Domains & Social Media Integration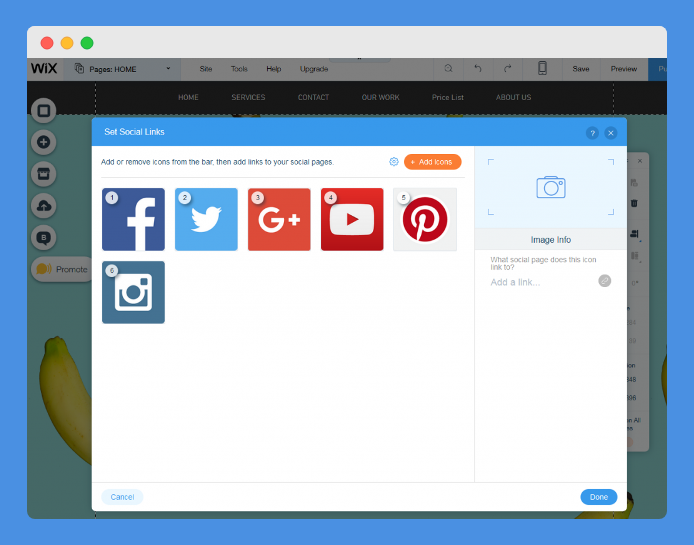 Once you sign up to one of Wix's premium plans, you will automatically get a free domain name in the first year.
If you are subscribed to a paid plan, you are also able to transfer an existing domain and link it directly to your Wix site.
Being able to link your website to your various social media accounts is a great strategy of increasing the overall engagement within the site.
The amazing thing about Wix is that it allows you to add various social media buttons such as the like button, share and feeds to your website. By having these buttons on the site, people can easily engage and follow you on social media.
The only thing that Wix has not been able to crack is the ability to implement multi-channel selling.
Currently, it is not possible to sell products directly on other platforms when using Wix like you would do with platforms such as Shopify and BigCommerce.
Search Engine Optimization
When it comes to Search Engine Optimization, Wix happens to be one of the best in terms of improving the page and web ranking of search engines. This is made possible by the various in-built SEO tools on Wix.
With these tools, you can add page titles, Meta descriptions and URL customization. There are also tools that enable you to tweak the header code.
In addition to in-built tools, there is a host of many other amazing tools on the Wix App market especially on keyword guidance.
Wix Ascend (Marketing)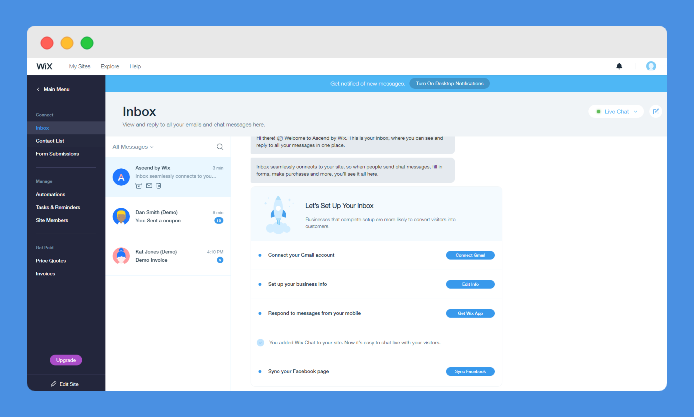 Just as the name suggests, the Wix Ascend feature is one of the tools that can help your business reach new levels.
This feature is an all-in-one solution for connecting with your customers, automating your workflow and promoting your business online.
So what makes Wix Ascend so different? The Ascend platform has a very ambitious package even if it does not offer as many marketing tools as platforms such as Squarespace and Weebly.
The Wix Ascend package has the following features among many others.
Live chat
Wix automations (like personalized messages and notifications)
Email marketing
Social media posts
SEO
Also Read: Best Landing Page Builders
Wix Pros & Cons
Pros
A very easy-to-use design editor that is highly intuitive
Wix has great value for money as you are able to access more for less
One of the most recommended website builders
Cons
After your website goes live, you cannot be able to switch the templates
You may have to spend some money on third-party apps for you to improve your website's scalability
The sheer size of customization features can be overwhelming at times
Wix Pricing
So how much is it going to cost you to use Wix?
Beginners can use Wix for free. They can build a basic website.
Wix premium plans include website plans and business packages.
Website plans start from $4.50 to $24.50/month.
The business/ecommerce plans start from $17 to $35/month. They also have an enterprise plan if you want to scale up. Contact them for a quote.
The features you get depends on the plan you subscribe to.
Wix also has a two-week money-back guarantee. If you feel that the tool is not right for your business, you can quit anytime.
Our Pick
Wix - Free Website Builder
Whether you want to create your online presence, open a store, start a blog, Wix makes it all easier. Design and build high-quality websites using Wix. What's more, Wix lets you do it for free.
We earn a commission when you click this link and subscribe.
Unbounce vs Wix – Which One Is Better For Your Business?
It is not a good idea to compare Unbounce and Wix based on a single aspect. We need to look at the features that are available on each of these tools and see how do they benefit.
Unbounce is specifically designed for creating landing pages while Wix is more of website builder.
Both of these are great tools to use. It depends on your requirement. If you want to bring your business online, use Wix. As you scale up, you will need Unbounce.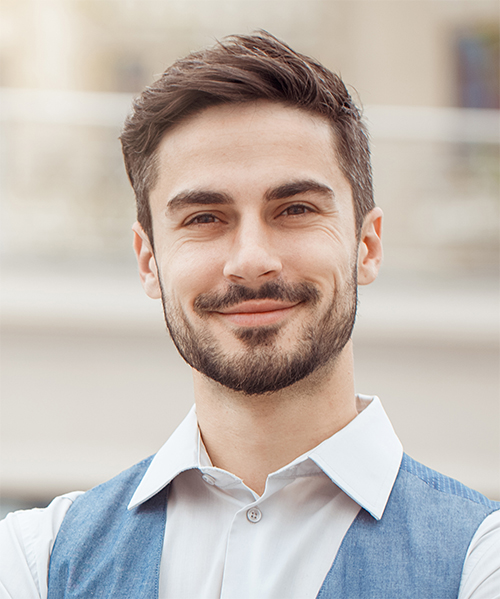 Author: Scott Macarthur
Scott L. Macarthur is a marketing consultant and an online author. He is mostly engaged in providing his expertise to startups and SMBs. He is also an author on TheNextWeb.