2016 is the year of the Omnichannel strategy for retailers. When you merge online and offline to deliver the best possible experience for your customers.
Back in the past these 2 things tend to be separated but today we can see how we can combine them to increase retail sales.
In-store Technology
In 21st Century, in-store technology make it possible to connect the worlds between ecommerce and physical stores.
This helps improve customer shopping experience and increase sales.
Useful Post : Best Tools For Your Ecommerce Business
At the same time more people prefer to research information online (65%) before purchasing than to ask sales associates for information (61%).
This makes a great use of in-store technology that can help increase retail sales.
Here are some examples:
Beacons (iBeacons) –
The term Beacons or iBeacons is a technology that allows brick-and-mortgage retail stores to send messages directly to the smartphones of their customers as they pass by.
They are a great way to track, engage and convert your customers.
This brings location marketing to a whole level when you can detect when the customer is walking past your store and you can deliver a timely message and encourage him to take action at the moment.
To make this possible Beacons are using Bluetooth Low Energy wireless technology that can detect devices  up to 100 meters.
Once a device is detected the Beacon can send a hyper-personalized message to the smartphone in case they have installed their mobile app.
Macy's is using Beacons to track the movements of their clients in their stores and provide relevant coupons, discounts and information.
Lord & Taylor is taking this further by personalizing the messages based on location in the store and past purchases.
iPads In Smart Changing Rooms To Request Different Sizes –
Imagine that you go in-store and you see a pair of jeans that you really like. Unfortunately, you're not sure about your size so you need to try several to see which one fits.
You go into the changing room and you try them but no one fits. You need a different one.
So you want ask the sales assistant to give you another pair but for some reason she's gone.
Because you don't want to deal with this any more you just leave the store and decide to not buy anything.
For the same reasons, retailers are losing millions per year.
To deal with this problem Macy's decided to create a smart changing room where they installed iPads.
They connect with their inventory-management systems which keeps a track all of their items.
With the iPad the customer or the sales associate can scan the item and find available colors and sizes.
That way if something doesn't fit the client, he can easily request another pair and call the sales associate for help straight from the iPad.
The client can also check customer reviews and rating about the product to make a better purchase decisions.
Interesting Read : Why Your Ecommerce Store Needs a Mobile App
Interactive Screens –
Macy's understand how much people like shopping online. That's why they wanted to implement some new technology to improve the experience in-store as well.
So they decided to implement an interactive touch screen kiosk for the customers who prefer to shop on their own, as opposed to coming to the counter and getting an assistance.
That way customers can get all the information that they need about the products available at store – all available colors and sizes. They can read customer reviews so that they can make really good purchase decisions.
Home Depot is selling more than 3,000 appliances. Most of the time there is simply not enough space to place them on the floor.
That's why they decided to create the Appliance Finder, a customer focused endless aisle experience that digitally brings the whole inventory to the sales floor.
With the help of the Appliance Finder, they managed to increase their sales by 10%.
Worth Reading : How To Increase Your Mobile Commerce App Downloads
Interactive Storefronts –
Who said that your store needs to even work to make use of technology?
Kate Spade took this further by launching their interactive storefronts that work 24/7.
That way shoppers can browse and order from a storefront touchscreen any time of the day or week. When ordering they can schedule a free 1 hour delivery to anywhere in the city and pay right from their phone upon delivery.
Use Oculus Rift To Check Products –
Sometimes it could be hard to review all products in store and to imagine how they would look like at your place.
To solve this problem some retailers are utilizing Oculus Rift technology and ritual reality apps to make this easier for customers.
That way Leroy Merlin has developed a virtual reality visualizer for kitchens. By using Oculus rift customer can view the entire catalog of ready-build kitchens.
They can view all models and details complete variety of flooring colours, wall finishes, countertops and cupboards.
Once customers put on Oculus Rift they can literally walk around and check how they would look like from all angles.
Amazon Dash Button –
This is more of an in-home technology that allows use of a device a size of ring, to order products from Amazon.
That way shoppers can order a product just by pressing a single button.
Each dash button is brand specific and it could be used for ordering a single product that ran out in the household.
That way when people run out of washing powder or blades, they can simply press a button and a new delivery will be made for them.
Use Ecommerce To Drive Offline Sales
Additionally to in-store technology, ecommerce can also be used to drive more people into brick and mortgage stores and increase offline sales.
People are still attracted to go shopping in a physical store because they want to be able to see, touch and try the merchandise.
So why not to encourage online visitors to come to your physical store?
Explore : Going Mobile – Mobile Website Vs Mobile App
The Benefits Of Online & In-store Shopping To Increase sales –
When shopping online people can read product reviews, use mobile payments, choose perfect size, color, check availability, etc.
Even if in-store shopping don't have this, it has other benefits like the ability to see the products in real life, touch them, try them, smell them and taste them.
These personal interaction can drive much more sales when shopping in-store, instead of online.
If your business is both ecommerce and bring-and-mortgage you have the opportunity to combine both the worlds and get benefits from them.
You can personalize the online information and make offers leading to more offline sales.
Interesting Read : Ecommerce Emails Your Customers Will Love
Online Promotion Of Store Locations –
When people are viewing products on your ecommerce store you can encourage them to visit your closest local store to see it before they buy it.
If customers are still unsure about their orders, this will be a huge benefit for them. They can visit your store, check out the products, get an assistance and make a better decision.
This will very likely improve your sales and will make your customers happier from their purchase.
Also, this could prevent return orders. Customers no longer has to make an online order of a pair of jeans just to realize that they don't fit them.
That way if they like how they look on your site, they can go and check them out in your store.
Related : How To Optimize Product Pages For Higher Conversions
Click & Collect –
Click and collect solves one of the biggest problems in the online shopping industry – the delivery.
According to a study 60% of online shoppers had problems with delivery online. And even if everything is ok with it, people just don't want to wait to receive their orders.
Illogical as it sounds, most shoppers would prefer to go and pick their order from the store. At the same time they don't want to spend all the time to visit your shop and find out that you're out of stock.
This is where the click and collect service helps. Customers can buy the product online and choose to pick it up at your local store.
That way he knows that you have the item available and at the same time he can get it as soon as possible.
Both John Lewis and Next used click and collect services and they found that it increased their online sales with 11.2%, while trading in its shops fell slightly.
Useful Post : The Ultimate Guide To Push Notifications For Retail Ecommerce Websites
Connect Ecommerce Apps With Offline Shopping Experience
75% of shoppers use their smartphones in store while only 25% would make a purchase with them while in store.
Most Store apps are created with the idea of online shopping only. However, they could be adopted to enhance the shopping experience in stores as well.
Related : Scale Of Impact – Mobile Commerce
Here's how:
Use Geolocation Marketing –
With iBeacons you take advantage of geolocation marketing and promote your offers to your customers on the point of sale.
At the same time you can use geolocation to show and promote the closest brick and mortar store.
Use this as an opportunity to provide more information about in-store products and deals.
You can also collect information about past visits to your store and sections visited so you get an idea of the kind of products the customer is interested into buying.
Providing Information About Products In-store –
Imagine that someone is checking a product in your physical store. You can use your ecommerce app to provide him with more information about the item – available sizes, colors, materials used, etc.
You can show product reviews of past customers and give limited time offers to stimulate purchases.
Explore : Best Ecommerce Mobile Apps
Customer Reviews –
At the moment of purchase or after that you can use your commerce app to encourage customers to leave product ratings and reviews.
You can encourage them to do so with discount vouchers for next purchases. That way they will be more likely to compliment your products and this will help you generate more sales from other customers.
Post Purchase Engagement –
We know that it's easier, cheaper and more effective to sell to existing customers.
So why not use your app to reengage them post-purchase and bring them back to buy more stuff from your store.
You can send them deals for complimentary products to the ones they bought, new collections or just discounts that are relevant to the customer.
Related : Key Metrics To Measure User Engagement For Mobile Commerce Apps
Combine Online & Offline
According to a Forrester research 71% of customers expect to review in-store inventory online. At the same time 50% expect to buy online and pick up in store.
Collecting Big Data –
Retailers collect as much information as they can online.
This benefits them in understanding the needs of their customers, improve experience and offer better products and deals.
As a result retailers will make their customers happier and at the same time they will increase the sales.
A store's CSM can be used to track when people buy things, when they need servicing, and when they might be ready to purchase a replacement.
Provide more options to buy – by combining both physical and online stores you're giving the ultimate choice for customer to choose how they'd like to buy from you:
They can buy a product online and get it delivered to their door.
They can view a product online, check it in store and buy it there
They can view a product online, check it there and buy it online
They can view a product in store and buy it later online
They can buy a product online and get it from the physical store
This flexibility makes things much easier for customers to buy from you and inevitably increases sales.
Worth Reading : Best Progressive Web Apps
In Conclusion
You don't need to choose between having an ecommerce store or a physical shop. You can combine both to maximize your sales and deliver the best experience for your customers.
By visiting your ecommerce stores people will be able to get more information about the items you're selling, check out product reviews and make better purchase decisions.
By visiting you in-store they will be able to see, try and experience your products in real life which will also help them make a better choice.
So why don't you take the leap to combine both offline and online activities to grow your retailer business?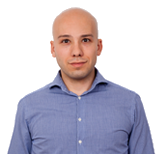 Author: Martin Zhel
Martin Zhel is an inbound marketing expert and Founder of Orior Creative. He specializes in SEO, content marketing & conversion rate optimization.