Editor's note: OptimizePress is an all-in-one Wordpress marketing tool that helps to create beautiful landing pages & funnels to drive up the sales and conversions. If you haven't already considered using OptimizePress, this post will help. Not only does it list its features & pricing, but everything you need to know to get started. For an all-round comprehensive Wordpress experience though, go for Wordpress plugin development services.
In this post, we are going to do a quick OptimizePress review. To begin with, let's understand what is OptimizePress.
OptimizePress is a WordPress plugin that allows users to create landing pages, membership sites, and sales pages without needing to know how to code.
It has helped to revolutionize online product selling and landing page design.
Founded in 2010 by James Dyson, OptimizePress is known as a solution that is powerful because of its ability to turn WordPress into a platform for creating sites for marketing, launching sales funnels, and for creating membership portals and landing pages.
After installing OptimizePress, you have immediate access to templates, or you can create a custom page to add what you need for success.
All the pages you create in OptimizePress are mobile friendly, which makes them easily user-friendly as well.
Is OptimizePress a Theme or Plugin?
OptimizePress is a Wordpress plugin that has inbuilt themes for its landing pages.
No matter what wordpress theme you have, you can now use the OptimizePress plugin with all WordPress sites.

We earn a commission when you click this link and make a purchase.
You can create custom landing pages and sales pages without having to change your current blog.
Worth Reading : OptimizePress Vs ClickFunnels
OptimizePress Features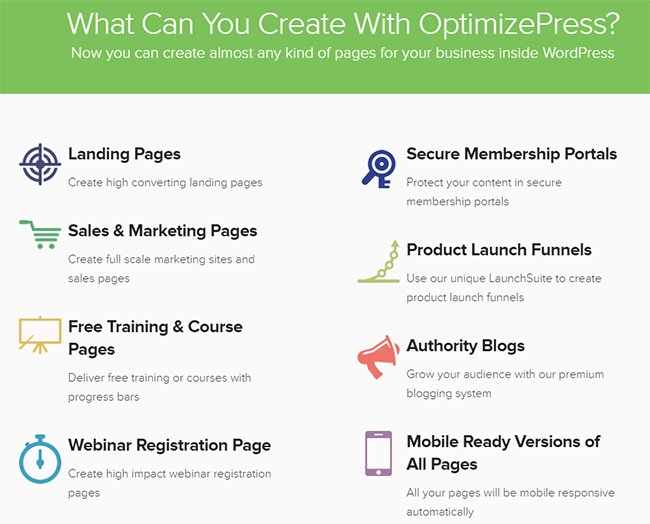 The best thing about the platform is that its point and click features make it simple for literally anyone, even those who are not website developers, to build websites that are stunning.
Having an impressive marketing website increases, sales, opt-ins, and conversions.
OptimizePress Landing Page Builder & Marketing
Instead of being stressed with trying to learn shortcode editors, OptimizePress has an innovative LiveEditor system to help you create layouts and build pages.
Here are some of the specific design options you can utilize:
Choose between 1 and 6 columns.
Add different colored rows, background images, or backgrounds.
Drag and Drop the elements you want to use to different columns.
Easily rearrange your elements to fit the design you want.
Add a large range of elements on your landing page with the Element Browser.
Change font style, color, and size or choose from any of the Google font choices.
OptimizePress Element Browser
The Element Browser library is innovative and offers the elements users need to build any landing page or marketing site.
Add features and illustrate them with feature box icons.
Choose when you want elements on your page to appear.
Drop-in navigation sidebars or pull different menus directly from WordPress.
Add a pre-designed bullet list with any of their numerous icons for bullets.
Insert video or audio.
Add buttons to your page by either selecting from pre-designed ones or creating customer buttons.
Interesting Read : Leadpages Vs OptimizePress

We earn a commission when you click this link and make a purchase.
OptimizePress Custom Product Delivery Sites and Membership Portals
OptimizePress makes it easy for you to create a secure custom members area.
Use categories, lesson pages, and subcategories to organize your content into memberships or products.
Use OptimizePress membership plugin that ensures your posts, pages, and content are secure.
Receive payments with major platforms like Paypal, Authorize.net, Infusionsoft, and Clickbank.
Other Features
Create high-converting Landing Pages.
Create sales pages and marketing sites with ease.
Course Pages and free training.
Create webinar registration pages.
Use LaunchSuite to create funnels for product launches.
Use their premium blogging system to grow your number of readers.
Who Can Benefit?
Any online marketer, business coach, speaker, summit leader, consultant, or almost any other expert can benefit from OptimizePress.
Whether you are a leader or a marketing agent, you can sell information to your target market efficiently.
OptimizePress Pricing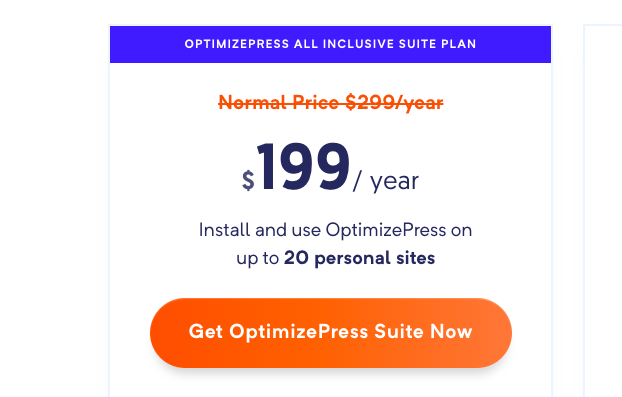 OptimizePress is one of the more affordable landing page builders, with a simple payment structure. OptimizePress pricing doesn't require you to pay monthly.
Currently, it offers a single plan priced at $199/year. You get the following features and more.
Build Unlimited Pages
Unlimited Leads & Traffic
SmartTheme WP Marketing Theme
Templates Cloud Access including 250+ Templates
23+ Premium Integrations inc Zapier
Priority access to our new product releases
Regular product updates & new features
Email Support from our global team

We earn a commission when you click this link and make a purchase.
OptimizePress Free Trial
Talking about OptimizePress trial, it does not offer one for free.
However, if you don't like the product, they will refund you the entire cost within 30 days.
Is OptimizePress Worth the Cost?
Like most websites that feature landing page builders, OptimizePress has features that set it apart from its competitors.
Specifically, OptimizePress is both affordable, and fully compatible with WordPress. Those two features make it valuable against its competitors.
If you are specifically looking for a plugin that works inside of WordPress, this is a great platform for you. OptimizePress has done a great job of making cost easy to understand and afford.
Final Thoughts – OptimizePress Review
We finally get down to the conclusion of Optimize Press review.
OptimizePress is sought out by some of the best digital marketers, copywriters, and content managers in their respective businesses, despite being one of many different software options for designing landing pages.
While it does have some weaker spots, or lack of services compared to some of its competitors, it is easily one of the best landing page softwares on the market today.

Author: Christy Bohrer
Christy Bohrer is a multi-topic blogger, with a passion for all things marketing and social media. She is a wife, mother, and entrepreneur. In her spare time, she enjoys traveling, language, music, writing, and unicorns. Christy is a lifetime learner, and loves to spend time attending classes, webinars, and summits.