Editor's note: When it comes to dealing with cart abandonment, a well-drafted and well-timed email can do the trick. The most effective cart reminder emails ensure they have a great subject line, are visually engaging, include offers, and more importantly, are sent at the right time. Take a look at this post to know what I'm talking about. Alternatively, you can take the services of a good Magento web development company like EbizON to understand what goes in the making and running of a successful Magento store.
A common occurrence you are bound to run into when running a Magento store is visitors adding items to their shopping carts only to leave your site without making any purchases.
It might seem senseless and bring you frustration.
However, you are not forced to sit back and watch those potential customers vanish.
There are some things you can do to bring those visitors back — specifically, sending out cart abandonment emails.
In this post, we are going to share some of the best Magento abandoned cart email templates. So stay tuned.
Related : Tips To Improve Magento Checkout Process
Why Send Out Cart Abandonment Emails?
According to Baymard, the average cart abandonment rate lies at 69.89 percent, and many studies place it higher.
This means that almost three out of four shoppers aren't going through with their online purchases.
There are many reasons why users abandon their carts, and understanding these reasons can help you in getting those visitors to come back.
Here is a list of the most common reasons for cart abandonments, according to Baymard: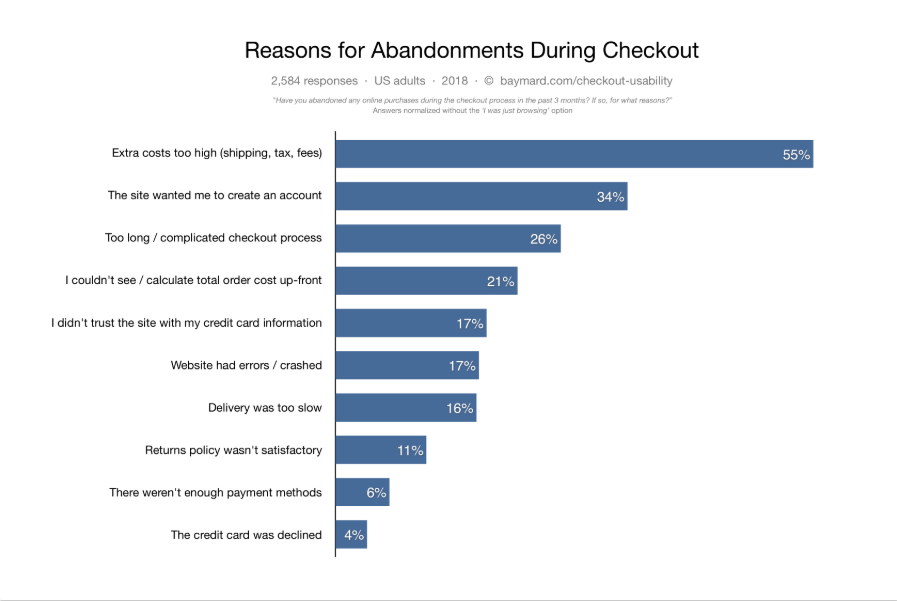 Note that these reasons are calculated after cutting out the "just browsing" category, which accounts for 58.6 percent of cart abandonments.
According to Barilliance, the distribution goes as follows: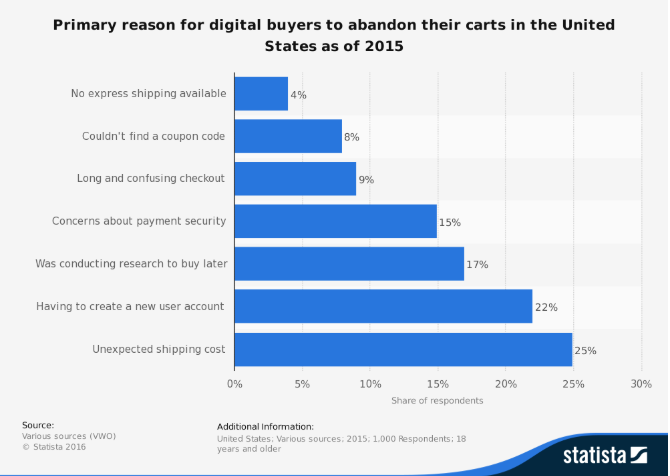 Whether a user abandoned a cart because they simply weren't ready to make a purchase, they were too busy, the price was too high, there was no free shipping.
The site crashed on them, or any other reason, a reminder email can bring them back.
If they simply didn't have enough time to complete the purchase, a simple reminder may suffice.
If they were unsure about their decision, a reminder that there is a limited quantity left can create a sense of urgency.
If the price was too high, a discounted price or special promo code may lure them back in.
The reality is that cart abandonment emails have an average 43 percent open rate and a conversion rate of around three percent, according to SaleCycle.
Related : Best Magento Cart Abandonment Extensions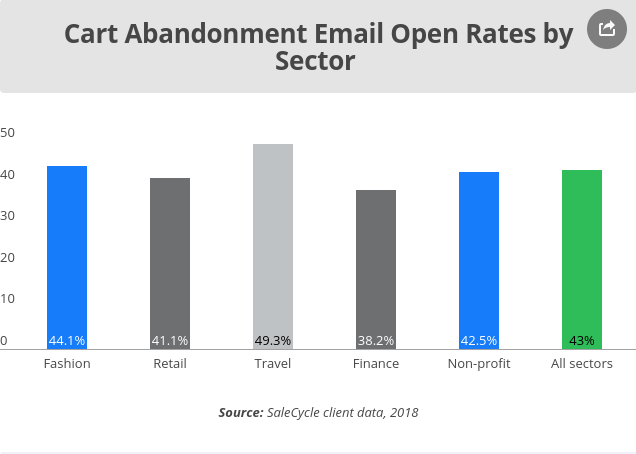 However, according to Moosend as quoted in the Barilliance article linked above, the rates for abandoned cart emails are as follows:
45 percent average open rate
21 percent average click through rate
10.7 percent average purchase rate
As you can see, email reminders for abandoned carts do work.
Some Tips For Effective Cart Abandonment Emails
There are a number of things you want to pay attention to when crafting cart abandonment emails.
We'll show some examples of actual emails soon, but here are some general tips to keep in mind:
Time It Correctly: The best time to send out cart abandonment emails is around one to two hours after the customer leaves your site.
Delaying it too long can cause them to forget about you or lose interest.
Create a Catchy Subject Line: The subject line should catch the viewer's eye and let them know immediately what the email is about.
Include a Picture: Including a picture of the items in their cart can increase your conversion rates.
Include a Discount: Giving them a special discount or free shipping can help convince them to make a purchase.
Offer Your Help: Offer to help them out if they have any questions or had trouble checking out. Create Urgency: Encourage them to make a purchase before stock runs out.
Create a Clear CTA: Have a clear call-to-action in your email.
Related : Ecommerce Emails Your Customers Will Love
11 Best Abandoned Cart Email Templates & Examples
Let's take a look at some great cart abandonment email templates that you can use as inspiration for your own Magento store's email reminders.
When looking for good abandoned cart email templates, you don't have to look any further than the giant of ecommerce itself, Amazon.com.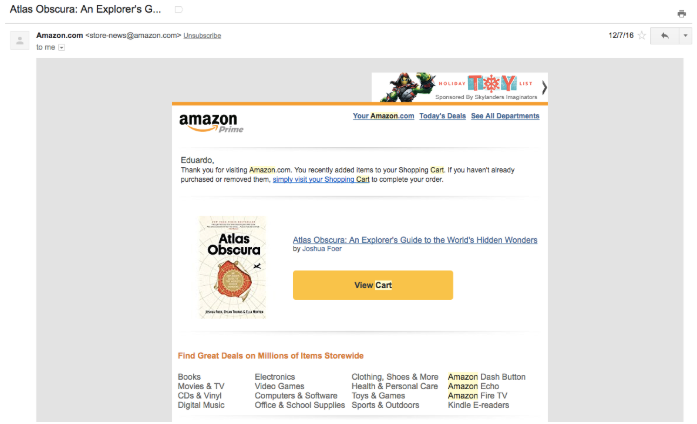 There are several aspects about this email you should take note of and adopt in your own reminder emails.
First of all, the subject line clearly references the name of the product.
Customers who are truly interested in an item will have their interest piqued when they see that product mentioned.
The email starts by thanking the reader for visiting Amazon's site, helping create trust and a connection. It goes on to remind them that they have an unfinished order.
The name of the product is clearly displayed, as is a picture of the product. There is a clear call-to-action button that users can click on.
Related : How To Optimize Your Product Pages For Higher Conversions
On the bottom, there are some links to alternative categories and offers the user may be interested in.
If you don't have the time or resources to come up with a fashionable abandoned cart email design.
Hello Merch's emails will show you that you are not out of choices.
While a great design will definitely help, the most important thing is to actually send the email.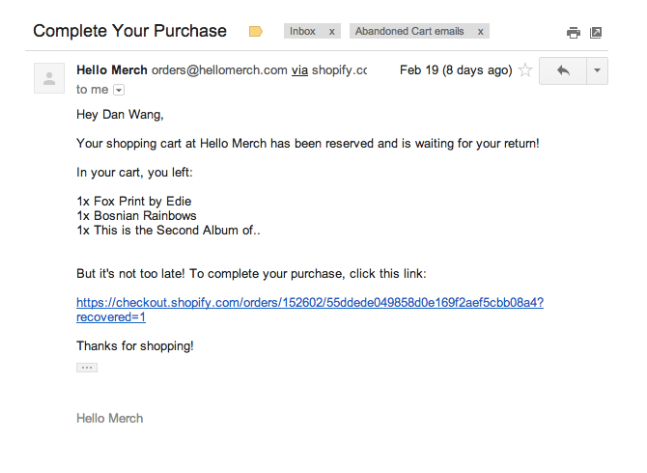 This email sticks to the basics. It only has plain text, without any pictures of the products or a theme.
Ideally, your email reminder should have those things, but make sure to test out different templates to see which ones perform better.
The email's subject line is clear and direct: "Complete Your Purchase." It then personalizes the email by greeting the user by their first and last name.
Personalization is a great tool you can use in all of your email communications, not just abandoned cart emails.
The email then goes on to list the exact products that were left in the cart. It then provides a direct link to the checkout page and ends with a thank you.
It's clear, to-the-point, and does the job. In short, it's a great abandoned cart email template.
We mentioned that offering a special discount or free shipping can help lure back customers who were unsure about their decision.
They were worried about whether they could afford the product, or thought that they may be able to find a similar product at a better price.
Wolf and Badger abandoned cart email template shows us how to reduce cart abandonments by offering special promotions in your reminder emails.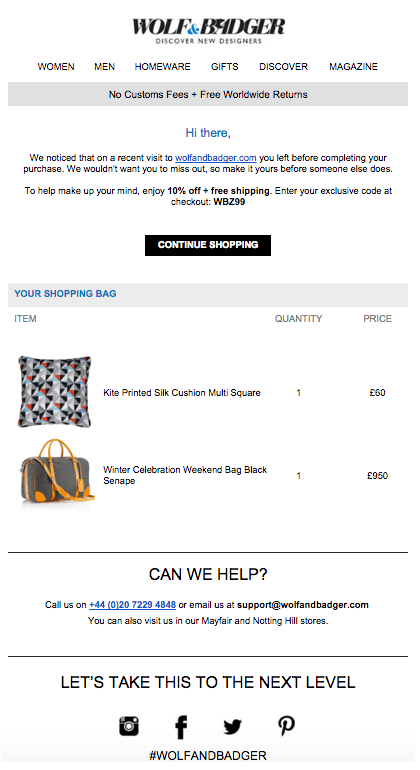 The email provides users with a special code that they can use to not only get a 10 percent discount, but to also get free shipping.
As we saw from the Baymard Institute, the most common reason for cart abandonments is unexpected additional costs for shipping and taxes.
Offering free shipping can help fix this problem.
There are other things we can learn from Wolf and Badger's email. This email is actually a great example to learn from.
As it incorporates many of the tips we mentioned earlier.
In their email header, their brand name and slogan are clearly visible.
It creates scarcity by using the line, "We don't want you to miss out, so make it yours before someone else does."
This both makes it about the customers as opposed to being about the company and creates a sense of urgency.
The call-to-action button is clear and direct – "Continue Shopping."
There are pictures of the product, along with the product title and the price.
At the bottom, there is a "Can We Help?" section, where they offer their support to customers who are on the fence about a product.
We saw that Hello Merch has simple abandoned cart reminders. Theirs may be a little too basic, but 53 seems to have struck the perfect balance between style and minimalism.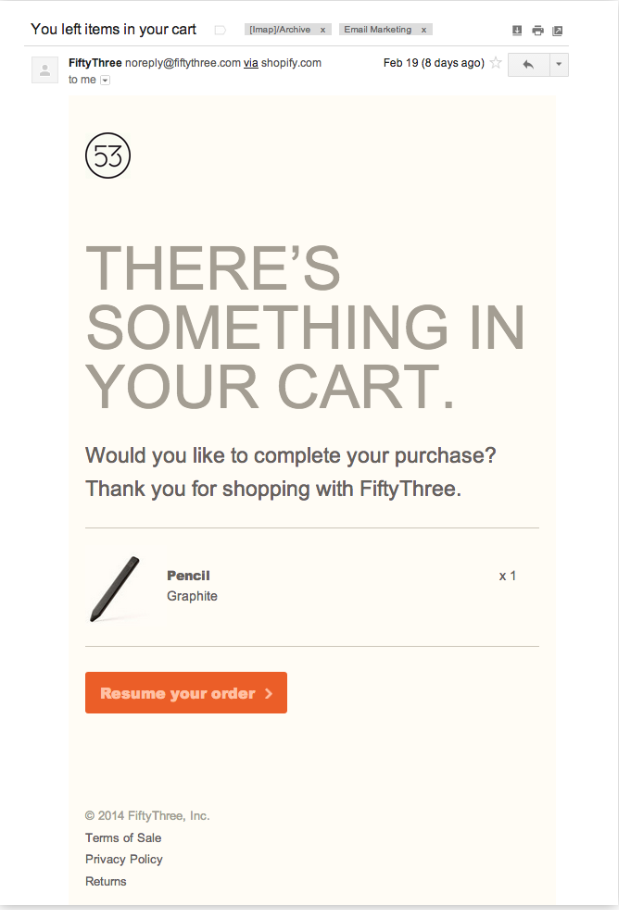 The email is direct and to the point – "There are items in your cart."
Unlike Hello Merch's email, 53 adds a little bit of color design to make the email more appealing to the eye. The same goes for the different text fonts.
It includes an actual image of the product as opposed to just listing it.
There is also a CTA button as opposed to a raw link, which will probably convert better.
Finally, they include the 53 logo.
Related : Best Abandoned Cart Email Plugins for Magento 2
Huckleberry's email is also a solid example of the kind of reminder email you want to be writing.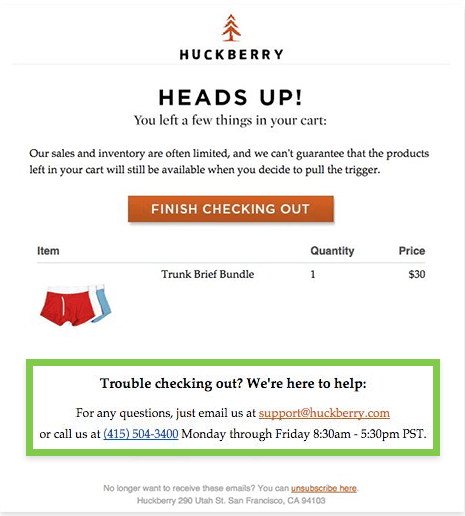 Their brand image and name is clearly visible at the top of the email, making sure that viewers know who is sending the email.
They go on to create a sense of urgency by using the line, "Our sales and inventory are often limited.
And we can't guarantee that the products left in your cart will still be available when you decide to pull the trigger."
There is a clear call-to-action button.
There is an image of the product, along with product information.
What's of interest to us is how they offer their support if the user has had any trouble checking out.
As mentioned, a common reason for abandoning carts is experiencing site glitches when checking out.
The 5th uses humor and puns in their emails while creating a sense of urgency at the same time. This makes them seem less pushy and promotional.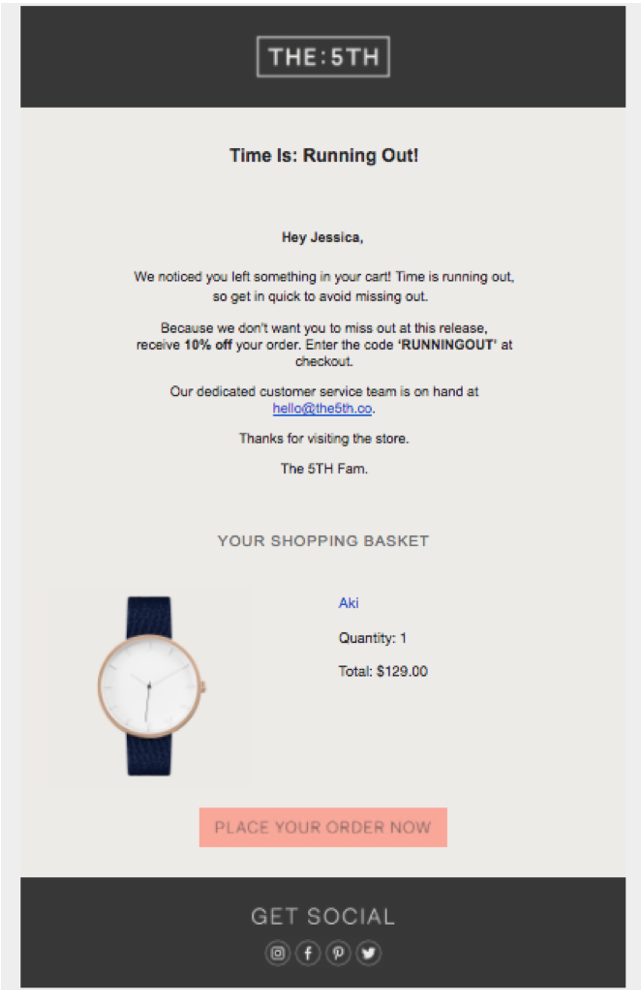 The email has some other important aspects as well, such as branding, personalization, a clear CTA, an image of the product, and an offer of customer support.
Most importantly, they offer a special promotion code for a 10 percent discount.
DoggyLoot's email is a great example of how to appeal to the right emotions when sending abandoned cart reminders.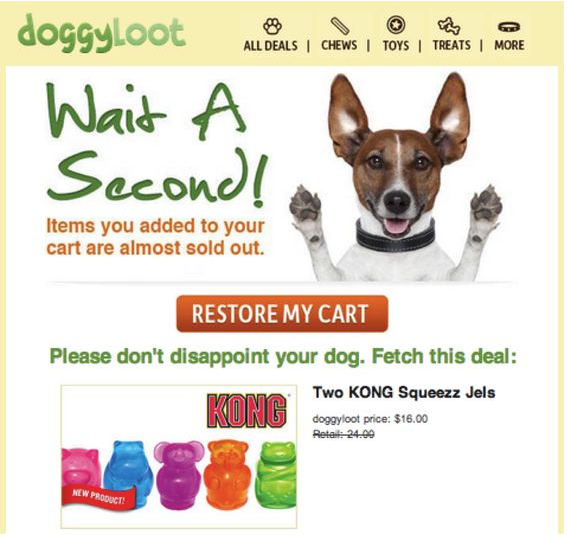 They use humor and a cute picture of a dog to capture the user's attention and put them in a light mood.
They also make it about the dog as opposed to it being about them. The line "Don't Disappoint Your Dog" will resonate with pet owners who love their dog.
Of course, there is also an image of the product, a discounted price, and a clear CTA.
8. Litmus
This free email template by Litmus and Email Monks shows you how you can use marketing in your email reminders.

Here are some interesting things to note:
A place for your logo
Social proof – X people have bought this in the past 24 hours
Clear product image
Clear CTAs at the top and bottom of the email
Customer reviews to sway undecided customers
A sense of urgency created by an expiring cart and the "Limited stock available" line
Russell Brunson is best known for being the author of DotCom Secrets.
If you are selling books, courses, or other info products, you will need to take a slightly different approach than the one used in most of the examples in this article.
His email reminder is a great example: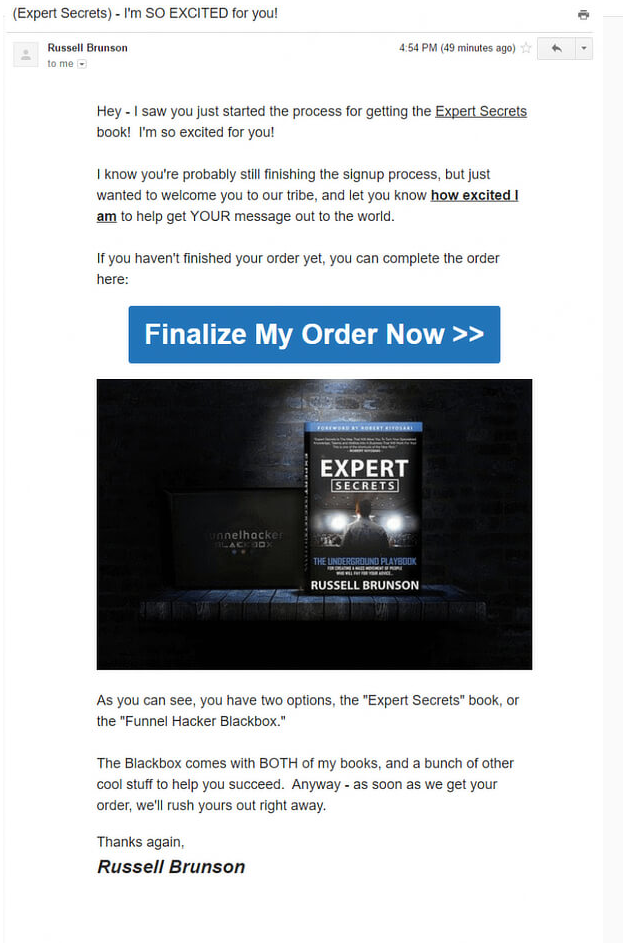 The thing that sticks out the most is the tone of the email and how personal it is.
In his emails, he focuses on creating a relationship and connection with his readers.
Here is an  email reminder from ASOS: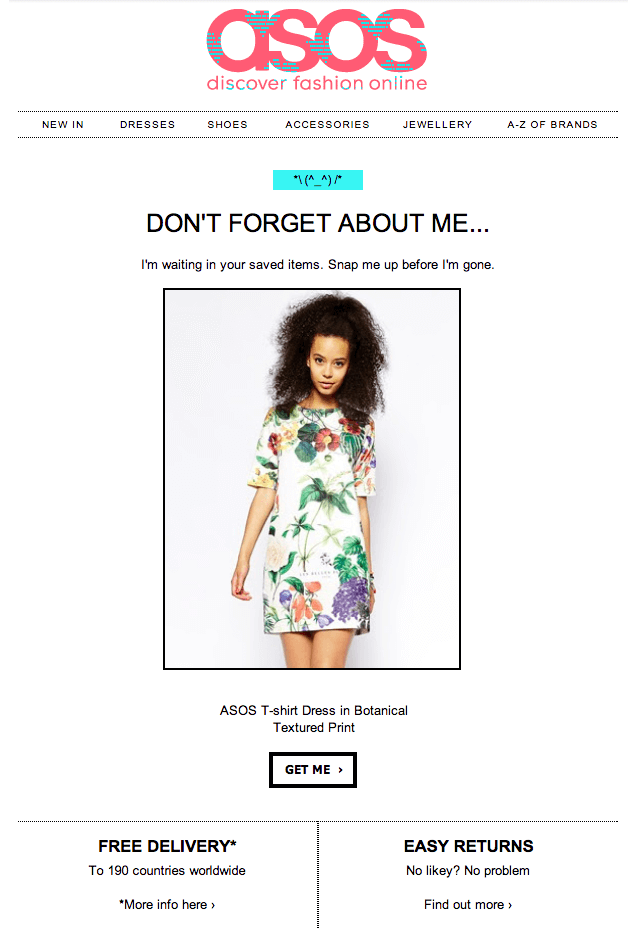 This is a great email reminder. It stresses their free delivery and easy returns services, the lack of which are often the cause of abandoned carts.
It has a great visual as well as excellent branding.
Chubbies' email reminder is a great example of how you can use a funny and humorous tone to avoid sounding too promotional.
They appeal to consumers' sense of pleasure by including a photo of a guy in shorts enjoying the beach.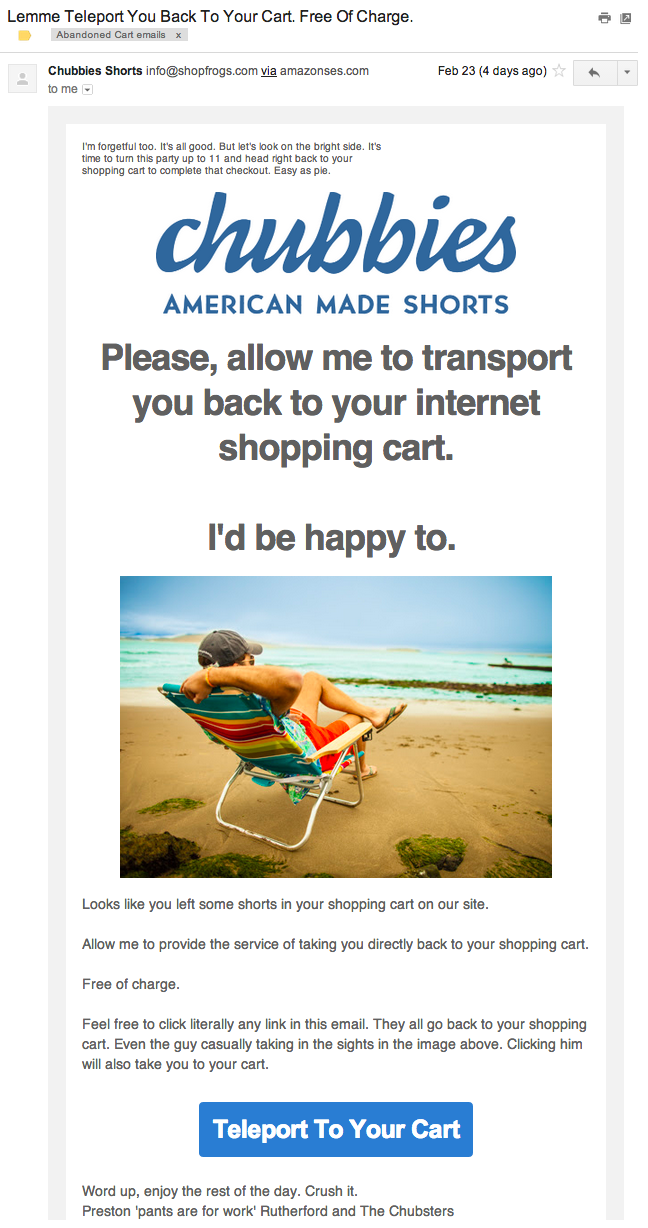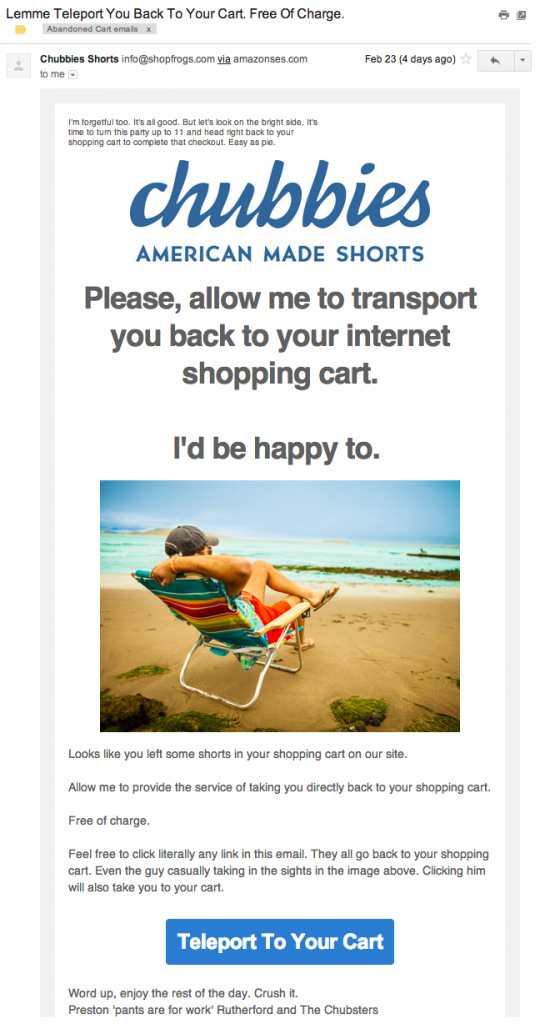 How To Send Out Magento Abandoned Cart Emails
Let's talk about how to send Magento abandoned cart emails.
In order to be able to send out email reminders, you must collect visitors' email addresses as part of the checkout process.
Some may shy away from adding an extra step to the checkout process. However, when you consider that the majority of users are going to abandon their carts anyway.
You will realize that collecting their email address is probably only going to give you more leads and increase your sales in the long run.
A good Magento abandoned cart extension can help you to send out Magento abandoned cart reminders automatically.
You can use these:
Wrapping It Up
Being able to create effective Magento abandoned cart reminders will increase your sales and help you grow your business faster.
These are some of the best Magento abandoned cart email templates that you can use as inspiration for abandoned cart reminders.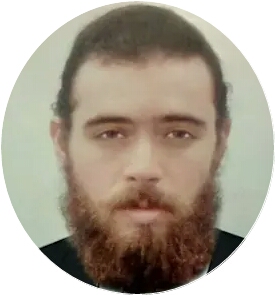 Author: Benjamin Levin
Benjamin Levin is a digital marketing professional with 4+ years of experience with inbound and outbound marketing. He helps small businesses reach their content creation, social media marketing, email marketing, and paid advertising goals. His hobbies include reading and traveling.