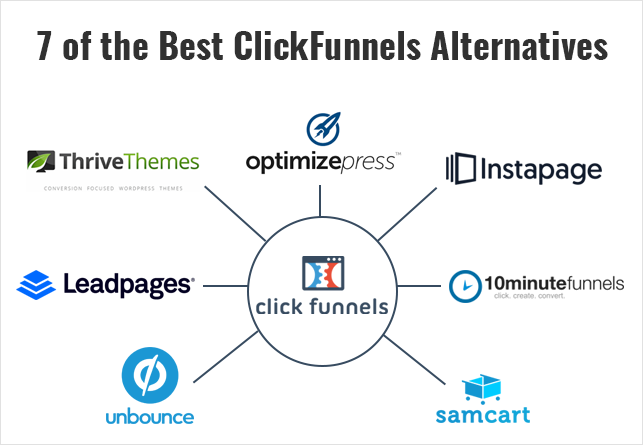 If your company is searching for a reliable sales software solution, you may have come across ClickFunnels.
While ClickFunnels is a perfect solution for some companies, it may not be a perfect fit for yours.
Whether you are looking for different services or a lower price, if you are looking for an alternative solution, there are plenty of options out there.
Finding the right alternative means searching alternative products to compare them with each other. Comparing the features and prices will help you determine which solution is right for you.
Here are seven of the best ClickFunnels.
Leadpages is known for being one of the first landing page solutions on the market. Because it is one of the first landing page builders, the developers at Leadpages have had time to reform and upgrade their offerings to fit customer needs.
Leadpages is different from ClickFunnels because it's focus is more on landing pages than sales funnels; however, creating funnels is still a possibility, it just takes a little more work.
There are over 130 different templates to choose from, you can create your own, and if those options don't work, it also has templates from Themeforest that cost between 10 and 30 dollars.
Some of their features include:
Two different landing page editors, one for beginners and one for advanced users. The basic edition offers more help and the advanced edition allows users full ability to customize however they want.
Leadpages offers webinar hosting.
Members can create popup windows to show up anywhere on the page and help get visitors to sign up for e-mails or services.
Easy integration with most e-mail providers, membership sites, and webinar platforms.
Pricing
There are three different pricing tiers which include standard, pro, and advanced. Standard pricing is 37 dollars a month, the pro pricing is 79 dollars a month, and the advanced annual pricing is 199 a month.
The cost of using Leadpages makes it attractive to many businesses and a bonus is that it offers a 14-day free trial to explore what the site has to offer.
Known for being a landing page builder that is more sophisticated than competitors, InstaPage offers its members the ability to create their entire funnel on the platform.
While InstaPage does not currently integrate with membership platforms, its web based editor is superior to all other funnel builders.
It offers over 200 optimized templates and the drag and drop editor is easy to use and allows you to customize everything on the pages you build.
Here are a few of the other great features of InstaPage:
Built-in analytics tool to analyze the performance of your pages.
A/B testing results available in the dashboard.
Heatmaps, allowing you to optimize your landing page and track visitors, to know which elements they click on and how far down the page they scroll.
Pricing
Like Leadpages, InstaPage has three different tiers for pricing. The Core Plan is 68 dollars a month, the Optimizer Plan is 113 dollars per month, and the Team and Agency Plan is 203 dollars each month.
While SamCart doesn't have a focus on building landing pages, it is considered the easiest shopping cart solution in the world for small business owners. SamCart is a good option for anyone who wants to build a membership site.
For people who are not selling memberships, SamCart is also good for selling e-books, digital downloads, and physical products.
Here are some of the other features of SamCart:
Creating funnels.
Customized sales pages, upsell and downsell.
Gateway between WordPress sales pages and checkout success pages.
Easy integration with major tools like Paypal, HubSpot, Drip, Stripe, Zapier, and OntraPort.
Pricing
After their 14-day free trial, there are three pricing tiers that can be paid monthly, or can be purchased annually for a discount.
The three plans SamCart offers are its basic, pro, and premium options. The basic plan is $19 a month, the pro plan is $99 a month, and its premium plan is $199 a month.
If you want to use upsell features, the pro plan is where you will need to start.
4. 10 Minute Funnels
For anyone who is looking for an easy way to make websites, web pages, and marketing funnels, 10 Minute Funnels is dedicated solely to that purpose.
It allows people or businesses to create effective marketing systems and professional websites with easy and affordability.
10 Minute Funnels has a lot to offer its users. Besides being an easy to use website and marketing funnel builder, here are some of the other features:
Drag and Drop building that is simple and instantly integrated.
No limit on the number of pages to your website.
Ability to create landing pages, home pages, video pages, live event pages, thank you pages, order forms, opt-in lead generation pages, sales pages and more.
No need for technical skills, tech free set up.
Mobile responsive.
Complete hosting which includes secure websites that move quickly.
Built in analytics, SEO, shopping cart, split testing, social media links, and plenty of widgets.
24-hour support.
Pricing
For $1, you can try any price plan for 14 days. After the 14-day trial is up, there are two different plan options, premium and enterprise.
The Premium membership is $97 each month, or $997 per year. The Enterprise membership is $197 a month, or $1,997 each year.
While the price of 10 Minute Funnels is higher than some of the other funnel builders, the number of features and services available make it worth it for many businesses.
5. Unbounce
Since 2009, Unbounce has been focused on helping customers create landing pages to enhance their marketing experience. Since its start, Unbounce has helped to revolutionize page building experiences.
It has been named one of the fastest page building services and has helped big brands like Vimeo, New Balance, The New York Times, and Hootsuite.
It has many features that are all designed to help its users build, integrate, convert, and optimize their landing pages. Here are some of their features:
Unbounce Builder: drag and drop builder, mobile friendly, dynamic text replacement, and targeted convertibles.
Unbounce Convertables: Target landing page visitors at the perfect moment, set custom frequencies, and integrate wit anything.
Templates: Create custom convertables from over 125 high-converting templates, or design your own from scratch.
Conversion Tools: Unlimited A/B testing, lead generation and conversion optimization tools, lightbox forms, brandable lead notifications.
Easily integrated with e-mail, CRM, and analytics tools like Zapier, MailChimp, WordPress, Hubspot, Marketo, and Salesforce.
Pricing
Unbounce has three different packages that are priced depending on whether its members want to pay monthly or yearly for services. The Essential package costs $99 a month and allows users to create up to 75 landing pages and 8 Convertables.
The Premium package is $199 a month and allows clients to build up to 150 landing pages, 16 Convertables, and also have access to sub-accounts and better conversion tools.
The Enterprise plan has a starting point at $499 a month but the cost is determined by what an enterprise member needs. Enterprise members get all the Essential and Premium benefits plus their own Launch Specialist and Success Manager to help them maximize ROI. They also get 375 plus landing pages, and a minimum of 40 Convertables.
6. Thrive
Thrive Themes is a WordPress plugin that is known for having the most comprehensive drag-and-drop landing page builder on the internet. It is also praised for being one of the most affordable landing page builders.
People who use Thrive Themes have access to more than 160 templates for all different types of businesses. For entrepreneurs and small businesses who are either just beginning or in the intermediate phase of their business, Thrive Themes is a great option.
Some of its features include:
Thrive Leads allows users to create opt-in forms.
Thrive Content Builder helps members create amazing content, easily.
Thrive Ultimatum helps people build scarcity campaigns for conversion boosting.
Publish landing pages to your WordPress site.
Thrive Headline Optimizer helps users produce content that is engaging.
Cleaver widgets help people create content that is targeted for widgets.
Pricing
Thrive Themes is considered extremely affordable because people who want to sign up for it page a one-time cost only. For single sites, it is a one-time fee of $67 and for multiple sites, it is a one-time of $97.
7. OptimizePress
Similar to Thrive Themes, OptimizePress is also a WordPress plugin. The difference is that it was developed specifically for helping people create landing pages, membership sites, and sales pages, for WordPress. It is a landing page builder, but it is also a lot more than that.
OptimizePress has so many features, here are some of the top ones:
Marketing Page Builder: Innovative LiveEditor system for creating layouts and building custom pages.
Element Browser: Offers the elements users need for building landing pages and marketing sites.
Membership Sites and Custom Product Delivery Sites: Create secure areas for custom members.
WordPress Themes and Plugins: Works with all WordPress sites so users can create custom landing pages and design sales pages to be added into their current blog.
Create webinar registration pages.
LaunchSuite: Create funnels for product launches.
Premium blogging system to grow readers.
Pricing
OptimizePress is considered more affordable than some landing page builders, with a simple payment structure for either the Core, Publisher, or Pro plan. There is a one-time fee for a year and no automatic rebilling at any point.
All of the plans include one full year of support and updates. After a year, if users still want to use OptimizePress, the yearly cost for keeping your updates and support is $39.
The Core package is a one-time fee of $97 and gives members up to three sites. The Publisher package is a one-time charge of $197 which includes all of the Core features while adding several new ones.
The Pro package is for small businesses, advanced marketers, and enterprises who want more than ten websites. Its cost is a one-time fee of $297 and it includes all of the Core and Publisher features, and more.
Conclusion
With so many different choices, it can be difficult to pick the right solution that will meet expectations and honor budget limits. When comparing different ClickFunnel alternatives, it is important to compare more than just the features.
Clickfunnels is also sometimes compared with shopify because of its commerce features. Check Clickfunnels vs Shopify comparison here.
Cost, mobile device accessibility, customer support, and integrations are also important considerations.
If you thoroughly research each of the different platforms, you are sure to find a software that has all the elements you desire at a price you can afford. Each of the platforms have something unique to offer. It is just a matter of finding which one is right for you.
Christy Bohrer is a multi-topic blogger, with a passion for all things marketing and social media. She is a wife, mother, and entrepreneur. In her spare time, she enjoys traveling, language, music, writing, and unicorns. Christy is a lifetime learner, and loves to spend time attending classes, webinars, and summits.