We all have special places – countries, cities, towns – where we had the best experiences, which are now memories. One way to sustain these memories is by printing a map.
If you had your wedding in London for instance, you'll easily recollect the experience when you stare at a London map on your wall. You can even place the location icon on the particular location where the event took place and some reminiscing words.
There are many services that let you print maps. To have the best prints, you'll need a service that allows as much personalization as possible. Mapiful is a map printing service many people vouch for.
In this article, I'll be reviewing Mapiful, covering its service offerings, pricing, coupon codes, and more.
What Is Mapiful?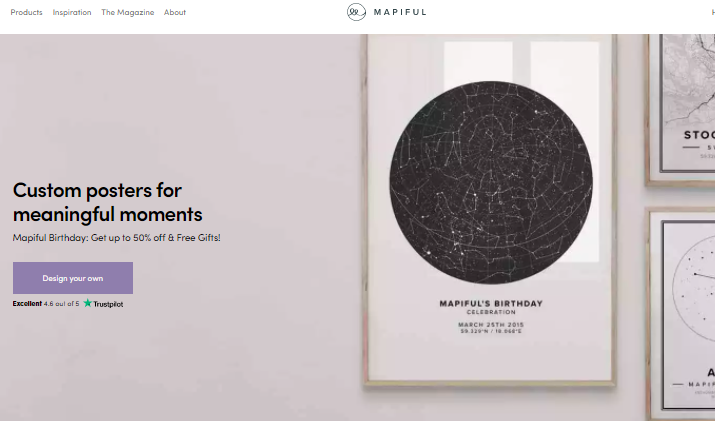 Mapiful is mainly a map printing service that allows users to print maps of places on posters and frames. The platform was launched to encourage the daily celebration of the best memories.
Mapiful is managed by a group of 13 staff with Edwin Brobeck as the CEO. They take pride in being environmentally responsible by offering sustainably-sourced and FSC-certified prints.
The company is European-based with a headquarters in Stockholm, Sweden. Notwithstanding, you can use Mapiful anywhere you are in the world. Mapiful is able to serve a global audience as they have printing facilities in different countries – up to 30 of them.
Currently, Mapiful boasts of an online community of about 350 thousand users. In addition, users have created more than 250 thousand customized map prints since its launch.
Aside from map posters and frame printing, Mapiful also offers custom printing on nursery items. All products on Mapiful are paid for – there's no subscription.
Also Read: Best Print on Demand Book Companies
How It Works?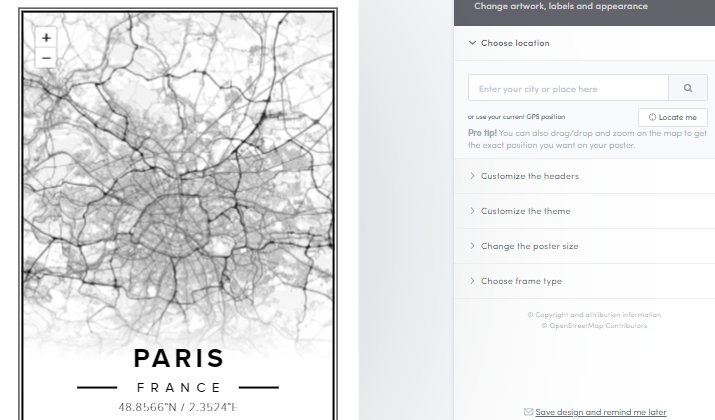 Mapiful works more or less like a print-on-demand platform. You simply browse through the product catalog, choose any, and add your designs – maps, text, photos, etc.
To select the perfect product, you can sort by categories, color, size, material, popularity, and price. You can order as many prints as you'd like – you get a discount on bulk orders.
After selecting your products, and adding them to the shopping cart, you must make payment before you can customize them. For maps, however, you can select a location to preview before paying.
You can either zoom-in-zoom-out the map to select a location, use the GPS to read your current location, or simply enter the city/place name. Afterward, you customize the labels, style, size, and frame.
Once done and you submit, Mapiful prints your products and ships them to your location. The products are usually delivered in protective sleeves, cardboard tubes, or a cardboard flat pack.
For this Mapiful review, let's take a look at each of its major features.
Explore: Best Print on Demand Sites
Posters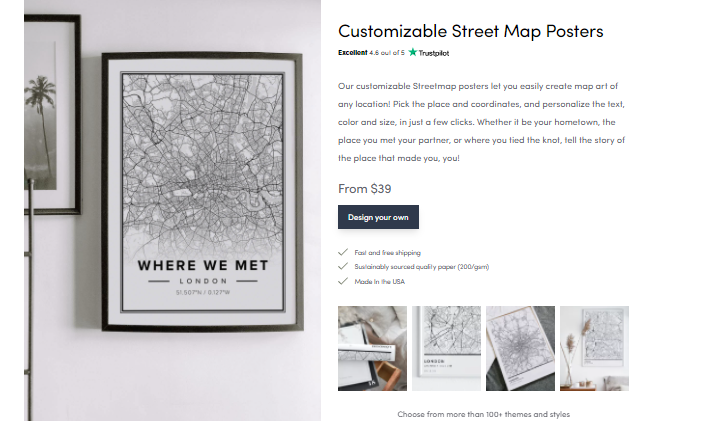 Posters are the main product for map printing. There are five different poster types on Mapiful – Street Map Posters, Star Map Posters, Line Art Posters, Zodiac Posters, and Text Art Posters. Their descriptions say a lot about their differences.
The Street Map Posters are simply square map arts. On the other hand, Star Map posters are circular map arts. There are more than 100 styles and themes – for both Street Maps and Star Maps – to choose from and they are all Scandinavian designs.
As you'd expect, Line Art Posters lets you print line arts. These can be anything – car, house, pet, person – but usually not maps unless you're printing a route rather than a map.
Zodiac Posters are similar to Star Map Posters but rather than maps, they feature unique star/zodiac signs. They are also just as customizable.
With Text Art Posters, you can create image prints using text-mosaic design.
Also Read: Best T-shirt Mockup Ideas For Dropshipping
Frames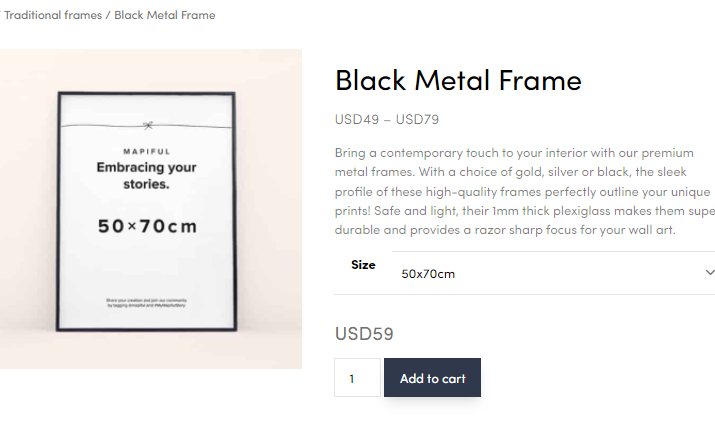 Mapiful offers two types of frames, full frames, and hangers. When you purchase this product, you get just an empty frame where you can put your map prints or any other image.
Note that while the posters come with frames, they're not as sturdy as these full frames. The high-quality frames are made using plexiglass, metal/wood, and are about one mm thick.
There are different color options including black, gold, white, and silver. In addition, the full frames are available in different sizes including 30x40cm, 50x70cm, 70x100cm, 11×17″, 18×24″, and 24×36″.
The hangers are not full frames, they feature just a top and bottom frame border and a hanging rope. There are very limited options as you can only choose between the black poster hanger, wooden poster hanger, and white poster hanger.
Nevertheless, you can count on their durability and the magnetic design ensures your poster is fully visible.
Check Out: Best 3d Print on Demand Services
Nursery Collection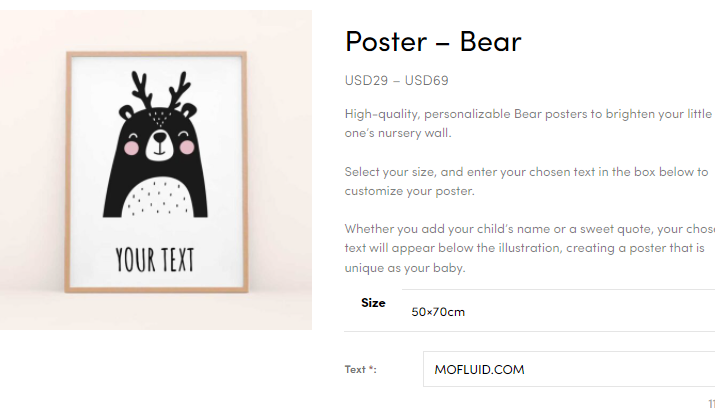 You can order quality art for your nursery from the Mapiful nursery collection. This includes nursery prints, tote bags, and onesies.
The nursery prints solely feature animated animals and custom text posters. There are 10 different posters available featuring bear, bunny, cat, fox, giraffe, hippo, lion, panda, penguin, and tiger. For the text, you can simply enter your kid's name or a quote – or any other thing.
The tote bags aren't different except that they're bags and not posters. You still have to choose from the same 10 animated animals and enter a custom text. Notably, the tote bags are made from 100 percent cotton with reinforced stitching on the handles and a 10-liter carrying capacity.
Last on the nursery collection are the onesies – for babies. Again, you have to choose between 10 animated animals and enter a custom text. However, you can choose between different sizes.
Note that the onesies and tote bags are only available in the color white.
Explore: Best Australian Print on Demand Companies
Print Quantity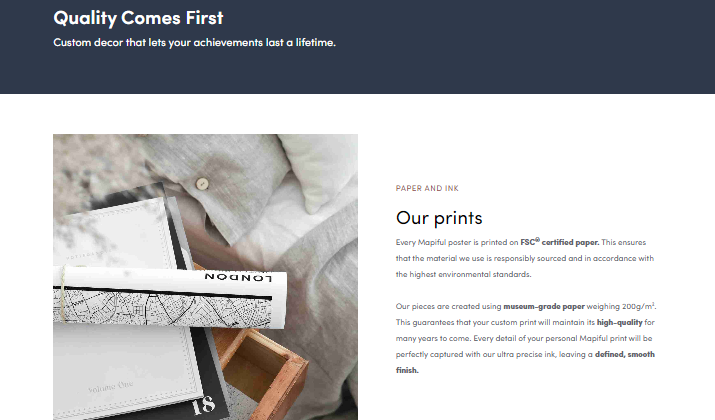 Mapiful is particular about the quality of all its prints. The posters are printed on FSC-certified paper which is environmentally friendly. Also, the papers weigh about 200g/m², they are heavy and museum-grade which confirms their durability.
The prints are made using ultra-precise inks so what you get is a sharp, smooth finish.
Mapiful's frames and hangers are made from solid and high-quality materials which are also FSC-certified. The full frames are easy to mount and lightweight despite their sturdiness. For the hangers, the hanging cord is made using premium leather.
When shipping, the prints are wrapped in protective silk covers.
As mentioned before, the tote bags are made from 100 percent cotton. The material is about 310 – 400 g/m² thick. The onesies are no different and, in addition, the cotton is optimized to be comfortable on babies' skin.
Payment Options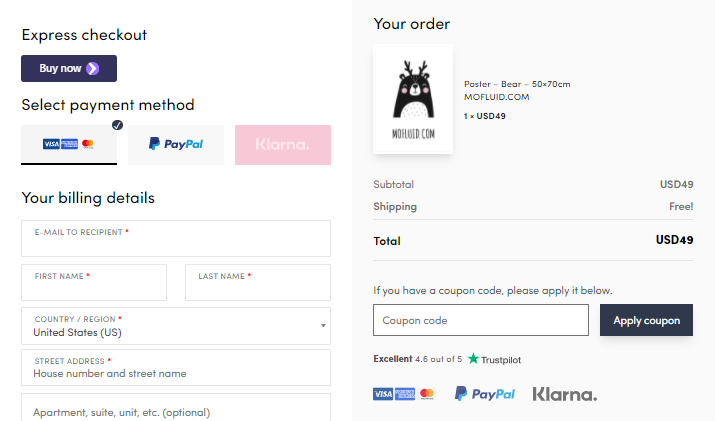 You have a variety of payment options with Mapiful. The two main payment options are Stripe – for card payments – and PayPal. For card payments, the platform only supports Visa, American Express, and MasterCard.
In addition to the above, you can pay for orders using Klarna, Sofort, Apple Pay, and Google Pay. However, this depends on if the payment providers are available in your country.
As a platform that serves global users, Mapiful accepts payment in multiple currencies. This includes EUR, USD, AUD, CAD, GBP, SEK, NOK, DKK, MXN, KRW, and JPY.
You can switch currencies at any time – while shopping or during checkout. Usually, the currency adjusts when you choose your shipping region/country.
Mapiful doesn't require account registration so if you're making payment for the first time, you'll have to provide your billing details. This includes email, name, country/region, street address, ZIP, town/city, and mobile number.
Also Read: Best Canadian Print on Demand Companies
Shipping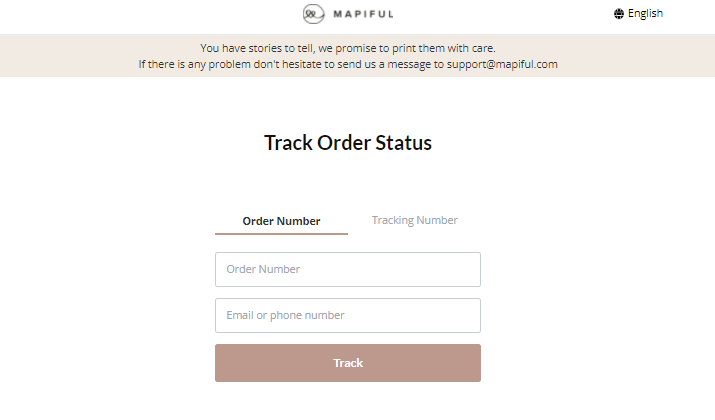 Mapiful ships using different shipping companies. Once you place an order, it's printed and shipped from the printing facility closest to you. The shipping options you have depends on your country.
If you're in the US, for example, you can choose between DHL Express, DHL Global Parcel, and FedEx. Meanwhile, If you're in Japan, you only have the Yamamoto Transport Company.
All Mapiful shipping partners feature tracking. You'll get a tracking link within a business day once your product is ready to ship.
Mapiful ships to almost every country with Brazil, Russia, and Saint Pierre & Miquelon as the only notable exceptions due to customs issues. Standard Shipping, which takes 6-10 business days, is free for all.
You only pay if you opt for Priority Shipping and Express Shipping. Priority Shipping and Express Shipping take 4-6 and 1-3 business days respectively within EU/EEA. For the rest of the world, they take 4-8 and 2-4 business days respectively.
Affiliate Program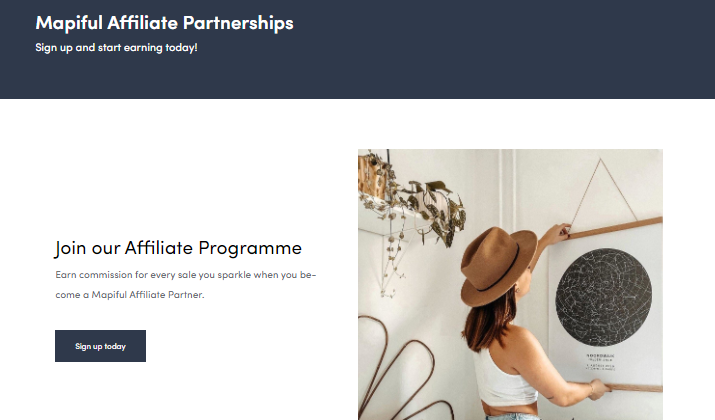 You can earn money through the Mapiful Affiliate program by promoting products and making sales. Typical of affiliate marketing, you get a commission whenever you record a sale.
To join the affiliate program, you must sign up. Afterward, you get an affiliate link to every Mapiful product which you can share on your social media pages, website, or blog.
However, for you to get approved, you must pass the review process. In particular, Mapiful doesn't approve cashback sites and voucher sites for its affiliate program.
Once approved, you can order a test print using a voucher. Hence, you can confirm the quality your audience will receive and also shoot promotional content with it.
Monetary value is not all you gain from the affiliate program – you also get exposure. You gain exclusive access to Mapiful content and trend reports.
Notably, you could be featured on the platform's social media platforms and magazines – for fab performances.
Also Read: Best Print on Demand Sites For Artists
Collaboration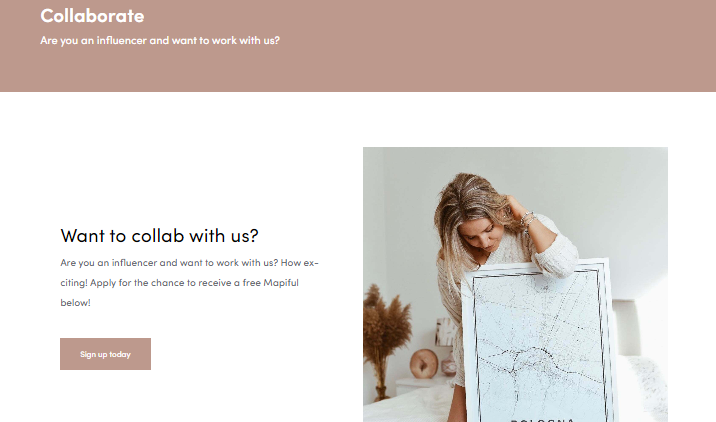 Mapiful is open to collaboration from influencers on social media. This is a promotion pact whereby the influencer posts about Mapiful on their social media pages and gets rewards.
For the first time, the influencer receives a voucher worth $60 after uploading a post and two stories. The preferred social media platform is Instagram.
As an influencer, you need to sign up and take a short interview to join the Mapiful collaboration program. The questions will primarily be about the strength of your social media influence.
You'll have to choose your preferred social media platform – Instagram, YouTube, or TikTok – enter your username, number of followers, engagement rate, topics you normally post about, and other influencers or celebrities that inspire you.
After applying, the platform's admins review your application and if you qualify, you'll get a campaign email with details on how the collaboration will work.
Community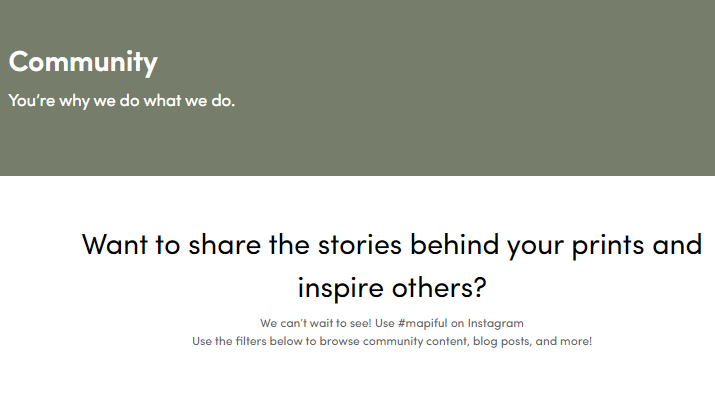 All Mapiful users, affiliates, and influencers are part of an online community. Unlike most community platforms, the Mapiful community is only alive on social media – mainly Instagram with the hashtag "#mapiful".
Hence, to join the Mapiful community, all you need to do is add #mapiful to your social media posts; ideally, those featuring your designs and maps.
When you browse through posts containing the #mapiful hashtag on social media, you'll be able to discover other Mapiful users. Currently, there are over 40,000 posts in the Mapiful community on Instagram.
The community page on the Mapiful website features just Instagram posts containing the #mapiful hashtag. Interestingly, for every post you view, you'll see the product and can start creating yours with just a click.
Aside from #mapiful, users also use other hashtags such as #mapifulfamily, #mapifulposter, #mapifulpartner, etc.
Explore: Cheapest Print on Demand Sites
Customer Support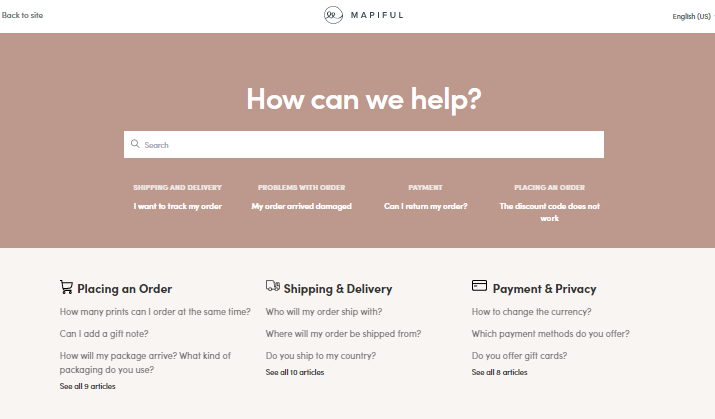 Mapiful offers support to customers via different channels. You can contact Mapiful directly by submitting a contact form. All you need to do is enter your email address, subject, order ID (if necessary), question, and description. Notably, you can add attachments.
The next support option is the help center and FAQ. On this page, you'll find guides and answers to questions on various topics. This includes Creating a Mapiful, Retail & Business, Placing an Order, Shipping & Delivery, Payment & Privacy, Problems with Order, etc.
To make things easier, the Mapiful help center features a chatbot. While this isn't as efficient as a LiveChat, the Mapiful bot will help you find answers to any question – you just need to ask. This saves you the time you browse through the help center to find an answer.
Mapiful support – both direct support and help center – is available in different languages. This includes English, Spanish, German, French, Italian, Chinese, Dutch, and Swedish.
Mapiful Pricing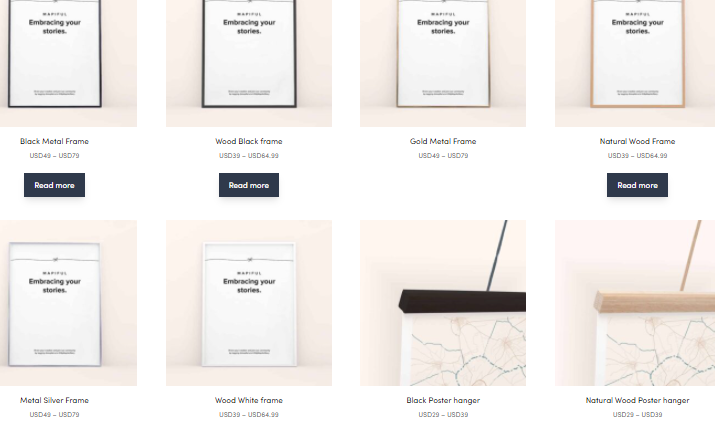 You don't pay subscriptions to use Mapiful, you only pay for products and prints. Also, the price is dependent on the size of the product.
Poster Prices
30x40cm: $39
50x70cm: $59
70x100cm: $79
Frame Prices
Metal Frame: $49 – $79
Wood Frame: $39 – $64.99
Hanger: $29 – $39
Nursery Collection Prices
Tote Bags: $39
Onesies: $39
Prints: $29 – $69
Also Read: Best Print on Demand Sites Like Society6
Mapiful Coupon Codes
With Mapiful coupon codes, you can purchase map prints and other products at discounted rates. Here are some of the hottest Mapiful coupon codes right now:
Code: TWO_FIFTEEN
With this coupon code, you get a 15% site-wide discount on Mapiful.
Code: STO10
With this coupon code, you get a 10% site-wide discount on Mapiful.
Code: MMGERRRIE10
With this coupon code, you get a 10% site-wide discount on Mapiful.
Code: IM25_TTN0Z_60
With this coupon code, you get a 15% discount on Mapiful orders.
Code: BF21
With this coupon code, you get a 20% site-wide discount on Mapiful orders.
Code: THREE_TWENTYFIVE
With this coupon code, you get a 25% discount on three Mapiful orders only.
Mapiful Ratings
Ease of Use
The majority of Mapiful users have no problems with how the platform works. It doesn't require you to create an account – simply select your product, customize, and place your order. According to a customer, Mapiful is "Super easy to navigate with great design options."
For ease of use, I rate Mapiful 4.6 out of 5.
Features
For a map printing service, Mapiful has sufficient features. To start with, the product quality is prime, there are multiple products available – not just maps – and shipping is global with only a few exempt countries.
Mapiful supports multiple payment options and different currencies as well. Furthermore, there's a lot to benefit from the affiliate program, collaboration.
For features, I rate Mapiful 4.4 out of 5.
Pricing
For map prints, Mapiful's pricing is not expensive and fair since it depends on the print size. Where most customers complain about pricing is the frames which are about the same as the posters. This means you could pay twice the price of a poster for a poster & frame.
If they weren't sold separately, the price may not be that much. Nevertheless, Mapiful redeems itself with shipping which is free to anyone, anywhere. According to a customer, "Pricing was a little more than I expected, but the shipping was quick."
For pricing, I rate Mapiful 4 out of 5.
Customer Support
Mapiful may not have a LiveChat or phone support channel but they do offer great customer service. A lot of customers – even those not satisfied with their product and delivery – attest to the quality of the customer service.
For customer service, I rate Mapiful 4.9 out of 5.
Also Read: Best Print on Demand For Etsy
Top Mapiful Alternatives
If Mapiful doesn't feature what you're looking for or you're just not satisfied with their service, here are some top alternatives to check out: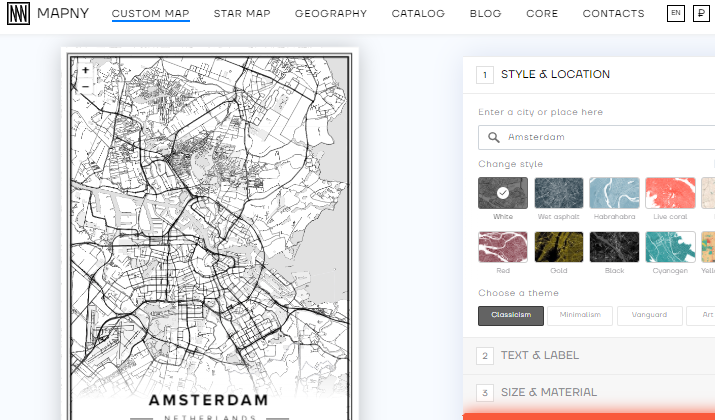 With Mapny, you can create a map of anywhere in the world. In addition, the platform features interior posters and digital art from other creators which you can purchase.
Just like Mapiful, you can create a Street Map or Star Map with Mapny. Mapny employs top-notch quality for all their prints, ensuring that they stand the test of time. There are noteworthy design tools for customizing maps and other prints.
One of Mapny's unique features is the digital, electronic version of maps and posters. After designing, you'll get the map or poster as TIFF sent to your email. Then, you can print and frame it yourself – not having to wait for Mapny to print and ship.
In terms of pricing, Mapny is a more affordable alternative to Mapiful. Mapny maps cost $16 for the 30 x 40 cm size. The largest size – 70 x 100 cm – costs just $19; with Mapiful, the price is $79.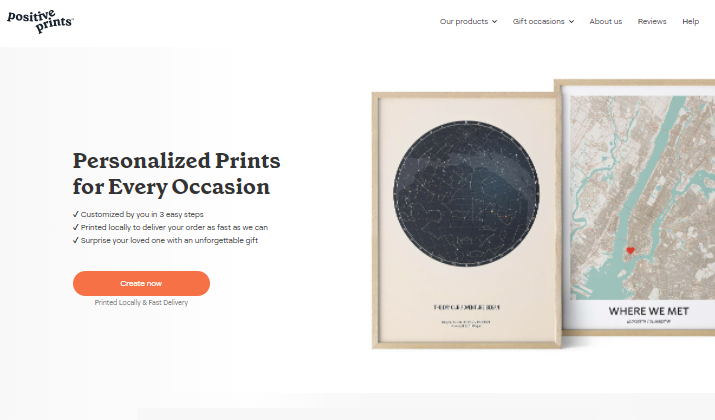 Positive Prints lets you create maps in three easy steps. The platform is known for its fast delivery and gift packaging. Much of the customization work is already done, simply select the category (occasion) and print.
Some of the categories on Positive Prints include Anniversary, Birthday, Baby Birth, Engagement, Wedding, and House Warming.
The top products on Positive Prints include Coordinates Art, Met Engaged Married Map, Custom Star Map, Birth Poster, Custom Map Art, Personalized Moon Phase Print, and Gift Card.
There are different types of formats and sizes to choose from. Formats include printed posters, canvas, framed print, and instant digital downloads.
Positive Prints have print locations in the US and EU but not as many as Mapiful. Nevertheless, they ensure prompt delivery.
Shipping to the US takes 3 – 9 business days, Europe takes 4 – 10 business days, Canada takes 3 – 9 business days, while the rest of the world takes 10 – 23 business days.
Also Read: Etsy vs Redbubble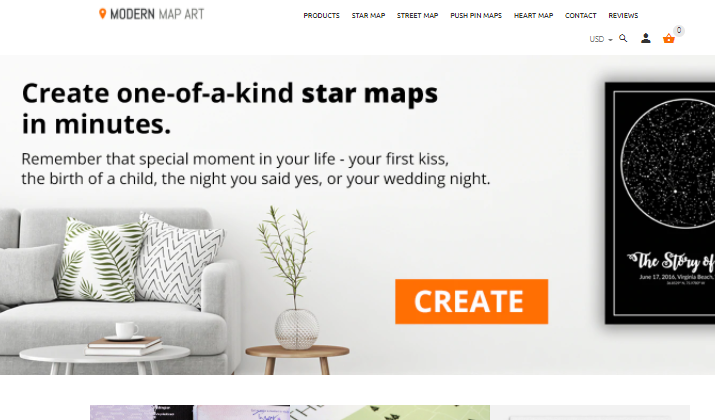 Here's a Mapiful alternative with which you can create unique custom maps within minutes. Products on Modern Map Art include Street Map, Star Map, Topographic Map, Hiking Trail Maps, Push Pin Maps, and Heart Map among others.
Modern Map Art gives you a variety of print qualities to choose from – framed, unframed, and canvas. In that view, the prints cost about the same as Mapiful – if not more.
For unframed prints, the price is $34.99 for the 8×10 inch size. Framed print for the same size costs $69.99; Canvas print costs $89.99 for 12×18 inches.
The largest size available is 24×36 inches which runs $69.99 for the unframed print, $199.99 for the framed print, and $169.99 for the canvas print.
Bottom Line
If you need a map printing service, Mapiful is the best platform to consider. With Mapiful, you can print different map styles, posters, and durable frames.
In addition to maps, you can print regular art on tote bags, onesies, and posters. The platform's customer service is stellar and pricing is equitable to the product quality.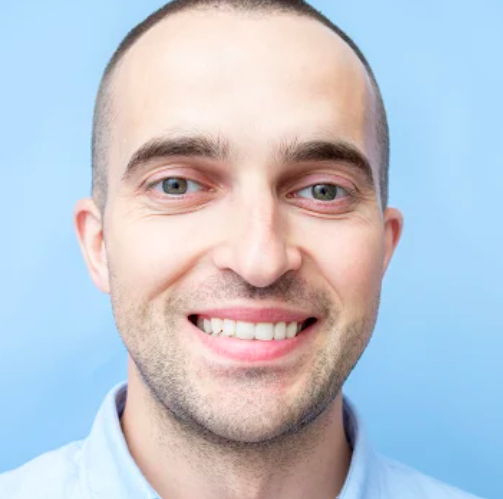 Author: Brian Erwin
I am Brian. I started my first e-commerce company in college designing and selling t-shirts for my campus bar crawl using Print-On-Demand. Having successfully established multiple 6 & 7 figure e-commerce businesses (in women's fashion and hiking gear), I think I can share a tip or 2 to help you get succeed.