Editor's note: Email marketing is as important as any other form of digital marketing. It's a great way to stay in touch with your customers and audience. MailChimp is one of the most popular email marketing tools in the market. While it's a great choice for your Wordpress site, you may require alternative tools that offer more features. Read this post to explore the best ones to consider. If you like one of them and want it to be integrated with your Wordpress site, hire a Wordpress website developer, today!
Over the years, email marketing has become a proven business growth tool. Many experts believe that it drives customer acquisition and retention.
For every $1 spent, email delivers a $38 return on investment. This figure is a massive return on investment compared to other marketing channels.
MailChimp is a leading email marketing software company. They have dominated the email marketing industry with a market share of 60.51 percent. Users reportedly sent over 350 billion emails last year alone.
The Mailchimp WordPress plugin delivers excellent value and has gained positive reviews. Let's look at some of the best MailChimp alternatives.
Also Read: Complete Mailchimp Review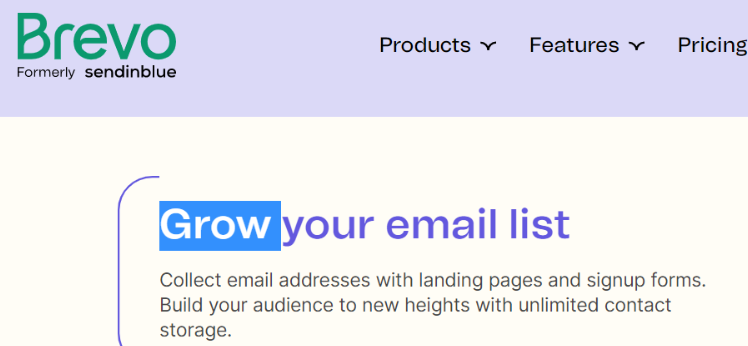 Brevo's email marketing solution is an incredible tool built to help drive business growth. With this email and marketing tool, you can
Effectively reach out and communicate with your customers
Track and optimize your customer buying process
Increase sales conversions from website visits
Armand Thiberge founded the company, which currently has offices in India, France, and the USA.
Today, over 80,000 growing companies around the world use their cloud-based digital marketing tools.
Brevo has solutions for
e-Commerce businesses
Marketers and marketing agencies
Small, medium, and large businesses
NGO and public sector
Some companies that use this tool include
Fujitsu
Greenpeace
Marcel
Michelin
Amnesty International
Brevo (formerly Sendinblue) | CRM Suite
Be it marketing, sales, or customer relations, Brevo is an all-in-one tool helping businesses to carry out everyday business functions with ease. Try it today!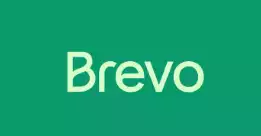 We earn a commission if you click this link and make a purchase at no additional cost to you.
About Brevo for WordPress
The Brevo plugin for WordPress is a complete marketing solution. With this plugin, you can
Create emails in a few minutes using simple drag and drop editor and it's suitable for every device
Build customized signup forms and use them on pages and posts
Track how well your emails have performed including open rates
Effortlessly manage your contacts and divide them into segments right on your WordPress admin panel
Create and automate marketing campaigns using custom-built templates
View and analyze campaign analytics to help make data-driven decisions and improve performance
The Brevo WordPress plugin is available in English and French.
Features of Brevo
Brevo has some fantastic features to help users personalize their communications. Let's take a look at some of them:
1. Email Marketing
This feature lets you create email marketing campaigns and brand promotions. With a simple drag and drop editor, you can create emails with elegant designs and a professional touch.
2. SMS Marketing
With this feature, you can reach your customers through SMS. You can keep them up to date on special events, coupons, discounts, and offers.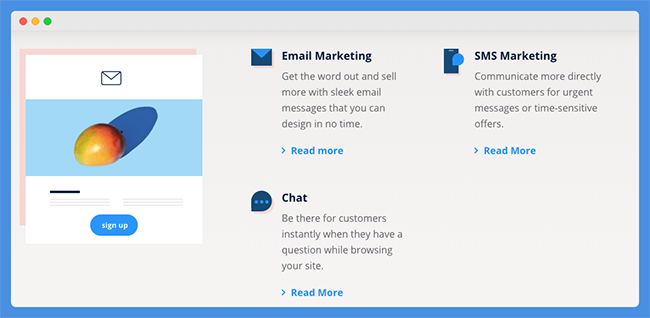 3. Chat
Using the chat feature, users can set up a chatbox to converse with your customers in real-time. You can customize your chat interface to suit your needs.
4. CRM
Managing your customers has never been simpler. With the CRM tool, you can upload and organize customers. Plus, you can track and manage customer interactions.
5. Marketing Automation
You don't need to miss out on any lucrative opportunity. This feature allows businesses to automate their sales and marketing processes. With a simple sales workflow, you can set plans in motion.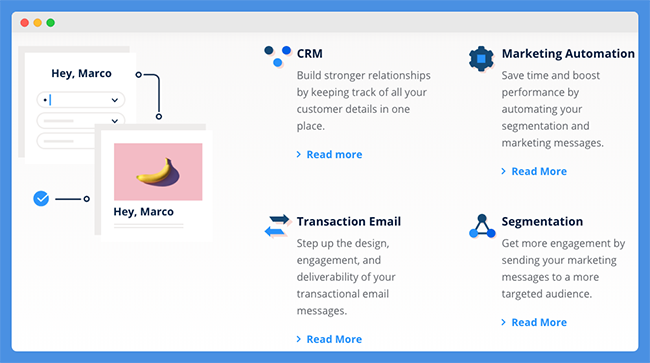 6. Transactional Emails
Brevo helps you create transactional emails with enhanced and reliable deliverability.
7. Signup Forms
In a few minutes, you can build beautiful subscription forms to grow your contact list. This feature helps you drive conversions.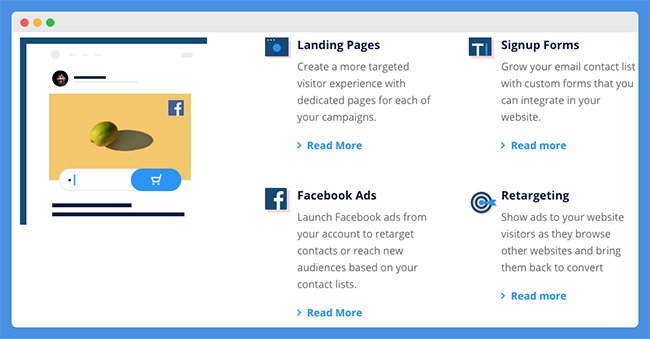 Brevo has other features to help you convert visitors into paying customers. They include
Landing pages
Retargeting
Facebook Ads
Segmentation
Brevo Pricing
Check out the Brevo pricing page here.
Advantages of Brevo
This tool has some positive reviews. They include:
The tool is simple and user-friendly
Brevo is very cost-effective and has a scalable pricing plan
Excellent customer service and support
The integrations work perfectly
Disadvantages of Brevo
Setting up the SMTP service with them takes a long time
Explore: Brevo Review
Brevo (formerly Sendinblue) | CRM Suite
Be it marketing, sales, or customer relations, Brevo is an all-in-one tool helping businesses to carry out everyday business functions with ease. Try it today!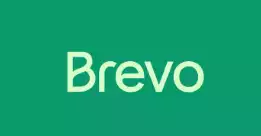 We earn a commission if you click this link and make a purchase at no additional cost to you.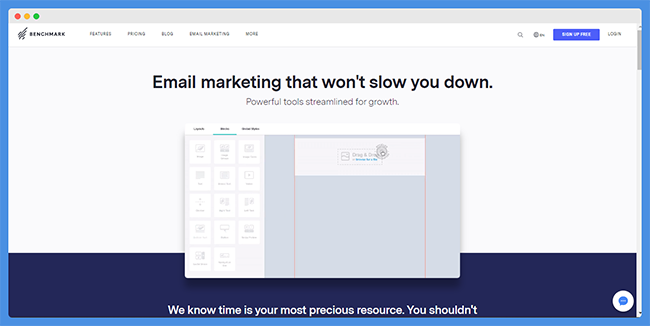 Benchmark Email offers a comprehensive suite of marketing tools to help grow revenue. It is suitable for businesses of any size.
Benchmark Email does the hard work so that you focus on other aspects of your business.
With this tool, you can grow your customer base. Also, it lets create and automate your marketing campaigns to boost sales.
Benchmark Email equips you with tools to guide your customers through their journey.
Brands that use this tool include Audi, Office Depot, Courtyard Marriott, BBVA, Curves, etc.
About Benchmark Email for WordPress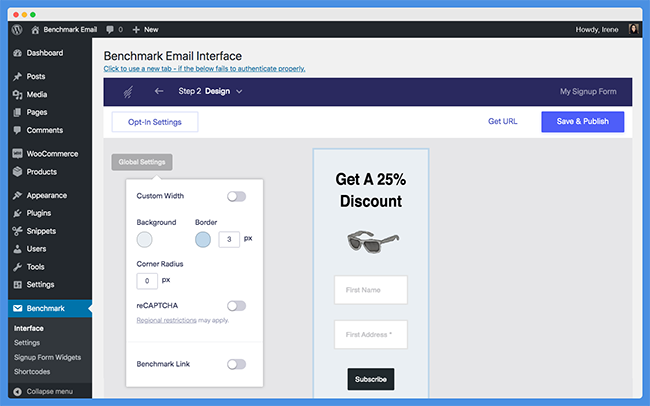 The Benchmark Email WordPress plugin helps you optimize your email marketing efforts.
The automation tracker monitors and provides data on visitor's site engagement. You can use this data to tailor email campaigns to boost conversion.
With this plugin, users can create customized subscription forms to boost conversion. You can go ahead and send test emails and view reports from your WordPress admin backend.
This tool lets you can send your blog post as an email to your customers. It's simple.
All you need to do is to connect your blog to Benchmark Email. You can preview different versions of your email and schedule to send it at a later time.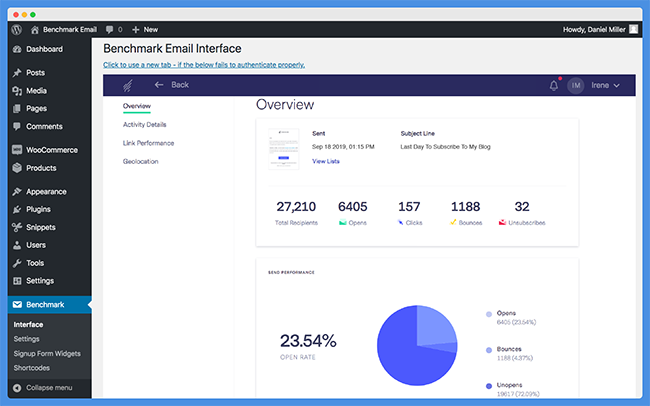 You can track your email performance and get a detailed report. Moreso, the tool provides real-time data on the number of opens and locations.
Features of Benchmark Email
1. Marketing Automation
Benchmark Automation pro will help you send customized and automated emails. With beautiful email templates, you can reach customers based on website and email engagements.
2. Email Designer
With a simple drag and drop tool, you can create responsive emails. You don't need coding experience. Thus, you can get started with existing email templates. There are email templates for any purpose.
3. Audience Growth
This feature helps you build and interact with your audience. With List Builders, Automations, Surveys, and Polls, you can boost engagement and increase customer loyalty.
4.Tracking and Reports
The AB Testing, Inbox Checker, and Reporting features will help you evaluate your campaigns. Also, you will see your performance and what you can do to achieve better results.
5. App Integration
Benchmark Email allows integrations with over 300 tools and services.
Pricing for Benchmark Email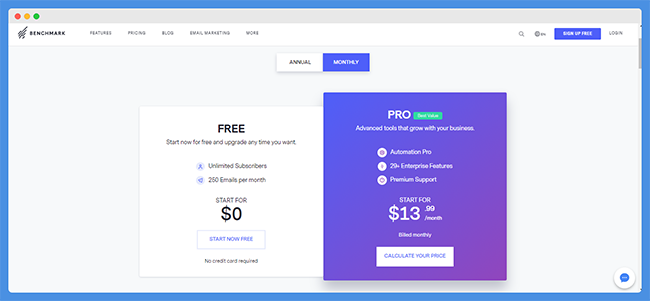 Benchmark Email has two pricing plans
Free Plan
Pro – starts from 13.99 per month billed month
Benchmark Email Advantages
Here's why this tool has some positive reviews.
The app is intuitive and user-friendly
Mass email tracker is affordable
Integration with WordPress is seamless
Benchmark Email Disadvantages
Some users have written negative reviews, and they include:
Navigating multiple lists is burdensome
Customer support is slow to revert on issues
Also Read: Best Autoresponders & Email Software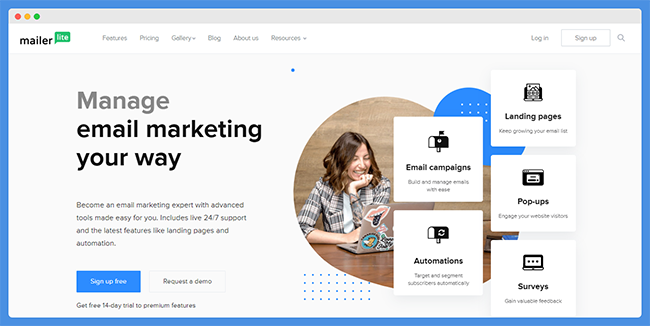 MailerLite is a powerful solution that helps businesses manage and automate email campaigns.
The company started in 2005. Today they have served 775,285 businesses, startups, and freelancers globally.
BMW, GoPro, Marvel, Boredpanda, Typeform, etc. have used this solution. These are reputable companies.
About MailerLite for WordPress
With the WordPress plugin, you can grow your contact list right from your blog or website.
It is easy to set up. The MailerLite API allows you to integrate your email marketing with your site.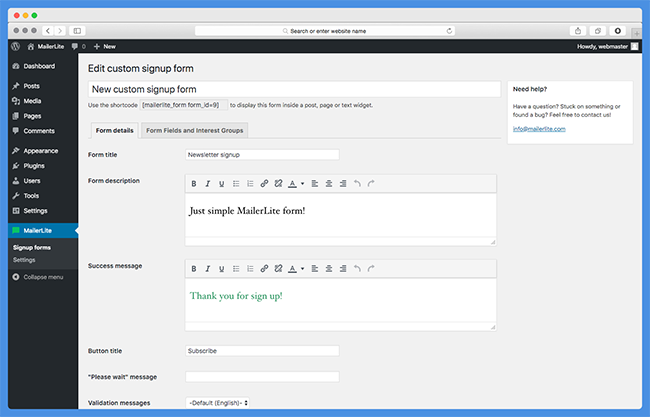 Some of the plugin features include:
Automate emails from your account
Customizable web forms for your website or blog
Option to create new webforms or use prebuilt templates
Features of MailerLite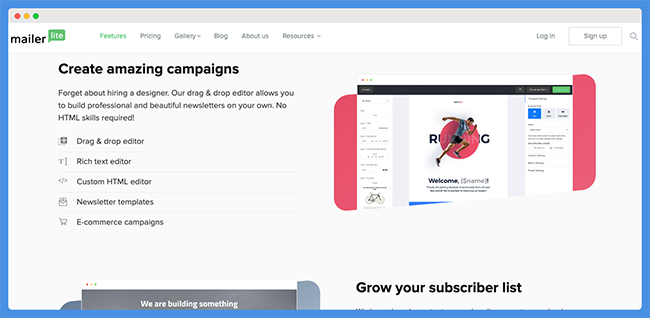 MailerLite has features to help you grow your subscribers and customer relationship.
1. Creating Campaigns
You don't need HTML skills to create beautiful newsletters and email campaigns. You can use drag and drop, rich text, HTML editor, and templates to create campaigns.
2. Growing your Subscriber list
This feature lets you build your contact list using
Pop-ups
Landing pages
Embedded forms
You can also manage your subscribers.
3. Message Delivery
This feature helps you deliver the right message to your subscribers. You can craft personalized messages targeted at specific subscribers. You can
Automate and personalize emails
Segment and target specific interest groups
Create promotional pop-ups
4. Optimize Campaigns
You can optimize your campaign to achieve better delivery results. You can create an A/B Split testing and set delivery based on time zones.
5. Track Results
You can monitor campaigns to improve performance. You can access reports, surveys, and click maps.
Pricing for MailerLite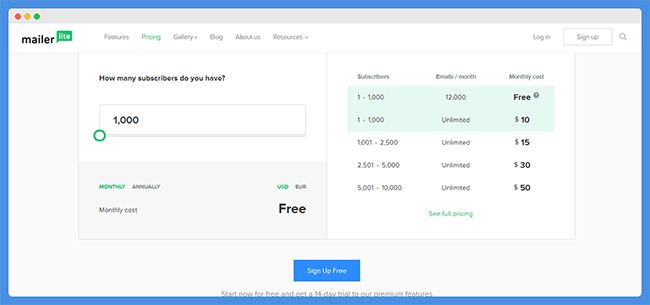 MailerLite bases their pricing on the number of subscribers
One to 1,000 – Free (Email limit of 12000 per month)
One to 1000 – $10 (Unlimited emails)
1,001 – 2,500 – $15
2,501 – 5,000 – $30
5,001 – 10,000 – $50
If you want to try premium features, MailLite offers a 14-day trial
MailerLite Advantages
Here are the merits of this app
The tool is simple and easy to use
Interface is user-friendly
The plugin works perfectly and does not slow down the site
MailerLite Disadvantages
From reviews, here are some of the negatives of this plugin
Advanced features are limited
Segments and groups can be confusing
The approval process takes too long
Interesting Comparison: Brevo Vs Mailerlite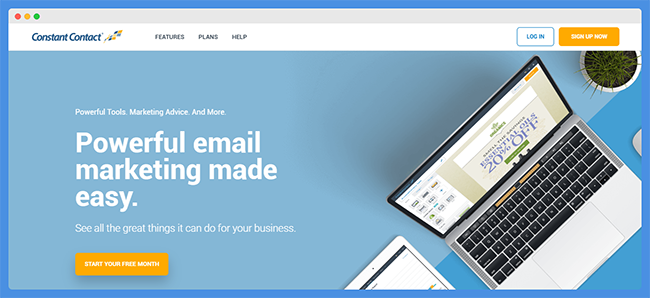 This tool aims to help small businesses and nonprofits achieve success.
Constant Contact has been in the email solution industry for more than 20 years. You can send an optimized email suitable for any industry and more.
About Constant Contact for WordPress
This plugin allows you to collect visitor data right from your WordPress site. It is simple to use.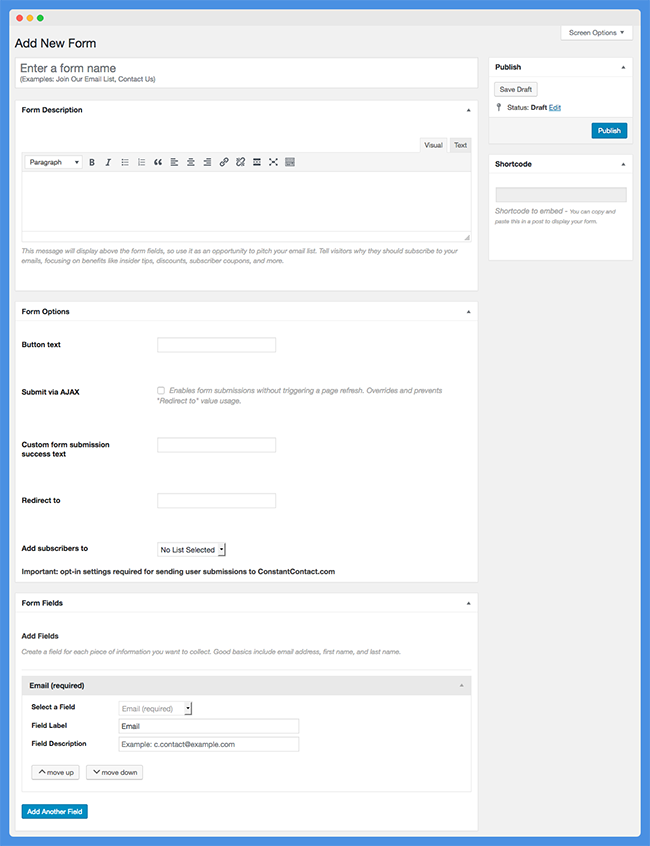 You can capture feedback, contact info, and emails. Moreso, you can also customize your data fields to meet your information needs.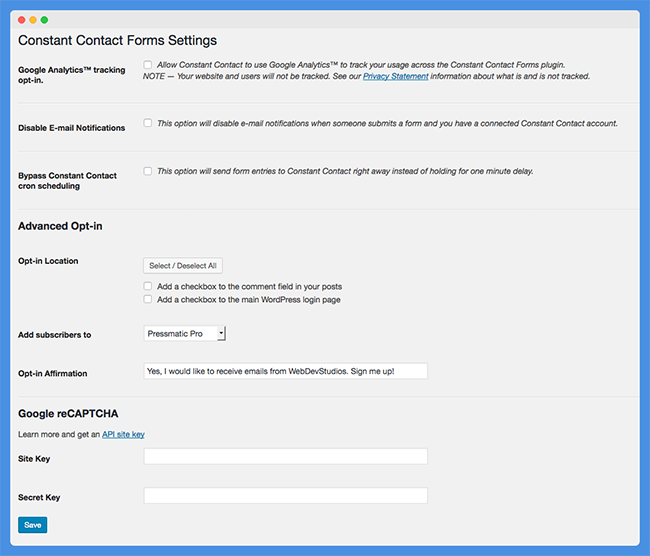 Features of Constant Contact
1. Email Designs
Their easy to use drag and drop editor allows you to create responsive email campaigns.
2. Email Automation
This feature lets you can create automated email marketing campaigns. Email campaigns are a great way to engage your audience and build great customer relationships.
3. Contact Management
You can effectively manage your contacts with Constant Contact. It automatically updates unsubscribes, bounces, and inactive emails.
4. Track Performance
This feature allows you to monitor and improve your email marketing results.
Pricing for Constant Contact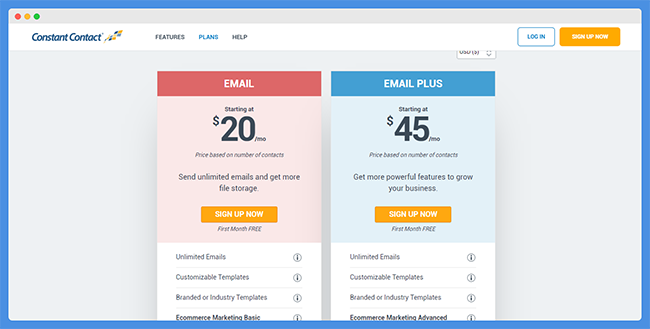 Constant Contact has two pricing plans
Email – Starts at $20 per month
Email Plus – Starts at $45 per month
Constant Contact Advantages
Here's why people love this tool
Easy to set up and use – you don't need coding skills to use the tool
The integrations are seamless
Customer support is responsive
Constant Contact Disadvantages
From customer reviews, here are some of the demerits of this plugin
The CC Forms doesn't appear well on mobile
This plugin breaks the editor, thus it makes site editing difficult
Plugin attracts spam and disables scheduled posting
Related: Constant Contact Vs Aweber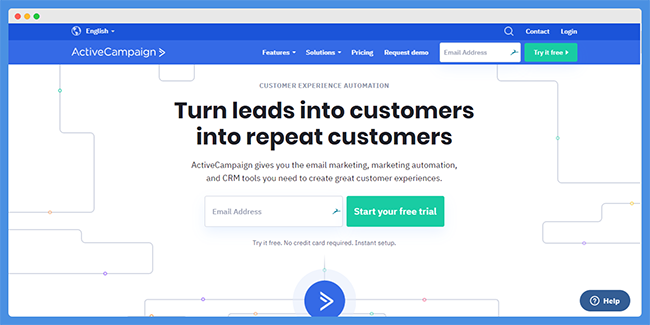 ActiveCampaign provides the tools you need to create incredible customer experiences. With their email automation and CRM tool, you can deliver great marketing results.
They have helped more than 90,000 businesses grow.
About ActiveCampaign for WordPress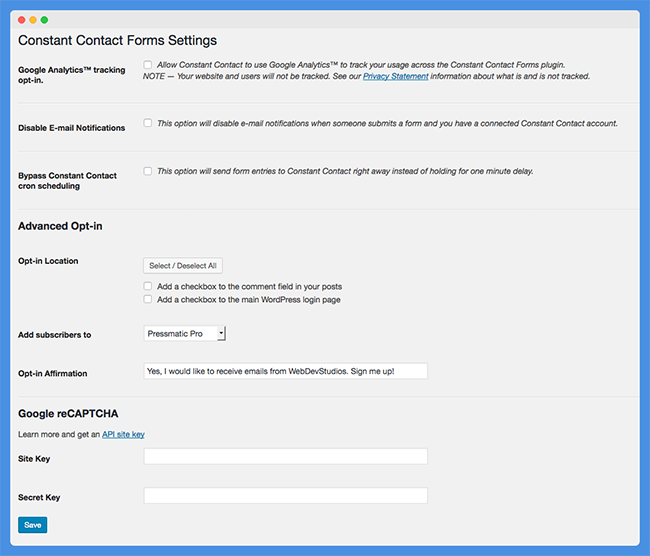 This plugin allows you
Insert forms into any post, page, or sidebar
Track website visitors using the site tracker
Activate live chat for accounts
Features of ActiveCampaign
1. Email Marketing
With this feature, you can send broadcast, trigger, and targeted emails. More so, you can reach the right audience with beautiful email and newsletter designs.
2. Marketing automation
You should go ahead and harness this feature. It helps you handle all the intricate marketing details so that you focus on other vital activities.
You can automate your email follow-ups and marketing activities in a few clicks.
3. Sales CRM
This feature lets you track and manage your leads. The sales automation will help you optimize your sales process to boost revenue.
4. Customer Messaging
The messaging feature allows you to reach customers regardless of their preferred platform. You can reach customers through
Email marketing
SMS marketing
Facebook
Website chats
5. Machine Learning
Machine Learning can help you make data-driven decisions. You should take advantage of it.
Pricing for ActiveCampaign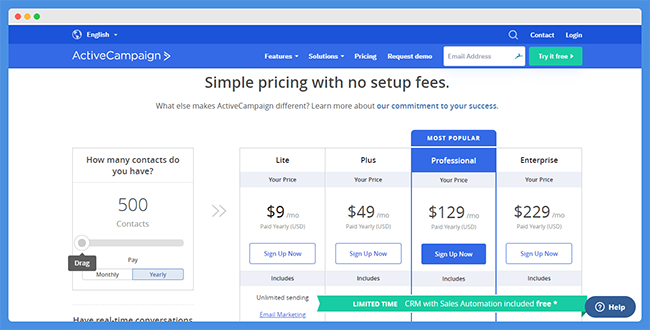 ActiveCampaign has a simple pricing model. Pricing varies according to the number of contacts.
For a minimum of 500 contacts
Lite Plan – $15 per month
Plus – $70 per month
Professional – $159 per month
Enterprise – $279 per month
ActiveCampaign Advantages
Here are the reasons why users love this tool
Software is intuitive and easy to use
The interface is user-friendly
Allows integration with a wide spectrum of tools
Customer support is excellent and responsive
ActiveCampaign Disadvantages
Some of the issues you may encounter include
Occasional glitches on the mobile version
You have to pay for email compatibility testing
The CRM has limited features
Also Read: Best Active Campaign Alternatives & Competitors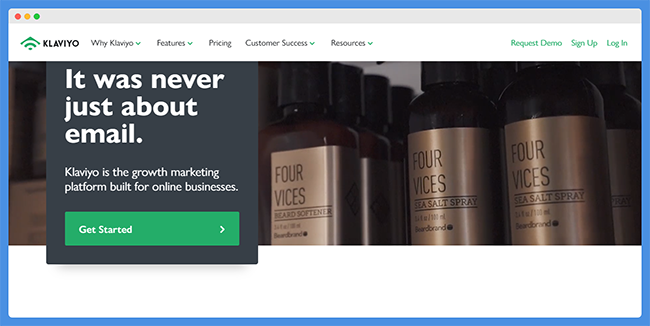 Klaviyo is an incredible marketing software built to help businesses grow. With this tool, you can effectively use customer information to your advantage.
Over 20,000 business trust Klaviyo. Some reputable brands that use this tool include
Blenders Eyewear
Huckberry
Custom Ink
Nomad
Chubbies
About Klaviyo for WordPress
This plugin offers so much value. With this plugin, you can use dynamic and personalized forms to grow your email list.
Furthermore, you can analyze customer behaviors and preferences. You can create targeted campaigns and automated emails to reach customers at vital touchpoints.
Also, you can reach customers via social media and social advertising.
Features of Klaviyo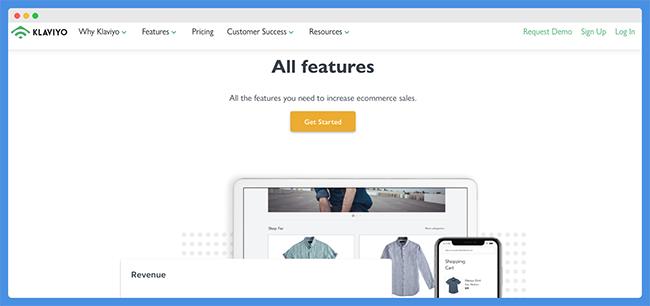 Let's take a look at the features of Klaviyo
1. Integration
Klaviyo allows for more effective marketing activity. Thus, it supports integrations with more than 100 tools.
2. Forms and Personalization
This feature lets you build and customize forms for every use case. You can create signup and popup forms to collect valuable customer data.
3. Profiles
You can create customer profiles showing vital data such as website visits, purchase history, and customer lifetime value.
4. Segmentation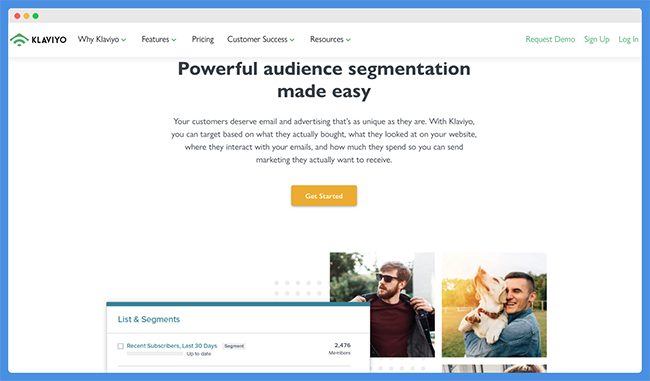 This feature allows you to segment your customers for targeting. You can segment based on behavior and target based on
Pages they have visited
Email interactions
Amount spent
5. Data Science
This AI-powered feature offers predictive analytics to help you plan.
6. Reporting
With this feature, you can access valuable metrics and analytics such as
Marketing ROI
Changes in customer behavior
7. Automation
You can automate your marketing campaigns, create an A/B testing, and get real-time performance reports.
8. Social Advertising, Campaigns, and SMS
Klaviyo helps you to develop effective and automated email and SMS campaigns. You can grow your business with social media advertising using this tool.
Pricing for Klaviyo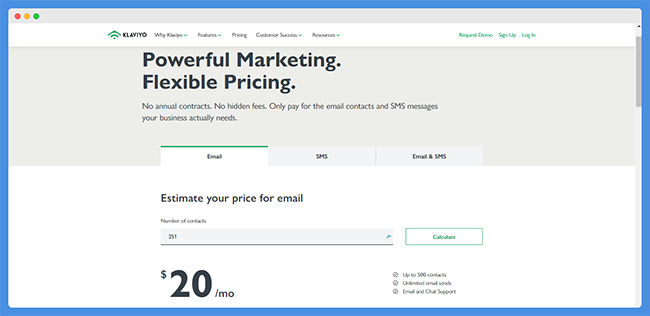 With Klaviyo, you pay based on the number of emails or SMS. You can use a price estimator to get your price estimates.
1. Emails
One to 250 c0ntacts- Free
251 to 500 contacts – $20 per month
2. Text
One to 51 text messages – Free
51 text messages – $0.07 per month
3. Email and SMS- Pricing is based on estimates
Klaviyo Advantages
Here are some of the upsides of this tool
Customer service and support is excellent
The interface is user-friendly
Users can increase sales and upsells through analysis of different email marketing scenarios
The tool works perfectly without hassles
Klaviyo Disadvantages
The few downsides to this tool include
Pop-up creation tool has very basic features
Building out email flows is time-consuming
Related: Best Mailchimp Competitors & Alternatives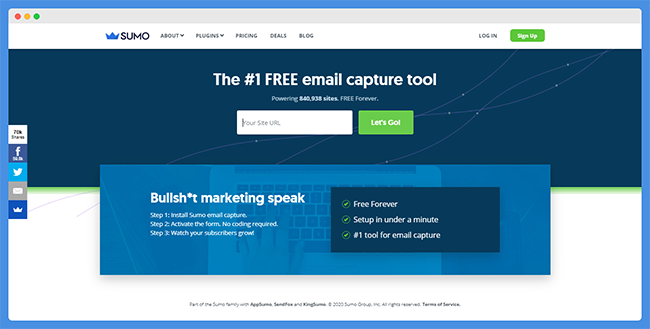 Sumo is an email collection tool built to drive website growth. This tool also helps you optimize your marketing campaigns.
Sumo currently powers over 840,876 sites.
About Sumo for WordPress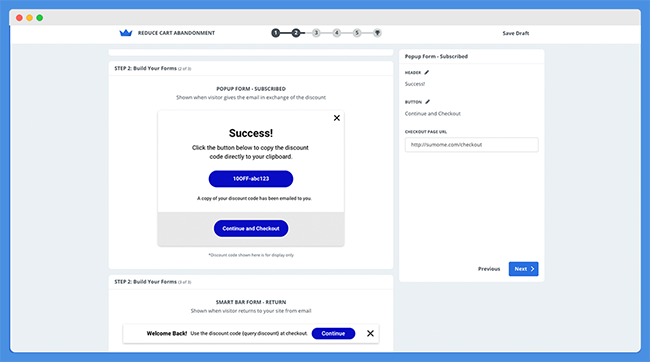 The Sumo Wordpress Plugin helps business drive conversion. With this Plugin, you can
Build your email list with scheduled and customized pop-ups across your site
Schedule email campaigns to keep in touch with your customers
Use and integrate eCommerce apps to reduce cart abandonment and increase average order value
Analyze sales and email ROI from every subscriber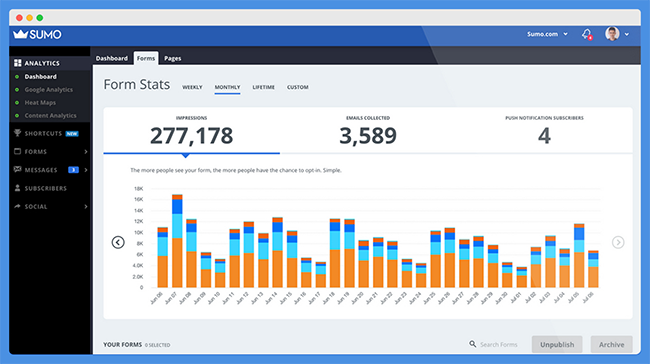 Features of Sumo
1. Grow your List
This feature helps you grow your email list using popups and opt-in forms. It also provides other benefits such as
Customizable design
Social media sharing
Advanced visitor targeting and
A/B testing
2. Contact your subscribers
With this feature, you can run an email campaign to reach your customers
3. eCommerce Features
Sumo allows integration with an eCommerce plugin, including WooCommerce. It also provides tools to reduce cart abandonment and grow your revenue.
4. Analytics
Use the report to learn about your business and make data-driven decisions.
Pricing for Sumo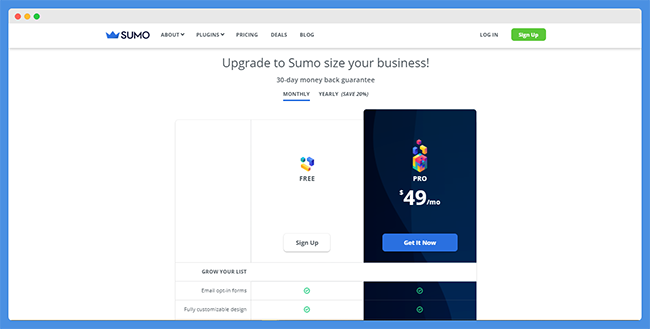 Sumo pricing is in two categories
The annual payment will help you save 20 percent.
Sumo Advantages
Here's why users prefer Sumo
The software is easy to use
Software is intuitive and allows for extensive customization
Customer support is top-notch
The email marketing and list building feature works perfectly
Sumo Disadvantages
The premium plan is expensive for small businesses
Also Read: Mailchimp Vs Moosend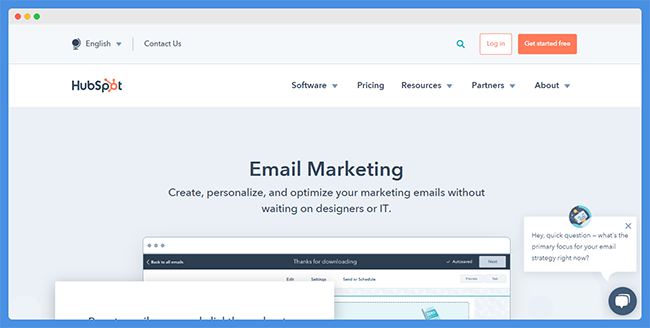 Hubspot is a comprehensive marketing and software for businesses at every level. This tool helps you increase customer email engagements. Over 68,800 customers use HubSpot to boost sales and marketing activities.
About HubSpot for WordPress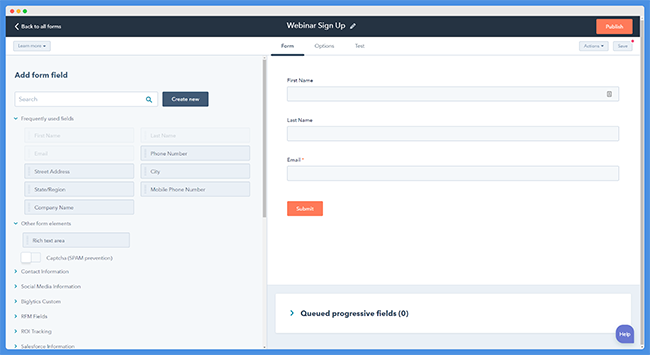 The HubSpot WordPress plugin allows you to
Create contact and popup forms using the interactive form builder
Grow your email list
Use beautiful templates to design and send automated email campaigns
Manage your contacts using the CRM tool
Communicate with website visitors using the live chat widget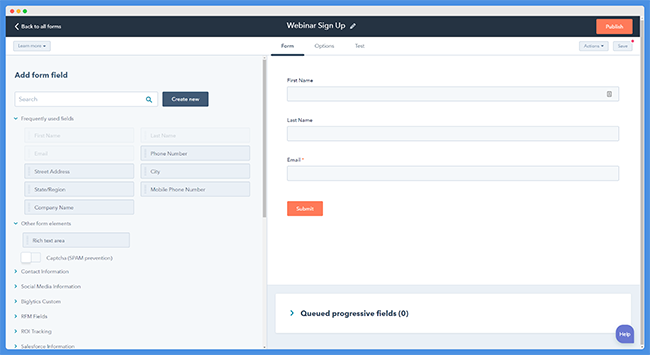 HubSpot allows integrations with a wide range of tools.
Features of HubSpot Email Marketing
Some of the features you will find include:
1. Email
You can create email campaigns using beautiful email templates. Also, this feature allows you to personalize email content and run A/B tests to view performance
2. Lead Management
With this feature, you can manage your leads in one place. You can use this data to adjust campaigns further to close specific sales.
3. Marketing Automation
With marketing automation, you can use tailor emails, content, offers, and set it in motion.
4. Analytics
This feature allows you to gather analytics on campaign performances and measure ROIs.
Pricing for HubSpot Email Marketing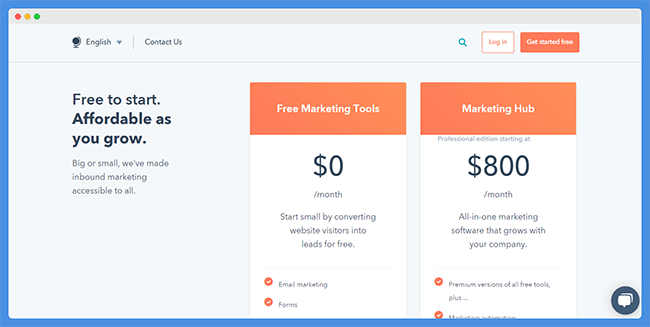 Pricing for this tool is into two categories
Free marketing tools – Free
Marketing Hub – Professional edition start at $800 per month
HubSpot Advantages
HubSpot has a lot of positive reviews. Here is why:
This software interface is user-friendly
Easy to install and use – no coding experience required
This tool will centralize your marketing tool and makes it easy to manage contacts
HubSpot Disadvantages
The premium version is quite expensive when compared to similar tools
Response from customer support is slow
You may experience occasional glitches
Explore: Mad Mimi Vs Mailchimp Vs Aweber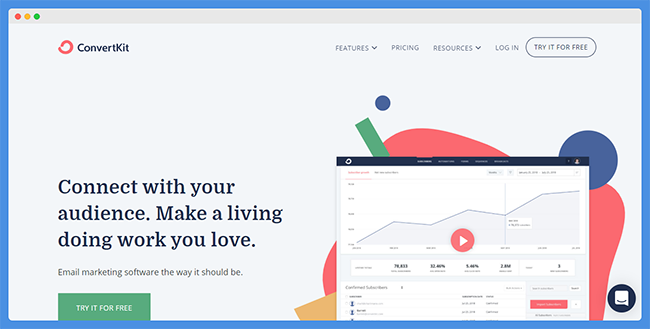 Convertkit is an email marketing software that helps businesses connect with their audience.
This tool is suitable for businesses of many sizes. And regardless of your experience level as a marketer, you can use this tool.
ConvertKit - With Free Plan
Unlimited landing pages & forms, Unlimited traffic, Customizable domain.
No credit card required. Cancel any time.

We earn a commission when you click this link and make a purchase.
About ConvertKit for WordPress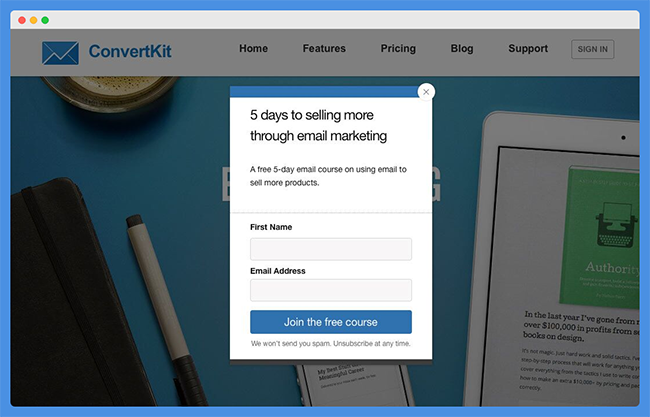 This plugin makes lead capturing to become an easy task. You can grow your email list by embedding email capture forms anywhere on your website or blog.
With this plugin, you can increase sales and conversions.
Features of ConvertKit
1. Sign up forms
You can build compelling signup forms that will convert website visitors into shoppers. Whether you are offering freebies or building your email list, this tool will help deliver results.
2. Automation
This feature allows you to take advantage of every opportunity. Moreso, you can send the right automated emails to deliver to your customers at the right time.
3. Email designer
The powerful email designer will help you create compelling emails. The tool is simple. Therefore, you don't need any design experience.
4. Integrations
ConvertKit allows you to connect to your favorite tools.
Pricing for ConvertKit
Let's take a look at ConvertKit's pricing plan
Free plan – It allows you to manage 1000 subscribers.
The Creator plan – starts at $29/month for 1000 subscribers. It includes premium support, automated funnels, integration features etc. The pricing varies depending on the number of subscribers you opt for.
Creator Pro plan – $59 per month. Includes priority support and premium features.
A 14-day free trial is available as well.
ConvertKit - With Free Plan
Unlimited landing pages & forms, Unlimited traffic, Customizable domain.
No credit card required. Cancel any time.

We earn a commission when you click this link and make a purchase.
ConvertKit Advantages
ConvertKit has the following advantages
The tool is simple and easy to use
Email template designs are modern and attractive
Customer support is excellent and offers a timely response
ConvertKit Disadvantages
Organizing subscribers seems like a complicated task
Limited customizations for forms and email templates
Interesting Comparison: ConvertKit Vs Aweber
10. Mailjet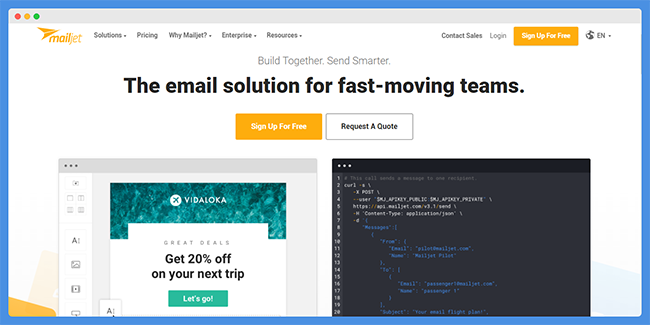 Mailjet is an incredible email tool designed to accelerate business growth. The company was founded in 2010 and currently serves customers in more than 150 countries.
About Mailjet for WordPress
The Mailjet WordPress plugin allows website owners to
Reach website visitors through effective email campaigns
Design and send bulk emails from the WordPress admin backend
View real-time email analytics, such as opens, clicks, bounces, and blocks
Customize and embed forms and newsletters on their site
Features of Mailjet
Some of the Mailjet features include:
1. Email marketing
This feature helps you create and monitor successful email campaigns. Using the simple email marketing builder, you can create fantastic email campaigns.
Also, you can personalize your messages and view statistics on email performance.
2. Transactional emails and SMS
This feature allows you to customize, send, and manage transactional emails and SMS. Transactional email, or triggered email, is sent to recipients after specific actions are completed.
3. Email API
The Mailjet email API allows developers to build integrations with just a few lines of code.
4. SMTP Relay
Mailjet offers a free SMTP server to help power emails. The server allows for easy integration with any system.
Pricing for Mailjet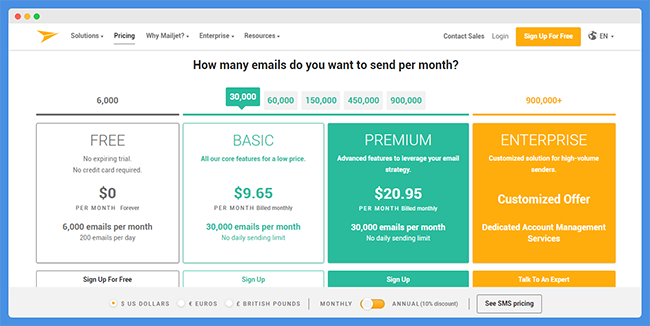 Mailjet's pricing plans allow you to pay as you grow
Free Plan – Free Forever (minimum of 6000 emails per month)
Basic Plan starts at $9.65 per month (minimum of 30,000 emails per month)
Premium Plan starts at $20.95 per month (minimum of 30,000 emails per month)
Enterprise Plan – For more than 900,000 emails per month – talk to an expert or request a demo
Mailjet Advantages
Software is easy to use
Swift customer response and excellent service
The plugin is very reliable and solves email issues
Mailjet Disadvantages
Email templates and design options are limited
The user interface is complex and is more suited to programmer
Creating and automation of workflow is tedious
Check Out: Mailchimp Vs Brevo Vs Mailjet
What's Your Best Mailchimp Alternative For Wordpress?
From our review, you can see that MailChimp has some great alternatives. While these tools have unique features, they also share similarities.
Email marketing has great potential to drive business growth. Your best choice will depend on features that are essential to your business.
Go ahead and evaluate your business needs and choose the best tool to help you address them.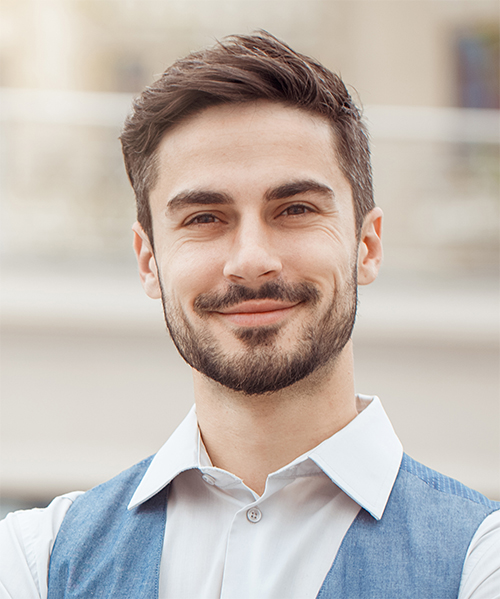 Author: Scott Macarthur
Scott L. Macarthur is a marketing consultant and an online author. He is mostly engaged in providing his expertise to startups and SMBs. He is also an author on TheNextWeb.