Efficient inventory management is the key to success in the Amazon marketplace.
Properly management of inventory is a constant balancing act. Successful management of inventory will result in significantly better returns on inventory.
By using an inventory management tool, you will know exactly how much inventory is left. It will streamline the effort in managing inventory levels and prevent stockouts.
Good inventory management practices will allow you to keep just enough inventories required to fulfill user demand.
You can know whether the inventory items are becoming obsolete, spoiled, or suck up the working capital.
Related : Best Amazon Inventory Management Tools
Importance Of Amazon Inventory Management
Inventory management is the process of monitoring stocked goods. The process involves inspecting the amounts, weights, dimensions, and location.  The main aim of the task is to prevent inventory stock out and reduce the cost of holding inventory.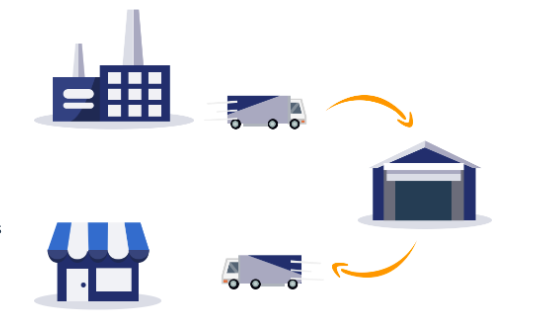 With the help of an inventory management tool, business owners will be able to know when to replenish and buy items.
A good inventory management system comes with a feature that will allow you to manage items across different channels. With adequate stock in hand, you will be able to meet customer needs.
On the other hand, if the inventory is not managed properly, it can result in a lost opportunity to boost sales.
1. Help Avoid Spoilage
Inefficient inventory management can result in wastage of money due to stocking too much inventory.
Efficient inventory management will help avoid spoilage of goods with an expiry date such as makeup or food. Proper management of perishable items will ensure that the goods are sold on time without any spoilage.
Useful Post : Best Amazon FBA Tools For Sellers
2. Reduce Storage Cost
Efficient management of inventory using an inventory management solution will also reduce storage costs. Storage rent is a variable cost that depends on the number of items stored. With too much inventory, the storage cost will go up.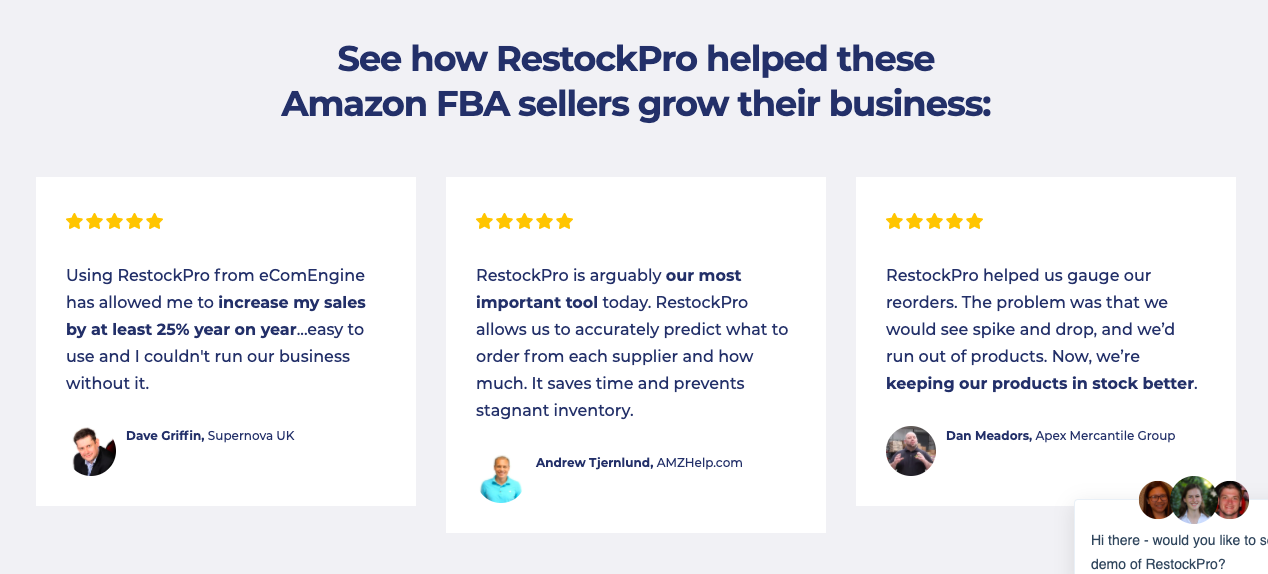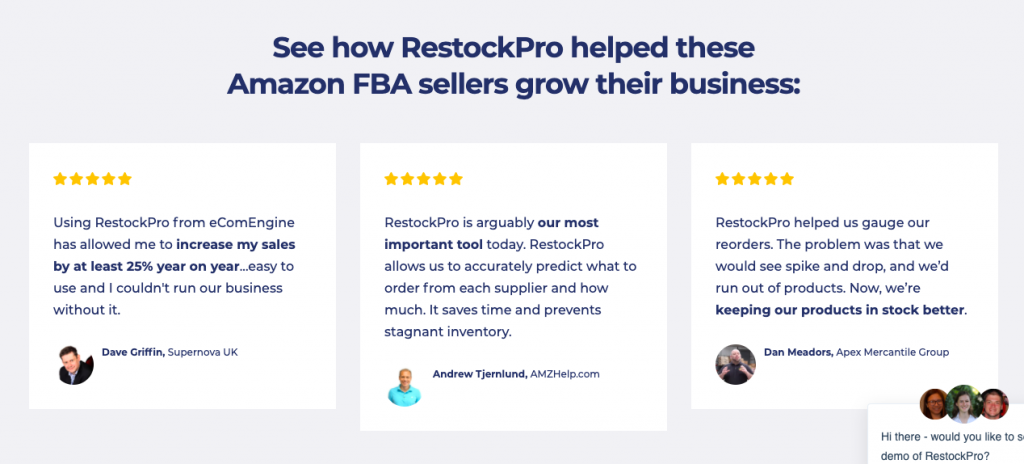 Inventory management solution will help you avoid dead stock. You will know which items are approaching expiry date. You will also know which items have become out of date and out of style. Avoiding dead stock will help reduce storage cost.
3. Improve Cash Flow
Efficient management of inventory will also result in improved cash flow position. Cash is the lifeblood for any business. Both brick-and-mortar and online businesses require cash to manage daily business operations.
With an inventory management system, the inventory will be more managed more cost efficiently. This will result in the improved cash position of the business.
Inventory items affect expenses through storage costs and revenues through sales. Both these items will affect the cash flow position of the business. In other words, efficient inventory management leads to improved cash flow for the business.
Worth Reading : Best Amazon Sales Estimator Tools
RestockPro Review: Is It the Best Amazon Inventory Management Tool?
In this post, we will do a thorough RestockPro review. We will discuss its features, pricing, alternatives and other things.
Let's get started.
RestockPro has earned a positive reputation as being one of the best Amazon tools in the market.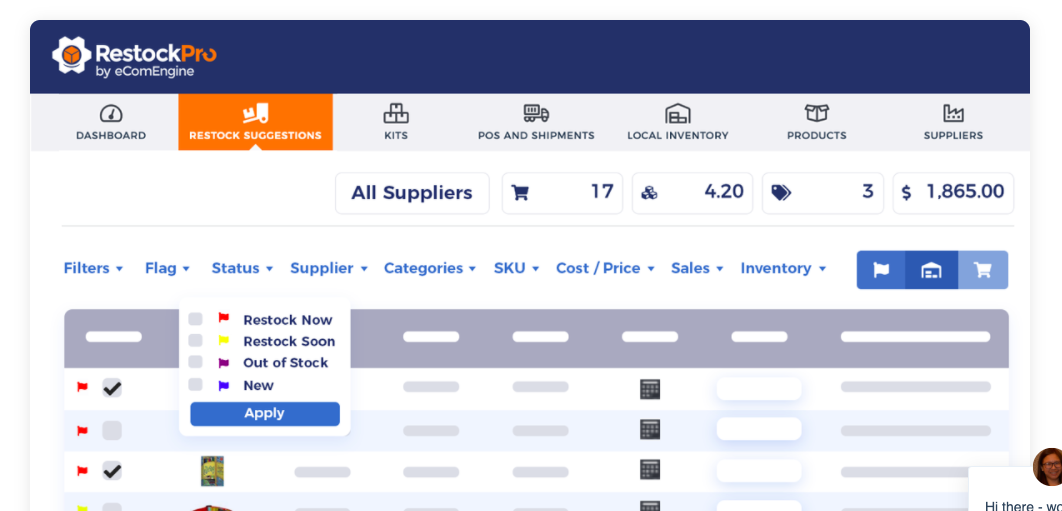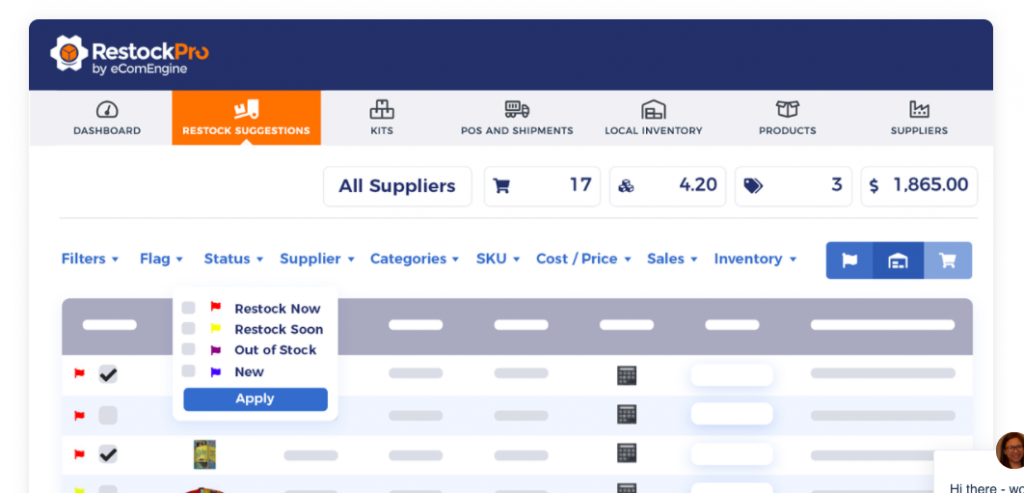 The software tool simplifies the process of managing online inventories through a range of different features.
RestockPro is developed by eComEngine that has been in the business since 2007. The company has developed various tools including an Amazon review management tool called FeedbackFive and a market analysis tool called MarketScout.
Restock Pro is an easy-to-use and scalable inventory management tool. The software boasts of automation and decision support functionalities. Using the inventory management tool, you can keep a close eye on your inventory items.
The software will highlight the most profitable items so that you can prioritize inventory efficiently.
With the inventory management tool, you will be able to closely monitor the costs of items and take appropriate decisions. The online tool will guide you in making the best reordering decisions that result in optimum inventory management.
You can keep track of inventory on hand, inventory ordered, and inventory dispatched to customers. Moreover, the tool clearly shows the cost of each inventory item.
The inventory management tool allows you to build the right shipments. You can print stickers and labels that are compliant with Amazon specifications.
The software keeps a record of sales, profitability, costs, fees and other relevant inventory data.
RestockPro Features
Let's discuss what RestockPro offers.
Also Read : Best Amazon FBA Calculators Review
RestockPro Inventory Management
RestockPro serves as a dedicated inventory management tool. The software offers suggestions for efficient management of Amazon inventory items. The suggestion allows you to take an appropriate decision so that you never run out stock.
The suggestion provides you an accurate forecast of inventory so that you can take proactive decisions.
After you have reviewed the forecasted figure, you can take the appropriate purchase decision. You can make an order based on the suggestions to ensure efficient inventory management.
RestockPro User Interface
The dashboard of the software is easy to use that shows all the metrics in one screen. The supplier Reorders section displays a summary of the orders with each supplier. You can select a supplier to create a purchase order.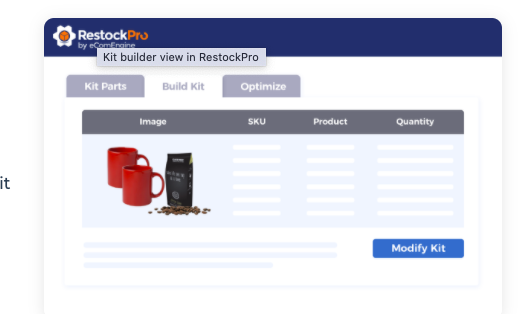 In addition, you can also select Reorder suggestions on the left menus to know about when to reorder items.
Explore : Best Amazon Product Finder & Research Tools
Regular Updates
RestockPro is a subscription-based online tool. As a result, you won't have to pay additional for upgrading the software. The software upgrades automatically at the backend with no downtime.
The upgrades extend the functionality of the software giving you more power in inventory management control.
Purchase History
Historical data is displayed about purchase orders. The software displays SKU level upgrades. You can view the purchase order history for each item.
The software will also estimate the product cost based on the average historical cost of the product.
Tracking Of Inventory Ordered
Another great feature of RestockPro is the ability to track inventory ordered. Whether you bring items to the warehouse, or have the supplier ship the items directly to the FBA, using the inventory management tool will allow you to correctly track and manage inventory.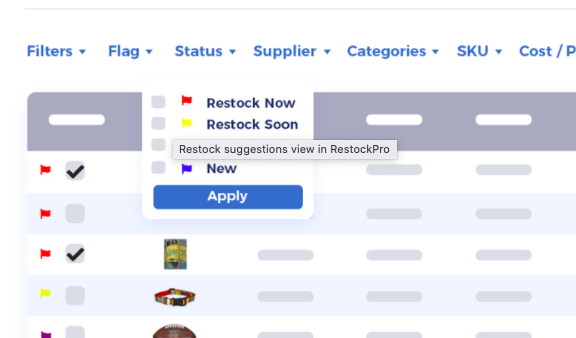 The software will ensure that the correct quantities are ordered.
Each of the ordered quality will be tracked and the accounts will be updated accordingly. The software will also update the inventory forecast to ensure more accurate decision making.
You Might Find It Useful : Amazon Seller App Review
Accurate Purchase Order Costs
The online review management tool can monitor shipping costs, discounts, and notes. The discounts can be entered based on a monetary discount or a percentage.
You can enter the discount based on a per line item basis. This allows you to accurately calculate margins that reflect realized savings.
Streamlined Communication
You can also add Order Notes or Order Tags for monitoring purchase orders. You can enter notes on individual line items. The software will automatically capture the information about the parts ordered in the notes in the appropriate field.
This helps in a more streamlined communication with warehouse employees and suppliers.
Customize The Appearance Of Purchase Order
Restockpro allows you to customize purchase orders. You can modify purchase orders by adding columns and lines. You can enter custom freeform that displays on the purchase orders sent to the supplier.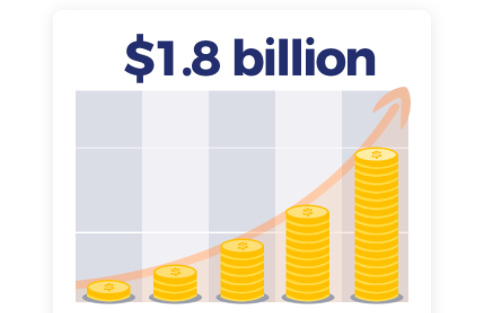 The purchase orders can be customized based on the suggestions of RestockPro. This results in a professional looking purchase order that will create a positive impression of the company.
Check Out : How To Find Best Selling Products On Amazon
RestockPro Shipment Management
Finalizing the shipment is important for Amazon sellers. The shipment must meet the strict requirements of the online marketplace. After a customer has placed an order, you have to finalize the shipment.
One of the important steps in preparing the order is attaching stickers and labels. You must include a label that shows the content of the box to avoid paying a penalty.
The good thing about Restockpro is that it will handle the entire process of preparing the shipment that saves a great deal of money and time.
A lot of sellers feel overwhelmed when it comes to preparing the shipment. Meeting the guidelines is not easy even for sellers who have been in the business for years. With RestockPro, you can take full advantage of automated shipment procedure.
Accurate shipment preparation can help avoid additional fees and delays. This will result in wastage of time and resources.
To avoid wasting money in troubleshooting the process, you can use the inventory management tools to stay compliant.
Automating the process of shipment makes it easy to comply with the requirements of Amazon. You simply have to print and apply labels so that the boxes can be unpacked and stored properly when they arrive at the warehouse.
Useful Post : Best Amazon Listing Softwares For Sellers
RestockPro Customized Printing
Every business has unique requirements. The software allows users to customize the printing based on their exact requirements. The software provides customization options for label printers such as Zebra and Dymo etc.
You can select from dozens of labels and customized stickers that meet Amazon requirements.
You can format the sheets and sticker in different ways. You can print the stickers and labels continuously, page break by items, or print a blank separator sticker.
Before printing the stickers, you can view the designs and approve the design for printing that meets Amazon requirements. You can access the print sticker option from different screens.
Individual purchase order page
Products page
The final stage of the shipping wizard
After you have selected the print sticker option, the line items will be automatically entered by Amazon. You can add additional information such as ASIN, SKU, UPC, Supplier SKU, EAN, and also custom text related to products.
The software allows you to add an expiration date and store name. Not only will this help in local inventory management but also lets you remain compliant with Amazon's requirements.
Also Read : Best Amazon Seller Training Courses
RestockPro Box Content Management
The box content information needs to be complete and compliant with Amazon requirements. Not meeting the requirements will result in additional fees and delays. This makes it a frustrating and tedious process.
But thanks to RestockPro, you have one less thing to worry about when selling products on Amazon.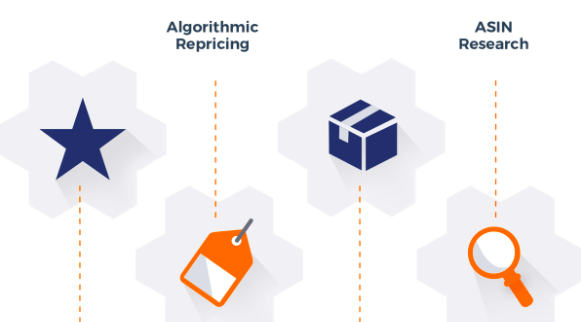 With the software, you can include expiration dates and qualities for every single box without having to leave the application. The software allows you to specify the 2D barcode.
This is particularly useful if you require suppliers to add 2D barcodes to each item. You just have to inform Amazon that the items contain 2D barcodes. This is important to avoid any penalty for nonconformance to Amazon rules.
The improved box content management can reduce the time required to unpack the items and make them available for purchase.
Building 'Kits'
One way to win the Buy Box on popular items is to build 'kits'. The process of building kits consists of offering multiple items as a single package. This results in various benefits both for the seller and the buyer.
The Kit Optimizer feature allows you to benefit in many ways some of which include the following.
Differentiate Product Offering – Kits are unique since no seller will be selling the same package unless you copy the package of someone else. Even then you have to give a different listing to your kit.
Reduced Fees — The seller has to pay only one Amazon fee per kit. On the other hand, listing individual items require a fee for each item. Items in the kit will receive just one sticker since it's considered a single SKU. This results in saving of fees for the seller and improved profitability.
Improved Sales — Offering Kits is a great way to provide the best deals to buyers. You can charge lower for the items that will result in increased sales. Customers can buy all the items with just one click instead of clicking on each individual item.
You Might Find It Useful : Amazon Boot Camp Review
Steps To Building A Kit Using RestockPro
Building a Kit is easier using RestockPro.
You should click on the project name and click on the Kits tabs.
Next, you should click on the checkbox that specifies that the product is a kit.
To add more products, you should click on the blue plus icon.
Once you have created the kit, you should next order the kit in the Restock Suggestions.
The Kit optimizer helps in improving the kits that will result in improved kits, increased sales, and satisfied customers. The optimizer looks at all of the parts and kits in the local inventory.
he software will assess the demand for the items and make suggestions. You can use the information to build kits that can result in optimum profit margin.
The Kit Optimizer menu provides a view of all the kits and expands to show different parts. You should select Run Optimizer from them menu option to see all the kits and their parts.
The software will make the required calculations evaluating margins and demand and make the best recommendation in the local inventory for shipping.
You should physically assemble the kits before sending the shipment to Amazon. The kit cannot be broken down once it arrives at the Amazon warehouse.
RestockPro allows you to visualize items that should be included in the kit. You can evaluate the items and see which kits will perform the best when offered to customers.
This helps increase inventory turnover, allowing you to boost sales and grow your business.
RestockPro Pricing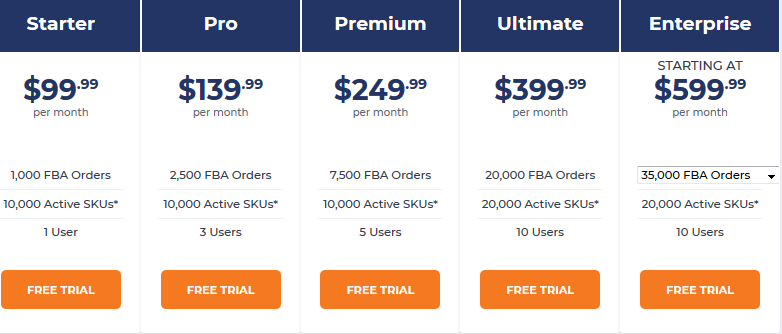 RestockPro is a completely scalable inventory management software tool. You can select the Starter subscription plan when starting up and then scale up once your business grows.
The Starter package allows a user to process 1,000 FBA orders and 10,000 SKUs. The Ultimate package allows you to process 20,000 orders, 20,000 SKUs and supports 10 users. The Enterprise package is suitable for large firms with lots of orders and SKUs.
Related : Best Softwares For Multi-channel Listing & Inventory Management
Alternatives To RestockPro
RestockPro serves as the best inventory management tool for Amazon sellers. However, there are many other tools that let you manage your business inventory.
If the software doesn't make the cut for you, consider the following three inventory management tools with different features.
1. Sellbrite

Sellbrite is an easy to use inventory management tool that helps you create and grow business across not just Amazon but also different channels including Walmart, eBay, Etsy, Jet, Rakuten, Newegg, and Sears. You can manage the inventory from an intuitive simple to use interface.
The software allows you to manage and create different listings and control inventory. You can fulfill orders across different sales channel from a single interface.
Let's review some of the features of the online inventory management too.
Bulk Inventory Listing
You can save time by a bulk listing of inventory across different channels. The software contains different listing templates that save time when it comes to listing items. There are also custom HTML templates that you can select based on your requirements.
Centralized Inventory Management
You can sync inventory listings across multiple channels. The software supports continuous inventory sync feature. There is also multi-warehouse support that allows you to sync inventory information across different channels.
All the listings are updated automatically. The software will sync price and product catalog information. Order can be managed from multiple channels. The result is efficient inventory management.
Multiple Channel Shipment
Sellbrite supports shipment and fulfillment to multiple channels. It supports automated order routing and carrier integrations.
API Access allows more control over inventory management across specific channels.
You can also print inventory reports for multiple channels to gain valuable insights. The software supports inventory reports, sales reports, and data exports.
Interesting Read : Ways To Get More Reviews On Amazon Products
Pricing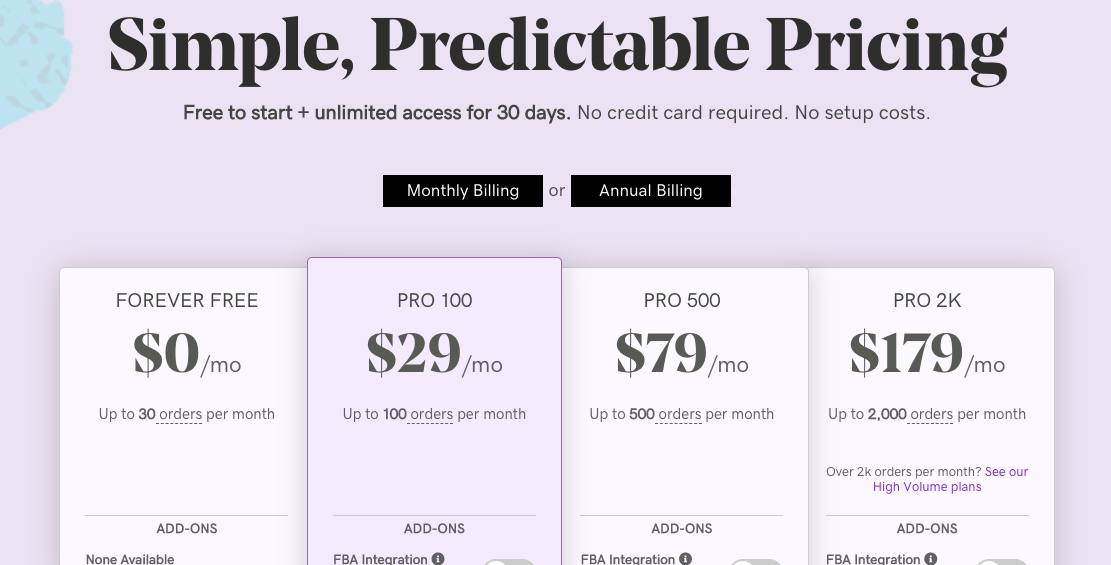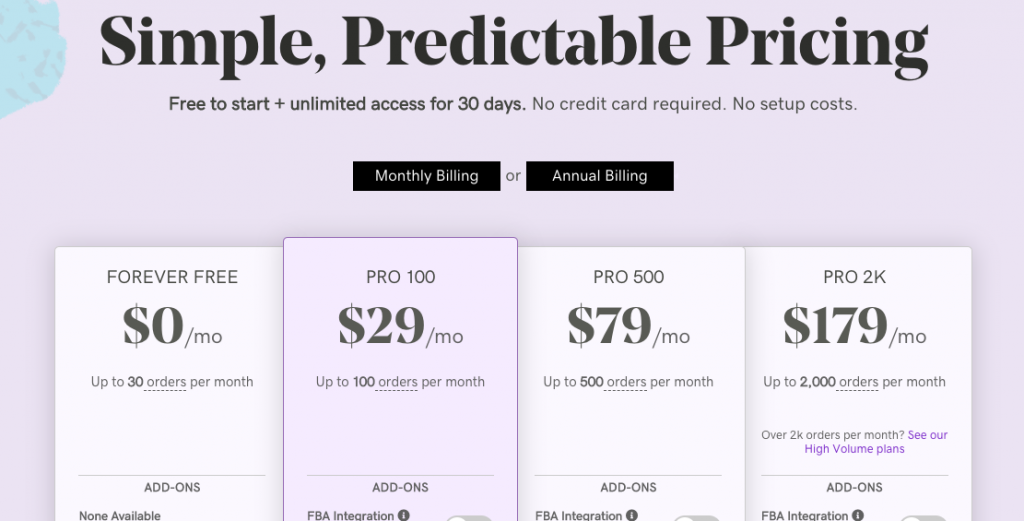 Sellbrite is free to start for 30 days.
The Shopify plans include a free plan and 3 paid plans starting from $19 to $99 a month.
The multi-channel plans start from $29 to $179 a month. A free plan is available as well.
2. Veeqo

Veeqo is another alternative to RestockPro for inventory management. The software allows you to manage the entire backend. You can organize and manage orders across different sales channels.
The software supports shipment to customers and real-time inventory sync.
With the software, you can manage products and inventory, gain insights into your business, and grow your business.
The software supports powerful reporting feature that helps you to know about the current status of inventory.
A great thing about the software is that it supports mobile integration. As a result, you can take your business with you and access the information anywhere, anytime.
Here is an overview of the main features of online inventory management software.
Warehouse Management
The software allows you to manage inventory shipped to the warehouse with speed and efficiency. This software supports enterprise level warehouse logistics capabilities making it suitable for big and medium-sized retailers.
Product Management
The software allows the listing to marketplaces and also the management of intricate details from a single platform. You can add products to both online and physical stores.
Order Management
You can manage orders through the efficient order management system. The software allows you to view, print, edit, and control other aspects of the order.
API Integration
With API support, you can integrate the software with almost any marketplace.
Worth Reading : Best Amazon Keyword Tools To Boost Sales
Pricing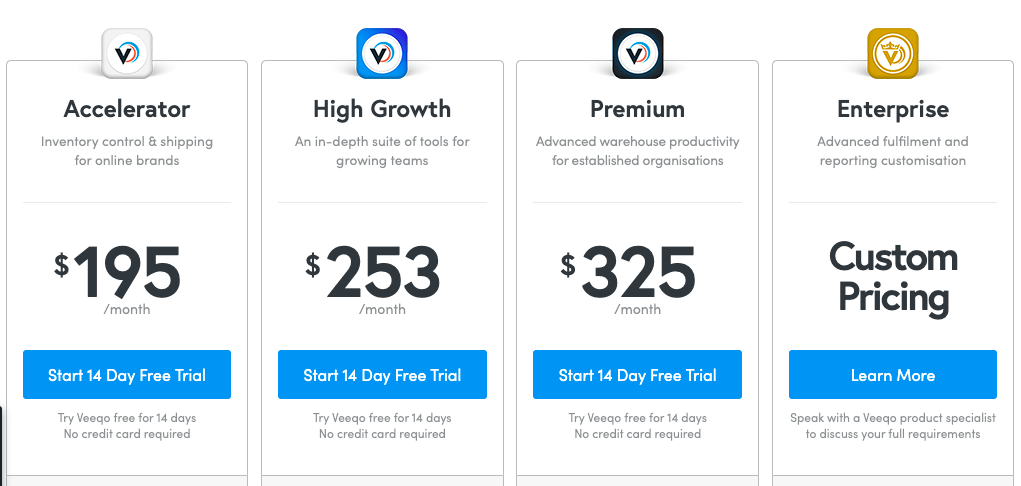 Plans start from $195/month to $325. They also have an Enterprise plan. You get 500 orders at this price.
Annual plans are cheaper.
3. Forecastly
Forecastly is a tool for Amazon FBA sellers that helps boost sales through efficiency and automation. The software helps you keep the cash flow running by allowing you to know when to replenish the inventory.
Using the software, you can improve inventory management and avoid stock out nightmares. Here are the salient features of the software
Inventory replenishment stats
Demand forecasting
Insightful account dashboard
Track inventory costs
Automated inventory management
Pricing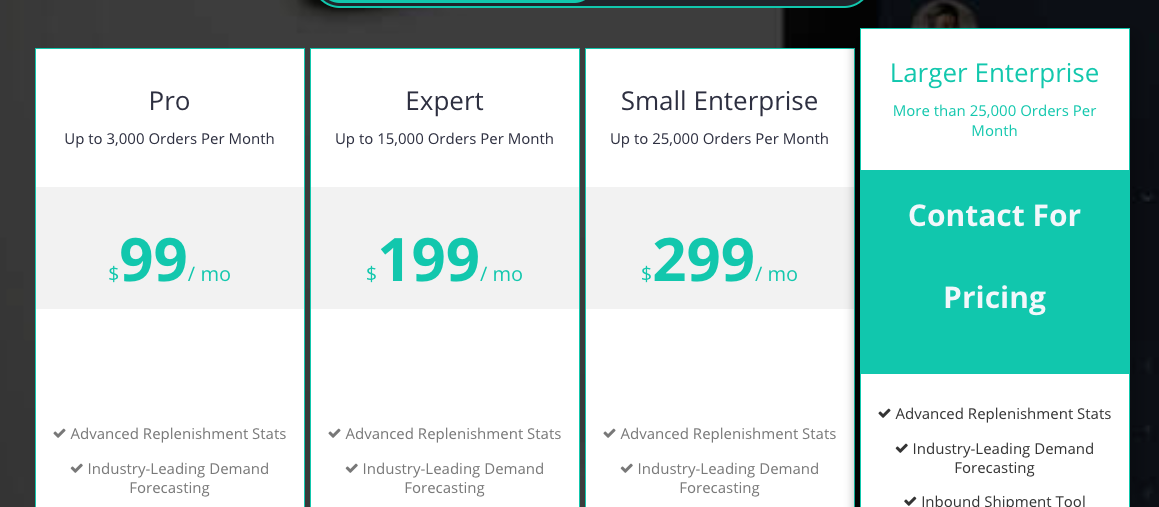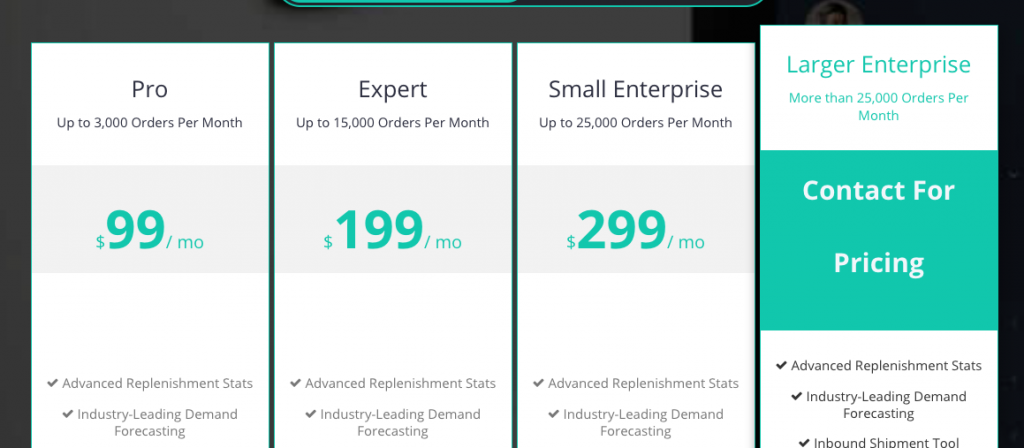 Plans start from $99 a month to $299. Large enterprises can go with their custom plan. You also have the option to pay annually.
A 14-day free trial is available as well.
Interesting Read : Ways To Remove Bad Reviews On Amazon
Conclusion
RestockPro is a scalable Amazon inventory management software system that can suit both small and medium sized businesses.
The software can help capture inventory data and allow you to monitor conversions, margins, sales, and competitive listing.
The kit feature can help Amazon sellers get the Buy Box.
Most would find RestockPro more than worth the money. But if the software doesn't makes the cut for you, the three other alternatives — Sellbrite, Veeqo, and Forecastly — could fill the gap.
 If you want support for multiple channel integration, you should select Sellbrite. But you should know that at a given price, the software supports less order fulfillment as compared to RestockPro.
Veeqo is also preferable to RestockPro if you prefer multiple channel integrations. A highlight of the software is a support to unlimited products, which makes it ideal for sellers with a large number of items.
Lastly, Forecastly is an another great inventory management alternative that is suitable for Amazon FBA sellers.
The price of the software boasts of advanced demand forecasting and cash management features not present in other inventory management applications.
But there is no feature of shipment management or building kits to win the Buy Box as with RestockPro.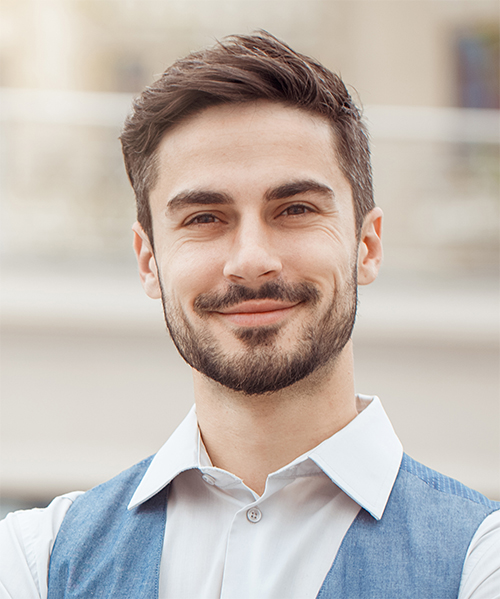 Author: Scott Macarthur
Scott L. Macarthur is a marketing consultant and an online author. He is mostly engaged in providing his expertise to startups and SMBs.