A customer-centric approach provides greater results as compared to a profit-centered approach.
A report by Deloitte and Touché had found that customer-centric businesses are 60 percent more profitable as compared to companies that are focused on profit.
As an Amazon Seller, feedback management is important for high conversions. Positive customer reviews help build brand integrity, reliability, and authority as a seller.
Your seller metrics will reach new highs when the positive feedback starts increasing.
New customers are attracted to products with lots of positive reviews. In addition, old customers are likely to stick around due to rave reviews of your products.
Most importantly, you will increase the chances of winning the Buy Box that drives up to 90 percent of all sales on Amazon. The Buy Now button will lead customers to make a purchase resulting in high turnover.
Getting positive feedback will help your store achieve prime real estate in the Amazon store. Customers will associate your products with policies that meet Amazon guidelines.
They will learn to trust you to offer best quality products and above average customer service.
But the problem is that most customers don't tend to leave feedback. Nearly one in 20 customers or only 5 percent of the total customers tend to leave feedback.
Fortunately, you can take proactive steps to increase the chances of getting positive feedback. With an Amazon feedback management software, sellers can greatly increase the likelihood of positive feedback resulting in improved sales.
Feedback Five is largely considered one of the best Amazon feedback review tools. The app allows you to manage feedback in multiple marketplaces. Most people have praised the customizable templates that help create effective email campaigns.
But if Feedback 5 doesn't meet your requirements, there are a lot of other alternatives that you can consider.
Here we will review five best alternatives to Feedback Five with similar features for managing Amazon customers' feedback.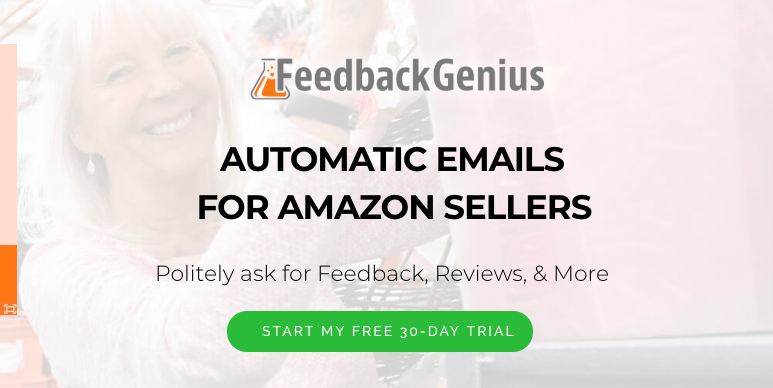 Feedback Genius is one of the best Amazon feedback management apps. The application allows you to manage reviews and feedback of your Amazon store products with automated emails.
You can engage with customers using customized emails. The software makes it easy to respond to a large number of customers without much effort.
Most sellers start sending emails within a few minutes after signing up. The software has an easy-to-use interface that allows sellers to easily manage emails and respond to them in a timely manner.
Let's looks at some of its features:
Related : Complete Feedback Genius Review 
Automated Messages
The highlight of Feedback Genius is automated emails. You can solicit feedback and reviews and share information about the product with buyers through the automated emails.
The emails will improve your online reputation as you will be able to respond to customers in a timely manner.
Instant Notifications
Another great feature of Feedback Genius is timely notification of feedback and reviews from customers. This allows you to take appropriate action right after a buyer leaves a review or feedback.
You will also get notifications of order event such as confirmation of orders and refund notifications. The software will keep you updated regarding every event related to your Amazon product.
You can receive a notification of negative feedback immediately so that you can take timely action. The app allows you to specify the email address and phone number where the messages should be sent.
This allows you to respond immediately that will result in a positive customer impression.
Related : Best Feedback Genius Alternatives
Optimize Email Messages
You can perform A/B testing by sending two different versions of emails to find out which version performs better.
The information will help you to not only optimize responses to feedback and reviews but also improve marketing message that results in maximum effectiveness.
Multiple Marketplace Support
Feedback Genius supports multiple marketplaces. You can use the software for managing feedback from Amazon US, Canada, UK, Germany, Mexico, Spain, France, and Italy.
You can manage additional marketplaces for just $10 per month.
Customized Templates
One of the best things about Feedback Genius is the availability of a range of email templates. While the templates may not be as lush and beautiful as Feedback Five templates, they are more targeted since each has a specific goal.
You can select a template for different goals with the aim of converting irate customers to satisfied customers, responding to negative queries, and more.
The goal-driven templates will help in effectively managing customer feedback with the goal of boosting online sales.
Worth Reading : Feedback Five Vs Feedback Genius
Message Delivery Filters
Another great thing about Feedback Genius is that the app allows you to select messages with granular filters.
You can apply different message delivery filters to ensure that the right message is sent to the right buyer at the most appropriate time.
Block Buyers
Feedback Genius allows you to block buyers who have opted out from receiving messages. The global blacklist collects info regarding thousands of buyers.
This will help you save a lot of time and effort in identifying buyers who have opted out.
Reputation Management
With Feedback Genius, you will know exactly what buyers are saying about your store online. You will get notification about seller feedback.
This will help you to respond to negative comments to ensure that it does not lead to bad publicity.
Analytics Reports
You can view analytics reports of the feedback rate, clickthrough rate, and open rate of each message that you send to customers.
The information will help you in optimizing the emails to ensure maximum response from customers.
The software allows you to view three different graphs and three different reports. The reports can be accessed by clicking on Analytics from the Messages tab.
You can view the Feedback report that contains aggregated information about monthly feedback. The recent usage report shows how many emails you can send in a month.
Related : Feedback Genius Vs Feedback Whiz
Pricing
Feedback Genius is now part of Seller Labs Pro.
Similar to Feedback Five and other popular feedback management application, Feedback Genius is a subscription-based service.
The plans start at $49/month if your annual Amazon sales are under $50k.
You can also try 30-day free trial feature to test how effective is the software.


BQool BigCRM is yet another great alternative to Feedback Five.
The software allows you to handle feedback on the go. The product review management app helps simplify the task of managing customer feedback.
You can compile and organize product feedback and reviews for the past 3 months and stay up-to-date about customers' comments about your Amazon products.
Let's take a look at just some of the value-added feature of BQool BigCRM.
Also Read : Best Amazon Feedback Tools & Review Management S0ftwares
Instant Alert Notifications
You can stay updated about negative comments that are published about your product or business with this software. An automatic email is sent to your address so that you can respond to customers complaints in a timely manner.
A timely response will increase the chances of a positive resolution of an issue.
Automatic Response
Timely response to customers' queries can result in reduced chances of negative feedback. You can create an auto-reply message to help solve issues of buyers.
With the automatic response, you will be able to respond to customer queries even during off-business hours.
This will ensure that every customer is responded in a timely manner resulting in a positive impression on customers.
Customized Email Templates
Yet another great thing about BigCRM is the variety of email templates that can be customized to meet different customer service needs. You can also create new email templates that reflect your company's brand image.
The email response templates can be translated into different languages. The system will automatically translate the response allowing you to scale your business internationally without having to hire multilingual agents.
Innovative Amazon Help Desk
A standing feature of BigCRM is the Amazon help desk solution that simplifies the task of responding to buyers and improving the buying experience.
You can automate the feedback request emails and improve the buyer shopping experience through the help of the help desk feature.
Using the help desk feature, you will be able to improve the chances of getting favorable reviews and feedback. This will result in improved online reputation and increased sales.
Explore : Feedback Whiz Vs Jump Send
360-Degree Customer Views
A powerful aspect of BigCRM is the ability to get an overview of the relationship of buyers with your business. You will know about critical customer data such as order history, contact detail, feedback history, and refund history.
The information will allow you to assess the needs of the customers quickly so that you can respond in an appropriate manner.
Centralized Buyer Messages
Customer response from different seller accounts can be viewed from a single location. The Amazon help desk platform allows you to greatly streamline the operation of customer service.
This will allow you to respond to all customer queries easily without having to log into separate seller accounts.
Detailed Review Reports
BQool BigCRM provides detailed reviews of all customer response. You can view reports by date and by listing. The report allows you to analyze trends that can help you catch recurring problems.
This allows you to catch thorny issues before they escalate. You can also download the reports for offline analysis and sorting.
BQool Pricing
BQool pricing is also subscription based. The plans start from $50 to $500 per month. You get 5000 Amazon emails in $50. For every additional email, you pay $0.01.
High pricing plans give you unlimited emails and access to more features.
With annual subscription, you get 10% discount. A 14 day free trial is available as well.


Salesbacker is another Feedback Five Alternative to look at.
It's a great Amazon email automation tool. The software can be used to gain product feedback and reviews. In addition, you can get marketing data using the software that will help you to fine-tune marketing strategy.
Like most other feedback automation tool, you can use this tool to review Amazon feedback and improve online reputation.
The software allows you to improve customer response and boost Amazon seller ranking. Following are some of its notable features.
Worth Reading : Feedback Whiz Review
Monitoring Of Seller Feedback
You can monitor feedback and reviews of buyers regarding your product. The software provides instant motivation about feedback left by disappointed customers.
You can receive notification for the custom threshold that is specified in the account settings. For instance, you can specify to receive notification about product reviews that are 3 stars or less.
The software allows you to get notification about seller feedback, reviews, or both. You just have to set up the setting once and receive appropriate notifications.
File Attachments
A great thing about the feedback management software is the support for an Email attachment. You can send PDF or any other document to your Amazon customers.
The software supports sending documents of up to 7 MB. This is a great way to impress your customers by sending them free publicity materials.
Related : Jump Send Review
Salesbacker Pricing
Salesbacker is a subscription-based service similar to most other feedback management software. You can send up to 120 emails per month for no cost at all.
However, the free plan does not offer all the premium features.
To avail the best features, you should select one of the paid subscription plans that start at $19 per month for sending 1,600 emails per month.
The advanced packages let you send between 4,000 and 40,000 emails to your customer.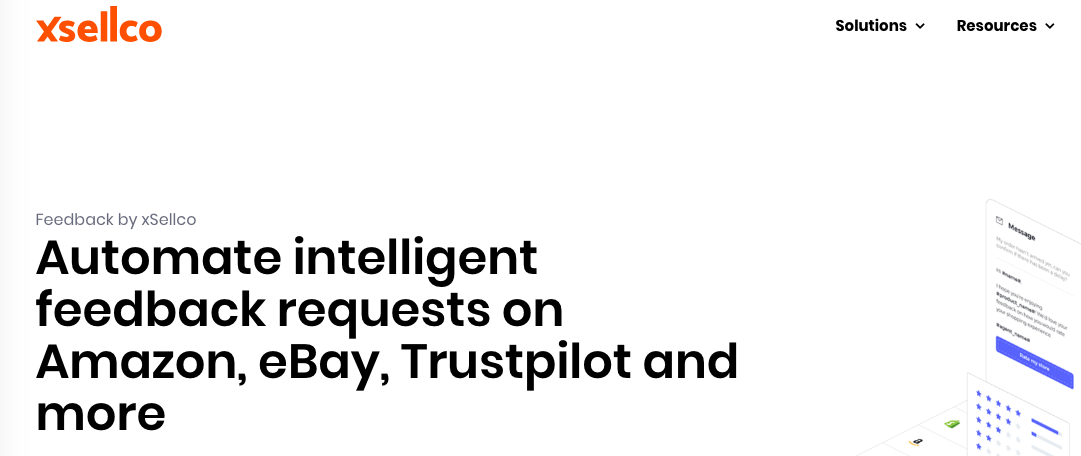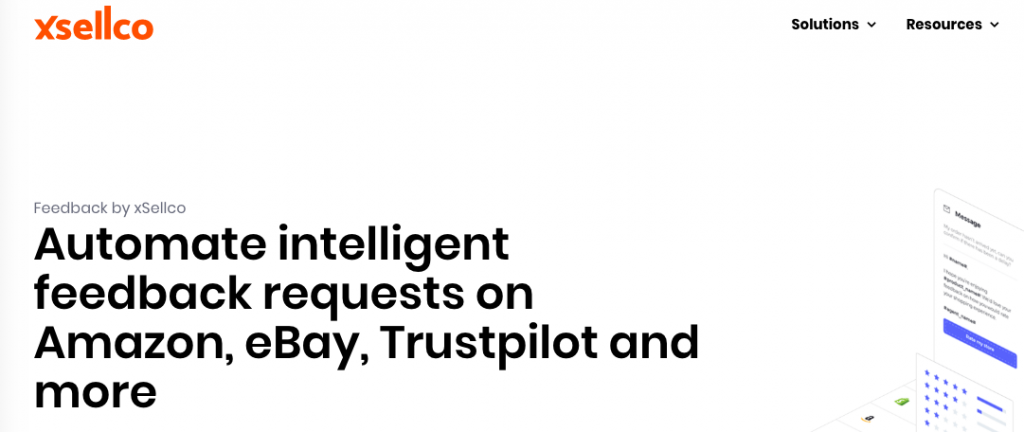 xSellco is a popular feedback review and monument software. The software can be used to manage and solve queries of a large number of buyers.
The software offers support for different languages translating the message automatically. In this way, you can serve a large number of global customers.
You can use the feedback management software tool for managing reviews in not just Amazon but also Twitter, Facebook, and Trust piolet.
The software will help you boost social proof to build brand image and boost sales. Take a look at some features.
Automated Feedback Requests
Similar to other feedback management software, Xsellco help improves product reviews and feedback by sending immediate requests to customers on eBay, Amazon, and more.
The software allows you to make sure that the relevant marketplace criteria are adhered to in managing feedback.
Related : Best Jump Send Alternatives
Send Bulk Requests In No Time
With Xsellco, you can send thousands of emails to customers at one go.
Setting up the software is easy. You just have to decide the content of the email and click on the send button to send the email to thousands of customers.
Feedback Scheduling
You can schedule feedback to send to the right customers at the right time. The scheduling feature allows you to respond to focus on negative reviews that can be turned into positive reviews.
You can send selective, smart requests for feedback to specific customers.
You can schedule feedback to be sent at the most opportune time when buyers are most likely to give positive feedback.
The feedback requests can be customized based on product type, SKU, destination, and more.
Reporting Features
Xsellco has powerful reporting features, something which is absent in most Xsellco alternatives. The software can generate reports that let you track feedback response performance.
You can specify the reports to show response times, ticket volume, heatmaps, and other important metrics. The software can also show trends over time in responding to customers.
All the information related to managing customer feedback is stored in a central database. You can search for the content using different filters.
The software allows you to view shipping and purchase histories. You can also find out permissions and roles that are assigned to different team members.
By changing the access setting, you can decide who will have access to information regarding customer service performance data.
Interesting Read : Ways To Get More Reviews For Your Products
Xsellco Pricing
Xsellco has three price packages. The Basic version allows you to manage 5,000 feedback per month, while the Premium version allows you to manage 60,000 feedback.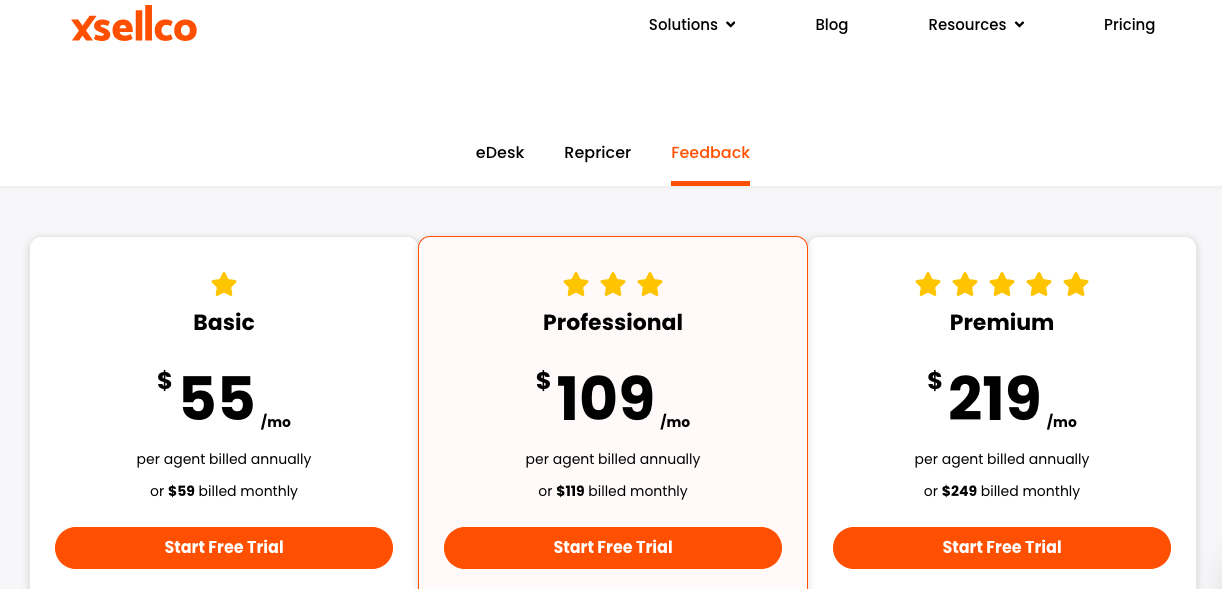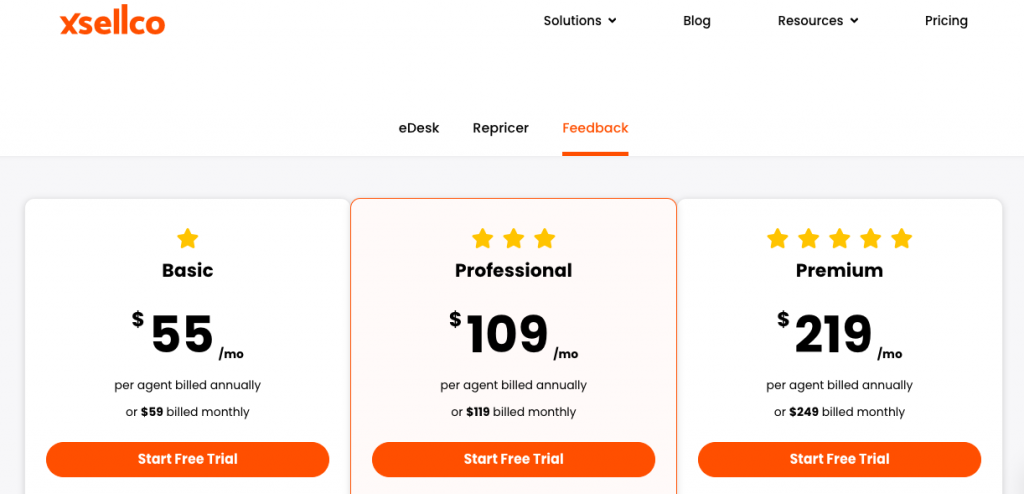 The yearly payment plans are priced at $55, $109, $219 per month. You also have the option to subscribe to monthly payment plans.
All the packages allow access to the most important features such as unlimited marketplaces, automated feedback requests, seller and product reviews, templates, sales dashboards, and more.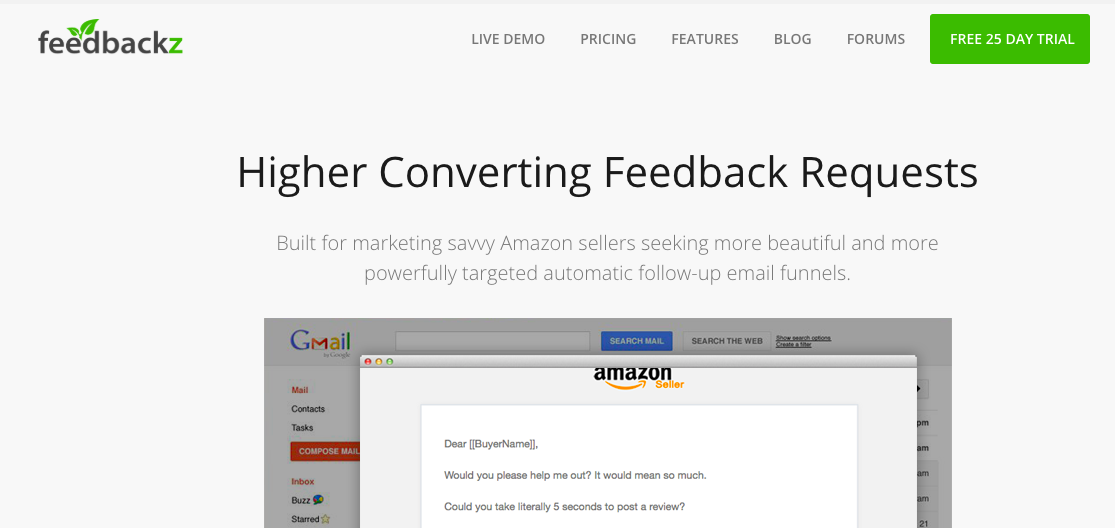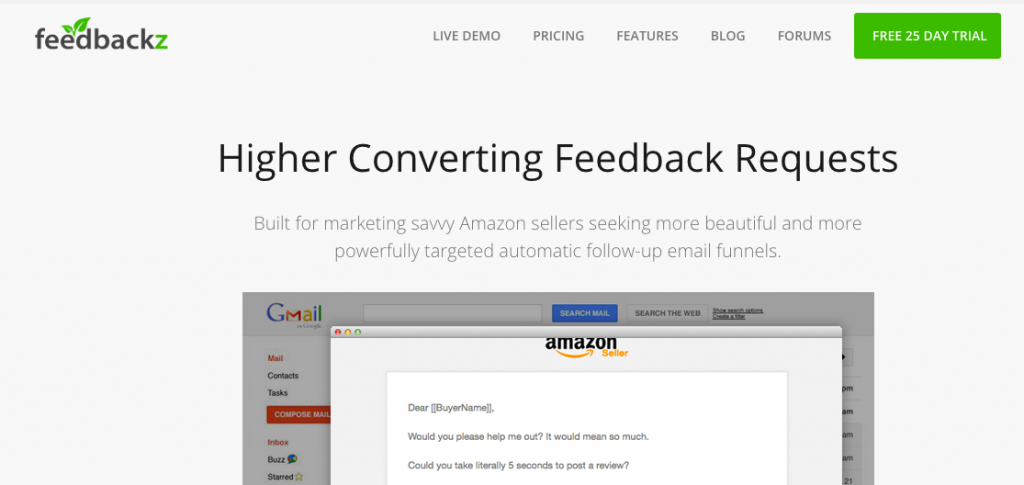 FeedbackZ is a great alternative to Feedback Five.
The software boasts of a lot of features that make it one of the best tools for managing customer reviews and feedback.
Send Attachments
You can send attachments with the emails sent to your Amazon buyers.
The emails can consist of almost any type of documents such as instructions, PDFs, bonus material, manuals, and images. The maximum file size is 7 MB.
Test and Preview
A unique feature of FeedbackZ is the ability to test and preview the emails before sending to customers.
You can also specify that a copy of the email is sent to the customers.
Beautiful Emails
Another great feature of FeedbackZ is the availability of a large number of beautiful emails that are sure to impress customers.
With the great attention to detail in the design of emails, you can make a terrific impression on your customers.
There are 6 default templates with specific goals. You can select an email for specific goals such as follow up, thank you emails, asking for product feedback, and more.
You can also use the default emails as a guideline to send a customized email to customers.
Useful Post : Ways To Remove Bad Reviews On Amazon
Mobile Responsive App
You can use the app on your mobile without any problem. The app can also integrate with email app including Outlook, Gmail, Apple Mail, and Yahoo.
This allows you to manage customer queries and respond to feedback while on the go.
Customizable Emails
The email templates are fully customizable using the built-in editor. You can edit colors add images, edit text, and more with just a few mouse clicks.
Each email can be customized for individual sellers. The software can add buyer name and product name automatically without having to manually add the information for each buyer.
Links To Amazon Product Review Page
FeedbackZ allows you to add custom links of Amazon product review page.
This will let the buyers immediately get to the relevant page for writing reviews.
Target Delivery Options
A powerful feature of FeedbackZ is the target delivery options. You can create a campaign with custom order filtering and timing for sending emails. This will allow you to create effective email sequences.
You can filter the messages by past order date, time of day, specific products, target promotions, repeat buyers, fulfillment type, specific country, and order status.
This is something that you won't be able to do with most other feedback management and review tools.
Track ASIN Listing
Another unique and extremely useful feature of FeedbackZ is ASIN listing. With this option, you will be able to know the listings for new product reviews automatically.
The ASIN listings will be automatically monitored for new product reviews that meet your specific criteria.
And the best part about this feature is that you can track unlimited ASINs in multiple marketplaces.
You Might Want To Read : Best FBA Tools For Amazon Sellers
Effective Email Management
FeedbackZ allows you to view emails sent and also pending emails. You can block certain buyers from receiving the emails including acknowledgment email sent when placing an order.
FeedbackZ Pricing
FeedbackZ has a wide variety of package that suits different requirements.
The cost starts at just $9 per month and goes up to $249 per month. You can also request a custom quote for sending a large number of emails to customers.

Final Remarks
When selecting a feedback management tool, you should look at the features to make sure that it meets your expectations.
Make sure that the feedback and review management tool have an automated email response and feedback reporting tool.
The feedback app should also allow you to send documents so that you can provide additional valuable resources to customers.
Lastly, the feedback management tool needs to be easy to use. The main reason for using an app is to save time in carrying out a task. A software tool that is cumbersome to use will not be worth the money.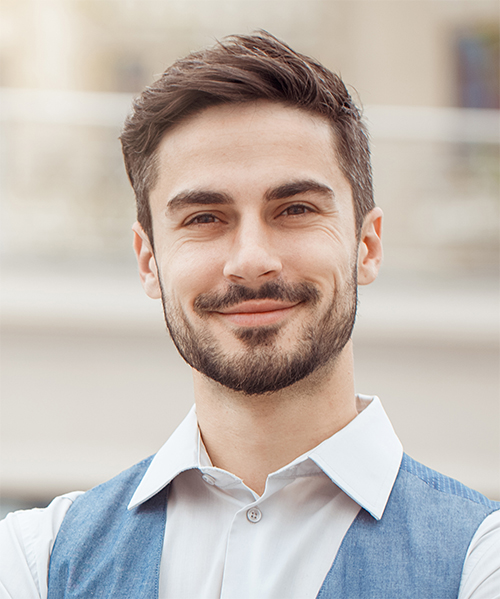 Author: Scott Macarthur
Scott L. Macarthur is a marketing consultant and an online author. He is mostly engaged in providing his expertise to startups and SMBs.