Ecomhunt is a popular tool for finding winning eCommerce products. Not only does it show you profitable products, but you can see ad examples for those products and discover suppliers.
However, there are many great alternatives to Ecomhunt as well.
Perhaps Ecomhunt is not bringing you the results you like, or perhaps you don't like the fact that it does not offer a trial period. Maybe you don't want to pay $29/month and are looking for a cheaper alternative.
Regardless of why you are looking for an Ecomhunt alternative, this article is for you. I will show you the 10 best Ecomhunt alternatives for finding profitable eCommerce products, spying on your competitors, and finding suppliers.
Let us get into it.
Best Ecomhunt Alternatives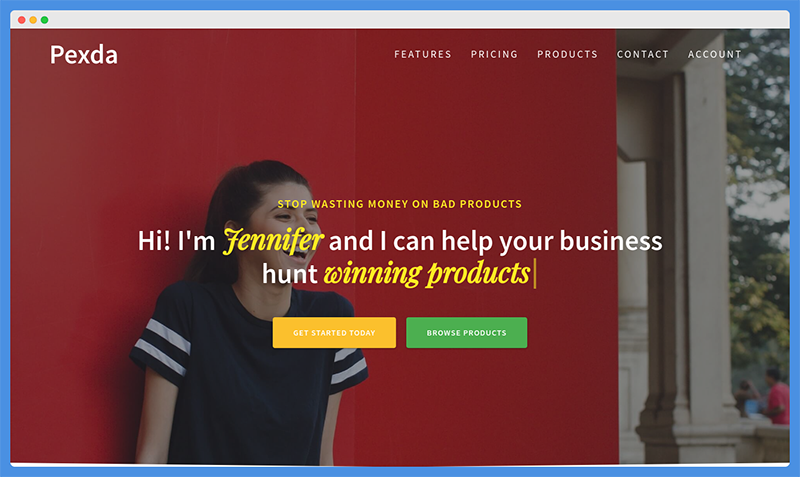 Pexda is a popular Ecomhunt alternative for finding profitable eCommerce products. One of the advantages of using Pexda over Ecomhunt is that it offers a trial period of two weeks for only $1.95.
Although the trial is not free, it is not much of a commitment, and it allows you to try out the tool without spending a lot of money. Ecomhunt does not offer such a trial.
The only downside of the trial is that there is a three-day delay on winning products and some products are not shown. In other words, winning products are not from the same day; they are from three days ago.
However, once you sign up for a normal plan, this restriction goes away and winning products are instant.
Like Ecomhunt, Pexda will give you a list of winning products. You will also see Facebook ad copy examples to get ideas from.
Also, you can use the Chrome extension to find profitable Facebook ads. Pexda gives you the target audience of each ad as well, which can help you create your own high-converting, targeted ads.

In addition, Pexda will give you a full AliExpress report on each product, including:
Orders
Product cost
Product ratings
Shipping costs
This information will help you decide whether the product is a good option for dropshipping. You will also see similar reports for Amazon, eBay, and private eCommerce stores that are selling the product.
Pexda has two plans:
$24.95/month: This is the main plan. You will get access to all features.
$99.95/month: With this plan, you will also get access to special products that only Ultimate plan members have access to.
Always check the Pexda pricing page for updated pricing information, as pricing is subject to change at any time.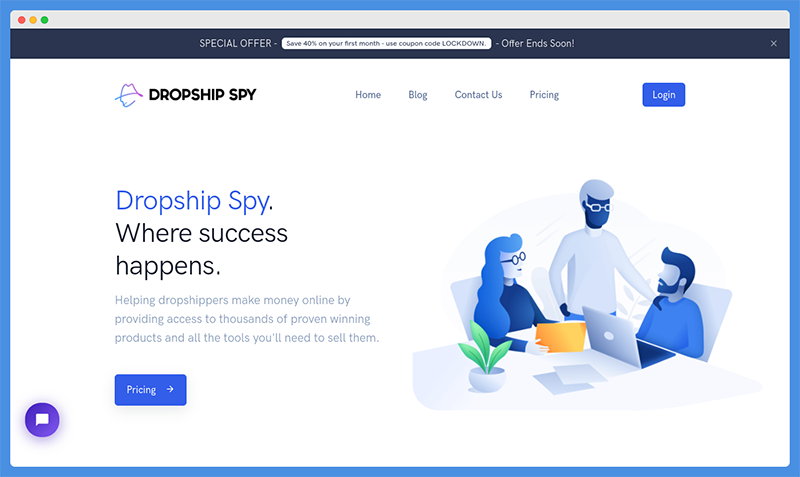 Dropship Spy is a great alternative to Ecomhunt if you are looking for dropshipping products. Dropship Spy targets dropshippers specifically, helping them find dropship friendly suppliers.
Dropship Spy costs just $20/month. Check the Dropship Spy pricing page for updated pricing information.
Not only does it show you winning products, but it helps you quickly identify the best products by marking them as products with a "Super High Engagement Rate."
Each product comes with information such as engagement rate, average profit in USD and British pounds, buying price, selling price, and more.
You can discover both Winning Products and Promising Products. Winning Products are products that have a high engagement rate and are selling well right now.
Promising Products, on the other hand, are not yet on the same level as Winning Products. However, they are following an upward trend in terms of engagement and sales, and they will probably be Winning Products in the near future.
Tracking these Promising Products allows you to take advantage of trends before other dropship sellers are. It gives you a head start, in a way.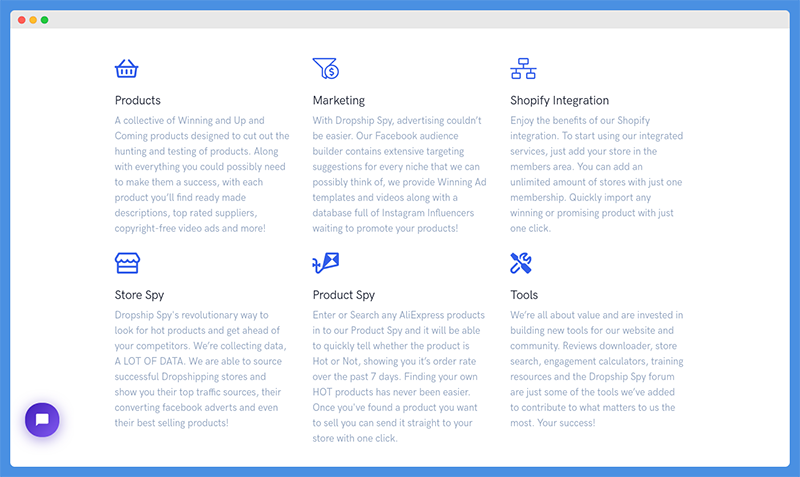 One really cool Dropship Spy feature is that it gives you ready to use video ads. These video ads are slides of the product's images, accompanied by catchy music.
If you want to create a video ad showcasing the product in a good light, you can use one of these ready to use ads.
Dropship Spy also helps you find influencers to promote your products. There is a list of Approved Influencers, which meet certain requirements, but you can also search through the entire influencer directory and find influencers who meet your criteria to promote your products.
Another cool feature you might find useful is the ability to download product reviews. You can use these reviews on your dropshipping site to increase conversion rates.
Dropship Spy integrates with Shopify, so you can import the Winning Products you find from AliExpress, eBay, and Amazon to your store. When an order comes in, you can fulfill it from your Shopify app too.
All of these features make Dropship Spy an excellent alternative to Ecomhunt.
Spying on your competitors is easy with Dropship Spy as well. You can enter any dropshipping store and find their top-selling products, top traffic sources, and even top ad copy – knowing this information will help you emulate their success.
If you are interested in a specific product, you can enter it into the tool to see whether it has been performing well over the past seven days.
Interesting Comparison: Pexda Vs Dropship Spy
AliShark is a great Ecomhunt alternative if you are looking for profitable products to source from AliExpress. Unlike Ecomhunt, it offers a trial.
AliShark's trial is not entirely free – it is $1 for two days. Still, it is better than nothing, and it gives you a chance to try AliShark without any major commitment.
All of AliShark's results are updated in real time, several times a day. Because of this, you can always find winning products that are likely to be profitable.
Each product will show details such as price, star ratings, and total orders. You will also see how many people added the product to their wishlist on AliExpress – this will help you gauge the product's popularity.
Useful charts will show you the product's performance over time. You can see if the product's popularity is starting to decline, for example.
On the flip side, you can also use these charts to identify rising trends – products that are steadily gaining popularity. These charts show not only sales data but also add to wish list data – if more people have been adding the product to their AliExpress wishlists recently, a boom in sales might occur soon.
You will also see which countries the product is being dropshipped to. If you are in the USA, for example, you will want to ensure that the product is popular in the US as opposed to a country like France or Canada.
AliShark will even show you "matching pages" – other sites that are selling this same product across the web. You can check these pages to get ideas on how to structure your own product page and what kind of images to use.
AliShark currently costs $20/month (after the trial). However, always check the AliShark website for updated pricing information.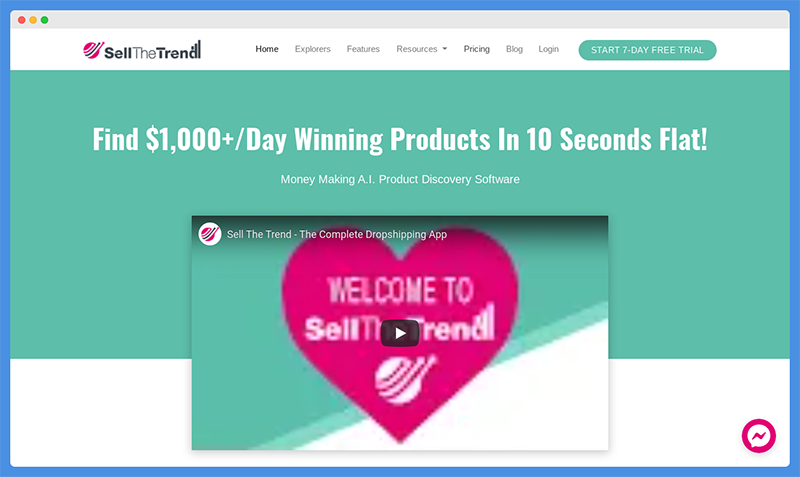 Sell The Trend is a great Ecomhunt alternative for finding winning dropshipping products. Unlike Ecomhunt, it offers a free seven-day trial – you don't have to pay anything to try it out for seven days.
Sell The Trend uses AI to track and analyze eCommerce stores from around the world to find the top trending eCommerce products. You can search through the database of products to find products in different niches that are Trending, Hot, or Recently Published.
For each product, you will see useful data, such as:
How many popular stores it is being sold on
Average price for this product
Average profit margin
Total orders for the product
Total sales for the product, in dollars
The Retail Trend Explorer engine will analyze either AliExpress and Amazon products that are selling well and which are trending upwards. By focusing on products that are trending upwards, before they are fully popular, you can get ahead of your competition.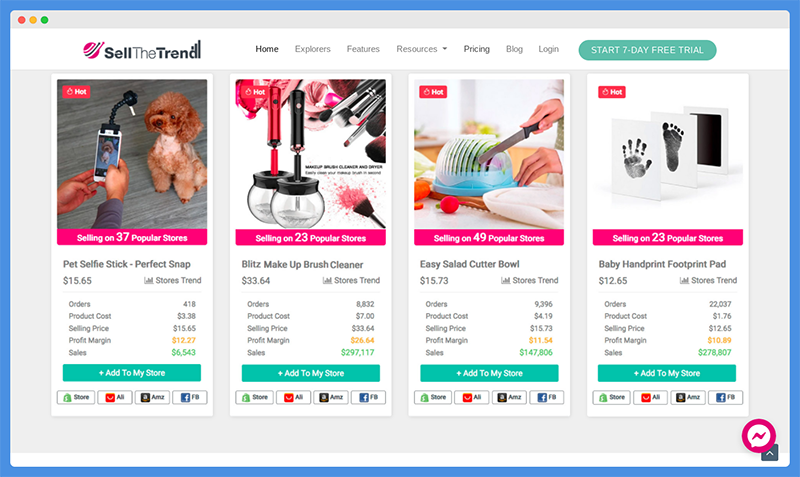 You can also analyze your own store to see how it can be improved. The Store Intelligence report will include useful data such as:
Monthly traffic
Average product price on your site
Average monthly orders
Average monthly revenue
Social links
Tech spend
A list of the best selling products on your site
Although you can use this for your own site, it is even more useful if you run a Store Intelligence report on a competitor's site. For example, if you want to see the best selling products in a competitor's store, so you can sell them too, this tool will help.
A really helpful tool is the Video Ads Creator. The tool will automatically load product images from selected stores to create the video.
Unlike Dropship Spy, you can edit these videos. You can choose which images to include, add text to the video, and include various effects.
Like Dropship Spy, you can conduct influencer research with Sell The Trend. Simply enter any influencer's profile into the Influencer Calculator, and the calculator will give them a rating from 1-100, showing how influential they really are.
Use the Influencer Calculator to avoid working with influencers that have fake followers and an inflated influence.
The Facebook Audience Builder is a useful tool too. You can use it to create target audiences on Facebook to target.
Like Dropship Spy, Sell The Trend integrates with your store. You can add any product you find in the research tool to your store with the Push to Store button, and you can even edit the product title, images, and description right in the app.
The same goes for fulfillment. Using the Chrome extension, you can fulfill orders with one click – this way, you won't have to waste money copying and pasting customer details into the AliExpress order form.
Sell The Trend costs $39.97/month, but you will get two months free if you sign up for a yearly plan. You should always check the Sell The Trend website for updated pricing information.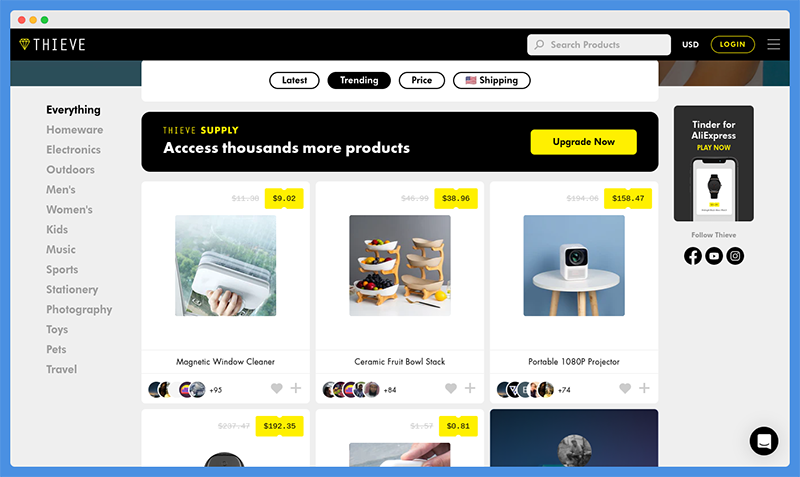 Thieve is a bit different. It shows you the best AliExpress products – but these products are handpicked by bloggers, photographers, and designers from around the world, not by an AI machine.
Unlike Ecomhunt, you can use Thieve without paying. You don't even need to create an account to browse hot products on Thieve.
All the products on Thieve are vetted by real humans, so you won't have to worry about an AI machine showing you products that are not that great. You can also sort products by "shipping" to find products that ship to the US quickly.
If you create an account, you can get a handpicked selection of hot AliExpress products sent to your email inbox every week.
However, if you really want to be successful with Thieve, I would recommend signing up for Thieve Supply. Thieve Supply is geared towards eCommerce sellers and dropshippers like you who want to find the best products on AliExpress to sell in their stores.
It will give you access to more products than you would get by using Thieve for free.
You will get a hand-picked list of the best products to dropship every day. You will also get statistics about the popularity and conversion rates of products to help you make better decisions about what to sell.
Thieve Supply currently starts at $15/month, making it cheaper than Ecomhunt. Since prices are subject to change at any time, I would suggest checking the Thieve Supply page for updated pricing information.
You can also get the Thieve Supply Pro plan, which includes premium product content and prerelease product access.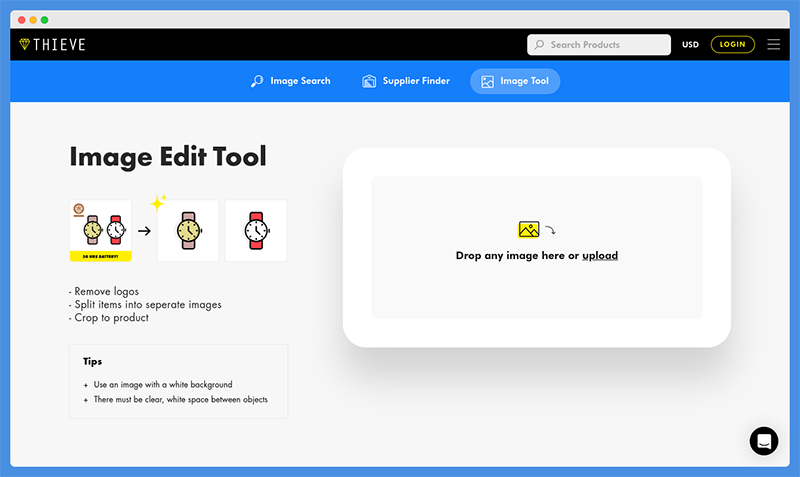 You can also try Thieve Tools for free, without creating an account. There are three main Thieve Tools you can use:
Image search: If you found an image of a product online and are wondering whether it exists on AliExpress, use this tool. Just upload an image, and the tool will search through AliExpress to find relevant products.
Supplier Finder: Enter any AliExpress URL to find other sellers selling the same or similar products. It is a great tool for finding alternative suppliers to work with.
Image Edit Tool: This tool is great for creating custom images to use on your product pages. Upload any image to remove logos, crop the image, or split the image into two separate images.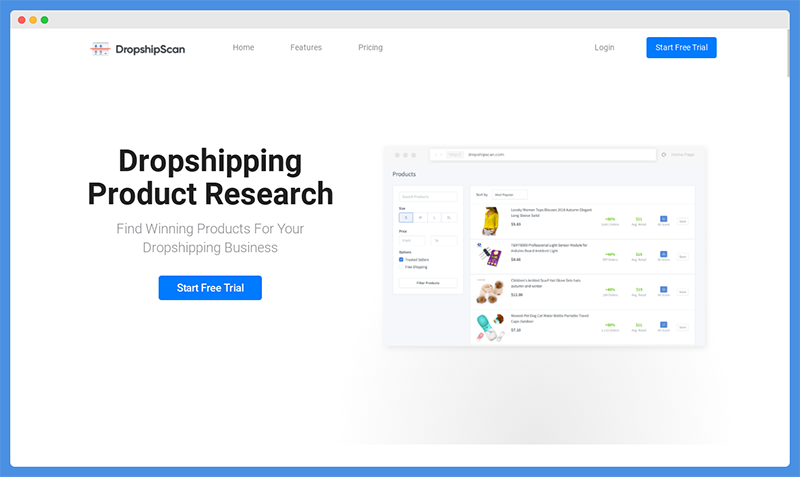 Dropship Scan is a great alternative to Ecomhunt if you are looking for a tool that offers a free trial. The search engine lets you search for profitable products using filters such as:
A profit margin of at least $10, $25, or $50
Price ranges
Trusted sellers
Worldwide shipping
For all products, you will also see the average retail price.
When you see a product that you like, you can import the product, along with all its details and price, to your store. Dropship Scan integrates with both Shopify and WooCommerce for product importing.
A useful Dropship Scan tool is the Ad Designer.
The Ad Designer tool pulls product images from the manufacturer and lets you customize them – you can add filters, text, emojis, and more. The tool lets you crop the image, add shapes, resize the image, and add stickers too.
Once you like the end result, you can publish the ad directly to your social media channels or download it to use it as a banner.
The Shop Inspector tool lets you search through the top 5,000 shops in the world and see their winning products.
Dropship Scan has one plan ($19/month), but check their website for updated pricing information.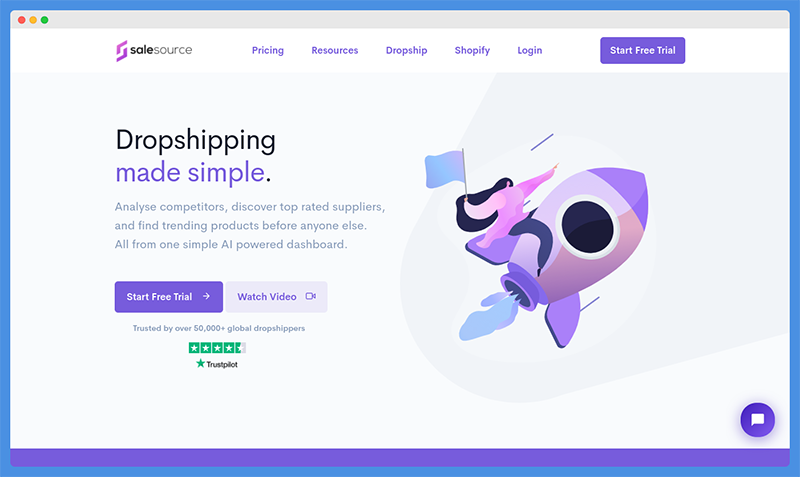 SaleSource is an excellent Ecomhunt alternative for finding great products to dropship, spying on competitors, and discovering suppliers. Unlike Ecomhunt, it offers a free trial.
It also has a Chrome extension, which you can use as an alternative to the Ecomhunt Chrome extension. The SaleSource Chrome extension lets you conduct research while browsing AliExpress – you will see data such as:
Reviews and ratings
Sales history
You can also download images quickly and easily
When looking for suppliers, you will see data such as average shipping times, product score, and total orders.
Spying on competitors is also easy. Just enter any product to see who is selling it, either on Amazon or on WooCommerce/Shopify stores.
You will see details such as the competitor's monthly revenue, the price they are selling the product for, and their other best selling products.
SaleSource is also an excellent market research tool. You can see data such as in which countries most buyers are located, which will help you target your social media ads more accurately.
If you are just starting your store, you can use the SaleSource theme analyzer to help you decide which theme is best for your goals.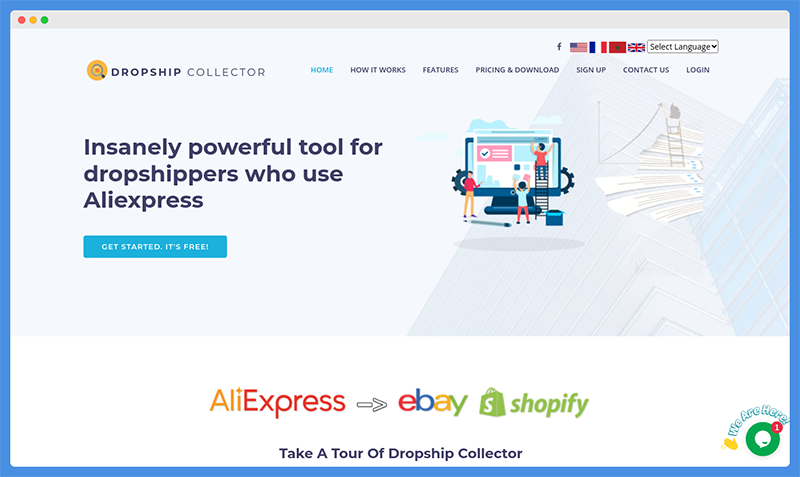 Dropship Collector lets you search for profitable products using filters such as sales ranges for the past week or month. In the results, each product will show data such as:
Product price
Sales in the past two days
Sales in the past three days
Sales in the past seven days
Sales in the past month
First sale date
Most recent sale date
Although all this data is shown on the website, you can see the same data by using the Chrome extension directly on AliExpress. This makes doing your research easier.
Dropship Collector integrates with both eBay and Shopify. Whether you sell on eBay or your own Shopify website, you can upload products from the results to your store with just a few clicks.
Dropship Collector is just $9.97/month, which makes it a great cheaper alternative to Ecomhunt (it is less than half the price). Check the website for updated pricing information.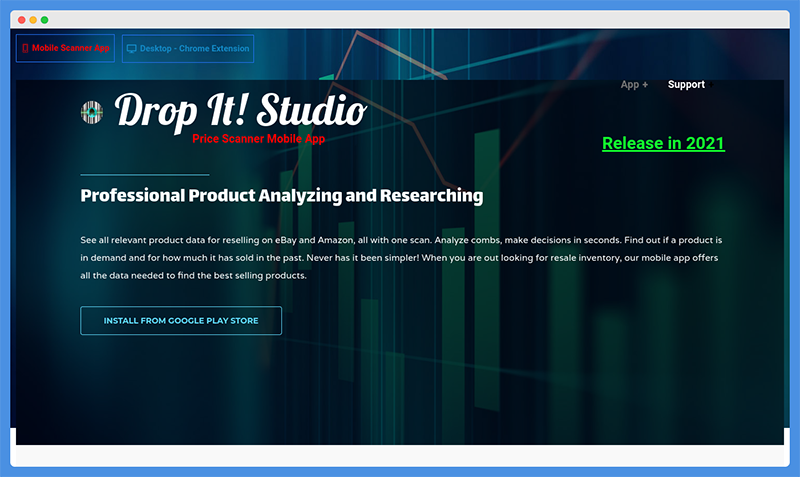 Drop It! Studio has one thing that Ecomhunt does not: A mobile app, which you can download from the Google Play Store. This makes it a great alternative to Ecomhunt if you want to do research on the go.
If you are using it on a desktop computer, you can download the Chrome extension instead. Regardless of which one you use, however, you will get access to the best products and useful data.
For example, the app will show you charts displaying sales trends over the past week, month, and year. You can also push the products to your own store with just a few clicks.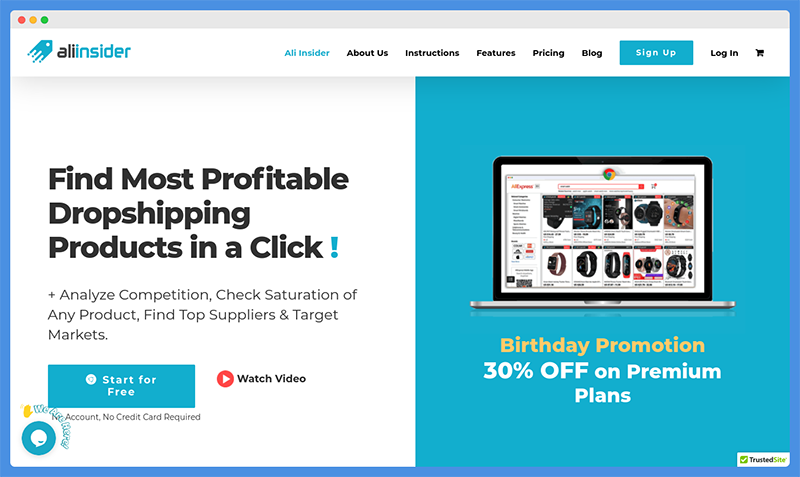 Ali Insider is a great Ecomhunt alternative for finding profitable AliExpress products to sell. Unlike Ecomhunt, it lets you try it out for free – not only do you not need to give up your credit card details to try it out, but you also do not need to create an account.
The Chrome extension Research Assistant will help you immensely while you are browsing AliExpress. Right above the product images that show up in the AliExpress results for any category, you will see useful information such as:
Average daily sales
AliExpress daily revenue
Date added to AliExpress
ePacket eligibility and pricing for different countries
AliExpress standard shipping details
And more
The Sales Tracker tool will show you graphs of the sales volume for any given product within the last two weeks. You will also see how sales changed from two weeks ago to the most recent week – this can help you understand whether the product is gaining or losing popularity.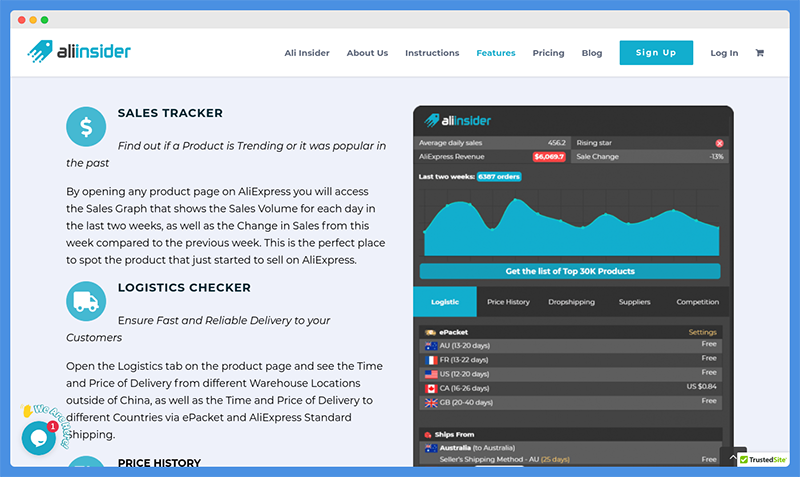 The Logistics tab will help you decide if selling this product will be reasonable and convenient. You will see how long it really takes for the product to be delivered to your country and how much it will cost.
The Price History tab will show you how the price changed in recent months. If it went up, it might be due to rising popularity and demand, which is a good thing.
The Dropshipping tab will help you figure out whether the product is working for other dropshippers. You will see details such as daily dropshipped orders and how much profit other dropshippers are making from this product.
The Competition tab is useful for market and competitor research. There, you will see the top sellers on Shopify, Amazon, and eBay, as well as their landing pages.
What Is The Best Ecomhunt Alternative?
The best Ecomhunt alternative is Pexda.
Pexda is easy to use, shows you products before they are "hot," and lets you try it out without a major commitment.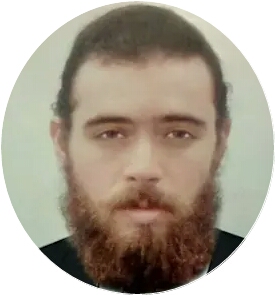 Author: Benjamin Levin
Benjamin Levin is a digital marketing professional with 4+ years of experience with inbound and outbound marketing. He helps small businesses reach their content creation, social media marketing, email marketing, and paid advertising goals. His hobbies include reading and traveling.