Mobile ecommerce has made online shopping accessible to anyone with a smartphone and internet connection.
There are countless mobile shopping apps that allow you to browse items on your phone and order them from the comfort of your home.
Some of the benefits of using mobile ecommerce apps include ease of access, saving time, the ability to quickly compare prices, and the ability to read reviews to make well-informed purchasing decisions.
Today, I will be showing you 30 amazing ecommerce apps you can download and use to shop online.
The short version: While Amazon, eBay, and AliExpress are some of the most well-known ecommerce apps, there are many lesser-known apps as well, such as Below Five and Poshmark. Read on for the full list!
30 Best Ecommerce Apps Examples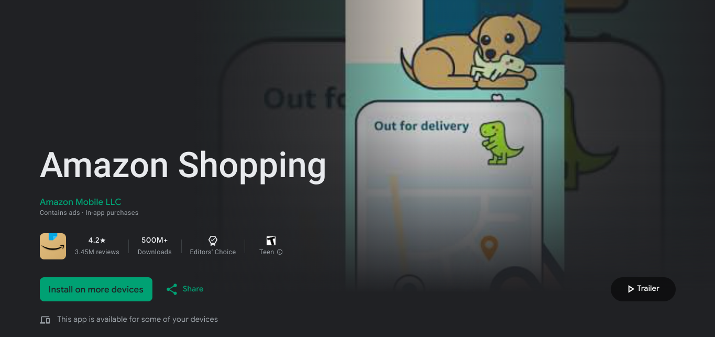 Amazon is the third-largest ecommerce marketplace in the world. Its mobile app is one of the best mobile ecommerce apps I've seen, with an excellent interface that is intuitive and easy to use, offering a pleasant and smooth user experience.
Checking out is made even easier with the Buy Now slider, which allows you to buy products straight from the product page without adding them to your shopping card and going through the whole checkout process. You'll need a valid payment method and a default address added to your account for this to work.
Reviews are easy to view on the app, and browsing through products is a seamless experience. The app isn't buggy or laggy, and you can create wish lists and shopping lists to save products for later.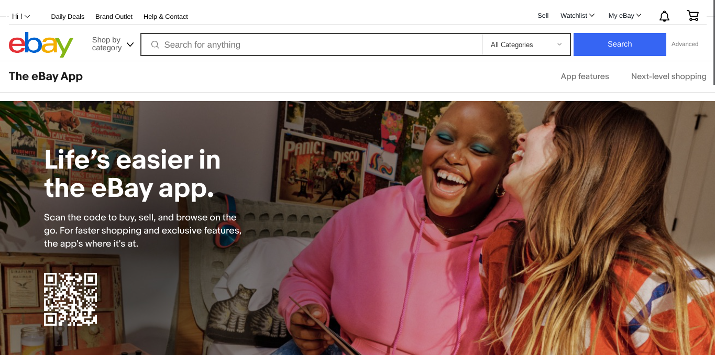 eBay is another major ecommerce marketplace, and it also offers an app that allows you to shop from your phone.
You can purchase all sorts of products on eBay. Some products are shipped from abroad and take a long time to arrive, but they are generally cheaper; other products ship in just a few days.
One thing that makes eBay unique is the auction feature, which allows people to auction off items to the highest bidder. This is often utilized for used and vintage items, and it allows you to take advantage of amazing deals.
Not only that, but you can negotiate with sellers and give them a "best offer" on a product they're selling. Sellers can choose to accept or reject your offer.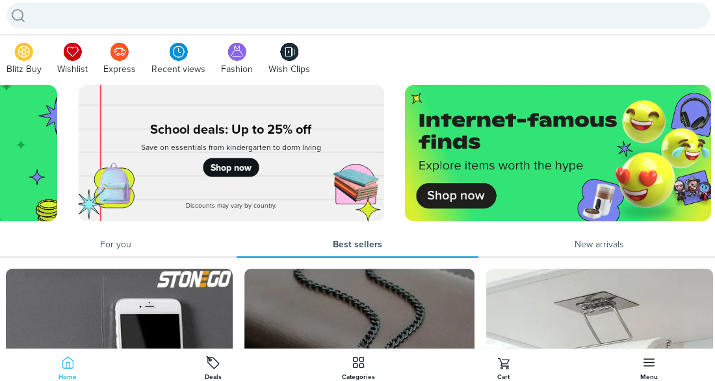 Wish is best known for its quirky and funny advertisements, which display all sorts of strange and hilarious items.
Products on Wish tend to be very cheap, and you can find all kinds of interesting products on the app – those products that you don't really need but you'll buy anyway since they look fun to have and are so cheap. However, you can find great deals on useful products as well.
Since most products ship from China, shipping can take quite a while, but items usually arrive within a month. Make sure you're buying from a reputable seller.
Explore: Wish vs AliExpress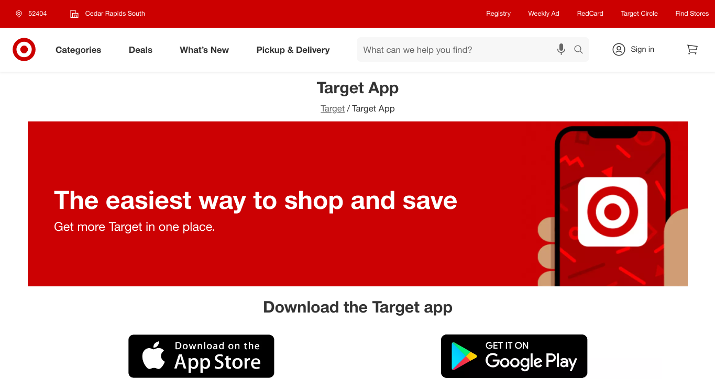 Target is a retail chain that has branches all over the United States. You can buy pretty much everything at Target – groceries, household appliances, clothing, and more.
Target also has a mobile app that allows you to purchase items online. You can have items shipped to your home, even if they are not available at your nearest Target branch.
For the quickest delivery times, though, you'll want to shop from a nearby Target branch, which you can do from the app. You'll have several methods of getting the items.
One option is to have them delivered to your doorstep, which can often be done the same day. Other options include pickup at the Target store or curbside delivery, which is when you drive to the designated curbside delivery spot in the Target parking lot and a Target employee brings your delivery out to you.
Also Read: Ways To Ensure Security While Shopping Online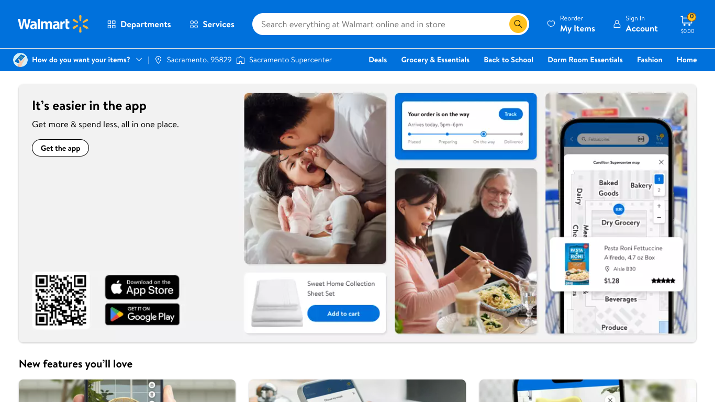 Walmart is another major US retail chain. It also sells everything from household items to groceries to clothing to pharmacy and beauty products.
It has a mobile app that makes shopping easy. You can purchase products and have them shipped to you via FedEx or UPS.
If you want faster delivery, shop from your nearby local Walmart store, and you can have your items delivered the same day – sometimes within just one hour. Another option is driving to your local Walmart store to pick up your order – they can load it into your car as well.
Walmart is now using advanced technology to deliver items. Those include self-driving delivery vehicles and even drones that will deliver the products to your home, but availability depends on your location.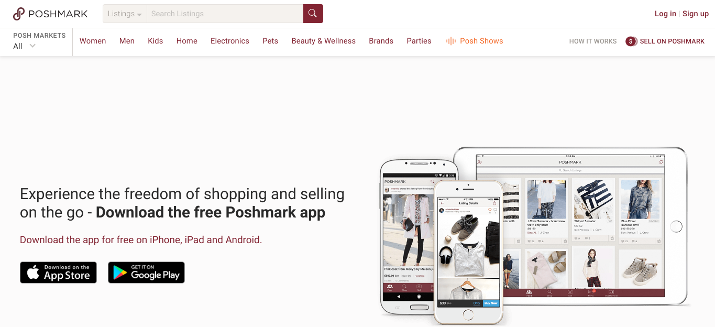 Poshmark is an online used goods marketplace for home decor, fashion, clothing, and more. You can find all sorts of brands there, including Louis Vuitton, Macy's, Taylor Swift, and many other popular brands.
Anyone can sign up to sell on Poshmark. It streamlines the whole process – when you make a sale, you'll get a prepaid shipping label you can print out and put on the shipping package, which you can then drop off at a drop-off shipping point – or schedule a pickup from your doorstep.
There are virtual shopping parties in the app, which are online shopping events that give you a chance to find amazing deals.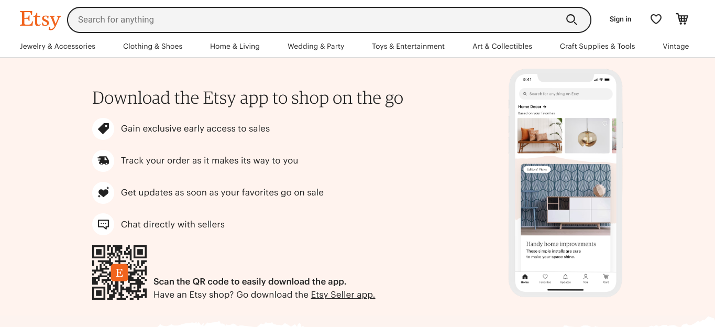 Etsy is an online marketplace for handcrafted goods, including jewelry, arts and crafts, paintings, digital paintings, and more. It's also a popular site for finding vintage and antique products, making it popular among collectors.
However, you can also find clothing, home decor, and all types of other items.
The mobile app makes it easy to chat with sellers, get notified of new deals, and track your order.
Also Read: Etsy vs Depop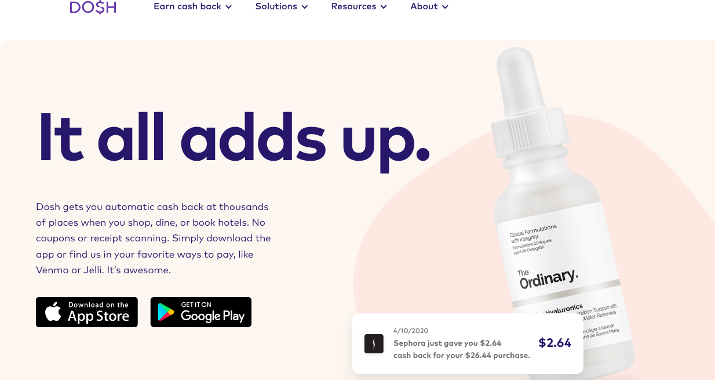 Dosh is an ecommerce app that allows you to earn cash back for shopping online. It's not an online retailer itself but partners with hundreds of thousands of online stores and local shops to let you earn cash back.
When you shop via the Dosh app, you can earn instant cash back at online stores. Or, you can shop in local stores and also earn cash back, which you can redeem for PayPal payouts.
Dosh also has hotel bookings and other rewards, such as referral rewards.
AliExpress is owned by Alibaba, one of the largest corporations in the world. While Alibaba focuses on bulk purchases, AliExpress is its sister site that offers more flexibility, with most items having no minimum order.
You can find anything on AliExpress, and items tend to be very cheap as most of them ship from China. Multiple shipping methods are offered, though, so depending on the product, it might not take as long as you think it would.
The AliExpress app allows you to shop on the go. It can be a bit laggy, though, so have patience.
Also Read: Best Sites Like AliExpress With Faster Shipping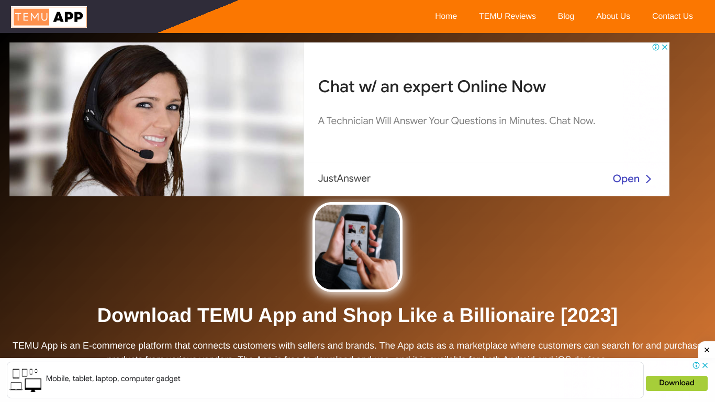 Temu is a newer online marketplace, based in Shanghai and launched in 2022. It offers items at steep discounts, and you can find all sorts of products there – from clothing to accessories to appliances to electronics.
It ships to the United States and various other countries around the world. Items can sometimes take a while to ship, but free returns are allowed within 90 days, and you can also "buy now and pay later" with some of Temu's payment partners.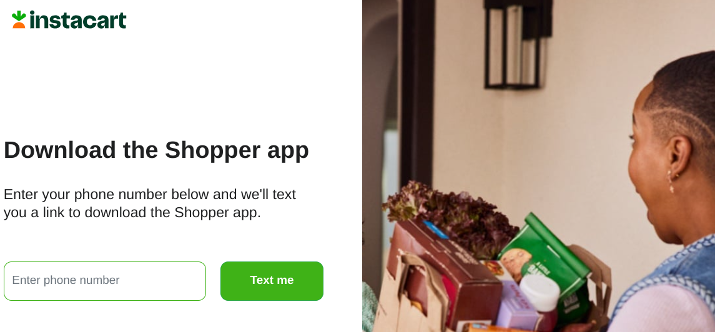 Instacart is an ecommerce app for shopping for groceries, household items, pharmacy products, and a lot more!
It connects you with local shops and chains so that you can get a same-day delivery, sometimes within just an hour. You can find shops like Target, CVS, and others, depending on your area.
When you place an order on the app, a personal shopper will go to the store you selected and pick out your items for you. They will then check out and drive to your place to make the delivery.
Instacart+ is a premium membership option that lets you save on delivery fees (not service fees) on orders above $35.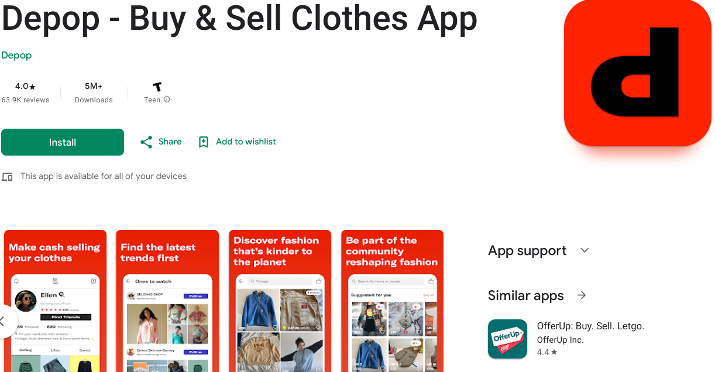 Depop is an online marketplace for selling used, refurbished, and vintage items, mostly fashion accessories and clothing.
It's a peer-to-peer marketplace, which means anyone can join the app and sell their personal items. This is also called C2C, or consumer to consumer.
With over 30 million users, it's easy to find what you are looking for at an amazing price. It's sort of like a social platform as well, as you can follow sellers to see their new deals when they post them.
Also Read: Depop vs Poshmark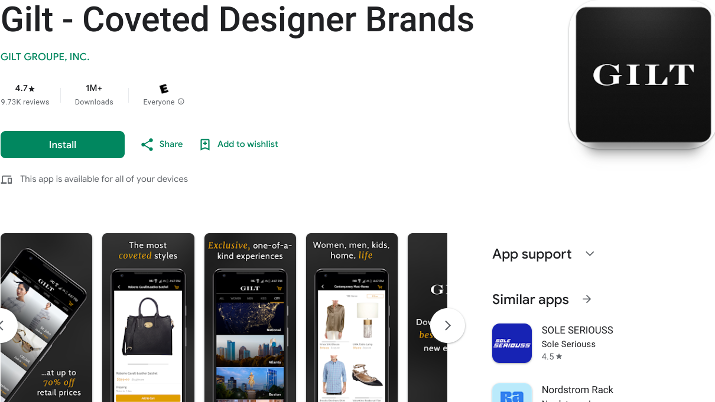 Gilt is an ecommerce marketplace for top designer clothing. If you enjoy shopping for high-level fashion and designer clothing, it's a great app for you.
It's not cheap, because it focuses on boutique clothing, but you can find plenty of great deals, as there are usually ongoing sales.
Both men's, women's, and kids' fashion is available. The site also sells home appliances and decor products, such as rugs.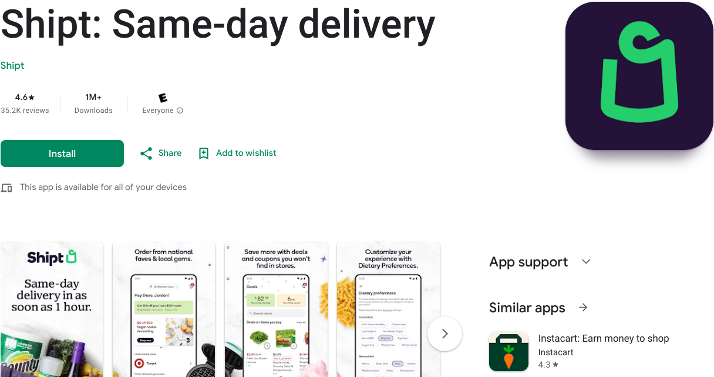 Shipt is an ecommerce app that connects you with local stores for same-day delivery. Whether you want groceries, medicine, or household appliances, you can find it on Shipt, although store availability depends on your location.
When you place an order, a personal shopper will go shopping for you and deliver the items to your door. It is available in most major cities, and in some places, alcohol delivery is available as well.
Shipt is owned by Target.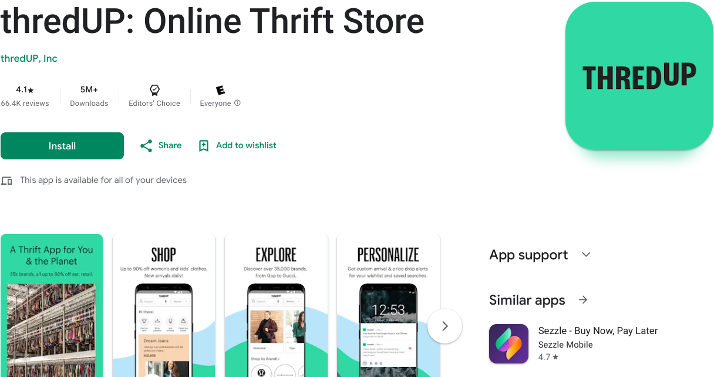 thredUP is an interesting ecommerce marketplace – it's an online thrift store, allowing you to buy and sell secondhand items on the cheap.
You can find men's, women's, and kids' clothing from popular brands at up to 90% off. thredUP features fun Bingo games that let you win promos, discounts, store credit, free shipping, and other special prizes.
If you want really cheap products, browse the deals that are selling for under $10 or $15.
thredUP brings the thrift store to your phone!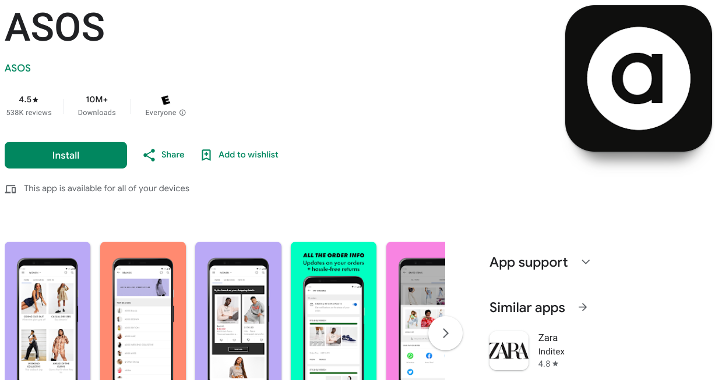 ASOS is an online retailer based in the UK, but it operates in the US as well. The main target audience are young adults interested in trendy fashion clothes.
ASOS is actually an acronym for As Seen On Screen. Back when it was first started, it became popular for selling imitation clothing of those worn by actors in famous films.
Nowadays, though, it sells all sorts of clothing, as well as shoes and accessories.
The ASOS app features over 85,000 products from around 850 brands. If you are in your 20s and want to be trendy, download it today.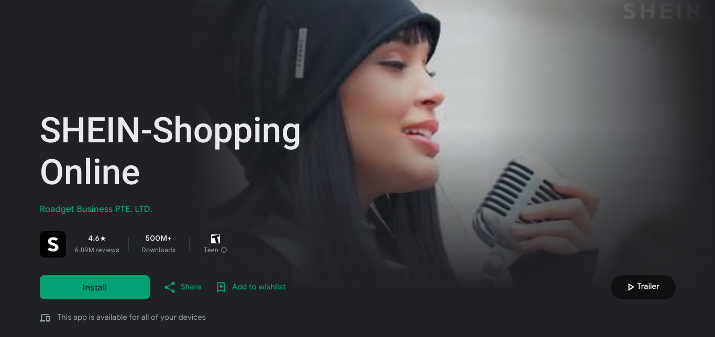 SHEIN, headquartered in Singapore but with operations in the US and around the world, is one of the largest online fashion retailers in the world. It is known for its low-cost and affordable selection of fashionable clothes and other items.
While a lot of women love it because of its cool selection of lingerie, shoes, and women's fashion, it sells men's fashion as well. It even sells home and kitchen decor.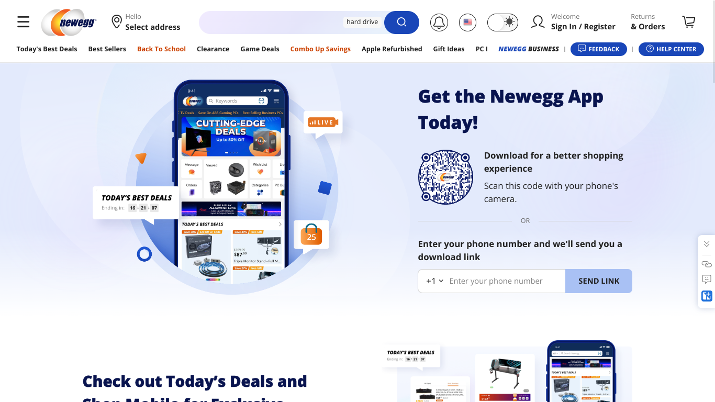 Newegg is a popular source of electronic products. I love buying things from Newegg, whether I need speakers, a new laptop, or components for building a gaming PC or home lab.
In addition to phones, electronics, computer parts, and the like, you can also purchase office supplies as well as some software.
Newegg has an app that makes shopping easy. Both the prices and the selection of available products are fantastic.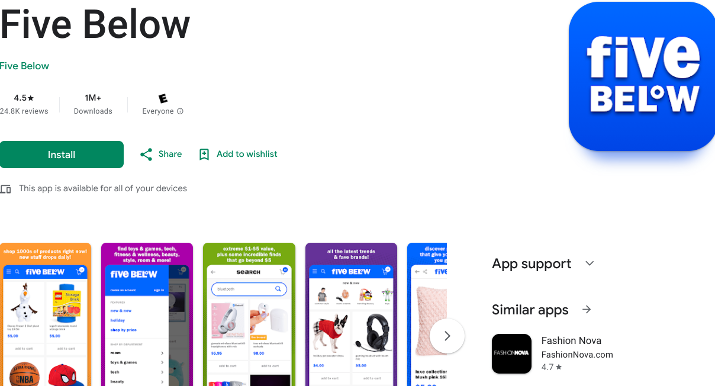 Five Below is a chain of discount stores that sell items for $5 and under. It's aimed mostly towards young people, especially teenagers, but anyone of any age can find good steals.
There are also items above $5 and up to $25.
You can purchase toys, games, electronics, home decor, school supplies, pet food, and many other products.
What I like about Five Below is that all online orders come with a flat rate shipping fee of just $7.95.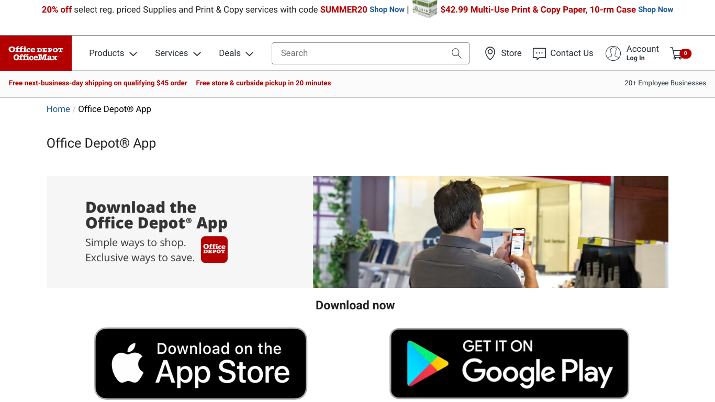 Office Depot is your main destination for office supplies. It sells items such as printers, toner, copy paper, markers, and all other sorts of office and school supplies.
In addition, you can purchase office furniture, such as desks and chairs. Commercial office cleaning supplies are available as well, as are mailing and shipping supplies.
Office Depot also offers a wide range of office and business services, such as printing, shredding, and IT support.
The Office Depot app lets you shop office supplies from your phone.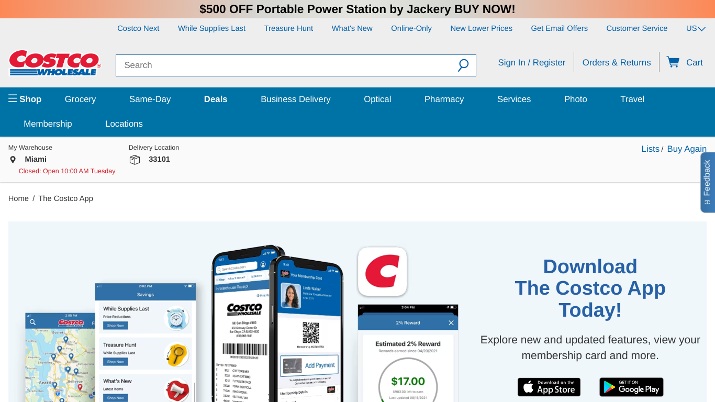 Costco is a member-exclusive chain of stores in the United States. Members pay a membership fee to access exclusive discounts and special prices on products.
However, you can purchase items on Costco.com without a membership, although there will be a 5% fee.
The Costco mobile app gives you access to shopping from Costco.com from your phone. You can access exclusive online deals and have them delivered to your door.
You can also shop pharmacy items and more.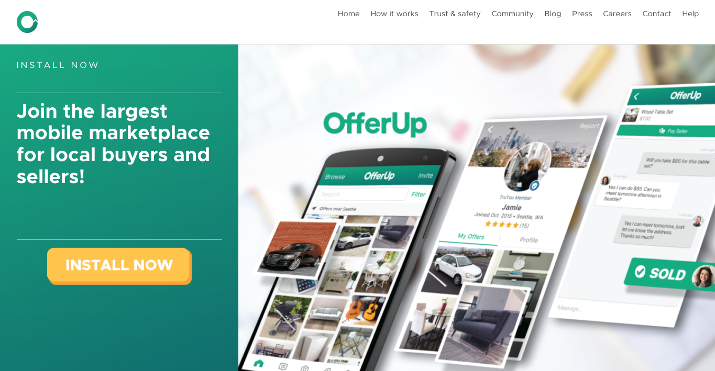 OfferUp is a peer-to-peer online marketplace that helps people sell used cars, electronics, furniture, clothing, and anything else. It is somewhat similar to Craigslist in that sense, but it has an awesome mobile app as well as user ratings, which help increase safety on the site and reduce scams.
Users have the option to meet up in person to exchange money for goods, if they live close by. However, shipping is also an option, as OfferUp facilitates easy nationwide delivery.
OfferUp gives sellers a prepaid shipping label, which makes shipping easier.
23. Schwan's Home Delivery (Android/iOS)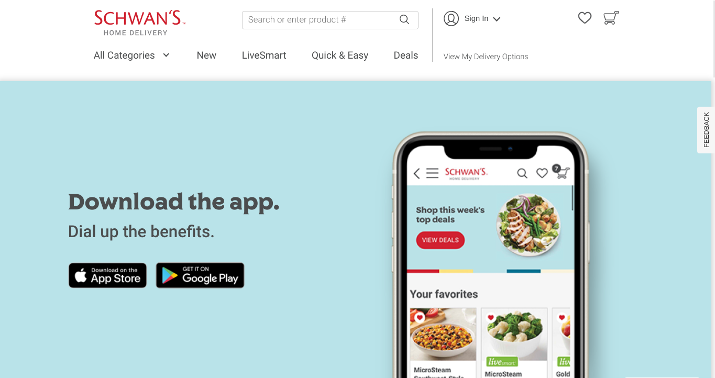 Scwhan's Home Delivery is an ecommerce site that sells frozen foods, delivered to your home. Hundreds of frozen food items are available.
It's perfect for when you don't want to cook; just order frozen meals and have them delivered, and then heat them up and eat them.
There are different types of meals available, including those you can simply reheat in a matter of minutes. You can even have frozen meals delivered on schedule, so you are always ready for mealtime!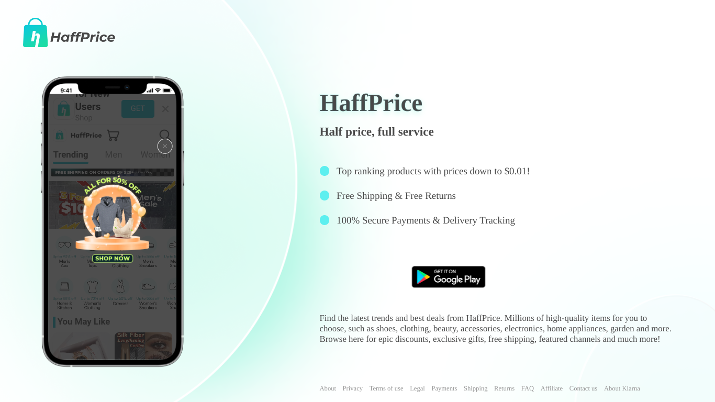 HaffPrice is an app where you can find home decor, appliances, fashion accessories, and clothing for extremely low prices. It is available on Android.
Products are available for up to 50% off, and there are even products that are selling for just one cent – $0.01!
In addition, as a new user, you will be able to get exclusive discounts and promotions. Its slogan is, "half price, full service."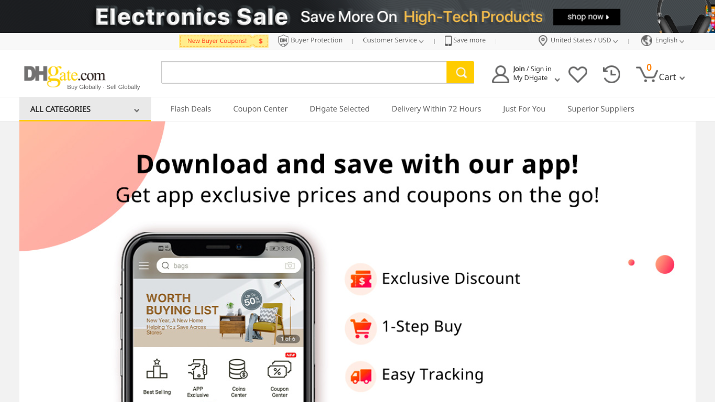 DHgate is a popular Chinese ecommerce retailer focusing on both B2B and B2C sales. Whether you're importing products, doing dropshipping, or just purchasing items for yourself, DHgate has it all, and at very low prices.
There are all kinds of products available on the site, and you can access them from the app as well. You can chat with sellers, buy products with one click, track your orders, and access special promotions.
Explore other sites like DHgate here.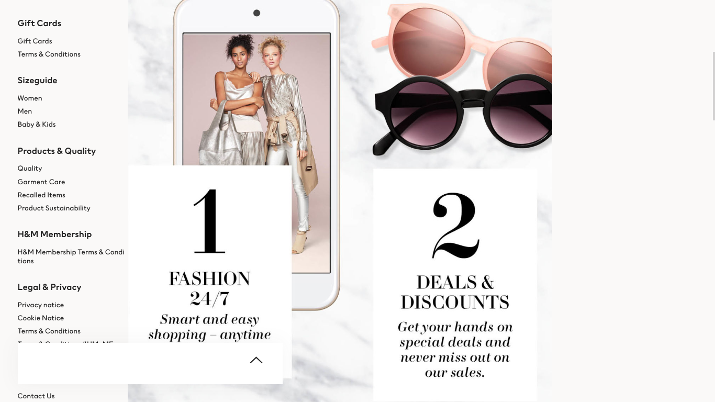 H&M is a Swedish retailer with operations in the US and dozens of other countries. It sells fashion accessories and clothing.
The H&M online marketplace offers clothes at reasonable prices. I bought a bunch of shirts at around $10 each, and they were of surprisingly high quality and extremely comfortable.
The H&M app not only makes it easy to order things online, but you can also optimize your online shopping.
Let's say you go to a local H&M store and find a shirt or dress you like, but it's in the wrong color or size. You can just scan it and find it online in the color and size you want and order it to your door.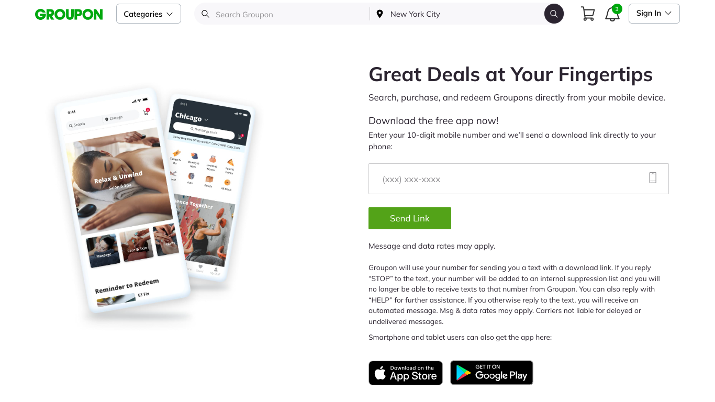 Groupon is an ecommerce site that helps you find amazing deals and coupons. You can save up to 70% on all kinds of products and services.
Whether you want to go out to eat, try out a new gym near you, or take a yoga class, you can find it for cheap on Groupon. The Groupon app makes it easy to find and redeem coupons and promotions from your mobile device.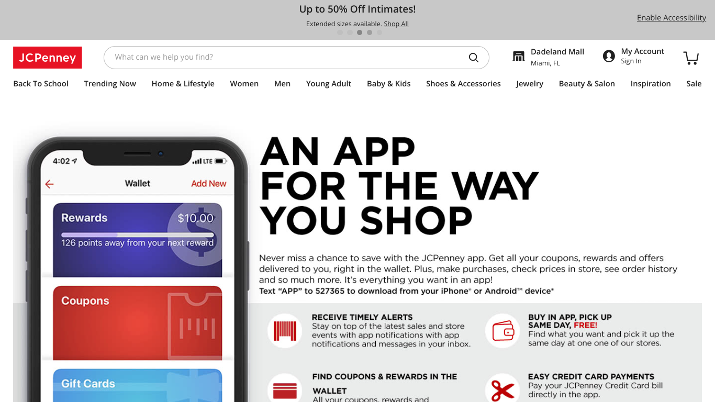 JCPenney is a popular destination for furniture, shoes, men's fashion, women's fashion, lifestyle products, jewelry, beauty products, and more.
The JCPenney app gives you access to exclusive discounts and sales. In addition to downloading the app from the link above, you can simply text "App" to 527365 to get a download link sent via SMS.
If you are shopping in-store, you can snap a picture of a product you like and the app will find similar products from JCPenney that you can buy online.
JCPenney also offers salon services, and you can schedule and book them via the app as well.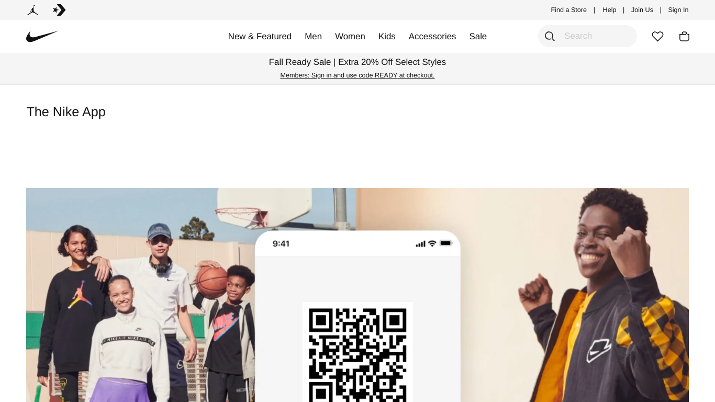 Next on our list we have Nike, a very famous brand. The Nike app only sells Nike products, but you can buy shoes, workout clothing, and a lot more!
If you sign up to be a member, you can get free shipping on orders above $50, access to the 60-day wear test program, and returns without providing receipts. The 60-day wear test program basically allows you to try out Nike products and return them if you are not satisfied.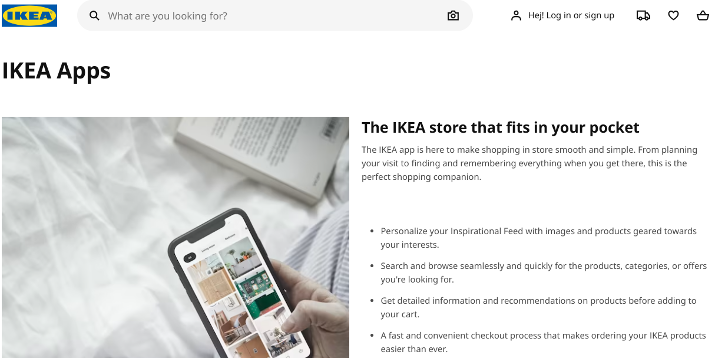 Finally, we have the IKEA app. IKEA is a famous furniture company, made popular due to its cheap prices in exchange for some work on your end.
Furniture, including desks, closets, and beds are sold by IKEA, as well as other products such as home appliances.
The products are affordable and ready to assemble, which means that you have to put them together yourself.
When you shop on the IKEA app, you can access thousands of products. You can have them delivered to your home, or you can use the app to scan products while shopping in-store to avoid the line at checkout.
Wrapping It Up
As you can see, there are many ecommerce shopping apps. Some allow you to order clothing from major brands, others allow you to buy used products from regular people, while others let you order groceries or frozen food.
They all fall under the ecommerce umbrella, as ecommerce is simply commerce that takes place over the internet.
There are many other ecommerce apps, and I couldn't go through them all. However, these 30 apps should be enough to help you find whatever you're looking for at the right price.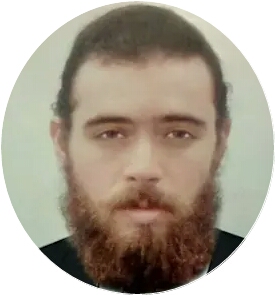 Author: Benjamin Levin
Benjamin Levin is a digital marketing professional with 4+ years of experience with inbound and outbound marketing. He helps small businesses reach their content creation, social media marketing, email marketing, and paid advertising goals. His hobbies include reading and traveling.