Merch Informer is a popular tool that helps design Merch by Amazon T-shirts. It provides top-notch research solutions while helping you get the best niches for keywords.
During the design process, Merch Informer assists you every step of the way. It has a template collection to use in designing trendy T-shirts.
The tool simplifies T-shirt designing with its rich feature set. With a single upload interface, you can upload merch designs to different platforms and products all over the web. It supports Teespring, Printful, and Redbubble.
Being the first of its kind, Merch Informer has a competition checker that analyzes niches to help you choose the most profitable. It also displays the 10 top trending designs within the profitable niches for inspiration.
Merch Informer has other features, including the merchant search tool for scouting different T-shirt brands for inspiration on title structuring, pricing strategy, sales ranking, trademark, top-selling keywords, and more.
Other notable features include a keyword merch tracker, merch graphics vector pack, listing optimization, master the listing process, 24/7 customer support, and more.
While Merch Informer is currently Amazon's bigwig tool for print on demand, it has its limitations too. It doesn't have a free version and its pricing options are very few. If you're just starting out, it may be challenging to commit to the $9.99 per month pricing.
The tool also lacks the image resizing feature and has a learning curve.
These drawbacks may prompt you to seek other alternatives that suit your unique business needs. We've rounded up the best tools with outstanding features that match or surpass Merch Informer's to help you determine the ideal one for you.
Let's check them out.
Also Read: Best Anime Merch Websites
Free Merch Informer Alternatives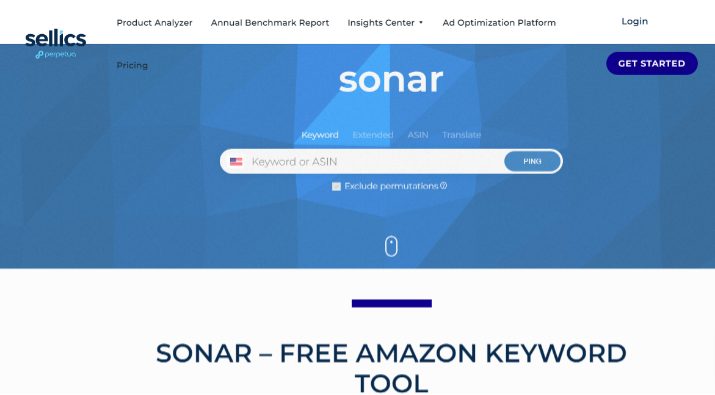 Sonar is a free Merch Informer alternative for sellers looking to find relevant keywords that will help sell their products, boost Amazon SEO, and increase the visibility of product listings.
It helps you find relevant information for your niche through its database of millions of keywords that other sellers have searched. It has a reverse ASIN lookup tool that gives you a peek into the keywords competitors have been using.
Sonar has an updated database with more than 180 million products plus a keyword tool for which ASIN ranks highly.
While Merch Informer's database is full of different designs, Sonar's keyword database contains customer search queries from all product categories on Amazon.
Sonar displays top keywords used by designs with ASINs that rank on the first page of Amazon. It also uses queries and search terms curated by customers during searches.
The tool strives to give you the most highly rated keywords on Amazon. It allows you to view each keyword's search volume and precisely target your search on Amazon marketplaces, including the US, DE, FR, IT, ES, and the UK.
Sonar is a free tool.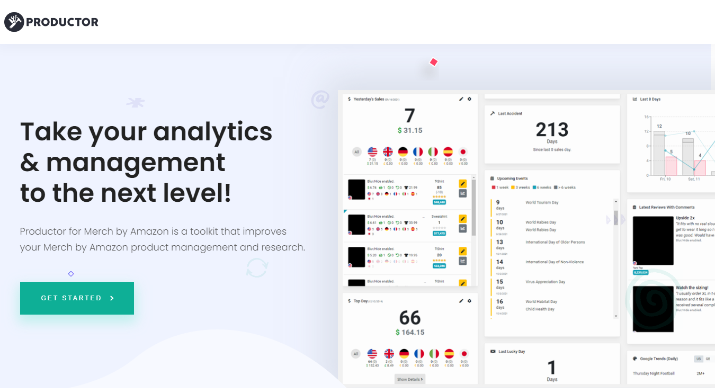 Productor is an excellent plugin that works to provide the data you need to increase product sales. It provides regular updates on product sales by date, location, and time.
Through the Merch by Amazon dashboard, you'll find top keywords for designs and other products. It has a copyright infringement detector that will notify you any time your designs breach Amazon's rules.
Its sort and export feature enables you to smoothly download your designs from Merch by Amazon. You can also download your listings here.
Unlike Merch Informer, all your personal data is stored in your browser without having to download and save it in a third-party application.
Productor helps you collect relevant information related to Merch by Amazon for analysis. This way, you'll take note of your sales history based on your daily, weekly, monthly and yearly sales, and the number of reviews your products have. Such information helps you track your product performance.
Using the export feature, you can select which products to display and sort them into categories. The platform has a broad filter list that lets you sort your products and export the list into a spreadsheet.
With Productor, you can download your design catalog to ensure your designs are in one accessible place.
The countdown feature in Productor keeps track of your designs and notifies you about those that will soon be removed for lack of sales. This information is crucial as it lets you decide whether to delete or relist the product.
Its auto-publish tool helps to prefill prices and other details whenever you want to make changes – like pricing, brand, and description – to your products.
When your products are optimized for keywords, Productor will analyze the keyword ranking using the keyword research and analysis feature. It has machine learning capabilities that help to extract the most relevant keywords from Amazon and Google you can use.
This tool makes it easy for any seller to create product drafts and templates and publish them on Merch by Amazon. With design features like vintagify, you can add vintage effects to designs before downloading them.
It also allows you to generate an ASIN listing and upload it to Amazon advertising.
Productor is constantly updated and free to use.
Explore: Best Merch Sites For YouTubers
DS Amazon Quick View is another product research tool that helps boost your productivity by providing an overview of the most important Merch by Amazon statistics.
While selling, you need crucial information like product ASIN, rankings, reviews, sales, and more.
This platform is easy to use and doesn't waste your time. If you need to research a product, all you should do is hover over the product's image, and all the information will be there.
It shows your product ranking to help you improve your designs and rank higher. You can view these rankings from your search page directly and scope out your competitors.
Unlike Merch Informer, DS Amazon Quick View supports the Amazon domain and includes the interactive Keepa graph to help you track pricing. It will show the lowest FBA prices and lets you see if a product has a buy box or if it doesn't.
Using this tool, you can easily filter and sort products by FBA seller, review count, price, and BSR. Its extended version provides premium graphs to help you track pricing.
The platform is free to use.
Also Read: Best Places To Buy Anime Merch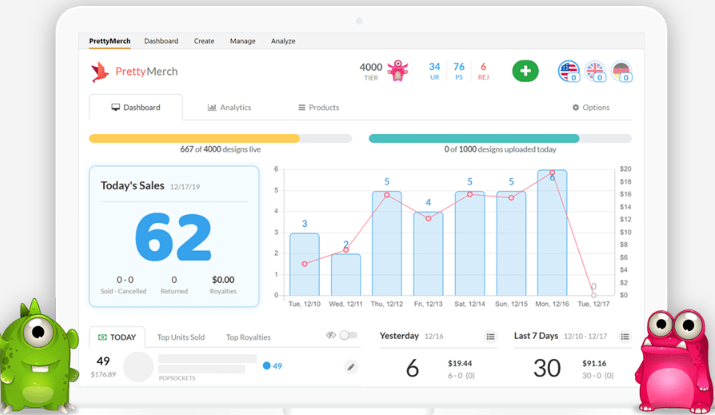 PrettyMerch is a popular Merch Informer alternative that boasts more than 250,000 users. It has a broad range of useful features for Merch by Amazon.
Like its name, PrettyMerch makes the Merch by Amazon home screen look beautiful, intuitive, and informative. What I like most about this plugin extension is the way it lets me see the number of sales I've made in a month. Sometimes I can trace my sales for up to 90 days.
This has helped me use the same designs on different designs and drive more sales. PrettyMerch offers a lot more besides tracking your product sales. With its analytics tab, you can view the changes that make the best sales and use them on other products.
Unlike Merch Informer, this platform provides real-time updates, which you can customize to your preference. You can watch your uploaded designs while they're under review, when in the processing stage, and when they are posted to the dashboard.
PrettyMerch will give you a breakdown of your sales for a particular period in chart form. The breakdown shows you a list of the top design sellers and their royalties for the past month.
The tool can also break down your products by type, color, fit type, and more. Its product manager helps you sort and filter your listings by niche and track their performance.
PrettyMerch has a free version with two pricing plans, including a Pro version at $9.99 and a Pro+ version at $24.99.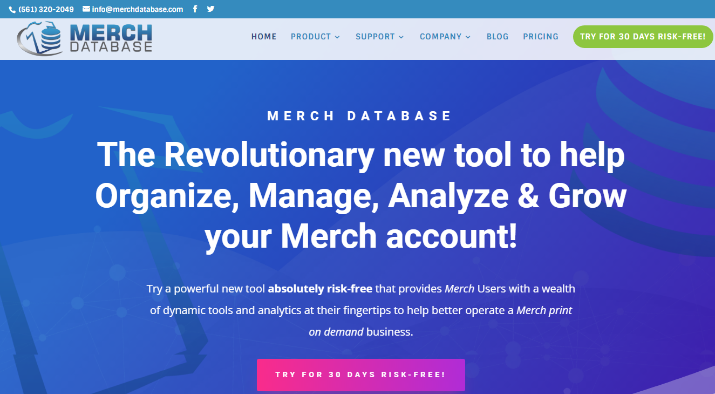 Merch Database is focused on helping you organize, manage, and grow your existing merch business. It is an excellent tool for analytics and exporting reports for your business.
Its Merch by Amazon database tool offers ways to analyze your data for quality insights. It gives you risk-free Merch by Amazon analytics for 30 days, with a 100% money-back guarantee if you are dissatisfied and decide to cancel.
Merch Database provides personalized support and video walkthroughs to help you set up your account and use its toolset.
The platform has three key tools to help you increase your sales. The extended dashboard provides data snapshots to help you track your product data, uploads, and sales. The dashboard features include an overview of your product sales for the week, month, or year.
You also get to view the bestselling products, uploaded products, and the stats and charts of your merch. It also has a Manage Products interface that gives you an in-depth perspective of your inventory.
It helps you organize and break down your products by status, price, type, date published, days to expiration, and more. It also filters product descriptions and bullet points to ensure easy editing.
Merch Database is a very efficient tool with a find and replace functionality that helps you find a word in the listing of your product database to identify the newly trademarked phrases, words, and descriptions.
Unlike Merch Informer, you can use its extended dashboard to view data snapshots that will help you track your uploads, product data, and sales.
It also creates and organizes niche categories to simplify tracking of your products.
Its Analytical Reports tool offers detailed analytics that help identify working designs and optimize results in Merch by Amazon. All reports can be exported to excel. The tool also breaks sales data into graphs that are easy to understand.
From the graphs, you can find targeted information related to your product color, niche, and gender.
Once you subscribe to Merch Database, you'll be receiving regular reports about your account through email.
Pricing models for this tool include a free version for Tier 1-100, $9.99/mo for Tier 500-2000, $14.99/mo for Tier 3,000-10,000, $24.99/mo for Tier 12,000-24,000, and $49.99/mo for Tier 26,000 to infinity.
Paid Merch Informer Alternatives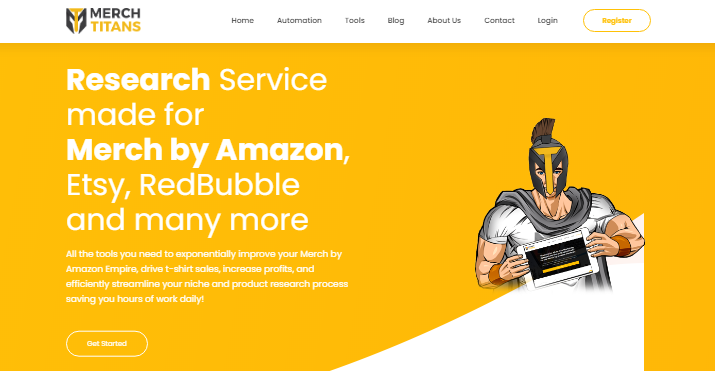 Merch Titans is an outstanding, newbie-friendly tool that helps you in all aspects of your print-on-demand business. This is a comprehensive, all-inclusive marketing research platform designed for Merch by Amazon.
Signing up with Merch Titans gives you access to all the features needed to set up your merch T-shirt business and grow your sales. It comes with features including an SEO analyzer, product and brand search, trademark alert, product tracker, and Titan Vault that allows you to carry out research from a centralized place.
This platform gives you instant access to every tool needed to boost design sales. Compared to Merch Informer, it offers budget-friendly high-tier versions, and its layout is much more organized and quite approachable.
Merch Titans streamlines all the aspects of your business, saving you a lot of time. This allows you time to keep uploading more designs, conduct more T-shirt research, and upload to other PODs.
It offers fast working experiences and adds new features more often. Its Notes section allows you to save your merch-related articles in one place, so you don't have to store them in Google Drive or a Word folder on your PC.
The Merch Titans automation module lets you upload designs to other PODs simultaneously.
Its Titans Vault is often updated more than 20 times every day to give you the bestselling collection of Amazon T-shirts and other products like hoodies, pop-sockets, and more. You can filter products to display the top 10 or 100 products that are bestselling. This is based on the Best Sellers Rank (BSR).
The Keyword Analytics feature loads similar phrases and synonyms for the keyword entered. The product and brand search feature lay out your total search results, estimated monthly sales, and average BSR in front of you. It has a keyword cloud with a list of keywords that other sellers use to give you an idea of what's working.
Merch Titans has a neat notification system that shows notifications for trademarks, products you're tracking, responses from the forum, staff messages, and updates.
With Merch Titans Automation, you can simultaneously upload your designs to TeePublic, Redbubble, Zazzle, Spreadshirt, and Printful (Shopify, Etsy, Amazon) on autopilot.
Soon you'll have a Listing Generator module that will enable you to build optimized listings for automation with top keywords, information, or tags from different marketplaces.
If you like recommending or sharing with others, Merch Titans has an Affiliate program you can join.
The pricing options for Merch Titans include a Starter Researcher plan at $9.99/month and an Advanced Researcher plan at $29.99/month.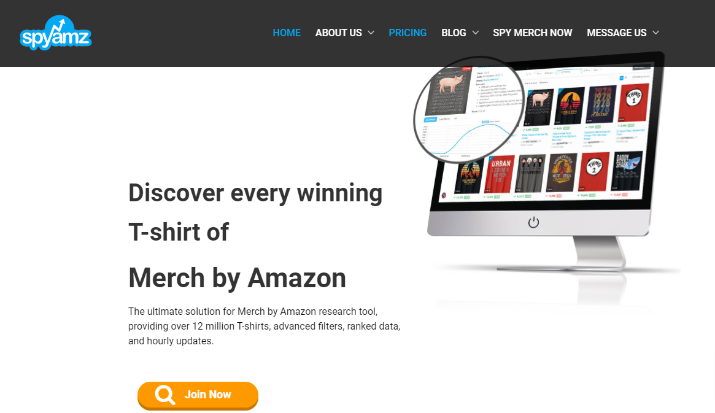 SpyAMZ is a great Merch Informer alternative with a well-organized, broad database of more than 14 million T-shirts.
The site is updated every hour to furnish you with trending, insightful designs and information. It's pixel-perfect, allowing you an upscale experience researching and tracking designs.
Its keyword research and analysis tool lets you filter designs to show the bestselling, profitable options. You can easily find trending keywords for each season and tailor your designs accordingly. For instance, you can check repetitive keywords by phrase or day and view a detailed analysis of the shirts based on keyword rankings.
With keyword analytics, you'll find out the hot keywords and trends in the market. It's also easy to search for clothing trademarks and categorize your favorite designs for ease of tracking and management.
What gives it an edge over Merch Informer is the image resizer. This tool enables you to resize your artwork to the right Merch by Amazon specifications. It supports bulk resizing, saving you the time of doing it repeatedly.
SpyAMZ notifies you of upcoming events with details of the place, time, date, and more. You'll also access updated design statistics, including prices, ranking, and product types, with pie and line charts on the same.
Its Niche Hunter helps you to identify trending designs and popular niches. Clicking this feature gives you an analysis of trending T-shirts and their rankings. This is meant to help you develop unique products to keep up with the competition.
SpyAMZ costs $99.99/month.
Merch Ninja is a Merch Informer alternative focusing on trademark research and niche research. By default, this print-on-demand platform is German but has an English website version.
Merch Ninja supports the three Merch markets, including the UK, DE, and the US, allowing you to increase sales by selling beyond Amazon. It is equipped with features that expedite research by suggesting niches with high demand and low competition.
Its Live Search feature conducts fast research against the more than two million designs in its daily updated database. It also packs other useful tools like niche lists and calendars to help discover trends and the latest information.
Compared to Merch Informer, Merch Ninja provides accurate projects on data and sales. Its Live Data from live search ensures only fresh data is displayed in the search results. It also has fast response speeds to any command – it takes seconds to execute a command.
Its keyword tool is top of the line and utilizes the keywordtool.io API to generate the best keywords. The trademark tool conducts daily checks through API.
The event calendar contains many events and you can set alerts to start listings for the upcoming holidays on time.
In the Trend Research feature, you'll find BSR and sales tools to help you find the brands and niches that people buy from frequently. It also features an infinite scroll that lets you scroll down swiftly.
The ASIN tracking feature helps track your listings and view the BSR and price histories. You can also spy on your competition by pulling data from listings.
It's the best tool for grouping designs by niche, exporting data to favorites, and tracking your products and sales.
Merch Ninja has three pricing plans, including the TM-TOOL at $23.87/mo, KW-TOOL at $29.84/mo, and Basic Plan at $39.99/mo.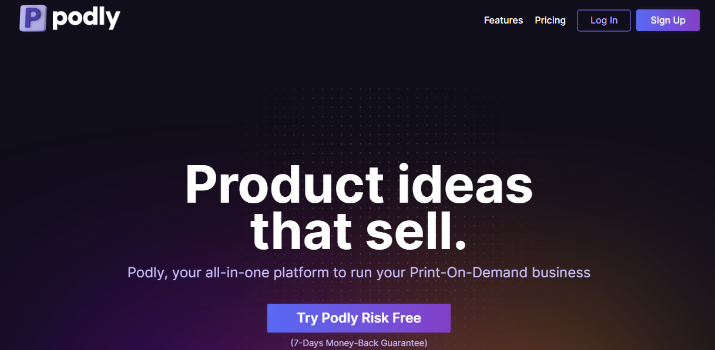 Podly is a fast-growing print on demand site with advanced features to ensure your productivity. It has a vast product database with more than two million product designs to sift through. Its extended marketplace includes the US, FR, ES, IT, and DE.
It gives you access to KDP products often launched on Amazon's Kindle platform. You'll find products faster from the database using its advanced search filters.
Unlike Merch Informer, this tool helps you predict the next bestselling product and use the opportunity to design unique products before anyone else.
The BSR is updated daily to help you find new trends to borrow ideas from. You can also assess whether products can remain long-time best sellers or not. Using the product archive tool, you'll be able to analyze the past bestselling designs and predict future trends. This will help you improve your designs and turn them into profitable trends.
Podly's product graph lets you see your BSR and price for the past month. The tool has a keyword processor that generates a list of keywords you can use to optimize your Amazon listing. Its listing processor allows you to use keywords to create a product listing.
It's pretty easy to browse through the Amazon marketplace with Podly's on-site search engine before grouping your designs into favorite categories to streamline the design process.
The platform is working on a powerful trademark tool that will help keep your business compliant and safe.
It offers a seven-day money-back guarantee and two pricing plans, including $25.00/mo and $250.00/yr.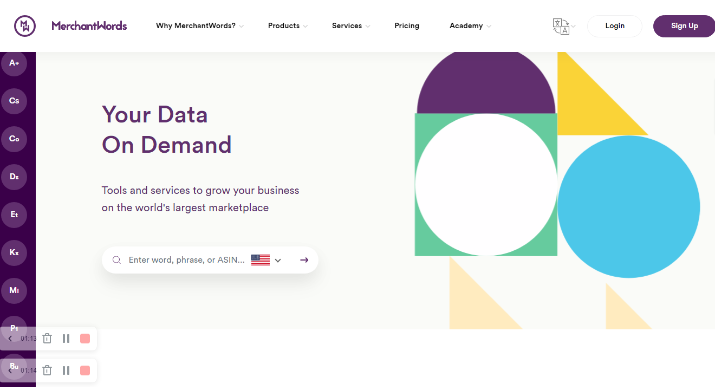 MerchantWords is another newbie-friendly tool with instructional videos and more than a billion search keywords extracted from Amazon shoppers.
This tool offers access to consumer databases from Europe, Australia, Asia, and North America for keyword searching, data analysis, and data collection.
Using this tool, you can get vital information on different shopping trends and consumer demands to help you make decisions. It helps you identify categories in which keywords associate with the native languages of different locations. In time you'll know the best products to sell, keywords to use for your listings to rank highly, and more.
You are going to love MerchantWords' keyword searching process. It lets you choose from different keyword variations for the keyword you want to explore and the number of searches for those keyword variations. Its keyword multiplier feature can generate multiple synonymous keywords to use.
MerchantWords helps you explore hidden niches. It has flexible search tools that enable fast searches and instant results. The keyword multiplier diversifies your choices and helps you with new ideas for selling Merch as you focus on growing your business.
Compared to Merch Informer, its ASIN Plus feature contains a unique reverse approach for ranking keywords to help you better understand the competition level in specific niches.
MerchantWords has a Listing Advisor that increases your optimization for Amazon listings. This feature gives you item listings with HTML descriptions, optimized keywords, a website, titles, and a rewrite at $300.
This tool offers a selection of pricing models based on the product. Check its pricing page for more details.
Explore: Merchant Words vs Jungle Scout
Conclusion
From this list, Merch Titans is the winning alternative to Merch Informer. Besides being newbie-friendly, it is a comprehensive tool that gives you all the tools of the trade.
In addition, Merch Titans allows you full access to all the features and lets you work from a single, centralized place. If you're just starting out in your merch business, you can count on its reasonably-priced pricing models.
With its well-organized layout, you can work fast on your designs and enjoy uploading to other PODs through the automation module. It has an advanced toolset that helps you improve your selling approach and attract more sales for your merch business.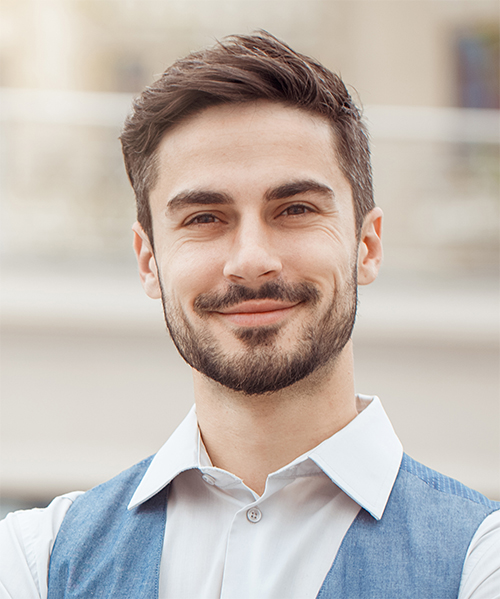 Author: Scott Macarthur
Scott L. Macarthur is a marketing consultant and an online author. He is mostly engaged in providing his expertise to startups and SMBs. He is also an author on TheNextWeb.