Banggood is a Chinese eCommerce site that is popular among dropshippers, due to its cheap prices.
You can resell a Banggood product on your Shopify store for much higher than the original Banggood price, allowing you to earn a nice profit.
However, Banggood may not have the selection of products you want, or you may find that too many dropshippers are using it, making it hard to resell Banggood products on eBay.
Regardless of why you are looking for an alternative to Banggood, this article is for you.
Today, I will be listing the 14 best sites like Banggood for dropshipping. Let us get into it.
Best Sites Like Banggood For Dropshipping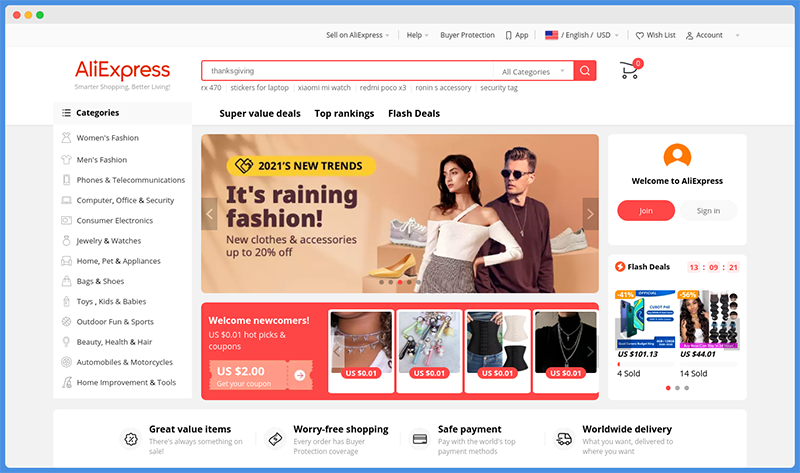 I can't make a list of Banggood alternatives without mentioning the giant, AliExpress.
AliExpress is more popular among dropshippers than Banggood, but the selection of available products is massive, so you shouldn't have a problem finding products.
Like Banggood, products on AliExpress are dirt cheap.
In fact, when I compared a phone sold on Banggood to the exact same phone sold on AliExpress, I found the price to be a few dollars cheaper on AliExpress.
That may not hold true for all products, but it does show that you don't have to worry about AliExpress products being more expensive.
The downside of AliExpress is that like Banggood, products can take a long time to ship.
That's why you have to look for products that offer ePacket shipping.
ePacket shipping is not "fast" by today's eCommerce standards, but it is certainly much faster than the standard AliExpress shipping speed.
DHGate is another excellent Banggood alternative for dropshippers looking for cheap products.
DHGate is actually also a good alternative if you want to buy some products wholesale instead of dropshipping them, as it is both a B2B and a B2C eCommerce site.
Some products have minimum orders of 20, 50, or 100 and are not suitable for dropshipping.
However, other products have a minimum order of just 1, making them perfect for dropshipping.
Keep in mind that the more of a product you order at once, the cheaper it will be.
So, if you are dropshipping and placing orders of one product at a time, you will pay more per product than if you were to order 100 at a time.
The difference can be a few pennies per item for large orders vs. a couple of dollars per item for orders of one.
Nevertheless, you can still sell those products at a very high markup on eBay or Amazon in the US market and still make a very good profit.
However, if you want to use DHGate for dropshipping, I would recommend clicking on the "Dropshipping" option in the main menu.
That will take you to MyyShop, which is a platform where you can find products that are optimized for dropshipping.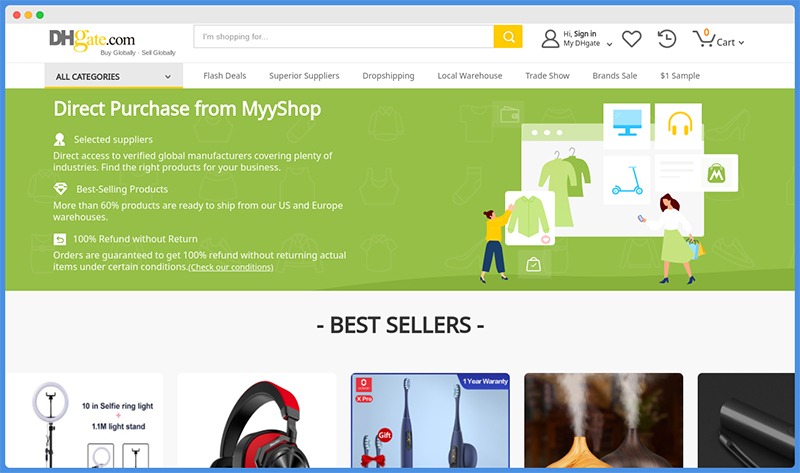 You will get access to selected suppliers on the platform. Sixty percent of products are ready to be dropshipped from the US or European warehouses.
MyyShop also has other services, like quick website creation.
Under certain conditions, items purchased via the MyyShop platform come with a 100 percent refund guarantee, without needing to return the item.
Providing refunds is something that many dropshippers struggle with.
After all, you can't just tell your customer to send the product back to the supplier.
First, you probably don't want them to know that you're not the real supplier, and second of all, you are limited by the refund conditions of the supplier.
However, MyyShop eliminates those problems by letting your customers get refunds without ever returning the item.
Again, certain conditions must be met.
Like Banggood, DHGate has many products that ship from local warehouses.
If you want to reduce shipping times and keep your customers satisfied, search for products that say "USA Warehouse" in the title.
You can also click on the "Local Warehouse" option in the main menu.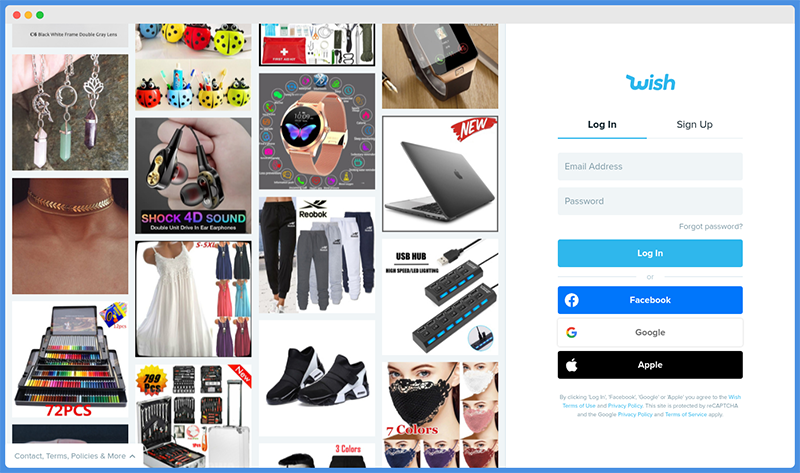 Wish.com is known for its cheesy and interesting ad campaigns on Facebook.
There are a lot of unique items sold on Wish, which is why so many people love it.
If you're looking for unique, fun, and interesting products, you can use Wish as an alternative to Banggood.
Wish also sells things for incredibly cheap.
People can buy watches, musical instruments, and other things for just a few dollars, a fraction of the normal price.
Wish's marketing campaigns focus on convincing people that it is worth waiting a bit more for a product to arrive if they can get it for so cheap.
That's why Wish is great for dropshipping. With such cheap prices, you really can't go wrong.
However, there are some downsides to using Wish.
The first is the long shipping times, which can't always be avoided.
However, you can make sure to let your customers know before they make the purchase that shipping will take a while so that they go in with the right expectations.
Another downside is product quality.
You have to make sure you are buying products with good reviews, and try to avoid selling electronics, as they are more likely to be faulty than other products, like clothing.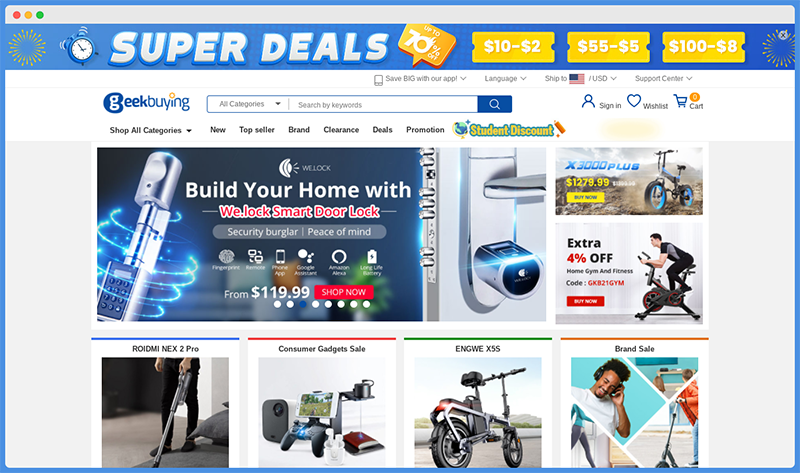 GeekBuying is a good alternative to Banggood if you want to dropship electrical products or gadgets.
You can sell all kinds of products using GeekBuying as your supplier:
Electronics (like smartphones and laptops)
Electric scooters
Home gym equipment
Vacuum cleaners
Gaming equipment
Smart home appliances
Drones
Car and motorcycle gadgets
Jewelry and watches
The prices on GeekBuying are very competitive.
While most products ship from China or Hong Kong, you can filter for products that ship from Europe or products that have free shipping.
GeekBuying ships to many countries around the world, so it is a great dropshipping supplier if you want to set up an international store.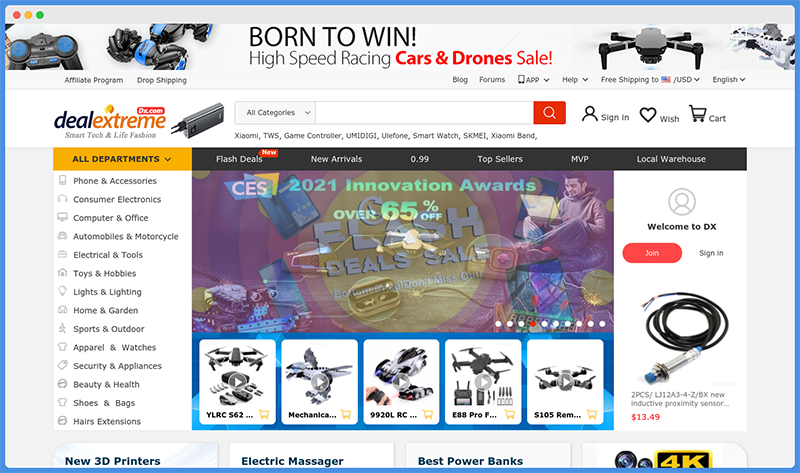 DX, or DealeXtreme, is another website where you can find great deals on all kinds of products for dropshipping.
Some products you can find on DX include:
Power banks
3D printers
Electric massagers
Drones
Webcams
Smartphones and other electronics
Liquor flasks
Travel power plug adapters
Motorcycle gear
Wheels and other automobile and motorcycle parts
Locksmith supplies
Handyman tools
Beauty products
Shavers
You get the idea. You can find pretty much anything on DealeXtreme, all for very low prices.
Go to the "Flash Deals" section in the main menu to find limited-time deals.
DX is a great alternative to Banggood for dropshipping because they actively try to attract dropshippers.
Under their free dropshipping program, all dropshipped products will ship without the DealeXtreme logo or DealeXtreme packaging, so your customers will never know that the package is actually coming from DealeXtreme and not your own warehouse.
I would also suggest checking out the DX Forum. There, you can see the latest news regarding hot deals, coupons, and new products in different categories.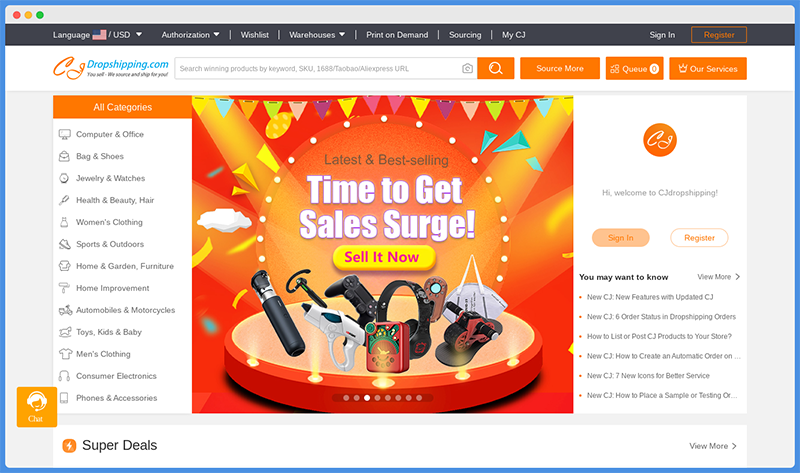 CJ Dropshipping is a great alternative to Banggood because, as its name suggests, it is targeted specifically to dropshippers.
There are all kinds of products on CJ Dropshipping, starting from just $0.30. Some categories available on CJ Dropshipping include:
Laptops
Routers
Office electronics
Bags
Shoes
Jewelry
Watches
Sports equipment
Pet products
Home furniture products
Car replacement parts
Car and motorcycle accessories and electronics
Clothing
Smartphones and other consumer electronics
And much more
You can find anything on CJ Dropshipping, and the prices are competitive.
For example, I saw a pet hair removal brush selling on CJ Dropshipping for just $1.81.
On Banggood, pet hair removal brushes were selling for a lot more than that.
CJ Dropshipping even has a print on demand section, where you can find products to sell with your own logo or branding.
print on demand is when a manufacturer prints your logo on a shirt, mug, or other item before sending it to your customer.
It's like dropshipping on steroids because it allows you to set up your own clothing line or personal brand using the dropshipping method.
For example, you can sell jewelry, such as necklaces, with the names of your customers printed on them or with special messages printed on them. Print on demand is also available for the following categories of products:
Computers and office equipment
Toys, kids, and baby products
Home and garden products
Furniture
Women's clothing
Sports and outdoor equipment
Automobile and motorcycle accessories and products
Men's clothing
Hair, health, and beauty
And much more
Check out the CJ Dropshipping print on demand section to see more.
CJ Dropshipping has an app that will make your dropshipping business easier.
With the app, you can do things like automatically list and sync products, fulfill orders, import products, upload orders in a CSV file, and manage multiple stores.
There are other services available, like custom packaging.
Shipping times vary by warehouse. In addition to the Chinese warehouses, there are warehouses in the US, Germany, Indonesia, and elsewhere, allowing for faster delivery times.
All in all, CJ Dropshipping is an excellent alternative to Banggood.
Unlike Banggood, it is geared specifically for dropshippers.
It also has several warehouses around the world, an app to help you streamline your dropshipping business if you are selling CJ Dropshipping products on your private store, and a print on demand service that allows you to sell branded products without buying stock in advance.
If you have a Shopify store, make sure to download the CJ Dropshipping Shopify app.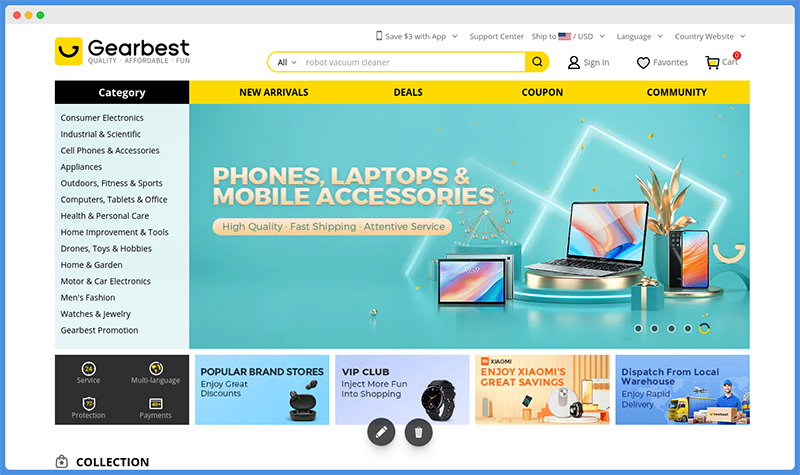 Gearbest is a great alternative to Banggood because you can get faster shipping rates, depending on where you are located.
If products come from the US warehouse, they will arrive within 3-7 days.
Fast, expedited shipping is also available for products sold from the China warehouse.
With expedited shipping, 65 percent of products will arrive within 1-7 days to the United States.
You can learn more about shipping times and how long it will take for products to arrive from each warehouse to different countries on this page.
All kinds of products are available on Gearbest, and prices are really good.
For example, a Martrea High Speed USB Drive costs only $4.99 right now.
You can easily resell that USB drive on eBay for $10 or even $15.
A body temperature forehead thermometer currently costs $16.58, but I wouldn't be surprised if you can sell it for $20 or more on eBay.
Indeed, many forehead thermometers are selling for $25+ on eBay at the moment.
Other products you can sell from Gearbest include:
Watches and other electronics, like smartphones and alarm systems
Outdoor products
Home appliances
Home and garden products
Health and beauty products
Home improvement tools
Clothing
Gearbest ships to many countries. Just choose the country you are shipping to at the top of the page to filter your results.
In addition, Gearbest has country-specific websites for certain countries, like Japan.
This will make it even easier to find products that ship to those countries.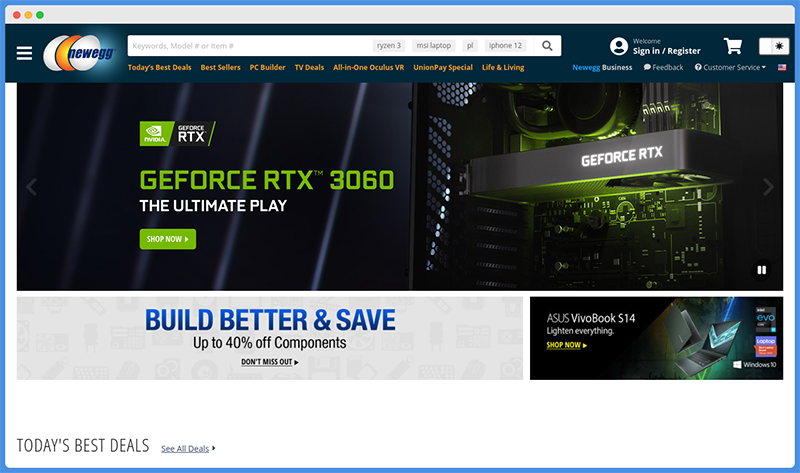 Newegg is a great Banggood alternative if you are looking for products that ship quickly.
Although products on Newegg might not be as cheap as those on Banggood, they are still relatively affordable, and the faster shipping times make up for that.
Newegg offers next-day shipping, which is a great option if you want to get products to your customers quickly.
Of course, you should charge your customers more if you are promising next-day delivery.
There are other options as well, including two-day shipping and three-day shipping.
Three-day shipping is a lot more affordable than next-day shipping, and it is still very quick, especially compared to Banggood's shipping times.
Even Amazon Prime doesn't usually promise shipping times quicker than two days.
There are cheaper options too if you find three-day shipping too expensive.
You can get standard Newegg Ground shipping, which delivers within 1-5 business days.
That's still very good.
There is also Super Eggsaver shipping, which has estimated delivery times of 3-7 business days.
This is a very cheap and affordable option, and most customers will be happy with a shipping time of seven business days.
Newegg is a good Banggood alternative if you are looking to dropship in a particular niche, more specifically electronics.
There are so many computers, cell phones, and other electronics being sold on Newegg for very low prices.
TVs, monitors, routers, and headphones are just some of the products sold on Newegg.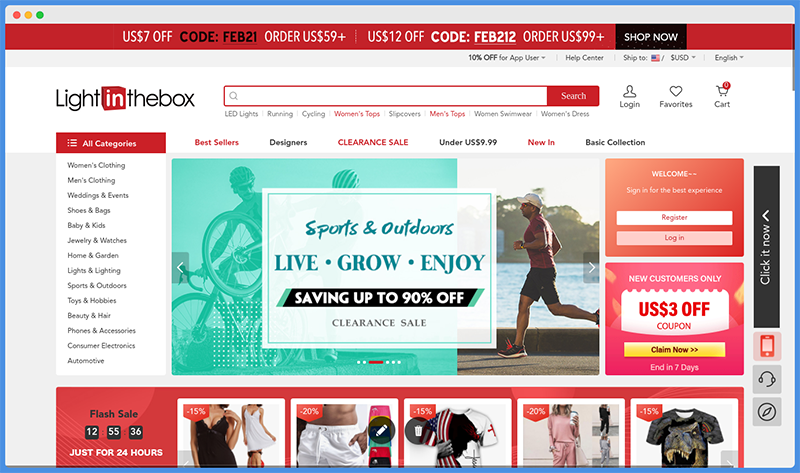 Light In The Box is a website where you can buy all sorts of products and dropship them to your customers.
Whether you want to dropship clothing, wedding gifts, decorations, shoes, bags, bath accessories, home furniture, garden furniture, beauty products, toys, or anything else, you will find it on Light In The Box.
There are a lot of products on Light In The Box which sell for just a couple of dollars.
It shouldn't be hard to make a profit by flipping those products and dropshipping them to Amazon or eBay customers.
Often, there are also products available for cheap in the Clearance Sale section.
You have to make sure that you don't keep listing an item after it goes out of stock, but clearance sales provide a great way to earn a nice profit.
Light In The Box offers several shipping options.
Expedited global postal shipping takes just 5-8 business days, while standard global postal shipping takes 10-20 business days.
Global expedited express is even faster. It takes just 3-4 business days using carriers like FedEx, UPS, and DHL.
Due to these fast shipping options, Light In The Box is an excellent alternative to Banggood for dropshipping.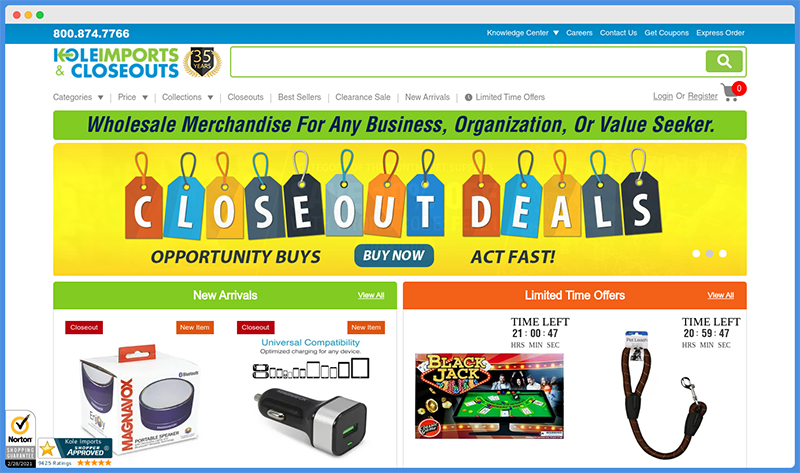 While Kole Imports is focused more on wholesale, it does allow for dropshipping as well.
One of the reasons I think Kole Imports is a good Banggood alternative for dropshippers is that all the products are shipped from a local warehouse in Los Angeles.
What this means for you is that products will arrive at your customers' doorsteps much quicker, which will help keep them happy.
To use Kole Imports for drop shipping purposes, you need to look for the products with minimum order quantities of just one.
Generally, the products selling for less than a dollar require a minimum order of more than one; the same goes for most products costing just a few dollars.
You'll have better luck with products at the higher end of the price range.
Most of the products that cost more than $10 have a minimum order quantity of just one.
You can also dropship a "two pack." Many products in the $5-10 range have a minimum order quantity of two, so selling two packs of products on eBay or your Shopify store would be a way to get around that limitation.
Kole Imports and Closeouts ships their products to over 100 countries around the world, so you can definitely set up a global eCommerce business using them as your dropshipping source.
Also, with Kole Imports, you know that the products are of good quality, unlike Banggood.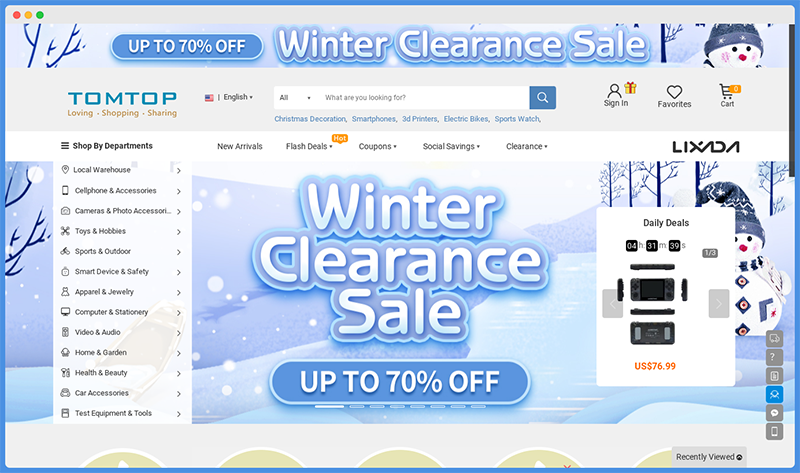 Tomtop is an excellent alternative to Banggood, with products such as sports and outdoor equipment, jewelry, clothing, electronics, toys, cameras, phones, stationery, and much more.
Since Tomtop has local warehouses in various countries, you can sell products that will be delivered to your customers quickly.
Just going through customs can take a while, and shipping from a local warehouse allows you to avoid that hassle.
Tomtop has local warehouses in the United States, Canada, Australia, France, Germany, Russia, the United Kingdom, Spain, and China.
For example, if you will be selling to US customers, check out all the products in the US warehouse.
Shipping times on Tomtop are decent. Shipping from a local USA warehouse to a US or Canadian address takes just 2-5 business days with UPS and 3-6 business days with USPS.
In other countries, shipping times from local warehouses may be slightly different.
For example, shipping in the UK from a UK warehouse takes 3-7 business days with UPS but 5-12 business days with Royal Mail.
Even products that ship from the Chinese warehouse won't take excessively long.
It takes just 7-15 business days for airmail that is sent from China to countries like the US, Canada, the UK, Japan, Spain, Australia, France, and many others.
With EMS, it takes just 6-8 business days, except for items headed to Brazil and Russia, which take longer. Also, 3-7 business day global shipping is available for products in the Chinese warehouse via DHL.
Due to the flexible and quick shipping options, Tomtop makes for a good Banggood alternative.
Lightake is another excellent Banggood alternative if you are looking to dropship children's toys, puzzles, and games.
All kinds of toys are available, like painting kits, nerf guns, educational toys, puzzles, musical toys, sports toys, and many more.
There are many toys that sell for just $0.99, and you can also browse products from the US warehouse if you need quick shipping.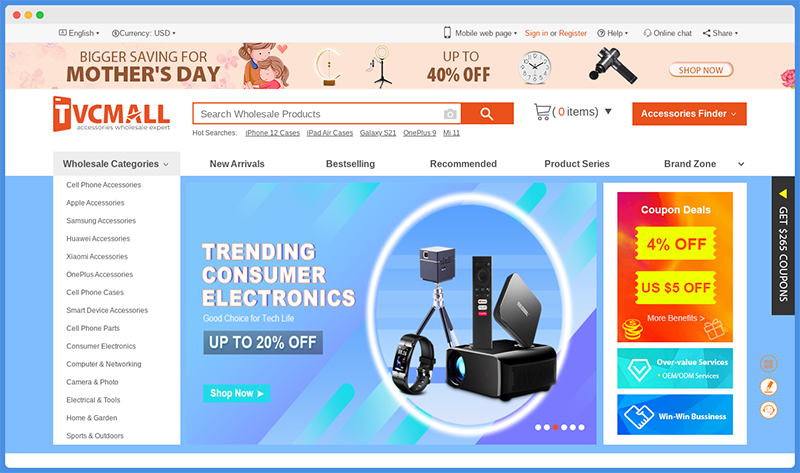 TVC Mall is one of the best Banggood alternatives for those in the cell phone niche.
It is one of the largest online sources for phone accessories and parts, for all kinds of models, including:
Samsung
OnePlus
Xiaomi
Huawei
Apple
And others
In addition, they sell other products, like sports equipment, cameras, toys, and more.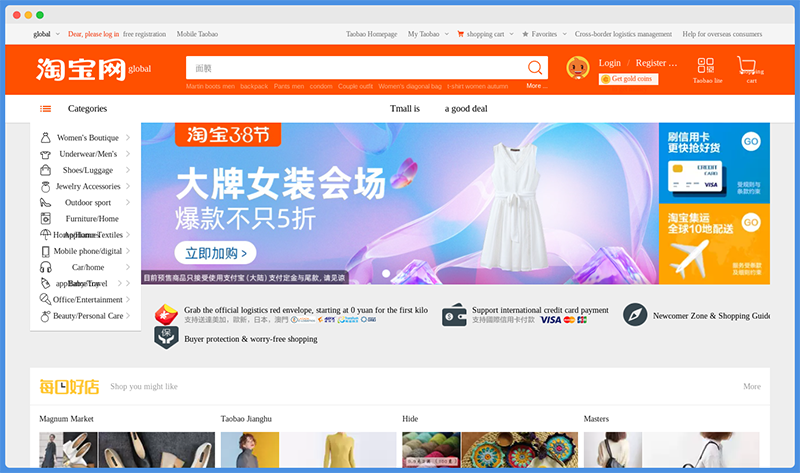 Taobao is a Chinese website that is owned by Alibaba. According to Alexa rankings, it is the eighth most visited website in the world.
Although Taobao is in Chinese, you can easily translate the page to English.
You can also choose to see the global site or country-specific sites.
Taobao is an excellent alternative to Banggood, especially for Chinese dropshippers.
Wrapping It Up: What Is The Best Site Like Banggood For Dropshippers?
While AliExpress is the most popular Banggood alternative for dropshippers, DHGate is excellent too.
I recommend AliExpress due to its wide selection of products, cheap prices, and the availability of sellers who support dropshippers and avoid placing any branding inside the packaging.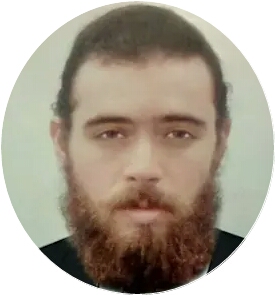 Author: Benjamin Levin
Benjamin Levin is a digital marketing professional with 4+ years of experience with inbound and outbound marketing. He helps small businesses reach their content creation, social media marketing, email marketing, and paid advertising goals. His hobbies include reading and traveling.