Finding the right suppliers is something that can make or break your eCommerce business, whether you are buying wholesale or using the dropshipping method.
It's important to find suppliers who will ship quality products on time at a low price so you can keep your business running smoothly and get a nice ROI.
It's also important not to sell what everyone else is selling or you will be drowned by the competition.
Today, we will be looking at two of the most popular supplier directories for finding eCommerce product suppliers: Alibaba and Worldwide Brands.
Alibaba is free and one of the largest directories in the world.
Worldwide Brands, on the other hand, is not free, leaving many sellers to wonder whether it would be worth it to pay a premium price to access their directory.
Would signing up for Worldwide Brands give you leverage in the market by giving you access to exclusive, high-quality suppliers?
Today, we will be comparing the two directories so you can make an informed decision for yourself.
Supplier Country
The first thing we will look at is where the suppliers are located on each platform.
Worldwide Brands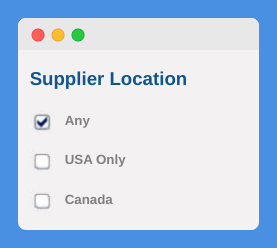 Worldwide Brands prides itself on the fact that most of its suppliers are based in the United States.
This doesn't mean that all of them are; there are certainly many suppliers that are based around the world as well.
When conducting a search, you have the option of filtering for products from Canadian sellers.
You can use Worldwide Brands even if you are not based in the United States and not selling to a US audience; nevertheless, it is more worth it for US sellers.
Since most products are sourced from within the US, you will be able to have them shipped quicker.
This is important for quick turnaround times, but it is even more important if you are using the dropshipping model.
With dropshipping, you don't actually handle the product yourself; you simply act as a middleman between the supplier and the consumer (whether the consumer is purchasing on your own Shopify store, eBay, or Amazon).
If you are using a dropshipping supplier from overseas, it may take a few weeks until the product is shipped to your customer.
This can lead to dissatisfaction and negative reviews.
Using suppliers from within the US will make a big difference if you are selling to US buyers.
On the other hand, products sourced from within the US are also usually more expensive.
This doesn't mean that you can't make a profit; you can always pass on some of that added cost to the consumer.
Higher-quality products can be sold at higher prices.
Nevertheless, you will usually be able to make a larger profit if you can source your products for pennies on the dollar.
Also Read: Worldwide Brands Review – Best Way To Find Genuine Wholesalers
Alibaba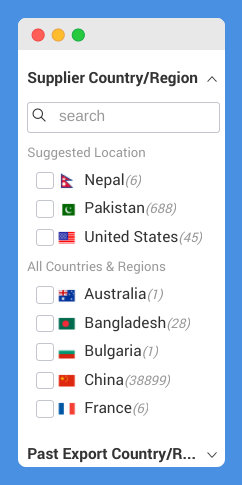 On the other hand, most of Alibaba's suppliers are based in China. Alibaba is a Chinese company, owned by Jack Ma, a Chinese investor and politician.
This doesn't mean that all suppliers are based in China.
There are quite a few suppliers in other countries such as Vietnam, India, and Pakistan, especially if you are dealing with clothing.
This is great if you are selling in those countries.
There are even suppliers based in the United States, Australia, and Europe. You can filter and search for those suppliers in the search results.
Let's have a look at the availability of suppliers based on their country. I searched for "caps" in the search bar, and the breakdown for products was as follows:
China — almost 42,000
Pakistan — 693
Vietnam — 127
India — 124
France — 52
United States — 44
Bangladesh — 28
There were various other countries as well. For example, Australia had just one product/supplier, Turkey had 10, Egypt had nine, Italy had 18, and Japan had eight.
As you can see, it's not impossible to find suppliers in your own country; there are just so many more suppliers in China compared to other countries.
What does this mean for you? On the one hand, it means that you can find cheaper products for bulk purchases.
While the caps from US suppliers were still cheap, the caps sold by Chinese sellers were even cheaper.
It seemed that most US caps sold for a starting price of $3-6, though I did see some caps selling for $1-2 if you bought 500 or more at once.
However, I found caps selling for just $1/unit and even cheaper (as low as $0.60/per unit or perhaps even lower) if you bought in bulk.
Let's take bandanas as another example. You can buy bandana scarves with your own custom logo for as low as $0.20/unit if you buy in bulk from China.
These custom bandanas can easily sell for $5-12 each on Amazon.
However, as mentioned, the downside of shipping from China is that it can take a long time for deliveries to arrive.
If you are storing products in your own warehouse or in a fulfillment center, this is okay.
However, if you are using drop shipping, you would probably be better off with a US seller. Online consumers expect quick shipping times; Amazon set the precedent for that.
Customers don't really want to wait 3-5 weeks for a product to arrive. One week should really be the maximum.
Also Read: Alidropship Review
Product Variety And Availability
The next thing we will look at is product selection and variety.
We will search for three products on each platform to get an accurate comparison: facial moisturizers, baby pacifiers, and earbuds.
Worldwide Brands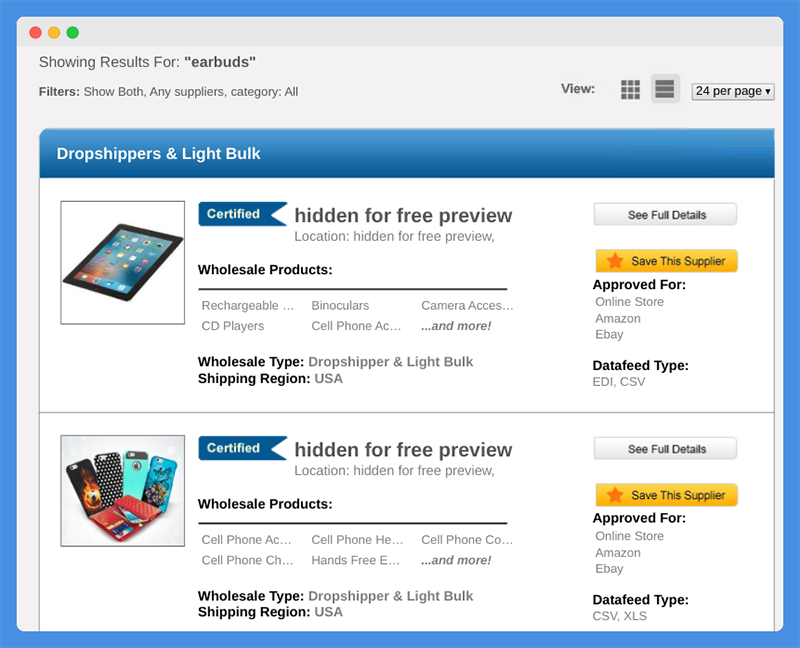 When I searched for facial moisturizers on Worldwide Brands, there were six pages of results, with around six suppliers on each page (a total of 36 suppliers).
Keep in mind that the results show suppliers, not products; some suppliers might sell more than one kind of facial moisturizer.
When I searched for baby pacifiers, I only found 10 suppliers. When I searched for earbuds, I found 19 suppliers.
Alibaba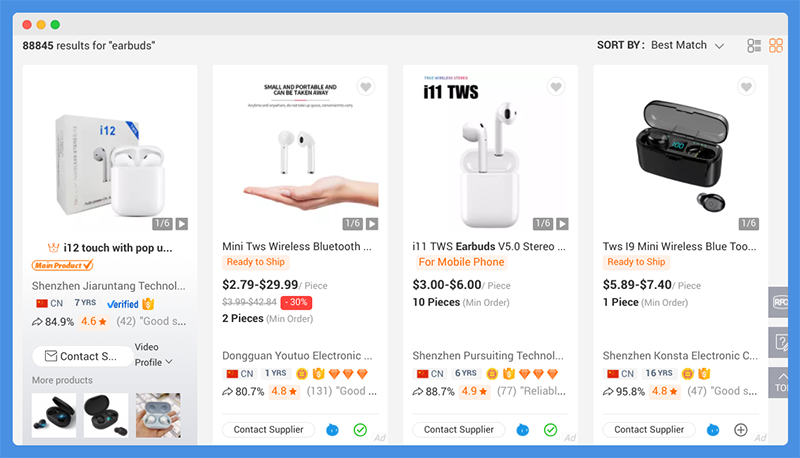 When I searched for "facial moisturizer" on Alibaba, on the other hand, I found 33,720 product results, and there were 89 results in the United States.
Again, since these are product results, some may be from the same supplier.
There were 8,208 results for baby pacifiers and 88,845 results for earbuds.
So, who wins here? There are definitely way more results on Alibaba than Worldwide Brands; in terms of product availability, there isn't much of a competition.
However, that doesn't necessarily mean that all of the products on Alibaba are good or that you won't be able to find what you want on Worldwide Brands.
You only need one good supplier (and perhaps 1-2 backup suppliers) to run a successful eCommerce business.
Explore: Best WooCommerce Dropshipping Plugins
Supplier Certification And Vetting
It's crucial to work with reliable suppliers who will deliver high-quality goods on time. Both platforms allow you to qualify suppliers.
Worldwide Brands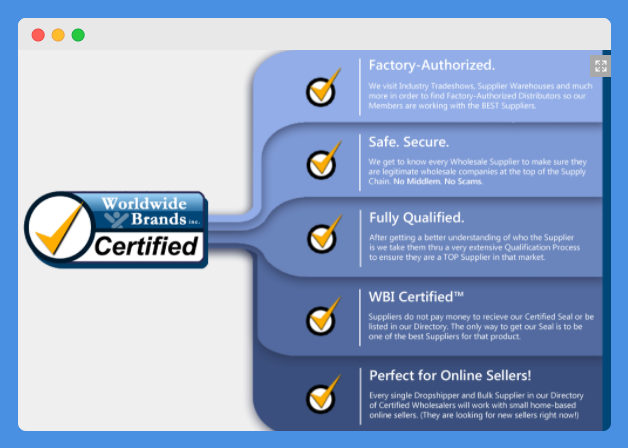 One of the benefits of Worldwide Brands, and one of its main selling points, is that all suppliers are Worldwide Brands Certified (WBI Certified).
This means that all suppliers in the directory have gone through a vetting process to get in the directory.
Not only are they reviewed to make sure they are legit, but WBI Certification includes talking to the manufacturers to make sure that the supplier is a factory-authorized supplier at the top of the chain, ensuring that you get the lowest prices available.
One of the best parts about WBI Certification is that suppliers don't pay to go through the certification process. This helps keep the certification unbiased.
Also Read: Best Dropshipping Companies & Sites
Alibaba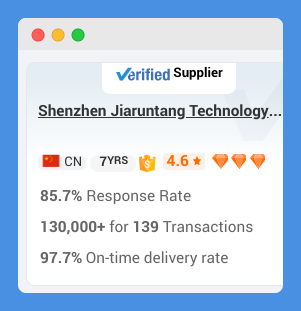 While Alibaba is open to all suppliers (which is why there are so many results and opens the way for scammers), it doesn't mean that you can't be selective.
There are a number of ways you can filter for high-quality, reliable suppliers on Alibaba.
First, there are a few filters you can use to narrow down your search results.
Choose to search only for products from Verified Suppliers.
Verified Suppliers have gone through a check by a third-party verification and investigation service (there are a number of options they can choose from) to ensure they are adhering to quality business practices.
You may see some suppliers marked as "Assessed Suppliers," which means an inspector from an assessment service has visited their site and conducted an inspection. "Onsite Check" means that some onsite checks were conducted; however, the "A&V" check just means that the seller's business license was verified.
You can also see if the seller is a Gold Seller, which means that they have paid the $10,000/year Alibaba Gold membership price.
Remember that this doesn't mean they are verified or that they are offering quality products, but it does mean that they probably aren't scammers because scammers don't usually pay $10,000 to set up fake product listings to steal your money.
It will also show how long they have been a Gold Seller. The longer they have paid for the membership, the more likely they are to be reliable.
You can also filter for products that have Trade Assurance.
This means that the seller has signed up for an assurance policy that covers you if the products get lost or damaged during shipping.
Finally, you will be able to see each seller's:
Reviews and star-ratings from buyers for three factors: Supplier service, on-time shipments, and product quality
Response rate
On-time delivery rate
Transaction level (the more transactions they have conducted, the more likely they are to be reliable)
How many buyers they have dealt with, how many items they have shipped, and which countries they have shipped to
In addition, you can filter for product quality and management certifications to ensure you only get high-quality products and not something that will break after a few hours.
Just remember that these are third-party certifications and not Alibaba certifications.
In a nutshell, look for verified suppliers who offer trade assurance, have on-time delivery, have conducted a lot of transactions, and have good ratings; also, look for products that have a certification.
Also Read: Top Dropship Suppliers To Boost Sales
Dropshipping, Private-Labeling, Low-Bulk Orders, And eBay/Amazon
There are various eCommerce models you can use. Let's see which directory is a better choice for each of the above models.
Worldwide Brands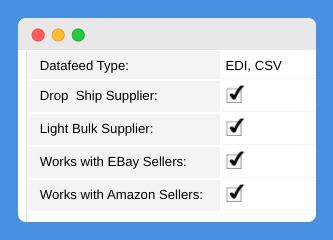 Worldwide Brands is geared towards regular wholesale buyers as well as dropshippers.
You can select the "dropshippers only" filter to only search for suppliers that allow dropshipping.
Worldwide Brands is also great for low-bulk buyers. If you are new to eCommerce, you may not have the money or storage space available to invest in a lot of stock.
Perhaps you want to test out a new product and don't want to invest too much at once.
You can filter for "Light Bulk Only" to only get results from sellers with low minimum orders.
Finally, although some sellers don't allow reselling their products on Amazon and eBay and only allow you to sell on your own website, you can filter for those sellers who do not mind if you sell on either Amazon, eBay, or both.
Private labeling might be a bit more difficult as you would have to work something out with the supplier directly, and that usually requires bulk orders.
Explore: Best Dropshipping Niches
Alibaba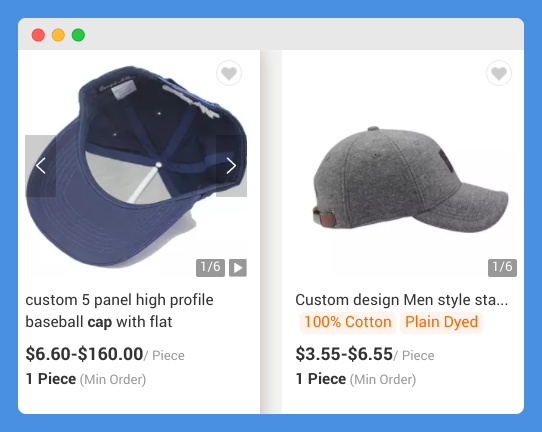 On the other hand, Alibaba isn't good at all for dropshippers. First of all, most products have a minimum order amount.
While it is definitely possible to filter for and find products that have a minimum order of only one, there are fewer available, and they usually cost more.
That's why AliExpress was set up — so that people can buy items in quantities of one.
In fact, AliExpress is usually used by dropshippers instead of Alibaba. Although you can theoretically dropship from Alibaba, it is not recommended.
However, both AliExpress and Alibaba have a major flaw for dropshippers: Since the products are usually sourced from China, shipping can take a long time.
However, finding low-bulk products is a lot more possible. There are plenty of sellers with minimum orders of 10, 25, 50, 75, and 100.
Usually, the more you buy at once, the cheaper you will get your stock.
As for private labeling, Alibaba is great as well. Just click the "customization" tab in the search results to see sellers who can customize the product and/or logo for you.
You can also search for "product + private label" in the search bar ("face moisturizer private label," for example) and you will likely find various sellers willing to print your own logo on the product if you place a minimum order.
In addition, it is easy to find products to sell on Amazon and eBay.
Contacting Suppliers
Of course, once you have found a product that seems to fit your needs, you will need to contact the supplier directly and negotiate a deal.
Also Read: Best Dropshipping Products To Sell
Worldwide Brands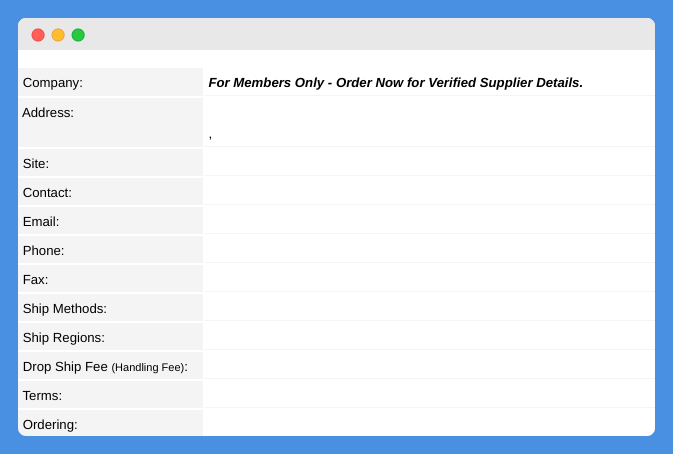 You can see the supplier's website and contact information on Worldwide Brands, and you can also fill out a form to get in touch with them.
It's pretty easy.
Alibaba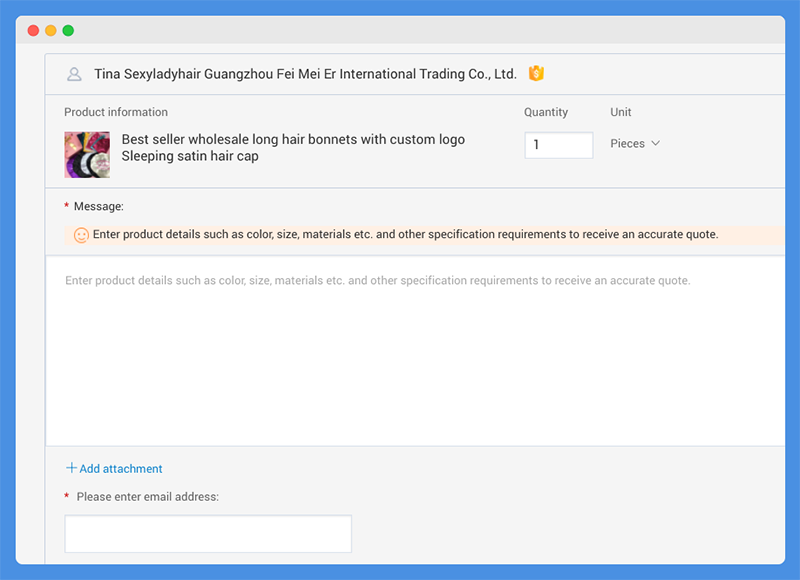 You can also fill out an online message form to contact each seller on Alibaba.
In addition, you can click on the seller name to see their Alibaba profile, certifications, products, etc.
The only issue with Alibaba is that since suppliers are based in China, it is possible to run into language barrier issues.
Translators such as Google Translate can help but are not always accurate.
Look for suppliers who have sold to buyers in the United States before as they have more experience, may speak English, or may have a rep who you can deal with.
Trade Shows, Liquidations, Etc.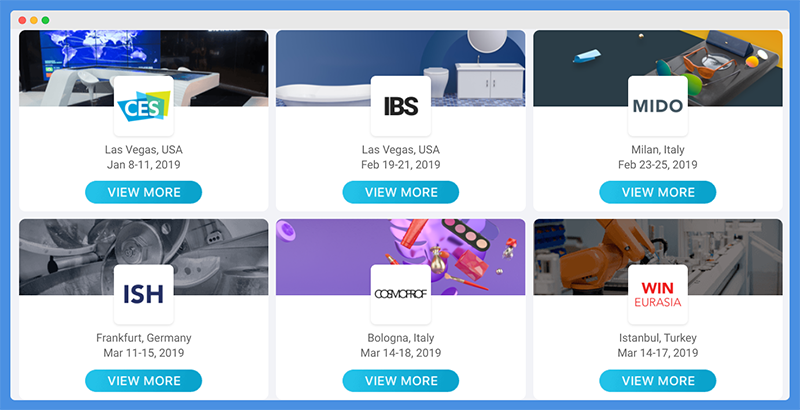 Alibaba has a trade show calendar where you can see a list of upcoming trade shows in the United States, Europe, Asia, and elsewhere.
Worldwide Brands lets you filter for liquidation auctions, import deals, and liquidation wholesalers.
This can help you find great deals.
Pricing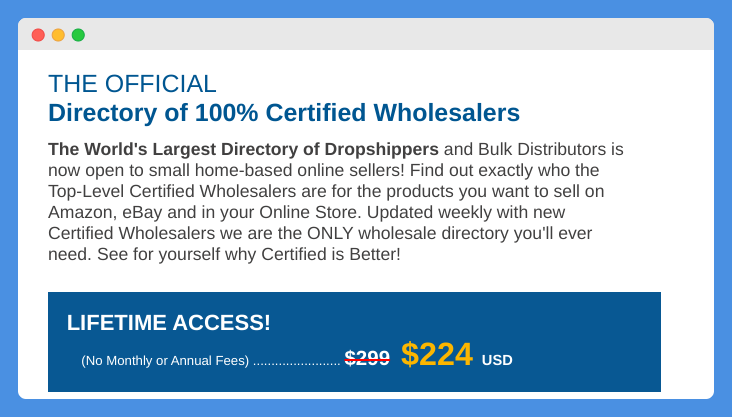 Finally, we come to the issue of pricing. This is the major difference between Alibaba and Worldwide Brands
Alibaba is free to use. You don't even need an account to browse products or even send a message inquiry to sellers.
On the other hand, Worldwide Brands is not free. Instead, it costs a one-time fee of $299 (though there are sometimes sales, as in the screenshot).
You can create a free "preview" account, but you will be pretty limited.
For example, you won't be able to see sellers' contact information or send them messages, you won't be able to see which brands they are selling (though you will be able to see what kinds of products they are selling), you won't be able to save sellers — you get the point.
Basically, you won't be able to do much.
Interesting Comparison: Modalyst vs Oberlo
Similarities And Differences
To help you get a quick overview of the similarities and differences between Worldwide Brands and Alibaba here is a quick chart:
Worldwide Brands vs Alibaba — Which Is Better? 
All in all, Alibaba is a better choice. There is no reason to spend $300 on a directory when Alibaba is free and offers a much wider selection at lower prices.
Yes, WBI only includes certified sellers.
However, even on Alibaba, you can find sellers who have undergone a verification, have been around for years, have shipped thousands of stock items, and have great reviews.
In addition, as we have seen, the selection on Worldwide Brands isn't that great.
This means that even if you want to use WBI only for dropshipping, you will probably face a lot of competition from other dropshippers on Amazon on eBay as all WBI users will have access to the same small selection of the same suppliers.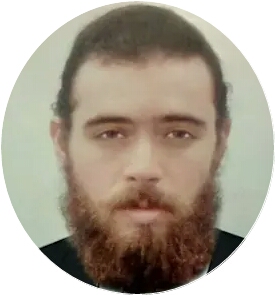 Author: Benjamin Levin
Benjamin Levin is a digital marketing professional with 4+ years of experience with inbound and outbound marketing. He helps small businesses reach their content creation, social media marketing, email marketing, and paid advertising goals. His hobbies include reading and traveling.