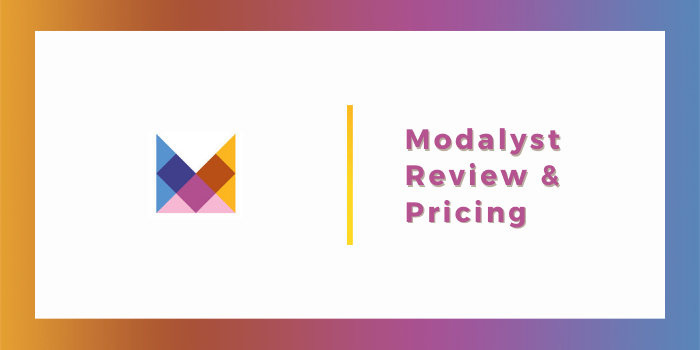 Shoppers demand instant gratification and an easier way to buy. Lots of online retailers chose dropshipping as their preferred fulfillment method.
About 33% of sellers relied on dropshipping to satisfy the over 2 billion people who bought things online in 2020.
However, regular eCommerce platforms and marketplaces aren't enough to make dropshipping easy and convenient for buyers, retailers, and suppliers.
Hence, sellers who desire to improve their sales and lower costs are integrating dropshipping software solutions to their eCommerce stores.
Modalyst is a feature-rich dropshipping software that helps you save time and boost sales.
In this review, you'll find out what to expect when using Modalyst as your dropshipping automation software.
What is Modalyst?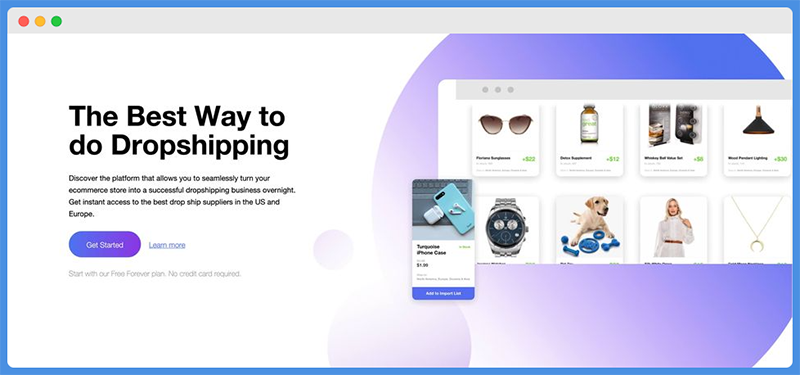 Modalyst is a dropshipping automation software for the eCommerce marketplace. Founded in 2012 and headquartered in San Francisco, California, Modalyst lets dropshippers source products from the US, Europe, and Chinese suppliers.
You set up Modalyst on your eCommerce platform to automatically complete tasks you'd naturally have to do repeatedly over time.
Modalyst connects you to their extensive list of dropshipping suppliers to make all aspects of product sourcing easier.
Their dropshipping solution offers users these features:
Dropshipping automation
Product sourcing and product data management
Order management
Shipment tracking
Supplier management
eCommerce platform integration
Who can use Modalyst?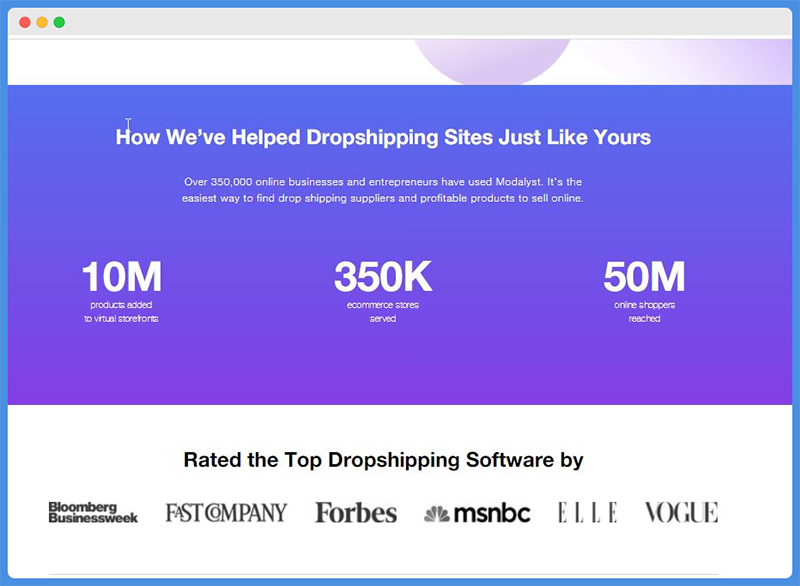 Your dropshipping business will fall into any of these general categories:
Startup: unestablished, fast-paced, and risk-taking
Enterprise: established, slow to move, and risk-averse
Suppliers: with products to sell, access to delivery options
Modalyst provides something for each category of eCommerce business to help you get from one stage of growth to another.
Three of the top eCommerce platforms, Shopify, Wix, and BigCommerce, account for close to 40% of the U. S. eCommerce platforms' market share.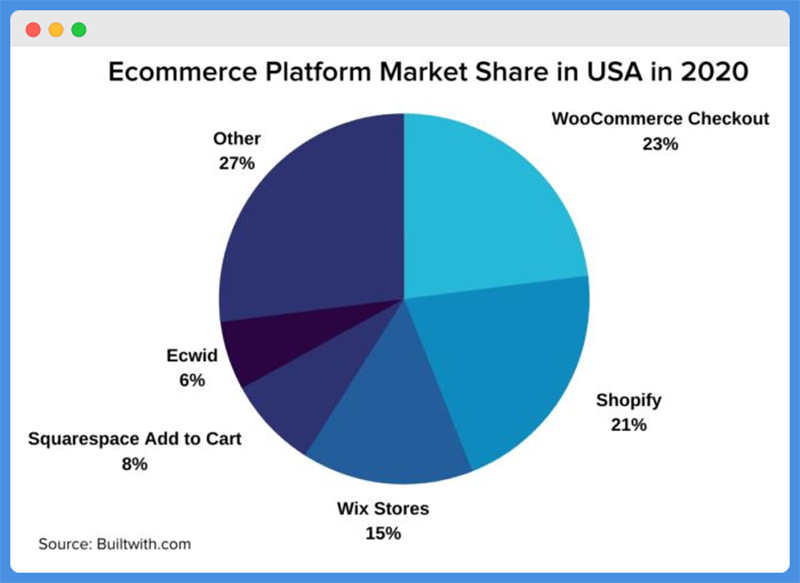 Modalyst's ability to integrate directly with these platforms has made it the preferred software by over 350,000 dropshipping stores.
How Does Modalyst Work?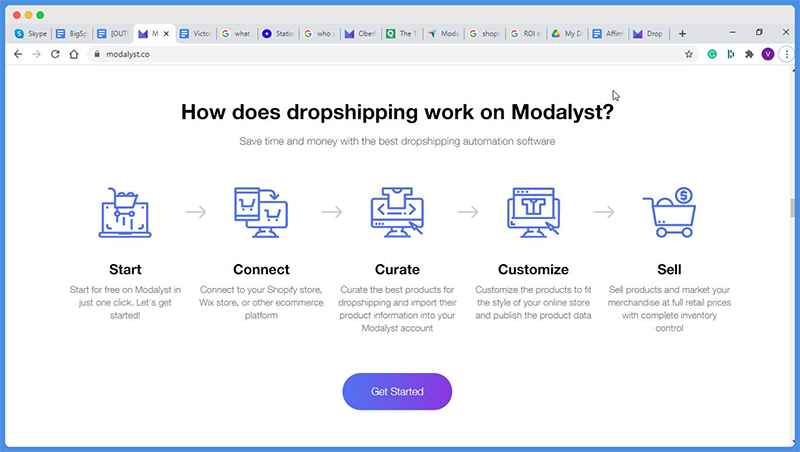 Modalyst is a Software as a service (Saas). It doesn't require you to download any apps, and you're not responsible for upgrading their service features. Therefore, you can access it via the web from anywhere.
Modalyst supports store management, automation, and dropshipping on most eCommerce platforms, including bespoke retail stores.
Retailers who sell on multiple channels get the ability to manage all their store processes on one system with a single account.
If you're just starting your dropshipping business, you can set up your store right from your Modalyst account in five easy steps.
I'll show you how.
Step #1: Set up your account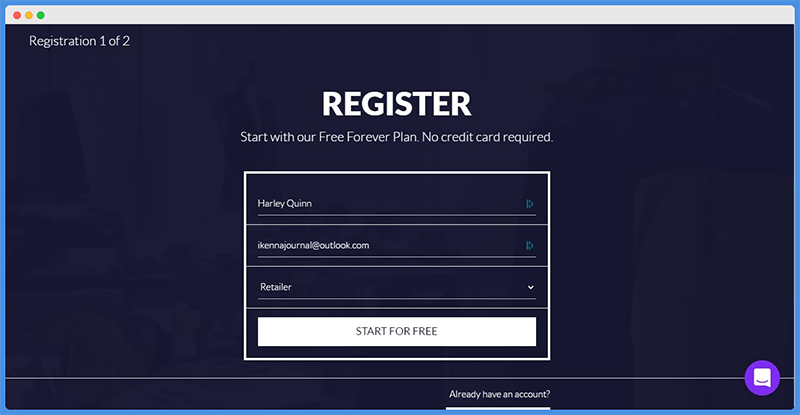 I created a free account on Modalyst to get started. A free Modalyst account allows you to set up your store and try out their services before deciding on a plan.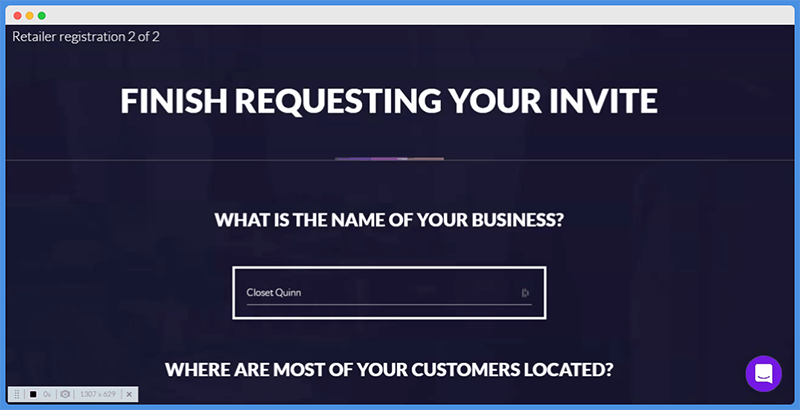 This second page lets you input your business name, product categories, and eCommerce platform you're using.
Step #2: Connect your store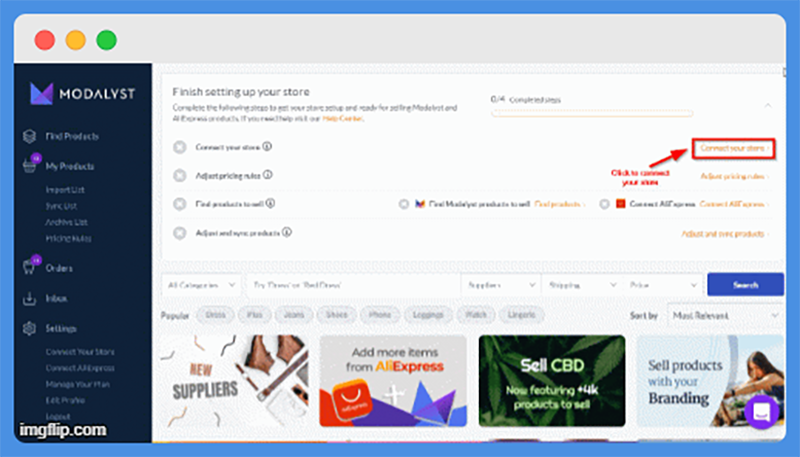 After signup, you get to the Modalyst dashboard to connect your store.
The goal in this step is to access your Modalyst dashboard and connect your store. First, I created a free Shopify store and then set up Modalyst as an App on my Shopify store using my store URL.
You can use any of the three eCommerce platform integrations to set up a store right from Modalyst.
Alternatively, you can install the Modalyst app onto your Shopify store from your Shopify dashboard and continue to setup.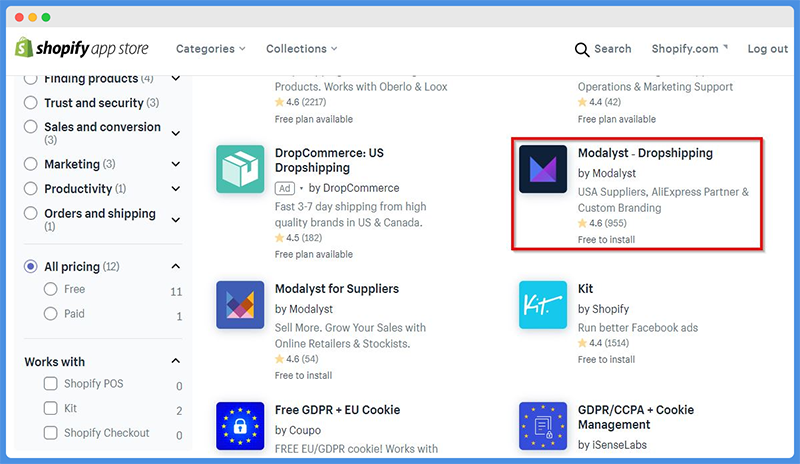 Step #3: Add products to sell
From your Modalyst dashboard, you can access millions of products from Modalyst's network of vetted suppliers. Just click on the products you want to offer on your store and add.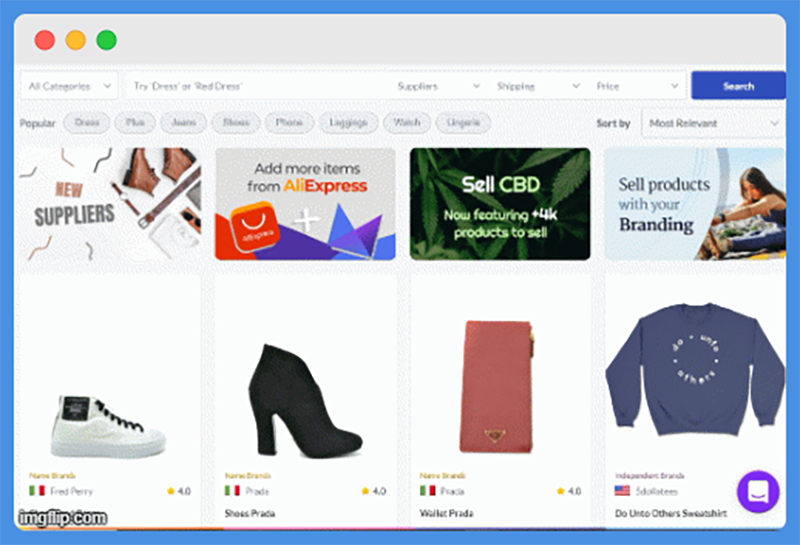 Step #4: Customize product data however you want
At this stage, you can customize product data the way you want it to show up on your storefront. Access all your products from the import list tab on your dashboard navigation.
You can set up pricing, product description, select product media to show on the product page, add tags, and edit product vendors and categories.
Step #5: Sync with your store and start selling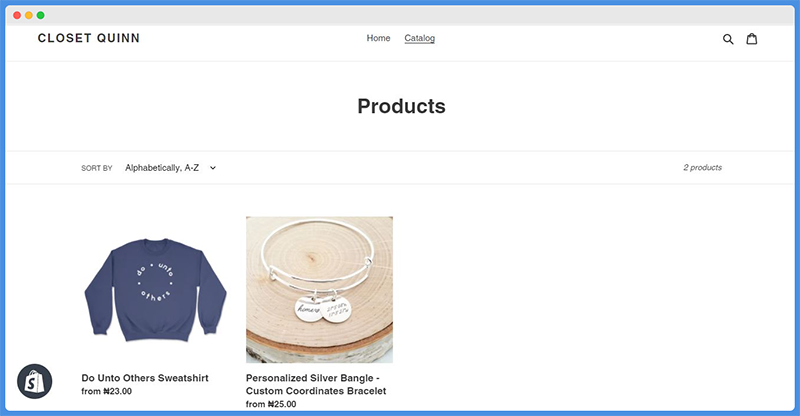 When you complete customization, select the products on your import list and sync them to your store. View your storefront on Shopify or whichever eCommerce platform you're using to see your added products, ready for ordering.
Modalyst Features
Product Sourcing
Modalyst mainly works as a supplier network with access to over 10 million products.
There's an extensive collection of U.S. dropshipping suppliers giving retailers the advantage of selling to U.S. buyers from anywhere in the world.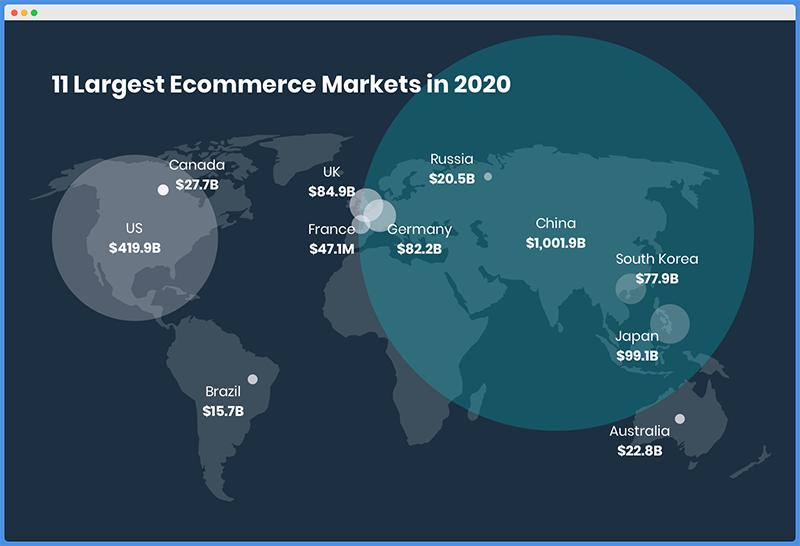 With the U.S. as the second biggest eCommerce market, retailers can sell to U.S. shoppers and sell products from U.S. suppliers without actually having to stock any of them.
Modalyst also makes it easy to dropship products from suppliers in China using AliExpress integration.
From your dashboard, you can add any products you wish to dropship to your eCommerce store. However, some products, due to their pricing, are only available for Pro users.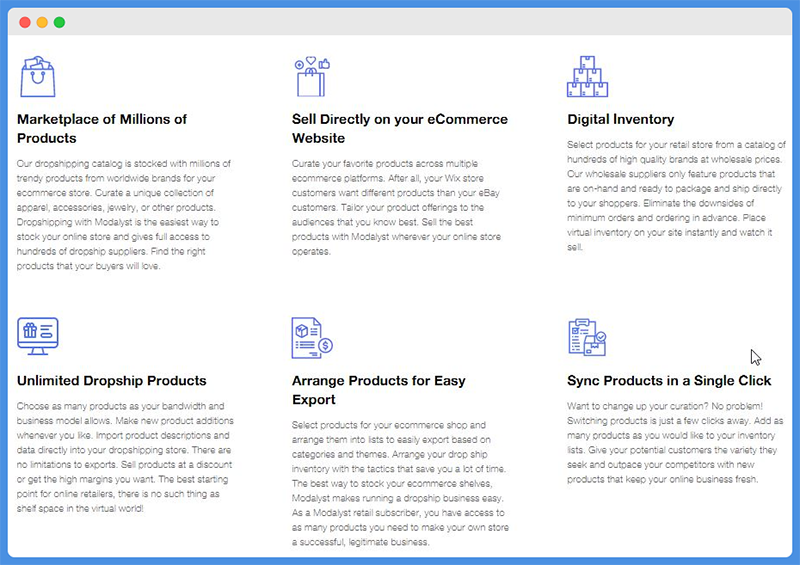 Modalyst's inventory management tool automates every other process of product selection, customization, and syncing. Their platform curates all of your desired products on one system so that you may source from multiple suppliers.
Export your product lists to your desired marketplace and sell on any channel you want.
Modalyst automatically updates your inventory data to match what's available at the suppliers' end.
You can also use the Modalyst Chrome extension to simplify the product sourcing and inventory management process.
Supplier Features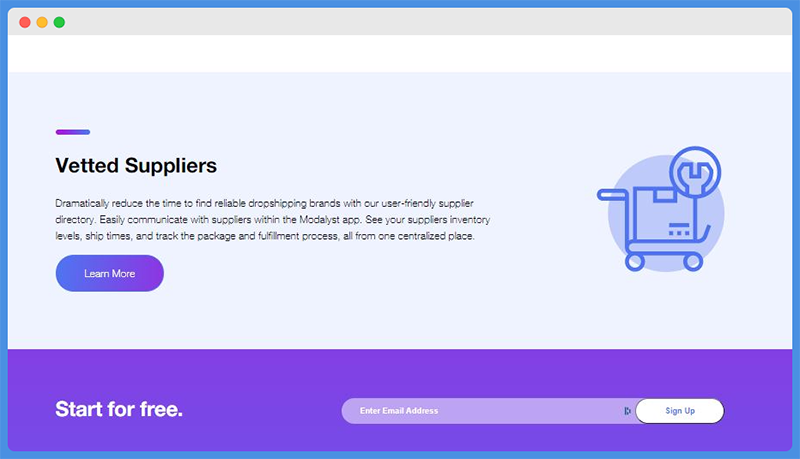 Modalyst partners with thousands of vetted US, European, designer brands, AliExpress, and private label suppliers. This feature is vital in the dropshipping process as the fulfillment of shoppers' orders depends mainly on the supplier's reliability.
Modalyst also offers these features to help suppliers sell to and connect with their retailers: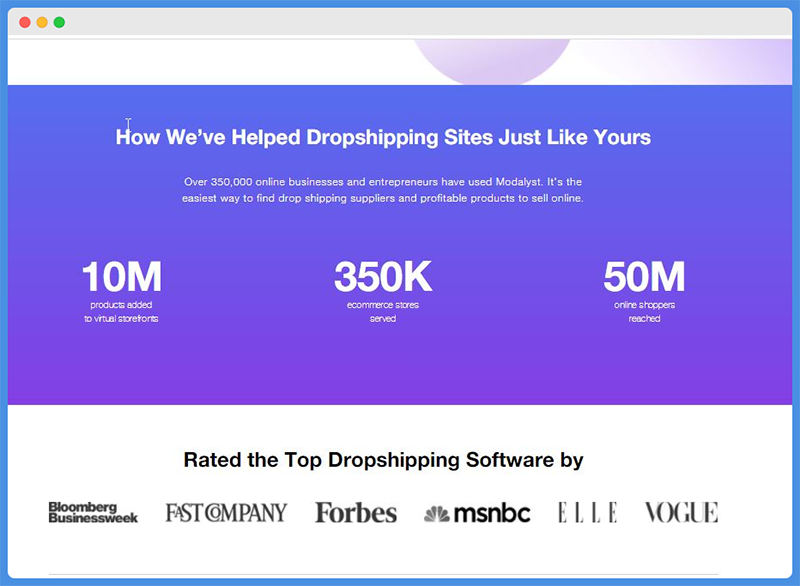 Integrations
Suppliers can sync their entire inventory to their Shopify marketplace to gain access to millions of Shopify dropshippers. From there, Modalyst's automation tools manage most of the selection, uploading, customization, and syncing on the retailer end.
Suppliers can monitor and manage their collections on the Shopify app.
Check Out: AutoDS Vs DSM Tool
Inventory and order management
Suppliers can upload as many products as they offer on the Modalyst app, set up media, product data, pricing, and shipping details. Updating inventory status is automated, and retailers get updates when changes occur on the supplier end.
In the same way, you control which products you wish to offer, at what price, and shipping details. You can also decide when to remove a product from your inventory list.
Updates about shoppers' orders are automatically sent to you as they occur. Orders from Modalyst retailers are generated digitally and sent to you. But, if you receive a direct order from a customer, you can create it on the go, and Modalyst will automate the rest of the process.
Payment collection and price automation
Modalyst automates ordering from the supplier and automates payments, commissions, and profit-sharing according to price rules set up by supplier and retailer.
Once the retailer completes and confirms payment, Modalyst sends the supplier an update to initiate shipment.
Modalyst lets the supplier set price rules and retailers would have to sell at or above the manufacturer's recommended sales price.
CRM and communication tools
Modalyst enables suppliers to connect directly with retailers, follow retailers they want to sell to, and send them updates about products and features.
Retailers can also follow their favorite suppliers, receive updates about products and features, and coordinate order fulfillment.
Suppliers can send retailers complimentary messages, updates, and automated shipment tracking details right from the app.
Support
Supplier support is available in the help center, FAQs page, help articles, and tutorial videos. Suppliers can also contact the customer support team by email. You can send a live chat on the app using the chat bubble visible on any page.
The Modalyst team sends out newsletters with the latest research resources on marketing trends and dropshipping best practices to help users sell better. Modalyst will also send updates about supplier's goods and features to the vast community of Modalyst dropshippers.
Supplier pricing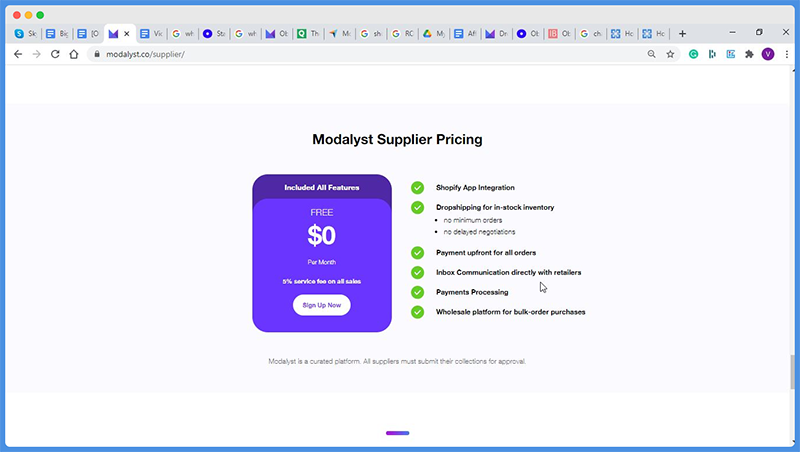 Modalyst is free for suppliers. However, the 5% transaction fee still applies as a commission for completed sales made through Modalyst.
Dropshipping Automation Features
If you're dropshipping, then you don't plan to stock any of the products on your storefront. You also don't want to have to worry so much about the fulfillment of shoppers' orders.
A good dropshipping automation software provides you with the ultimate list of products to sell from suppliers who will complete the delivery process. Your job is to set up your store, make it easy for shoppers to buy, and implement product marketing strategies.
Apart from providing the products, Modalyst automates the entire dropshipping process for retailers with these features:
Centralized Store Management
This is a part of what I've talked about in product sourcing. Modalyst hosts your entire library of imported products in one central system, allowing you to add products from multiple brands.
It also lets you export desired lists to any marketplace of your choice.
With a Modalyst account and a pretty standard eCommerce store, you can sell your desired dropshipping products on Amazon, eBay,  Etsy, Shopify, Wix, Volusion, or other marketplaces and shopping carts.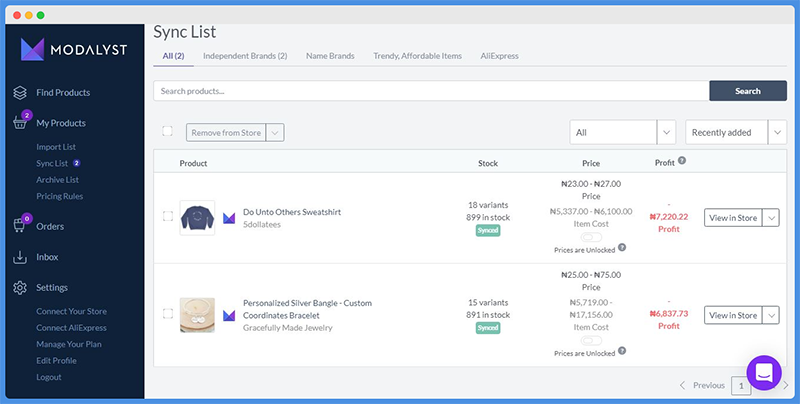 You can also format price settings for individual product lists to sell at your desired price for each sales channel.
Communication and Marketing
Communicate with suppliers from your dashboard: Inquire, monitor supplier inventory, and shipping times to keep your product list synchronized.
Modalayst also lets you track the order fulfillment process on your dashboard. You don't have to be involved in the shipping logistics, but you still need to monitor the shipping process. You can do that on the Modalyst app.
Your account comes with an unlimited inbox for direct messages with your suppliers and shoppers.
Modalyst integrates with Kit to manage your store activities. Kit is a virtual tool used to automate CRM, marketing, and organize all your store integrations. It works as a virtual employee, an assistant of sorts, for your Shopify store.
You can use Kit to organize the automation efforts of all your installed apps on one central system. It performs such tasks as creating targeted social ads and sending complimentary messages to buyers.
Kit + Modalyst enhances dropshipping efficiency and achieves store management.
Updates
Modalyst sends you instant updates on shipping and logistics. Shipment tracking is automated and Modalyst lets you track order fulfillment on your dashboard.
They also give useful reporting on marketing trends and how to make your dropshipping experience more profitable.
On your dashboard, you can view your inbox for direct chats, updates, and shipment status.
You also get product updates on your eCommerce store in real time when you change them on your Modalyst dashboard. Inventory updates and stock volume are updated automatically.
Order Fulfilment
Order fulfillment is not 100% automated on Modalyst. Once a shopper places an order and completes payment on your storefront, it reflects on your dashboard. You can access it by clicking the Order tab on your dashboard navigation.
Once you get orders from your store, you can choose the ones you want to send to the supplier. Otherwise, select all open orders and export them to the suppliers. You may also view orders according to the source, AliExpress, or Modalyst suppliers. You can sort and filter orders however you want.
Once you export your open orders to the suppliers, Modalyst sends digital copies to the supplier and sets up shipment tracking. Updates of shipping status are sent to both supplier and retailer.
Integrations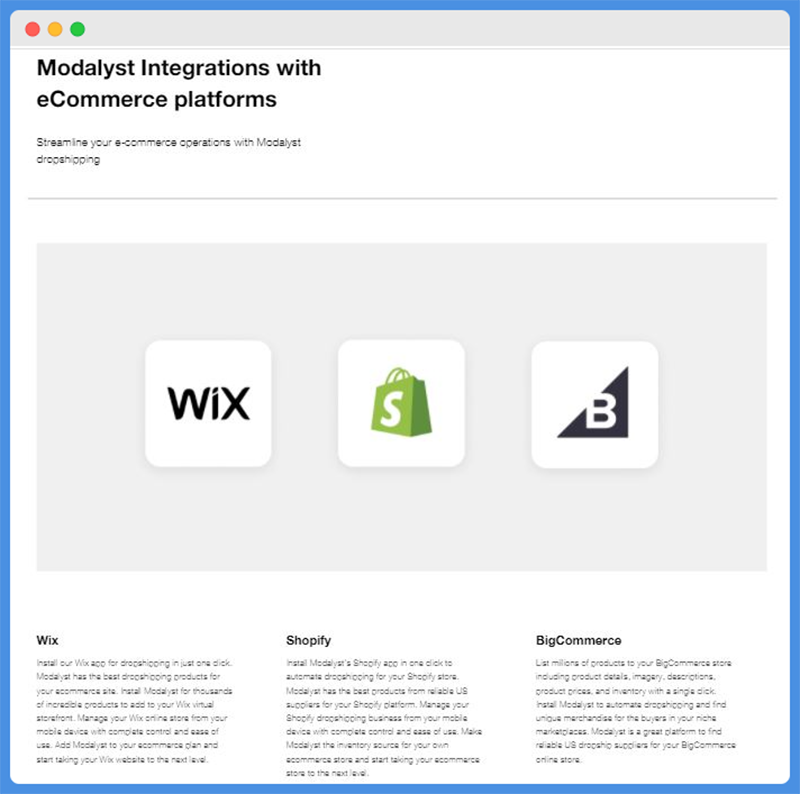 Modalyst's most significant advantage is its direct integration with top eCommerce platforms, Aliexpress, Kit, and support of multiple marketplaces.
With the Wix integration and a Wix store, you can set up the products you want to sell at your desired price in no time at all. To source products from AliExpress dropshipping suppliers, install the AliExpress plugin, and choose from an unlimited list of products to sell on your site.
For this review, I used a Shopify store, as Shopify is common for most dropshippers. So, if you're new at this and setting up your first store, follow the steps I've highlighted in this review, and you'll have your store ready in no time.
Retailer Autonomy
This is why Modalyst only automates order fulfillment up to a point. It enables retailers to have a say in when and how they complete shoppers' orders and run shipments.
You're also free to set up your own price rules in order to optimize your chances of making a profit.
As you set up your store, you choose what you want Modalyst to automate and to what degree. You're free to manually set up your own products, customize imported products, and set up your profile the way you want.
Modalyst allows you to set up your preferred marketing channels to work with Kit.
Support and Contact
There's a floating chat bubble on every page and they reply within hours once you send a message. Get answers to frequently asked questions on Modalyst's help center, watch video tutorials, or read a bunch of their help articles.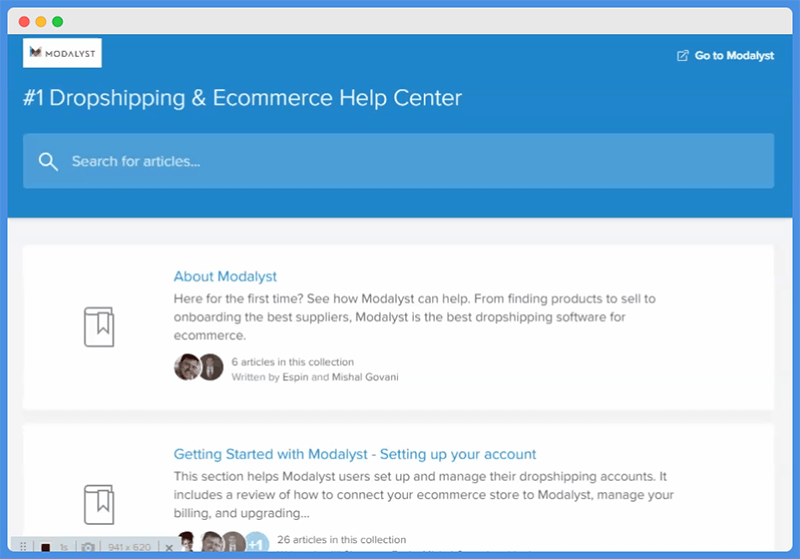 You can also fill out a message ticket, and the customer support team will contact you. They usually do so quickly if your message gets to them during regular office hours.
You can reach the customer support team by email at team@modalyst.co.
Modalyst Pricing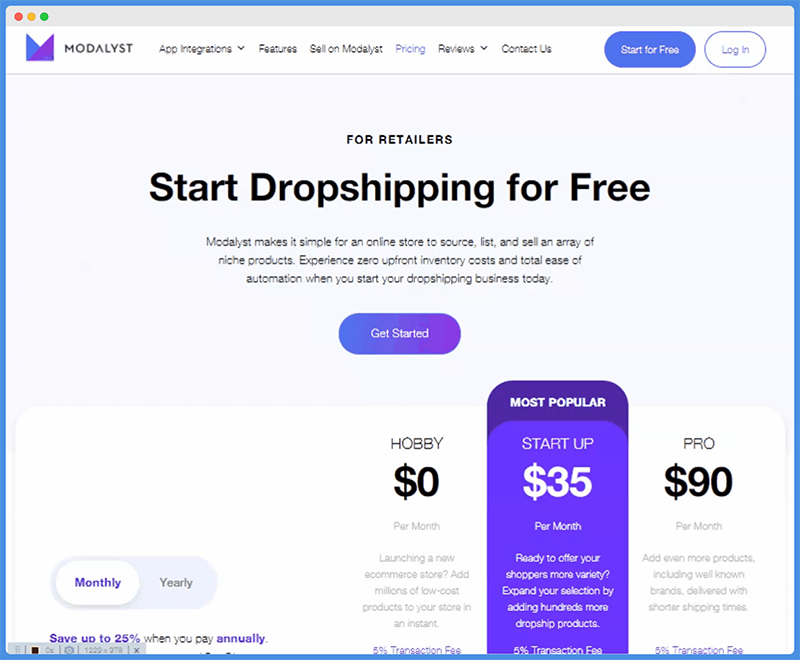 There are three price plans on Modalyst:
Free plan, which gives you access to only non-premium suppliers. You can also only sell up to 25 products at one time.
Start up plan at $35.00 per month, which gives you access to only non-premium suppliers. You can sell up to 250 products at one time
Pro plan at $90.00 per month, which allows you to buy from all suppliers, including premium private brands. There's also no product limit.
All plans pay the 5% transaction fee as a commission for every completed order. All users have access to all Modalyst features and functionalities, including their profit calculator.
Modalyst offers users a 25% discount for yearly subscriptions to any plan.
Modalyst Rating
Dropshipping in the face of this huge eCommerce retail growth is the survival of who has better dropshipping software. The features of Modalyst, as I have reviewed the above, are impressive. But see how I've ranked Modalyst in performance:
Features
On all counts, Modalyst offers above standard features to achieve functional dropshipping automation. You can make a lot of sales in the easiest way possible, market to your buyers, and set your pricing rules.
Users, no matter their plan, can access all of Modalyst's features.
I'll rate Modalyst 5/5 stars for its features.
As a Shopify app, retailers have preferred Modalyst due to their extensive collection of vetted suppliers. Products from U.S. suppliers, including private brands, are available for offer.
Another advantage over its competition is its multi-platform and multi-channel support. But, Oberlo does allow charge-free transactions throughout, and you can add up to 500 products with a free account.
Against Oberlo, Modalyst ranks 4.5/5 stars, for superior features.
Also Read: ShopMaster Vs Oberlo
Ease of Use
The Modalyst web app is responsive, user-friendly, and beginner-friendly. Without any experience with Saas products, any user can log in, set up, and sync their store to Modalyst. Features and functions are explanatory and hints appear as you hover over any tab.
The Chrome extension makes adding products, customizing product data, and syncing to a store very easy.
I'll rate Modalyst 5/5 stars for ease of use.
ROI
Even with a free account, which you can use forever, you can sell up to 25 products and make a reasonable profit. That's before you buy a basic plan and then have access to all non-premium suppliers' products. To go pro would cost you but, you can sell premium, high-end products from private brands. This will also mean a higher profit margin.
So, for that great return on investment it provides, I'll rate this software 5/5 stars.
Customer Service
I can say that with all the dedicated and personalized updates and reporting, coupled with their efficient customer support, Modalyst has great customer service.
However, some dropshippers are selling to the U.S. market or selling U.S. products from outside of the U.S. Therefore, A 24/7 customer support team would be useful in managing time zone issues with their users who need immediate assistance.
So, I'll rate their customer service 4/5 stars.
Is Modalyst Legit?
Modalyst is an eCommerce tech company registered in the U.S. and has attracted reputable investors in its five investment rounds.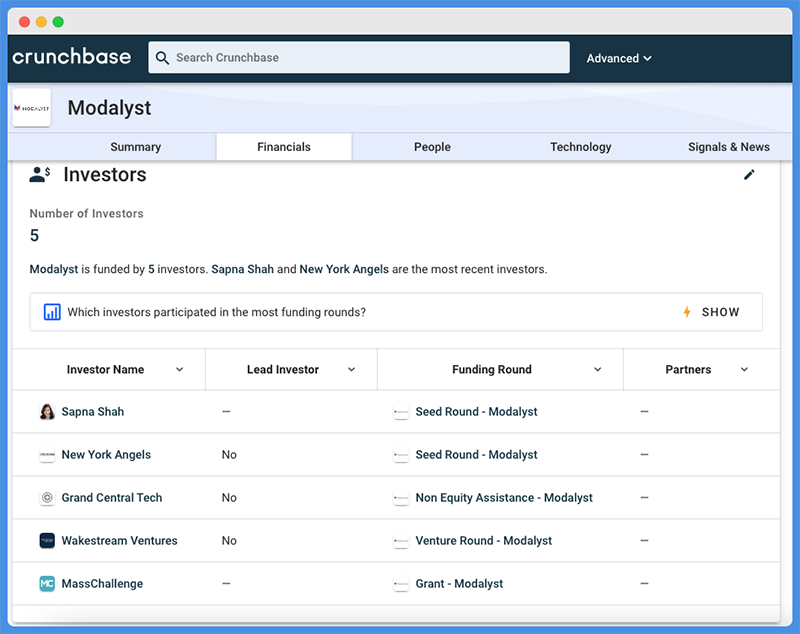 They have offered eCommerce automation to dropshippers and operated out of their San Francisco HQ since 2012.
Over 350,000 eCommerce stores, thousands of suppliers, and three of the biggest eCommerce platforms trust Modalyst.
Yes, Modalyst is a legitimate software solution with helpful features, functionality, and admirable results.
Modalyst Benefits and Strengths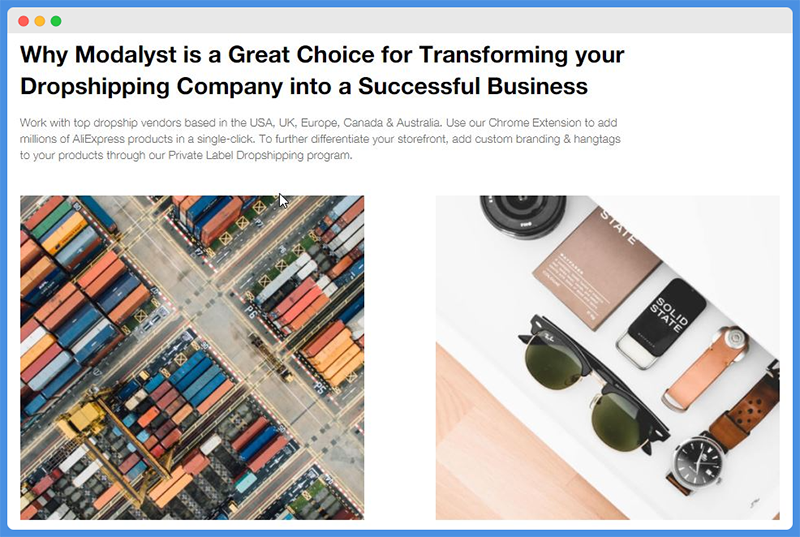 Shopify users have rated Modalyst positively for these features:
Unlimited library of quality products
Access to the U.S. market
Access to private brands
Multiple integrations
AliExpress-supported
Products from vetted suppliers
Automated order fulfillment
Robust free plan
Easy to use web app and Chrome extension
Autonomy
Modalyst Weaknesses
Here are some features of the Modalyst software I found unsatisfactory:
You can use the free plan for as long as you want but can only access non-premium suppliers and sell only 25 products at a time.
No matter the price plan you choose, dropshippers pay a 5% fee for every completed transaction.
Order fulfillment is not entirely automated.
Wrapping It Up
Compared to Oberlo, its top competition, Modalyst offers top-class dropshipping automation for a fair price. A free account will get you a long way and you can use it free forever. But, to really get ahead, try their pro plan and sell from unlimited suppliers.
However, the 5% commission on every completed dropshipping order may be a bit much. Shopify retailers can sell up to 500 products using a free Oberlo account with no commissions.
Overall, for an easy dropshipping process, and the advantage of selling on multiple channels from one app, Modalyst is your best choice. I'll give this software a 4.7 out of 5 stars overall rating.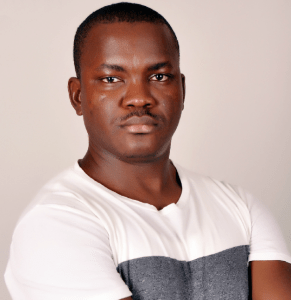 Nicholas Godwin helps businesses tell profitable brand stories that their audiences love. He's worked on projects for Fortune 500 companies, global tech corporations and top consulting firms, from Bloomberg Beta, Accenture, PwC, and Deloitte to HP, Shell, and AT&T. Works with Mofluid these days.