Picking the best print on demand company to use for your custom products business can require lots of time and research.
You may want to market and sell your clothing line or other custom products, monetize your audience, or cater to certain niches, but you're struggling to find a partner to bring your vision to life.
There's a whole slew of print on demand companies today, making it even more challenging to settle on a single and suitable one for your business needs.
Each platform has its own unique features, distinct product catalogs, shipping, and pricing considerations that will affect your decision.
Over the last few months, we did a Printful comparison with Printify, Redbubble, Print Aura, TeeSpring, Spreadshirt and others, but today it's Apliiq against Printful.
Apliiq is another popular print on demand site in the market. If you want to start your own custom product business online that prioritizes product design and quality, there are few better options than this.
Nevertheless, let's begin with our review of Printful vs Apliiq. In the end, I'll tell you which one is better. Stay with me.
Apliiq vs Printful: What Are They?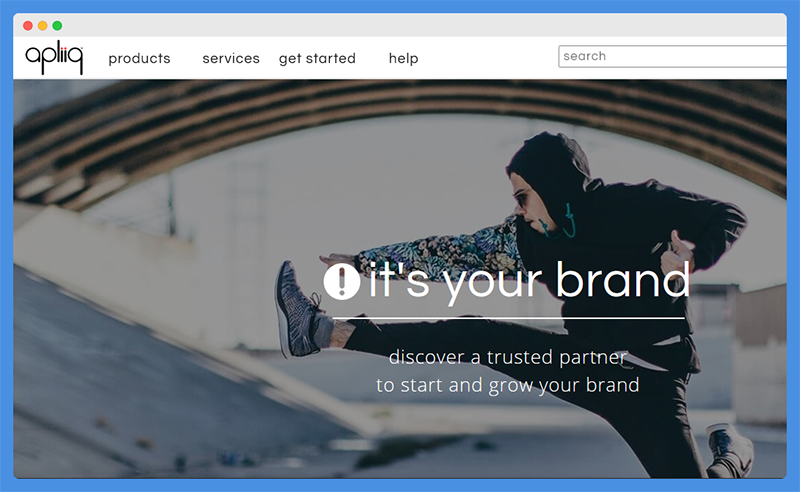 Apliiq is a print on demand service that helps you properly brand apparel products. If you want to get into dropshipping, Apliiq allows you to start free, fast, and get set up easily without holding any inventory.
You can add your private labels and earn big money with little investment while achieving strong profits on your products.
This way, you don't have to focus on order fulfillment, shipping, or delivery; just do the important stuff.
Apliiq has a team of creatives that will help you build your clothing line, and bring your creative vision to life.
Its services and platform are designed and built from scratch to support you as you launch and grow your custom products business.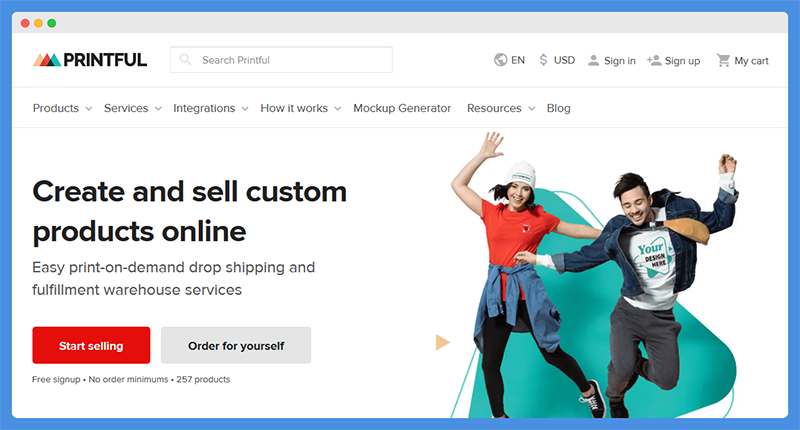 Printful is a print on demand order fulfillment and warehousing services provider that helps online business owners fulfill and ship products.
The service is free and easy to set up, and there are no minimum order requirements or monthly fees.
What is ordered by your customers is what gets produced, which makes print on demand better than bulk manufacturing.
You can connect your store with Printful, and enjoy unique services including creative design, private packaging, branding, and product labeling among others.
Our Pick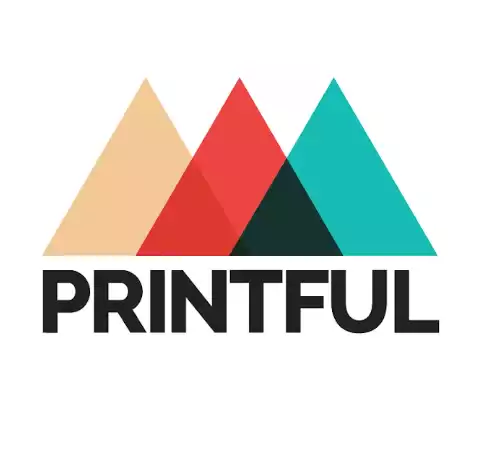 We earn a commission if you click this link and make a purchase.
Printful vs Apliiq: How Do They Work?
Apliiq

Apliiq takes a unique approach to help you develop supplies for producing your custom apparel.
Unlike Printful, which offers a mockup generator to help you create "merch wear", Apliiq derives inspiration from fashion brands and uses photography to sell mockups.
Your products are created using the highest quality apparel products with little or minimum upfront investments.
What I like about Apliiq is that they ensure that products are branded properly and because they're high-quality products, they'll bring in more profits than the usual traditional on demand apparel.
In partnership with Shopify, Apliiq helps you build and scale your print on demand apparel business.
For my print on demand business, this means I'll be able to market my products better and tell better stories about each custom item.
I found it easy and fast to get started with Apliiq. In fact, the team installs the app and they're always at hand in case of any troubleshooting issues or queries.
Plus, I don't have to lift a finger to ship my orders because Apliiq handles all that through weight-based shipping to more than 150 countries globally.
The process to set up Apliiq takes a few simple steps:
Install Apliiq in your Shopify store, link to your Apliiq account, and then set up dropshipping settings.
Next, create designs on Apliiq, and in a single click, send them to your store on Shopify.
Once the items are in the store, any orders you get will be sent to Apliiq automatically for order fulfillment.
When an order is fulfilled, it will be shipped to your customers. You'll also get tracking information to notify your customers.
Printful
Printful is the leading print on demand dropshipping app, which, like Apliiq, also connects to your Shopify store so you can start selling products immediately.
What I like about Printful is that they not only handle inventory, but also production, printing, shipping, and delivery to your customers' doorsteps.
It's easy to sell my print and embroidery goods risk-free through Printful, which gives me time to focus on building my business.
Another benefit of using Printful is its wide range of products in its catalog ranging from clothing and jewelry to upholstery and posters, among many other items.
The company has several partner facilities worldwide besides its fulfillment centers in Europe and North America.
People looking for a good print on demand company in Canada and all these areas can invest in Printful without thinking twice.
Printful ships to most countries worldwide including the USA, Europe, EFTA states, Australia, NZ, and others.
To create my Printful account, I simply signed up to Printful and then made the connection between Printful and Shopify. This is easy because of the integration between the two platforms, and all the products are instantly listed in my store.

Once a customer makes an order, it will automatically be imported to Printful, who will print and produce it, fulfill, and finally ship to my customer under my own brand.
With Printful, I also get control over my profits after setting my retail price and paying Printful a specific fee to cover production.
I also get free design templates, which I can modify to my liking using Printful's mockup generator. Plus, I can personalize products on my store, while Printful handles all the inventory and stress-free shipping.
There are no minimum order requirements with Printful, and my products are shipped to customers under my own brand with pack-ins, custom labels, and more.
Apliiq vs Printful: Features
Apliiq
Product catalog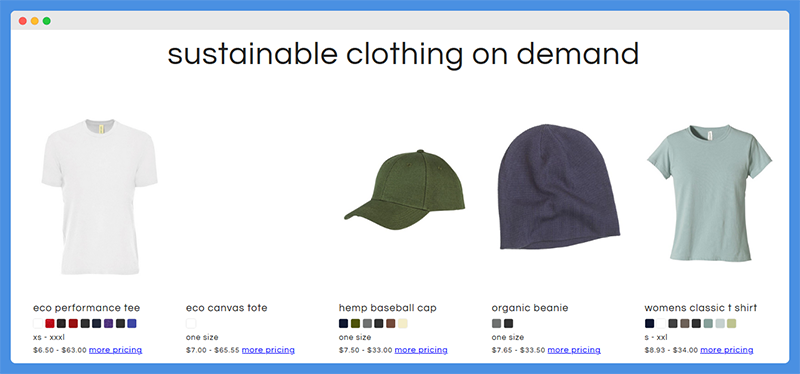 Apliiq offers a wide range of products in its catalog, just as other print on demand services, but it includes eco-friendly clothing in its repertoire.
I can place my unique designs on any piece of clothing from camo hats and hoodies, to t-shirts, hoodies, sweatshirts, sweatpants, leggings, jackets, and more.
The platform specializes in manufacturing casual garments inspired by streetwear, with cost-effective and premium options for my most popular items. I also get different colorways and styles to choose from for the most popular products.
If there's a particular item that I want but Apliiq doesn't have it in their catalog, I simply contact the customer team and they'll send over a quote and mockup of the item.
Apliiq is able to source almost any premade apparel item for me, but the service is only for bulk purchases with 20 items or more per style.
Printing options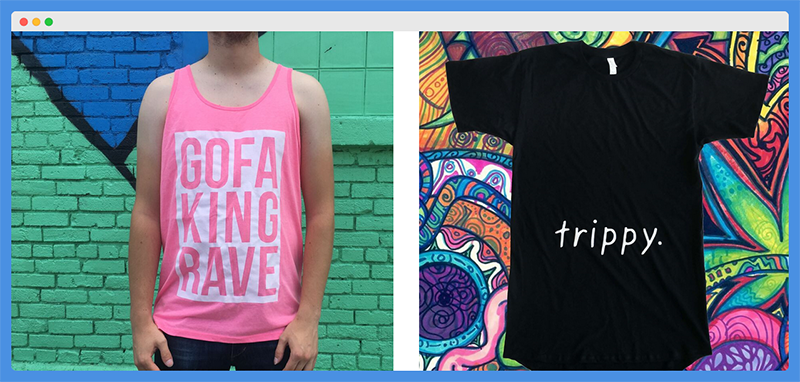 Apliiq also lets me add my own clothing tags, branded labels, or embroidered patches to create unique products.
The printing options available include digital and screenprint (bulk orders), embroidery, applique (designs sewn on a different fabric), and cut and sew.
Customization
With Apliiq, I get branding and customization options such as clothing tags, custom labels, and even patches to brand my unique items.
The company goes the extra mile to design even the interior lining of the garments I sell in my store.
Product descriptions
After setting up my Apliiq account, I can configure how the app will create products in my store.
I've discovered that it's easier to let the app create rich product descriptions on my behalf as it's already configured to do that once installed.
I can always edit the descriptions to my like, as well as change the configuration settings at any time.
Packing slips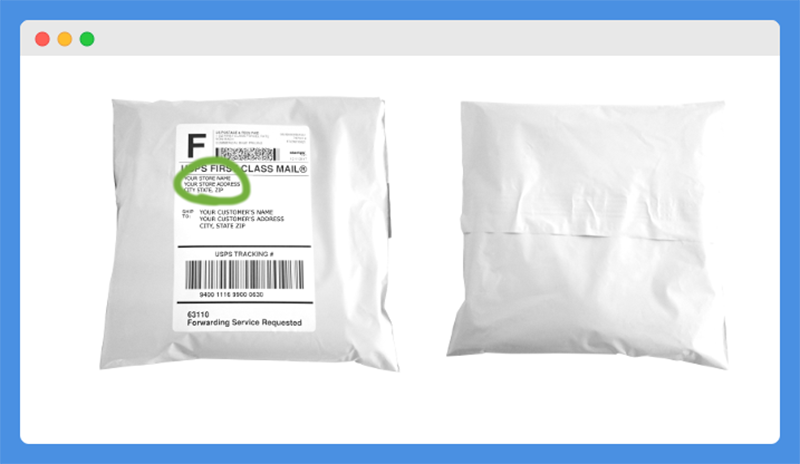 Apliiq offers packing slips for my products included with each order that gets shipped.
A message from my brand is included so as to improve my customers' experience when they get the orders. In these packing slips, I can add links to my social media pages, a thank you note, and my brand's rallying cry.
Order processing options
By default, Apliiq activates the automatic order processing option, which is the recommended setting. With this, I don't need to do anything on my part as the orders are fulfilled automatically.
Labels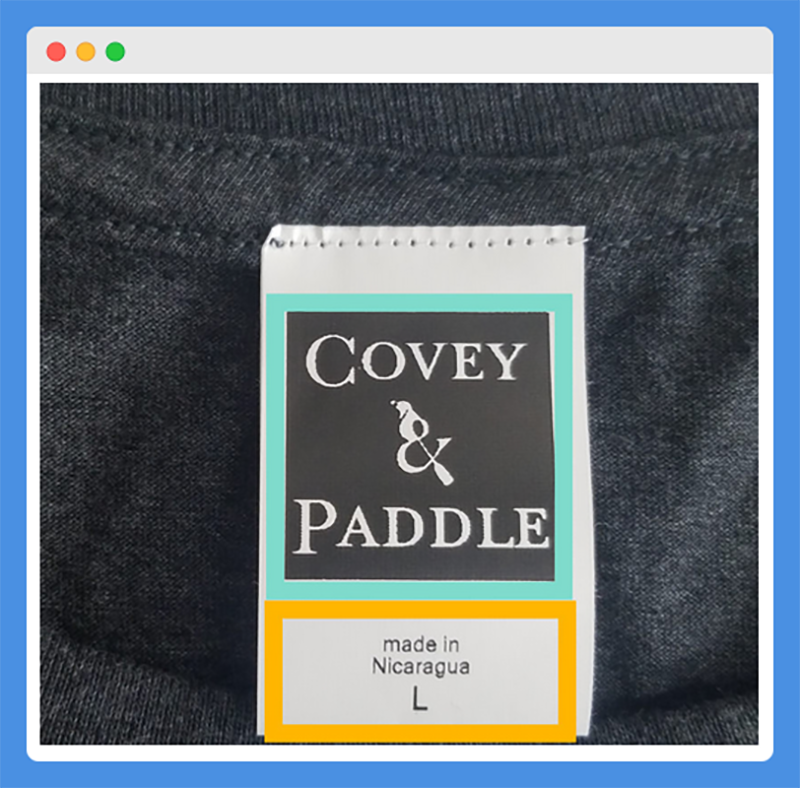 With Apliiq, I can create professional-grade products in a more cost-effective way than with other platforms.
Before creating the products though, I set up my labels so I can use them as I design the products. Apliiq doesn't require me to set up labels, but it's recommended for professionalism.
These labels include private labels to replace any manufacturer tags with my branded tag, woven labels to add professional branding, and embroidered patches.
Printful
Printful offers pretty much the same services that Apliiq does in terms of printing options, order fulfillment, shipping, and other brand customization services.
However, Printful takes it even further with different unique services including creative services like photography and graphic design, warehousing, and more. Let's look at each of these briefly.
Our Pick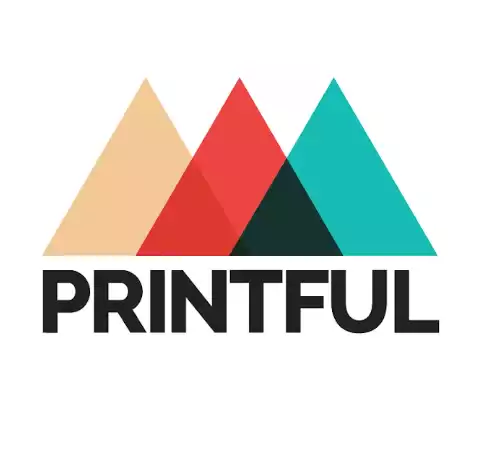 We earn a commission if you click this link and make a purchase.
Product catalog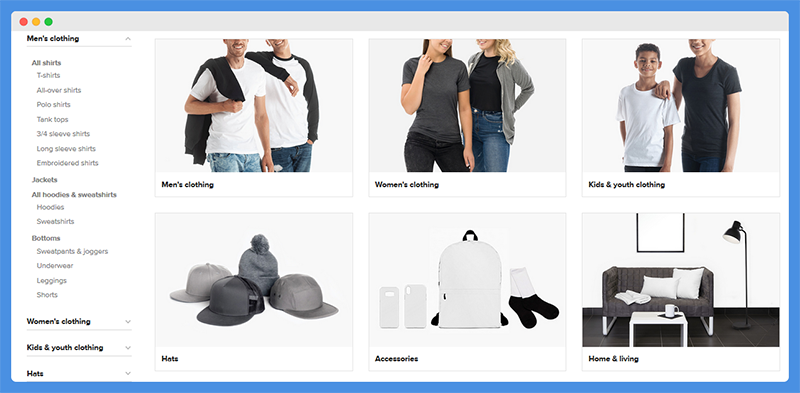 Printful has a large catalog with a wide range of product items from stationery, clothing, shoes, stickers and magnets, bags, pins, books, and accessories among other items.
Mockup Generator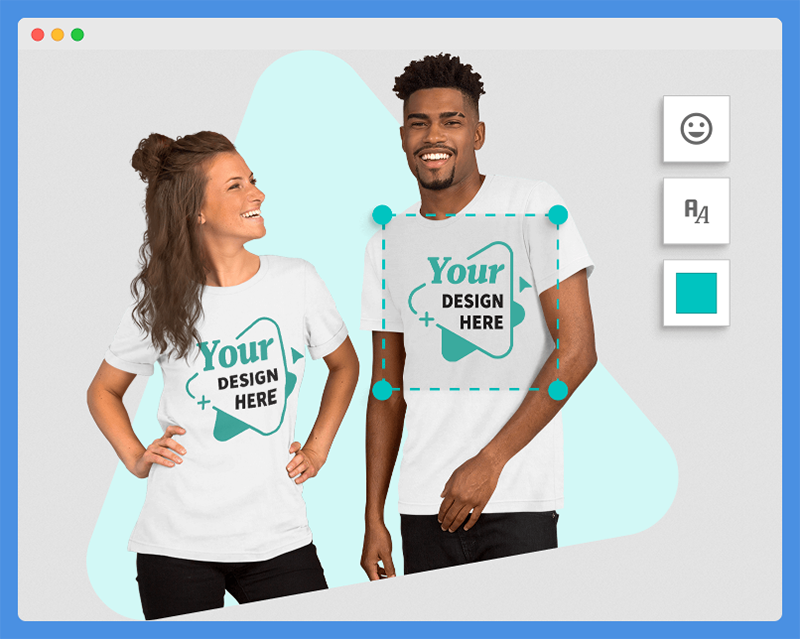 When I want to see what my products will look like with my custom designs, I use the mockup and print file generator. This tool lets me create mockup photos and print files for my store in one go.
Printing options

With Printful, I get to choose from different technologies to print on my garments, but the standard process is the direct to garment (DTG) printing method.
DTG printing creates quality prints and the colors used don't impact what my customers pay. The company works with Komit and Brother printers for all garments printed with DTG.
Like Apliiq, Printful also offers cut and sew sublimation, which prints my designs on fabrics before they're cut and sewn into leggings, bags, backpacks, or even shirts. Embroidery is also available on demand and drop shipped like print products.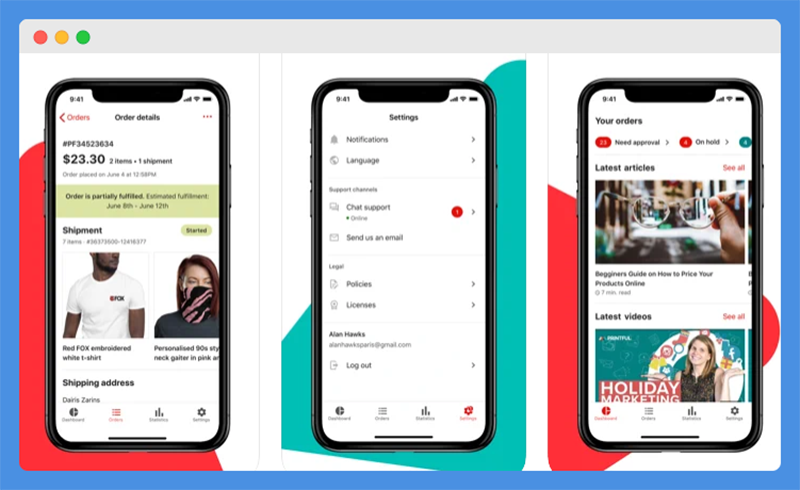 Printful wants you to continue with your business on the go, which is why the mobile app for Android and iOS devices was created.
With the app, I can create basic orders, confirm incoming orders as they stream in, contact support via chat, call or email, place and remove order holds, and report any problems.
Warehousing and fulfillment

This is one of the best services Printful offers because it takes the hassle of having to stock and manage inventory from me. This way, I can focus more on creating wonderful products and marketing my store.
Printful also fulfills and ships out my customers' orders on the same day, provided they place orders out by 12pm.
My items are stored at Printful's fulfillment centers in the US, Europe, and Canada (pack-ins only).
Some of the benefits I enjoy about Printful include free sign up, friendly prices, cost-effective shipping, no account maintenance fees, affordable prices, and warehouses across the world.
Creative services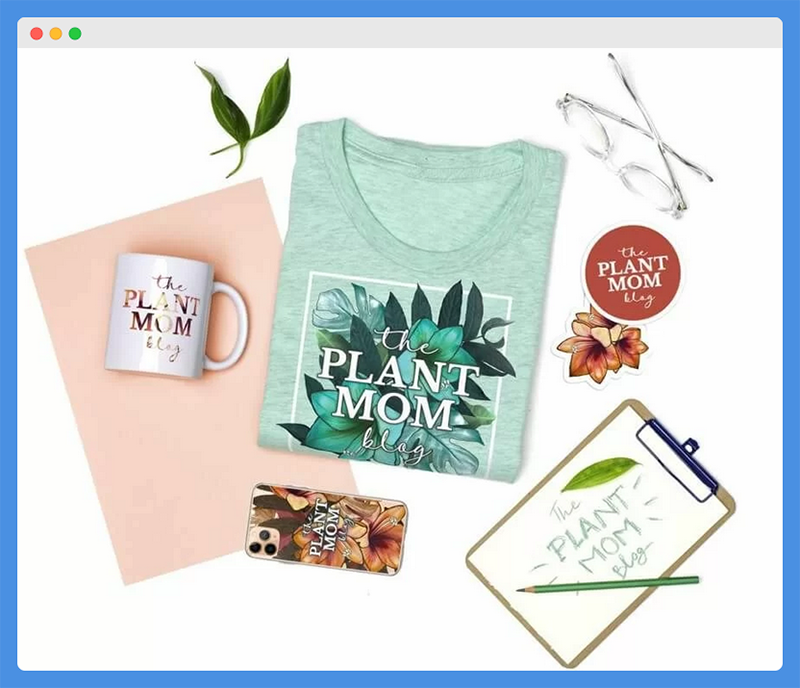 Printful's creative services include graphic design, photography, and video production. This saves me time and I can increase my sales using product videos.
I also don't have to spend more time creating and editing designs or videos, and I get to choose content that works best in my campaigns.
Custom branding options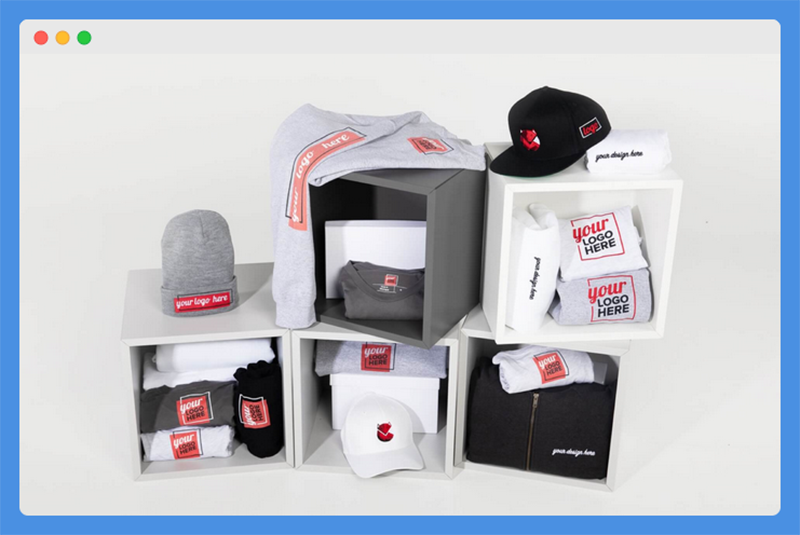 With Printful's custom branding options, I can put my logo on products, and raise brand awareness or reach more clients with promotional branding.
Affiliate Program
As a Printful account holder, I can become an affiliate partner, create courses teaching others how to start businesses with Printful, and make 10 percent from each order made by customers I refer to.
The program is free to join and allows any blogger, influencer, or even YouTuber to join and start earning affiliate incomes.
Store setup services
I'm not an expert in setting up eCommerce stores, but with Printful that's not a problem.
Printful has a team of experts with tech skills to help you build your print on demand online store and use their experience for your benefit.
Our Pick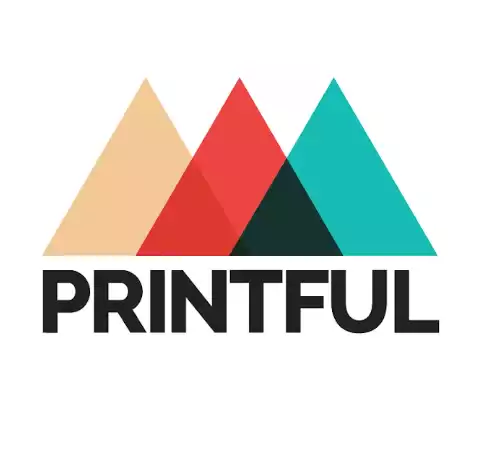 We earn a commission if you click this link and make a purchase.
This saves you a lot of time and hassle, plus the cost of hiring someone to do it for you.
Just prepare your product choices and designs, pick a store layout idea that you like, send visual assets and product photos to include in the store, and you're good to go.
Printful vs Apliiq: Integrations
Apliiq
Apliiq integrates with Shopify and Flamory.
Printful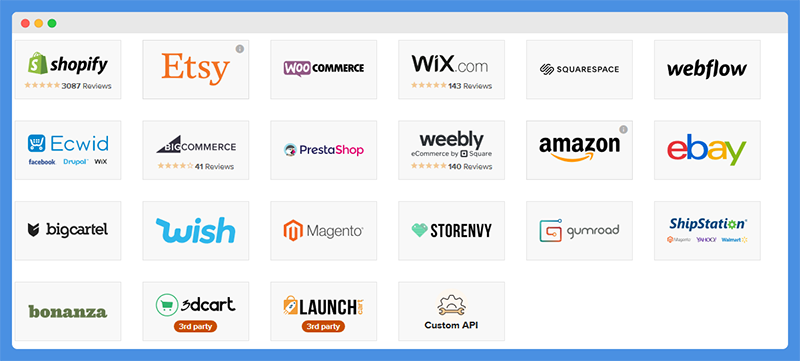 Printful integrates with even more apps and marketplaces including Shopify, Etsy, Wix, Webflow, Amazon, Weebly, Launch, Storenvy, BigCartel, Wish, Ecwid, PrestaShop, eBay, ShipStation, and Bonanza among others.
Check Out: Best Print On Demand Shopify Apps
Apliiq vs Printful: Support
Apliiq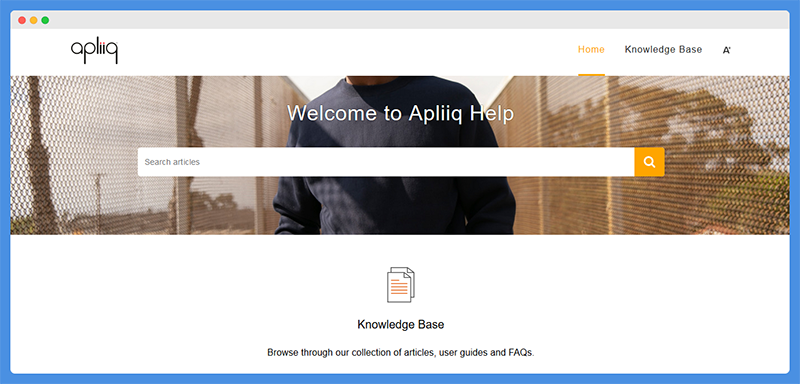 Apliiq customer support is available via a knowledge base with help articles and troubleshooting guides. You can also submit a ticket to reach their customer support team with any specific queries you may have.
Printful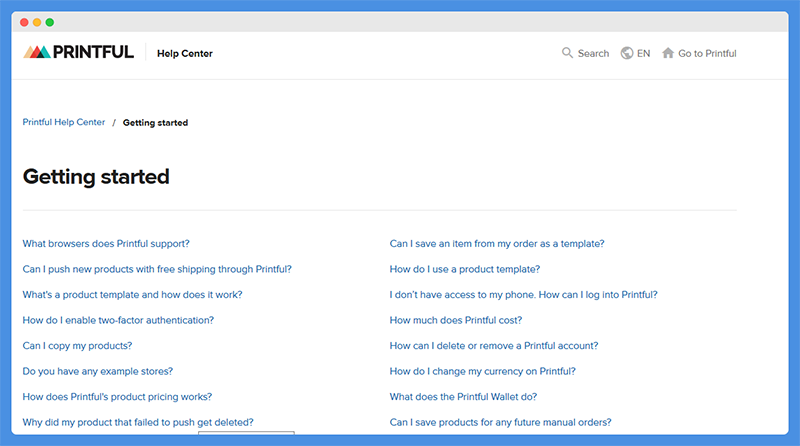 Printful is reputable across the globe with an expert team of more than 1100 people across Europe and North America having sold more than 23 million since its inception.
Unlike Apliiq, Printful offers even more channels of support for its customers. You can learn more about Printful and how to use it through webinars, guides, Printful lessons, Affiliate lessons, and the FAQ section.
Also included are marketing resources and eCommerce marketing tools, plus a blog for updates, tutorials, and new features on Printful.
Printful vs Apliiq: Shipping
Apliiq
Apliiq offers shipping and most orders are shipped in a week. You can always check your orders' status via the orders page in your account.
In case orders take longer to be shipped, it could be because of approvals, damages, stock issues, and the number of unique designs in the order.
Shipping times also vary based on the customer's location, but standard shipping for domestic orders takes between 1-5 days. However, there are rush services if you need custom goods delivered faster.
Apliiq charges a $1 fulfillment fee and rates are charged based on the weight of the shipment.
Printful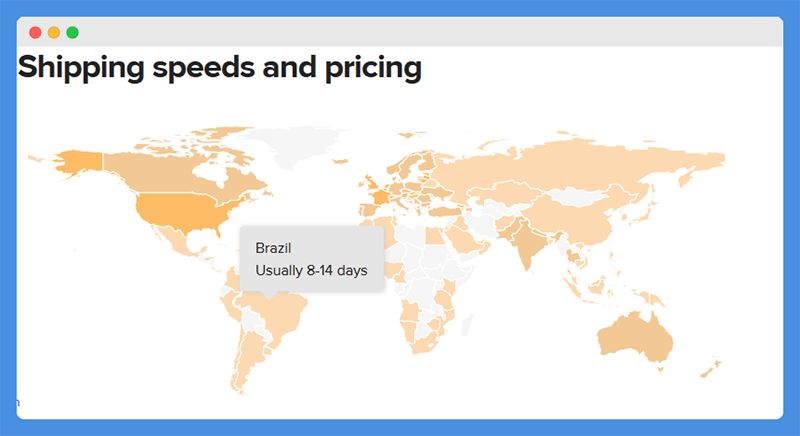 Printful has different shipping timings. On average, it can take 2-7 business days to create apparel items, and non-apparel items take 2-5 business days, while shipping times range from 2-14 days depending on the customer's location.
Plus, the company partners with global carriers like FedEx, Pasts, DHL, DPD, and USPS.com.
Our Pick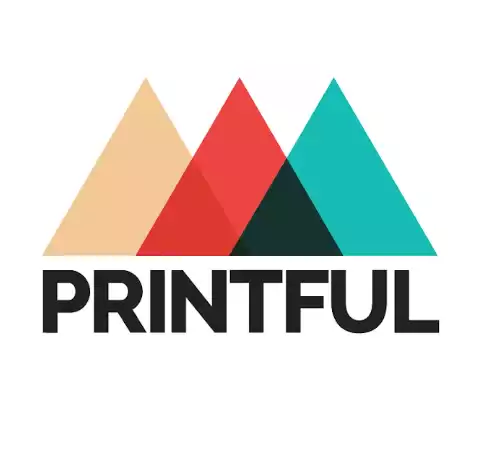 We earn a commission if you click this link and make a purchase.
Unlike Apliiq, whose shipping rates are based on weight, Printful charges standard shipping rates fixed and calculated based on the average cost of shipping per product category.
You can set up your own prices for products and shipping to charge the customer, but you may have to pay customs fees depending on the fulfillment location, order destination, order value, and limits in the particular location among others.
If you want same-day shipping, Printful also offers that provided orders are placed by 12pm.
Apliiq vs Printful: Pricing
Apliiq
Apliiq is free to use, but you'll incur a few costs for shipping products to the customers' doorsteps.
If you buy bulk items, Apliiq offers bulk discounts and wholesale apparel that will save you up to 55 percent.
You also get products and pricing that allow you to make a 30 to 60 percent margin when you dropship with the manufacturer's suggested retail price.
Printful
Printful had a couple of pricing plans earlier but very recently, they made the service free for all, that too with additional features.
So Printful is free. You only need to pay for the products, and shipping. Check out the pricing page for the latest on product and shipping costs.
Our Pick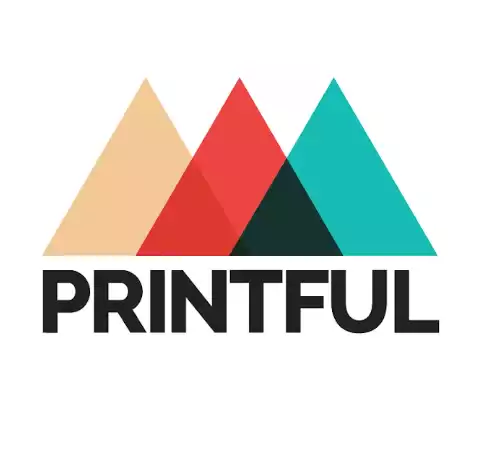 We earn a commission if you click this link and make a purchase.
Apliiq vs Printful: Similarities & Differences
Apliiq vs Printful: Which One Is Better?
Apliiq is a great service for fashion entrepreneurs who sell through online and offline retail channels.
It's also great for those who want to start their own clothing lines with premium apparel and want to order products in bulk and sell offline.
Apliiq and Printful both offer various customization options that allow you to design your own custom brand label products.
However, Printful offers even more options so that it's not just fashion entrepreneurs but anyone wanting to sell custom products can use the platform.
For this review, I highly recommend Printful. It's free to use, easy to set up and run, offers a huge product catalog with a wide variety of products – not just clothing – and integrates with multiple applications and marketplaces.
Printful also offers a wide variety of printing options (more than Apliiq), has bulk discount rates, better pricing, and shipping options across the world.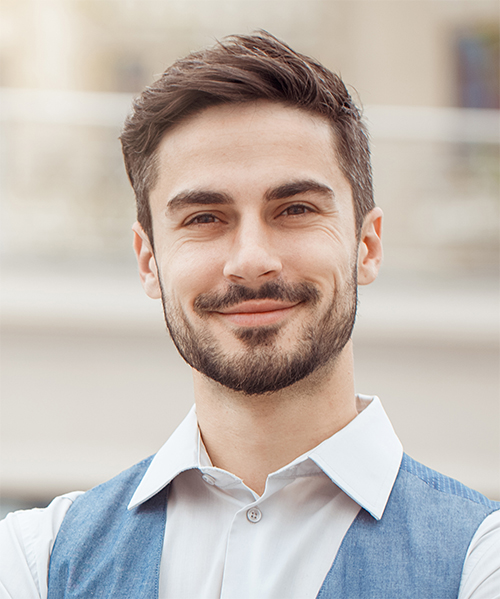 Author: Scott Macarthur
Scott L. Macarthur is a marketing consultant and an online author. He is mostly engaged in providing his expertise to startups and SMBs. He is also an author on TheNextWeb.