The success mantra for apps has changed from "build it, pray and they'll come".
You simply cannot afford that type of unpredictability to loom over your precious app when there is so much you can do to get customer attention.
One of the most effective ways is app marketing. Creating smart and innovative marketing campaigns that will acquire, engage, retain loyal users and convert new visitors will drive monetization and value of your app.
Related : Smart Practices For Engaging & Retaining App Users
Offering the users a great app is critical. But it is just the first step and many great apps fail, because after getting downloads they did not care about engaging users over time and lost user re-visits.
Next step is to steer the users to the desired profitable funnels.
This can be done by gathering and analyzing the right metrics, better understanding your users and then at the right time and equipped with relevant content target them with your marketing campaign.
This will drive user engagement, deliver higher lifetime value and generate revenues to ensure app success.
Here we have outlined some great tips and actionable strategies on three of the key areas of app marketing lifecycle, i.e. acquisition, interaction and personalization.
No matter what your business approach is, either in-app advertising or purchases or paid subscriptions, the revenue earning goal remains the same and can be best achieved by keeping in mind the following areas.
Related :
Acquisition
Acquiring users is the most critical step in the determining the future of your app's marketing efforts.
By definition, app user acquisition means total number of users who download or install your app through organic search, in-app referrals, direct, email, social or paid media campaigns.
Most businesses primarily focus on paid acquisition campaigns like Ad networks or social platforms.
To get success with your marketing plan, you need to identify the best channel that delivers the highest ROI and focus your marketing efforts in the right direction.
Measuring and analyzing the right metrics enables you to create an effective strategy based on behavioral data, user retention and engagement.
Here are some questions that you need to get answers for, from your acquisition analysis –
Interesting Read : Guide To Monetizing Your Ecommerce Mobile App
Calculate Retention –
Retention is measured as the number of users who continue to actively use your app after a given period of time. It is helpful in determining what's working and what's not over that period.
Bounce Rate –
Helps in determining if the traffic helped you achieve the goal that the you've set for your app
Determine LTV –
Life Time Value is an important metric to keep track of to determine what each user is worth in its lifetime and helps you to determine how much more you can spend on user acquisition.
Measuring and analyzing the right metric is critical to acquiring and retaining users. It is more critical than just measuring the number of clicks or visitors.
Related : The Ultimate Guide To Setting Up Google Analytics For Your Mobile App
Interaction
App messaging, including the push and in-app notifications, is one of the best ways to interact with users, engage them and increase the "stickiness" factor of your app.
If content is the key and apps are revolutionizing the market place, the best place to invest your marketing time and money is in creating messaging content that stands out, understanding user and business requirements.
User interaction can help enhancing customer engagement, increasing retention and app-conversions.
Related : How To Use Push Notifications To Increase Your Sales
Push Messaging –
Push messages are short messages sent to user's home screen even when they are not actively using the app.
It is a powerful way to interact with the user and drive up user engagement, steal immediate user attention and drive it towards an action that you wish.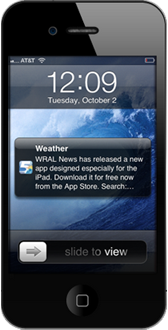 But there are a few considerations that you need to keep in mind for the success of your push messaging campaigns
Content

– Determine the content that best suits your target audience. Segment your users based on attributes that is defined by the goal of your campaign. Never risk your brand credibility by sending messages to all users before first segmenting them. Now you need to align your content according to your audience. Start by answering some basic yet impactful question like whether they are actual buyers or just content sharers?

Frequency

– Nobody likes a nag or a pushy app. Frequency of sending push messages varies depending on the type of app and should resonate with its users' requirements.

Timing

– Timing is everything. Be careful about the time zones of your audiences and relevance. Also, remember that messages expire too and sending out expired message will not only be irrelevant but also frustrate the user.  If there are special offers which is time-sensitive, timing becomes all the more crucial.

Allow Easy Opt-in & Opt-out Of Push Notifications

– Transparent policies can help in improving the trust of your brand.

Track Important Metrics

that can help you analyze the reach and profitability of your messaging campaign.
Interesting Read : How Walmart Leveraged Push Notifications To Increase Sales
In-app Messaging –
These are messages sent to users while they are still active in the app.
It is considered one of the most effective marketing channels for a reason – it sends highly relevant content based on analysis and user interaction.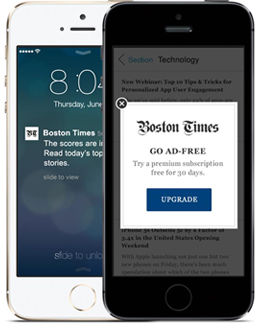 There are various scenarios in which you can leverage in-app messaging like getting customer feedback, informing them about an app upgrade, notify about offers and coupons, offer loyalty program or simply introducing them to a new app feature.
It drives user engagement and thus pushes retention and conversions.
Segment Users

 – based on their geographical location, in-app behavior, gender, age, device and more so that you are targeting the right audience with your messages.

Analyze The Funnels –

for your in-app messaging campaign to drive conversion. In the process determine where the users are actually falling out or converting. This will prove to be an important step in helping you improve the funnels that are lacking in fulfilling the conversion goal.

Compelling content

 – with clear actionable language, concise format and value-add for customers are the key to sell your app.

Personalize Messages – 

based on cohorts to create a contextual experience for every segment.

Use Analytics Report

 – to better analyze the outcome of your marketing efforts.
Also Read : Ways Ecommerce App Marketers Can Increase Conversions
Personalization
Personalization is the key to successfully engage users and drive conversions.
Once you have your user segmentation done and identified how the campaign fits in the conversion funnel, the next step is to tailor make the content that caters to the specific audience.
You can create personalized content based on either user attributes like demographics, history, age, gender or event based like once the user adds an item to his/her wishlist.  
Your campaign should listen and speak to your users, and seamlessly fit in the app experience.
Drive opt-ins

– Somewhere between annoyingly pursue users to sign-up and passively waiting for a user to turn around to subscribe, lies the smart way to drive user to sign up. Politely urge your users to submit minimum personal information for more customized features, personalized product recommendations and optimal app experience. If they become interested and engaged, they will even share it in their social circles.

Cross Channels For Better Targeting

– More the number of channels used for communication, more the reach for your app. And this will help you to gather more information about the user and successfully target later campaigns more aligned to their requirements, profile and preferences.

Geo-location Enabled – Once you ask your customers for permission to enable their location, you can better personalize offers accordingly better engaging users and better chances of conversion.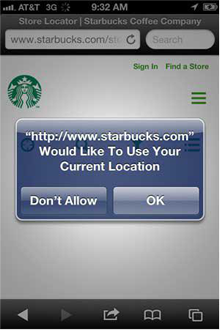 Offer Flexibility Of Choice

– Allowing users to choose between number of alerts available, makes user feel that they are in control with the personalization.

A/B Testing – A/B Testing is a testing approach to find which version of your campaign/ website is more effective comparing each aspect. A/B Testing and personalization go hand-in-hand when it comes to providing personalized experience to first time visitors.
Useful Resources :

Author: Namrata Kothari
I am a technology geek and love all things smart and purple. A computer engineer by education, I was once a cubicle dweller at Intuit Inc. But since I had my calling from the written word, I quit my five year old job in software development and started writing. When I am not writing about technology or health, you can find me drinking tea, on facebook, or tinkering a new gadget.