Have you ever dreamt of having a map of your town or favorite city? Paris, New York, or Venice, perhaps?
That may seem impossible to you, but what if I told you that it's possible to put the world at your fingertips using a personalized map maker?
Making personalized and custom maps involves blending data with art.
Data helps to pass information around while art illustrates the data, making it delectable in a more vivid manner.
A combination of data and art form the ideal map.
Creating personalized maps doesn't have to be a complex process. With the right platform, you can have your custom piece in minutes.
You don't need mapping expertise or training to use these tools.
We've rounded up the best platforms to help you create stunning custom maps quickly.
Let's jump in.
Also Read: Best Print On Demand T-shirt Companies
Best Personalized and Custom Map Making Sites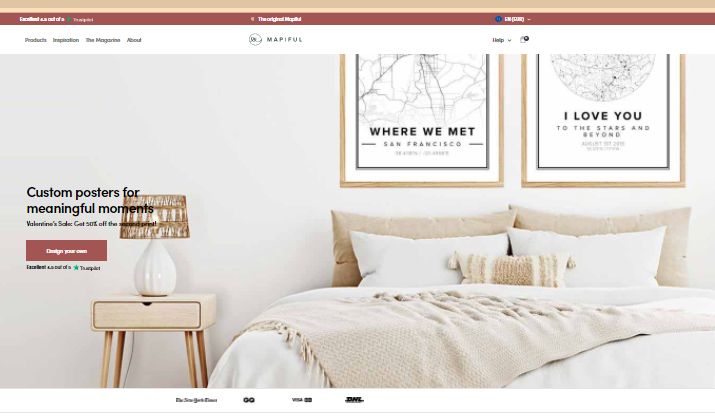 Mapiful is a map-making website renowned globally for helping people create posters and tell their personal stories. Whether it's about travel, love, or special memories, Mapiful will help you design visually appealing reminders of your deeply cherished stories.
Mapiful offers excellent tools that let you choose various locations in the world to design map posters. On the site, you can explore a particular area, zoom in, and then customize it before ordering a map of the area.
It has a powerful editor with robust tools like classic and timeless area templates, font styles, and color schemes that you can customize to your liking. You can use these features to design a personalized masterpiece.
Once you sign up on this website and log in, you have the power to use its technology to create and order as many posters as you need. It is a paid platform with lots of exciting perks and deals. It gives you 20% OFF on all products with free delivery.
Mapiful supports multiple currencies, so regardless of your geographical location, you can enjoy the services and experience that this incredible site offers. It has an excellent layout with top-notch performance and support.
On the Mapiful website, you'll find different types of customizable posters, frames, and maps, including zodiac maps, classic maps, text art prints, line art prints, and star maps.
It's the best online service that lets you add a personal touch to your creations. To help you with creative options, Mapiful has an inspirational catalog to improve your art.
The website has no pricing information.
Also Read: Best Print on Demand For Etsy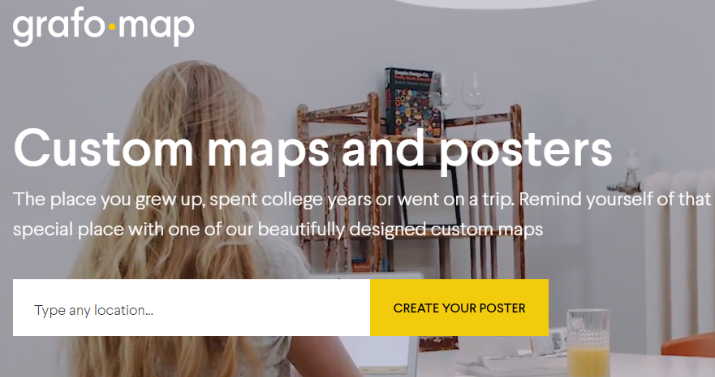 Grafomap is another excellent platform for creating and ordering custom map posters.
Do you have some memories to save? Or are you looking to surprise that special someone?
If your answer is yes, then pick Grafomap as your companion. The platform puts the world beneath your feet so you can search whatever location you love and put a smile on the face of whoever will be viewing your poster.
It has top-of-the-line tools and features that will make you unstoppable when you put your creative mind into designing a colorful, artistic map with your favorite fonts and other embellishments. It combines OpenStreetMap data with design filters to enable you to produce beautiful map posters.
The best part is that this tool has some of the best custom maps made of beautiful, quality paper. With rich customization tools, you design stunning mementos or gifts for your loved ones.
Grafomap also lets you create photo posters by uploading your image. This can make a great addition to your living room wall or bedroom. You can make and send map posters to family, friends, colleagues, and acquaintances.
Its interface is pretty intuitive, allowing you to maneuver quickly to find the feature or object you're looking for. Once you purchase one of their prints, they'll deliver it fast without any inconveniences. And they offer one more poster for free if you purchase two posters from them.
Other features include a map editor for customization, unique map poster designs, great customer support, cash rebates, a free return policy, and multiple payment options.
Pricing details are not provided.
Also Read: Best Print on Demand Sites Like Society6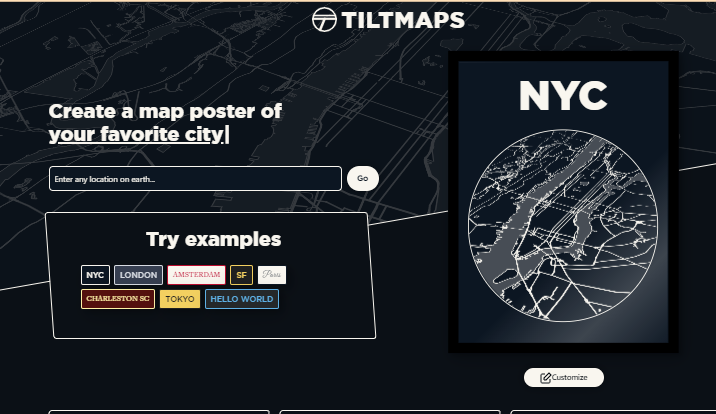 TiltMaps is a great tool that enables you to make custom map posters of your favorite locations for gifting or showcasing on your wall. It features a selection of designs in various styles, color schemes, and map templates for ease of customization.
The platform delivers museum-quality map posters printed on matte paper with lines precisely rendered in vibrant color schemes.
Compared to other tools we can say that TiltMaps is very cost-effective. It also offers free delivery and a money-back guarantee on all of its products.
Other notable features include a simple, user-friendly interface, map poster templates, multiple color schemes, multi-language support, and more.
TiltMaps products are subtly tilted and patented at a 45-degree angle to give you a new, dynamic perspective of your favorite location, and believe me, every one of their map posters looks pretty cool.
A custom TiltMap costs 35 dollars. And if you aren't satisfied with it, you'll be refunded in full.
Also Read: Best Print on Demand Book Companies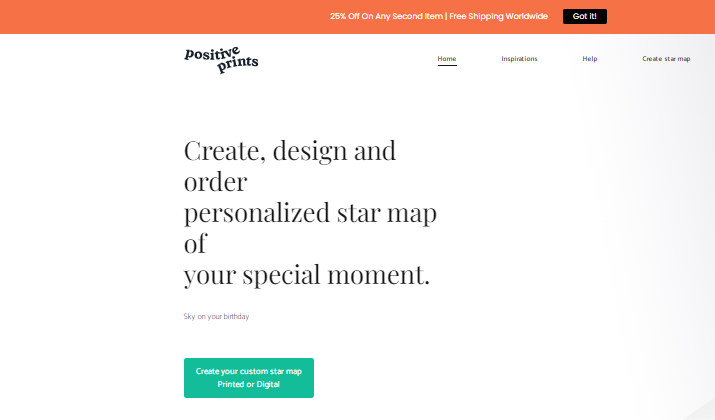 Strellas is a very popular platform that lets you design map posters yourself and order personalized, 'special moment' star maps.
Your loved ones would definitely love an actual map of the sky created right from your special location and date. Strellas gives you the chance to make your map extra special using your best color style, exciting content, and inspirational quotes that will transport them to a world of fantasy.
The site packs plenty of rich features to help you recreate star moments in your mind and transform special moments into memorable occasions. Its clever algorithm covers all the locations on the planet dating from 1900 to 2100.
It comes with multiple exciting templates to help you customize your map poster to your liking. With its intuitive interfaces, map customization options, and an advanced editing tool, it will be easy to come up with a visually appealing map poster for yourself or for gifting.
It also offers fast delivery and a community to learn from. Pricing information is not available.
Explore: Best Print on Demand Sites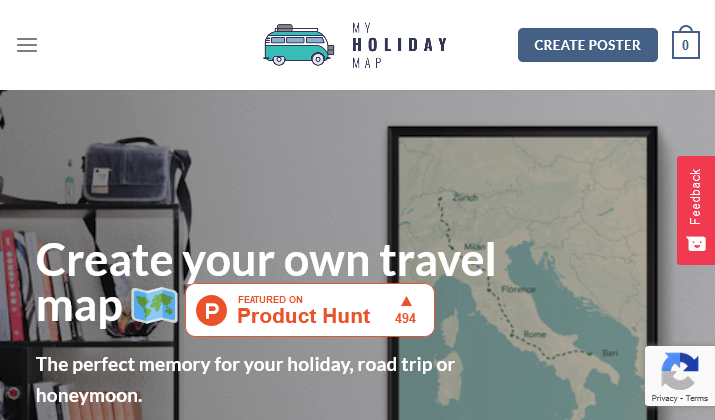 My Holiday Map lets you design your personal travel map to create memories from your road trips, honeymoon, holidays, and other special occasions.
It offers plenty of rich tools to create and produce eye-catching map posters. It has a travel map maker that will help you include any location around the world and make your creation much more special with colors, fonts, art, and other details.
You can customize your map posters with different font styles, layouts, and color schemes. You can make different posters by choosing a different layout, color,or font to turn your trips and travel moments into appealing pieces of art.
With My Holiday Map, you can create unique posters and images by uploading files, adding various destinations, and entering your location in the input box. The site will automatically generate your destination map poster automatically.
From there, you can add it to the canvas and include all your places. Optimize your designs by reducing or increasing the font size, changing colors, and other features. The platform allows you to purchase the product and have it delivered to your doorstep. You can pay through different currencies.
The website has no pricing information.
Also Read: Best T-shirt Mockup Ideas For Dropshipping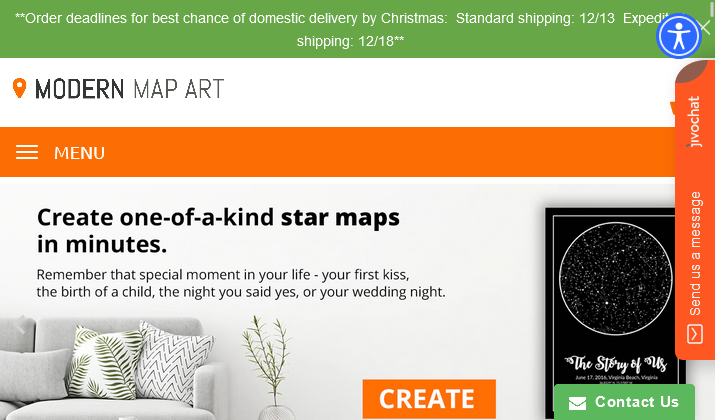 Modern Map Art enables you to create custom street, building, and topographic maps of lovable locations and transform them into aesthetically pleasing works of art.
The platform has hundreds of ready-to-use city posters you can purchase. If you want your map poster customized, you can include your own at custom.modernmapart.com.
They use thick canvas wraps or high-quality matte paper with permanent ink to make robust, lasting map posters. It takes your favorite scenarios including mountains, places, and cities, and turns them into beautiful, artistic posters.
Modern Map Art provides the perfect way to help you remember special moments of your life including your trips and travels, honeymoon, the place where you proposed, your hometown, and more. Their map posters highlight every piece of nostalgia in your home or away.
Some of their products include star maps, ski art, push pin maps, scratch-off maps, and more. The best part is that this platform was designed by people who experienced great adventures and wanted to appreciate their travels by turning them into something as special as a map poster.
Modern Map Art pricing varies per product.
Check Out: Best 3d Print on Demand Services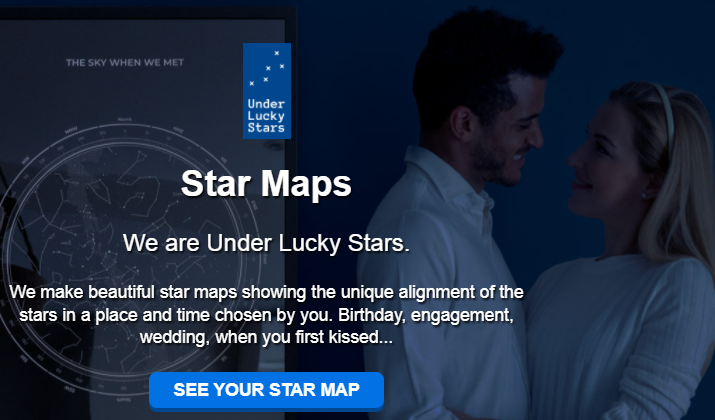 Under Lucky Stars is a star map tool with tools and facilities to help you make lovely star maps with unique star alignments in the exact location and time chosen by you. It has tons of reviews, which indicates how efficient it is in helping its clients get the best gifts for their loved ones.
On this platform, you can design a sweet wedding, birthday, Valentine's, or engagement present for those you love. From the time this brand was established, it's been putting a smile on many people's faces with stunning star maps.
Some of its product designs include moon star map designs, galaxy star map designs, circled star map designs, split star map designs, heart and anatomical star map designs, owl star map designs, and more. You have a wide variety of beautiful star designs to choose from, which are crafted just for you.
After picking your delightful design, you can then personalize your star map with your title, art, footer, and other features. Every map created here is unique and crafted on demand.
Under Lucky Stars offers fast and free shipping worldwide. They have an express shipping option that delivers right on time.
Map pricing depends on the product size and whether you want your map framed for you.
Also Read: Best Canadian Print on Demand Companies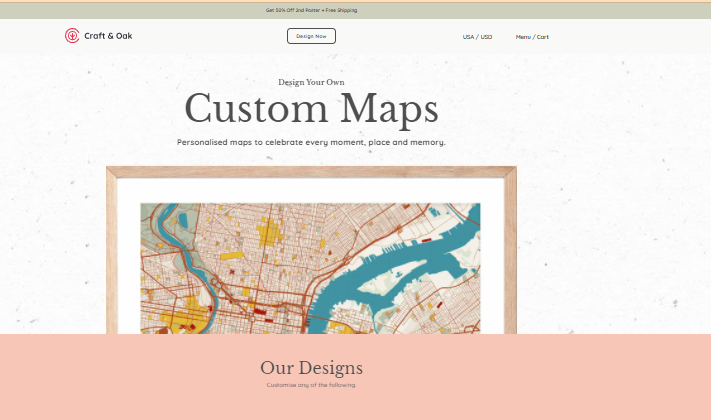 Craft & Oak believes that by showcasing your story, you create memorable ways to celebrate your journeys and adventures. That's why it helps you create custom city maps of your favorite places in the world – to help you relive your experiences and celebrate them more often through tangible map posters.
You can personalize your creations to make them your own. Through a simple and fun design process, you can produce your custom map art that will keep your adventurous journeys and special occasions memorable.
It lets you capture memories with star alignments from different areas in the world. Their prices are pocket-friendly too.
Craft & Oak also helps you to decorate your space with exciting posters and pictures placed on your walls. It's an excellent way to create a home away from home by displaying experiences of your trips, honeymoon, wedding, and more. You can relive those moments when you spend your precious moments with your loved ones.
What's more, this platform will help you create 3D posters of images you've never seen before. It has a collection of templates in different categories with images, posters, and maps you can personalize and share.
Its custom editors can get you started with your personalized map prints. It uses quality poster materials and will support you as you design your pieces.
Besides its simple user interface, Craft & Oak offers plenty of map-making tools including customization options and multilingual support. Their products include star maps, city maps, travel maps, custom wall art, and coordinates.
Pricing details are not provided.
Also Read: Best Print on Demand Sites For Artists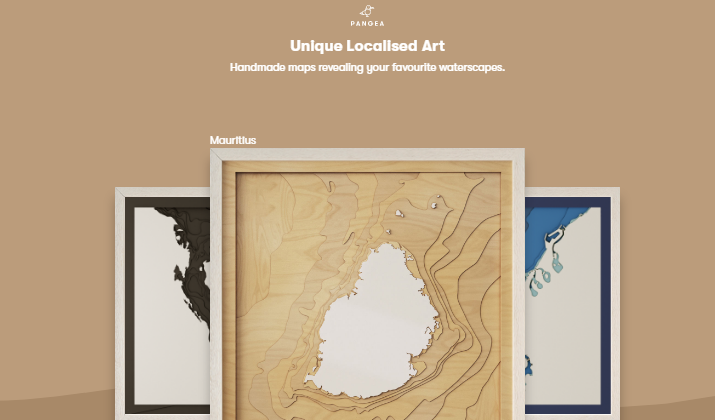 Pangea Maps is our final map creation platform that helps you order personalized maps using localized art.
The site was born out of the love for the underwater. The owner wanted to capture the sites beneath the water surface and use them to depict and reveal the treasured spots of their experiences.
With the passion to protect the coastlines and vast oceans, they developed maps to help you connect with your environment and appreciate it with memorabilia.
Maps created at Pangea are crafted from iconic waterscapes combined with modern technology, techniques, and traditional cartography.
All the maps are hand-sketched and meticulously designed using bathymetric data. They capture the finest details about the coastlines to provide special lines and patterns of the waterscapes.
It creates a lovely balance between land and sea and how they interplay to bring out the best composition of the two together. Pangea is not only feature-packed, it offers the highest quality materials that make the map posters stand out and last long.
The interface is pretty straightforward and their templates are vast, offering multiple locations to explore and customize.
Pangea is the one place that will help you tell your stories for generations. Your stroll on the beach, paddling through the waves, driving along the coastline, enjoying a campfire on the sand, or diving deep into the sea – all these can be captured in nicely crafted map posters. You'll have plenty of mementos to give out for generations to come.
By combining different techniques, you'll have beautiful hand-sketched contour maps of the best waterscapes of the world. It uses sustainable birchwood to help people see and appreciate special occasions from a new perspective.
You can order prints and pay swiftly using the multiple payment options. Pangea Maps pricing information is not provided on their website.
Explore: Cheapest Print on Demand Sites
Conclusion
Maps are very powerful tools of communication. They help you see things differently. And when you relive your past adventures, journeys, and special occasions, these maps make it seem like it was just yesterday.
The websites we've outlined here can help you create and store your memories and share them with your family, friends, and the world. They make map-making a swift, fun process with outcomes that will remain in our thoughts forever.
With a simple tool, an easy-to-use interface, editing tools, and your creativity, you can turn your adventures into lasting memorabilia that even your grandchildren will cherish.
Each of these websites is unique, with its own special features and capabilities – definitely something you'd want to explore.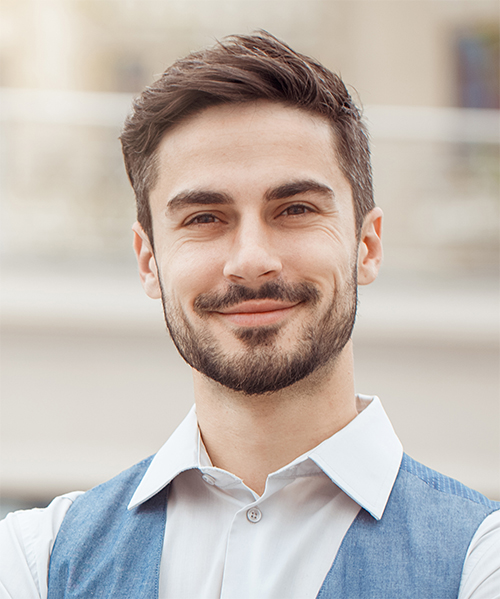 Author: Scott Macarthur
Scott L. Macarthur is a marketing consultant and an online author. He is mostly engaged in providing his expertise to startups and SMBs.