Having a quality product is half the job done when you're trying to sell it on the biggest marketplace on the internet, Amazon.
Knowing the market and statistics is important as it can help you predict if your product will sell, how much of it you can sell, and even how much competition there is. However, if you don't even have a product to sell, there's nothing to worry about!
These tools usually cost hundreds of dollars, but with so many competitors in the Amazon marketplace industry, you are lucky to take advantage of some of these tools for free to know exactly what to sell for a profit.
So if you're looking for the best free Amazon product research tools, 15 of the best picks below are more than likely to be a good fit!
Best Free Amazon Product Research Tools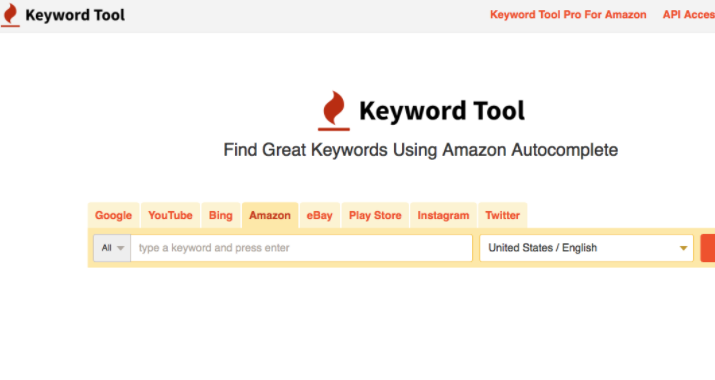 Keyword Tool is a free keyword research tool that helps find what people search for on Amazon by using the autocomplete feature.
Through this autocomplete feature on Amazon, the Keyword Tool can show you many keywords in all product categories. These keywords reflect the products people search for, so there are two ways you can benefit from this tool.
You can either use these keywords to find products to sell or keywords to use in your product listing to boost its exposure. You can decide if a product is worth selling with information such as search volume, trend, CPC, and competition.
This free but mighty tool works well for Amazon FBA and Amazon affiliate marketing purposes.
Of course, a paid version can provide twice the product keywords, which is worth considering if you find the free version beneficial. Also, keep in mind that Keyword Tool can also help you find product keywords that people search in Google and other search engines.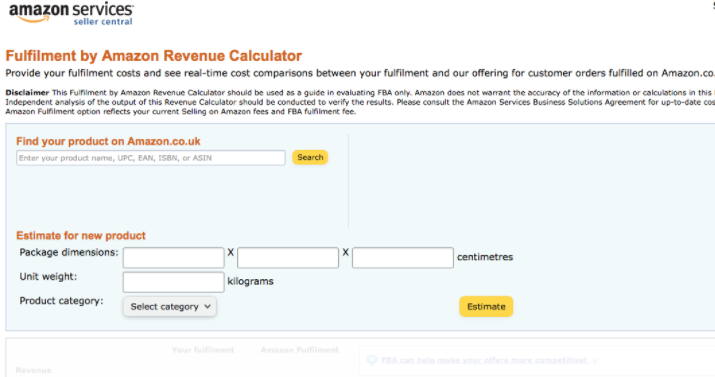 If you have a list of products or way too many products in the back of your mind that you could sell on Amazon, then FBA Calculator can be helpful.
FBA Calculator is an official tool from Amazon where you can type in your product name, ASIN, or any other product code to find the product you have in mind.
From there, you can estimate dimensions for a new product, such as the packet dimension and weight. Lastly, you get to choose the product's category before Amazon shows you an estimate of how profitable you could be selling this product on Amazon.
Suppose you were only selling products on Amazon without doing full research beforehand. In that case, this simple yet highly efficient, and most importantly, official Amazon tool is what you'll need to boost your numbers.
Even though this tool can't tell you what to sell on Amazon, it can give you a hint if a product you have in mind can be profitable and even give a pretty close estimate. Therefore, it's best to combine this tool with one of the other product research tools from the list.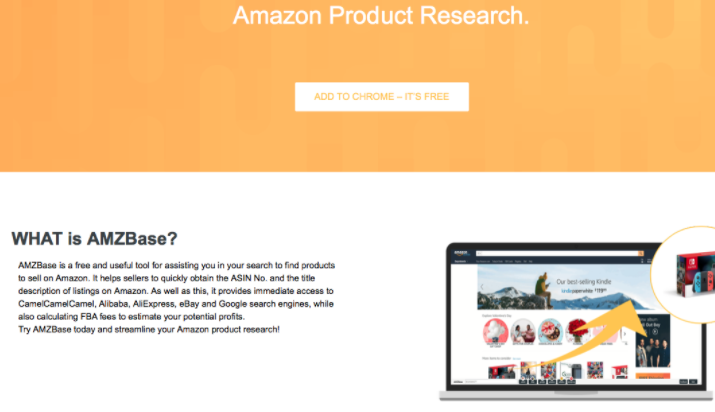 AMZBase is a free Amazon product research tool that helps you speed up the research and find new products that you might not think of on your own.
It works as a Chrome extension that you can easily add to your browser. As you browse Google with AMZBase, this tool will grab various ASINs of profitable products, generate a listing for you, connect you with suppliers such as AliExpress, Alibaba, and others, and even calculate an estimate of profits you can potentially make.
Therefore, AMZBase is one of the most versatile, free Amazon product research tools that integrates other Amazon product research tools such as CamelCamelCamel to generate a history of product prices.
All of this taken into consideration can help you speed up the product-finding process and find profitable products where almost all of the work is done for you. Of course, it's always advised to double-check the estimates and do a bit of additional research to back up the information provided by AMZBase.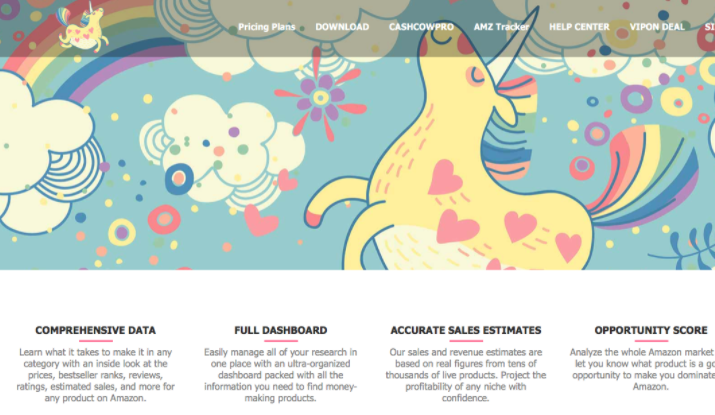 Unicorn Smasher is another Chrome extension tool that can help you sort and discover all Amazon product data so you can decide if you'd like to sell a certain product or not in a matter of minutes.
If you sell more than a couple of products on Amazon, researching and finding new products while you're swamped with a current high volume of products or orders can be difficult. However, this is something that Unicorn Smasher does for you.
Unicorn Smasher can collect and gather product data and wisely categorize it to provide revenue estimates, weekly or monthly estimates, product data analysis, and much more.
Even the tool's dashboard is designed in such a way so sellers can easily find the data they're looking for and only spend a minimal amount of time researching for new products or finding out if a particular product can be profitable.
Unicorn Smasher is free, but keep in mind that there is also a Pro version. However, both versions get help from the AMZ Tracker tool, ensuring only reliable and up-to-date product information.
Explore: Unicorn Smasher vs Jungle Scout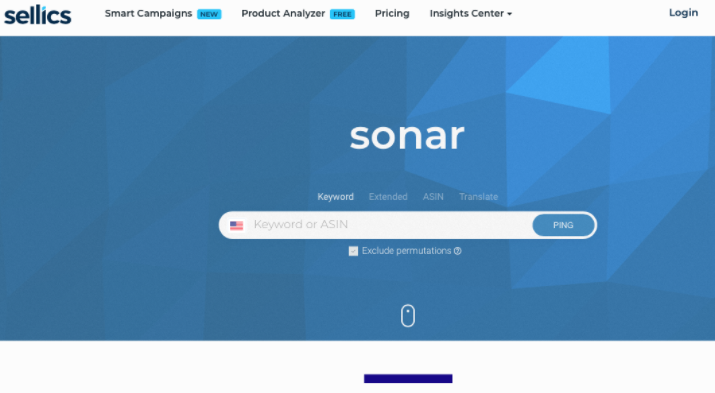 Sonar is a free Amazon product research tool where you can find keywords that can help you discover new products, find profitable products, improve product listing visibility for products you're already selling, and even improve Amazon SEO.
In its database, Sonar includes over 180 million keywords where you can spend hours looking and coming up with new profitable products to sell. However, you can also reverse lookup ASINs to check your competitor's keywords.
Even though this tool is free, it's quite complex as it combines two factors into one. Amazon's product database and keyword tool functionality give you a pretty accurate estimate of the search volume of product keywords. Even though it's based on the prediction algorithm, it's still information you could spend hours calculating on your own and yet can help you start selling quicker.
Another great feature is that Sonar can cover all Amazon marketplace regions, so you can use it to find opportunities across all markets and even sell one product in more than one region.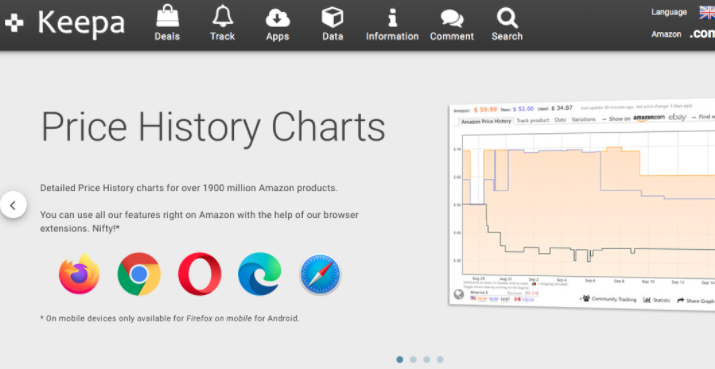 Keepa is an Amazon price tracker tool that helps you find out which products to sell by utilizing a history of price charts for all products you can find on Amazon.
The chart alone is available for over two billion products on Amazon, and within the tool, you can even set price alerts to get notified when they drop.
There's even a feature that allows you to track prices across all Amazon markets, which means that you can find out and track international prices for the same product.
While this tool is mainly made for everyone who shops at Amazon, it's also an excellent tool for everyone who sells on Amazon. You can quickly see what your competition is doing and how competitively they are pricing the same product.
Also, knowing that such a tool exists, you can even put some of your products you sell at a discount as this will notify people through this tool if they've set up their notifications, which means more sales.
Keepa comes as a browser extension, and you don't even need an account to use it, which is very convenient.
Read this post to discover the best Keepa alternatives.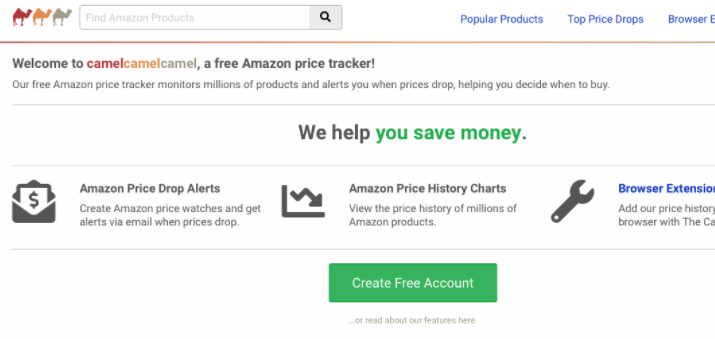 CamelCamelCamel is an Amazon product price tracker tool that can help you track current product prices, which is beneficial for both shoppers and sellers.
As a shopper, CamelCamelCamel can help notify you when the prices for certain products drop so you can grab a good deal. However, if you're a seller, you can know exactly when it's a good time to put a slight discount on your products, so they sell better, but you can also keep an eye on your competitors much easier.
CamelCamelCamel also features a historic pricing chart where you can find out how a product sold in the past and how well the prices followed throughout the years. This is super convenient when you're thinking of selling a new product but aren't sure how to price it and what to expect quickly.
Most importantly, CamelCamelCamel supports all Amazon markets so that you can stay on top of international product prices at all times.
Even if you have no idea what products to sell on Amazon or if you're looking for a gift for someone, with the help of CamelCamelCamel's daily price drops, you can quickly find ideas to sell or purchase off of Amazon.
Find out similar tools to CamelCamelCamel.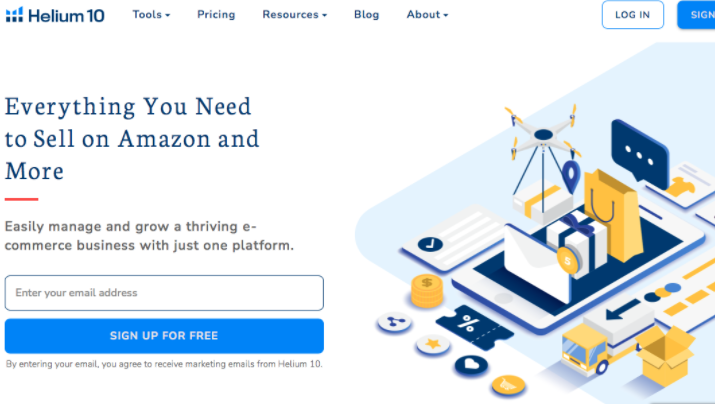 Helium 10 is a tool made with one purpose in mind, and it is to help sellers quickly find products they can sell for profit to run a successful business by selling on Amazon.
Therefore, this tool's database of over 450 million ASINs helps you quickly learn if the product will be a success on Amazon. With powerful analytics that are easy to understand, thanks to a very convenient and minimalistic dashboard, you can learn everything you need to know about the product and even get a profit estimate.
If you have no idea what products you'd like to sell on Amazon, Helium 10 can help you find products by inputting keywords that help you explore and research products.
Helium 10 can even help you generate robust product listings or manage all products you sell on Amazon with a built-in non-stop monitoring feature.
Yet the best thing is that you can get Helium 10 for free, and even though there are paid pricing models, you don't need to subscribe to any of them to use the basic features of this tool.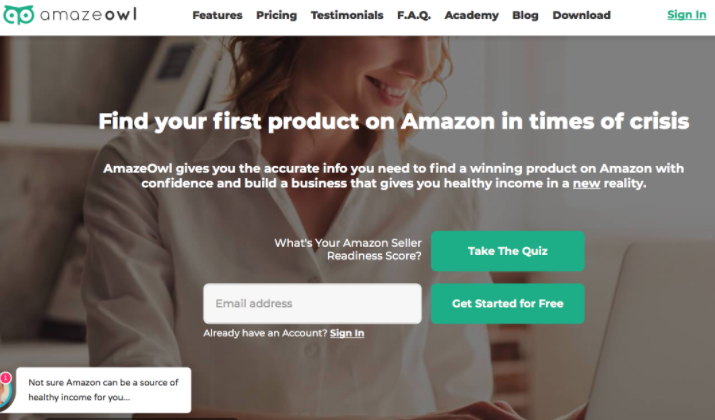 Suppose you are only starting to sell on Amazon, and you're possibly looking for the first product to sell for profit. In that case, AmazeOwl is an excellent tool ideal for anyone, including total beginners.
AmazeOwl can help you research the market while looking for a product to sell and then deliver you a list of products that are ranked, so it takes you only a glance to understand which products would sell the best.
Even after AmazeOwl helps you to research and find an ideal product to sell, it can still help you with insights on how to set up the correct pricing strategy, how many reviews would you need for certain products, and even what are the best images you can use for the product listing.
With daily market changes, alerts for new competitors in the market, and keyword monitoring, AmazeOwl helps you stay a step ahead of everyone so you can sell the most products at prices that will bring profit.
Even though AmazeOwl has paid pricing plans, you can get started for free and take advantage of the tool's basic features.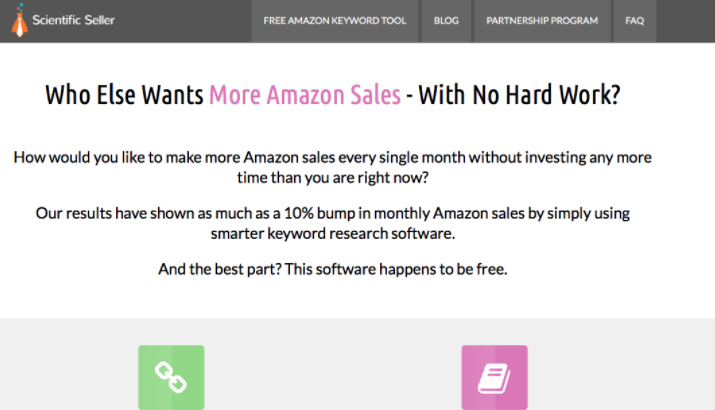 Whether you're looking for new products to sell or you're looking to improve sales for the products you're already selling, Scientific Seller is all about helping you achieve a better result with products on Amazon by working smarter instead of harder.
Scientific Seller consists of two tools, one is a free keyword research tool, and the second one is an Amazon research blog. With a keyword research tool, you can find products to sell by the volume of searches and popularity, but you can also find quality keywords that can help your product listings get more exposure.
While with the Amazon research blog, you can keep up with the latest information that can help you sell efficiently on Amazon and get advice and tips from Scientific Seller.
Scientific Seller can even help you test your title tags as this alone can improve the click-through rate. Therefore, not only will you be able to find new products with Scientific Seller's help, but you'll also be able to optimize the product listings to boost exposure and sales.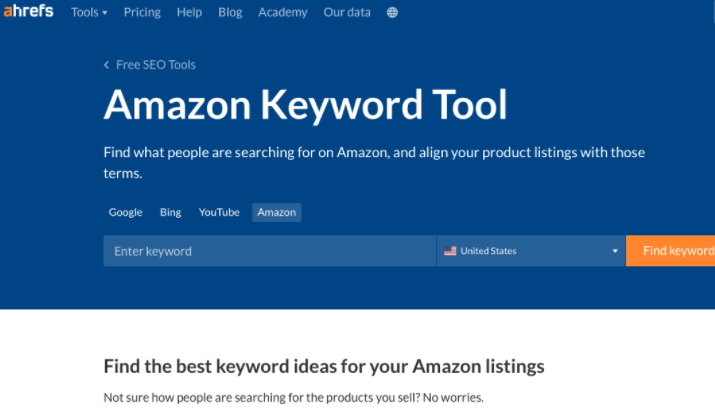 Ahrefs is known as one of the top marketing tools that are way too pricey, but many overlook its hidden gem, a free Amazon keyword tool.
Ahrefs Amazon Keyword Tool can help you find out what people search for on Amazon to get ideas for products to sell or keywords you can place in your existing product listings to improve their exposure.
Even when you find a product you're confident you could sell for profit, the Ahrefs Amazon Keyword Tool can still help you find keywords to use in your listing and even learn what to expect from a product, such as the profit estimate.
With Ahrefs' help, you can get valuable information such as clicks, click-through rate, click per search, return rate, and other product-related information that can help you know if you can make a profit by selling a certain product and even judge the level of competition.
Find out the best competitors and alternatives to Ahrefs in this post.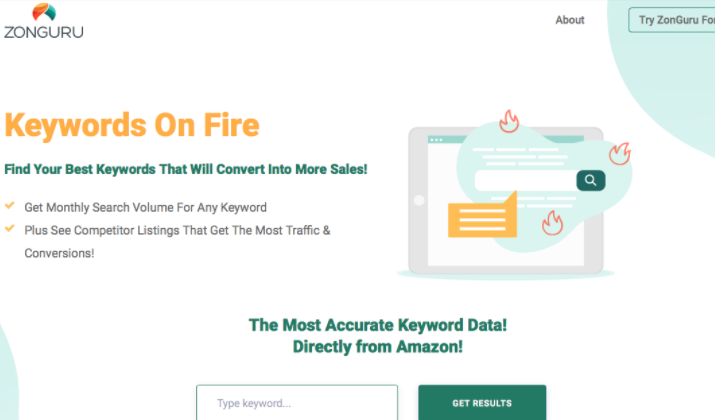 ZonGuru is usually a paid tool to help Amazon sellers discover profitable products, maximize sales, and grow an Amazon business. However, many people overlook their free tools, including Keywords on Fire, ASIN Index Checker, FBA Calculator, and Product Tracker Sheet.
Keywords on Fire is a keyword research tool that can help you find products people search for to start selling products that are high in demand. Yet, at the same time, you can keep a closer eye on the competition, so you don't start selling highly competitive products.
With Keywords on Fire, you can find an outstanding balance between demand and competition so you can sell products people look for and earn a profit doing it. On top of that, this keyword tool can help you find keywords to fill out your product listings for the best optimization.
Combined with ASIN Index Checker, FBA Calculator, and Product Tracker Sheet, you can manage products you sell, see how profitable you can be on Amazon, and even check products quickly via ASIN.
Interesting Comparison: Jungle Scout vs ZonGuru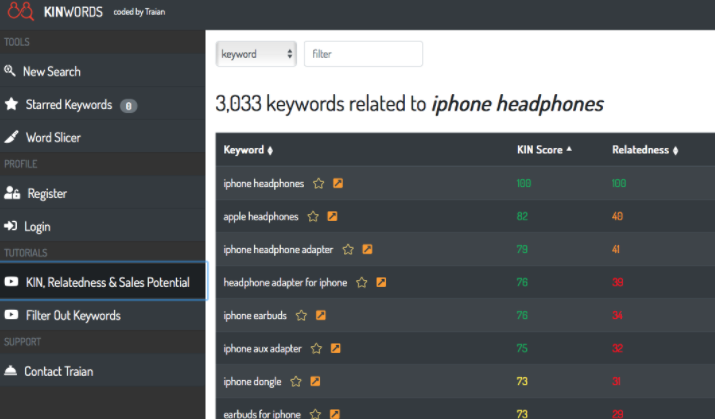 KinWords is a product keyword research tool that is a simple search engine that allows you to search for product names or other terms.
Upon looking up for a term, KinWords will show you the most searched keywords, listed by a KIN score (potential), relatedness, and even sales potential.
A simple yet efficient tool, KinWords is pretty efficient since it allows you to filter out keywords or sort them by one of the available metrics.
You can use KinWords to search for products that are in high demand by either typing in the product category, or by searching for a specific product to find if it's in high demand or how tough the competition is. What's also great about KinWords is that it includes related keywords that can also be ideas for more products to research and sell.
You can even export the information, so you have it on your computer, or if you only use the tool in your browser, you can use additional features such as a comparison of two keywords.
So not only will you be able to find products that people search for and products that sell, but you will also be able to star keywords into a list and then compare them to see which product would be the best to sell next.
Even though KinWords is easy to use, it comes with a quick and straightforward video tutorial that will teach you how to take full advantage.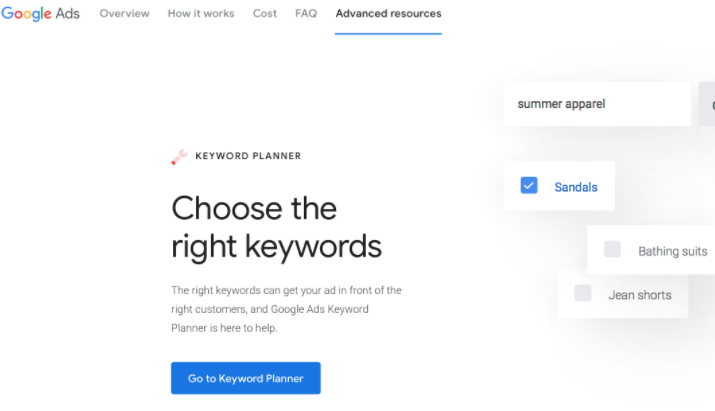 Most people forget that not only do people search for products on Amazon, but they also search for products using search engines.
Google is the most popular search engine globally, and Google Keyword Planner is their official free tool that can help you find product keywords.
The whole purpose of the tool is to help you choose the right keywords that can help you with your ads or ranking websites, but interestingly enough, you can find out what products people search for the most.
You can use Google Keyword Planner to dig up the most popular products people search for by inserting categories in the tool. From there, this tool will list products that you can use for ideas and even show you related products so you only need to pay attention to the search volume and competition.
With this information, you can use these keywords on Amazon to start selling these products since Google will do the job of referring the customers to Amazon. And as long as you're selling the product, you'll be getting customers.
Google Keyword Planner can show you the most popular keywords people search for, the keyword's volume for every month, and even shows similar keywords that bring many more product keywords you can take advantage of.
Therefore, this tool helps you do product research, see what people look up for, and then position yourself to sell the products that are high in demand.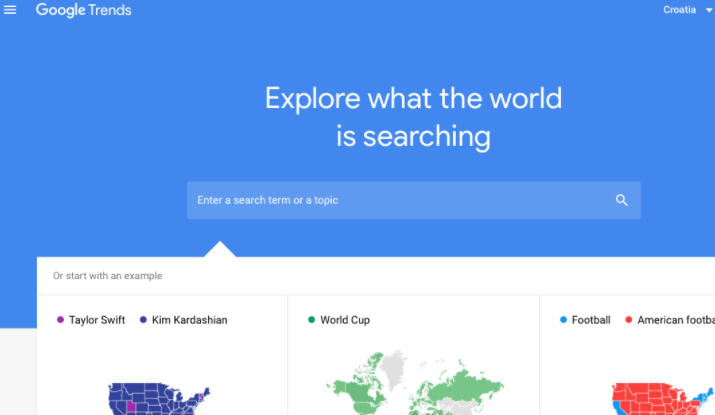 If you have no idea what products to sell and other product research tools aren't giving you anything you can use, then Google Trends might be the next best tool to find ideas for products to sell on Amazon.
Google Trends gives you a way to explore what people search for, and by focusing on the latest trends, you can almost predict what people want to buy based on the trends in various categories.
You can use Google Trends to find which products to sell on Amazon by inputting the product type or name and checking the trend graph. Trend graphs will tell you exactly when the product was in demand by judging the search volume, but also when it sold the least.
This is super useful for finding seasonal products as you can search for keywords in specific months of the year and even check out trends from years before.
With all of this information, you can predict what products will be selling in the summer or winter or for specific occasions. However, you can even predict new products that could sell due to trends which might take time but could provide the highest returns if you discover it among the first sellers.
Conclusion
There is still a decent choice of free Amazon product research tools that can help you find products, learn if they are profitable, and even help you optimize product listings for best exposure.
The best tool is Keyword Tool because it provides accurate stats for Amazon among other search engines and websites, so you can know exactly what products people search for, what products sell well, and how stiff the competition is with only a couple of clicks.
However, every tool is different, so if Keyword Tool isn't a good fit, one of the remaining 14 picks will most likely help you find products you can sell (or even buy) on Amazon.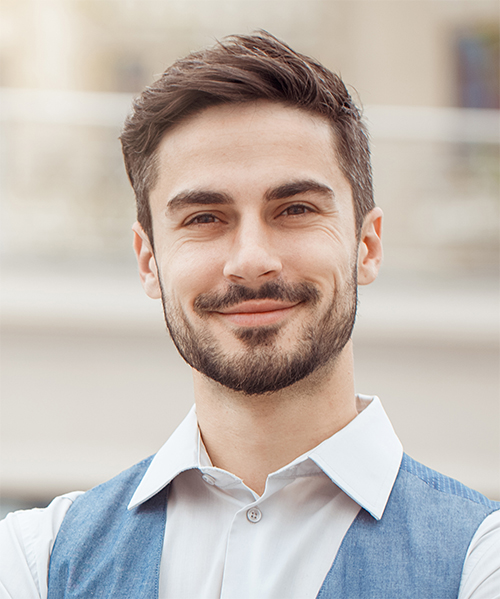 Author: Scott Macarthur
Scott L. Macarthur is a marketing consultant and an online author. He is mostly engaged in providing his expertise to startups and SMBs.