Moosend is an email marketing platform that has been getting a lot of interest and attention recently.
In this article, we will do a detailed Moosend review, explore its features, and explain whether you can benefit from it.
Whether you want to start a weekly email newsletter for your blog or send emails to your eCommerce customers, this review is for you. Let's get started.
Who Moosend Is For? — Who Can Benefit?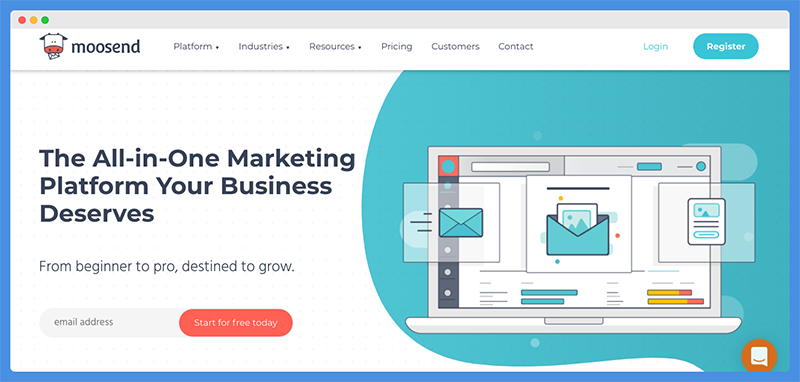 Moosend is an email marketing service provider and landing page builder. Anyone who wants to collect email subscribers and create an email list can use it.
Bloggers can use it to create an email list and send out email newsletters and affiliate promotions. Ecommerce store owners can use it to get more sales and recover abandoned carts.
Digital marketing agencies can use it to build email lists for their clients. Travel agencies can use it to grow their business and get more travel bookings, and SaaS companies can use it to expand their reach.
Whether you want to send email newsletters or schedule automatic email follow-ups to reach new subscribers on autopilot, you can benefit from using Moosend.

We earn a commission if you click this link and make a purchase at no additional cost to you.
Moosend Features
Let's go through Moosend's features and explain how you can use it to grow your business.
Related: Ecommerce Emails Your Customers Will Love
Moosend Signup Process
Signing up for a Moosend account is pretty easy. You don't need a credit card to get started.
Instead, start by completing a few basic forms about you and your business. Create a Moosend subdomain and click on the confirmation link that will be sent to your email address.
If you don't see an activation email, it might have ended up in your junk or spam inbox.
Once you confirm your email address, you will be able to create an email signature and choose a sender email (it can't be a Gmail, Hotmail, or Yahoo email address; it must be an email associated with your own domain name).
Then, you can get started with creating your list.
If you are switching from another email service provider such as Aweber or GetResponse, you can upload a list of your subscribers.
Besides integrating with Google Contacts and Salesforce, Moosend also allows you to upload an Excel or CSV file, upload a TXT file, paste a list of subscribers into your account, or enter individual email addresses and names manually.
Moosend Email List Creation
Once you have created a new email list and uploaded contacts (if you have any), you can adjust the list's settings.
For example, you can choose whether to send confirmation emails (double opt-in) or use single opt-in. You can even choose to send a confirmation email but still send emails to subscribers who have not clicked on the confirmation link.
You can create a welcome email to welcome new subscribers, and you can also add a thank-you landing page for new subscribers (you can create one for after users subscribe and another one for after they click on the confirmation link).
If people are signing up to get your free ebook, for example, you can let them download their ebook from this page.
You can also create list segments. Segmenting your list is a great way to increase your conversion rates.
For example, if people signed up to get a free ebook on SEO, you can send them SEO-related tips and promote SEO-related products. On the other hand, if they signed up to learn about social media, you can send them emails promoting social media tools.
Explore: Moosend Vs MailChimp
Moosend Campaign Creation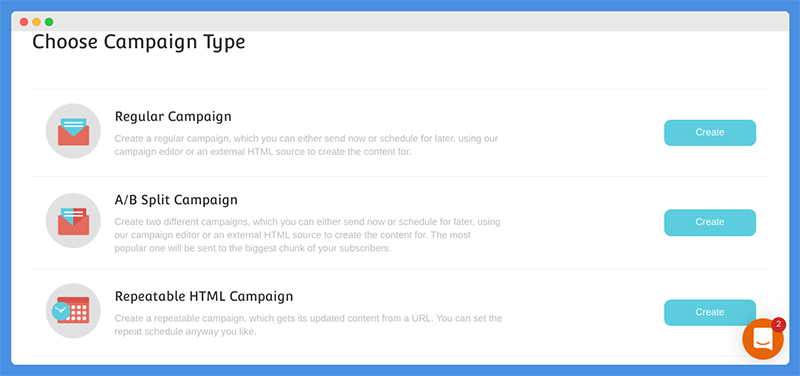 Once you have your email list set up, it's time to create campaigns.
Most people can get started by creating a "Regular Campaign." A regular campaign can either be sent manually, as a broadcast, or scheduled in advance.
You'll create a subject line, choose a template, create your email, select a mailing list to send the email to, and choose when to send your email. You can even send a spam test first to see whether the email will get delivered or stopped by Gmail's spam filters.
Another type of campaign you can create is the A/B split-test campaign. This type of campaign sends two different versions of your email to two different segments of your list.
If you want, you can only send out different versions of the subject line and keep the content the same. You can send out different versions of the content as well.
You can also create RSS campaigns that automatically pull content from the web. For example, you can set up an RSS campaign to automatically send an email newsletter whenever you update your blog with a new post.
Moosend Email Designing
Once you have created your campaign, you will need to design your email. You can choose to send text-only emails, but it's best to create HTML emails.
To start, choose a structure for your email. For example, you can choose to create a full-width email, a double-column email, a product recommendation email, or an abandoned cart email.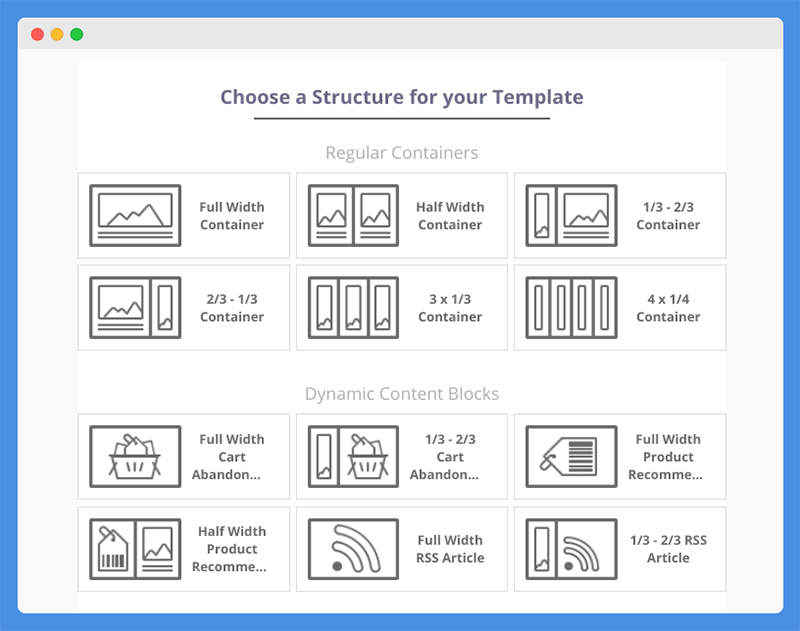 Once you have chosen your structure, it is time to start creating your email. There will be a simple, no-frills drag-and-drop email editor.
You can drag and drop different kinds of elements to add to your email, such as:
Picture
Text
Spacer
Video
Product
Button
Timer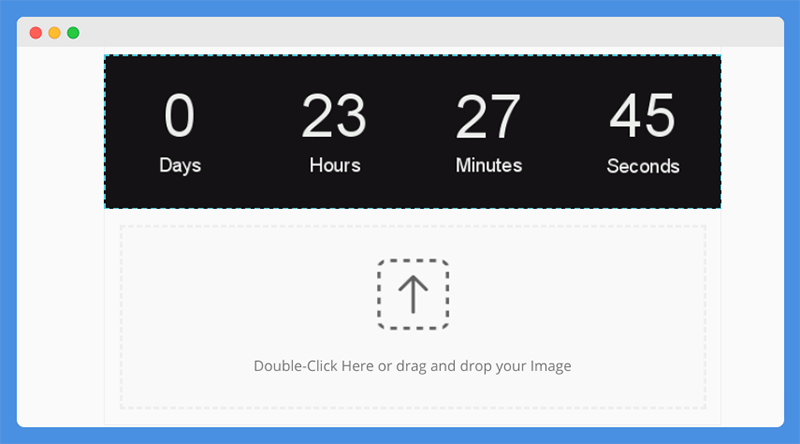 Although you can create a template from scratch, there are also many pre-made templates in the template library to choose from.
These templates exist for all kinds of categories, such as travel, webinars, recipes, rentals, shoes, and sales.

We earn a commission if you click this link and make a purchase at no additional cost to you.
You can preview any template before you apply it. Once you apply it, you can customize it by changing the text, deleting elements, and adding elements.
Interesting Post: Best Autoresponders & Email Software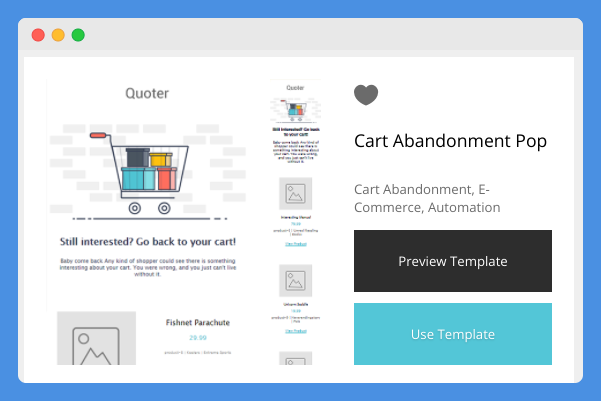 I found a decent selection of templates, including for special occasions like Halloween. Some of the templates were more simplistic, while others were very beautifully designed.
While creating your email, you can preview it at any time. You can even preview how it will show up on different types of devices (desktop, tablet, and smartphone) to ensure that all of your subscribers will be able to read the email with ease and click on your call-to-action.
In addition, you can send a test email. This will help you get a better idea of how your email will show up on devices such as the one you own.
Although the preview tools help, there's no substitute for sending an actual test email and checking the email from all of your devices to see exactly how you would see it if you were a subscriber.
Once you have created your email, it is time to send it out. You can send it out immediately or schedule it in advance for a future date; you can also schedule it to be resent to subscribers who don't open it the first time around.
A nice thing about Moosend is that even if you don't send a spam test email, they will give you a snapshot overview showing what your campaign is missing and how you can improve it.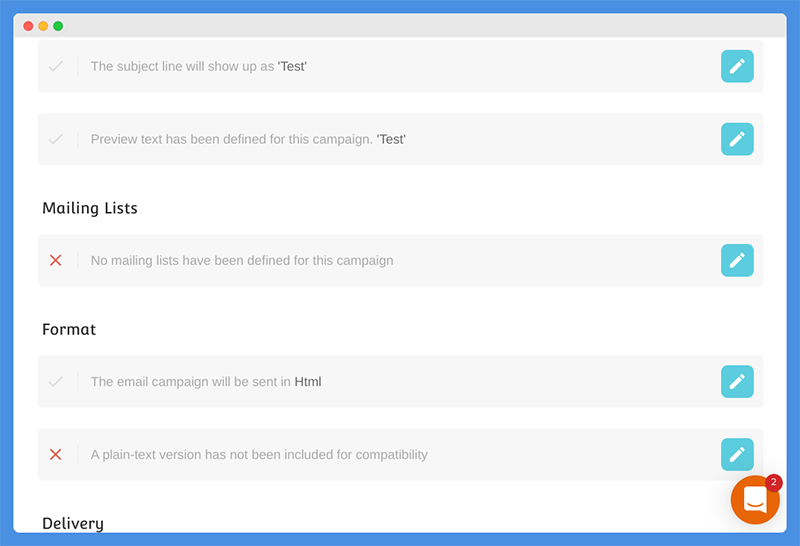 Creating An Automation Sequence
Until now, we've discussed creating one-time campaigns. Although you can create as many of these as you want, you may want to create automated sequences as well.
There are various types of automations you can set up. In fact, I was pleasantly surprised by the number of automation options available.
You can send standard automations like abandoned cart reminders, thank-you emails, and follow-up sequences to new customers.
You can also send anniversary emails, happy birthday emails, upsells, cross-sells, weather-related upsells, weather-related re-engagement emails, repeat purchase reminders, and more.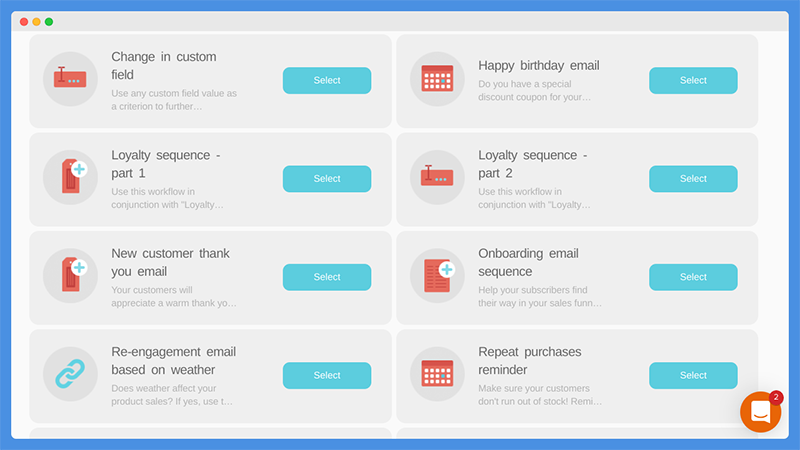 For example, if you decide to set up a repeat purchase reminder, you can send customers reminder emails to repurchase a product once a certain number of days have passed since their first purchase.
If you sell a moisturizer that lasts for 30 days, for example, you can send this reminder email 30 days after their purchase.
The weather-related automations automatically send emails based on weather conditions in a customer's location. This is useful if your business sells products or services that are affected by weather conditions.
Most email marketers will be happy with the standard welcome email sequence. It's pretty simple: When someone subscribes to your list, you can start sending a series of followup emails every other day, every third day, or at any time interval you choose.
Interesting Comparison: Aweber Vs Constant Contact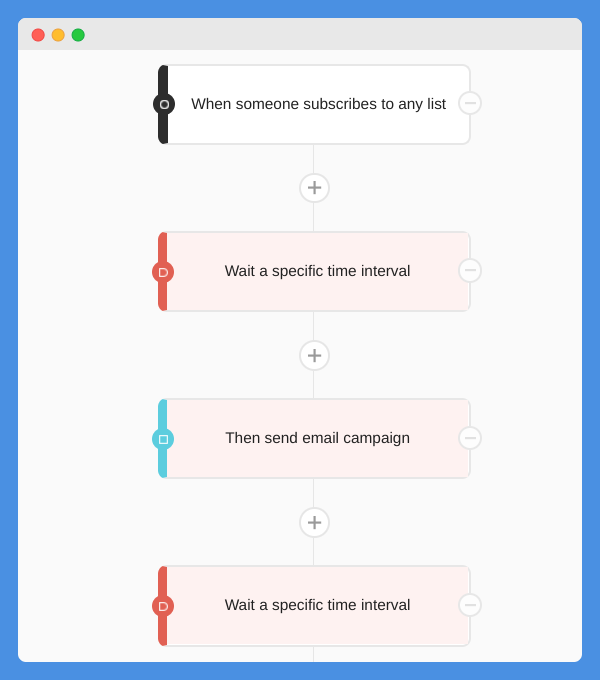 This is a great way to onboard new subscribers. You can get a chance to promote your best-selling products, help set subscribers' expectations, explain what it is that you do, and provide useful advice and tips.

We earn a commission if you click this link and make a purchase at no additional cost to you.
An anniversary email can be sent after a specific amount of time has passed since the subscriber first signed up to your list. This can be 365 days, 30 days, six months, or any other time interval you want.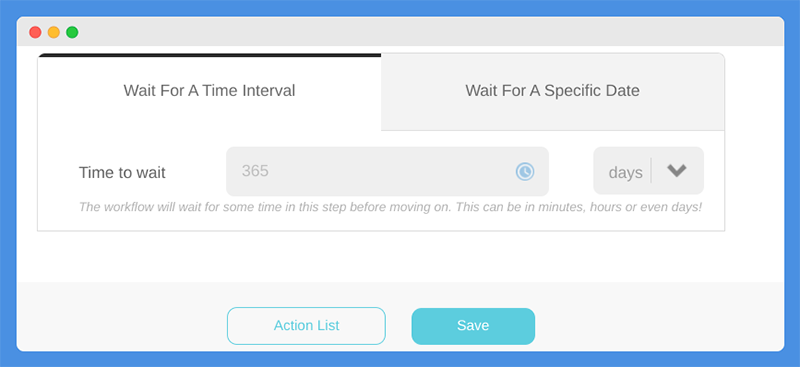 If you are collecting your subscribers' birth dates, sending them emails on their birthdays can help build better relationships and increase trust. You can also offer them special discounts for their birthdays.
Website re-engagement emails can be sent to people who visited your site. They can be segmented into two parts: Those who made a purchase and those who visited your site but did not make a purchase.
You can send upsells to those who already made a purchase; to those who didn't, you can offer discounts to help entice them to finally complete an order. Alternatively, you can send followup emails only to those who did not complete a purchase, as shown in the screenshot.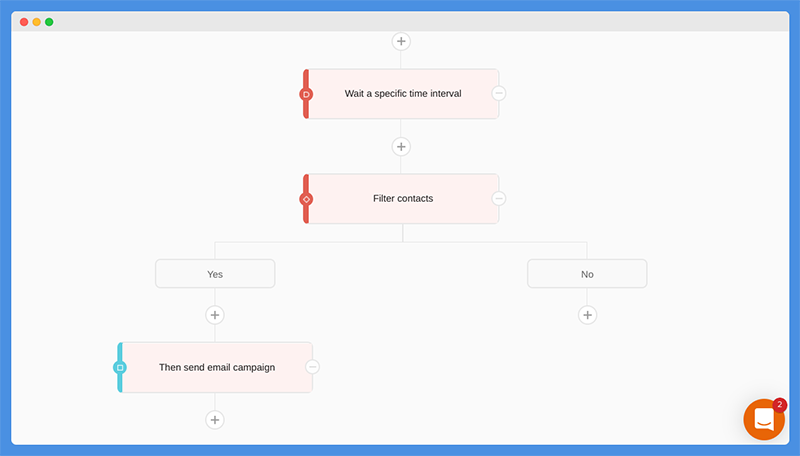 Creating Signup Forms And Landing Pages In Moosend
Of course, in order to grow your email list, you will need to collect leads. There are two ways of doing this in Moosend: Creating signup forms and creating landing pages.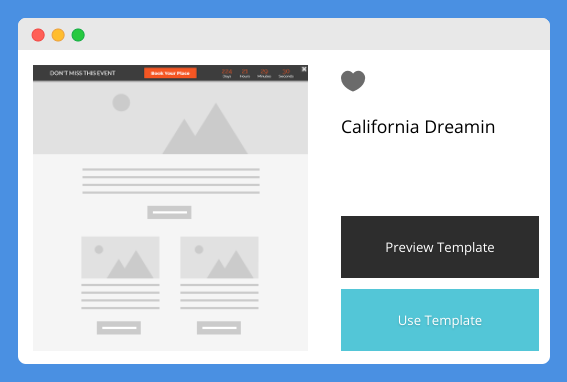 There are five types of signup forms you can create:
Popups that appear in the middle of the page
Inline forms that are inserted in the middle (or at the beginning/end) of a blog post
Floating bars (small signup bars at the top or the bottom of the screen to avoid interfering with a visitor's reading experience)
Floating boxes (like a popup box but allows users to continue scrolling and read)
Full-page forms that take up entire pages
Like the emails, signup forms come with premade templates, such as the ones in the screenshots.
You Might Want To Read: Best MailChimp Alternatives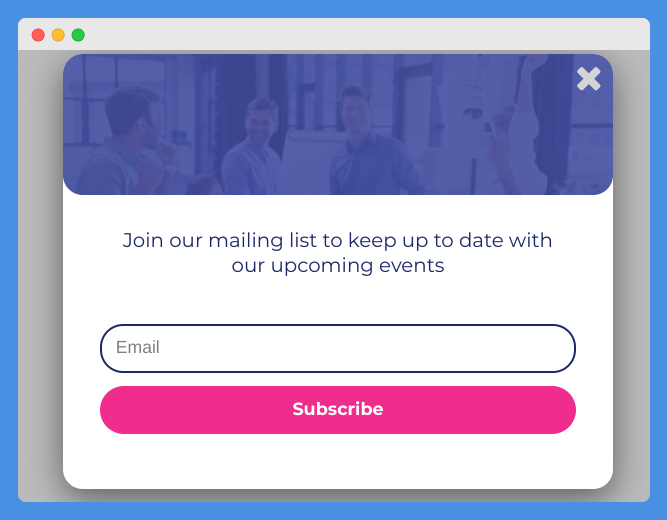 You can customize these templates by changing the sizes of the elements, changing colors, adding text, changing fonts, adding a background image, and more.
Not only can you preview how your form will appear on different devices, but you can also create separate form versions for mobile devices. This is very important, as popups and other forms often interfere with mobile compatibility.
You can set up advanced display rules for each popup. For example, the popup can be shown when a visitor first lands on your page, when they are about to exit, or when they click on a call-to-action.
Popups can be configured to appear after a visitor has been on your page for 10 seconds or any other period of time.
You can also set waiting periods in between popup appearances. For example, you can stop a popup from being displayed more than once to the same visitor within 24 hours or one week.
This will prevent your frequent visitors from getting annoyed.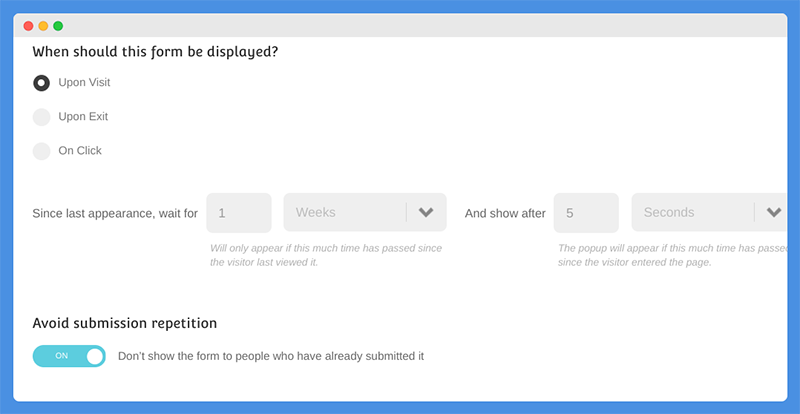 Another option, depending on your plan, is to create full-form landing pages. These landing pages, which are fully optimized for mobile devices and fully customizable, integrate with Google Analytics and Facebook Pixel.
Worth Reading: MailChimp Vs SendinBlue Vs Mailjet
Landing pages can be edited, and you can add elements such as countdown timers.
Using the Moosend plugin, you can publish your landing pages to your WordPress site. In addition, you will get a free SSL certificate to secure your landing pages.
Moosend For eCommerce
Moosend is perfect for eCommerce businesses. You can send abandoned cart reminder emails and add product recommendation blocks to your emails.
As mentioned, you can also send purchase reminder emails to existing customers or website visitors.
Moosend Analytics And Reporting
Moosend will give you in-depth reports and graphs to help you understand the performance of your email campaigns.
You will see open rates, click rates, subscriber counts, delivery rates, and more. You will also see graphs displaying stats such as open rates over time; this will help you see whether your performance is improving or getting worse.

We earn a commission if you click this link and make a purchase at no additional cost to you.
There will also be reports about spam complaints and unsubscribes. There will even be click maps showing where in your emails your subscribers are clicking; this can help you understand which calls-to-action are working and which links seem interesting to your subscribers.
Geographical maps will give you an overview of where in the world your subscribers are from.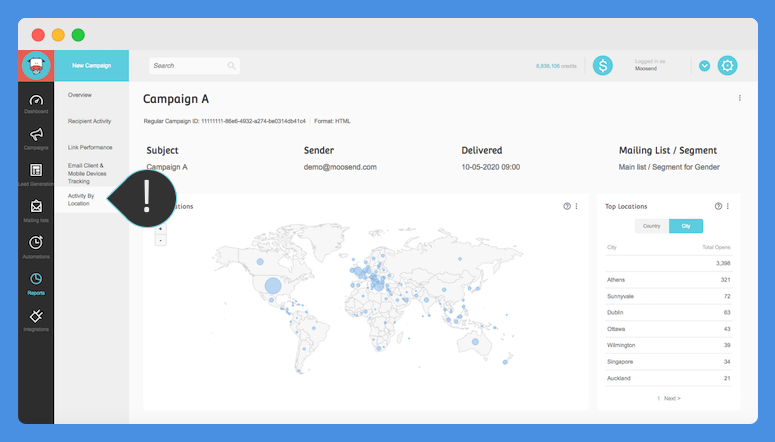 Moosend Integrations
Moosend integrates with various third-party platforms and applications. For example, the WordPress plugin lets you quickly add Moosend popups and signup forms to your WordPress site.
If you use Drupal instead of WordPress, there is an integration for that as well.
You can add contacts from Google Contacts or Salesforce. If you use Optimonk, which is a premium signup form builder, you can have new leads synced directly to your Moosend account.
NeverBounce and Quick Email Verification both integrate with Moosend. They help you reduce bounce rates and clean your list from fake and spam email addresses.
Fake, misspelled, and spam email addresses hurt your deliverability and skew your reports.
You can even integrate with Mailchimp, Zapier, and Convertbox. There are various other integrations available as well.
Altogether, I counted 18 integrations at the time of this writing. While this isn't a very large list, it still includes many basic services and will probably fulfill most people's needs.
However, there seem to be more integrations not on that list, like this Magento integration in the Magento marketplace. In addition, since Moosend integrates with Zapier, you can integrate with many other platforms and tools (such as Shopify) through Zapier.
Also Read: MailChimp Vs PHPList Vs SendinBlue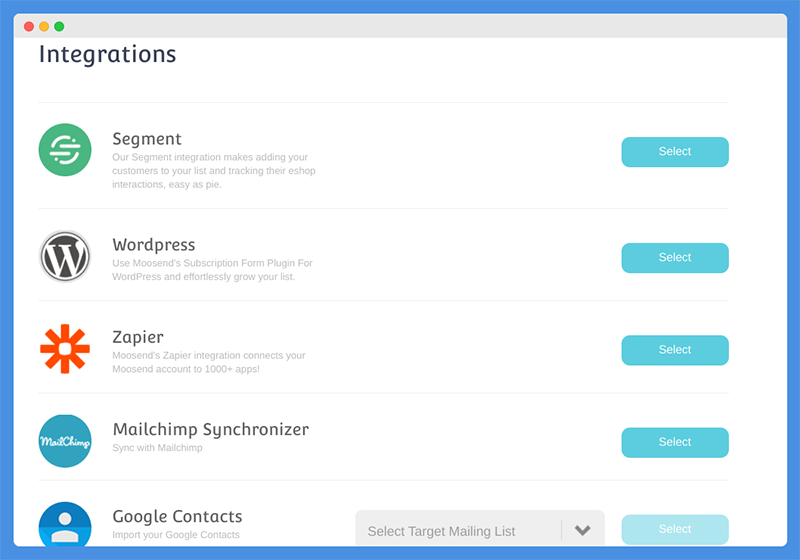 Moosend Customer Service
Moosend's Knowledge Base will have answers to common questions you might have about setting up your account, billing, creating campaigns, sending emails, and integrating with other platforms and applications.
In addition to that and the blog, there is the Moosend Academy, with courses and webinars.
There are also free downloadable infographics, and a free Facebook leads ad design cheat sheet.
If you still need to contact customer support, you can contact them by filling out a form on their website. There is also a live chat option available for free users and phone support for Pro customers.
Moosend Pricing And Moosend Lifetime Deal
Moosend pricing has three plan options at the time of this writing. All plans are subject to change, so it's best to check their pricing page for updated information.
The first is a free account. This is a lifetime offer; it's not a limited-time trial.
The free account gives you access to most features. You won't be able to create landing pages, but you will be able to create signup forms, campaigns, and automations.
However, with the free account, you can only have up to 1,000 subscribers.
Go to the signup page to redeem free Moosend lifetime deal.
Interesting Comparison: ConvertKit Vs Aweber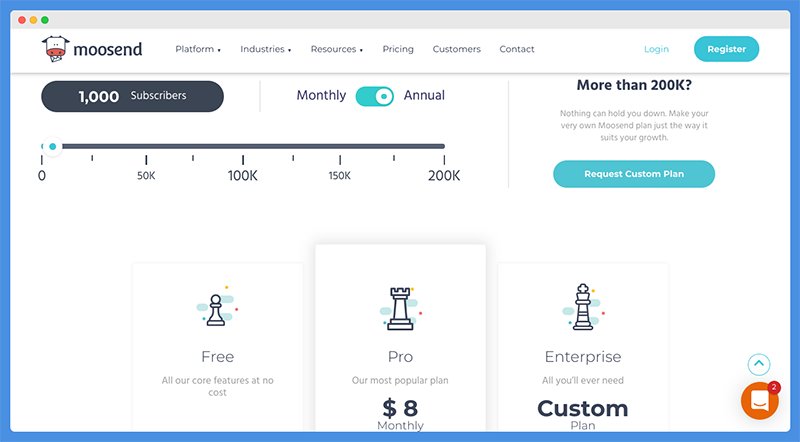 The regular, paid plan gives you access to landing pages, transactional emails, and priority phone support. This plan is priced based on how many subscribers you have.
If you have up to 2,500 subscribers, it is only $10/month. If you pay yearly, it comes out to $8/month.
Moosend prices jump to $20/month ($16/month paid annually) for 2,500 subscribers, going all the way to $760/month ($608/month paid annually) for 200,000 subscribers. Again, prices are subject to change.
Finally, the third option is getting a custom enterprise account if you have more than 200,000 subscribers. Pricing will depend on your needs, and you'll get access to special features such as an account manager.
In short, Moosend cost is quite dynamic catering to varied requirements.

We earn a commission if you click this link and make a purchase at no additional cost to you.
Moosend Review – How Does It Measure Up?
How does Moosend score in four crucial areas?
1. Ease Of Use — ⭐⭐⭐⭐
Overall, Moosend is fairly easy to use. The interface feels a bit outdated, but it does its job.
There aren't too many confusing menu options, so it's pretty easy to do what you want without too many distractions.
2. Features — ⭐⭐⭐⭐⭐
Moosend has a decent selection of features.
There were some things missing that other email service providers have. For example, there doesn't seem to be any support for sending SMS messages or Facebook messages.
However, overall, I was very satisfied with the features that were available, especially on the free plan. Many email service providers don't let you set up automations on the free plan, but Moosend does.
3. Customer Service — ⭐⭐⭐⭐⭐
Moosend has pretty good customer service. As mentioned, there are many resources and educational courses/webinars available to new users to help them get started.
Although there is no phone support on the free plan, it is hard to expect a company to provide phone support to free users. Even free users, however, can get instant support by using the chatbox.
4. Value For Money — ⭐⭐⭐⭐⭐
Moosend offers very good value for money. The free account gives you access to almost all features, except for some like landing pages and transactional emails.
Let's compare Moosend's Pro plan with plans from other email service providers.
Moosend is free for up to 1,000 subscribers and only charges $10/month for up to 2,500 subscribers.
Aweber charges $19/month for 500 subscribers and $29/month for up to 2,500 subscribers. GetResponse charges $25/month for up to 2,500 subscribers (on their basic plan).
For up to 25,000 subscribers, Moosend charges $100/month.
However, Aweber charges $149/month, GetResponse charges $145/month, and Mailchimp charges $189/month (on their basic plan).
Moosend Pros And Cons
Pros
Easy to use
Get started for free
Free lifetime account
Integrate with WordPress
Create automations
Perfect for eCommerce
Create beautiful landing pages
Very affordable
Cons
No landing pages with the free account
The drag-and-drop email editor doesn't offer as many element options as you might like
Not many direct integrations are shown in the account, though additional ones are offered through Zapier
Also Explore: SendinBlue Vs Constant Contact
Wrapping It Up — Is Moosend Worth It?
All in all, Moosend is an excellent option for those looking for an affordable email marketing solution.
Whether you have fewer than 1,000 subscribers and want to get started for free or are just looking to switch from a more expensive platform like Aweber, Moosend has what you need.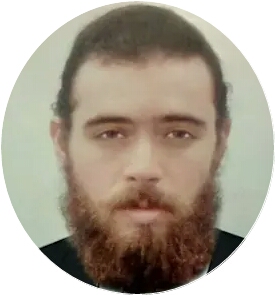 Author: Benjamin Levin
Benjamin Levin is a digital marketing professional with 4+ years of experience with inbound and outbound marketing. He helps small businesses reach their content creation, social media marketing, email marketing, and paid advertising goals. His hobbies include reading and traveling.