With a platform like ThriveCart, you can make the most of the flourishing eCommerce industry.
ThriveCart lets you create better cart pages, campaigns, upsells, and other eCommerce pages. The drag and drop editor makes it easy to build converting cart pages from scratch.
However, you need not always start from scratch. You can also use the drag and drop editor to customize premade ThriveCart templates.
A template can also serve as a design guide. Even if you don't have the template's URL to import directly into your ThriveCart account, you can replicate the design.
In this post, you'll find the 10 best ThriveCart templates and examples.
Explore the best competitors to ThriveCart in this post.
Best ThriveCart Templates & Examples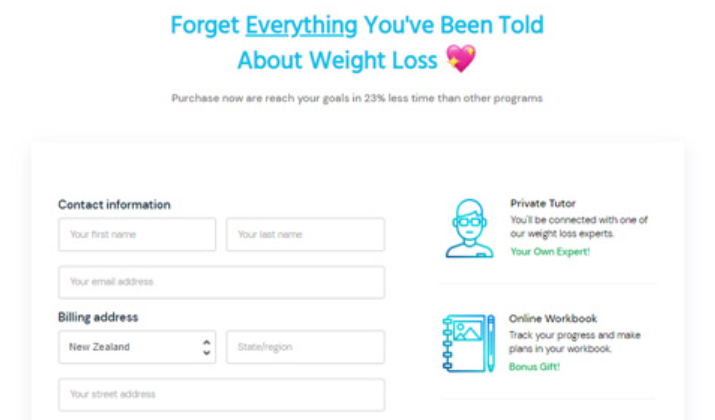 Minimalist websites load fast, are effortlessly responsive, and contain a few elements, so customers don't get distracted. That's what you get with the Minimalist Clean Template from MyThriveTemplates.com.
You'll appreciate this template if you're in the lifestyle, fashion, design, or other professional business industry.
The template doesn't feature any unnecessary elements, and it makes it easy for your customers to complete their purchases.
It features fields for customers to enter their contact information, billing address, and payment information. The purchase button is central and striking; your customers can't miss it.
The template features just blue and white colors with matching icons. You can edit and change the colors, and you can download a new icon set to match the new colors.
With this template, you'll have a professional ThriveCart checkout page that increases conversion rates and reduces shopping cart abandonment.
The Minimalist Clean Template is premium and costs $29. However, note that the price may change from time to time.
You can also buy the template with other ThriveCart templates from MyThriveTemplates.com in a package for $48.
You get lifetime access to the template and future design tweaks after your purchase. There's also a 100 percent money-back guarantee.
Interesting Comparison: Thrivecart vs Shopify – How To Use Them Together?
The Sales Page Template is one of the many ThriveCart templates from Monica Froese. It's an ideal template for sales pages as it displays the product with the benefits it offers to customers.
The template boldly displays the product logo and name at the top. In addition, it features a cart with different payment options so your customers can easily make payments.
The following sections feature details of the product, including other images and product features. You can choose between two different homepage designs.
It also features a post-purchase ThriveCart upsell template as a bonus. As a result, you'll appreciate this template if you regularly create sales funnels.
This Monica Froese template is simple to customize. It comes with a link to Canva, where you'll find all the page-building assets. There's also a preview link to see the default cart page for reference as you customize.
The Monica Froese Sales Page template costs $37. You can also purchase it in a bundle with other Monica Froese ThriveCart templates for $47.
Check Out: ThriveCart vs Clickfunnels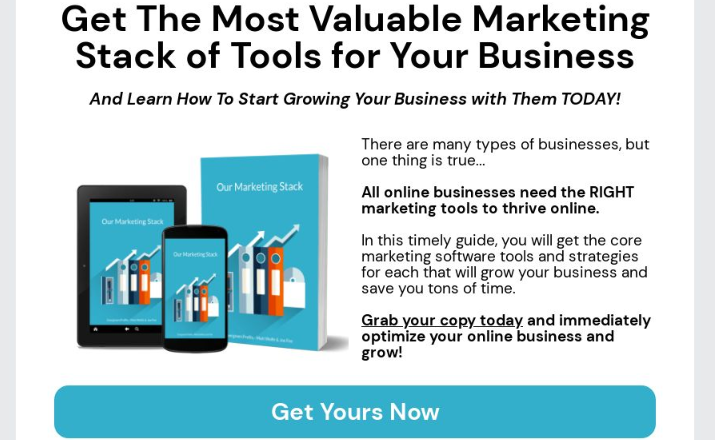 If you want to sell a low-cost product, like a short course, video, or ebook, you can use this Low-Ticket Sales Page Template.
It's a free ThriveCart template from GetThriveCart.com, and Joe Fier & Matt Wolfe, professional ThriveCart designers, designed it.
The template features three sections, with all properly aligned.
The first section at the top provides an overview of the product, including an image of the product and the problem that the product aims to solve. There's also the bold "Get Yours Now" button that will quickly draw customers' attention.
The second section discusses the benefits of the products. Your customers will find it easy to read or scan through the product benefits as they're bulleted.
Finally, the last section is where customers make payments. It features sections for contact and payment information, and there's a "Complete Order" button.
Google Pay, credit card, and PayPal are the default payment methods, but you can add more when you customize. At the bottom of the page is a section for customers to include coupon codes for discounts.
The template comes with a ThriveCart share URL. Therefore, it's easy to apply the template to your ThriveCart product as you can import it directly. The template is easy to customize as well.
Check Out: ThriveCart vs WooCommerce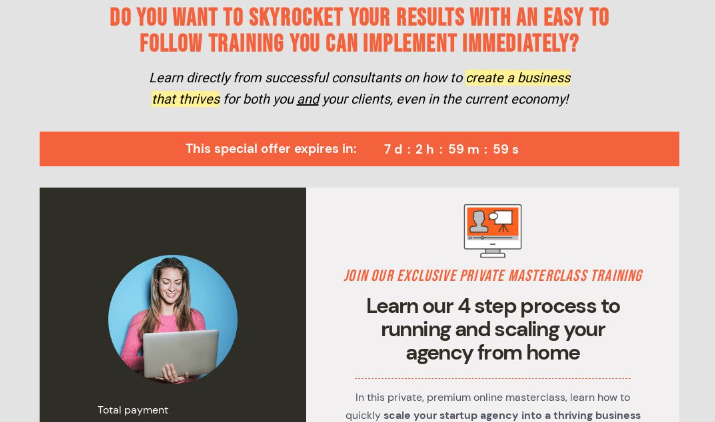 Here's another free ThriveCart template. It's ideal if you're an online coach or trainer, just as the description says.
The highlights of the template are the two vertical sections in contrasting colors. However, there's a topmost section that introduces the training with a brief on what buyers should expect. There's also a horizontal bar to display special sale offers.
After that, you get the vertical sections. The left section features the details of the online coach or trainer – your details, in other words – while the right section features details of the training program.
In the left section, you can display your picture, name, and qualifications or experience. You can also display testimonials from previous customers that have undergone your training.
The right section will contain in-depth details of the online training, including an overview and benefits. These are listed using bullets, making them easy to read.
You can also feature an image or logo at the top. The bottom part of the right section features a short form for customers to register. The fields include name, email, and business name, but you can customize them.
You can directly import this template into your product on ThriveCart. It comes with a Share URL.
Explore: ThriveCart vs SendOwl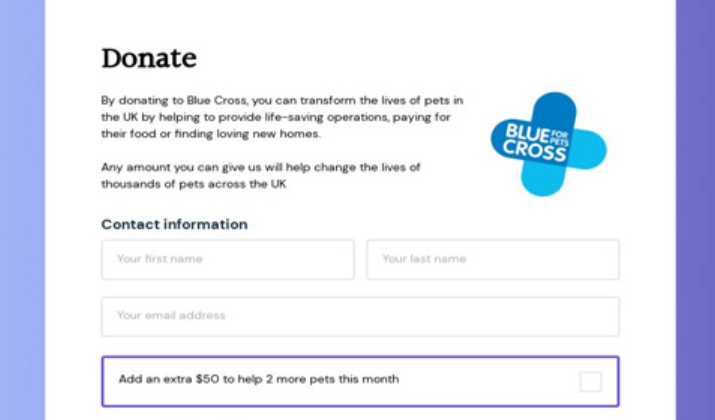 If you're a charity or some other organization requesting donations, you can use this ThriveCart template from MyThriveTemplates. As a regular merchant, there are times when you may need to collect donations.
It's a simple, straightforward template without all the many sections you'd expect from a regular sales template.
It only features a bold header, details about the donation, your brand logo, donator information, and a donate button.
Customers and donors will enter their name and email address in the Contact Information section, and their payment details to donate in the Payment Information section.
The template only features card payment by default. When you customize, you can add more payment methods and also fields for donors to enter other contact details.
The donate button features a soft purple color with a slightly rounded border. You can edit all of these to match your organization's or brand's color.
Notably, the template uses custom CSS to add a glow to the donate button. You can edit the glow color as well. At the bottom is a rundown of the donation amount.
You can purchase the MyThriveTemplates Donations Template for $29. Like the Minimalist Clean Template mentioned earlier, you can purchase the template in a bundle with others for $48.
Check Out: ThriveCart vs SamCart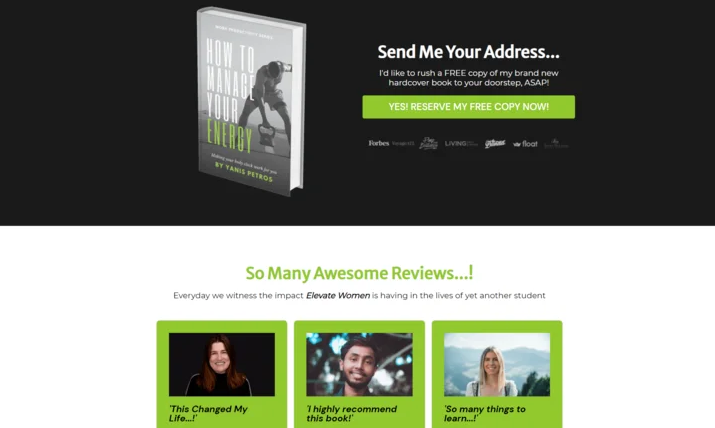 Here we have a template for selling books. It's a typical book landing page, but the highlights are the two upsell pages and the fulfillment page.
The main page features the book image and a button for customers to register to get the book. Customers who don't have much time can immediately click on the button and it'll redirect them to the Contact Information section.
You can display reviews from other customers that have bought the book on the main page. It features just three sections, but you can add more when you edit.
Furthermore, there are sections to discuss and list out the features and benefits of the book to readers.
In addition, there's the "Meet The Author" section where you can feature your picture and a short description – or that of someone else if you didn't write the book.
In the Contact Information section, customers can enter their name, email, and shipping address. The next section is the Payment Information section, and the template features credit card payment and PayPal as the default payment methods.
The Best Seller Book Funnel Template is not free. As a detailed funnel template, the price is relatively expensive at $197. Nevertheless, it's worth buying if you can afford it.
Explore: Best SamCart Alternatives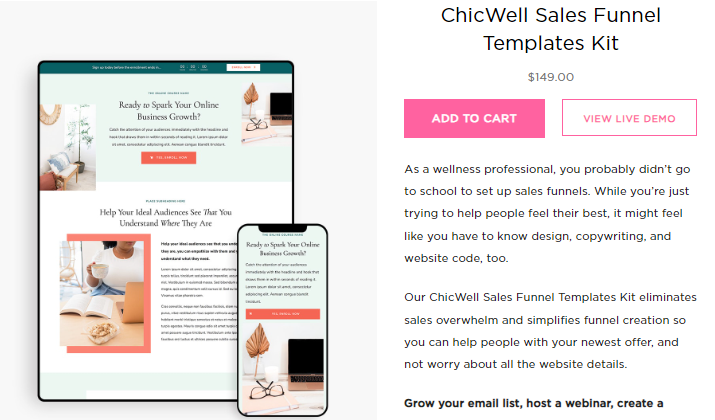 The ChicWell Sales Funnel Template Kit is perfect if you sell a variety of products. However, as a template kit, it costs $149, which is less affordable than most premium ThriveCart templates on this list.
With this template kit, you can sell almost anything as it contains nine different ThriveCart templates. Notably, you can create a tripwire to show customers irresistible offers.
Other templates include a long opt-in page, a short opt-in page, a sales page, and a thank you page. In addition, you get a webinar registration page, replay page, confirmation page, and waitlist page.
In particular, the webinar page templates will help you grow your email list by offering webinars.
You'll find all the templates in the ChicWell Sales Funnel Templates Kit easy to customize. You can import the templates with all stock photos, so you get a page that's exactly like the demo site.
The template kit might be expensive, but you get lifetime access, and all future updates are free. Also, professional support is available to help you at any time.
In addition, you get interesting bonuses, including a landing page copy workbook, mock-up graphics templates, and a sales funnel builder workbook. These bonuses are worth over $80.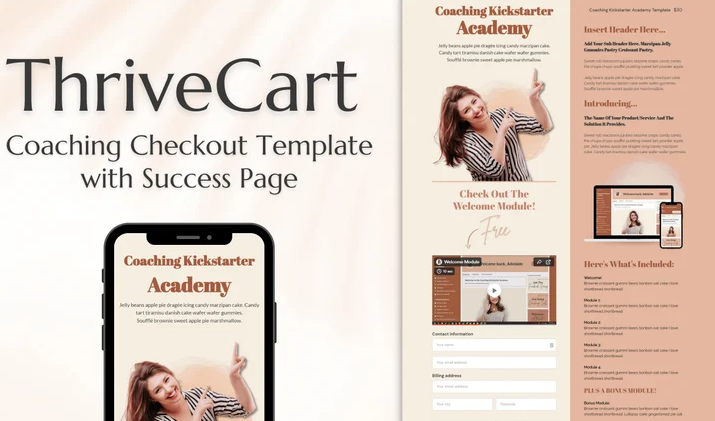 If the previous online coaching/training template didn't meet your interest, you can check out this template from BrittsTemplates.
It's a multiple-page template, and, in the words of a previous user, it's "very beautiful and so easy to use!" It's a two-page template, including a checkout template and a success page template.
The template comes with a ThriveCart Share URL so you can directly import it, and it comes with a link to the Canva assets. With these, customizing the template to match your brand is seamless.
To make customizing even easier, the template comes with a detailed video tutorial. The video tutorial covers everything, from importing to editing and publishing.
It features light colors and tones, which makes it a perfect template for female sellers. Nevertheless, you can change the colors and tones to meet your preferences.
The main page features the course heading and subheadings, coach image section, welcome video section, about section, product image section, details section, testimonials section, logo section, and contact information section.
The success page is simpler with just a mock-up section, an invoice button, a testimonial section, and access to the course or other downloadable material.
This template costs $12.48, which is relatively affordable compared to most premium ThriveCart templates on this list.
Although meant for coaching, you can sell any product with this template. You can purchase and instantly download the template from Etsy.
Also Read: SamCart vs Gumroad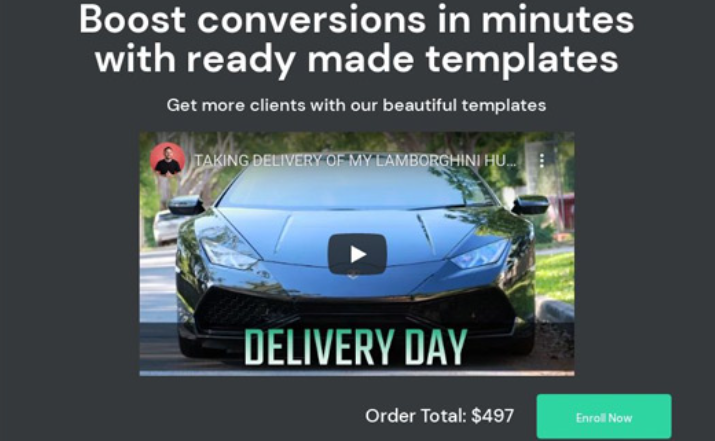 For some products, you need a template that features a lot, so you can cover every objection a customer may have. If that's your case, the Hard Sell Template will interest you.
The Hard Sell Template features many sections for adding vast details about your product. However, it still maintains orderliness in formatting and alignment, so it doesn't overwhelm your customers. It also makes it easy to customize.
The topmost section introduces the product with a bold heading, followed by a much smaller text. It features an advertisement video, but you can feature just an image or other graphics.
However, using a video is ideal as it makes things easier for customers who don't have time.
The topmost section also features the product price and a buy button. Hence, your customers don't need to go through the many sections below to grasp what the product offers.
In the below sections, you can feature the product image, list features and benefits, and any other information you believe your customers should know. There's more than enough space to include anything.
Despite its heaviness, the Hard Sell Template is relatively affordable. It's yet another ThriveCart template by MyThriveTemplates on this list, and it costs $29.
Check Out: SamCart vs PayPal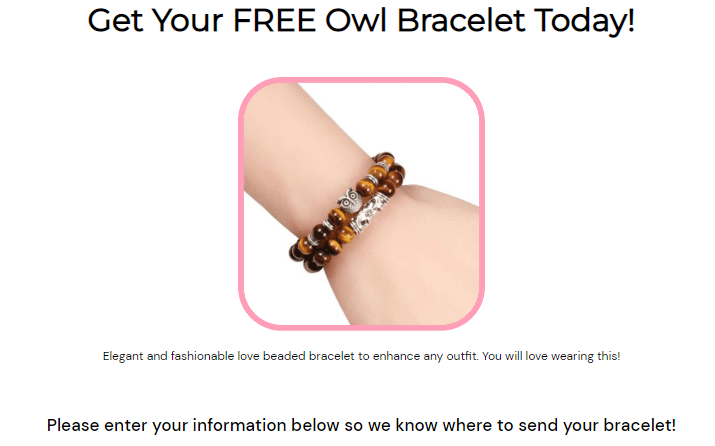 Customers love it when they get a product for free and only need to pay for shipping. You can give them that with this Free + Shipping Funnel Template. However, the template isn't free but premium.
You get three pages in total with this template: a sales page, an upsell page, and a downsell page. All elements on the pages are center-aligned, which captures customers' attention.
On the sales page, you can feature the product image and a brief description. The product is free, so the main highlights are the contact information and shipping price sections.
The sales page also features a price information section, with credit card and PayPal as the default payment options.
On the upsell page, you can feature other enticing products your customers might want to buy. It supports up to five images, and there's a shipping section so they can order the upsell products right away.
Similarly, the downsell page features more enticing products at more affordable prices. With the downsell page, you can switch the offer and ask customers to pay for products while you ship them for free.
Hence, you get an innovative ThriveCart template when you purchase the Free + Shipping Funnel Template.
Check Out: SamCart vs Kajabi
Bottom Line
You can build better checkout pages, success pages, and sales funnels with the ThriveCart templates listed in this article.
Some are free, while others are premium, but they are all easy to use and customize.