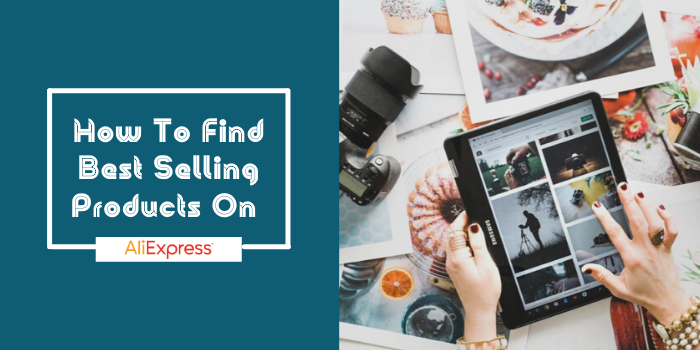 Today, eCommerce is one of the most lucrative things you can do online, and AliExpress is one of the most used eCommerce marketplaces.
In fact, AliExpress boasts of up to 80 million active customers with over 200 million monthly visits.
Not to mention, it takes a lot of preparation to become a top seller on a competitive online marketplace like AliExpress.
Nevertheless, you can start by finding the best selling products. Simply put, these are hot products that lots of customers are looking for and willing to buy.
How do you find the best selling products on AliExpress? Follow me as I show you how to find the best selling products on AliExpress.
AliExpress Overview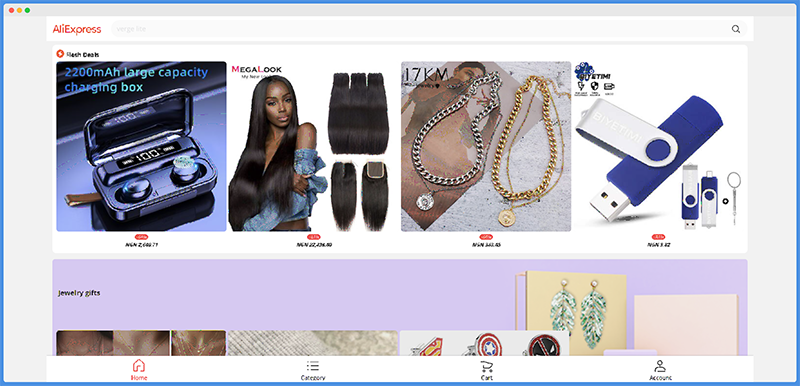 AliExpress is an eCommerce marketplace founded in 2010. It's owned by Alibaba with headquarters in China and it has users from over 230 countries.
AliExpress has become the go-to platform for dropshippers and other eCommerce merchants looking to purchase products at cheap rates.
With over 100 million products, you can spot your preferred product on AliExpress.
Sourcing products to sell from AliExpress is easy as most online store platforms integrate with it.
You simply buy from the seller and ship to your customer when you get orders.
What most sellers find difficult is sourcing the best selling products. Now, let me show you how to do that.
Interesting Post: Best Sites Like Aliexpress With Faster Shipping
How To Find Best Selling Products On AliExpress
1. Use the AliExpress Best Sellers and Trending Products Lists
Every week, AliExpress lists out the best selling products on the marketplace.
These are listed under the "best-selling products" category. By simply consulting this list, you'll know what products customers are buying.
The only problem with following this list is that sometimes, the products there might not sell the next week.
The weekly best selling products are generated from sales of any just concluded week.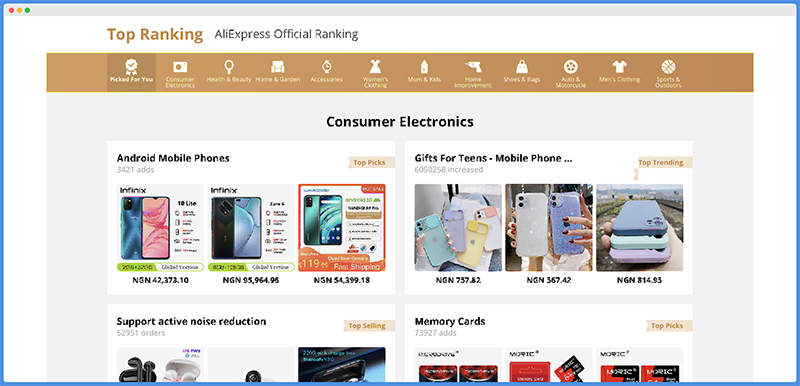 A more reliable option is the AliExpress official product ranking. It allows you to find products that have been trending for a while, not just within a week.
Products from different categories are featured. The categories include Consumer Electronics, Health & Beauty, Home & Garden, Accessories, Women Clothing, and more.
There's also a "Picked For You" section that shows top-ranking products based on what you've viewed in the past.
The products featured in the AliExpress official product ranking page can be sorted.
You can sort by category, price, value, promotion, reviews, and brands. But, the best way to sort here is by category. Select your store niche and select specific product types to view the top-ranking products.
Another way to get best selling products from AliExpress is by using the AliExpress dropshipping center or the Booster Program.
These were created for product analysis and supplier identification.
Even if you're not a dropshipper, you can still utilize the AliExpress dropshipping center. All that's required is registration.
The dropshipping center helps you in two ways; discovering hot selling products and sponsored products.
The hot selling products here are usually the same from the AliExpress official product ranking page.
Meanwhile, the sponsored products are products suppliers pay to display as ads.
2. Perform Product Research
An effective means of finding best selling products on AliExpress is by conducting product research.
As a popular online marketplace, developers have come up with several product research tools like Alishark, Niche Scraper, etc.
Basically, these software make use of data from AliExpress products to sort out the best sellers.
Some of the data taken into consideration include order numbers, reviews, feedback, etc. Furthermore, there are both paid and free AliExpress product research tools out there.
If you can afford it, go for a paid one as you'll get more features.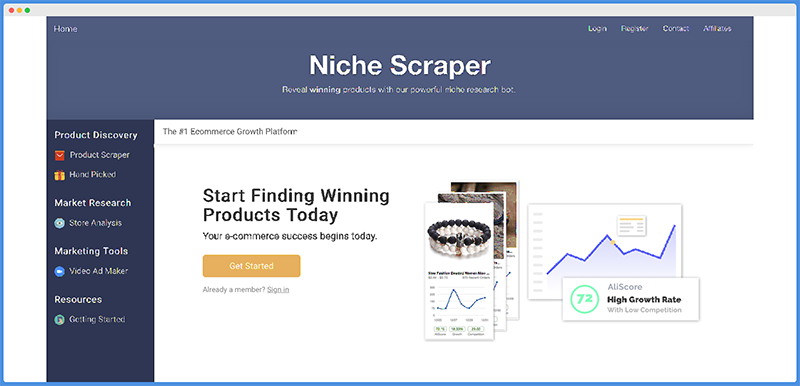 A notable AliExpress product research tool you can use is Niche Scraper.
It is most recommended if you are dropshipping AliExpress products to WooCommerce, Amazon, eBay or Shopify stores.
The Niche Scraper product research tool has three main features related to product research: the Product Scraper, Store Analysis, and Handpicked.
The Product Scraper is the most important. It analyzes thousands of AliExpress products and presents those with the highest selling potential daily.
The Store Analysis feature is also useful.
There must be top suppliers in your product niche, i.e. most renowned and most trusted suppliers who everyone wants to buy from.
You can use the Store Analysis to spy on these suppliers, so you know their best selling products.
Likewise, if you know top dropshipping stores on Shopify, WooCommerce, Amazon, and eBay that sell the same stuff as you, you can spy on them using Store Analysis too.
Finally, you get hand-picked products from suppliers for the last feature. These are already winning products or products that have winning potential.
Niche Scraper isn't the only AliExpress product research tool, but it's one of the best.
3. Check Product Ratings, Orders, & Reviews
Commonly, the best selling products in any category would attract a large number of customers.
This implies that they have high order numbers and a higher number of customer reviews and ratings.
With these details, you can find best selling products on AliExpress; it's one of the easy ways.
Simply visit your product niche category or whatever category you're interested in. AliExpress first displays "best-matched products".
The majority of the best-matched products featured have at least four stars, which means they are highly rated products. You can easily pick best-selling products from here.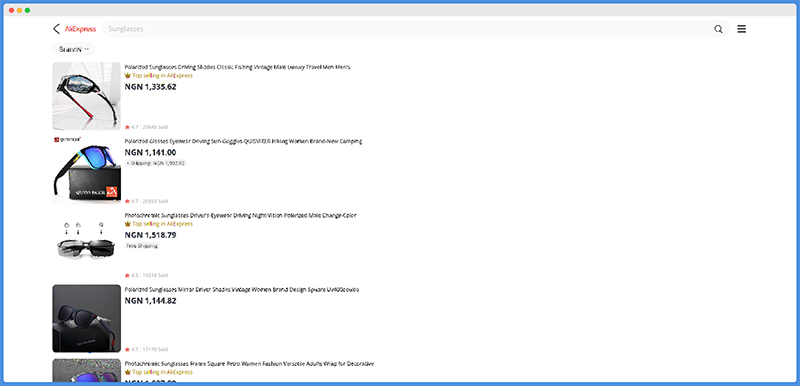 Otherwise, sort the product list by orders from the options at the top left. If there are top-selling products on AliExpress from the official product ranking in the list, they'll be marked as "Top Selling in AliExpress". These are the products you are looking for. Also, you can pick products based on sales units.
To be sure you're picking the best, open each product and look at the data. Consider the number of reviews, so you're certain the buying count is legit. Typically, products with a high number of units sold should have an increased number of customer reviews.
From the reviews and Q&As, you will be informed concerning past customers' impressions about products and if they'll be willing to purchase it again or not. While this could take time, it's worth it.
Best-selling products are quality products, and you know quality products from their ratings. From the product category pages, you can use star ratings to sort products. Simply select a filter and select the star rating option.
4. Check Alibaba Best Sellers
Alibaba is a parent company to AliExpress and both platforms are for eCommerce.
The major difference between Alibaba and AliExpress is that the former is B2B while the latter is B2C.
Alibaba focuses on wholesale between manufacturers and suppliers.
You cannot dropship products from Alibaba like AliExpress, but the list of their best-selling products can help you identify best-selling products on AliExpress.
This is because most AliExpress suppliers purchase from Alibaba.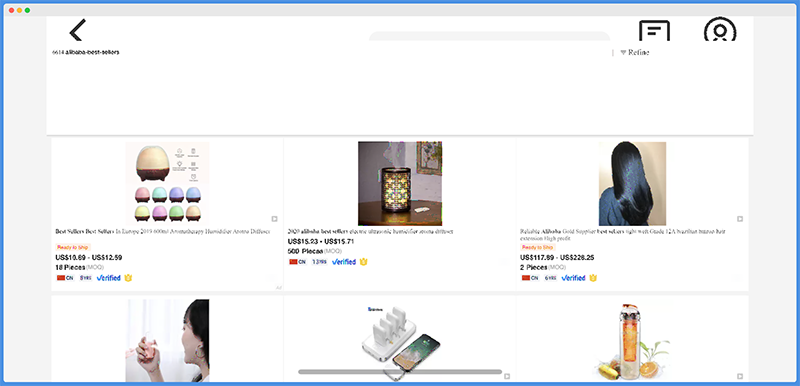 The Alibaba best sellers page lists best sellers in different categories and different regions. You can sort the list to meet your preference.
To access this list, select "Top Ranking" on the Alibaba homepage.
There are two tabs featured. First is the Most Popular products while the other is the Top Selling products.
The most popular products tab ranks products based on the number of buyer inquiries.
On the other hand, the Top Selling products tab ranks products based on the number of orders, views, and reviews.
Both lists are updated daily, so they stay accurate.
You can get other trending products from Alibaba as well. From the Alibaba homepage, select "Trending Products For Resellers".
Next, select your product category from the list to see trending products in your niche.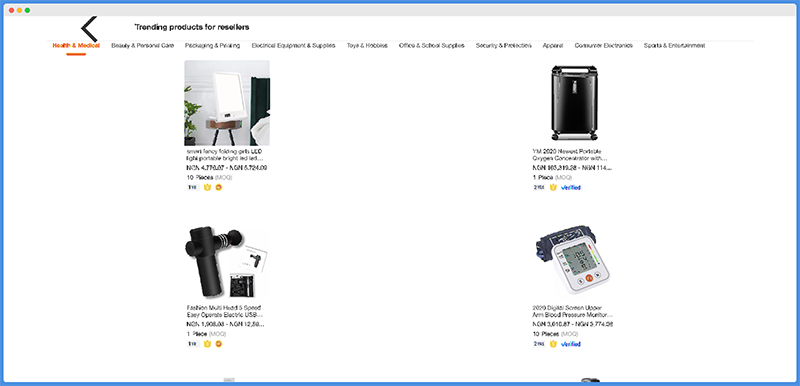 When you point out a handful of worthwhile trending products, head over to AliExpress and search for them.
This is to confirm that they're trending on the platform as well. You'll know from their order numbers, reviews, ratings, etc., as previously discussed.
Furthermore, you can consult the Alibaba Picks from Influencers and Key Opinion Leaders (KOLs).
These are handpicked products by experts in product categories that have winning potential. However, some of them might be trending already.
5. Check Amazon Best Sellers
Amazon is a renowned AliExpress competitor as an online marketplace. If a product is top selling on Amazon, it means that is the trend.
Such a product will also be in demand on other marketplaces like AliExpress.
Therefore, Amazon's best sellers can also be best sellers on AliExpress.
Amazon has the most organized bestseller list for best selling products, irrespective of your region.
In fact, Amazon has different online marketplaces in the USA, UK, Japan, India, France, Brazil, China, etc.
All products on Amazon are ranked in their category. Automatically, the top 10 or 20 products in your category niche are best sellers.
You can rely on the Amazon bestseller list as the products are ranked based on their sale numbers.
Furthermore, the list is updated hourly, so it is always up to date.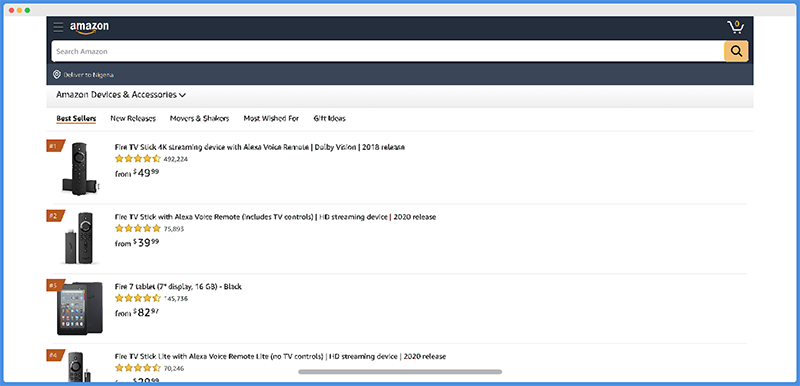 However, Amazon does not consider product ratings and reviews for the best seller rank.
A product might have large sale orders but still have negative customer ratings; such a product won't be in demand.
Therefore, it's still important to analyze customer reviews and ratings when picking best-selling products.
Aside from the actual best selling products, you get more from the Amazon best-selling page.
There are other feature tabs, including New Releases and Movers & Shakers.
The New Releases are the best selling products among the latest released products.
Movers & Shakers are products that have recently gained more sales numbers.
These are ideal best-selling products as they are calculated based on a 24-hour scale.
Key in the best-selling products you get from Amazon into AliExpress and see if they are attracting large sales as well.
You Might Want To Read: Best Dropshipping Companies For Amazon
6. Check eBay Best Sellers
On eBay, you would find a lot of AliExpress dropshippers.
In other words, the majority of products you find on eBay stores are sourced from AliExpress.
As a result, several best-selling products on eBay are AliExpress best sellers.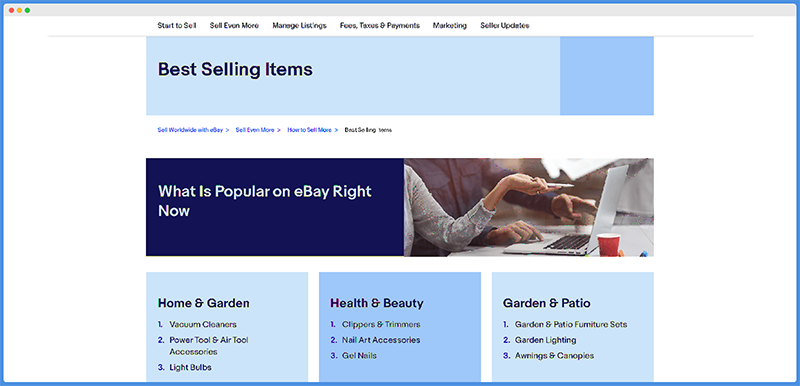 You can find eBay's best-selling products from eBay Export.
On this page, three best-selling products on all major eBay product categories are featured.
However, you only get the top-selling product subcategories.
To locate the actual bestsellers, you have to visit the eBay deals page.
After the featured deals, the next deals you see are top-selling products.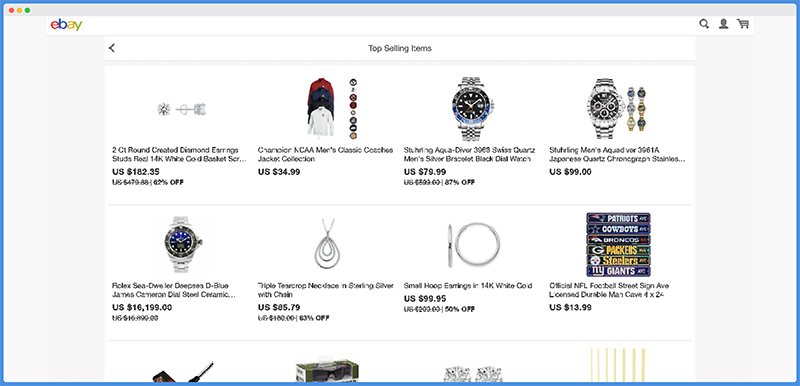 However, another downside here is that the best-selling products, in general, are displayed.
Categories do not separate them, and there are no options to filter. If you own a multi-niche online store, you won't have a problem.
If you deal in a specific category, you'll have to browse the list to find them.
Another way to get best-selling products on eBay for AliExpress is via the products page.
Simply visit a product category you're interested in and sort using the filters.
To filter out the best products, sort by completed items and sold items.
With this, you'll get the most recently purchased stuff on the marketplace.
You're sure to find certain products appearing more than once in this list, or very similar products but from different brands and sizes.
That should give you an insight that these products are most sought after.
Furthermore, when you click on a product, you get its ranking in its category; very similar to product ranking on Amazon.
Since most eBay sellers dropship from AliExpress, it won't be difficult tracking the products back to AliExpress.
Explore:
7. Find Products on Instagram
Instagram records more than one billion monthly active users. Many merchants are generating massive revenue selling on Instagram; an online store isn't even needed.
This is thanks to how engaging the platform is.
You can use the Instagram eCommerce space to your advantage when looking for best-selling products to dropship from AliExpress.
The process is simple and very rewarding.
First of all, head over to Instagram and visit the Instagram shop.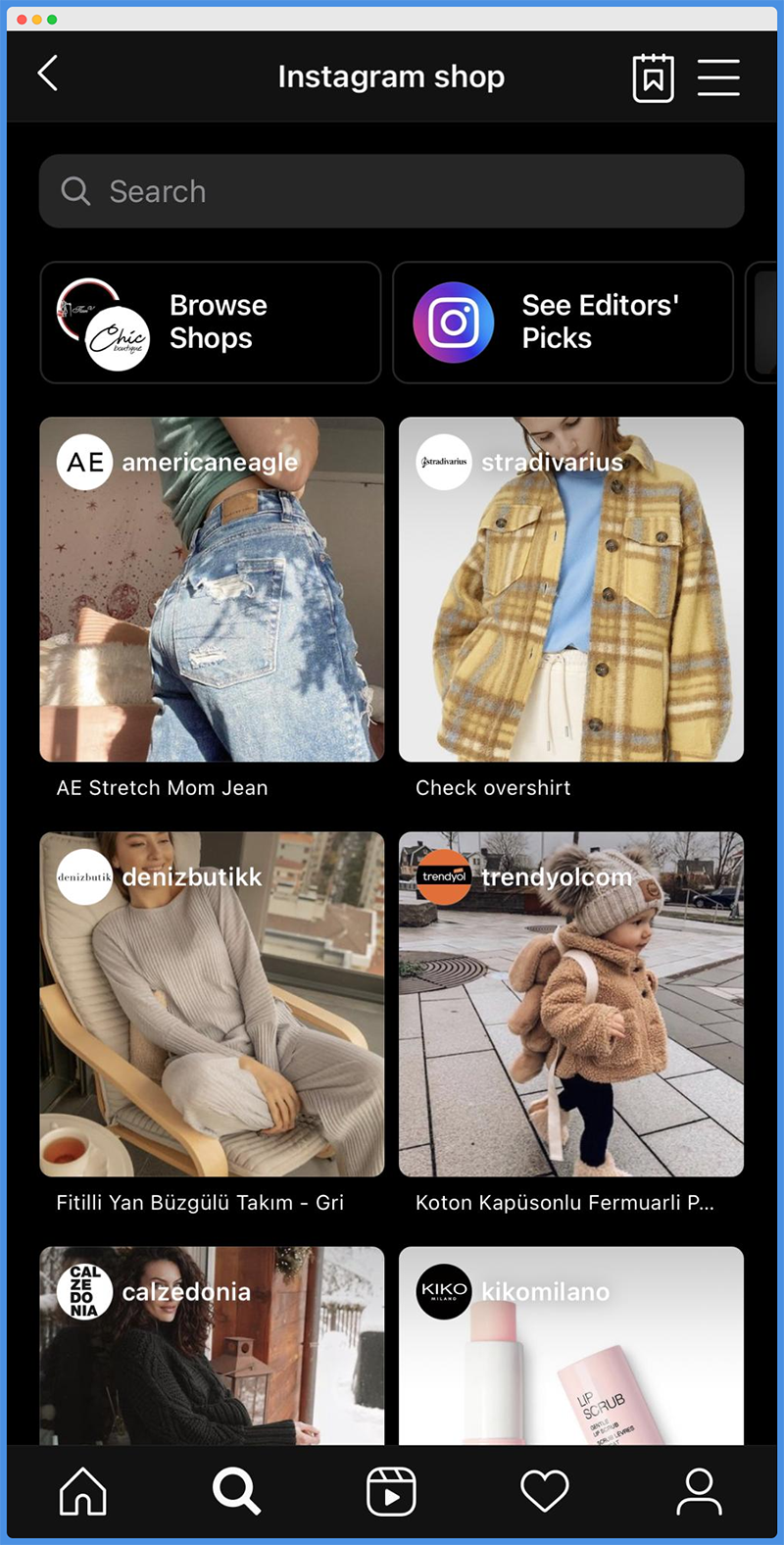 Next, visit the Editor's pick section. On this page, you'll find the selected best products in different categories.
Most common Instagram shop categories include hats, boots, slippers, clothes, sneakers, perfumes, etc.
Simply select a product category, pick the best products, and check them on AliExpress if they are in demand.
Due to the Instagram lifestyle, all product categories in the shop are on Fashion. Therefore, if you're selling stuff like appliances, electronics, etc., Instagram might not help you.
Nevertheless, you can make use of Instagram hashtags (#).
Take for example you sell watches, simply search the hashtags #watches or #watch.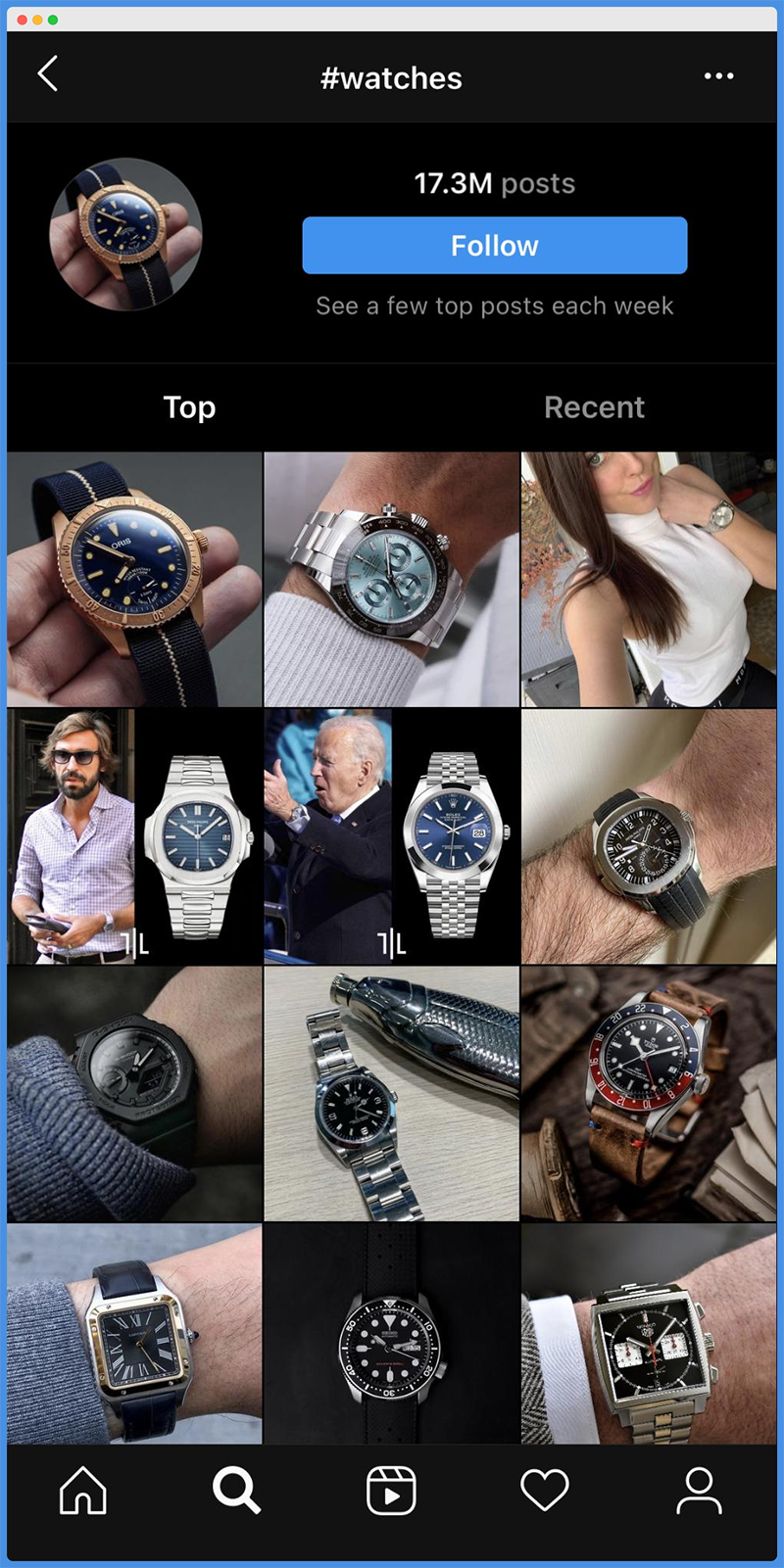 Most of the posts you'll see are from merchants like you who sell watches. What you'll do here is to click a product post and view the engagement.
How many likes and comments did it get, and in what time frame? Also, go through user comments and see what people are saying.
If customers are very interested in the product, look it up on AliExpress and the metrics (ratings, reviews, orders) show that it is hot, you can import it to sell.
8. Find Products on Pinterest
On Pinterest, you can get AliExpress' best-selling product ideas.
As a visual social media platform, you can search for and get images of any product you're interested in.
Compared to other social media platforms like Reddit, Instagram, Facebook, etc., Pinterest has fewer numbers.
However, when it comes to eCommerce, Pinterest comes on top.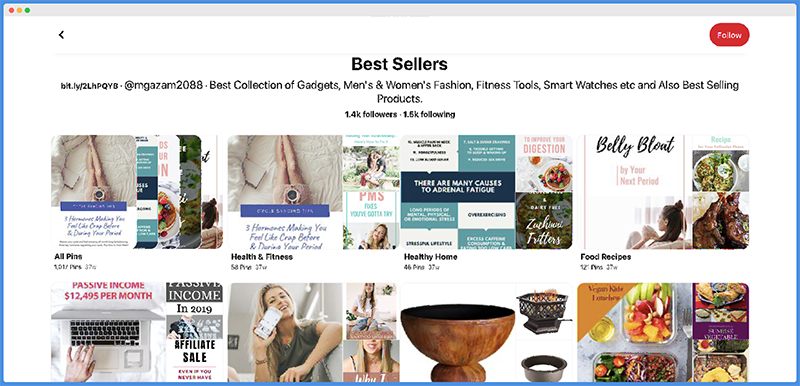 You'll find Pinterest most rewarding if you sell women's products. On Pinterest, users can pin whatever they like.
The most pinned pins are what people love most.
Therefore, you can locate products people are most interested in by simply searching for the keyword.
For example, a search for "necklace" will give you this result.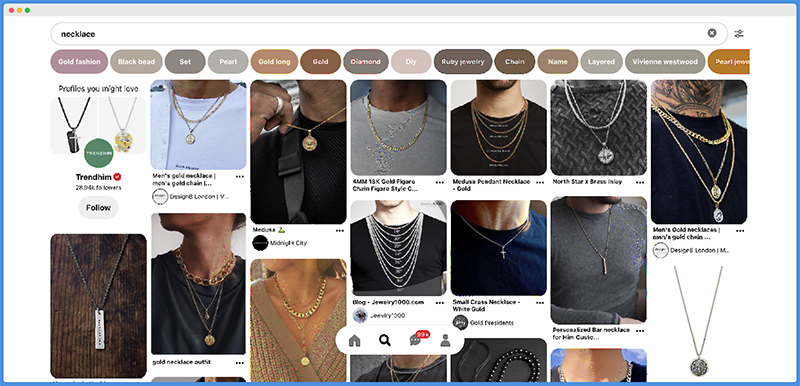 Although the number of pins is not displayed, the most pinned necklace images come first.
By clicking on a pin, you get the product description.
As usual, look up the product on AliExpress to see if it's trending too.
You can literally search for "AliExpress best selling products" on AliExpress. Some users collect different product pins and form best sellers boards with them.
Furthermore, if you look up "AliExpress," you'll find articles on the best AliExpress products published by different users.
Here, you should look for the most recent pins that describe the best products AliExpress.
Check the product list and look up the product on AliExpress if they're trending.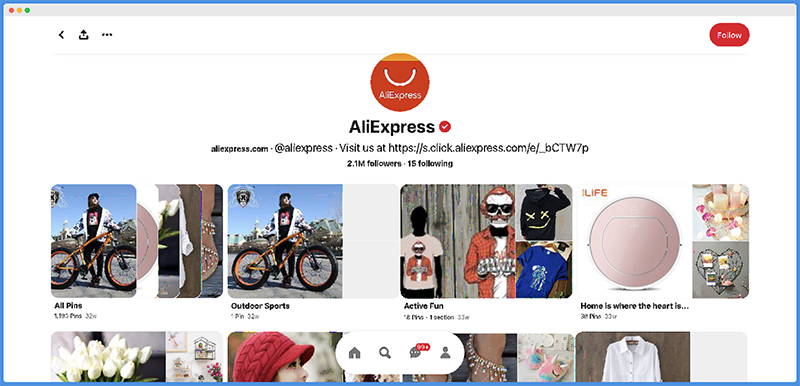 AliExpress has an official page on Pinterest with more than 2.1 million followers.
You can follow them and check their pins and boards to discover new, hot, and trending products.
9. Find Products on Facebook
Facebook users make posts and talk about their favorite stuff all the time.
As the most popular social media platform globally, there's a lot of users to get best selling product ideas from. Furthermore, Facebook also has a marketplace.
To start with, visit Facebook and enter the name of any product you're interested in. Visit the video results section.
When a new product is released, brands publish promotional videos and several influencers will also review the products.
A search for "sneaker" gives this result: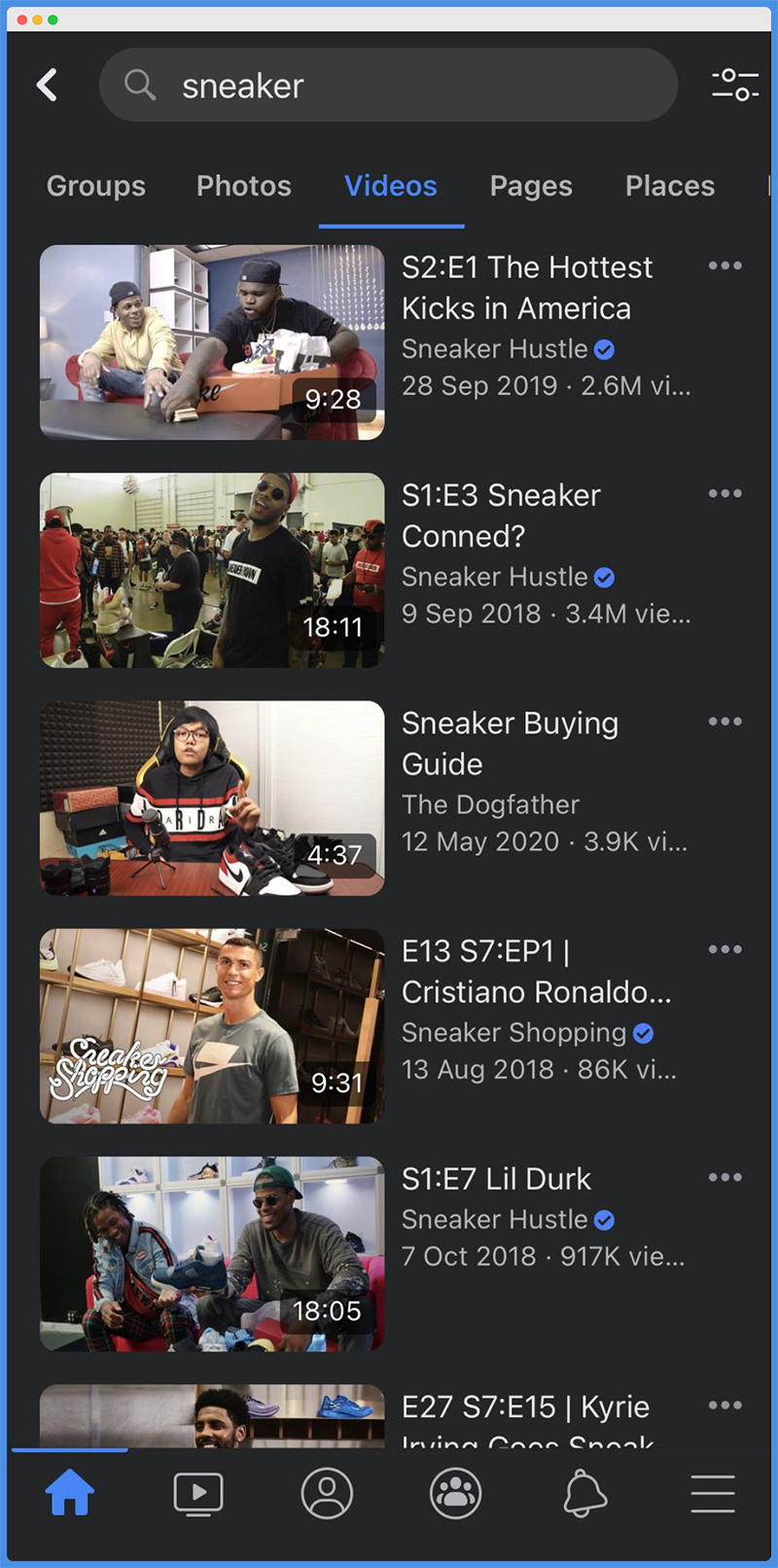 From the videos section, the top videos will come first. The view count tells you what sneakers people are most interested in.
Videos with high engagements are common best sellers. Look up the products discussed in such videos on AliExpress.
The same works for images. Click on images and checkout posts by others about the product you searched from.
The number of likes, shares, comments, etc., will tell you if customers fancy the product or not.
Furthermore, you can click on the marketplace. Check out the most recent products merchants in your niche are posting.
It's a way of spying on competitors to get their best products.
Another way of getting best-selling products for AliExpress from Facebook is by consulting official pages to brands in your niche.
Most brands engage more on Facebook than other social media platforms due to the high user numbers.
This method is most effective in discovering potential winning products.
When brands release new stuff, check the reaction from customers to learn if the product will break the market or not.
10. Use Google Trends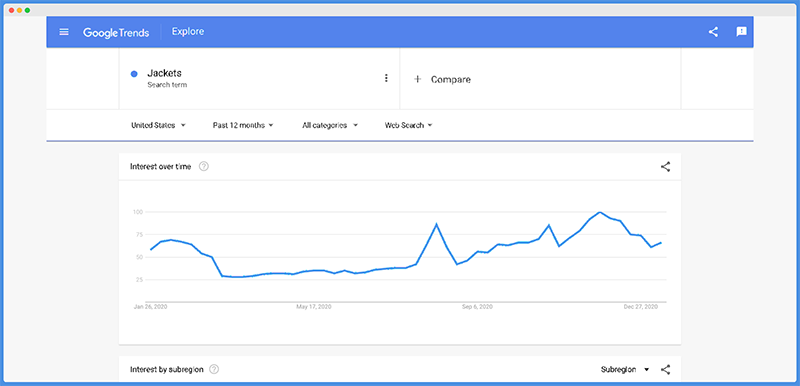 Google is the number one platform on the internet; everyone makes use of it. With Google Trends, you can figure out the top searched terms. It's effortless.
Simply visit trends.google.com and enter the keyword for your product niche.
The advantage of Google Trends is that you get all the insight you need.
You can view worldwide trends or sort the trends for a particular country.
You can also sort the trends for the past hour, past 4 hours, past days, past 7 days, past 30 days, and so on.
Next, you can sort the search category. Here, you should find a niche that most relates to your product niche.
Finally, you can sort how users search: news, YouTube, web, image, or Google Shopping.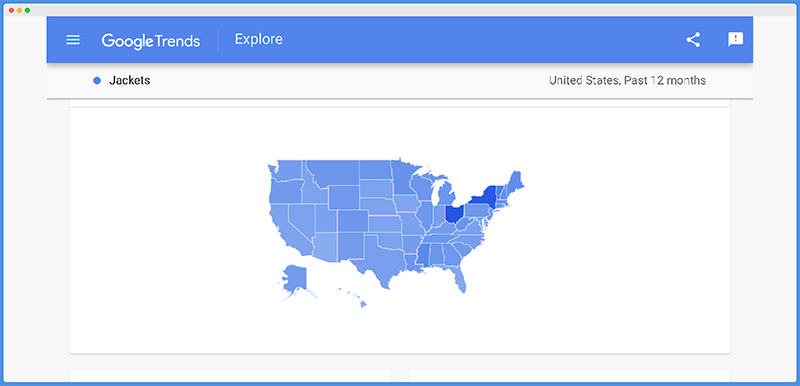 For every search, Google Trends shows you the regions most interested.
A product might be best-selling on AliExpress but not so trendy in your region.
However, the important things to look for here are the related topics/queries and their search percentage.
The most searched topic/query related to your initial search will give you insight into what customers want to purchase.
Look up products associated with these related topics/queries, and you'll find top sellers. Google Trends enables you to compare different metrics and searchers.
This will help you better understand trends, especially to identify seasonal products in your niche.
Wrapping Things Up
In every business, growth requires time. However, when doing the right thing, less time is spent.
Most top AliExpress dropshippers don't do much other than locating the right products to sell.
As you begin your AliExpress dropshipping business, use the tips provided above to find the best-selling products.
Sam loves to write on technology & related stuff. Ecommerce, mobile and internet marketing equally drive her interest. Likes gardening and experimenting with new recipes. An avid reader and absolutely mad @bout donuts 🙂