Did you know that email marketing has an average ROI of 3,200 percent? On average, businesses get a return of $32 for every $1 that they spend on email marketing.
Email marketing is important. Customers rarely make a purchase the first time they land on your blog or ecommerce store unless they already know exactly what they were looking for.
The "Rule of 7" states that on average, consumers need to be exposed to something seven times before they make a purchasing decision.
Email marketing allows you to capture an indecisive customer's personal contact information so that you can contact them whenever you want (with their full permission). This way, you can slowly convert them into paying customers.
There are a variety of email service providers that make it easy to collect email addresses and send out newsletters, automated follow-up emails, and promotional emails.
Mailchimp and Constant Contact are two of the most popular email service providers. However, there are many other email service providers out there that have easy-to-use interfaces and are also affordable.
Today, we will be looking at the top ten alternatives to Mailchimp and Constant Contact.
Interesting Read : MailChimp Vs Constant Contact
Best Mailchimp & Constant Contact Alternatives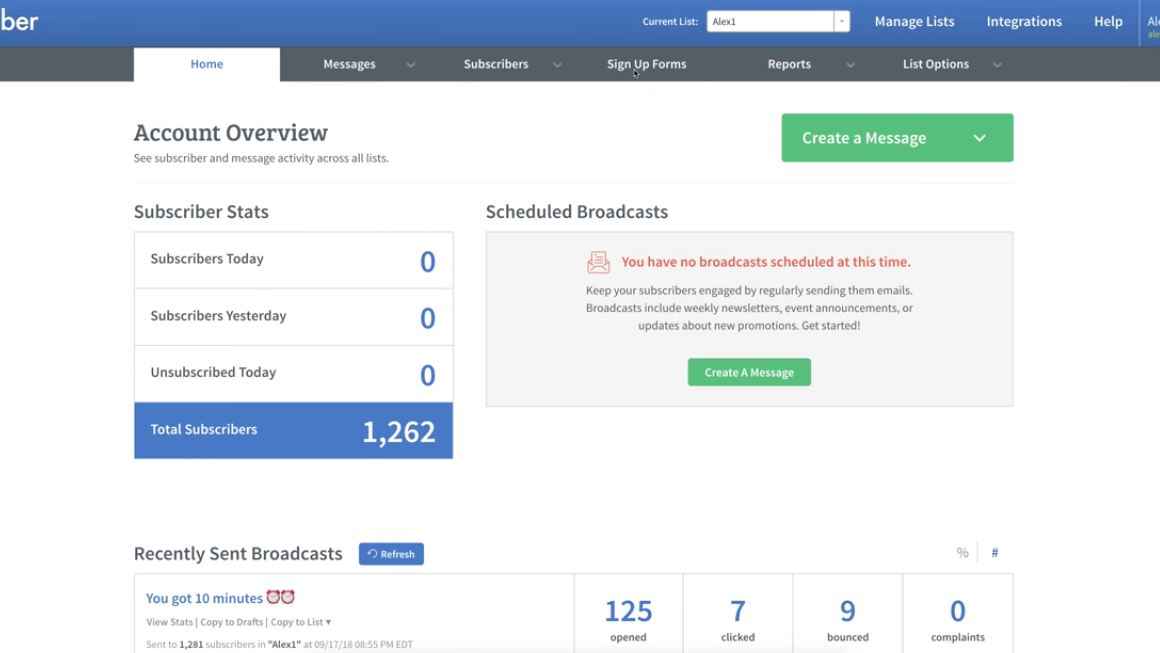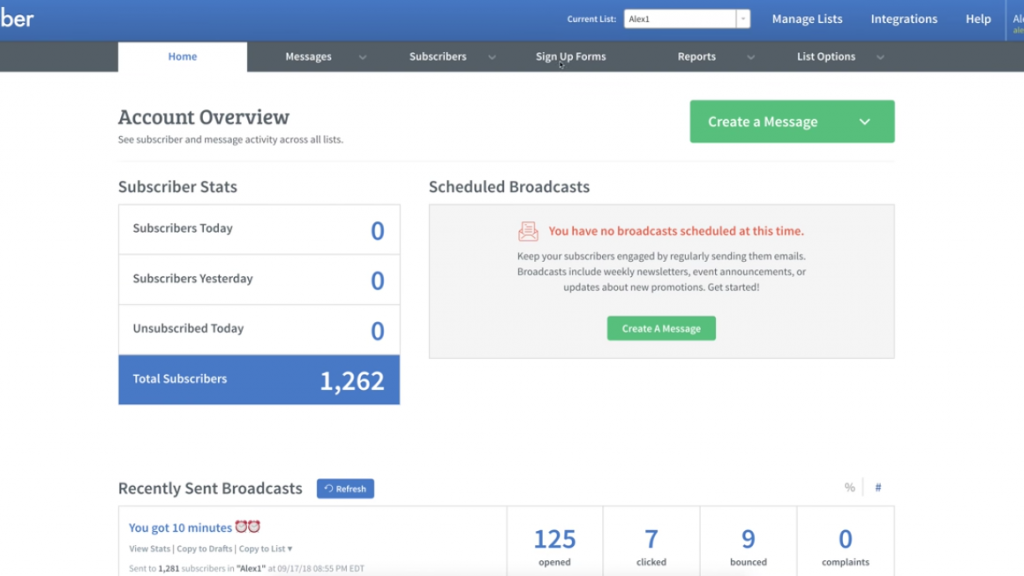 Aweber is one of the most well-known Mailchimp alternatives. It is often used by affiliate marketers and other digital marketers, as Mailchimp does not prefer to work with affiliates.
Aweber does not have the sleekest interface when compared to other email service providers on this list. It lacks that modern look – you might feel as if the interface has not been updated since 2005.
However, the interface is still very intuitive and easy to use – and that is what matters most.
Aweber's drag-and-drop editor is fairly easy to use. You can drag elements from the left-hand side to your email, such as a call-to-action button, a personal signature, a block of text, or an image.
You can design your own email from scratch, or you can use one of their many templates. There are thousands of images that you can use for free, or you can upload your own images.
If you want to create a simpler email, you can choose to use a text editor or the HTML editor instead of the drag-and-drop builder.
You can easily create an automated follow-up series with Aweber. Simply click on an email from your list and choose to add it to your followup series.
Then, drag and drop the emails into the order you want them to be sent out. You can choose sending times – for example, the second email can be sent two days after the first email and the third email can be sent three days after the second email.
Different followup series can be created for different lists.
Aweber recently introduced a tag feature to allow you to create custom workflows. Not only can you send an automated followup, but you can customize the followup series based on each individual's actions, such as whether or not they opened a previous email.
This feature is not as intuitive and easy to use as the workflow features of some of the other email service providers on this list, however.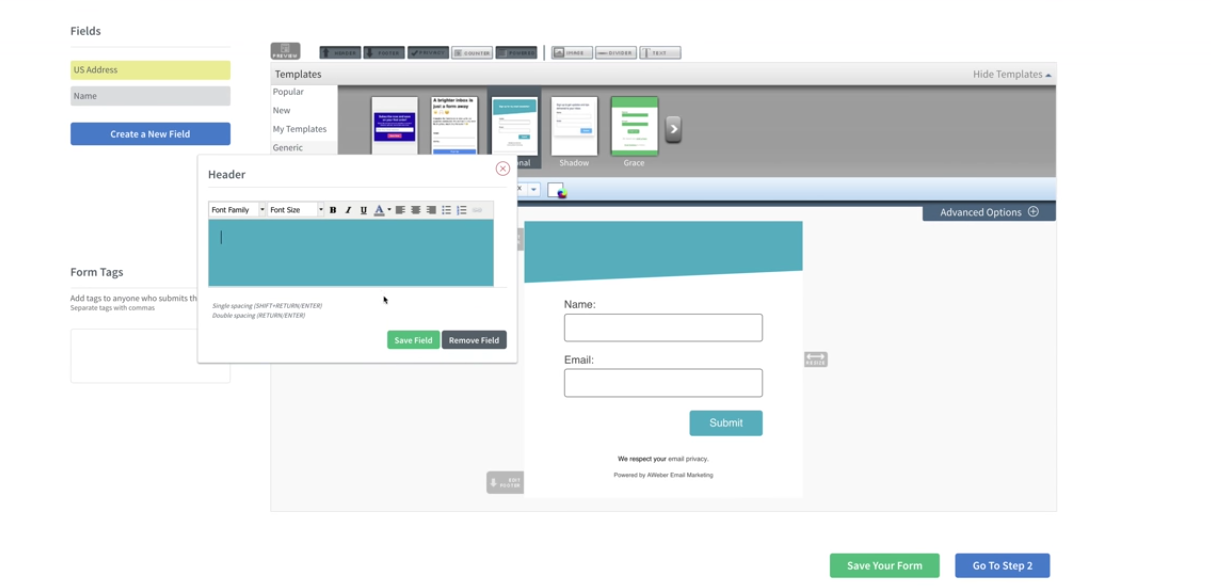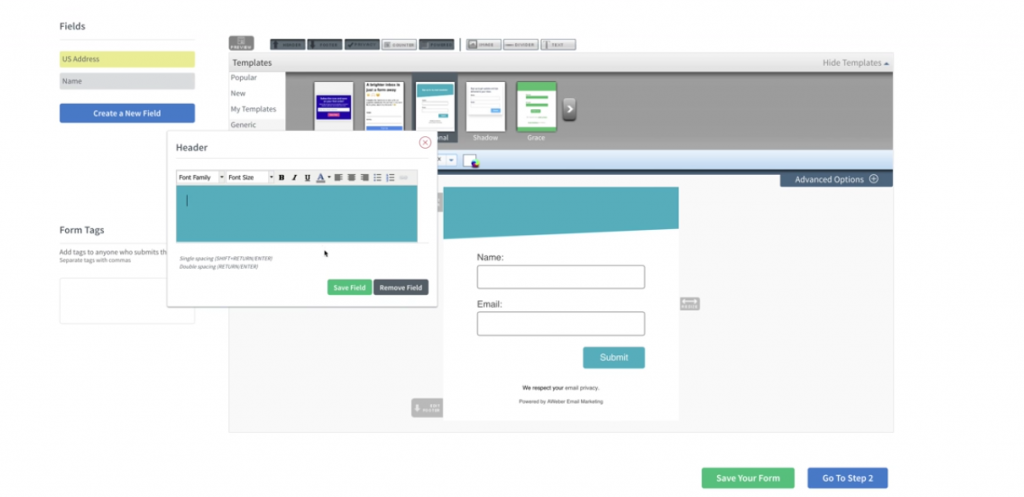 For every email broadcast and follow-up email, you will get quick stats about its open rates. You can go to your reports section to find detailed reports about your performance, clicks, and subscriber demographics.
Since Aweber is so popular, they integrate with most CMS. They have their own WordPress plugin as well.
They also integrate with most signup form and landing page plugins and services. You can also embed Aweber's own signup forms on your site, although they often look simplistic and lack a modern feel.
Aweber offers a free 30-day trial. Their plans start at $19/month and go up depending on how many subscribers you have.
Related : Aweber Vs Constant Contact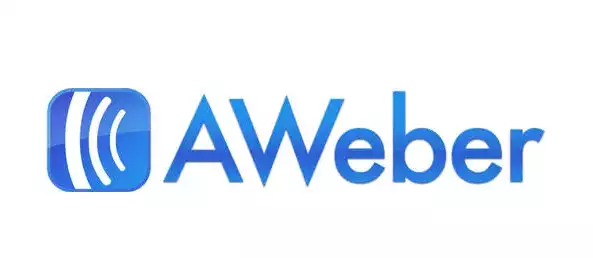 We earn a commission if you click this link and make a purchase at no additional cost to you.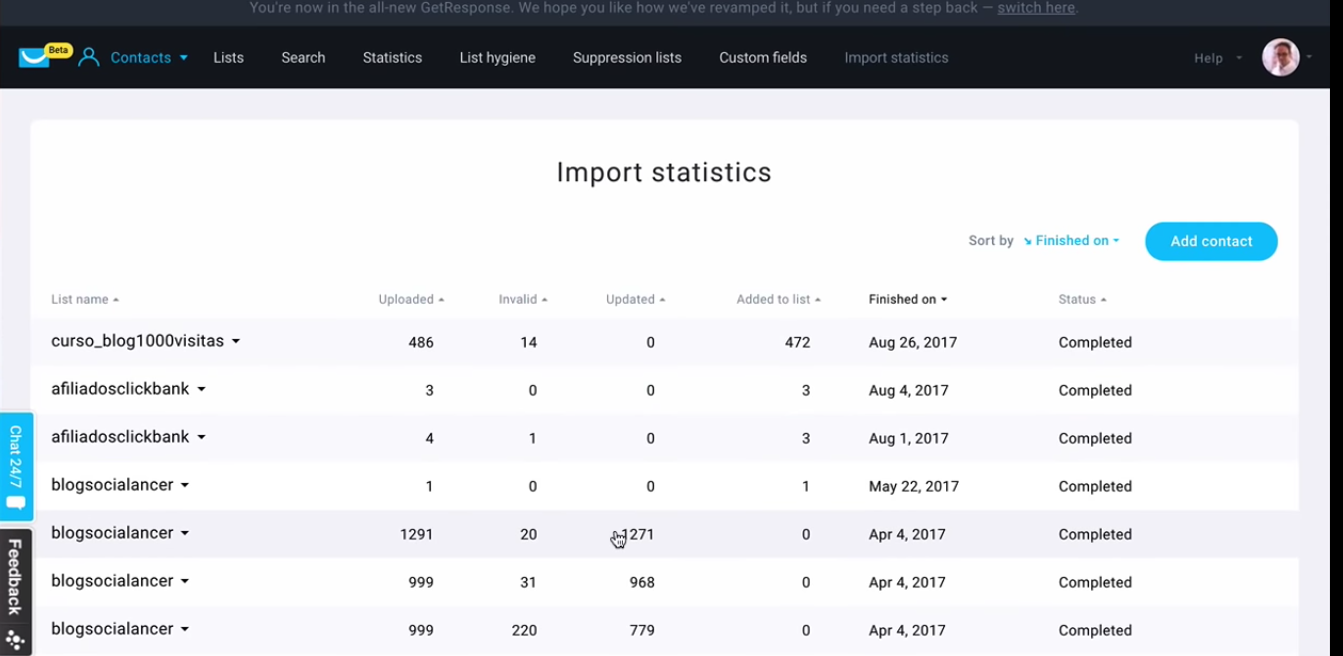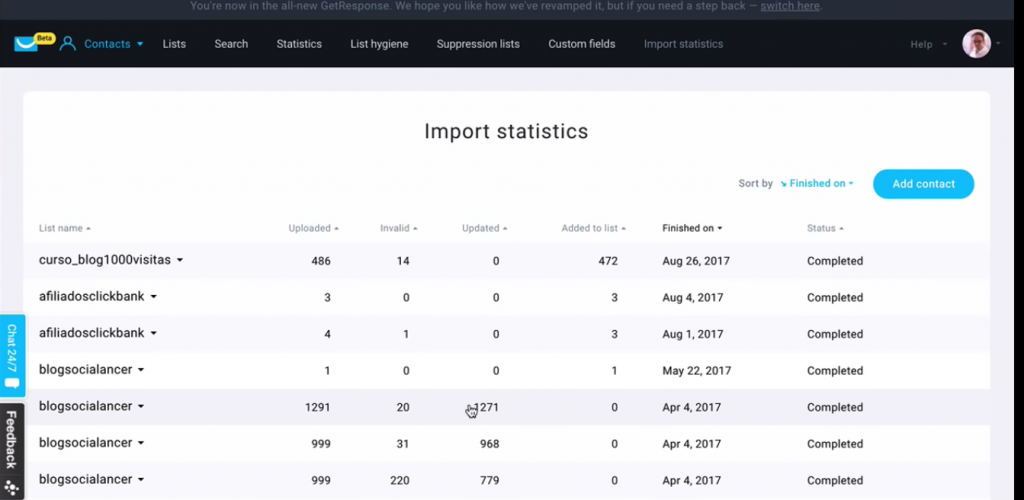 GetResponse is a popular alternative to Mailchimp, Constant Contact, and Aweber. Unlike Aweber, it has a modern design and more customer management tools.
This starts with their landing page creator. There are dozens of beautiful templates to choose from for all kinds of needs – including download pages, webinar signup pages, email subscribe pages, and more.
You can customize the premade templates to fit the look you want. You can also customize the customer experience – for example, you can cause popups to be triggered by certain actions or add a countdown timer to increase conversions.
The drag-and-drop landing page editor is intuitive and easy to use. You can also switch to the mobile view and edit the mobile version of your landing pages.
Your landing pages can be published on a GetResponse subdomain or on your own domain (depending on which plan you are on).
You can integrate your landing pages with platforms such as WordPress, analytical tools such as Google Analytics, and remarketing platforms such as Google Ads. GetResponse will also provide their own data about your landing page's performance, as well as split-testing capabilities.
The email creator is similar to the landing page creator – there are hundreds of templates and thousands of images to choose from, you can easily undo edits, you can drag and drop elements to your emails, and you can save and reuse content snippets across emails.
GetResponse has many tools to help you increase your conversion rates and boost your deliverability. For example, SpamAssassin will analyze your emails to reduce the chances of them ending up in the spam box.
You can choose for GetResponse to automatically send product recommendations to your customers based on data culled from your ecommerce store. You can also personalize your messages, images, and calls-to-action based on each subscriber's activity.
Other tools that can help include split-testing, inbox previews for both desktop and mobile devices, click tracking, and social media integrations.
GetResponse is great if you want to create entire sales funnels. You can set up webinar pages, sales pages, and more, and integrate them into one seamless, flowing funnel.
To get feedback, you can embed forms and surveys in your emails.
GetResponse also has a CRM platform. This allows you to manage your customer relationships, stay on top of your current leads and their activity, and more.
Like Aweber, GetResponse offers dozens of integrations; you won't have to worry about finding third-party services to work with.
GetResponse can be cheaper than Aweber, depending on which plan you are on.
There are four plan options (higher-priced plans offer more advanced features):
Basic
Plus
Professional
Enterprise
The price of each plan will depend on how many subscribers you have. The cheapest plan is the Basic plan with 1,000 subscribers – this costs $15/month.
You will get an 18 percent discount if you sign up for yearly billing and a 30 percent discount if you sign up for bi-annual billing.
Related : GetResponse Vs ClickFunnels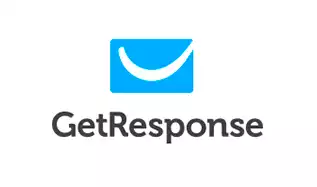 We earn a commission if you click this link and make a purchase at no additional cost to you.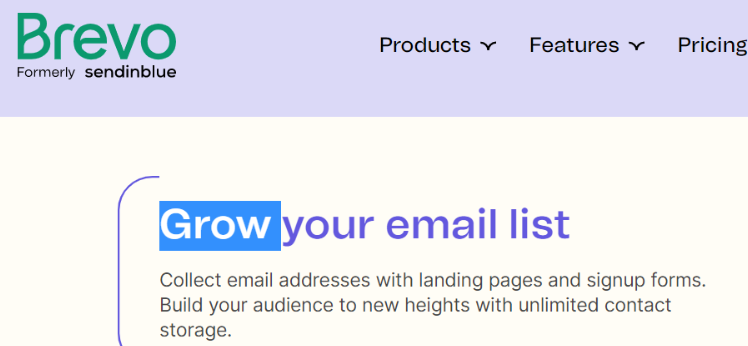 Brevo is another excellent alternative to Mailchimp, Aweber and Getresponse, although they offer free trials, they do not have a free plan option. On the other hand, Mailchimp does.
The difference between Brevo and Mailchimp, Constant Contact, Aweber, and GetResponse – indeed, most email service providers – is that the formers' plans are based on how many subscribers you have. On the other hand, Brevo's plans are based on how many emails you send a day.
While Mailchimp's free plan limits you to 2,000 subscribers, Brevo's free plan limits you to 300 emails per day.
Although you can have unlimited subscribers, the truth is that once you have 300 subscribers, you will no longer be able to send all of them a broadcast email at once. Instead, you will have to break it up and send the same email to different segments of your list over a few days.
Another difference between Brevo and Mailchimp or Aweber is that Brevo is more than just an email service provider. They also offer a CRM service and text message marketing.
Brevo doesn't have nearly as many templates as other popular email service providers. For example, GetResponse has over 500 templates, while Brevo only has around 70.
Brevo's workflows and automation features are much better than Aweber's, however. They are more intuitive and are easier to set up.
They are also more encompassing. You can create workflows that combine email and text message marketing for a multi-channel experience.
You can send different emails and text messages based on each subscriber's demographics or actions. Actions can include whether or not they opened an email, or clicked on a link, or which landing page they signed up on.
You can send text messages to people from over 100 different countries, although prices per text will differ from country to country. SMS credits must be purchased in addition to monthly email marketing plans or email credits.
Brevo's CRM lets you manage your customers and organize their data so that you can offer them a personalized experience. There is also a live chat tool, with the ability to respond to live chat messages straight from your CRM dashboard.
The CRM is great for teams. You can assign tasks to different team members for better organization.
Brevo (formerly Sendinblue) | CRM Suite
Be it marketing, sales, or customer relations, Brevo is an all-in-one tool helping businesses to carry out everyday business functions with ease. Try it today!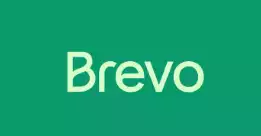 We earn a commission if you click this link and make a purchase at no additional cost to you.
Related :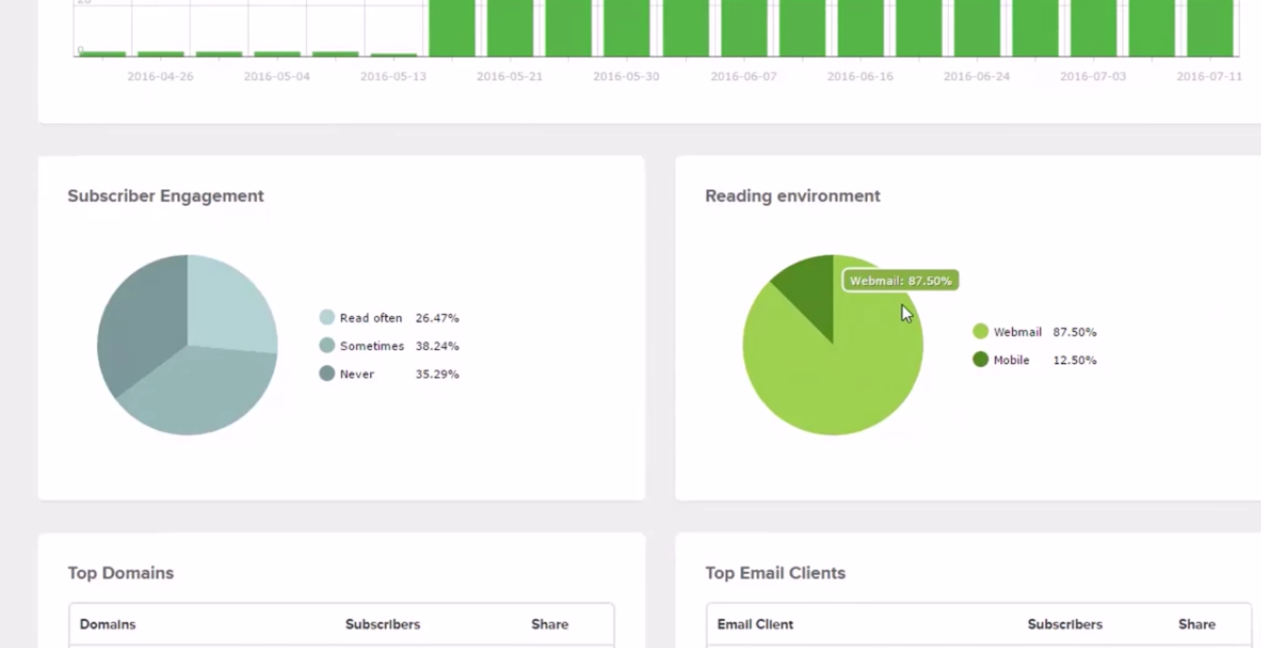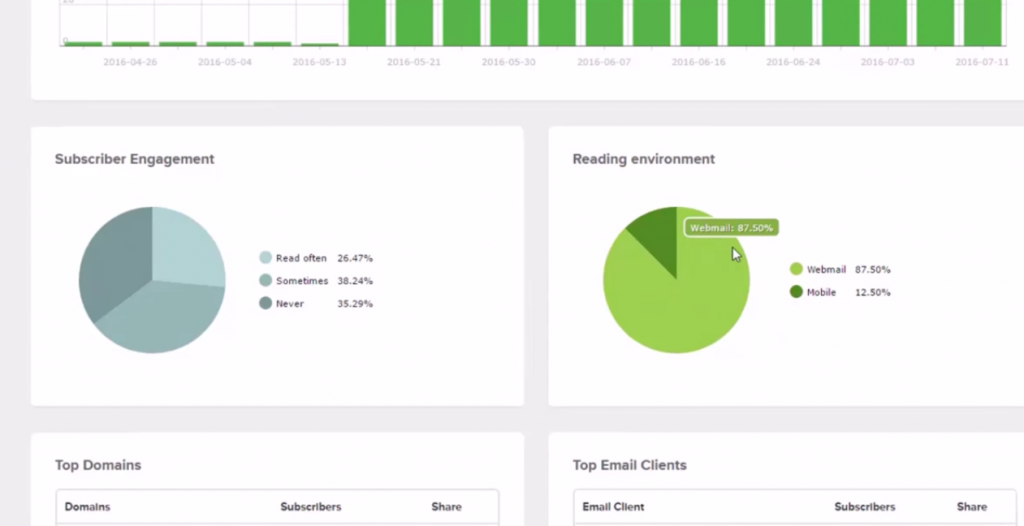 Mailerlite is a great Mailchimp alternative, although it is a relative newcomer compared to Mailchimp itself.
Mailerlite's free plan allows you to have up to 1,000 subscribers as opposed to Mailchimp's 2,000.
On the other hand, Mailchimp's free plan only lets you send broadcasts. To get automation workflow capabilities, you will need to upgrade your plan.
With Mailerlite, however, you will be able to set up automated follow-ups, even on the free plan.
Free Mailerlite users will also get access to 24/7 live chat and email support, something that Mailchimp does not offers its free users.
There are some other advantages of Mailerlite over Mailchimp. For example, they allow you to insert interactive surveys in your emails.
Related : Brevo Vs Mailerlite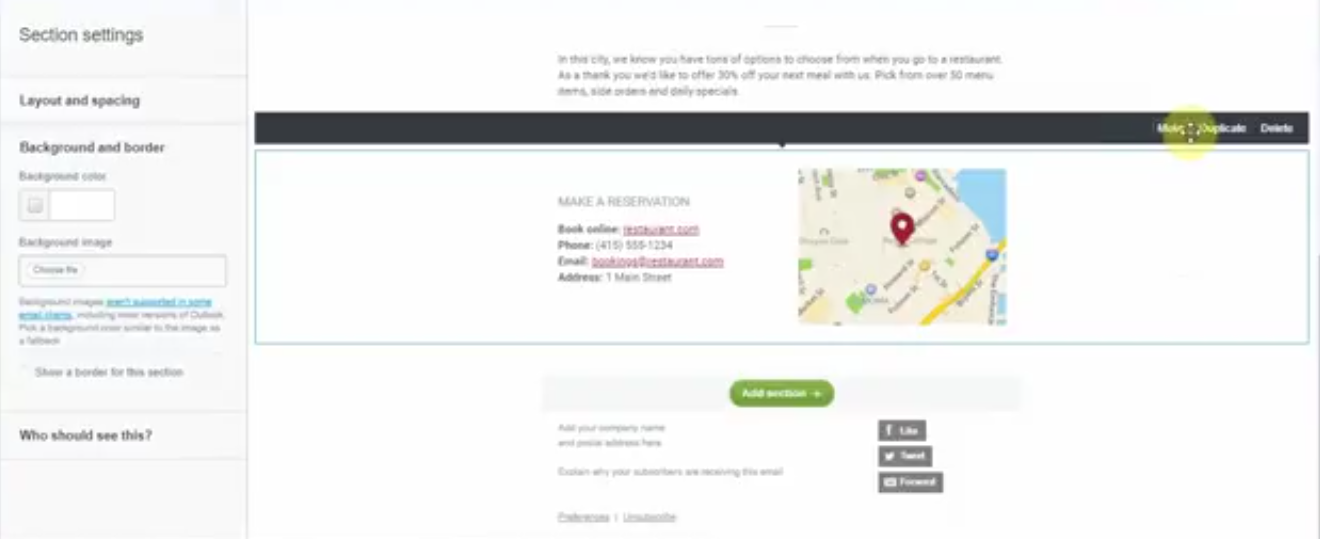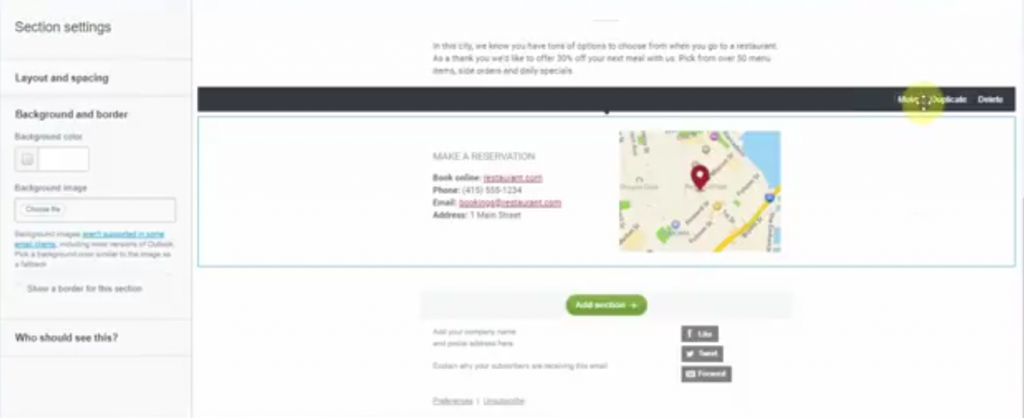 Campaign Monitor's prices start at just $9/month for up to 500 subscribers. However, once you reach 501 subscribers, the price jumps to $29/month for up to 2,500 subscribers.
There are three plan options. The price of each one will depend on how many subscribers you have.
The Basic plan includes all the basic features but only allows you to send up to 25,000 emails per month. At 2,500 subscribers, this means that you will only be able to send 10 broadcasts a month.
The Unlimited plan lets you send unlimited emails and includes additional features, such as time zone sending and countdown timers, in your emails.
The Premier plan has even more features, such as pre-built engagement segments and the ability to lock down a segment of your email so that only specific team members can edit it.
Designing emails with Campaign Monitor is easy. There are many premade templates to choose from, and they can all be customized by using the drag-and-drop builder.
You can also code your own HTML emails if you know how.
You can set up regular email campaigns or A/B split-testing campaigns.
Campaign Monitor isn't a bad option for an email service provider. However, it doesn't have as many features as Mailchimp.
For example, Mailchimp allows you to set up groups and segments, while Campaign Monitor only allows you to set up segments. In addition, they have fewer workflow and automation capabilities, according to this comparison review.
Campaign Monitor does have a large app store with apps and integrations for many third-party platforms and services.
Their pricing isn't the best in the industry. Even if you only have a small number of subscribers, you would be better off getting a free plan with Mailchimp, a starter plan with Mailerlite, or the Basic plan with GetResponse.
Worth Reading : Best MailChimp Alternatives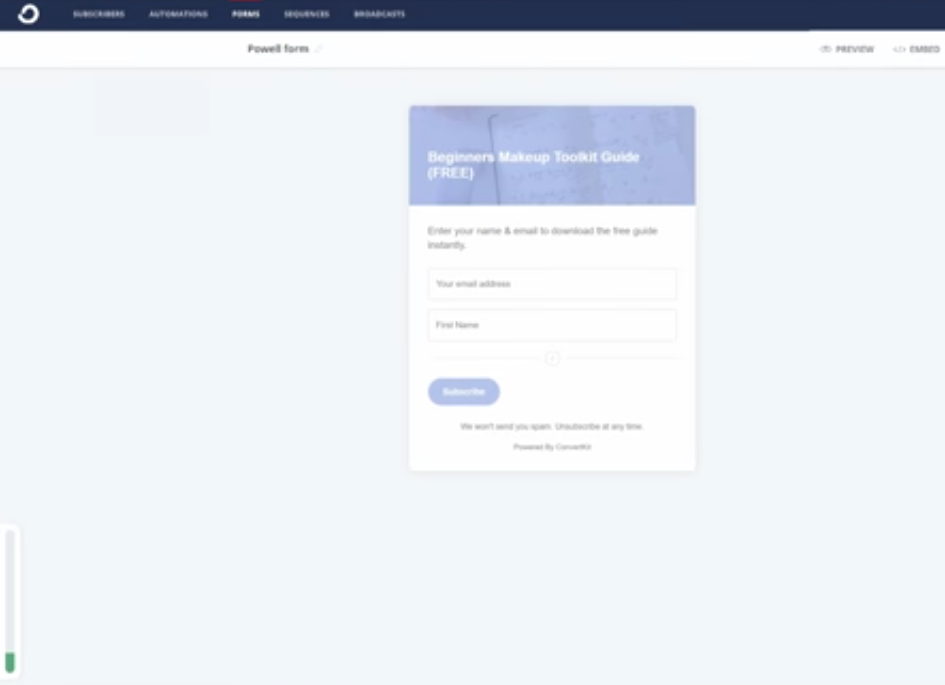 ConvertKit can be used by any small business. However, it is geared towards content creators in particular – such as bloggers and course sellers.
One of the advantages of Convert Kit is that it is extremely easy to use. There are only a few menu options, so you won't get overloaded with too many confusing options.
The email editor is easy to use as well. It's sort of like WordPress (the old type of WordPress editor, that is) as you can use a simple text editor instead of a drag-and-drop builder.
There is a landing page builder that is also very intuitive and easy to use. You can also add tags to subscribers based on their actions and segment your lists accordingly.
However, there are some cons as well. For example, the email sequence dashboard is in a box layout, which can be a bit disorienting to some.
Although you can split-test subject lines in your broadcasts, there is no way to do so in your automated followup series.
Finally, there aren't many email templates to choose from.
ConvertKit might be for you if you are a blogger who wants to create simple emails without a lot of confusing options. Using ConvertKit can save you time by reducing your learning curve.
ConvertKit has a free plan too, allowing 1000 subscribers. The two paid plans are priced at $29 and $59 per month for 1000 subscribers. The cost goes up as you add more subscribers.
Related : ConvertKit Vs Aweber
ConvertKit - With Free Plan
Unlimited landing pages & forms, Unlimited traffic, Customizable domain.
No credit card required. Cancel any time.

We earn a commission when you click this link and make a purchase.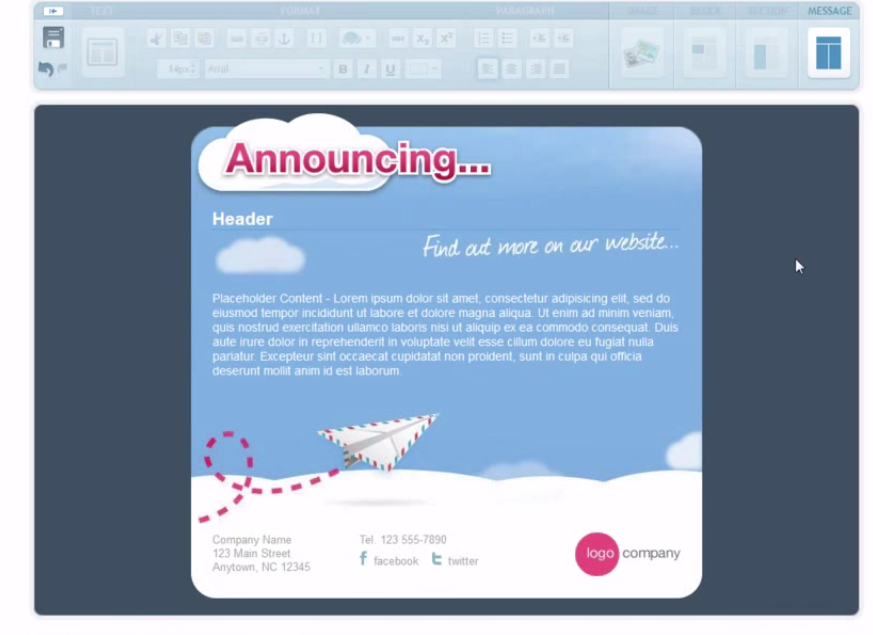 iContact is best known for its social media marketing features. It has some of the best social media integration capabilities in the email marketing industry.
You can easily connect your Facebook and Twitter accounts, for example. Then, you can create posts and publish them on those platforms and get access to advanced analytics.
There are around 700 templates available in the MessageBuilder. All of them can be customized by using the drag-and-drop editor.
Alternatively, you can choose to use the HTML code editor.
The interface is very helpful in that there are short snippets to help you understand what each feature is for. There is also great customer support.
There are excellent reporting features available in your reports dashboard. On the other hand, you cannot integrate iContact with Google Analytics.
iContact also has limited space for storing images. You will get a measly 5MB of image storage space by default and you will need to upgrade to get more.
This can be an inconvenience if you want to reuse banners, logos, and images over and over again.
iContact's plans start at $14/month for 500 subscribers. This is a tad expensive compared to other services.
You can also purchase premium marketing services or sign up for the Salesforce integration plan at $99/month.
Interesting Post : Best GetResponse Alternatives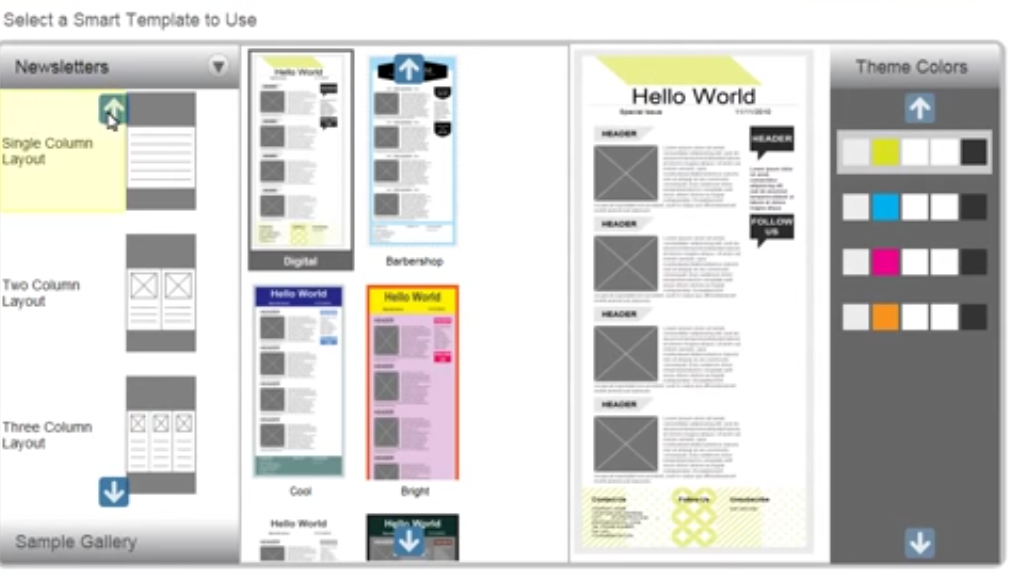 Campaigner is a good alternative to Mailchimp and is PCMag's Editor's Choice. Its cheapest plan is $19.95/month for up to 1,000 subscribers.
This is more expensive than Mailerlite, but Campaigner makes up for that with its advanced workflow and customer relationship management features.
You can use the Smart Email Builder to customize one of the many premade templates or the Full Email Editor to create your own HTML email from scratch.
Emails can be sent right away or scheduled to be sent later. On the other hand, there is no time zone sending option.
Campaigner integrates with Google Analytics but also offers its own robust reporting.
You can set up multiple triggers when creating automated workflows. This will allow you to offer your subscribers a highly personalized experience.
You can visualize and build entire customer journeys, or you can base your workflows on just a couple of interactions. The choice is yours.
You can automate your followup series based on countdowns, time delays, and time restrictions.
Campaigner integrates with third-party tools such as Magento, Highrise, Shopify, Mixpanel, and Salesforce. You can set it up so that actions on those platforms act as triggers for your automated workflows.
Also Read : Best ActiveCampaign Alternatives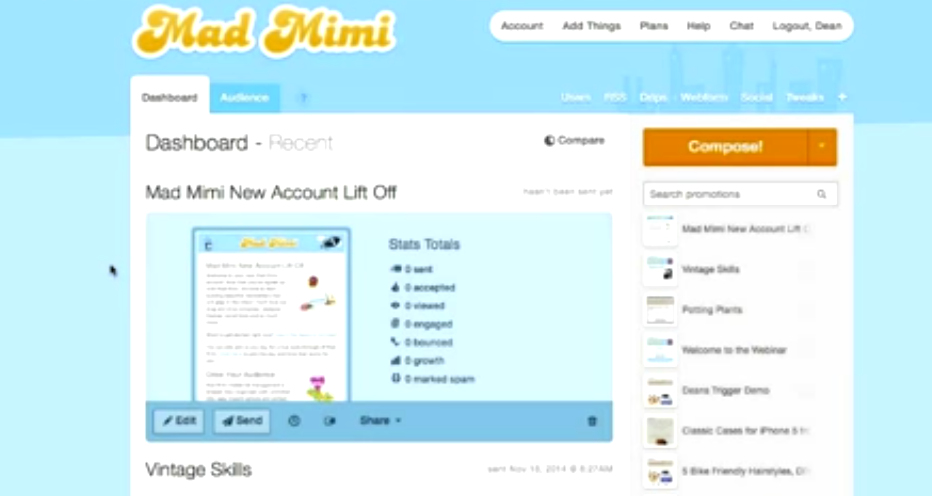 MadMimi might have an interesting name, but it is preferred by many bloggers and businesses for its affordable plans and easy-to-use interface.
Its free plan only allows for up to 100 subscribers or contacts, but you can send as many emails as you like. It is a good option for trying out the MadMimi platform to see if you like it or if you have a small blog with a limited but dedicated reader base.
Unlike Mailchimp, you won't have a variety of templates to choose from. Instead, you only add what you need – but this helps keep things simple.
MadMimi has a simple web form that can be customized and placed on your website. They also make it easy to manage your list – you can do things such as delete or add subscribers and track your open and click rates.
Worth Reading : MailChimp Vs Brevo Vs Mailjet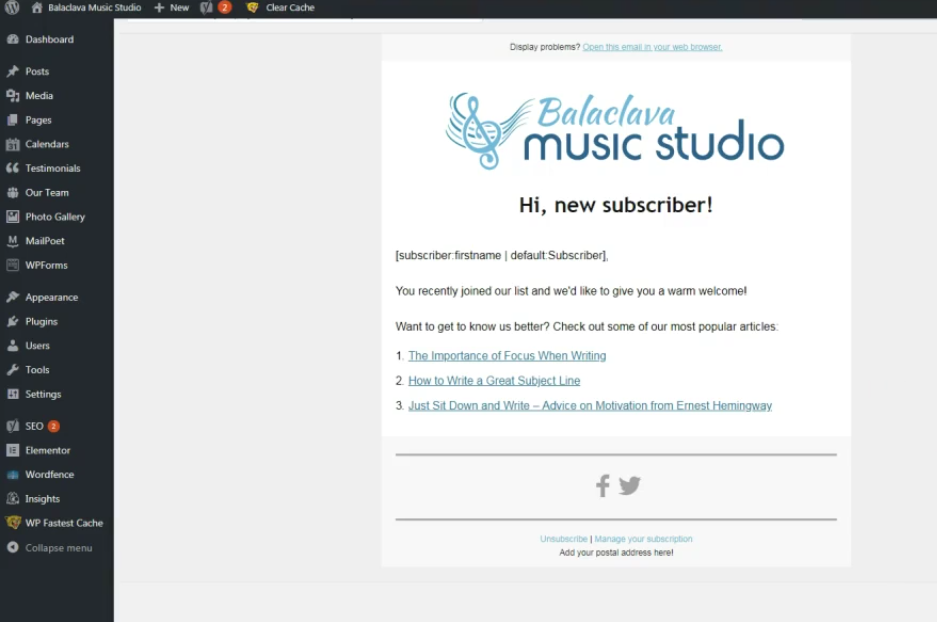 Do you think that signing up for a third-party email service provider is too much of a hassle? MailPoet is a WordPress plugin that will allow you to send email messages straight from your WordPress dashboard.
Over 300,000 sites are using Mailpoet already.
Creating emails is easy – there are plenty of design features to choose from. You can add images from your WordPress media library without needing to upload any additional ones.
You can send welcome emails or email updates when you publish a new blog post.
You can easily add signup forms to your site and build your email list. You can segment your lists into different groups.
MailPoet works with WooCommerce. Ecommerce stores can use it to collect customers' email addresses at checkout (with GDPR compliance) and send them automated promotional updates to increase their sales.
The best part about MailPoet is that it is entirely free to use for up to 1,000 subscribers! You will get access to all the features and have no monthly sending limits – you can send as many emails as you want.
Premium plans start at just $13/month.
Interesting Post : Best Constant Contact Alternatives
Wrapping It Up
If you thought that Mailchimp and Constant Contact were your only options, you now know better.
There are dozens of easy-to-use email service providers that are affordable or even free to use.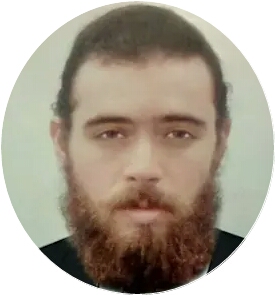 Author: Benjamin Levin
Benjamin Levin is a digital marketing professional with 4+ years of experience with inbound and outbound marketing. He helps small businesses reach their content creation, social media marketing, email marketing, and paid advertising goals. His hobbies include reading and traveling.