Teespring (now Spring) is a notable print on demand platform that features a marketplace.
There are different products available on Teespring, but T-shirts are the majority. You don't need to store inventory as your designs get printed on products – only when they're demanded by customers.
Have you tried Teespring? Or you don't like its name change?
In this post, I will show you the 10 best Teespring alternatives, so you can spring up your print on demand business.
Best Teespring Alternatives
Printify is a simple print on demand platform which was launched in 2015 and now boasts of over 300,000 users.
The platform automates the entire sourcing, creating, printing, and delivery process, so you only have few tasks to do.
Suffice it to say, Printify is a free platform. However, unlike Teespring, Printify features premium and enterprise plans for larger businesses – more than 10 stores.
Printify does not feature any marketplace like Teespring, so you must connect to an eCommerce platform.
There are more than 300 different product types featured on Printify, unlike Teespring.
This includes t-shirts, mugs, bags, hoodies, décor, etc. Hence, you can add your custom design to the products and start selling.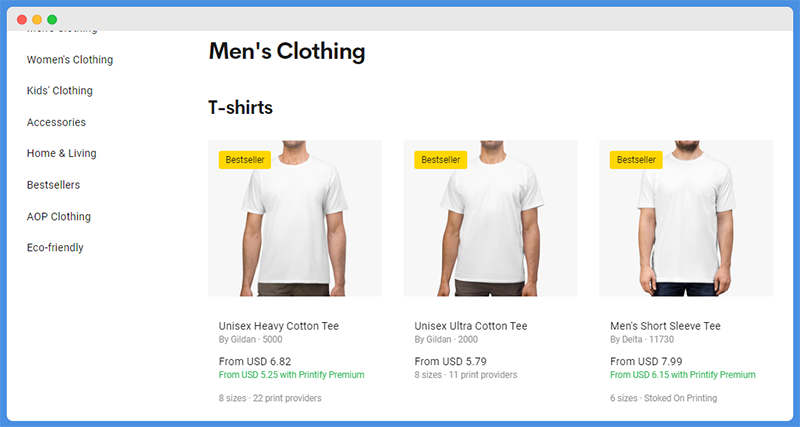 Printify works with more than 90 print providers from different parts of the world. With this, you can sell print on demand products to customers from anywhere and the products will be fulfilled faster.
While Teespring branding is featured on some product packages, Printify is completely white-label; your customers won't see Printify anywhere.
Furthermore, Printify lets you brand your products using neck labels for t-shirts and custom shipping labels for other products.
There are only about 11 countries that Printify doesn't ship to.
The shipping rates for products differ depending on the product type, print provider, and destination. A shipping calculator is featured for more efficient rate management.
The platforms Printify integrates with include Shopify, BigCommerce, WooCommerce, Etsy, eBay, Prestashop, Wix, etc. Teespring doesn't integrate with any of these eCommerce platforms; it has more social integrations. Printify also features an API.
Verdict: With more products, more print providers, and more integration, Printify has notable advantages over Teespring.
With their premium and enterprise plan, any online merchant can make use of Printify.

We earn a commission when you click this link and make a purchase.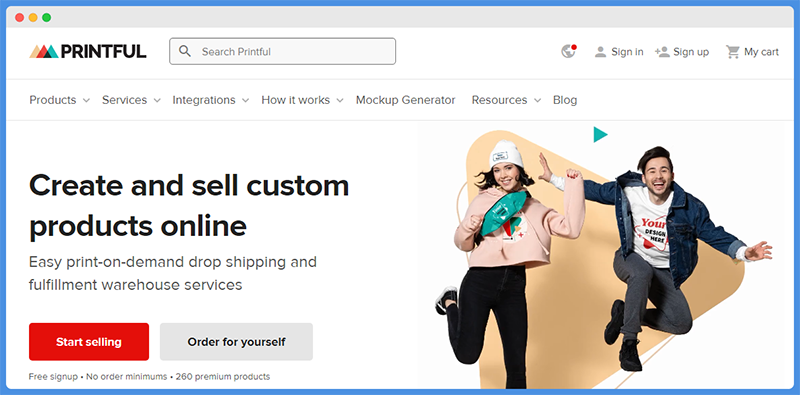 Another best Teespring alternative on our list is Printful. It's a massively used platform with over 1 million products shipped every month.
Both Teespring and Printful are free to use. Payment is only required for the base cost of products.
Printful has a larger product catalog than Teespring and there are no order minimums.
However, you cannot sell on Printful like with Teespring; you must connect to a third-party eCommerce platform.
All of Printful's production is done in-house to ensure high quality.
Furthermore, Printful has fulfillment centers in Europe, the USA, and Australia. Teespring has fulfillment centers in these locations too and both platforms carry out screen printing and DTG.
Printful features a free mock-up generator that allows you to create high-quality product images.
With Printful, you can brand your products using stickers, packaging slips, pack-ins, etc. Unlike other Teespring alternatives, Printful is fully white-label.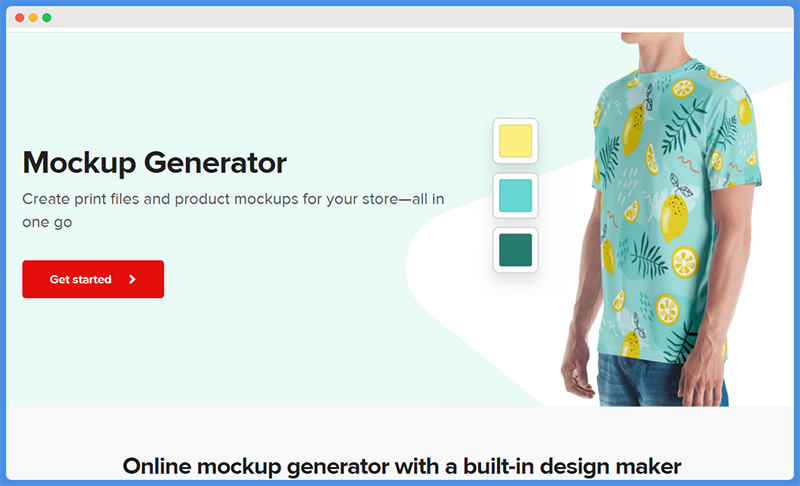 Shipping costs on Teespring and Printful are mainly influenced by the customer's location.
However, Printful makes delivery affordable via HQ pickups. Customers can pay less for shipping by going to pick up products themselves at Printful pickup locations. FedEx, USPS, DPD, DHL, and PASTS are some of the shipping companies Printful works with.
Since Teespring features a native marketplace, the platform doesn't integrate with many third-party platforms. Printful integrates with a lot.
This includes Shopify, Etsy, WooCommerce, Wix, Amazon, eBay, Squarespace, etc.
Verdict: Teespring and Printful share a lot of similarities. However, the advantage of using Printful is that you have more product types.
Also, you can sell custom-printed products on any eCommerce marketplace or platform.
Our Pick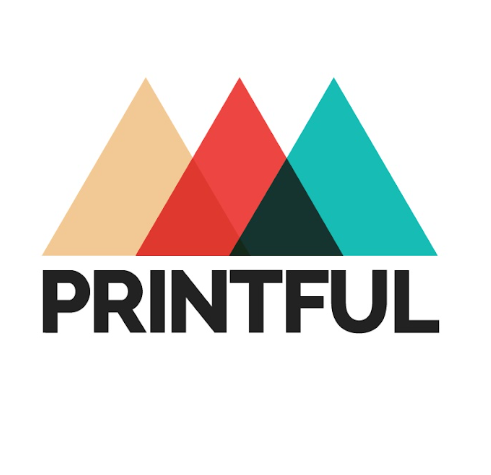 We earn a commission if you click this link and make a purchase.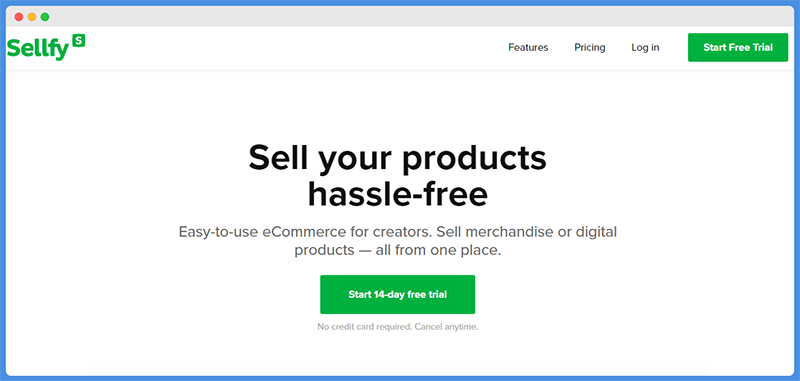 "Sell Your Products Hassle-free" – that's Sellfy's welcoming message.
The platform was launched in 2011 – a year before Teespring – and since then has been used to sell over 1.2 million products online.
Unlike Teespring, Sellfy is an entirely premium print on demand platform.
Besides the Free plan, Sellfy offers three premium plans to choose from. The Starter plan costs $29 per month; the Business plan costs $59 per month, while the Premium plan costs $159 per month. You can save 34 percent by paying yearly.
There are minimal branding and customization options with Sellfy. You can only add your branding as a label to clothing.
Nevertheless, you can add your branding as a logo or text, while designing your products.
Just like Teespring, Sellfy handles domestic and international shipping. However, Sellfy has slightly lesser delivery timeframes than Teespring.
Sellfy charges shipping based on the customer's location and the number of products in an order.
With Sellfy, you can integrate with Zapier, Facebook, Patreon, Webhooks, Twitter Ads, Google Analytics, and Etsy.
Similar to Teespring, Sellfy doesn't integrate with other marketplaces although you can embed your products on any website.
Verdict: As a premium eCommerce platform, Sellfy is an ideal Teespring alternative for big online merchants.
Check out this post to know how good are Sellfy's alternatives.

We earn a commission if you click this link and make a purchase at no additional cost to you.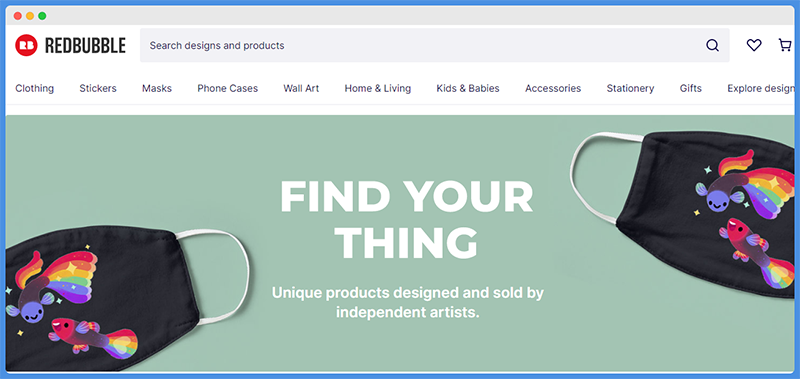 Redbubble has one notable similarity with Teespring; it works as a print on demand platform and as a marketplace.
Users can sell products directly on the website as they source them. The platform is used mainly by independent artists.
Notably, the product base price and your artist margin determine the product selling price.
When customers purchase an item, the base price gets automatically deducted.
With Teespring, you can sell almost anything and it's the same for Redbubble.
Products on Redbubble include clothing, masks, phone cases, wall art, accessories, stationeries, gifts, etc. You can use your designs or purchase designs from creators on Redbubble.
Redbubble mainly prints its products via 3rd party printers.
Hence, products are printed and fulfilled from different locations including the USA, Canada, UK, Germany, Spain, Australia, etc. for each order, the printer closest to the customer is used.
Redbubble is not a white-label platform; all packaging is branded which is almost the same as Teespring.
There are two shipping options featured on Redbubble; Standard and Express Shipping.
Your preferred shipping option and destination will determine the shipping cost.
Conversely, Teespring supports tracking for USA shipping, while Redbubble supports tracking for USA and EU shipping.
In terms of integration, Redbubble and Teespring are alike. Both have marketplaces so they don't integrate with other eCommerce platforms.
Nevertheless, Teespring does integrate with YouTube, Twitch, Instagram, Discord, etc., while Redbubble does not support third-party integration.
Verdict: Redbubble and Teespring are free and have built-in marketplaces.
Also, they are not white-label and they don't integrate with other eCommerce platforms. Hence, Redbubble is a Teespring alternative that's relatively similar to it.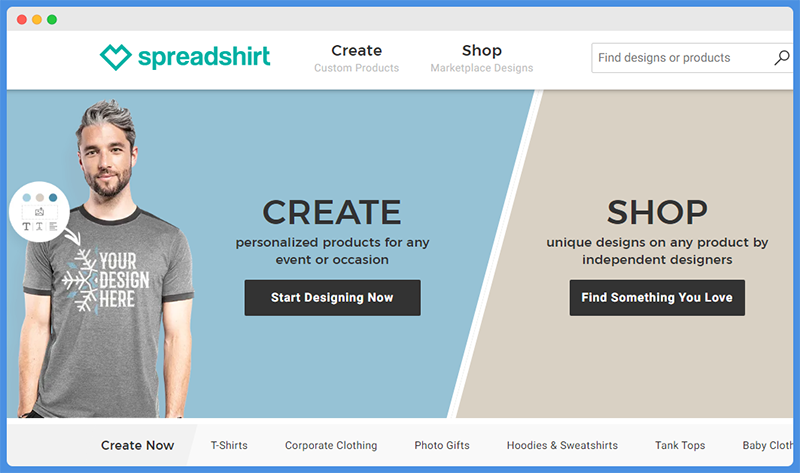 Founded in 2002, Spreadshirt is a long-operating German-based print on demand platform.
It's focused on clothing although there are other product types. Users can create personalized products to sell or shop for products from other users.
Compared to Teespring, clothing on Spreadshirt is somewhat expensive.
This is because the price is determined by the product base price, printing costs, and design costs. However, when you upload your designs, you don't pay for design costs.
With Spreadshirt, you'll find t-shirts, hoodies, long sleeve tops, polo shirts, bandanas, and hats.
There are also products like pillowcases, phone cases, aprons, mugs, water bottles, etc. The product catalog is similar to that of Teespring.
Spreadshirt uses more printing methods than Teespring. While Teespring engages just DTG and Screen Printing, Spreadshirt features digital print and plotting methods.
This includes digital direct, thermal sublimation, digital transfer/laser transfer, flex printing, and flock printing.
When Spreadshirt products get delivered, they feature the Spreadshirt label; notably, shirts come with Spreadshirt neck labels.
The platform is not white label and there's no way to add your brand logo, unless as a regular logo.
Spreadshirt ships products from three locations; the United States, Canada, and Australia.
Shipping is fulfilled faster than with Teespring for both standard and express shipping. Furthermore, the shipping cost is determined by the order value.
The only major platform Spreadshirt integrates with is Shopify.
The Spreadshirt Print on Demand (SPOD) app is featured on the Shopify app store. Generally, Teespring supports more integration.
Verdict: Teespring and Spreadshirt have many similarities; notably, both platforms focus more on shirts.
Nevertheless, Spreadshirt's main advantage over Teespring is its fast fulfillment.
Also, there are more print methods to explore.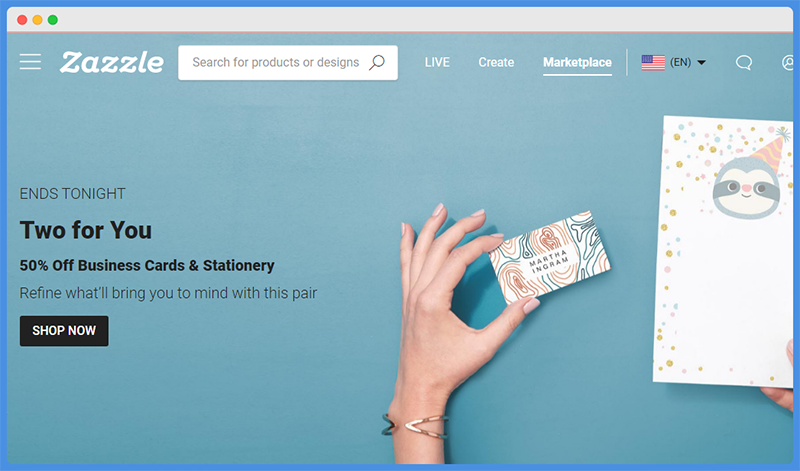 Zazzle is another entry on our list of the best Teespring alternatives. With this platform, designers can sell their designs on products and like Teespring, it doubles as a marketplace.
In fact, Zazzle employs a unique product pricing model known as royalties.
You don't pay to access the platforms' features.
Likewise, royalties can be set at any percentage of the base product and they can be changed at any time.
There are different products on Zazzle including clothing, electronics, art, gifts, accessories, etc.
Teespring works with Champion, Puma, and Russell Athletic, but Zazzle works with more brands.
Furthermore, you can better control your products and designs with the Zazzle Product Style Control.
Designs on shirts are printed using the DTG method and it's either a classic print (single process) or vivid print (double process).
Teespring stays ahead as it features DTG and screen printing.
There are not many options to brand your product packages with Zazzle.
Your products might have the Zazzle brand featured on products when they deliver like with Teespring.
Nevertheless, you can add your store branding to blank stickers and attach them to your products.
Zazzle shipping rates are volatile as there are lots of determining factors.
Merchants are advised to generate mock orders for accurate shipping prices.
The platform ships locally and internationally, although the delivery timeframe is relatively long.
Both Zazzle and Teespring don't integrate with other eCommerce platforms.
Zazzle only integrates with Google Analytics and the platform features an API.
Verdict: Compared to Teespring, Zazzle isn't distinctive. Nevertheless, it's a great alternative for sourcing, not just products but also designs.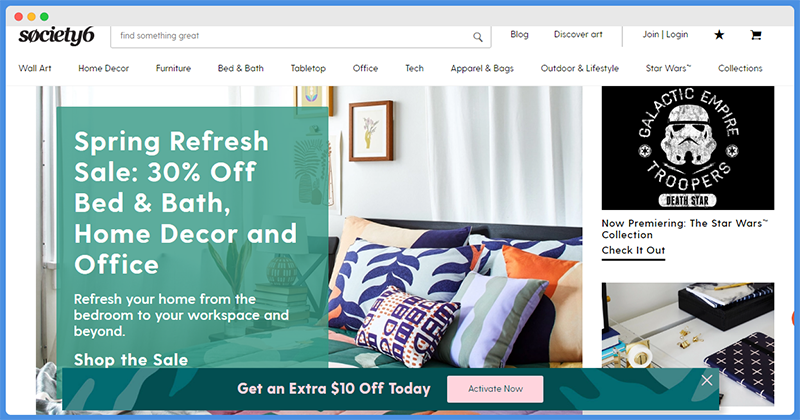 Leaf Group launched Society6 in 2009. It's a platform for designers to sell their designs on different products and make money.
Anyone can sell on Society6 and with the featured marketplace, it's relatively similar to Teespring.
There's a flat 10 percent profit for all Society6 designers. Artists can only increase their profit margin for canvas, framed, and art prints.
It's different with Teespring because it allows users to set their preferred profit margin for all products.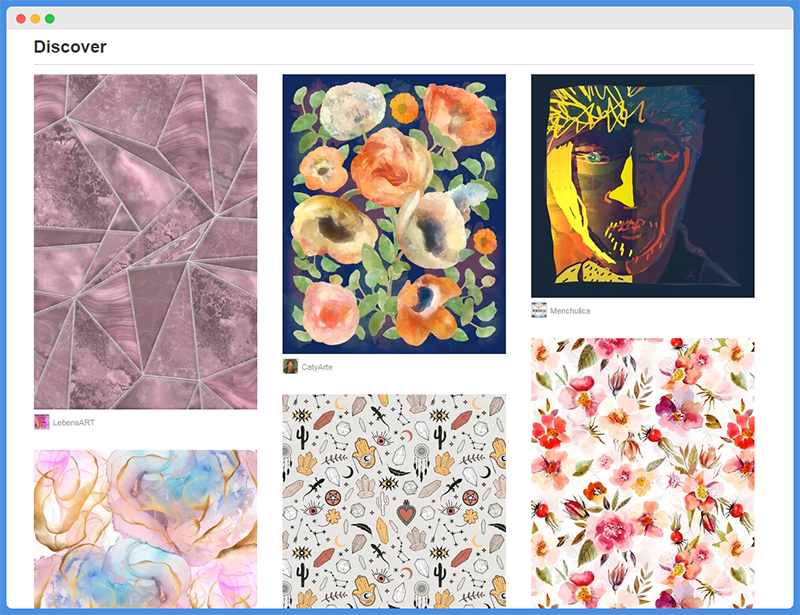 While Teespring features more shirts, Society6 features products in three major categories which include wall art, home décor & furniture, and outdoor/lifestyle.
This includes phone cases, throw pillows, tote bags, towels, mugs, mats, etc.
Society6 production centers are in Australia and the United States. Products get printed within 3 – 5 business days after they're paid for.
This is a disadvantage when compared to Teespring as Teespring prints products immediately once they're ordered.
Since your customers purchase their products directly from the Society6 website, just like with Teespring, delivery is not white-label.
Hence, Society6 cannot be used for branding.
All products feature the Society6 brand.
The average delivery timeframe of Society6 is 7 to 14 business days.
This is not so different from Teespring's average delivery timeframe of Teespring. However, unlike Teespring, most of the Society6 products can only be shipped within the US.
Another similarity Society6 shares with Teespring is the lack of eCommerce integrations.
If you're doing business with Society6, you don't need another eCommerce platform.
Verdict: If you're interested in selling home and office print on demand products, Society6 is a great Teespring alternative to consider.
Furthermore, Society6 is ideal if your target customers are from the United States.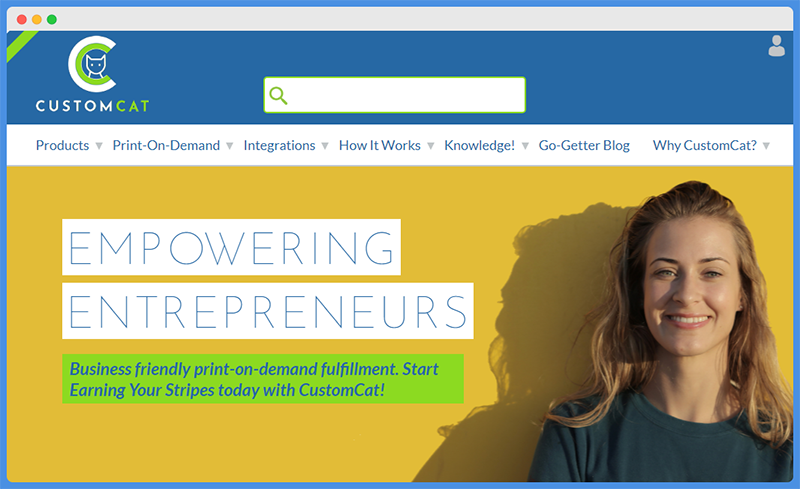 This is a business-friendly print on demand platform.
It guarantees entrepreneurs of high-profit margins, good product quality, and fast production fulfillment.
CustomCat is easy to use as you only need to upload your designs and choose products.
You don't pay to use CustomCat. Not to mention, the platform doesn't have a marketplace like Teespring.
While setting up, you'll need to connect to your store on a different eCommerce platform.
To ensure high-profit margins, products on CustomCat are sold at low rates.
There are more customizable products on CustomCat than on Teespring. CustomCat features more than 300 product types in three product categories; apparel, homeware, and accessories.
Some of them are shirts, hoodies, mugs, canvases, blankets, etc.
CustomCat production process is faster than Teespring. The platform boasts of an average fulfillment timeframe of 1.5 days.
Products are printed using state-of-the-art production equipment in Detroit.
Merchants are guaranteed nothing but high-quality print on demand products.
CustomCat is similar to Teespring when it comes to branding.
The platform doesn't offer any particular support for customers to feature their brands.
Users may try using branding options featured by the eCommerce platform they connect with.
OSM and UPS are the shipping companies CustomCat works with and all products are shipped from the Detroit production center.
Different shipping methods are offered and the shipping rate is based on the delivery location and order size.
CustomCat integrates with third-party eCommerce platforms that Teespring does not.
It integrates with Etsy, Shopify, WooCommerce, and BigCommerce; you can build your online store on any of these.
Notably, both platforms feature APIs.
Verdict: CustomCat is recommended as one of the best Teespring alternatives primarily due to its fast fulfillment.
Aside from that, there are more products to sell on CustomCat and you can integrate with other eCommerce platforms.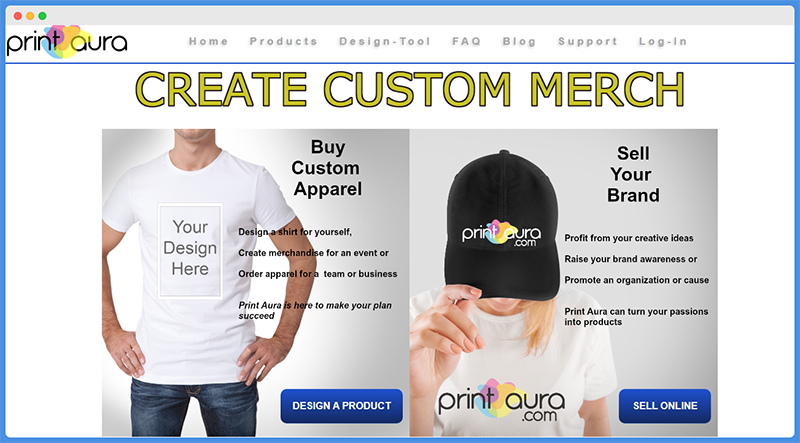 This is another print on demand platform like Teespring.
It's open for designers to sell their designs on products and brands to sell their products for designers. This platform has been around since 2011.
CustomCat is recommended as one of the best Teespring alternatives due to its fast fulfillment.
Aside from that, there are more products to sell on CustomCat than with Teespring.
Meanwhile, Print Aura is a free platform like Teespring.
However, you only recompense for products after the customer has made payment. Likewise, you can flexibly control your profitability.
Although Print Aura focuses more on t-shirts, there are other products in the catalog.
Products available include t-shirts, sweatshirts, tank tops, polos, phone cases, bags, drinkware, phone cases, wall art, and a few others.
Like Teespring, Print Aura uses the DTG printing technology.
This makes printing cost relatively affordable and the printers used are Avalanche printers by Kornit.
These printers use water-based inks which makes them environmentally friendly.
When it comes to branding, Print Aura is better than Teespring as its white label.
You can brand your products for free using custom packing slips and personalized shipping labels.
There are paid branding options including neck label removal, hand tag application, custom shipping packing, etc.
Print Aura has a standard Standard processing turnaround time of 3 to 5 business days.
With Rush processing, merchants can have their products delivered to customers faster – in 2 to 3 business days.
Print Aura is ahead of Teespring in terms of integrations.
The platform integrates with Shopify, WooCommerce, Etsy, StoreEnvy, and OpenCart for customers to sell their products. It doesn't feature a marketplace.
Verdict: Being white-label gives Print Aura a major advantage over Teespring.
The multiple branding options are more compared with other Teespring alternatives.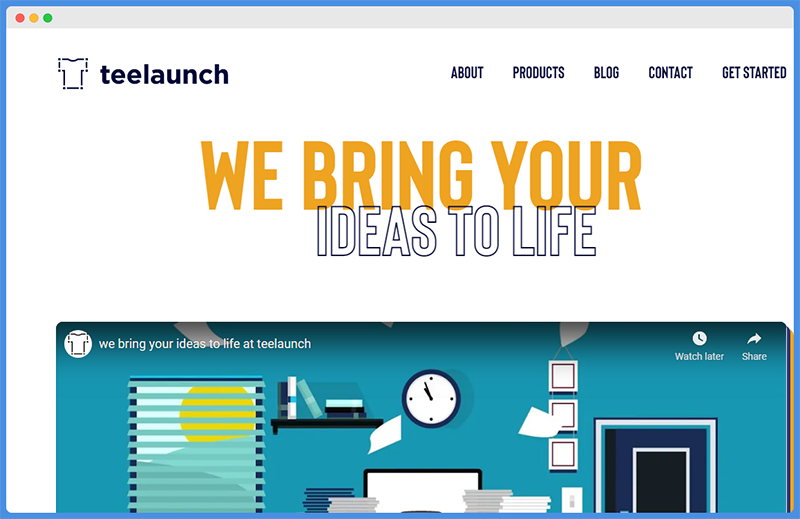 Teelaunch uses technology to connect online merchants with reliable print providers.
It's a print on demand platform ideal for Shopify merchants and you don't have to pay for subscriptions to use it.
Since Teelaunch works with Shopify, it's easier to set up than Teespring.
If you have a Shopify store, all you need to do is to install the Teelaunch app from the Shopify App Store.
With Teelaunch, you can sell accessories, apparel, dinnerware, drinkware, home goods, office goods, and wall art.
All production facilities used are of high quality and like Teespring, Teelaunch does both DTG and Screen Printing, and also dye sublimation.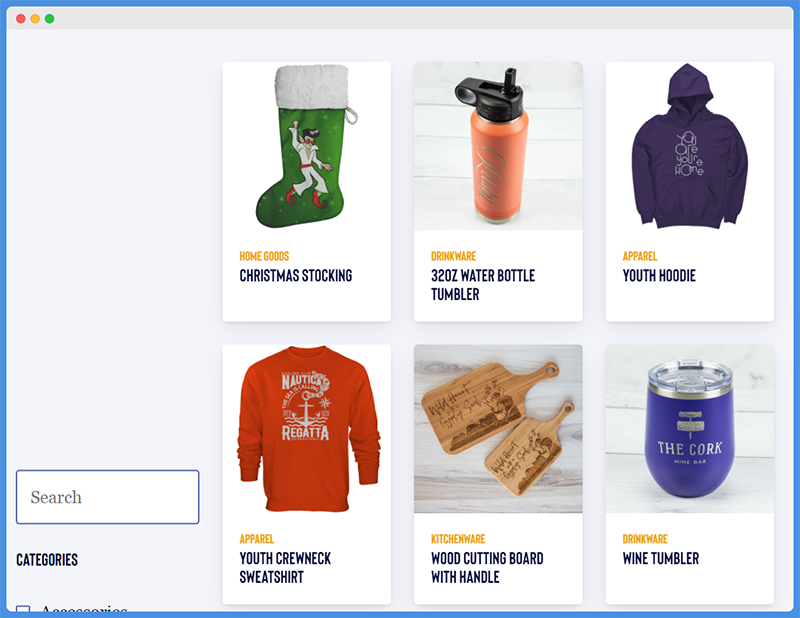 Teelaunch has a major advantage over Teespring when it comes to branding.
With Teelaunch, you can brand products with photos and packaging slips. Shipping labels carry your shop name and return address.
However, Teelaunch doesn't support personalizing clothing using neck labels.
USPS, DHL, UPS Mail Innovations, UPS Ground, and Ascendia are the shipping companies Teelaunch uses.
The shipping rates are flat for each product and there's a lower cost for additional products.
Tracking is made available for all products except stickers and apparel shipped to the UK. Teelaunch's average shipping timeframe is 3 to 6 business days and is not so different from Teespring.
As mentioned earlier, Teelaunch integrates with Shopify which Teespring doesn't.
Teelaunch also integrates with Etsy, eBay, Amazon, Facebook, and Instagram; you can sell on any of these platforms.
Verdict: You get more from Teelaunch than Teespring thanks to the supported third-party integrations and branding options.
Wrapping Up – What Is The Best Teespring Alternative?
Whether Teespring or Spring, the 10 platforms listed above are the best Teespring alternatives.
Nevertheless, I recommend Printify as the overall best Teespring alternative. Printify delivers products worldwide except for just 11 countries.
Conversely, Printful is recommended as the second-best Teespring alternative due to its free and premium plans.
Not to mention, it features a vast product catalog and supports diverse eCommerce platforms and marketplaces.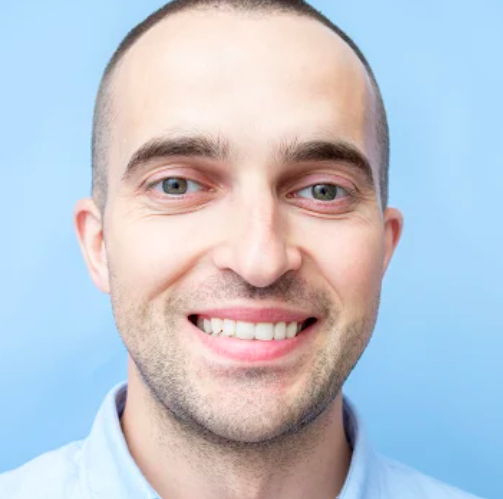 Author: Brian Erwin
I am Brian. I started my first e-commerce company in college designing and selling t-shirts for my campus bar crawl using Print-On-Demand. Having successfully established multiple 6 & 7 figure e-commerce businesses (in women's fashion and hiking gear), I think I can share a tip or 2 to help you get succeed.